Why We Love This Hotel
Design: Rough yet sophisticated, Rooms is a restored publishing house that bares its salvaged wood and industrial fixtures while also dressed up in weathered leather, brushed copper, and handmade wallpaper reminiscent of 1920s New York.
Location: The lively Vera neighborhood is just outside of the bustling city center, offering convenient access to all the must-see landmarks while also itself a boho-chic destination offering creative spaces and the avant-garde in dining and fashion.
Farm-to-Table Cuisine: Honest fare takes the stage at The Kitchen where long wooden tables are laden with nouveau American specialities, sustainably grown, locally farmed, and wildly foraged.
Read More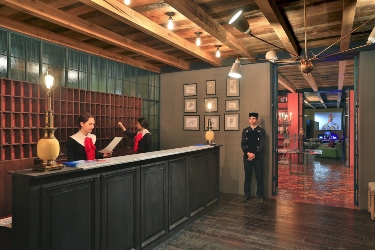 Preferred Hotel