Example Itinerary
Classic Bhutan
This 12-day luxury journey showcases Bhutan's must-see sites, with time spent in the major cities of Paro and Thimphu, plus visits to remote mountain villages and farmhouses out in far flung valleys of Bumthang and Gangtey. There's plenty of history and culture in this tour from ancient fortresses, far-flung monasteries and countless chortens, fluttering prayer flags and ancient Buddhist sites. Explore the best of Bhutan with your own private car and guide and stay in a selection of the kingdom's most luxurious Himalayan resorts.
This itinerary is an example. It's designed to inspire you and provide you with thoughtfully curated ideas. You can choose to do this exact itinerary or completely personalize it. All trips are 100% bespoke.
Highlights
Living Traditions: In this remote Kingdom, national dress is worn daily and traditional practices are well-alive. Museums, working shops, and learning centers will introduce you to traditional medicine, weaving, paper-making, archery, and Buddhist arts.
Hiking: Owning the title of the greenest country in the world, Bhutan's pristine countryside is best seen on its many hiking trails.
Spirituality: With a national policy of wellbeing over wealth, spirituality is the quintessential way of life in Bhutan. Those seeking a piece can visit the monasteries, get a blessing, light butter lamps, meditate with monks, and take a contemplative soak in a hot stone bath.
Takstang Monastery: Do as the locals do and make a pilgrimage to the spectacular Tiger's Nest monastery, Bhutan's most iconic and holiest site.
Day-by-Day
Day 1
Paro
Arrive in Paro, the start of your journey. You will be whisked to your luxury hotel by private car where you can settle in and rest. In the afternoon, be ready to explore the historic town beginning with a precursor on culture and art at the National Museum, housed in a conch shaped fortress. Then visit the ancient ruins of Drukgyel Dzong, a UNESCO-designated site and famous archaeological site. Built in 1649, this fortress marked the tiny kingdom's victory over Tibetan forces and defense of its sovereignty.
Day 2
Bumthang
In the morning, head back to the airport for a flight across the country to Bumthang, a province with religious and political significance, the homelands of the royal house. Get a unique taste of Swiss Bhutanese products at Fritz Maurer's Swiss Farm, Bhutan's only commercial cheese factory and brewery of Bhutan's only native beer, Red Panda. Enjoy some honey, cheese, jam and a fresh brew with sweeping views. Then take a walk around the quaint town and stop by Jakar Dzong which offers views of the Choekor valley from the front courtyard.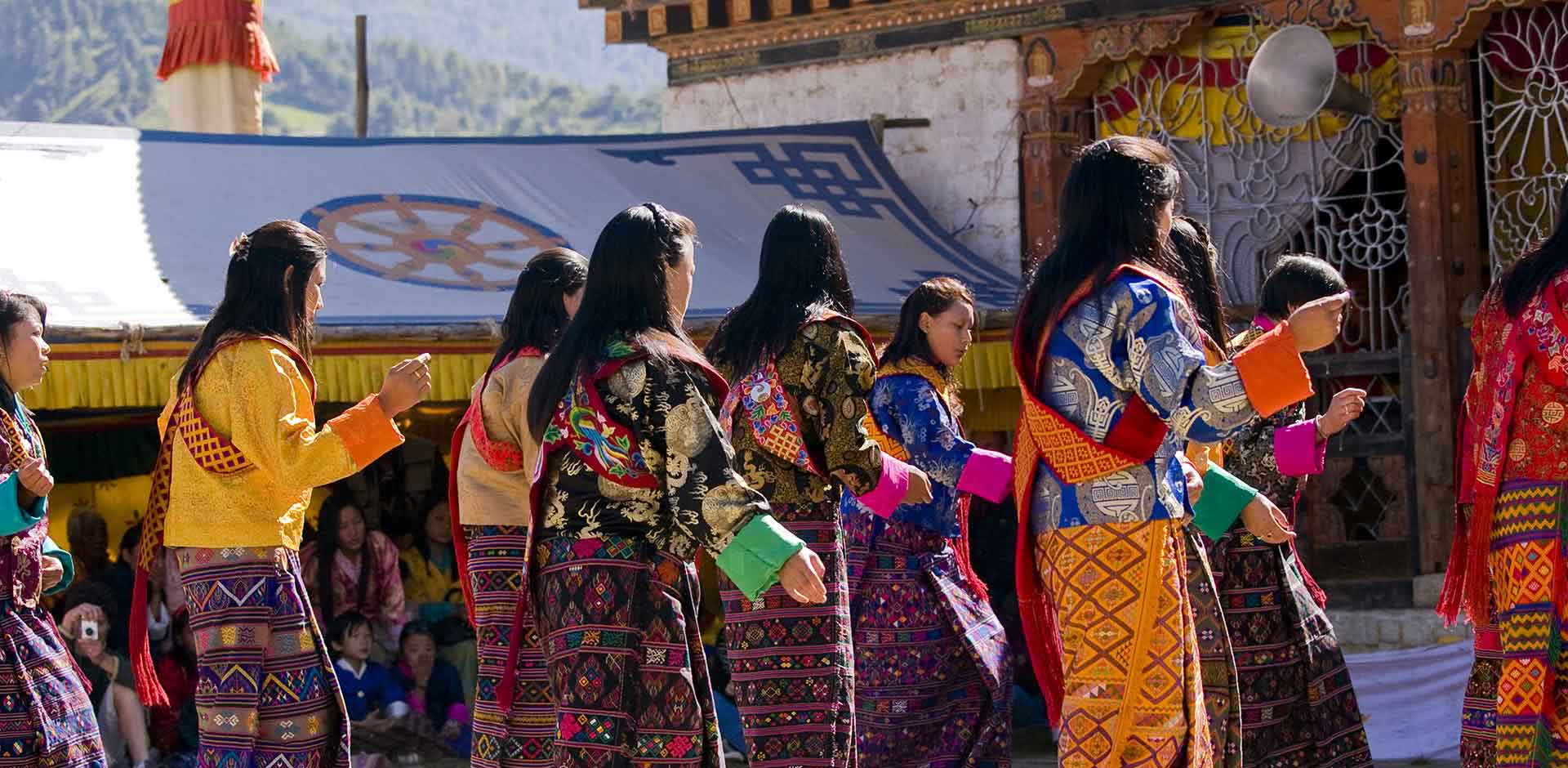 Day 3
Bumthang
Rise early for an excursion to Tang Valley where farm houses and fields are dotted between heavily forested mountains. You'll see Mebartso, the "Burning Lake", a deep pool in the river gorge with religious significance. Also visit Pemacholing Nunnery, a monastic school with nuns from 12 to 70 years of age. Enjoy a gentle hike along the river and a picnic lunch at a scenic spot. Follow the trail to Ogyen Chholing, a manor built in 1898 which has been preserved as a museum. Return to the lodge for the evening, where we recommend taking advantage of its spa.
Day 4
Bumthang
Today, visit another one of Bumthang's idyllic valleys. Ura Valley has the highest elevation and is known for its scenic view of lush meadows, terraced fields, and lofty hills dotted with alpine trees. Enjoy strolling through the landscape and observing villagers in traditional dress go about their day. After a picnic lunch, hop on bicycles for a ride downhill back to town. Get acquainted with the special handicraft of Bumthang called yathra, a thick handwoven woollen textile adorned with intricate designs that is popular country-wide. Visit a cooperative where you can browse organic products made by local farmers. If you like, continue biking along casual trails.
Day 5
Gangtey
Depart Bumthang by road and head towards Gangtey, five hours away. Along the way you'll pass through Trongsa town where you'll stop at the famous fortress Trongsa Dzong, perched over the village on the mountainside. Also, learn about Bhutanese history at the Trongsa Museum of Monarchy, with more than 100 years of royal history on display. Upon arriving in Gangtey, the rest of the day is yours to settle in at your luxury lodge.
Day 6
Gangtey
Gangtey is nestled in the treeless Phobjikha Valley. It's here in the wetlands that the auspicious black-necked cranes nest. If you visit during the winter, you can learn more about this intriguing species at the Crane Center and even spot the bird if you're lucky. This is also the home of the beautiful old Gangtey Monastery, with its elaborate gate and breathtaking valley views. Take the opportunity to hike this valley which offers marshlands, lots of flat open terrain and, being away from the more heavily touristed areas, peace and serenity.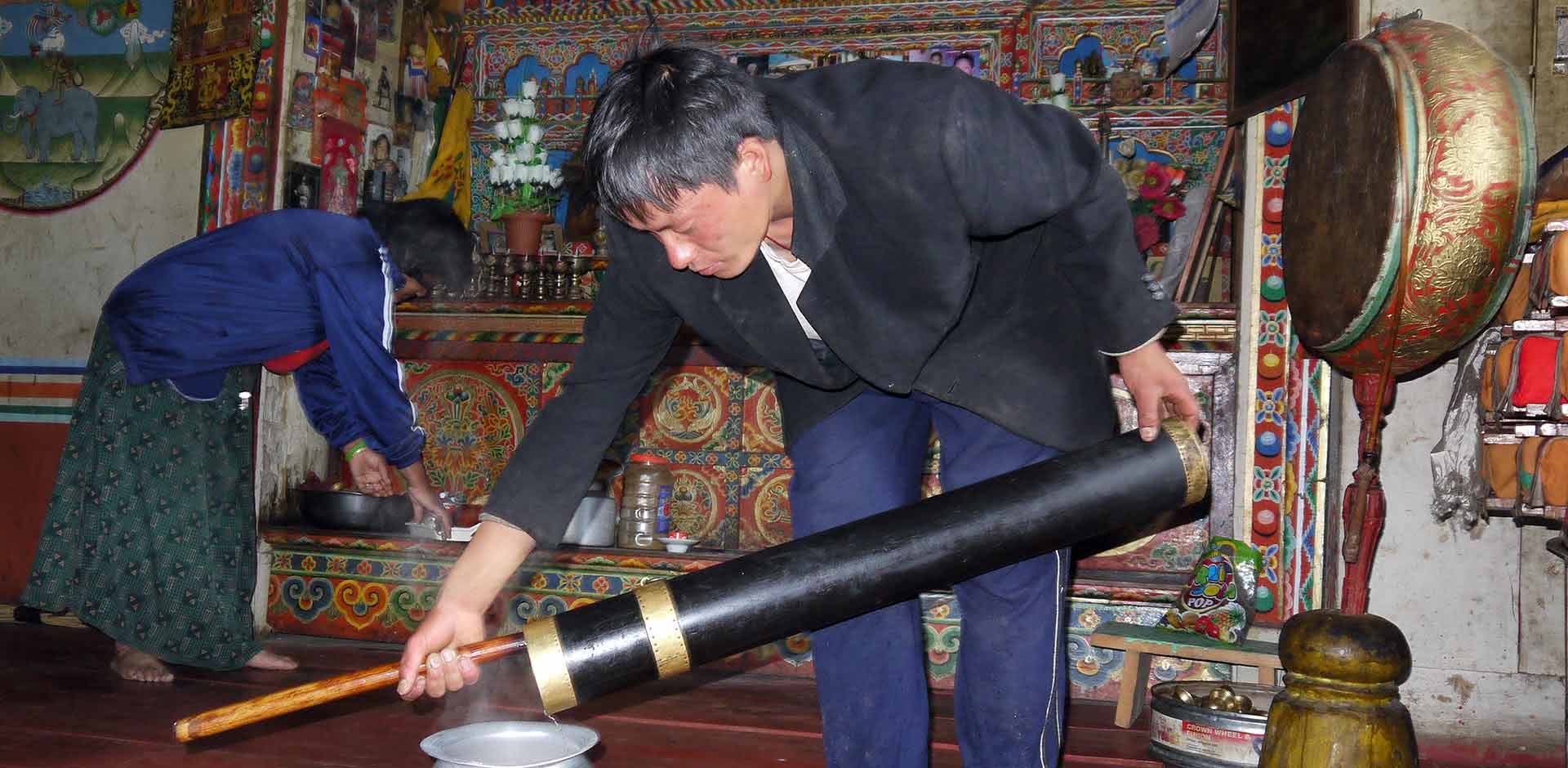 Day 7
Punakha
Drive 2.5 hours onward to Punakha in the morning. Once the capital of the country, Punakha has the second oldest and second biggest though arguably the most majestic dzong in the country. It is built at the confluence of two major rivers and a stunning sight on sunny days. After visiting the dzong, take a lovely hike to Chimi Lhakang across a vast spread of paddy fields. The sacred fertility temple was constructed by an eccentic yogi in a famous legend involving a flaming thunderbolt and a dog demon.
Day 8
Punakha
Begin the morning with a hike to Khamsum Yuley Monastery, an elaborate chorten that took 10 years to complete. Then, enjoy a picnic lunch by the riverside where you can also try your hand at archery, the national sport of Bhutan. Get ready for adventure this afternoon as you take on the rapids of the river. Whether you choose an easy or challenging ride, the picturesque backdrop is a highlight of the experience.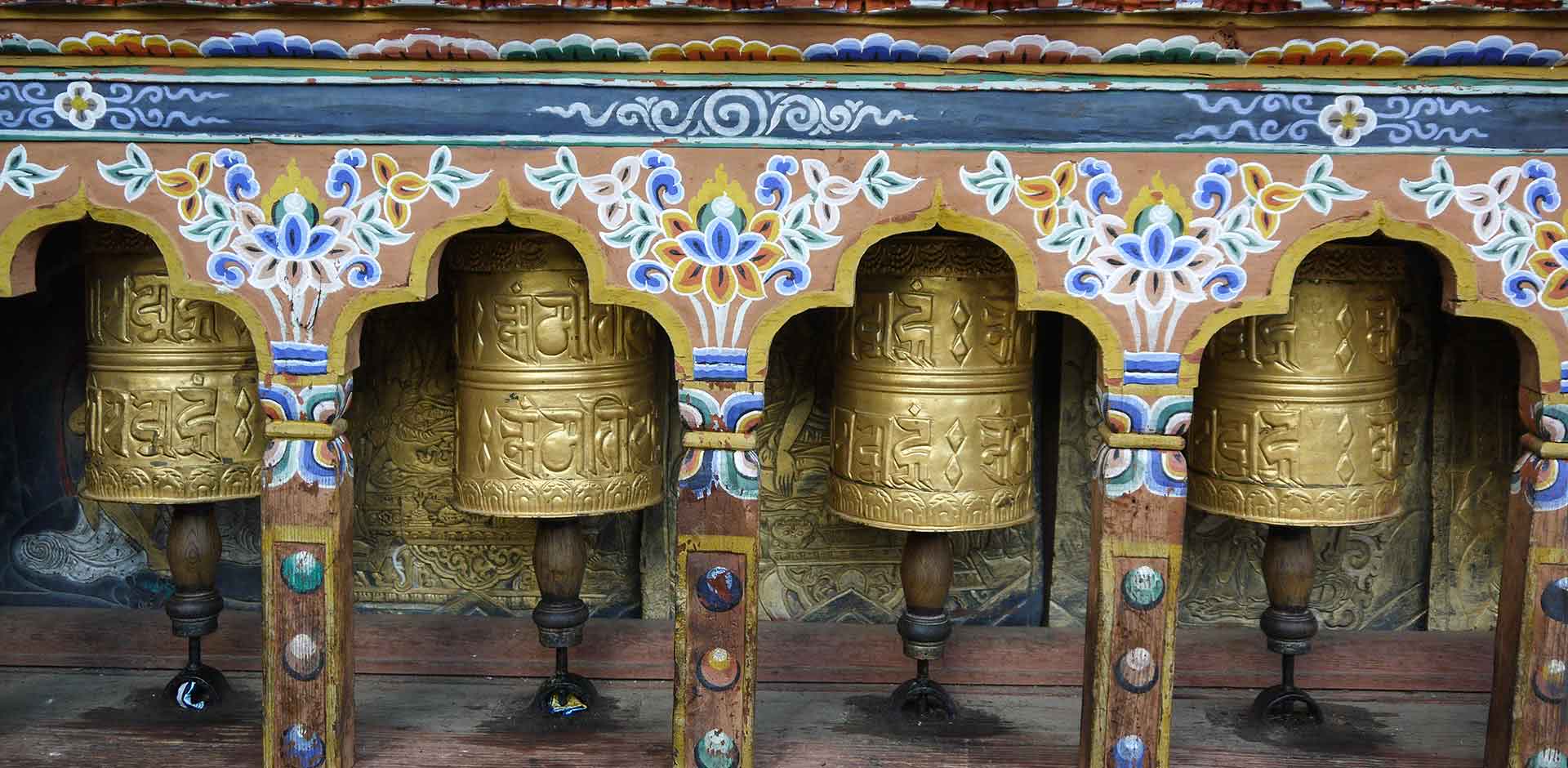 Day 9
Thimphu
Travel to Thimphu today, just 90 minutes away via Dochula Pass, a snowy mountain pass where you can stop for a cup of tea and to see the 108 stupas built by the eldest Queen Mother. Thimphu is Bhutan's largest and most modern city - though it is the only capital city in the world that does not have any traffic lights. Spend the day exploring this unique city full of museums and monasteries. The Dzong is the present administrative center and holds the king's office. If you wish, take the unique opportunity to create your own stamp at the post office.
Day 10
Thimphu
Spend another day exploring the capital city. From traditional Buddhist arts and handmade paper to textiles and traditional medicine, there is much culture to see and learn. Don't miss the Motithang Takin Preserve where you can see the national animal, a takin, which resermble goat-cow hybrids. To enhance your day, opt to meet an expert who can accompany you for the day or chat over tea or lunch. An ethno-historian who has lived and worked in Bhutan for decades, our expert loves to share her knowledge and insight on the country at large.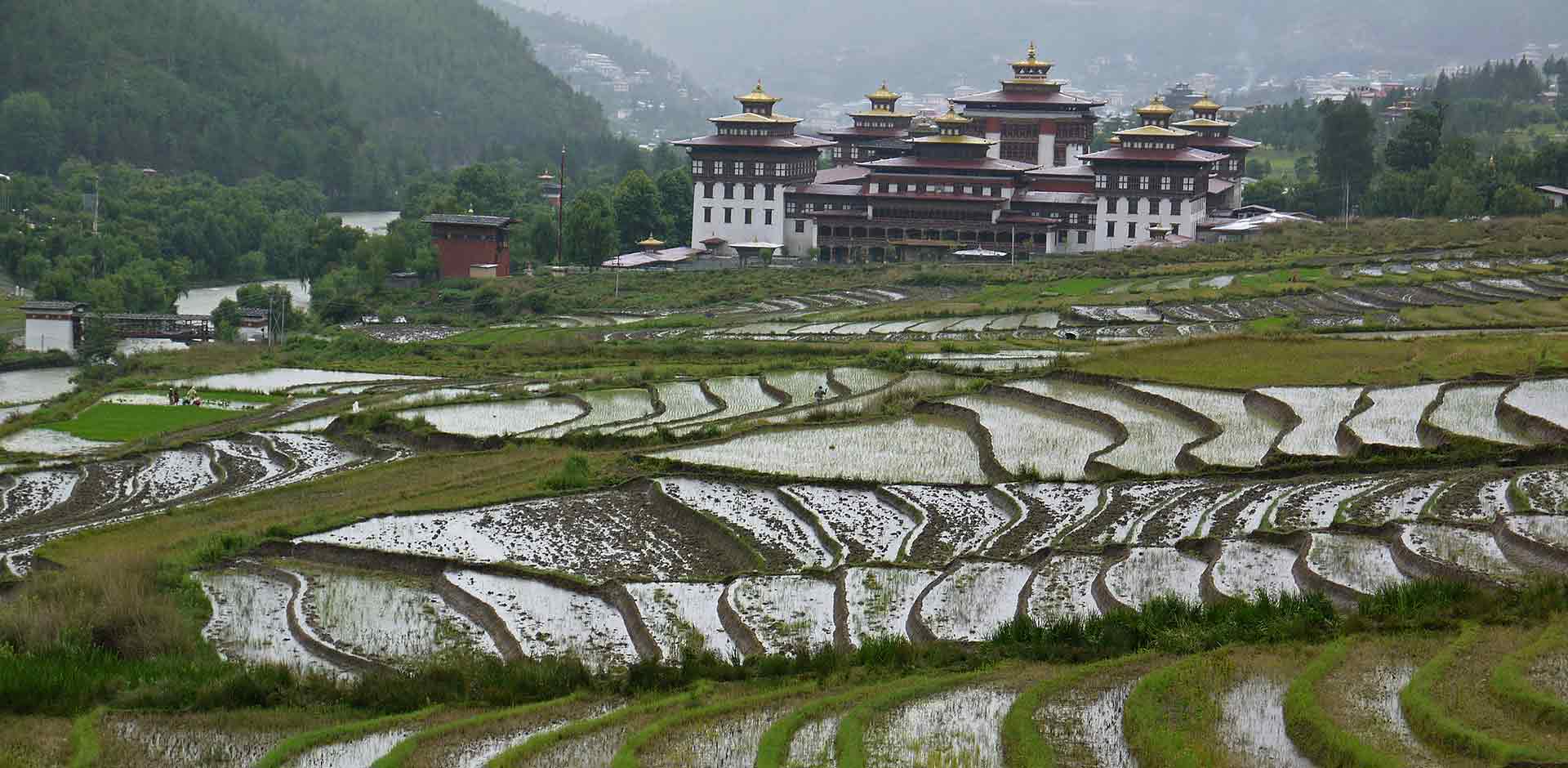 Day 11
Paro
Return to Paro early this morning, one hour's drive away, to begin your trek to Taktsang Palphug Monastery, also known as Tiger's Nest. Tiger's Nest is perched on a cliff overlooking Paro Valley and is one of Bhutan's most iconic sites. The monastery is home to sacred paintings, a prayer wheel, several buddhas and many religious relics. This must-do pilgrimage rounds out your classic Bhutan journey. Return to the lodge in Paro after your trek to rest. We suggest you unwind and reward yourself with Bhutan's signature hot stone bath.
Day 12
Departure
Enjoy one last cup of butter tea and a walk in the mountain air before departing the Himalayan kingdom. When ready, take a private transfer to the airport for your flight home.
TERMS AND CONDITIONS
Price is based on double or twin hotel room occupancy and includes accommodation, transfers, car/driver, English-speaking guide, activities and entrance fees, breakfasts and dinner taken at the lodges, and some lunches as noted while touring. Additional inclusions covered include daily mandatory Sustainable Development Fee, visas, FIT touring surcharges, road and monument permits. If staying at Amankora lodges, additional benefits include one 60-minute Amankora Holistic massage per person and laundry. Flights and optional special activities will be quoted separately. Most personal expenses, including alcoholic beverages, spa treatments and gratuities can be paid on the spot while traveling. Prices may vary depending on season, choice of accommodation and other factors.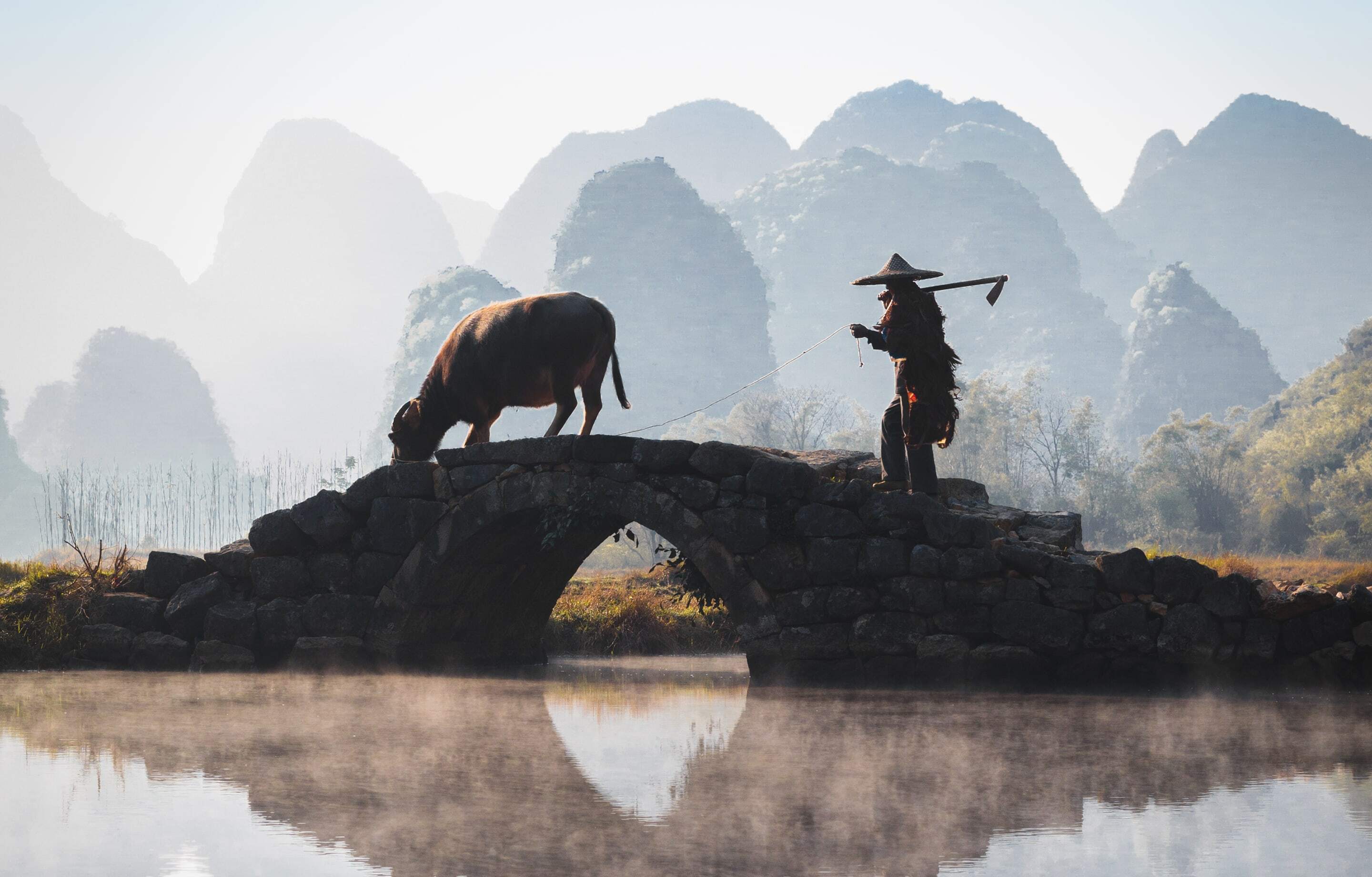 Why Remote Lands?
Exclusively Asia
With Remote Lands you'll travel with people who have made Asia the solitary focus of their own lifelong adventure. As our guest, you'll discover Asia on a journey that is completely, authentically your own, adapted from our own remarkable experiences and adventures over the years.
With Remote Lands you'll travel with people who have made Asia the solitary focus of their own lifelong adventure. As our guest, in the continent that our north American founders Catherine and Jay have adored and explored for decades, you'll discover Asia on a journey that is completely, authentically your own, adapted from our own remarkable experiences and adventures over the years.
Travelogues
An Asia-focused magazine brought to you by Remote Lands – a platform for adventure, luxury, and authenticity from experts and explorers around the continent.
What Others Say
Here is a small selection of the kind words our guests have said about us, as well as features by journalists and travel writers.
From the moment I happened upon the REMOTE LANDS website over a year ago, browsed the options, I knew that this would be well worth it. The entire staff is nothing less than professional with service that made us feel like royals.
This was truly the trip of a lifetime. Magical destinations, the most luxurious hotels in the world, and the most wonderful travel companions we could've wished for. We were treated like family everywhere we went and we have 14 new best friends.
We have used some of the top rated travel specialists all over the world and, without question, Catherine Heald and Remote Lands are at the very top of the list!