An impeccably-dressed waiter greets me with a smile and places before me a literal tower of treats. My eyes start at the bottom level, upon which is carefully laid a tantalising assortment of savoury snacks. Then I lift my gaze to the silver tray above it, which is laced with delicate pastries. Finally my sight rises to the third layer of culinary heaven, a cluster of rich cakes. Then a teapot arrives on my table brimming with a limited edition brew. This is quite a moment, quite a spectacle, quite a high tea. What started as a British tradition in the 1840s has become hugely popular across Asia, with countless luxury hotels offering sumptuous afternoon teas. Here are five of the best.
Mandarin Oriental, Bangkok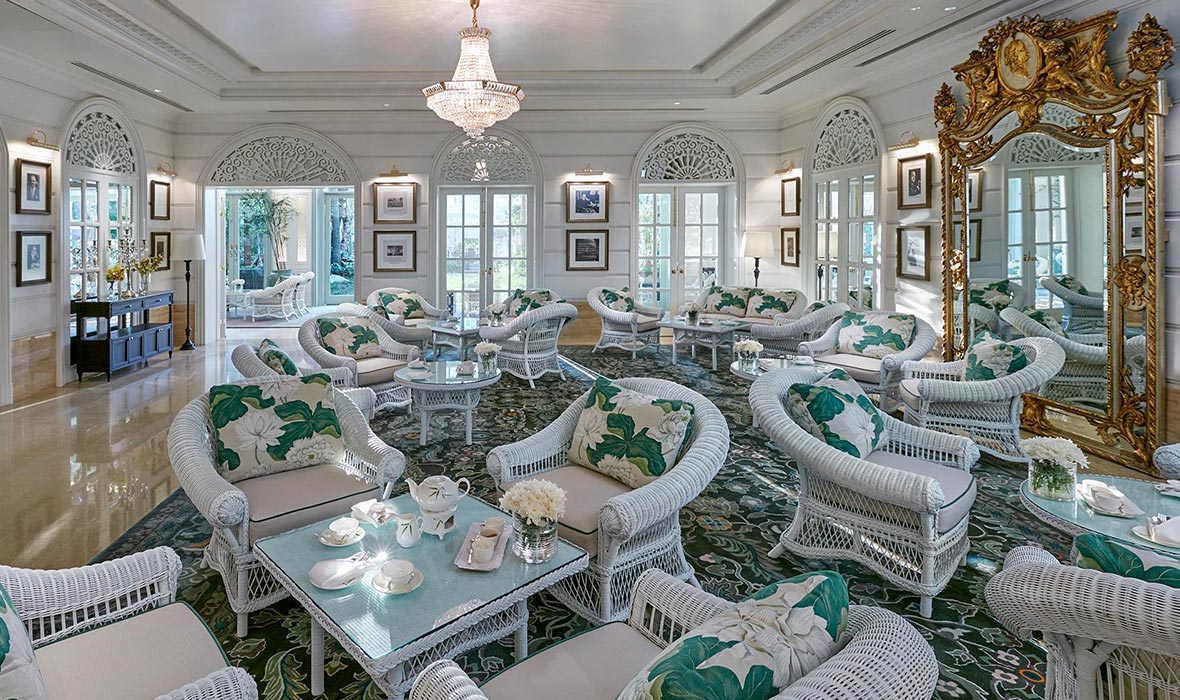 The 21st century may have lost some of the grace and pomp of yesteryear, but you wouldn't know it stepping out for one of the most famous High Teas outside of Britain at Bangkok's Mandarin Oriental. Even in this age of casual dress, visitors abide by the strict dress code and come bedecked in outfits befitting the splendid surrounds of Bangkok's most historic hotel.
Here, amid the stark white furniture and soaring ceiling of the Author's Lounge, old world British culture meets the famed Thai hospitality and cuisine. Cucumber sandwiches sit on the menu next to minced chicken Thai omelettes. Strawberry tartlets compete for attention with Thai steamed banana cake. Photos of Princess Diana hang near portraits of Thai dignitaries. It is a merging of the upper echelons of British and Thai societies and the customs of each. It is High Tea, Bangkok style.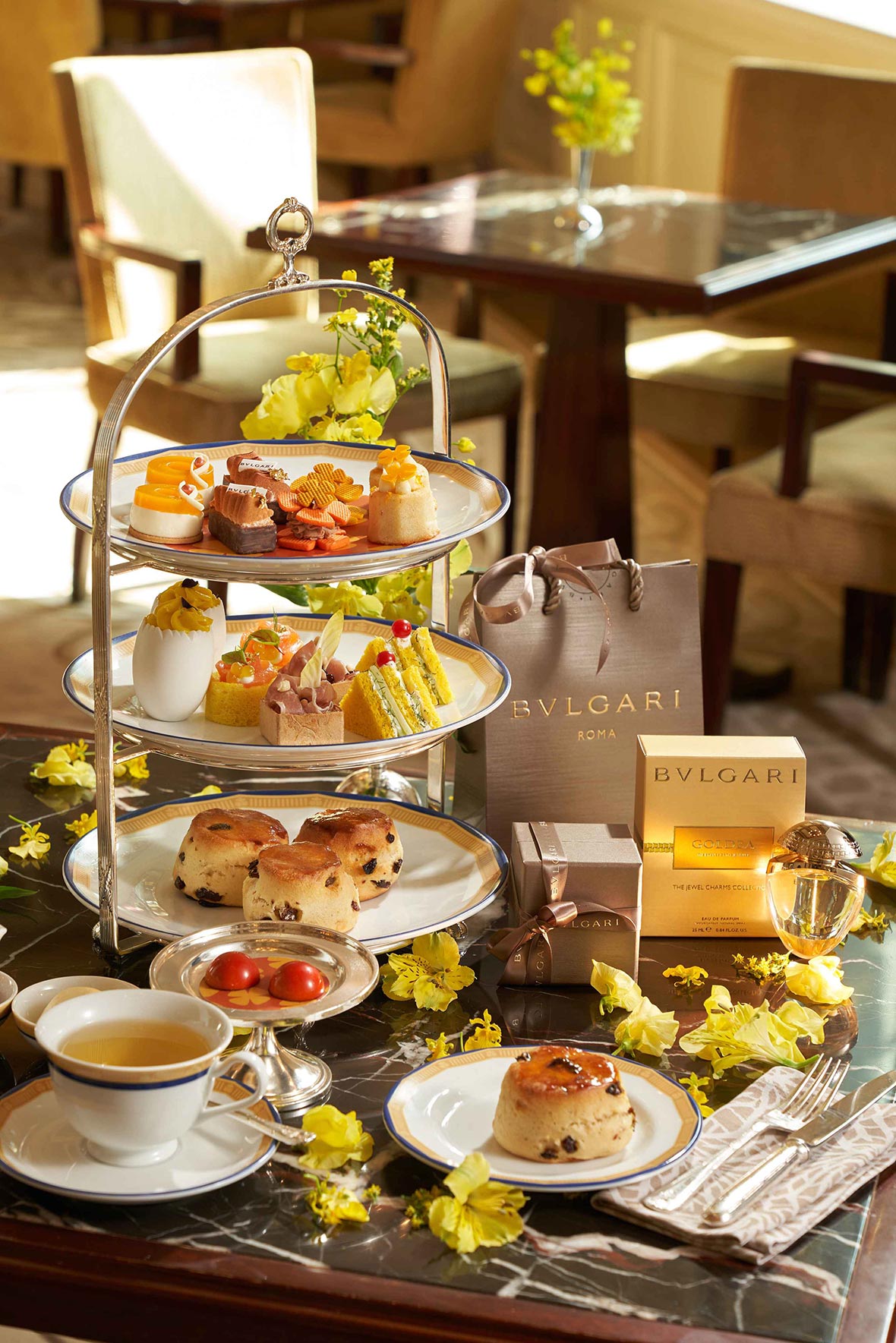 The British theme at the Peninsula's flagship hotel in Hong Kong begins outside its main entrance, where a fleet of English-made Rolls Royce Phantoms are lined up, looking ever-so grand. The English-style afternoon tea is hosted just metres away in the hotel's opulent lobby to the backdrop of soothing tunes from a string quartet. Make no mistake, this is the place to be seen among Hong Kong's blue bloods, so dress accordingly.
It is a delightful spread, featuring the likes of cucumber finger sandwiches, savoury pastries, chocolate cake, macaroons and fresh-basked raisin scones with Devonshire clotted cream and organic strawberry preserve. Among the refreshments are a range of herbal infused teas, as well as Chinese teas Jasmine, Pu'er, Rose and TI Guan Yin, and rich hot chocolate. Guests in the mood to celebrate can add a glass of Deutz Peninsula Brut Champagne.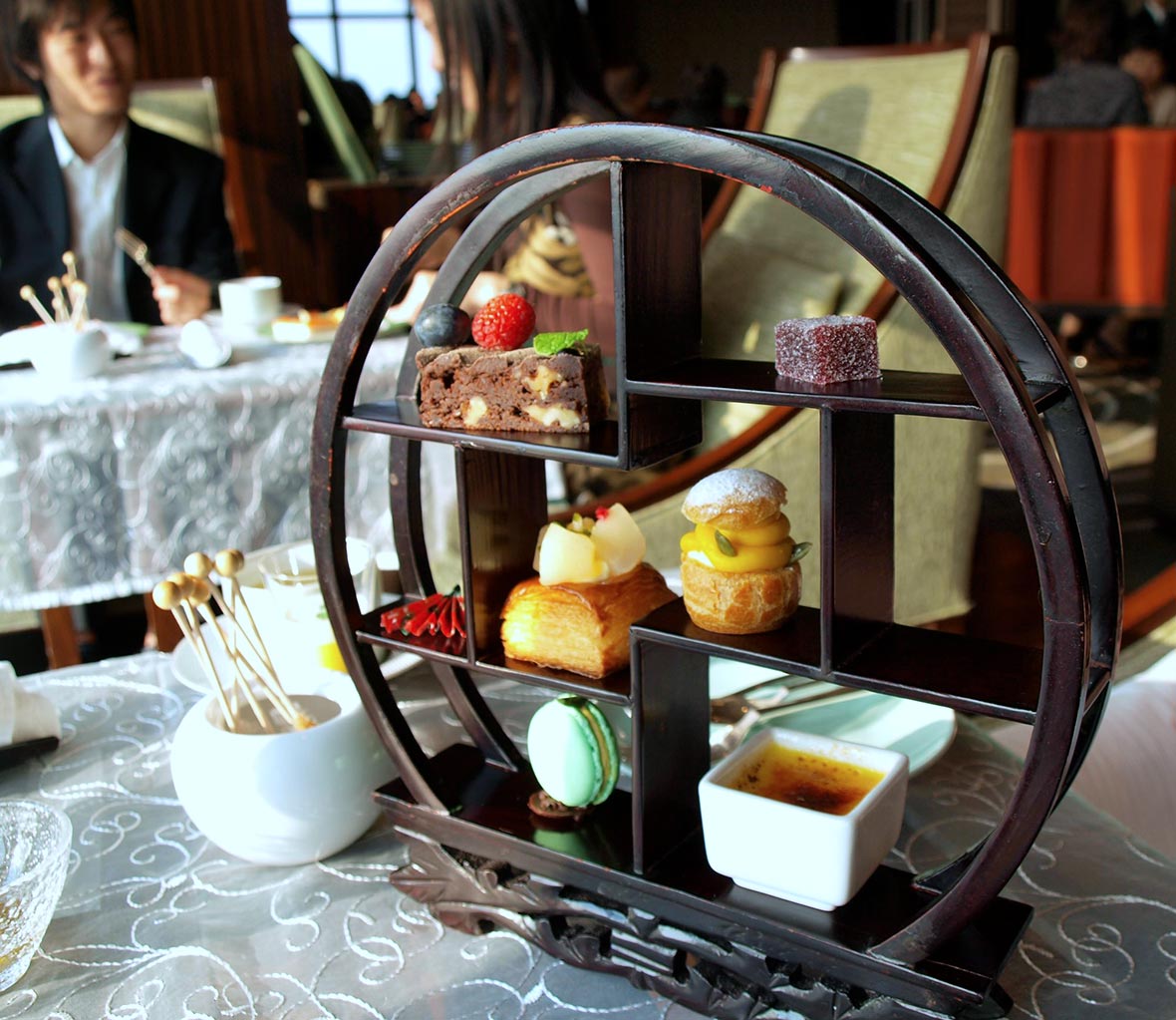 Long described as the "Center of Japan," Nihombashi is in the heart of Tokyo, alongside the Imperial Palace, Koyko Gaien National Garden, and the city's historic main railway station. Guests can look down upon these Tokyo landmarks while enjoying afternoon tea at the 38th floor Oriental Lounge of the Mandarin-Oriental Hotel.
The hotel's current Legendary Afternoon Tea includes a range of freshly-infused tea and is European-inspired. Its savory assortment features the likes of Roast Beef and Syrah Wine Chaud-froid, Salmon Confit with Vegetable Pickles, Lobster and Avocado Hamburger, and Crab and Tomato Mousse. This is complemented by sweet delights such as lemon scones, Mikan Mousse Almond, and Orange Financier Sesame Panna Cotta with Strawberry Jam, and Strawberry Danish.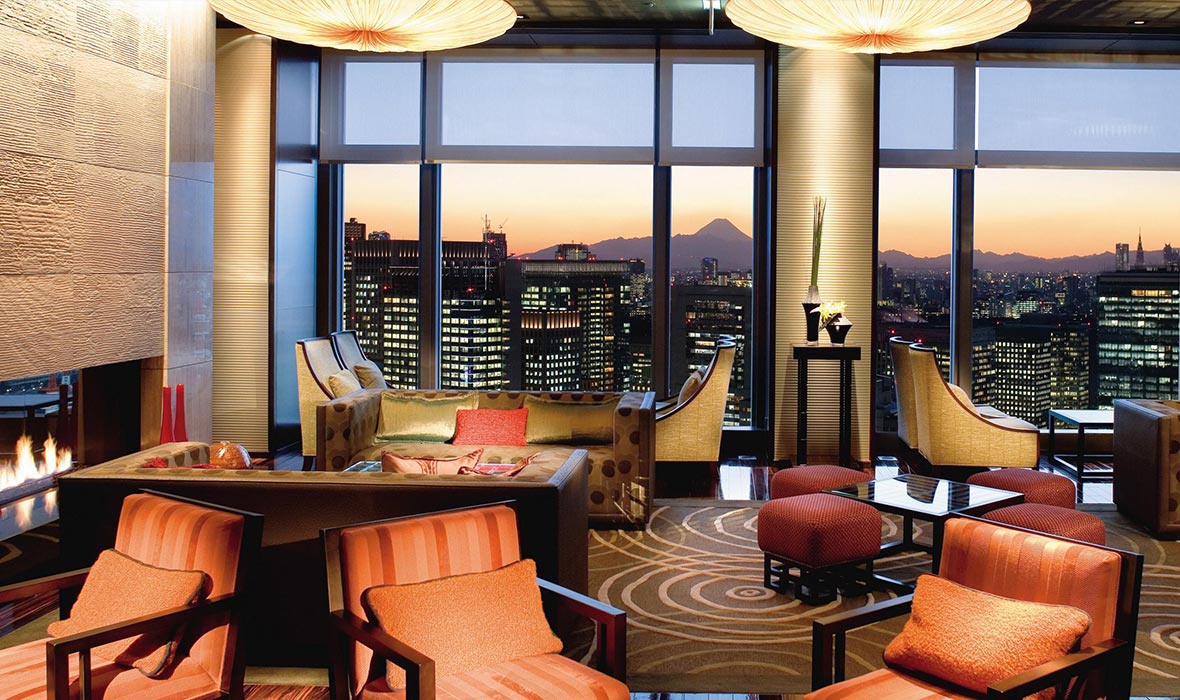 The Mandarin-Oriental also offers unique seasonal afternoon teas like its current Strawberry Afternoon Tea, which is available until the end of April. This set includes the likes of lobster and strawberry coulis, strawberry soup with crab and beetroot jelly, salmon and cucumber sandwiches with strawberry pickles, tartlets of seabream, strawberry and caviar, mousse with strawberry confit and truffle, and lemongrass tarts with fresh strawberry.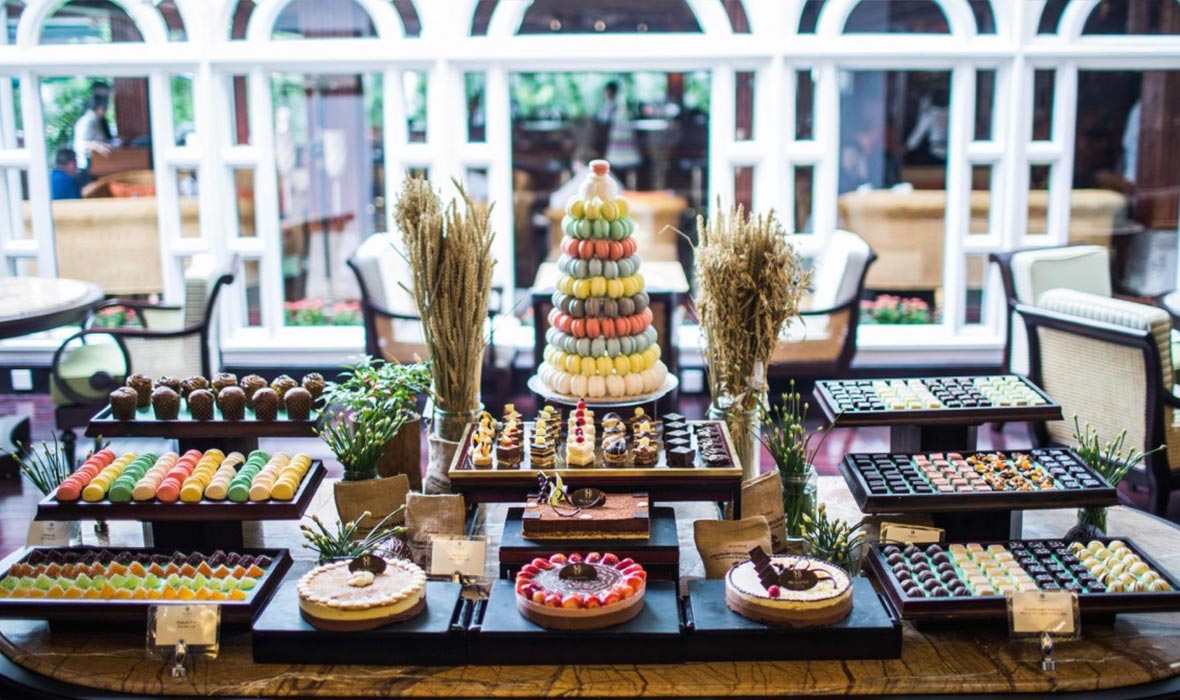 If the high tea experience in Asia isn't enough, the Sofitel Metropole Hanoi adds a little something extra to the experience: a great deal of chocolate. The "Chocolate Library" at the famed Sofitel Metropole Hanoi, once the haunt of the likes of Graham Greene and Joan Baez, is one of the more diabetically decadent treats in this northern treasure.
Between 3 and 5.30 pm, the luxury hotel opens its cocoa library in the Club Bar. Travelers will find a smattering of éclairs, mille-feuille pastries, macaroons, and a chocolate fountain. The treats found at the most luxurious hotel in Hanoi come from Vietnamese grown cocoa. The high tea experience sans the Chocolate Library is also available during the same hours.
Singapore, Fullerton Hotel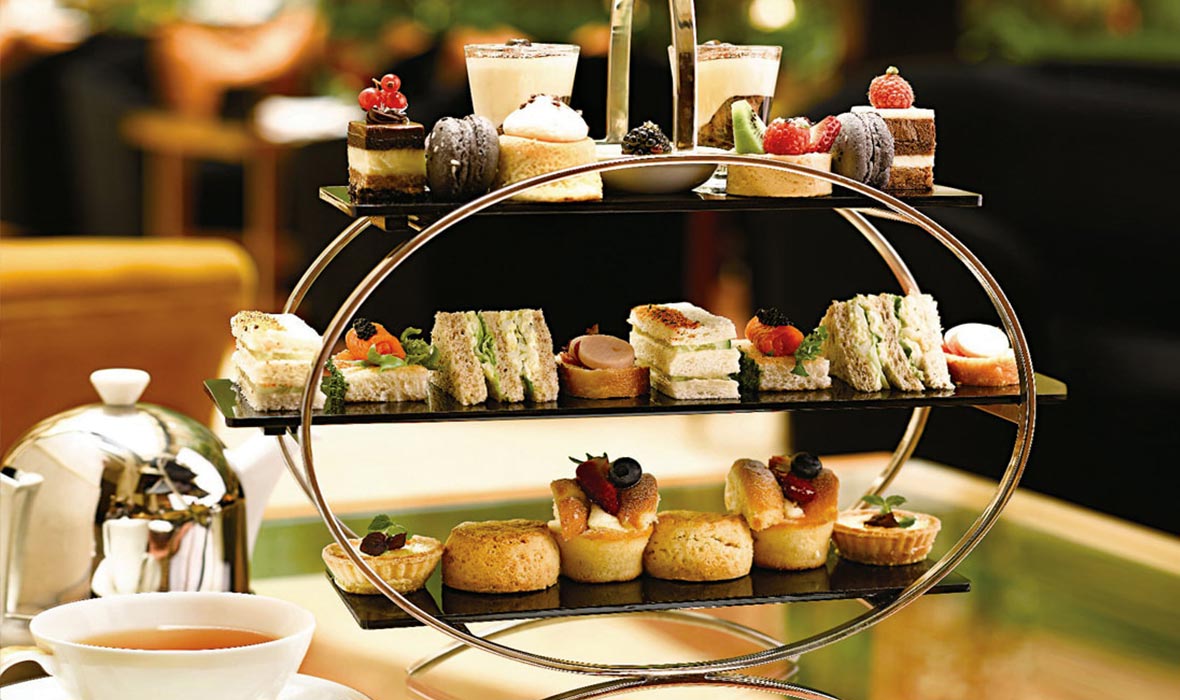 There are few more traditionally British spaces in Singapore in which to enjoy high tea than the Fullerton Hotel. While the hotel itself only opened in 1997, the grand building in which it is based dates back more than 90 years, when it was the city's General Post Office, having been commissioned as part of this British colony's centennial celebrations. With its magnificent colonial architecture, the hotel retains an old-world charm.
The Fullerton's Courtyard Restaurant offers three different afternoon tea sets – a traditional English version, a gluten-free set, and a vegetarian version. The English set has old favourites like curry egg sandwiches, mini bagels with ham and cheddar, chocolate eclairs, vanilla crème brulee and lemon tarts. Among the highlights of the gluten-free set are tiger prawn and avruga caviar, smoked duck mango salad, Barolo red wine pear, French macaroons and chocolate cake.
The vegetarian version, meanwhile, includes treats like grilled Mediterranean vegetables on a brioche roll, poached beetroot and ricotta cheese, brie cheese and plum jelly, panna cotta, and pistachio trifle. Along with each of these sets is a choice of white, red, blue, green and black teas, as well as coffee and optional champagne.