In what the author himself once described as "a pure money grab," novelist Paul Theroux packed a small bag and set out to ride trains from his local stop on the London underground to the farthest reaches of Asia. The result changed the nature of travel writing and influenced the way generations after its publication would travel. The Great Railway Bazaar: By Train Through Asia sold over a million and a half copies upon its release in 1975 and launched Theroux into the upper echelon of international writers.
Theroux spent the first part of his four-month trip crossing Europe with relative ease and then continued on to what was being called the hippie trail at the time. Starting in Turkey he rode the rails across the stans of Central Asia and through India. By the time he arrived in Southeast Asia he was travel weary and facing five countries either involved in or just adjacent to the America's Vietnam War.
For lack of a rail link, Theroux flew from India to the old Burmese capital of Rangoon (Yangon since 1989) and bought a train ticket for Mandalay in the only class Burmese Railway offered, something equivalent to Indian third: "wooden benches, broken windows, no berths, no bedrolls, none of the complex luxuries of Indian railways."
He only had one goal in Burma which was to ride trains north to the Gokteik Viaduct, the largest railway trestle in the world when it was completed in 1901 and still the highest bridge in Myanmar. It took four days to cover the 700 kilometer distance from Rangoon, during which time he took in a country driven by pony carts and coal fires, where daily life was closer to the 19th century than the 21st.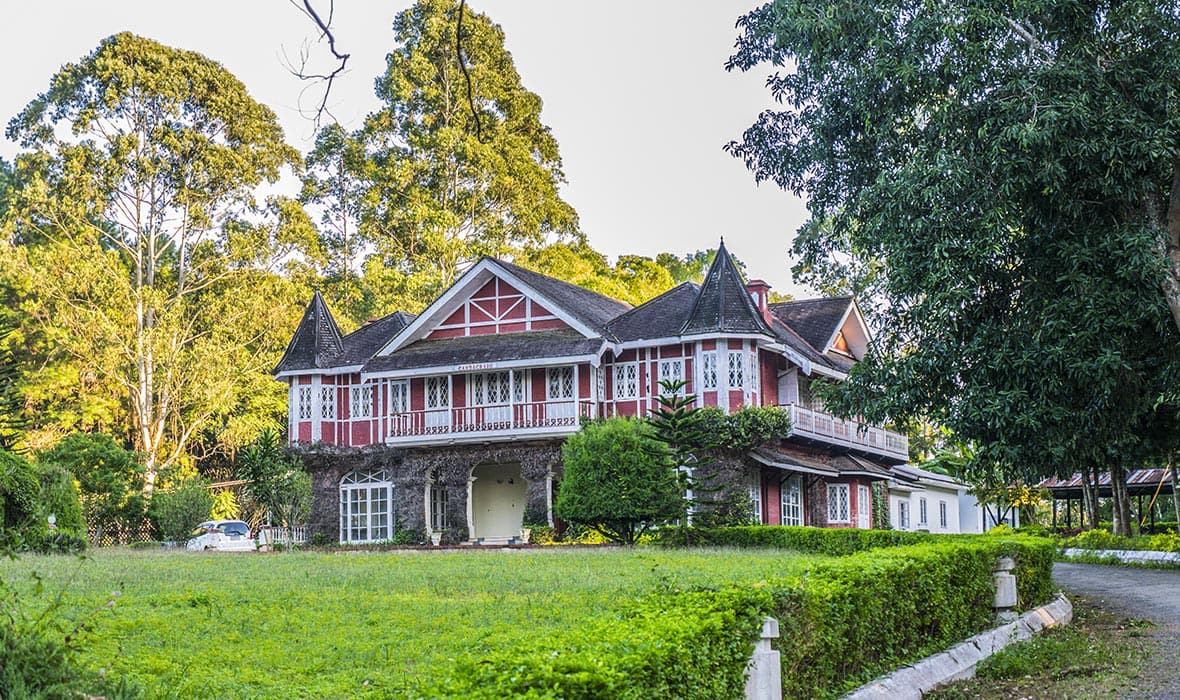 By a stroke of luck he meets a Burmese gentleman transported from the colonial era who put him up at a mansion turned guest house in the hills of Maymyo (today's Pyin Oo Lwin). Now a hotel, the lodgings which were once a chummery for single colonial police and forest managers to holiday at during the hot season, a setting that wouldn't be out of place in Orwell's Burmese Days; indeed, Orwell was first sent to Pyin Oo Lwin as a young officer.
Today, riding over the great span at Gokteik is a tourist favorite, but when Theroux did it in 1973 the entire area was off limits to foreigners.
He took a chance, boarding the train with no bags or passport and in the end was escorted by three soldiers and a railway security officer, there and back to Maymyo, where he was promised that if he ever attempted it again there would be trouble.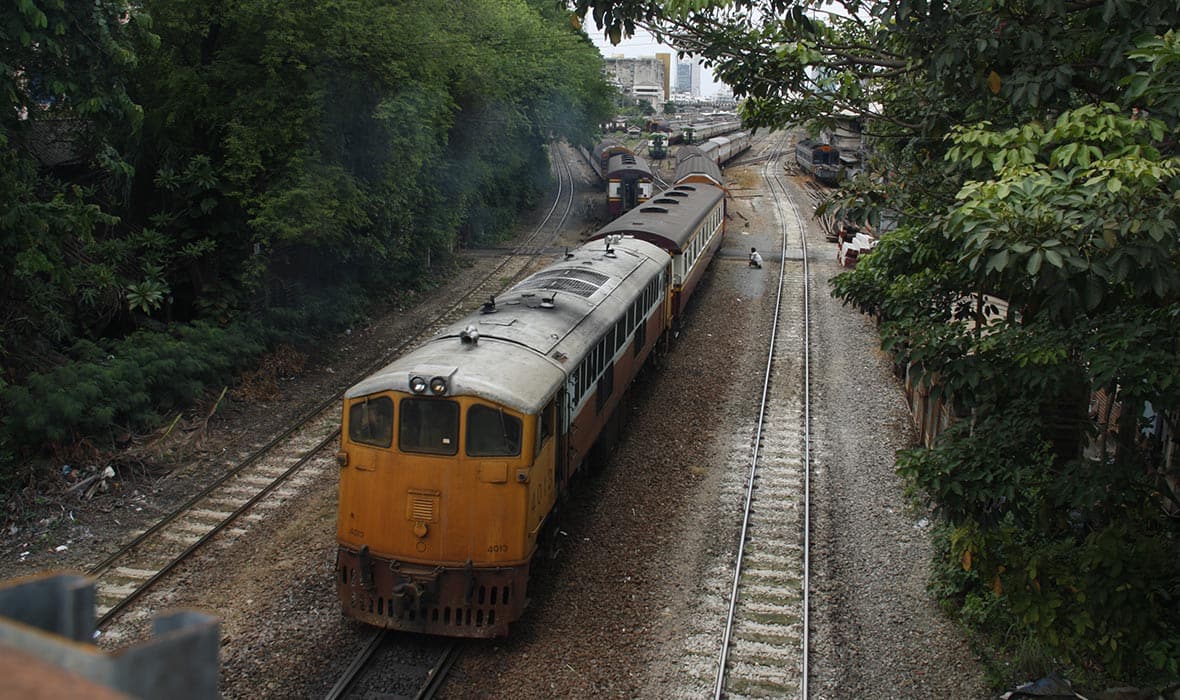 Theroux vividly described his trip south through Thailand from Laos, where he saw devastation and dined on lamb with an out of work prince, dreaming on the page of leaping from the train and taking up residence in a stilted wooden house beside a paddy field where he could stretch out and nap in the shade. Once he arrived in Bangkok though his attitude changed.
"The heat, traffic, noise and cost in this flattened antill make it intolerable to live in but Bangkok whose discomfort seems a calculated discouragement to residents is a city for transients," Theroux wrote.
Bangkok is still a city for transients; as one of the most popular holiday destinations in the world the Thai capital receives close to 20 million visitors a year. As for residents, the city's population is over 8 million people making it one of the top five largest in Southeast Asia. While Bangkok of the present is known for its legendary nightlife, world-class cuisine, and luxury accommodations in it's high rise hotels and condo buildings, there is still nothing to be done about the heat.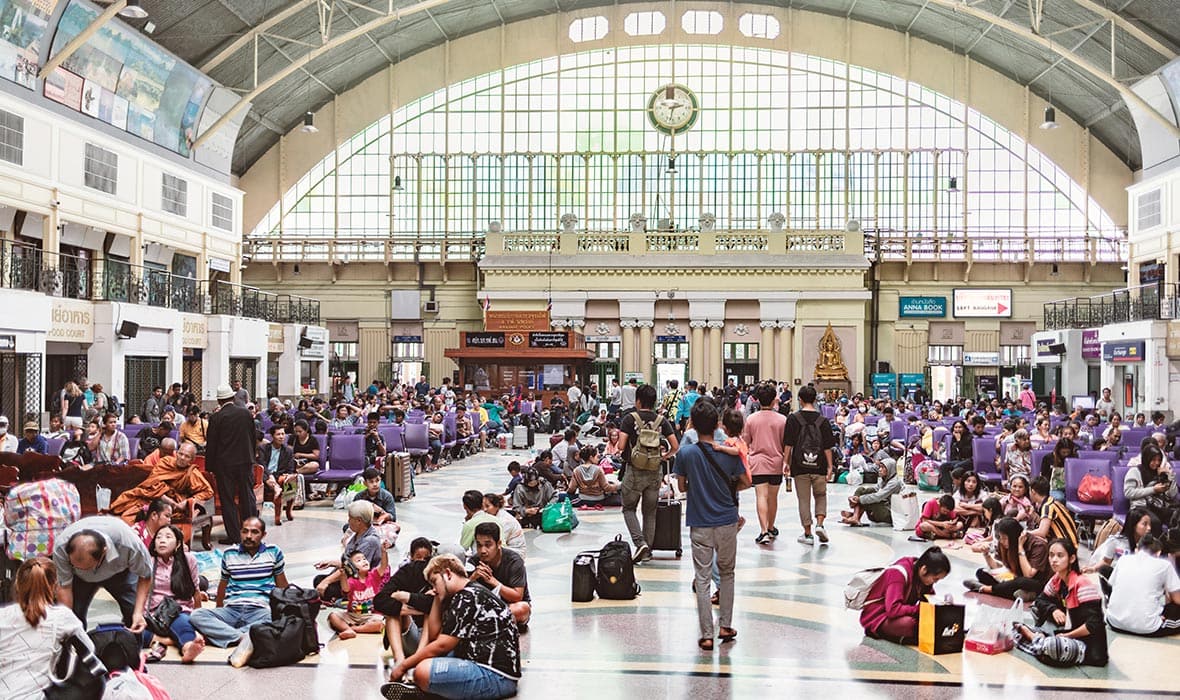 Theroux revelled in the grand names of the trains he took across the continent, some of them in relative comfort, others that rattled and crept, powered by coal and wood, a few still using steam but with titles like The Grand Trunk Rapid, The Early Bird, The Big Sky, and thus he rolled into Bangkok on the Golden Arrow Express and left on the Butterworth Special Limited heading south.
He describes Hua Lamphong train station as "One of the most carefully maintained buildings in Bangkok – like a memorial gym at a wealthy American college." Hua Lampong remains much as it did then though most everything else about Bangkok has changed.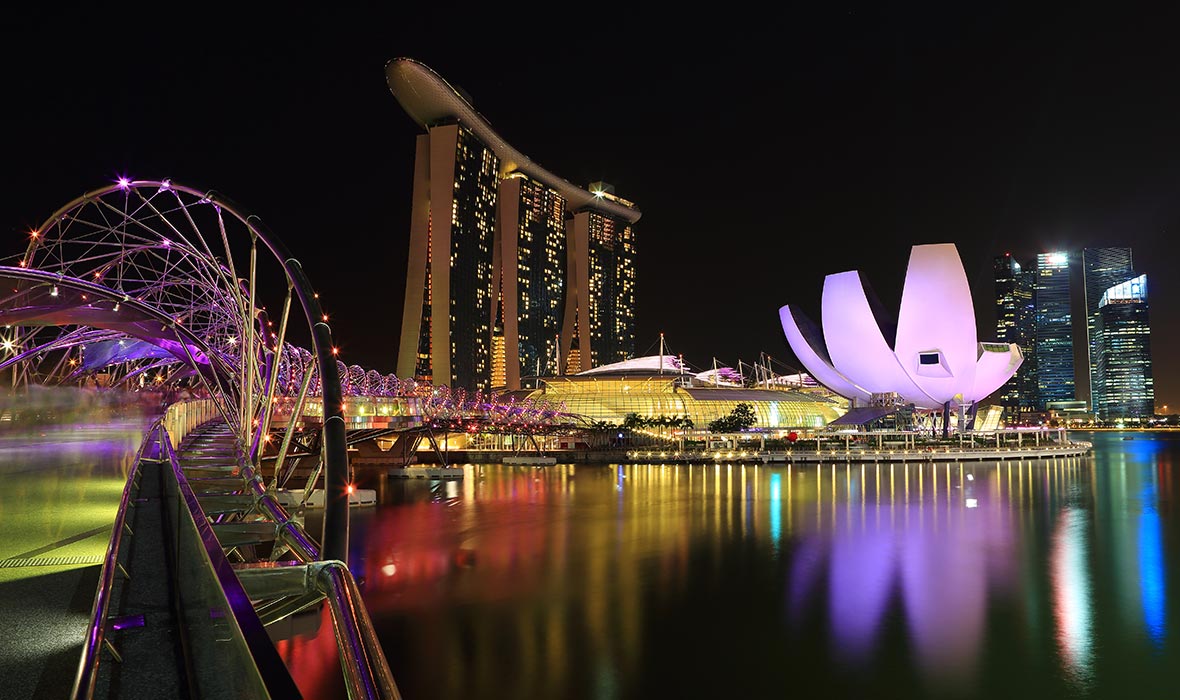 – Paul Theroux, Riding the Iron Rooster
The luxury route today to Singapore from Thailand is aboard the E&O Express. Singapore for Theroux was a return home of sorts, a place he had opposing feelings about. He had lived there in the late sixties for three years, teaching, writing, and exploring the old city. At first he writes, "I felt kindly towards Singapore […] a place where one of my children was born, where I wrote three books and freed myself from the monotony of teaching."
On the other hand the city state was moving away from its colonial past and establishing its independence in ways Theroux disagreed with and thought of as destroying the character and flavor of the old port.
"Singapore thinks of itself as an island of modernity in a backward part of Asia, and many of the people who visit confirm this by snapping pictures of new hotels and apartment houses that look like jukeboxes and filing cabinets," Theroux wrote.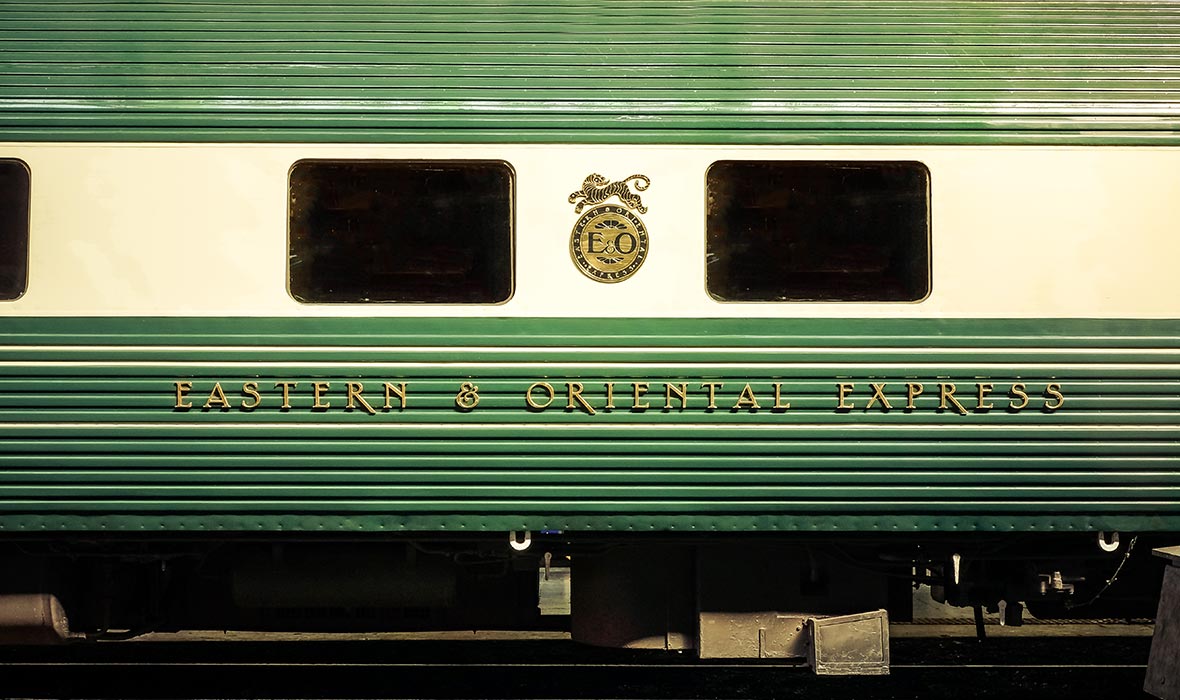 The contemporary view of Singapore is that of being the epitome of financial success in Asia. Sleek and modern in all ways but also polite and well kept A contemporary trip to Singapore to catch a Formula One Race or international music festival could include luxury shopping trips, super car rentals, and helicopter tours. The high rises, gourmet restaurants, and a well-integrated multi-cultural city of over five million is far from the bleak future Theroux had predicted for it 45 years ago.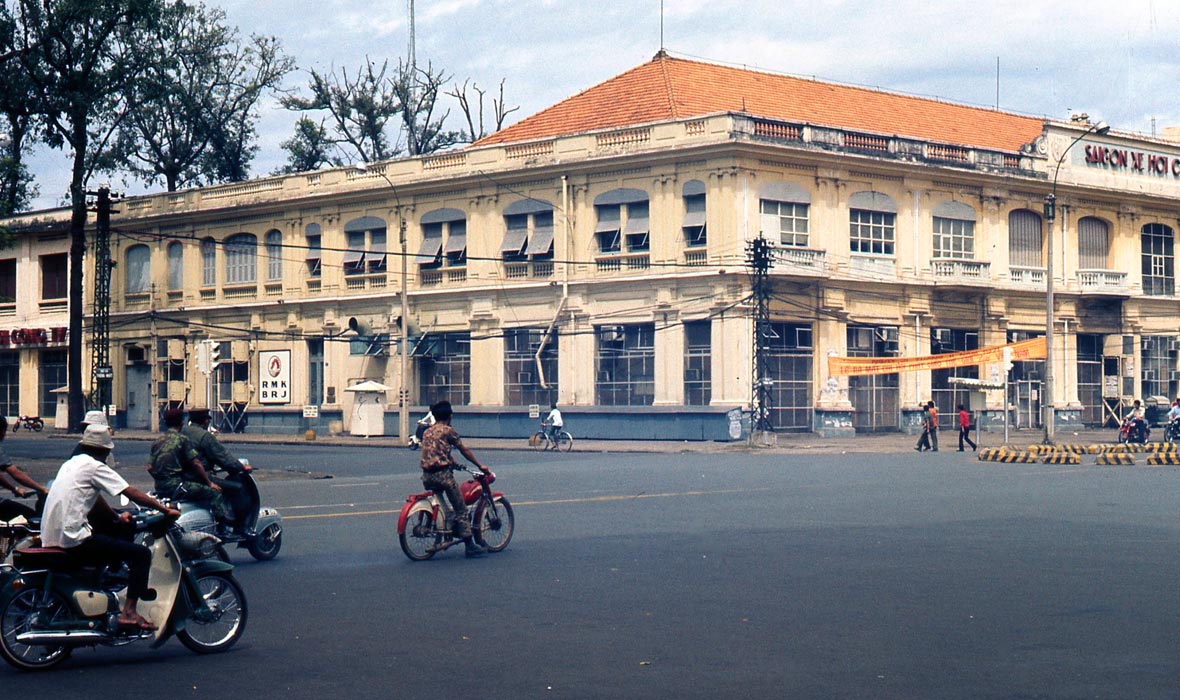 "I went to Vietnam to take the train, people had done far stranger things in that country." This is the first sentence of the book's chapters on Vietnam and undoubtedly true, but not many people were heading for Saigon (Ho Chi Minh City since 1975) in 1972 for the joy of riding the rails. It would be another three years before the city fell to the Viet Cong, effectively ending the American War in Vietnam, but the country was an active war zone then that didn't receive many non-military visitors, let alone tourists.
Theroux's descriptions of Vietnam are a study in contrast. His hosts in Saigon referred to as Cobra I and Cobra II were most likely diplomats who gave him access to the still existing high society of the city, spending their days at the Cercle Sportiff "where Chinese, Vietnamese and Frenchmen played games on ten acres of lawn." Their evenings were spent eating in French restaurants and afterward there were dark nightclubs with cocktails and lounge singers where Cobra I would mockingly call out "beleaguered Saigon" over the loud music.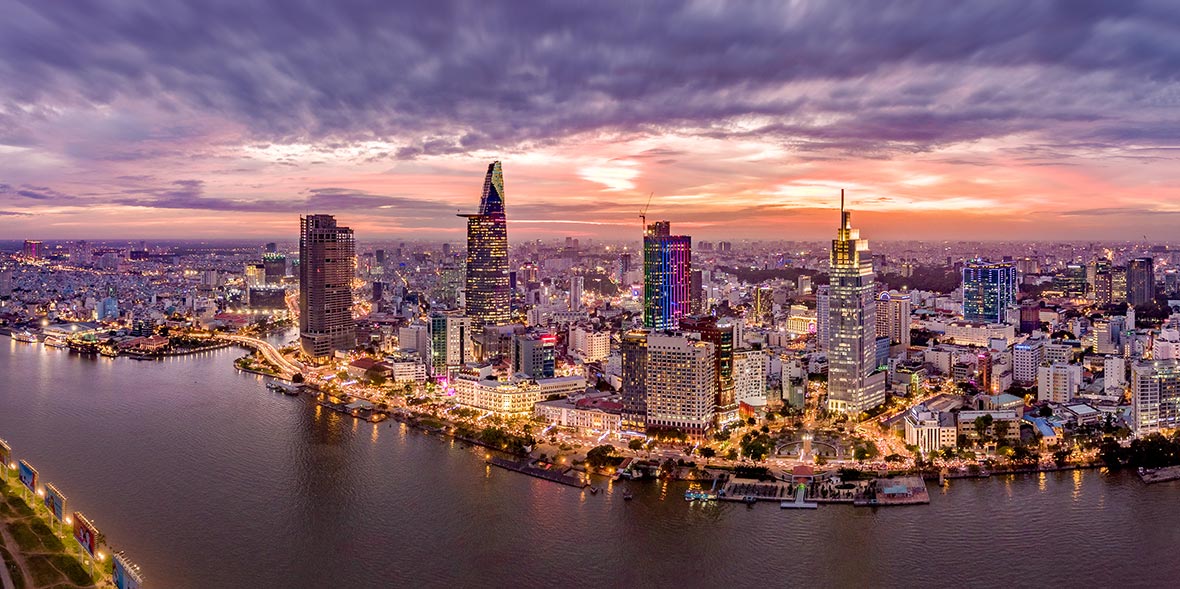 Theroux insisted on taking the bombed out and barely functioning Saigon – Bien Hoa train, though a tourism official pleaded with him not to, warning "it's the worst train in the world." What the author found waiting for him the next day was "A free ride in the director's personal rail car, to confound the reality of the place still further." On that train he saw the devastation that war had wrought on the country and its people. Theroux was decidedly anti-war and used those pages to express his horror and sadness at what had happened..
In 2005 Theroux revisited his Railway Bazaar trip in a book called Ghost Train to the Eastern Star. This book was all about reflection and change, countries he had visited on his first trip had since been closed off by new conflicts, others had opened up and throughout he noted the changes that had occurred. Out of all the countries he visited though he wrote the most pages about Vietnam.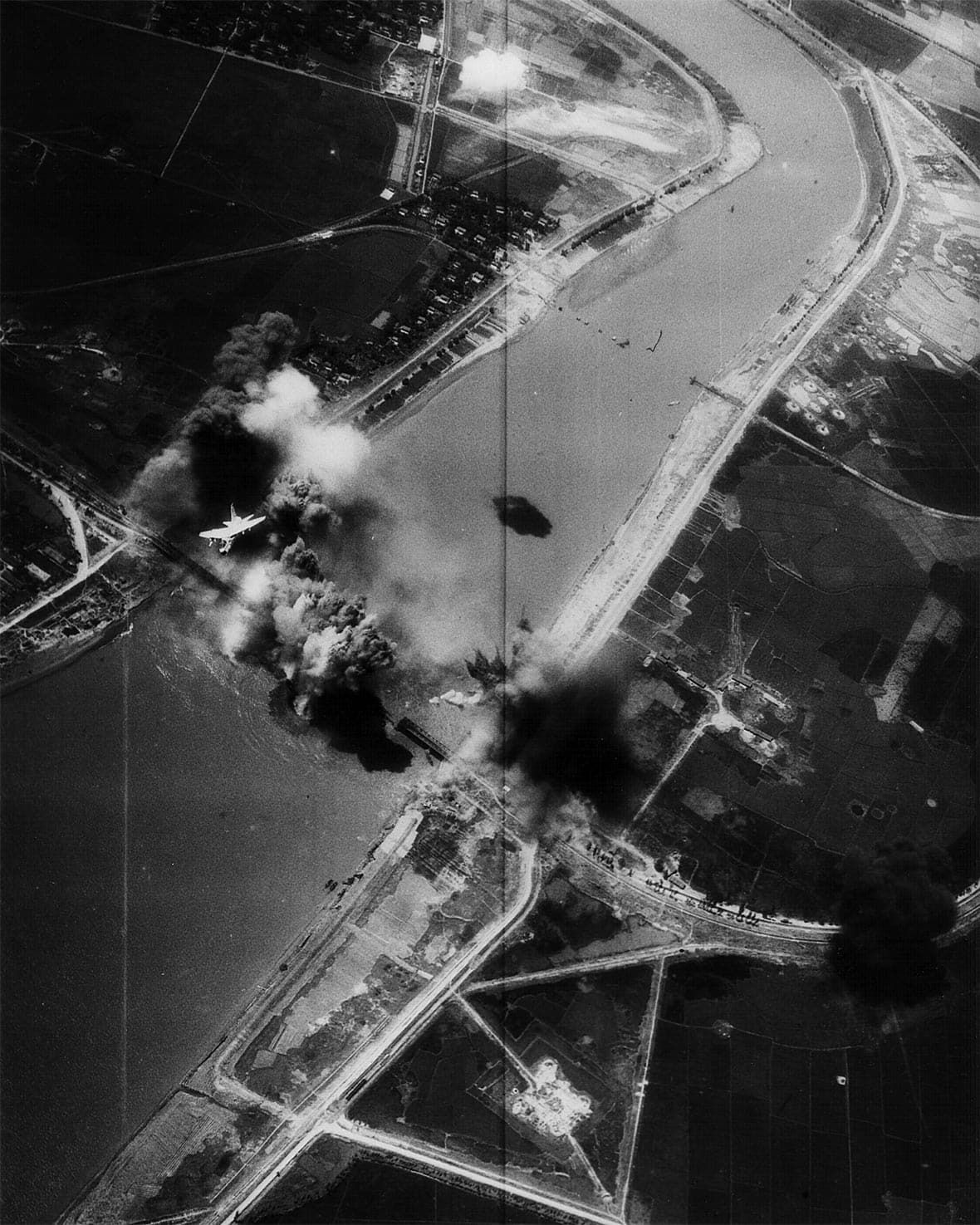 In his later book he was able to visit Hanoi which had been off limits on his first visit and described both it and Ho Chi Minh with a sense of awe at the progress those cities and the country all had made. Today, fifteen years later, Vietnam has changed almost as much again.
As Ho Chi Minh offers visitors an international-cosmopolitan environment studded with examples of its grand colonial past, Hanoi is a more sedate, traditional city where the long history of Vietnam is present everywhere; in its shrines, markets and traditional cuisine.
For those that love travel and travel writing a book as genre defining as Paul Theroux's The Great Railway Bazaar is a one – two punch. It's full of the sights, sounds and people of a bygone era; of lands still unique. It's full of mystery, happy accidents and the dreadful decisions of travel yet unaided by the internet. Reading It also continues to inspire though, for as much as we are all in touch, all the time there are still adventures to be had and places to discover.