Sun, rain, rich terrain – it's a wonder Southeast Asia doesn't come to mind more for wine lovers. Add beaches, Southeast Asian food, and that special charm that comes with permanent summer, and it makes for quite the bottle of wine. Indeed, there are a few other places in Asia that have viticulture than can stand up to Old World standards.
With some clinging successfully to European styles and others going their own way, the vineyards of Southeast Asia combine the varied traditions, cultures, and climates of their native soil to create wine that is truly unique. There are also music festivals, wildlife, and some fine, decadent wines – but, yeah, there's culture too.
Monsoon Valley: Hua Hin, Thailand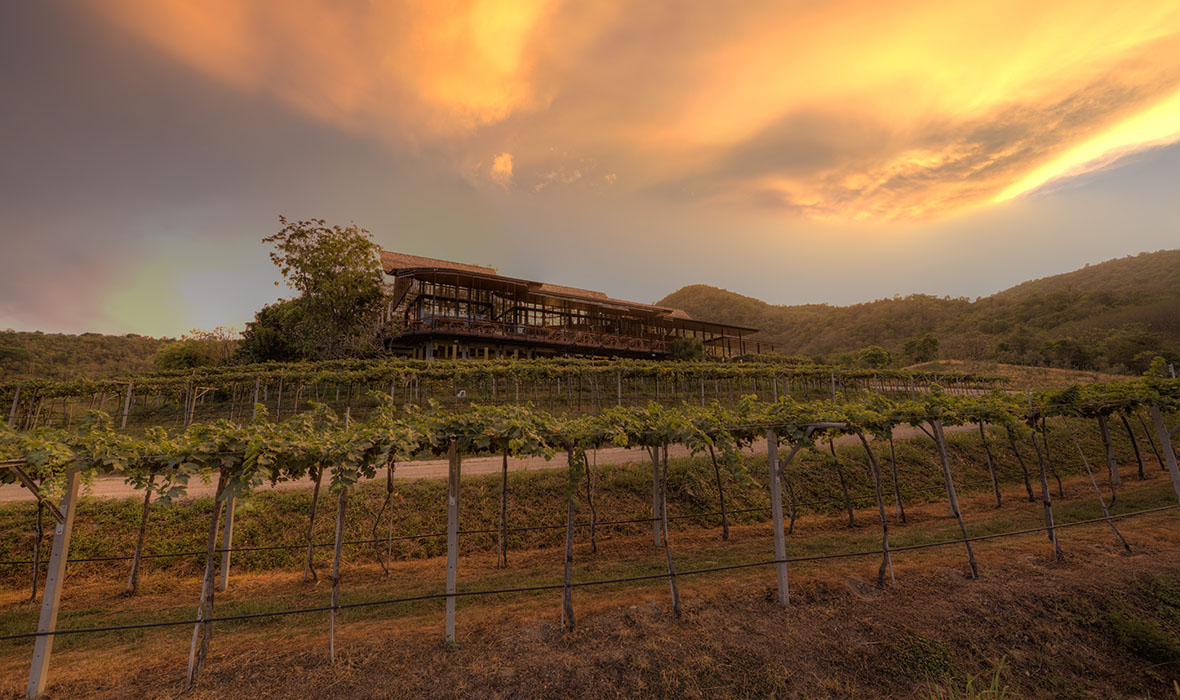 It's difficult to discuss Monsoon Valley Vineyard, without shouting "elephants" several times, but one shall endeavor to do so. This award-winning vineyard – elephants, elephants, elephants. They have elephants. Big, gorgeous pachyderms.
Elephant rides are available for those not fussed about the ethics – which can be rather complicated – but the elephants are also used in the cultivation process. There are few finer sights in Thailand than a mighty elephant amid a pastoral Southeast Asian vineyard.
Indeed, while Monsoon Valley, located just a short jaunt from Bangkok, boasts much of the finery of other vineyards, the biggest draw is simply that it's fun: safaris, mountain biking, and every harvest season they throw a party. The obligatory vineyard tours and wine tasting are available on site, and their restaurant, The Sala, boasts an appetizing menu of European and traditional Thai dishes.
Founded in 2001, Monsoon Valley pride themselves on taking an innovative approach to viticulture, given they are outside traditional wine growing latitudes. They offer unique wines, activities, rural beauty, a convenient location, and, if it hasn't been casually mentioned before, elephants.
Hatten Wines: Bali, Indonesia
Found on Bali's north coast and established in 1994, it all began with the launch of Hatten's signature rosé – served chilled of course, and the perfect accompaniment to the hot Bali climate.
Hatten Wines harvests more than 34 hectares of grapes, and unlike many of the vineyards in Southeast Asia, the Northeast of Bali has long been a grape growing area – filled with clean mountain springs, sun, and rich soil. Travelers can see the grapes from the main road toward the beach, starting from the tourist town of Lovina, which run all the way to the Pembuteran beach resort.
Winner of "Winery of the Year 2017" by Asian Wine Review, the signature Cellar Door at Hatten features wine tastings seven days a week. Also of note for Hatten Wines in Bali is their recent Toto Kitchen facility – in conjunction with German luxury home appliances Gaggenau and Schott Zwiesel.
Silverlake Vineyard: Pattaya, Thailand
Not to be too dramatic, but there are blood-soaked warzones that look down on Pattaya City as a holiday destination. However, the vineyard at Silverlake is the exception. Quaint, pastoral, and peaceful, Silverlake couldn't be more different from the reputation of its faraway town to the north.
Founded in 2002 and designed to combine the owners' passions for good wine and music, Silverlake is well-known for hosting an annual music festival. The estate produces both wine and table grapes and employs the latest juicing and wine-making technology imported from Italy. Guided tours of the vineyards and the state-of-the-art Tuscan-style winery are available on request.
Also of note, there is a shop where you may purchase products from vine-fresh grapes to homemade jams and juices. Silverlake Wine and Grill Restaurant and Pizza Café boast indoor and outdoor dining with panoramic views and accommodation comes in the form of quirky cottages.
Aythaya Vineyard: Inle Lake, Myanmar
The Inle Lake area is famous for much: its mountains, Shan ethnic group, and the curious rowing of the fishermen, but its highland climes make for some good wine, as well. Aythaya Vineyard, Myanmar's 1st Vineyard Estate, was established in 1999 near Taunggyi in the southern Shan State, with some 15,000 vines initially imported from Europe. The high altitude (1,200 meters) combined with high rainfall makes for some fairly unique grapes.
Aythaya Vineyard focuses on cultivating only noble grape varieties for their wines. The sunset Sunset Wine Garden, along with delectable European cuisine, is one of the main draws for this vineyard. A sunset here is not to be missed. Beautiful accommodation is also available in their "Monte Divino Lodge," with romantic and surprisingly affordable rooms.
GranMonte: Khao Yai, Thailand
The GranMonte hosted cornfields and cashew nuts before Visooth Lohitnavy had the idea to turn the 12 hectare plot of land into a vineyard, today one of Thailand's finest. Found in a pleasant micro-climate next to Thailand's gorgeous Khao Yai National Park, visitors will find this area conveniently located about 160 miles outside of Bangkok.
Travelers are advised to visit between the months of May and October, but be sure to check ahead of time if you plan to go in February so you don't miss out on the harvest festival. As for where to stay, the GranMonte Guest House is the obvious choice, and the vineyard's restaurant, VinCotto, has reliably good food, featuring a 5-course menu and wine pairings.