It's the only service that travels between all three nations – Singapore, Malaysia, and Thailand – without a change of train.

Railroad stations in Southeast Asia are often exciting and mysterious, or at the very least historic. The one in Singapore, however, is none of these. Established at Singapore's northern tip in 2011, Woodlands Train Checkpoint is little more than a transit facility for rail travelers who need to complete Malaysian and Singaporean immigration and customs formalities before boarding a shuttle across the kilometer-long Johor-Singapore Causeway.
For today's international passengers on Malaysia's state railway, any train journey begins or ends at JB Sentral, an ultra-modern terminal at the southernmost point of the KTM West Coast Line in Malaysia's Johor Baru.
There is one exception, however, one international passenger rail service that still operates out of Singapore. Woodlands may not be the most historic or atmospheric rail facility in the region, but it plays host to the Eastern & Oriental Express, the most lavish and well-appointed train anywhere in Southeast Asia.
It's the only service that travels between all three nations – Singapore, Malaysia, and Thailand – without a change of train.
When I arrive on the platform after passing through dual-country customs and immigration, I'm the only passenger in sight, since I've taxied directly from Singapore's Changi Airport after my brief flight from Bangkok. Other E&O passengers will arrive by bus from the 1887-vintage Raffles Singapore, a decidedly more historic gathering point, but because my flight arrived a half hour later than scheduled, I've skipped the planned check-in at the hotel so as not to risk missing the train's 3pm departure.
I take the opportunity to admire the gleaming, green-and-gold-painted carriages, majestically aligned along on the tracks behind an idling KTM engine. The exterior of two cars in the middle exhibit a stunning rolling canvas called The Koi Pond, hand-painted by Singaporean street artist Rajesh Kumar. The whimsical collection of brightly colored koi fish encompasses the roofs as well as the sides of the train (the cars were returned to their original color scheme at the end of April).

Monty explains that he'll personally deliver breakfast to my cabin each morning, and a high tea set in the late afternoon.

Soon my fellow passengers arrive, and smiling, uniformed E&O staff escort us onto the waiting train. Each car has its own 24-hour carriage attendant. Mine is a young Thai man named Monthian, who suggests I call him by his nickname Monty.
Monty leads me up the train steps and down the narrow corridors – when I meet someone coming from the opposite direction, we have to press our bodies to the carriage walls to pass more easily – to my Pullman Twin cabin. It's a veritable jewel box, paneled in cherrywood and elm burr, with intricate marquetry and fine upholstery commissioned from Jim Thompson Fabrics. The hand-tufted carpets, I later learn, come from Thai rugmakers, while the tasseled window treatments are crafted by Malaysian embroiderers. The en-suite bathroom is large enough for two not-too-large adults to navigate between toilet, sink, and shower, and is amply supplied with fluffy white towels and Bvlgari toiletries.
Luggage storage is limited to a small overhead rack, while a half-meter-wide wardrobe can hang four to five outfits at most. My only dilemma is where to put my acoustic guitar. It won't fit on the rack or in the wardrobe, so I lean it against a built-in table beneath the window, leaving just enough room to open the bathroom door.
Two other cabin classes are available, the larger State Cabin and larger-still Presidential Cabin, both of which offer two single beds at floor level. For solo passengers, the Pullman Single offers a single bed at floor level.
Monty explains that he'll personally deliver breakfast to my cabin each morning, and a high tea set in the late afternoon. Lunch and dinner, he says, will be taken in the dining cars, of which there are two on this journey.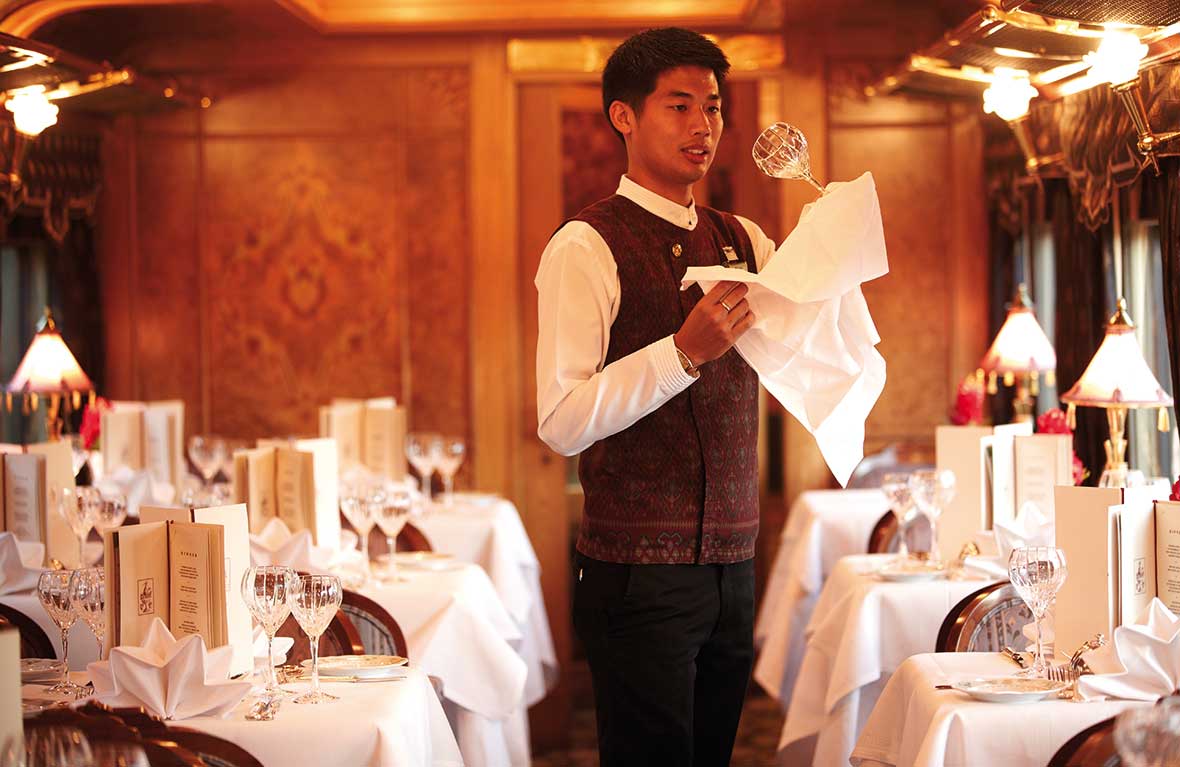 Chef de cuisine Yannis Martineau has helmed the 12-square-meter E&O galley for nine years, combining local ingredients and flavors with techniques from his French fine dining background.

After Monty leaves and I've unpacked, I make my way to the Observation Car at the back of the train. The forward section of car is outfitted with a spacious wood-paneled bar, conveniently open day and night and offering the only wi-fi on the train. I opt for the open-air, teak-floored verandah in the rear to take in the scenery while fully enveloped in the tropical air.
Only a few kilometers north of JB Sentral, the Malaysian cityscape gives way to an uninterrupted wall of greenery. I've chosen to do the E&O trip from Singapore to Bangkok rather than vice versa so that I can experience the southern reach of the Malay Peninsula during daylight hours, and I'm not disappointed.
Natural rainforest alternates with the ordered patterns of rubber and oil palm plantations, and from the platform of the fast-moving train, the landscape takes on the flickering character of 1930s cinema, accompanied by a rhythmic wheels-on-rail score which combined together evoke a strongly hypnotic effect. Somehow I feel like Lord Greystoke, vacillating between civilization and the call of primitive urges.
After a spectacular sunset, I break the spell to walk from car to car till I reach the two dining carriages.  Passengers alternate from one to the other over the two-night Singapore-Bangkok journey, while in the three-night Bangkok-Singapore trip, a third dining car is added. For my first evening, I'm seated in the colonial-themed Adisorn, which features elegant elm paneling bordered with exquisite inlaid marquetry.
Chef de cuisine Yannis Martineau has helmed the 12-square-meter E&O galley for nine years, combining local ingredients and flavors with techniques from his French fine dining background.

I write in my notes, 'Worth the trip for the food alone.'

I enjoy a starter of prawn and green mango salad with chilled tomato soup, followed by braised beef cheeks with bak kut teh herbs, sautéed apricot bao mushrooms, light potato mousseline, and bok choy, accompanied by a well-balanced Côtes du Rhône recommended by the maître d'. The meal is served with distinctive chinaware, silver cutlery and fine European crystal, and as a dining experience, it's equal to just about anything I've had at five-star standalone restaurants in Bangkok or Singapore. I write in my notes, "Worth the trip for the food alone."
Before heading back to my cabin, I stop off at the Bar Car, where 75-year-old Chinese-Italian pianist Peter Consigliere is entertaining passengers with his thousand-song repertoire. Pete has been playing piano on the E&O for the last two decades, clocking in well over 1,800,000 kilometers.
Although Pete later tells me he's classically trained, most of the music he plays dates to the 50s and 60s. He's extremely adept at fielding requests, one minute playing It's a Long Way to Tipperary for British passengers, the next I Yoh Yoh Samy, a Tamil song, for an Indian couple. On the second evening, Pete graciously invites me to join him on guitar for a brief blues and jazz jam. Naturally we play Robert Johnson's Love in Vain, featuring the enigmatic line "The blue light was my baby, and the red light was my mind."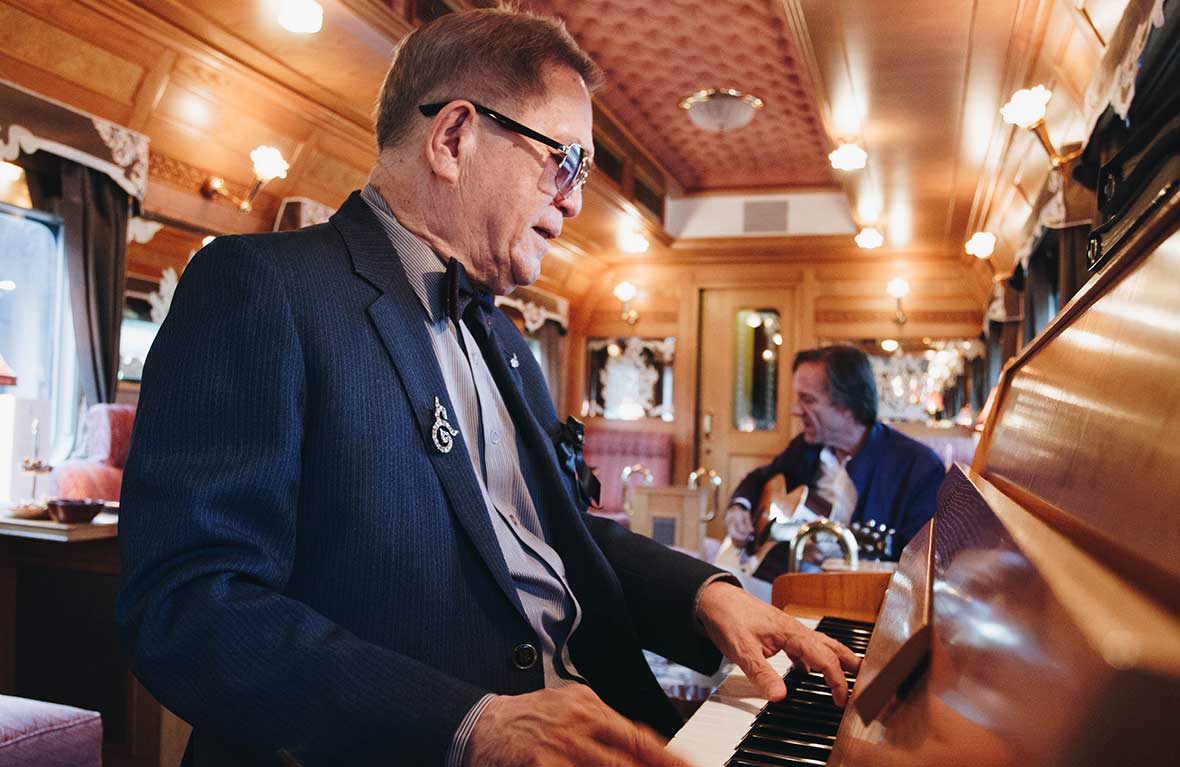 When I finally get back to my cabin after two or three too many Manhattans, I find that Monty has magically transformed the library-like cubicle into a cozy bedroom, complete with fluffed pillows and fresh flowers. As sleeping goes, nothing beats spending the night on a moving train, and my soul quickly hits the astral rails.
The following morning the train stops in Kuala Kangsar in northern Malaysia for a guided excursion of Ubudiah Mosque, the Royal Museum of Perak, and the Sultan Shah Gallery. It's my first time in this historic town, and I thoroughly enjoy learning about the local sultanate and taking in the alluring fusion of Malay vernacular and British colonial architecture found at all three attractions.
After cruising up the tracks through Thailand – a landscape I'm already familiar with, so I spend much of the day reading and napping in my cabin – we stop in Kanchanaburi at the iconic Death Railway Bridge, also known as the Bridge on the River Kwai, after the 1952 Pierre Boulle novel and 1957 film of the same name. The bridge was one of hundreds of such spans along the Thailand-Burma Railway, which ran 415 km from Ban Pong in Thailand to Thanbyuzayat in Burma, and was built by the Imperial Japanese Army during the second World War using Allied prisoners of war and Asian forced labor. Tens of thousands of them died building a railway that was never used by the Japanese before their 1945 defeat.
After snapping pics of the bridge from the riverbank, we board a barge to cruise beneath the span while historian Rod Beattie from the Thailand-Burma Railway Centre delivers a brief and highly informative lecture on the bridge-related events of World War II. We dock at the center, where we spend an hour appreciating the educational, and at times quite moving, interactive displays.
Before re-boarding the train, our hired tour bus takes us to one of two Allied war cemeteries to walk amid the hundreds of graves, each marked by a simple brass plaque engraved with the name, rank, and regiment of the deceased, his age and date of death, and a brief individualized message from surviving family. One that gets to me reads, "A vacant chair, an empty place, how we miss his loving face."
I'm glad when the train is moving again. Kanchanburi's ubiquitous sugarcane fields give way to tacky provincial Thai towns. Finally, the increasing density of modern buildings interspersed with tattered slums signals our Bangkok entry.
I sigh as the elegant bubble of luxury sidles into chaotic, century-old Hualamphong Railway Station, said to host an average of 60,000 people a day. Would it be OK if I stayed on the train when it takes off in the opposite direction?