There's nothing quite like getting off a long plane journey to Asia, and heading to the rooftop bar for a look at a brand new skyline. Tour, explore, and travel galore, but everyone likes to have a nice sundowner, and there are a few this year throughout Asia well worth the journey. From Bali to Tokyo, these cocktails have a little something extra.
Dill Mojito at Chedi Club Tanah Gajah Ubud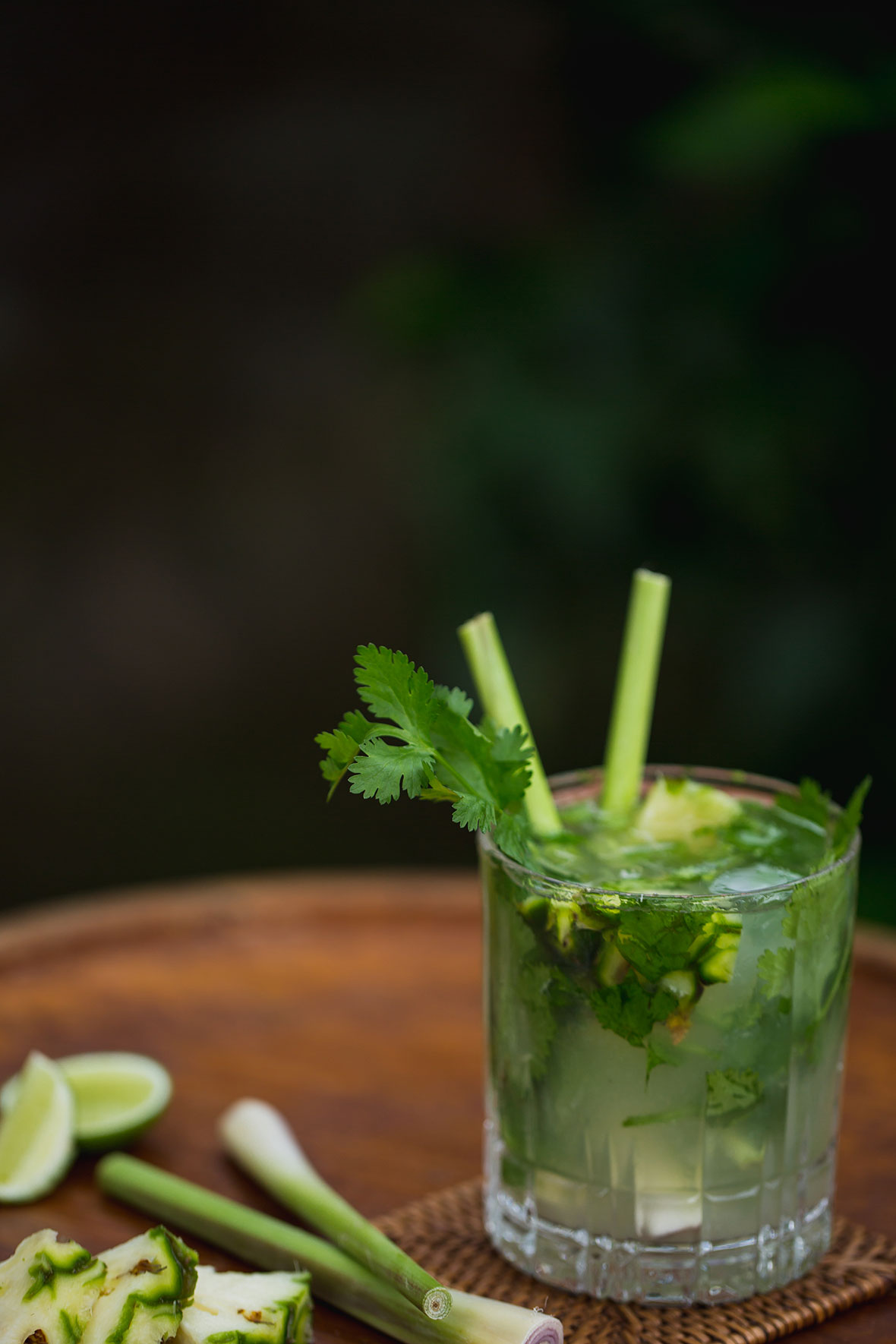 While Bud Light dilly dallies with its Dilly Dilly campaign to keep people drinking light beer, one drink at the Chedi Club Tanah Gajah Ubud is the real dill. Its new Dill Mojito substitutes dill for mint but really ups the ante by sourcing the herb from its organic garden.
Hand-picked at just the right time, so says the hotel, the dill is a remarkable twist on an age-old favorite that's otherwise all about light rum, white sugar, lime wedges and soda water. Mojitos aren't the only beneficiaries of the hotel's organic garden: So too is a pineapple-lime concoction called the Roschka that's founded on vodka infused with lemongrass. The Tanah Gajah Purple shoots for the stars with organic basil, and the Spicy Roselle made from house grown organic hibiscus.
Tom Yum Cocktail at Banyan Tree Samui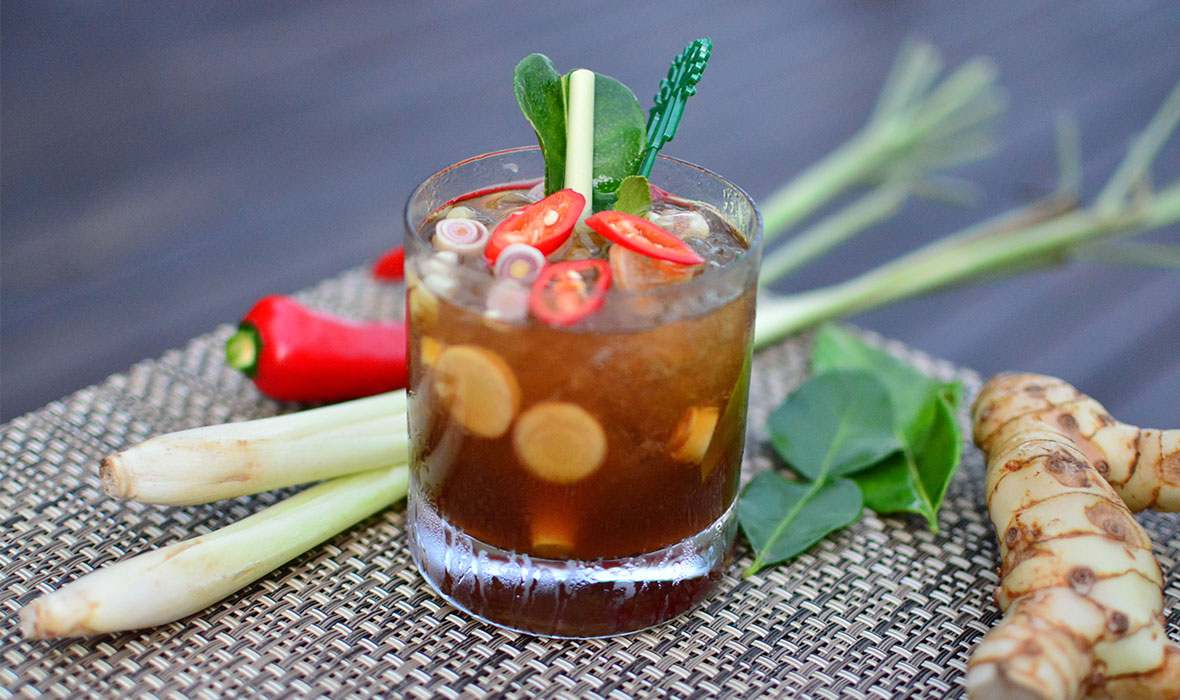 Banyan Tree Samui's signature Tom Yum Cocktail is a zingy, zesty testimony to Thai cuisine with a lip-smacking aftertaste of lemongrass, the tart tang of lime juice, and an eye-watering hint of red chilli. Its fragrant flavor is based on Thailand's popular dish of tom yam, a spicy n' sour soup adorned with prawns and served simmering over a flaming earthenware pot. Banyan Tree's vodka-based version is a sweet n' sour rendition served on the rocks. Garnished with slices of galangal and kaffir lime leaf plucked directly from the resort's garden, the tom yum cocktail is the ideal companion when gazing out on a melting sunset from a hot tropical island.
Kyoho Grape & Earl Grey Martini at Palace Hotel Tokyo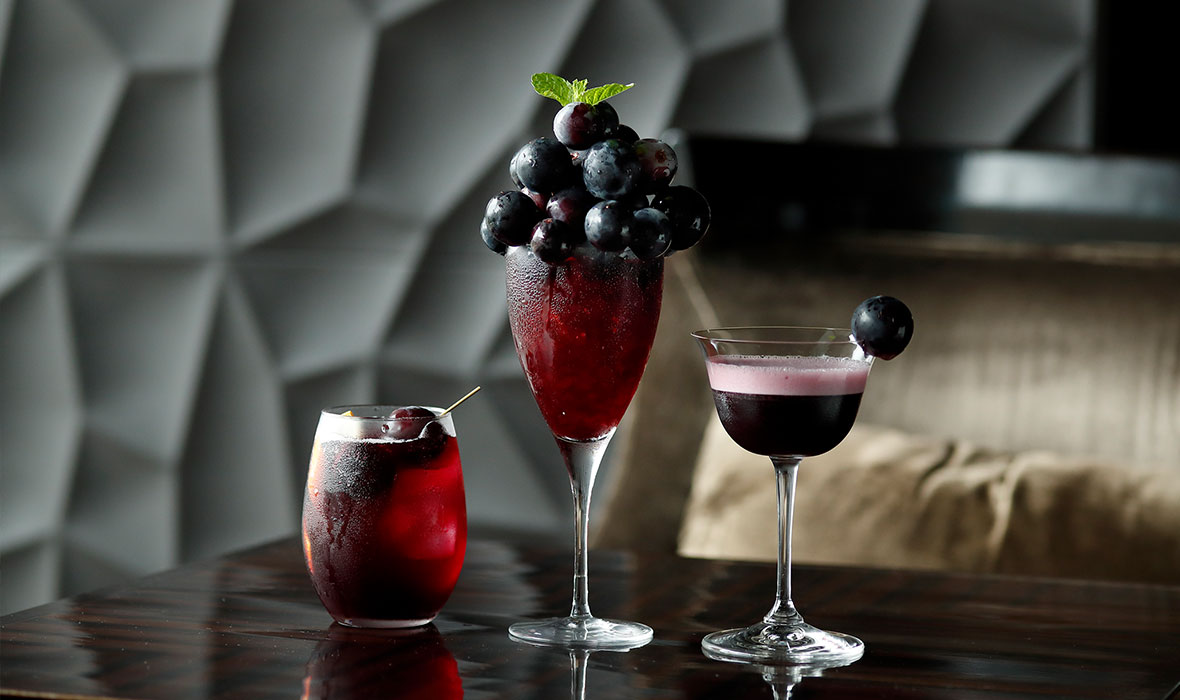 The end of the long hot summer days in Japan marks the harvest season for the prized Kyoho grape, a giant mountain variety of grapes that like melon in the summer can sell for an extravagant price based on the quality of the harvest. Palace Hotel Tokyo has chosen the finest for its seasonal cocktail, the Kyoho Grape & Earl Grey Martini, that is served at the hotel's Royal Bar through September to mid-October. This twist on the classic pairs vodka distilled from French grapes with Kyoho grapes pulped in the shaker along with bergamot essence.
The drink is served at the popular drinking spot, that has long held a reputation for quality martinis. The bartender in the original hotel Kiyoshi Imai, was widely-known for making the best martinis in town, when he manned the bar over half a century ago. These days a Diageo 'World's Best Bartender,' a competition that attracts tens of thousands of bartenders worldwide, runs Royal Bar and ensures the legacy of the iconic martini lives on…although in this case a modern adaption of it.
Spices and Spicy at Meliá Ho Tram Beach Resort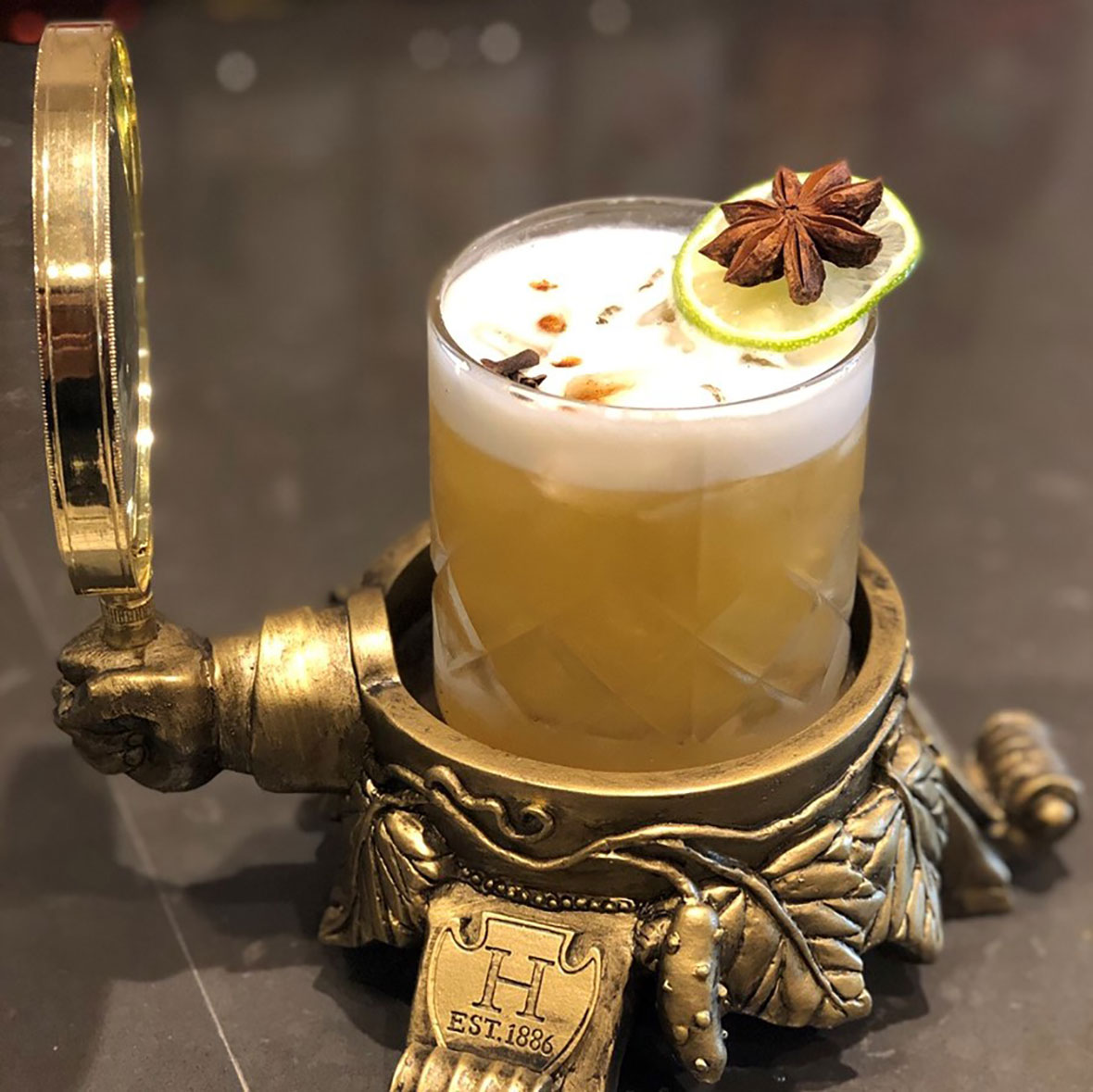 The new Meliá Ho Tram Beach Resort's signature cocktail Spices and Spicy sure lives up to its name, packing a punch on the senses with gin infused with Rosso Vermouth, cardamom, star anise, cloves, passionfruit, lemon, basil, egg white, chocolate bitters, ginger, rosemary, calamansi and, last but not least, chili.
Inspired by traditional Vietnamese cuisine, renowned for its spiciness, the cocktail is also a nod to Vietnam's Ho Tram beach, a stunning stretch of sand the 17-hectare resort overlooks situated a two-hour drive from bustling metropolis Ho Chi Minh City. Spices and Spicy deploys a golden hue as a complement to Ho Tram's sandy shore, with edible flower syrup giving it a pinkish highlight evident at the beach at sunrise and sunset.
Charlie Chaplin at Sofitel Legend Metropole Hanoi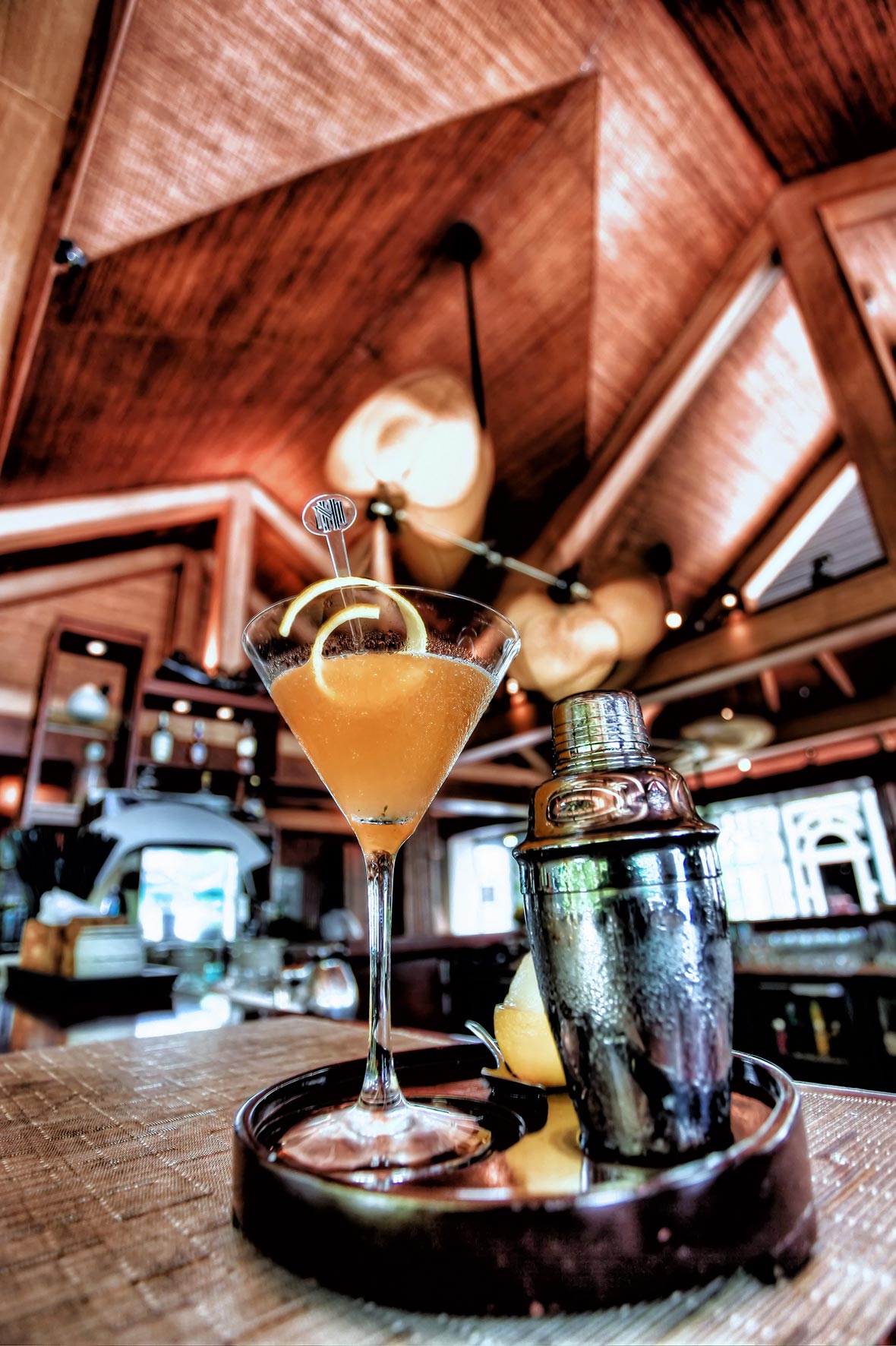 Le Club bar at the Sofitel Legend Metropole Hanoi serves a selection of cocktails that are named after famous guests who have stayed at the hotel in the past. The "Charlie Chaplin" was created and originally served at New York's old Waldorf-Astoria prior to 1920, and is named after Sir Charles Spencer "Charlie" Chaplin, who was at the height of his fame during the creation of this cocktail. Chaplin famously honeymooned at the Metropole Hanoi in 1936. The classic recipe combines Beefeater London Dry, apricot brandy and lime juice to create the perfect serve.
Femme Fatale at Raffles Le Royal's Elephant Bar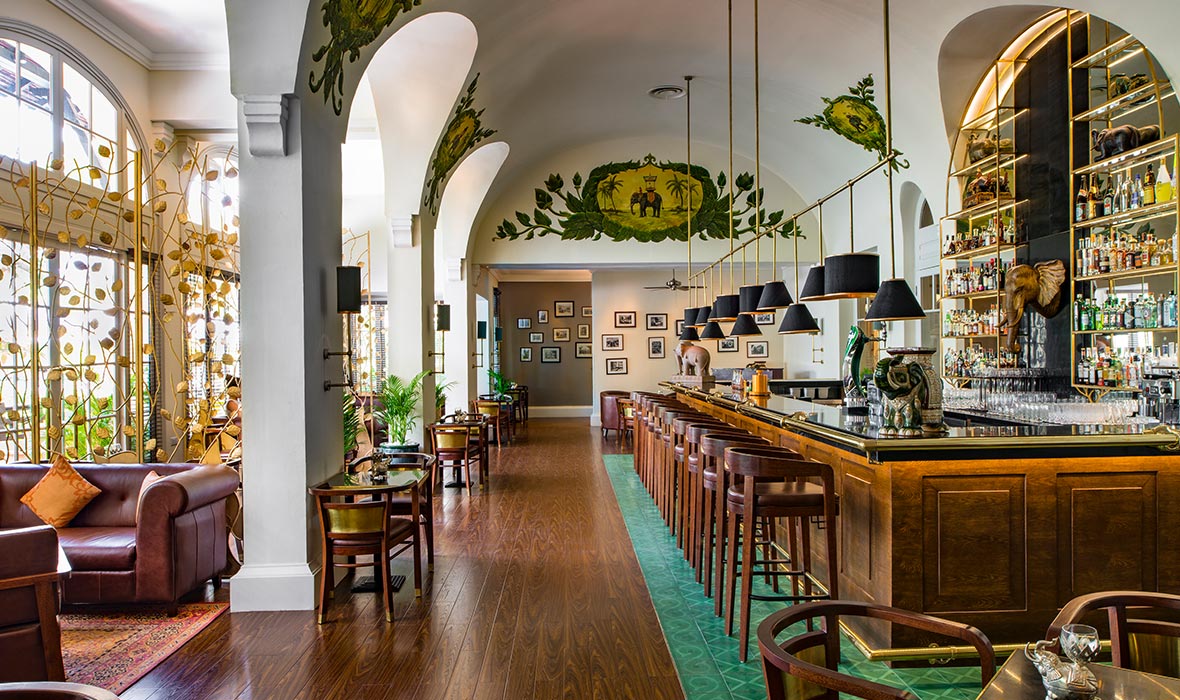 Dedicated to the 1967 visit of US First Lady Jacqueline Kennedy, the Femme Fatale is a blend of champagne, cognac and creme fraise, and its fruity flavour really packs a Swinging 60s punch. Many a visitor to Phnom Penh these days consider a photo op with a Femme Fatale a rite of passage, in much the same way as the Singapore Sling was for Raffles decades ago at the Long Bar. However, if you were to ask the Elephant Bar's head drinks-juggler, Mr Pisai, what he would recommend, chances are he'll lead you to his own personal pièce de résistance, the Rose Martini. The choice is yours.
Balcony Media contributed to this article.