Anantara Golden Triangle Elephant Camp & Resort — a Remote Lands favorite — is making headlines the world over for its transparent Jungle Bubbles in the heart of the Golden Triangle, announced by Anantara recently. These odd-looking bubble tents are 22 square meters and include a double bed, bathroom with a shower, minibar and mod cons, but the main attraction is the Asian elephants wandering the grounds.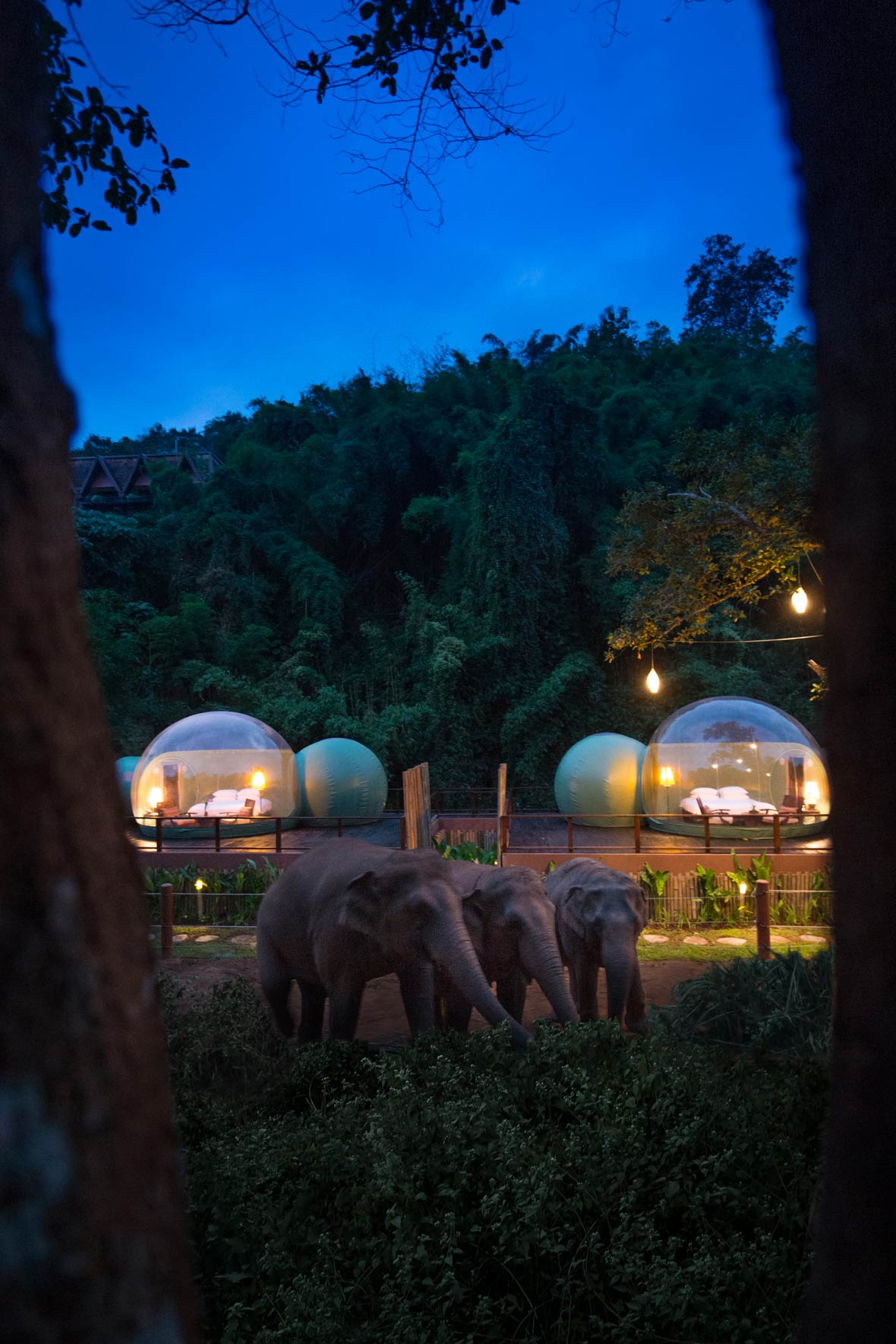 The bubbles are on a raised platform and are surrounded by a fence, so guests are in no danger of a bad tempered pachyderm. Moreover, the bubbles are sealed so travelers need not worry about bugs and other creepy crawlies of the jungle. The bubbles face away from one another, so guests will not see their bubble neighbors.
Found across 650,000 square metres of Northern Thailand's jungle, Anantara Golden Triangle Elephant Camp & Resort is perched on a hill overlooking the Mekong and Ruak rivers at the confluence of Thailand, Laos and Myanmar. By day travelers can enjoy the elephants and stargaze by night.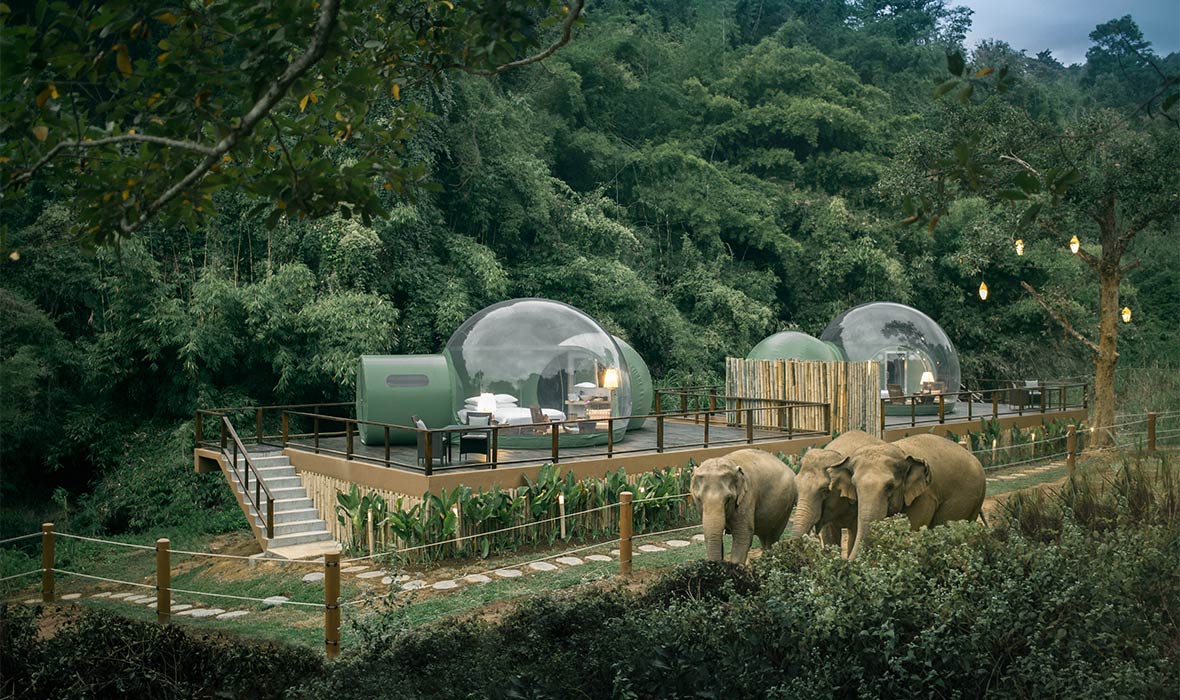 The Jungle Bubbles were custom designed by Eye In The Sky and are constructed with high tech polyester fabric using exclusive Precontraint Serge Ferrari technology. The well-appointed bubble accommodation is fully air-conditioned with a 4.5-diameter bedroom and living space with a king bed and seating area under a transparent roof.
Guests at Anantara Golden Triangle Elephant Camp & Resort can purchase the Jungle Bubble experience as an optional activity and spend the night from dusk till dawn, returning to the hotel in the morning.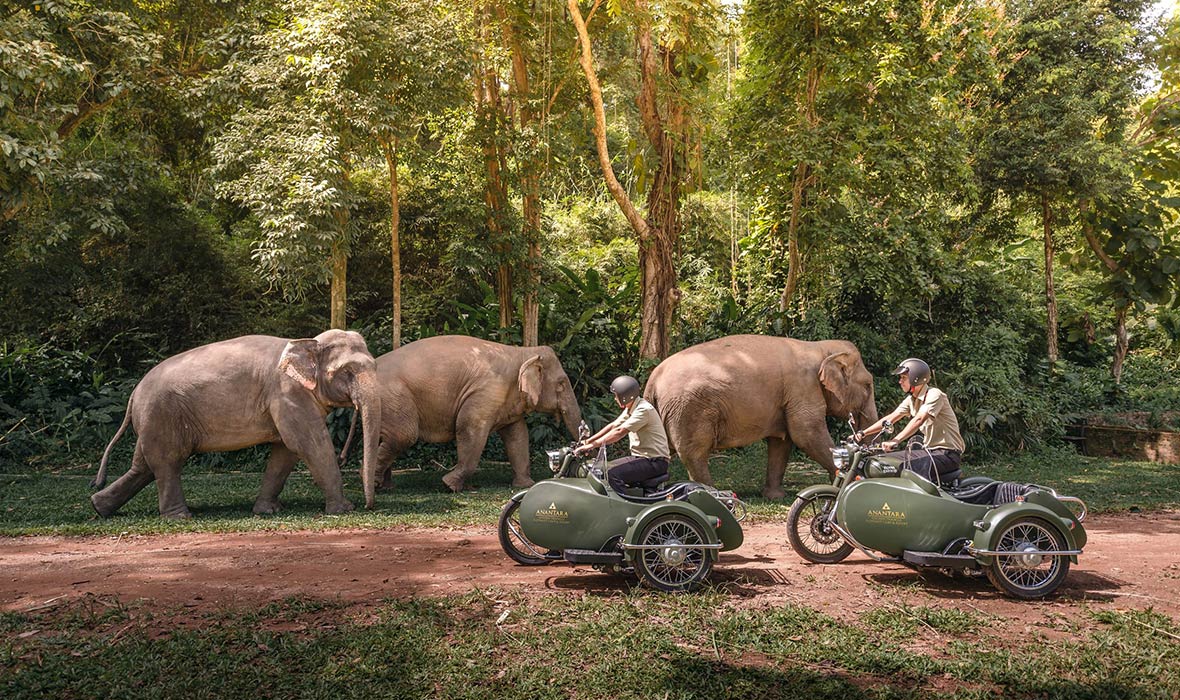 Anantara Golden Triangle Elephant Camp & Resort is world famous for its elephant camp that, along with the Golden Triangle Asian Elephant Foundation (GTAEF), were set up primarily to help elephants that cannot help themselves.
Here appropriate activities are designed that allow the elephant caretakers to raise the funds they need to look after the elephants without forcing them into activities they might not enjoy.
Anantara featured another experience of note earlier this year, namely the sidecar experience. The itinerary features two Royal Enfield Classic 500 sidecars as an alternative mode of transport for guests.
The Royal Enfield is the oldest motorcycle brand in the world still in production, known for its durable design. The motorcycle tour of the Golden Triangle includes a visit to the Giant Golden Buddha in nearby Chiang Sean.