In the grounds of a serene hilltop temple in Hiroshima, an unsettling sound travels. Then, through tree branches decorated with bright autumnal foliage, I see two Japanese people standing in front of a small Buddhist shrine. A middle aged man has his arm wrapped around the shoulders of an elderly woman who leans forward as she sobs.
The 1,200-year-old Mitaki-dera temple may be tranquil and majestic, but it's also one of the saddest locations in Japan, a pilgrimage site for the tens of thousands of people whose relatives were killed after an atomic bomb was dropped here in 1945.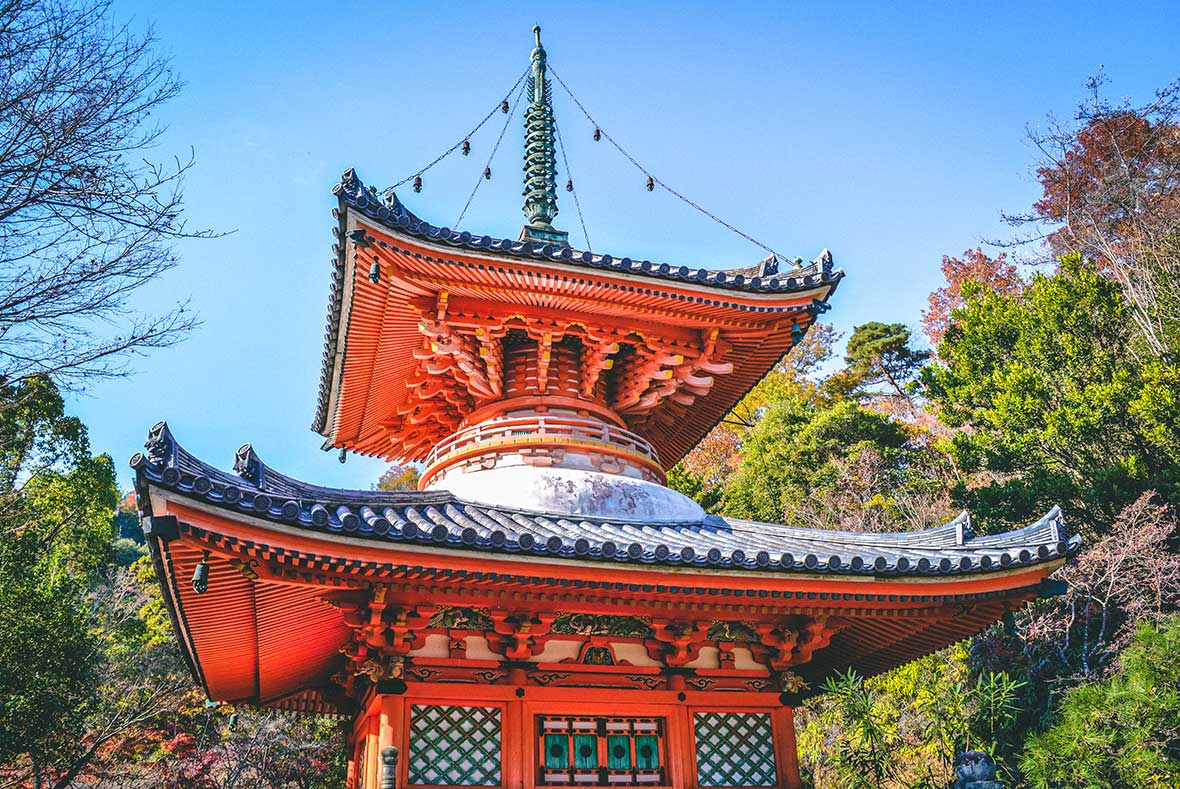 On August 6 in 1945 the world experienced a concentration of human death unlike anything before. With the dropping of a single atomic bomb on Hiroshima, about 80,000 people were killed near-instantly. Tens of thousands more eventually died due to their exposure to the radiation.
Three days later, about 40,000 people were killed after a second atomic bomb was dropped on the Japanese city of Nagasaki. Soon after, Japan announced its surrender, bringing an end to the war. More than 70 years later, Hiroshima tourists flock to the city for Miyajima and the oysters, but also for its dark past. With the battle lines of WWII long gone, travelers from all over the world visit this city to pay respect and mourn.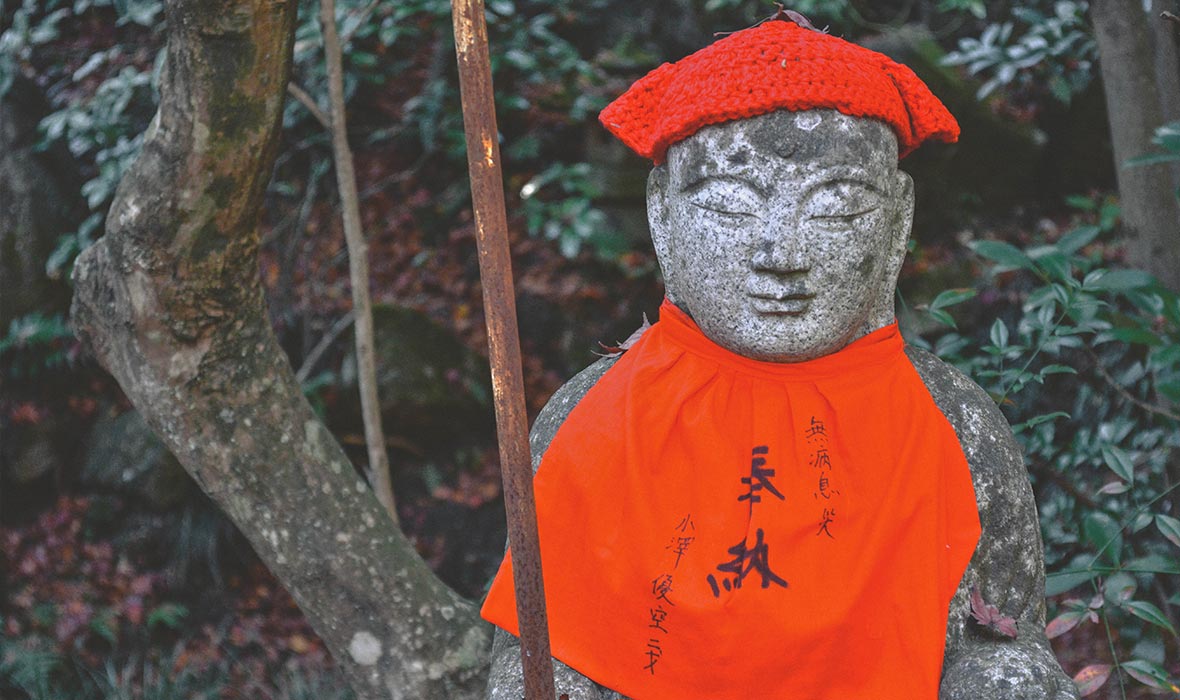 Hiroshima's major tourist attractions all are linked to that one deadly day. The Hiroshima Peace Memorial Museum offers a comprehensive insight into the immediate and lasting effects of the bombing. Meanwhile, the Atomic Bomb Dome stands as a rare survivor of the attack, and the Hiroshima Peace Memorial Park includes both of those sites as well as a sequence of gardens and monuments.
Although these three locations in downtown Hiroshima are heavily visited, very few tourists make the journey to Mitaki-dera in the city's inner north. Even fewer still would know that the water offered up by participants in the annual Hiroshima Peace Memorial Ceremony originates from one of the three waterfalls at Mitaki-dera.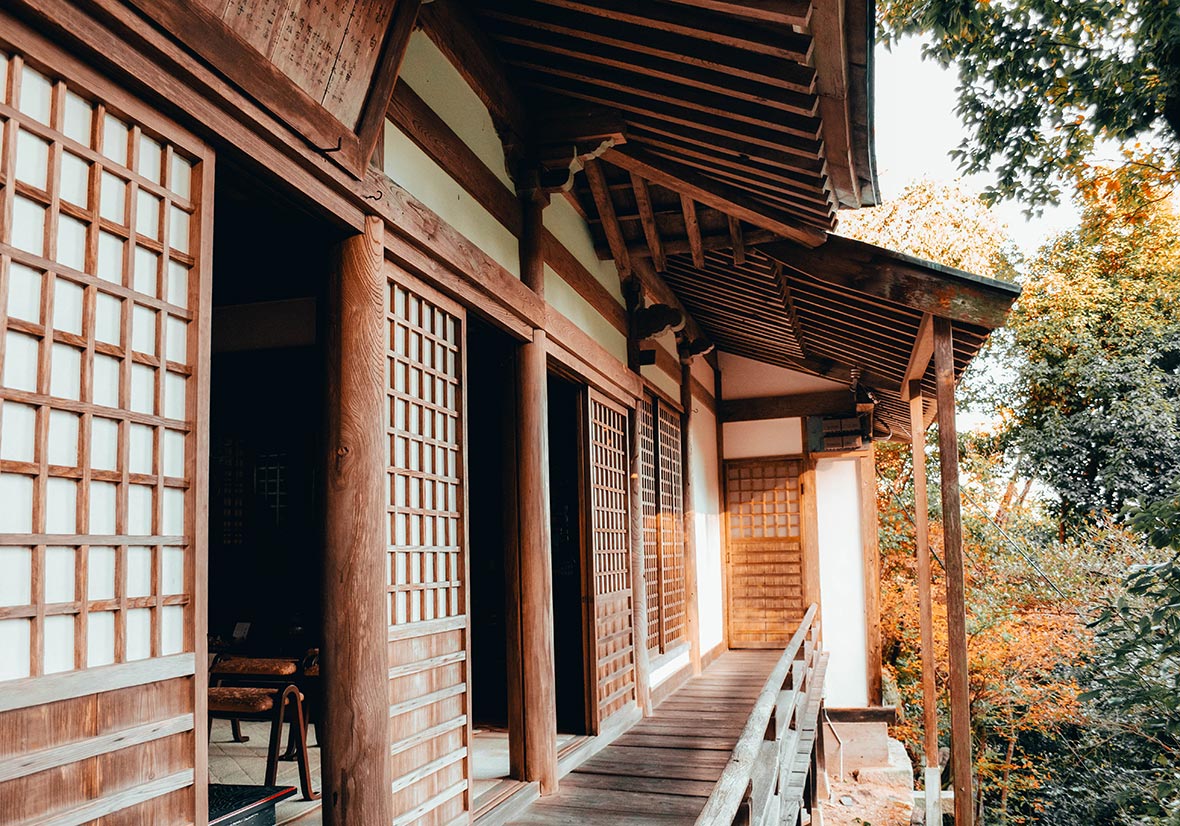 This temple is dedicated to Kannon, the Buddhist Goddess of Mercy, and some locals believe the water here has the power to heal, both literally and metaphorically. For many decades, the water from Mitaki-dera has played a role in trying to repair this wounded city.
Before the bombing made this temple a place of remembrance, it was famous for its waterfalls. It was those three pretty natural features that gave the temple its name – Mitaki means waterfall and dera is temple in Japanese. For centuries this hillside temple has been a renowned beauty spot, one of the most popular locations in Hiroshima for appreciating the annual spectacles of cherry blossom season and the autumnal bloom.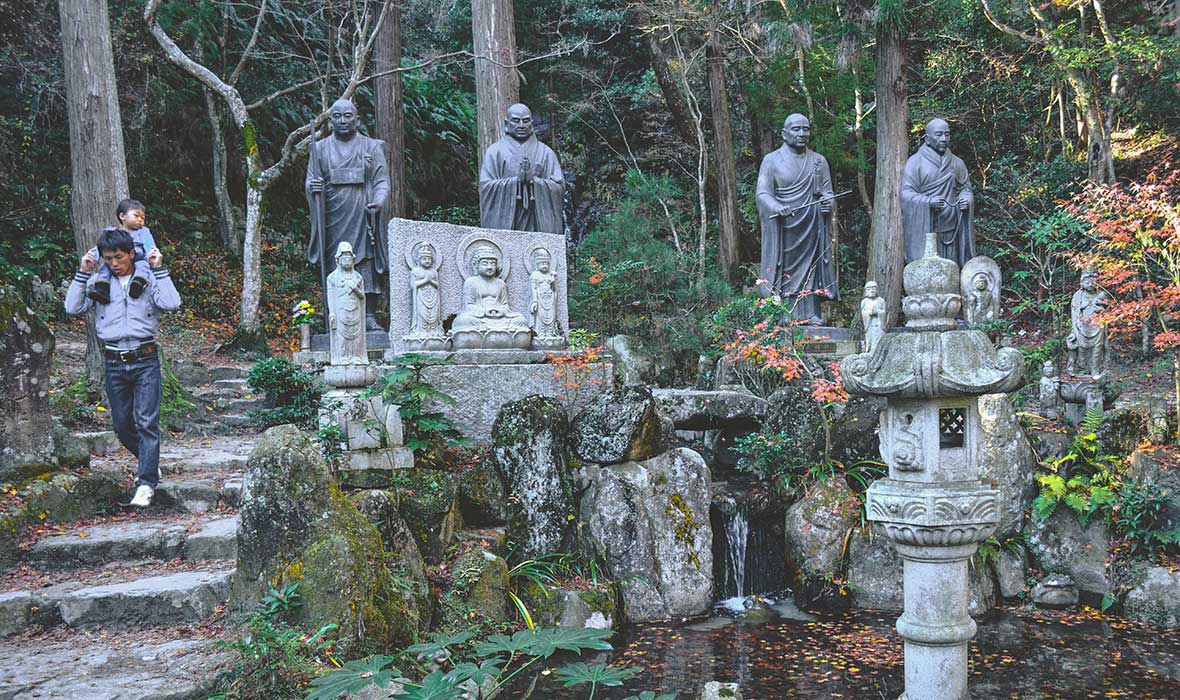 I was fortunate that my visit to Mitaki-dera coincided with the second of those events. It took me a long time to walk from the road up the hillside to this forested complex. Not because it involved great distance but rather due to being so distracted by the palette of autumnal colours that embellished the forest.
The first small shrine I encountered had been given a uniquely eerie appearance due to the autumnal bloom. The staircase which led up to it was covered in bright red leaves, such that it almost looked like a red carpet or, given the death associated with this temple, a river of blood.
Soon after, I came across a magnificent, two-tiered red pagoda. It was transplanted here from Wakayama Prefecture in the 1950s to act as a memorial for the bombing victims. As I walked further up the hill, I passed dozens of timeworn Buddhist statues, stone lanterns, petite shrines, landscaped gardens and decorative ponds, all neatly placed amid this attractive forest. All of this, combined with the solitude, combined to make for a remarkably splendid temple, among the most appealing I have visited anywhere in Asia.
Then, as I was being enchanted by my environment, that startling sound made its way through the trees. I turned and watched the elderly woman weep. Instantly my mind was inundated by images of death and destruction, of terror and misery. So magnificent were my surroundings that I forgotten the macabre story that courses through this temple.
On the day that death rained from the Hiroshima sky, so many things about this city changed forever. Mitaki-dera went from being the temple of waterfalls to a site of mourning and remembrance. It remains as beautiful as ever, but is immeasurably more complex.