The impressive private island sanctuary of Bawah Reserve – a Remote Lands' favorite – is just a two-hour journey from Singapore by ferry and seaplane, and until recently the seaplane had to take a day off. Earlier this week, Bawah added another seaplane to its roster.
"No arrival to an island is as thrilling as by seaplane and we are excited to introduce our second amphibious twin otter. Opening up more availability from 8th April 2019," Bawah stated in a recent press release.
As the nearest traditional airport to Bawah is at Letung, two hours away by boat, seaplanes are the quickest and easiest way for travelers to visit the island. There are no immigration and customs clearance at Bawah transiting in Batam, an Indonesian island easily reached by ferry from Singapore.
Bawah's seaplane takes off from Batam's Hang Nadim International Airport complete with Safety briefings prior to boarding. Our seaplanes are part of the Airfast fleet, an Indonesian aviation company with more than 35 years experience in the industry. The amphibious Twin Otter 300 has wheels and float pontoons, giving it the enviable ability of taking off and landing on water or land.
Currently the plane can hold nine passengers, though there are plans to increase the number to 12, according to information from the resort. Once the plane is airborne the flight only takes 80 minutes flight. Before landing at Bawah, the aircraft circles the island so that guests can get an overview of the islands' layout and, of course, to snap a few selfies on the PJ.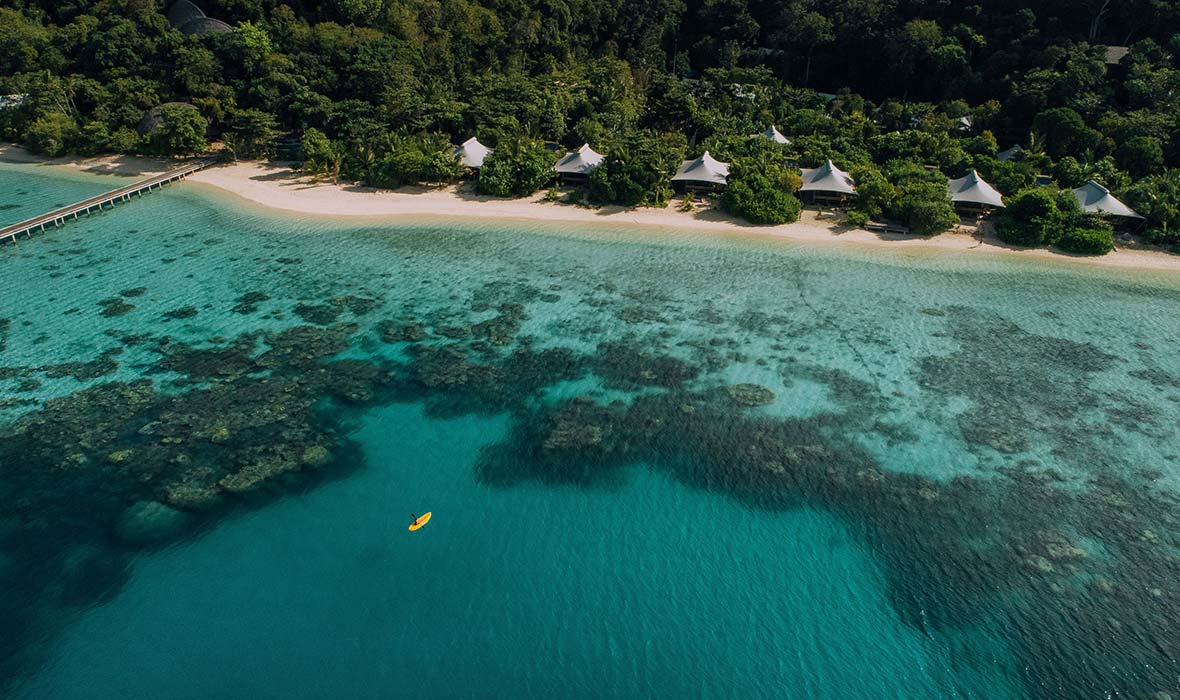 "Landing and taking off on the tarmac is the same but the water is the biggest difference," Captain Wolski explains in published material from Bawah Reserve. "You start as a boat, satisfy the boat planing like a speedboat, and by the end you are 100% an aircraft. […] The runway is always changing, always moving. Our plane is designed for short take offs and landing, with thick wings that generate a lot of lift without the need to point the aircraft at the sky." Captain Wolski has more than 6,000 flying hours; each flight has an international and Indonesian pilot.
As for Bawah Reserve, it remains one of the most exclusive island getaways between peninsular Malaysia and Borneo. The private island of Bawah was previously uninhabited and is a marine conservation area, featuring accommodations for a maximum of 70 guests, with 35 eco-designed suites and over-water bungalows.
Made up of five islands, three lagoons, and 13 beaches, Southeast Asia's newest private island paradise in unrivaled in the Riau Archipelago for both luxury and ecology, from pristine coral reefs and 150-meter-high forests to bespoke cocktails. The resort has a stated zero-carbon footprint goal and aims for the brand of "naturally lux."