Diving fans will be familiar with the rich rewards beneath the azure Andaman. From pinnacle sites to eerie caves and close encounters with leopard sharks, this underwater paradise is easily accessible from Phuket and Krabi province to the east. With a stay at Phulay Bay, a Ritz-Carlton Reserve, they'll create an excursion tailored to your preferences, minus the crowds. Dive excursions also launch daily from Ao Nang Beach, Railay Beach, and Koh Lanta, and, of course, there are private yacht (and private island) options from Phuket.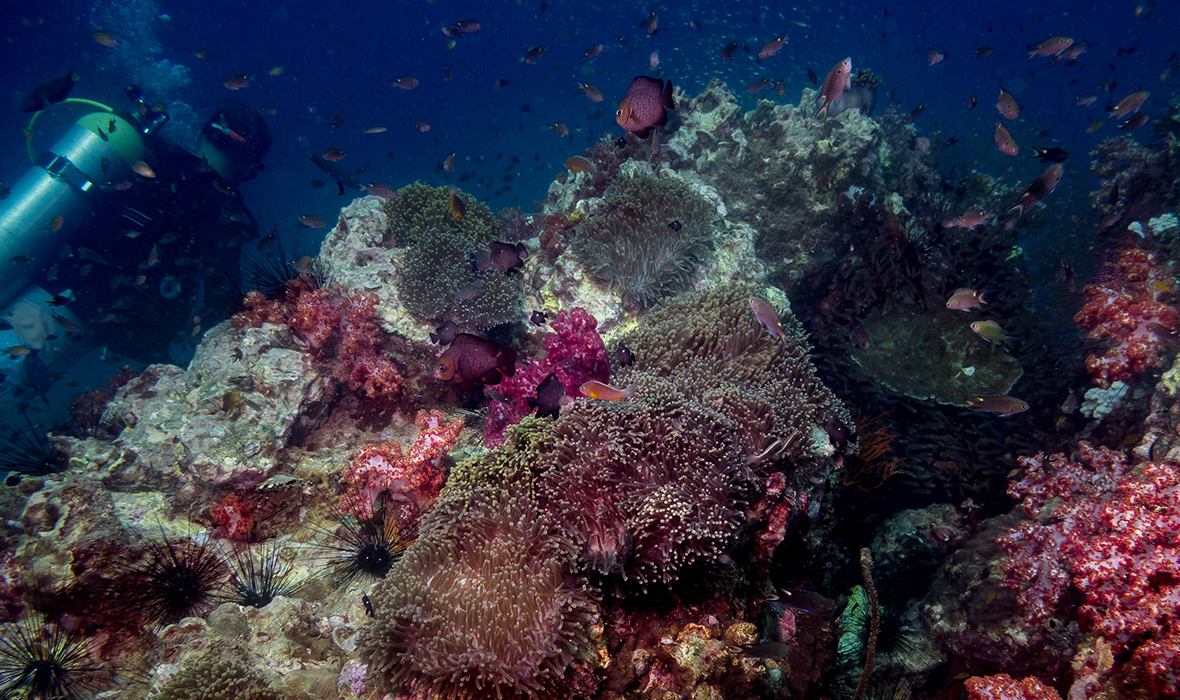 Designated as part of a protected marine sanctuary in 1992, Shark Point is an underwater riot of Indo-Pacific tropical fish and the docile leopard sharks it's named after. Though easily scared and not as common as they once were, you'll often spot leopard sharks resting on the sandy seafloor. The rest of the action happens around pinnacles dressed in pink, purple and red soft corals.
There's no doubt this is one of the most popular dive sites in the region, so avoiding other divers is almost impossible. A private tour or a short liveaboard cruise helps you escape the larger groups. Once you're under the water, it's likely you'll be too enchanted to notice.
Anemone Reef and King Cruiser Wreck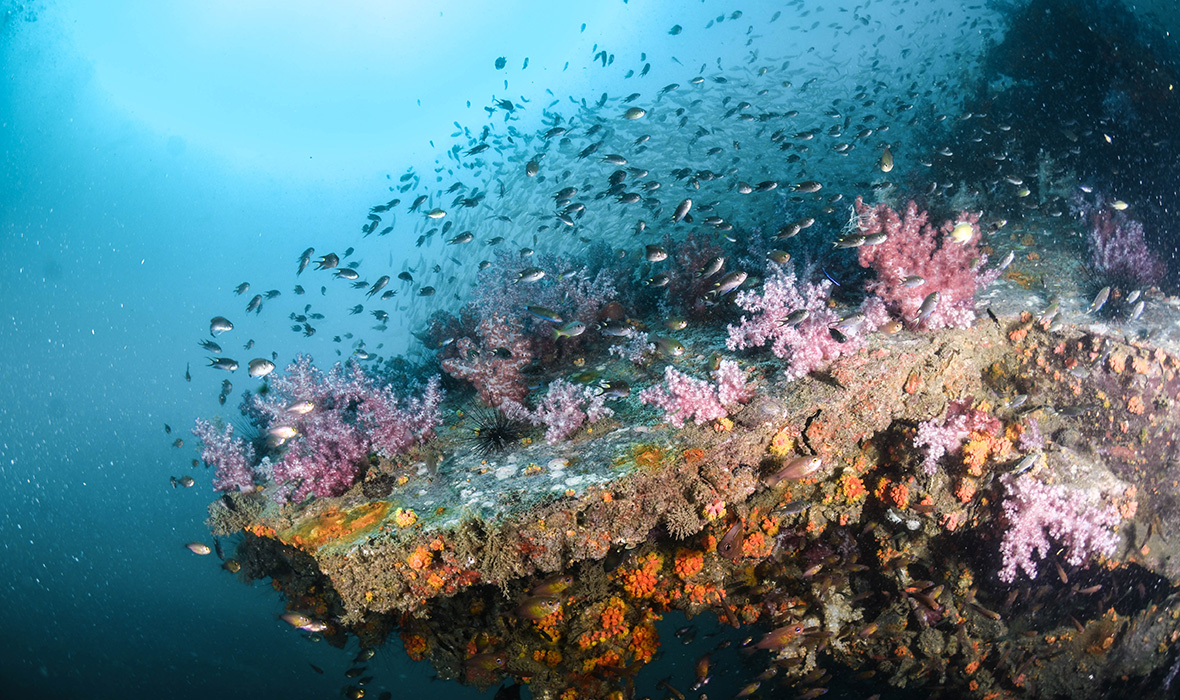 Just to the north of Shark Point is Anemone Reef. Blanketed by anemones, the submerged limestone pinnacle is home to seahorses, turtles, cuttlefish, groupers, and the rare zebra moray eel. It's also the reason why the famous King Cruiser Wreck is another top dive site in the area.
After traveling the same route between Phuket and Phi Phi Island for years, the MS King Cruiser crashed into Anemone Reef in May 1997, sinking quickly. Theories abound as to why. All passengers were rescued, so there are no ghosts here, for you superstitious divers. Instead, you'll find dense coral growth and schools of barracuda. It's not unheard of to spot a whale shark. Due to regular strong currents and sharp metal objects, this dive's best for those with some experience.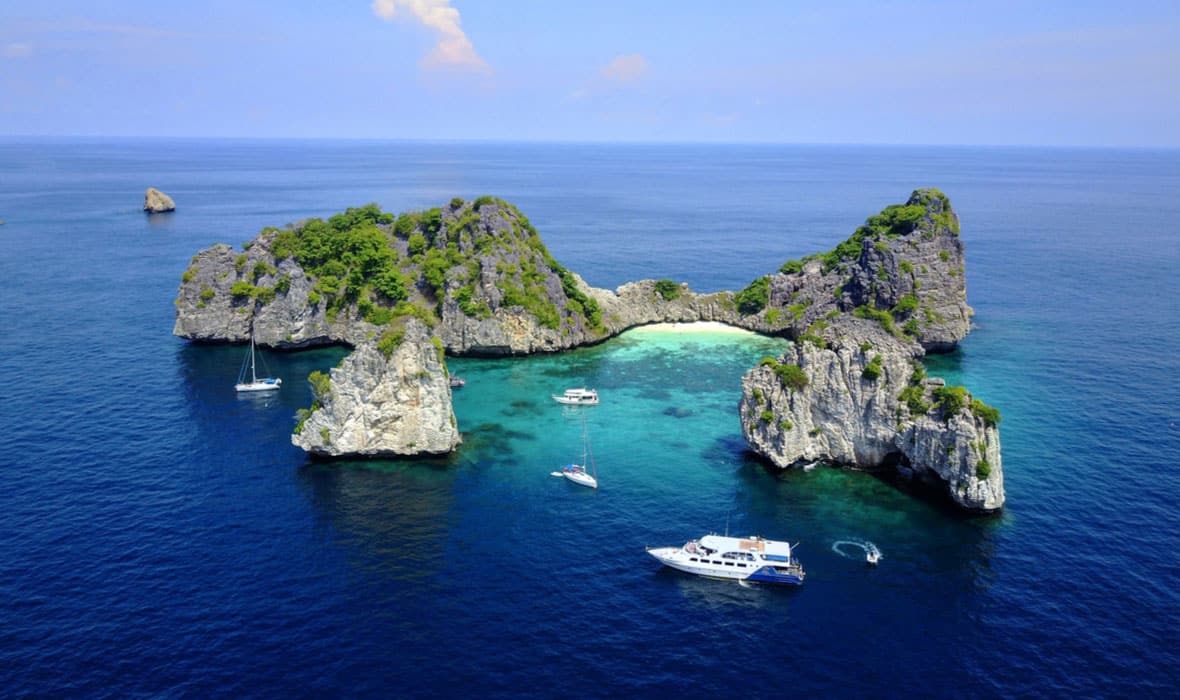 Underwater photographers flock to the uninhabited Koh Haa Islands for spectacular reefscapes. It's easiest to get there from Koh Lanta and more than 12 dive sites ensure beginners and pros are satisfied. With transparent, calm water, The Lagoon is a prime site for winning shots of turtles, clownfish, porcupine pufferfish, and harlequin shrimp.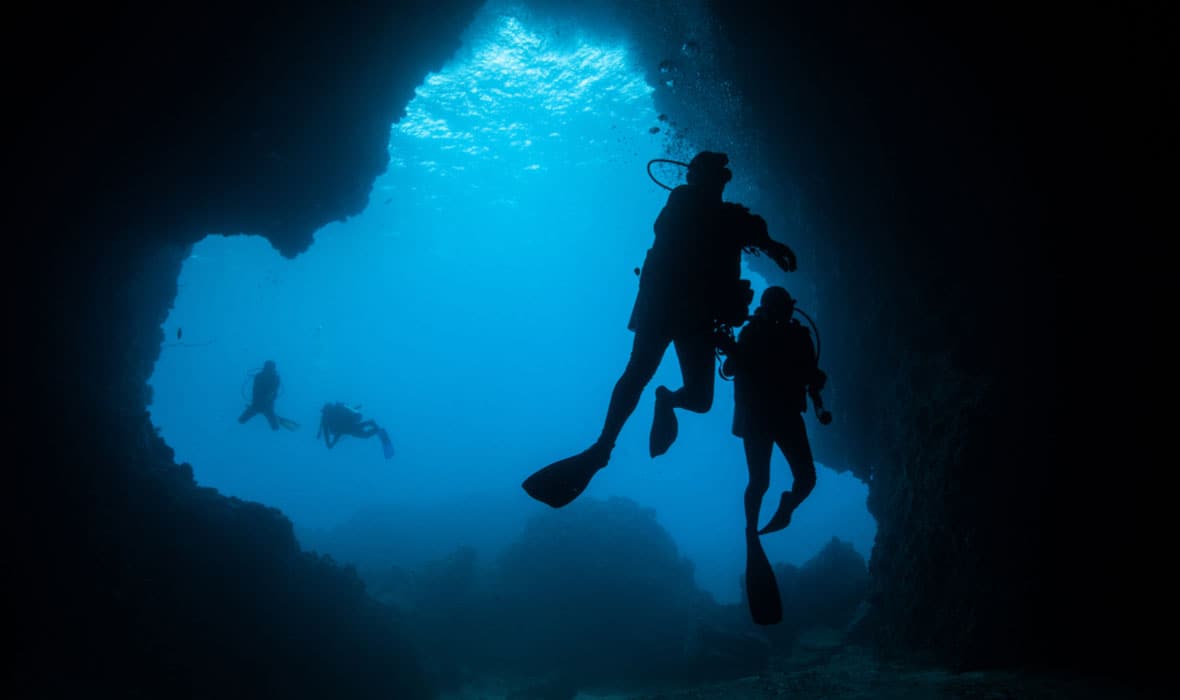 Koh Haa Yai, the largest island in the group, offers three caverns for experienced divers. At a depth of about 20 meters, you'll explore the main chamber of The Cathedral, an underwater pinnacle with sloping reefs covered in macro-life. Another highlight is The Chimney on Koh Haa-Neua. It's a spectacular swim-through leading up a vertical hole, with rays of sunlight splicing the water as you ascend.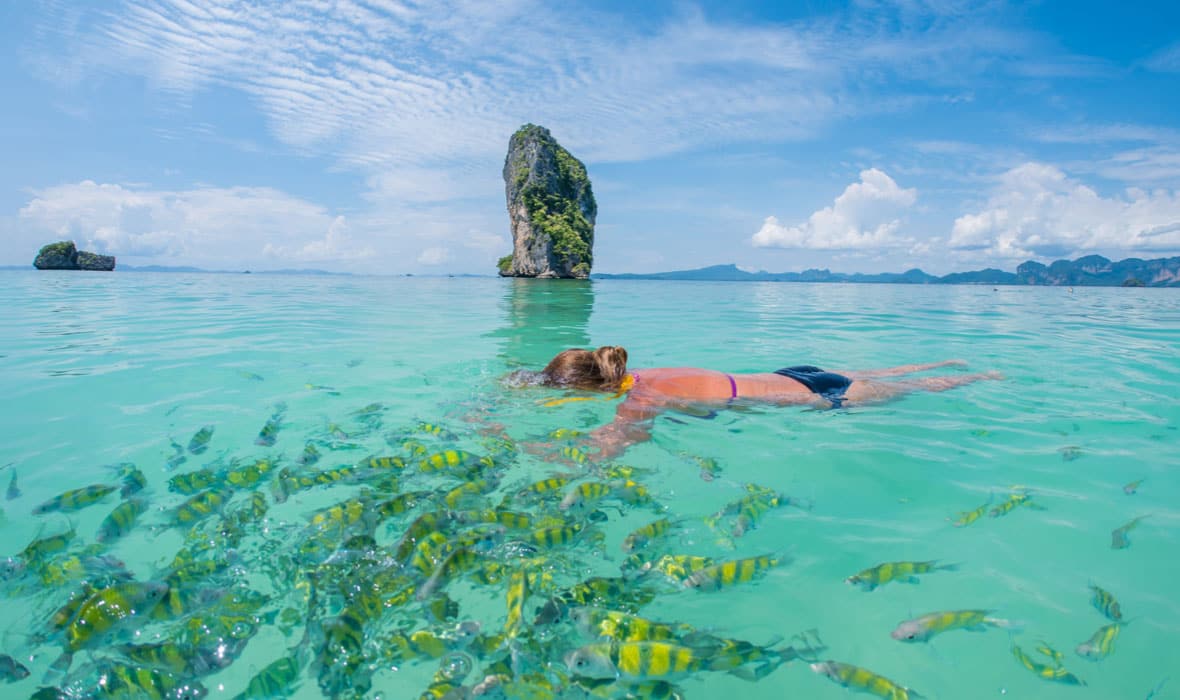 If you don't want to venture far from shore to dive, the Ao Nang Local Islands are just minutes by boat from the sand. Shallow water, good visibility and a variety of marine life across a small area is a great training ground for beginner divers. Expect to see hawksbill turtles, schooling reef fish, and even ghost pipefish.
Several dives sites are sprinkled around Koh Poda, with rocky islets providing walls, slopes, drop-offs and swim-throughs for adventure. Near Koh Si, you could spot blacktip reef sharks. It's worth it to take your dive gear off and go for a snorkel with yellow-striped sergeant major fish, just a few meters from the white sand on Koh Poda.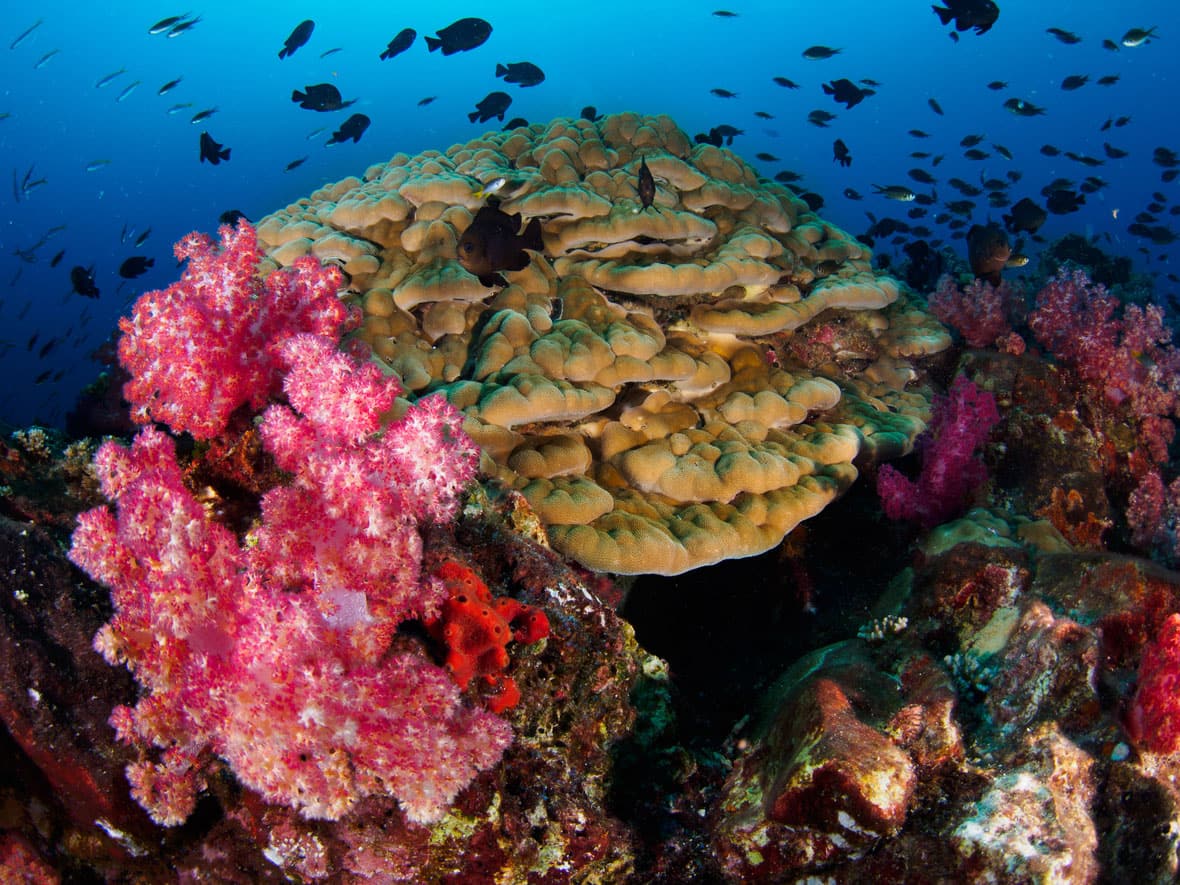 Manta rays and grey reef sharks roam the waters of sister dive sites, Hin Muang and Hin Daeng. Red Rock, or Hin Daeng, is a submerged pinnacle with a radical drop of about 200 feet. Expect to encounter impenetrable schools of silver trevally, hunting barracudas, unicornfish and giant morays.
Hin Muang, which means Purple Rock in Thai, takes its name from the kaleidoscope of purple hues carpeting its surface. This soft coral joins anemones to cover the shallower sections and large sea fans complete the fairy tale underwater scene. Venture out into the deep blue between February and April, wait quietly, and a whale shark might just glide into the picture.