The largest of Thailand's many islands, Phuket is popular for its beach tourism, and Rosewood Phuket's proximity to the hyper-commercialized Patong Beach might evoke disquieting feelings in those seeking to get away from it all. But worry not – the brand's driving Sense of Place philosophy has indeed delivered such an escape. Here you will not find thatched roofs or Lanna architecture, but contemporary design tied together with Thai accents and a warm embrace of Phuket's natural beauty. In what is probably the most obvious of Thai beach destinations, Rosewood has delivered something that isn't so obvious.
I first became acquainted with Rosewood earlier this year on a visit to the newly-opened Rosewood Phnom Penh. My excitement embarking from one of Rosewood's wifi-equipped luxury vehicles for the hour-long transfer from Phuket airport was well earned.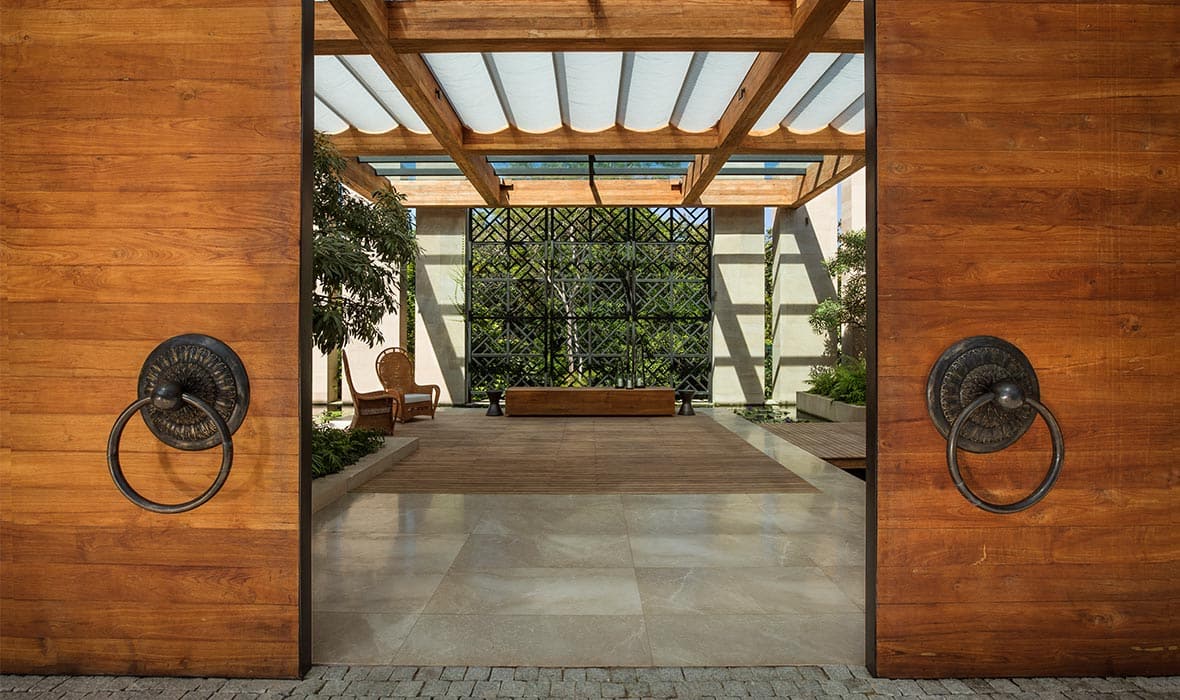 Check-in comes with a glass of champagne and view of the Andaman Sea just beyond the lush green outside the window. Hugging a 600-meter beachfront, the expansive property rises into the hillside; the result is a multi-tiered complex of pavilions and villas. To facilitate movement around the resort, Rosewood has a fleet of buggies on call whenever guests wish to change locales. I would suggest using the buggies at first as a means of acquainting one's self with the resort's layout, but eschew them later in favor of walking, which is the best way to experience the verdant surroundings.
Something I noticed on the buggy ride to my pavilion, and later on my private terrace (each villa and pavilion has its own with an infinity plunge pool), is that when looking out to the ocean, you see nothing artificial below – only greenery and sea. This is not accidental of course, as all of the property's rooftops have been planted with gardens, which also help cool the villas below.
Spread across an impressive 43.5 acres are 71 pavilions and villas, all of which face the ocean. There are three categories of pavilions: beachfront, ocean view, and two-bedroom ocean view, and can be connected to another pavilion for added space. Villas also come as ocean view or beachfront, and both have expansive terraces with daybeds. The beach villas have their own little plot of sand set behind hedges and a privacy gate.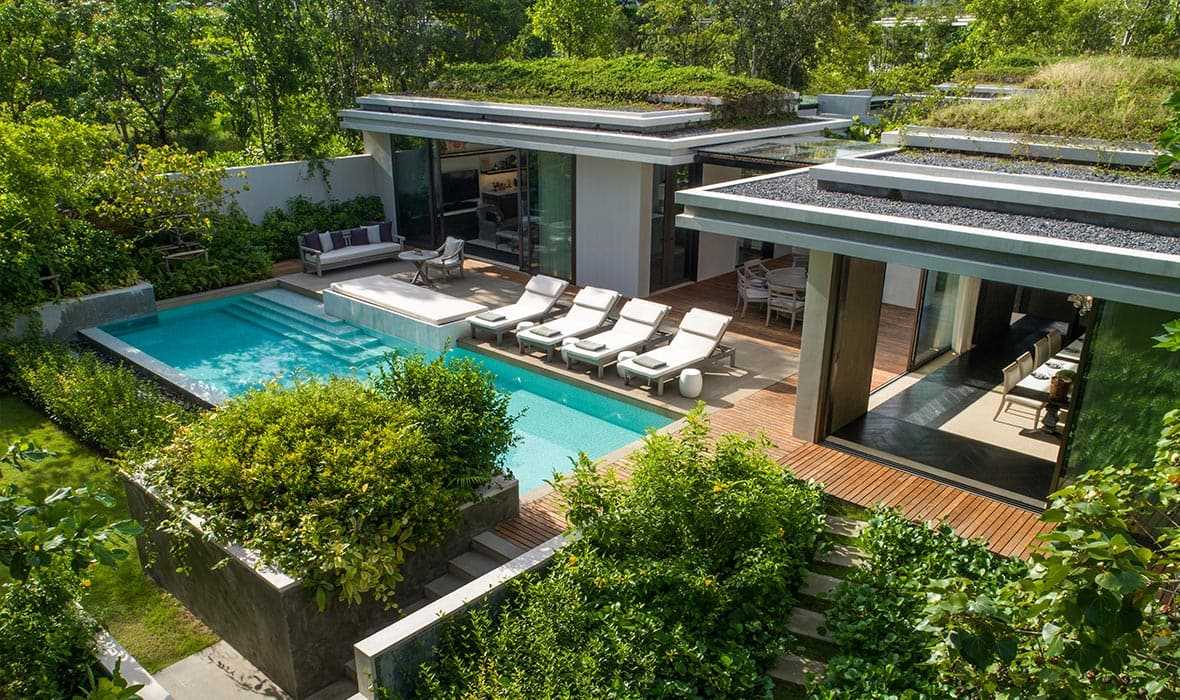 The largest units on the property are the Beach House and Ocean House residences. Both have two bedrooms with ensuite bathrooms and cover nearly 8,600 square feet. Larger parties can connect the Beach House to a beach villa for a third bedroom.
Aesthetically, all units feature light colors and neutral tones, which contrast beautifully with chic furniture, carefully chosen Thai art, and the surrounding flora.
Rosewood Phuket has four unique dining venues. Three are clustered on the resort's east side, near the main pool, Asaya spa, and fitness center. Located nearest reception is Red Sauce, where guests can enjoy breakfast each morning, served both a la carte and buffet-style. A favorite of mine was the khao kai jeow, a Thai-style omelet, both stuffed and piled with crabmeat. For lunch and dinner, Red Sauce serves Italian fare.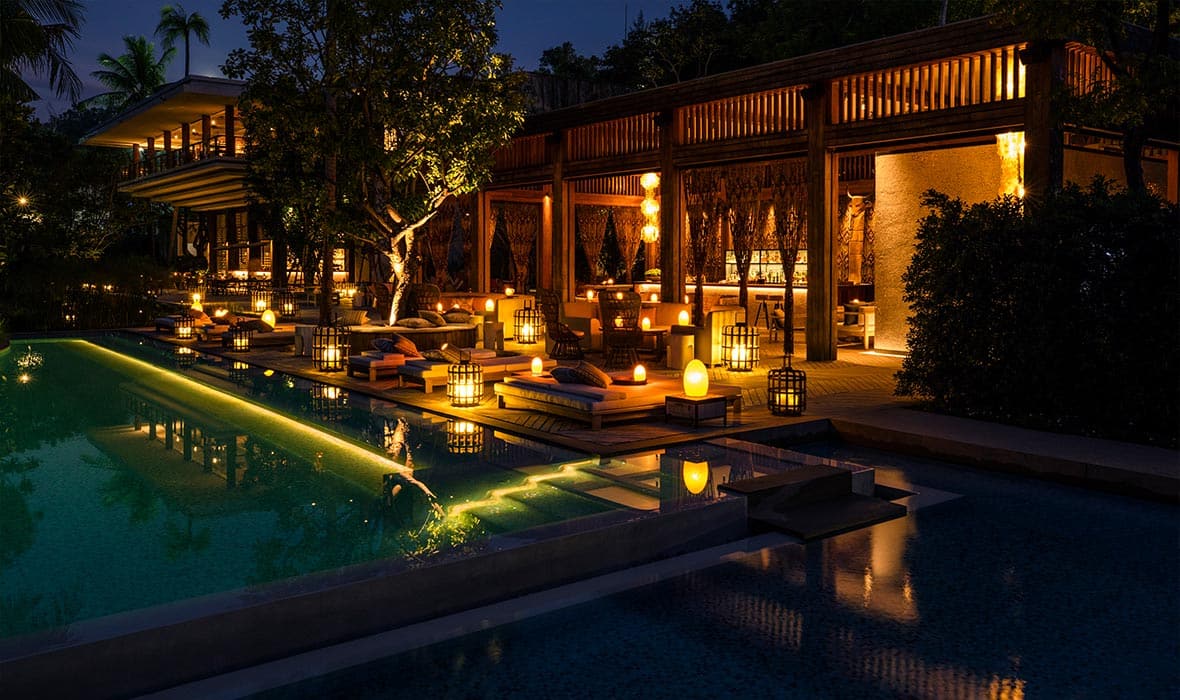 Offering fresh Andaman seafood in a casual poolside setting is The Shack. An array of sandwiches, salads, and soups are available, but the main focus is their oyster selection and raw preparations of the day's catches. These can be served in sashimi, tartare, ceviche, or Thai-spice style.
Also at the main pool is Mai, a posh lounge with a full service bar and selection of small plates for noshing. During the day Mai offers guests a mellow escape from the sun, and I spent the better part of an afternoon here with my face in a book, save for the occasional glance at Emerald Bay. After sunset, Mai takes on a more sophisticated personality, with more upbeat music and an expanded cocktail list. For G&T lovers, in addition to a variety of tonics and garnishes one completes the drink with a choice of 22 different gins.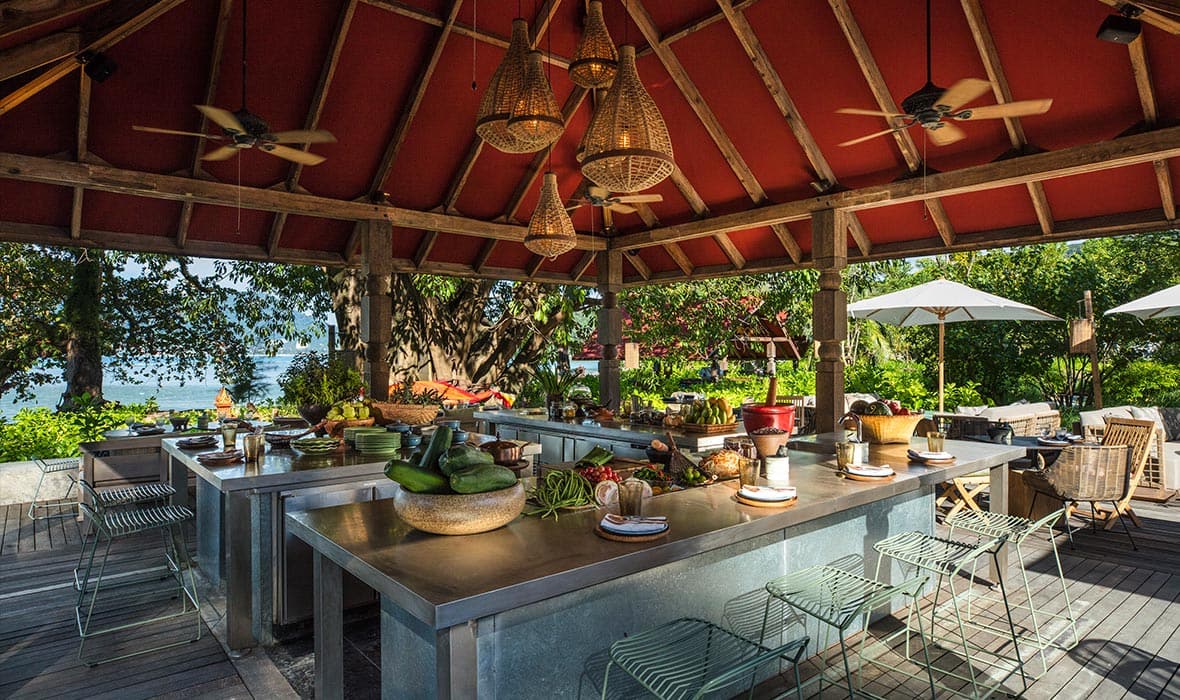 Lastly, Ta Khai is the only of Rosewood's restaurants open to the public and feels like a miniature fishing village – complete with a live fish well at the center where diners can select their dinner. Aside from a glassed-in room, the restaurant is mostly open-air, built with reclaimed wood from retired boats and corrugated sheet metal.
Cooking is done by Aunt Yai and Uncle Nun who have been preparing southern Thai cuisine together for over 30 years. Though presented elegantly, the food was comforting, and I enjoyed staples like soy-braised pork belly, fried cotton fish and chili-garlic morning glory. Spirits at Ta Khai are infused with Thai herbs and fruits, so be sure to try a cocktail – my favorite was the galangal negroni.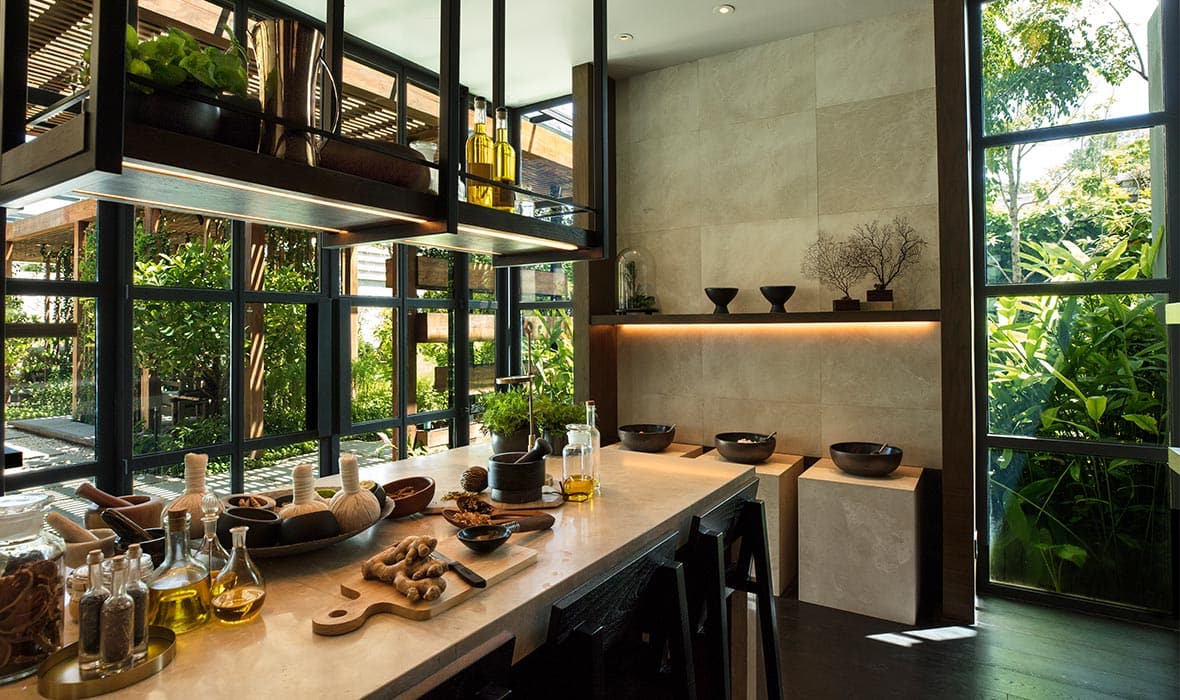 When not eating or enjoying the oasis of your room, pay a visit to Asaya spa, an impressive complex on its own. The botanicals used in their proprietary treatment products are grown in the spa's tranquil courtyard. Visitors stop here first for a consultation with their therapist before heading off to one of the six spacious treatment villas. Fitness-minded guests can head to the gym where complimentary yoga and exercise classes are offered throughout the day. And for those with young ones, the Rosewood Explorer's Club offers age-appropriate activities, games and arts and crafts.
The undeniable highlight of Rosewood Phuket was the staff: attentive, circulating through the restaurants with snacks and local treats, and always going the extra mile. Knowing I was working out after breakfast, my waiter brought over a plate of date and nut energy bites. After forgetting my room key in the fitness center, the attendant there ran all the way across the property to hand it to me as I was almost back to my pavilion. Guests with children will find rooms are stocked with children's amenities, such as baby shampoo and board games. Touches like this enhance one's escape and instill the Sense of Place Rosewood strives to deliver. It's these garnishes that make Rosewood a sanctuary on Phuket.