Phuket is still Thailand's paradise island. However, the years of development have made it a little more difficult for luxury travelers to know exactly where they should invest their time. Food at Trisara? Perhaps the beach at Rosewood? Or maybe it's better to go further afield to somewhere like Krabi or Yao Noi. The competition between the biggest names in hospitality is nowhere more fierce than on Phuket, and Remote Lands knows the best of the best.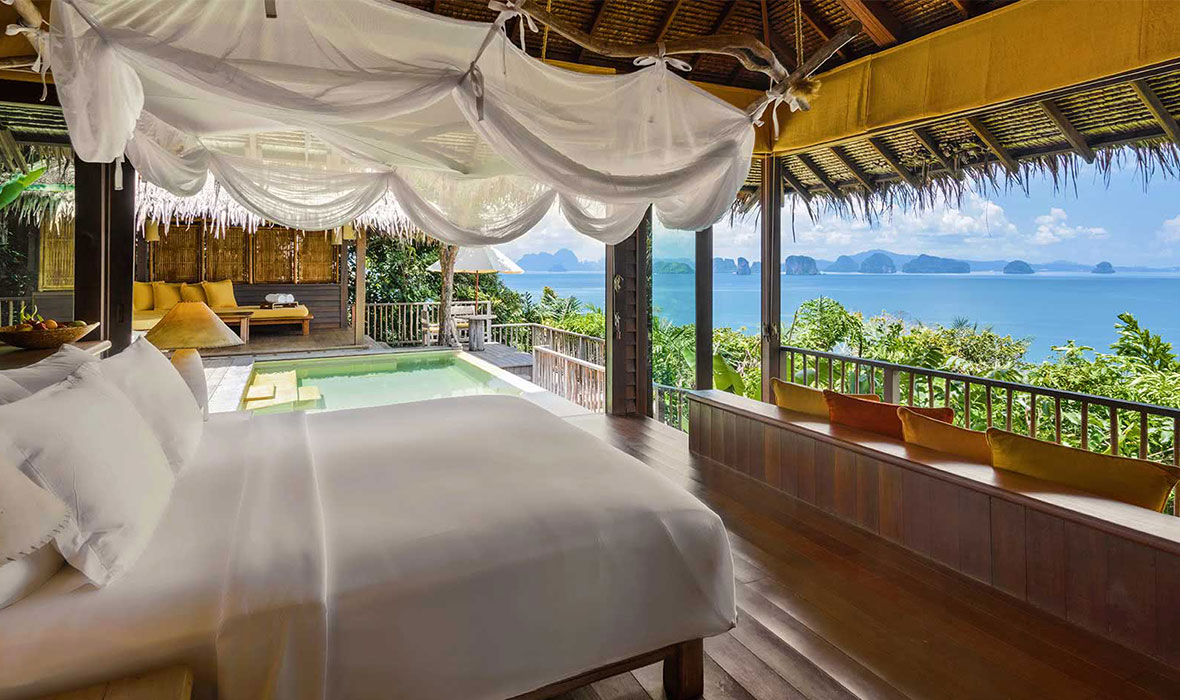 This Six Senses property is spread over almost 24 acres of Yao Noi Island amidst the limestone pinnacles of Thailand's stunning Phang Nga Bay. All villas have infinity pools with sundecks, with sea-view villas overlooking the bay and mountain-view villas in the island's tropical forests. Whether flying into Phuket or Krabi, this island retreat is a must-do for any luxury traveler to the region.
"Each villa boasts an epic view of Phang Nga bay pretty much guaranteed to inspire goosebumps. Private pools come standard, and the TVs rise out of the cabinets like something from a James Bond movie." — Remote Lands cofounder and CEO Catherine Heald
The Six Senses brand took extreme care not to destroy the nature on the grounds, and the result is a resort that thrives amongst the forest. Electric buggies transport guests around the expansive resort grounds, and a favorite room is the Ocean Deluxe Pool Villa, a 594-square-foot split-level villa.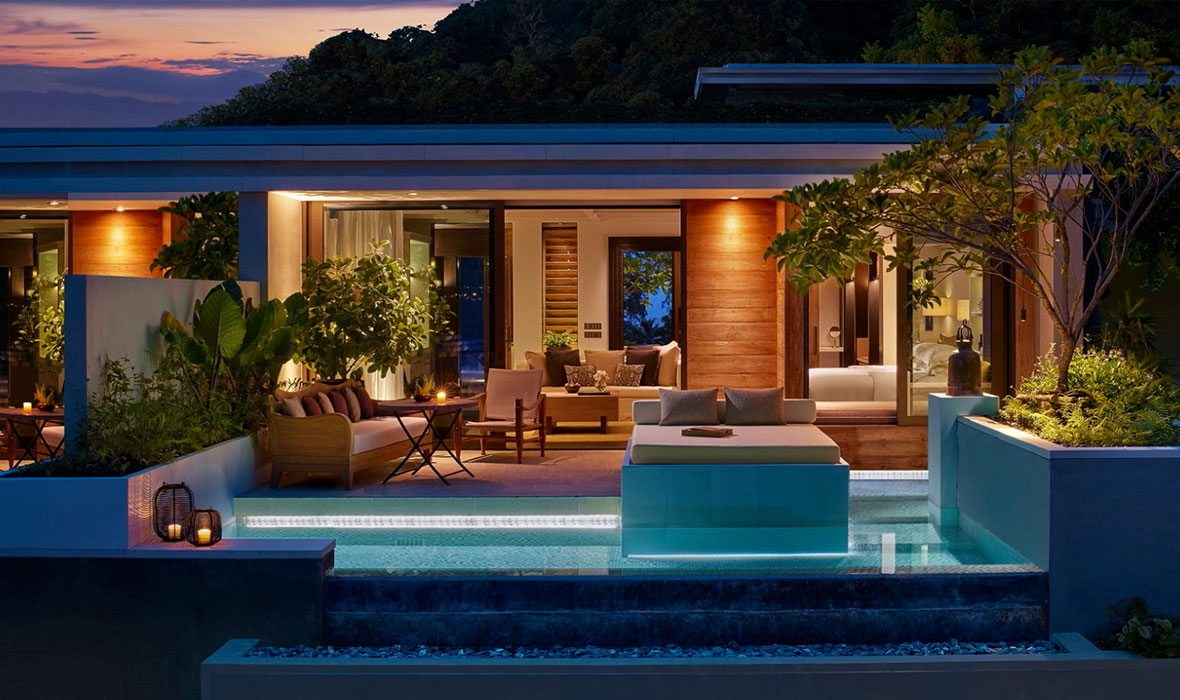 Rosewood's foray into Southeast Asia over the last few years has been a boon to luxury travelers: Bangkok, Luang Prabang, Phnom Penh, and more. But, for beach lovers, the best Rosewood property in Southeast Asia sits on the sands of Emerald Bay.
"The undeniable highlight of Rosewood Phuket was the staff: attentive, circulating through the restaurants with snacks and local treats, and always going the extra mile." — Remote Lands travel expert Jacob Roy
The largest rooms at the Rosewood Phuket are the Beach House and Ocean House residences. Both have two bedrooms with ensuite bathrooms and cover nearly 8,600 square feet. Larger parties can connect the Beach House to a beach villa for a third bedroom. Check-in comes with a glass of champagne and view of the Andaman Sea over the 600-meter beachfront, one of the more isolated beaches on Thailand's most popular island getaway.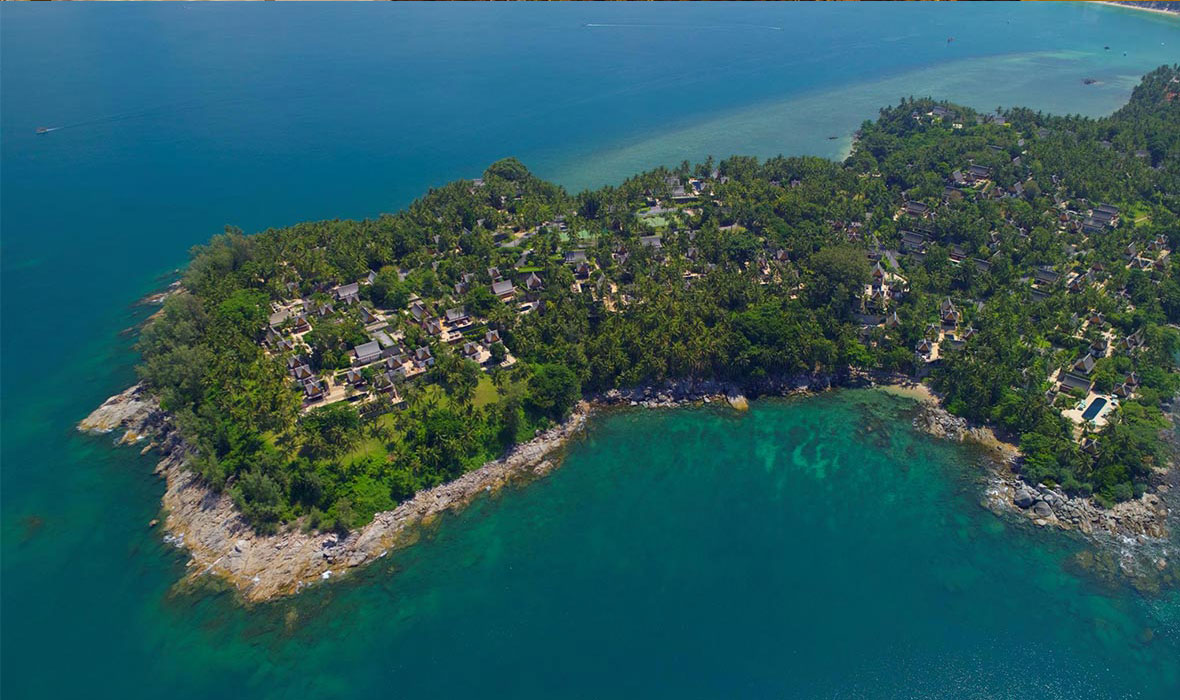 Aging gracefully, Amanpuri is one of Phuket's finest luxury resorts, a Remote Lands favorite, and the very first Aman destination. The Aman brand began 30 years ago with Amanpuri, and just last year the property received an extensive makeover. With new treatment suites and improved facilities for families of luxury travelers, the reinvigorated Amanpuri is a message from the brand: Amans don't get old.
Amanpuri's 40 Thai style pavilions are located around a mature coconut plantation by a private white-sand beach. The pavilions are connected by raised wooden walkways with both garden and ocean views; however, regular rooms tend to lack both full ocean views and private pools, so it's recommended that travelers upgrade to the Pool Pavilions, which feature two bedrooms, an outdoor sala, sun deck, balcony and private plunge pool.
Recent updates at the Amanpuri include the doubling of the size of the Aman Spa, a new MasterCraft X23 to up the resort's wakeboarding game, and Magnum Room, a 14-seater private dining room.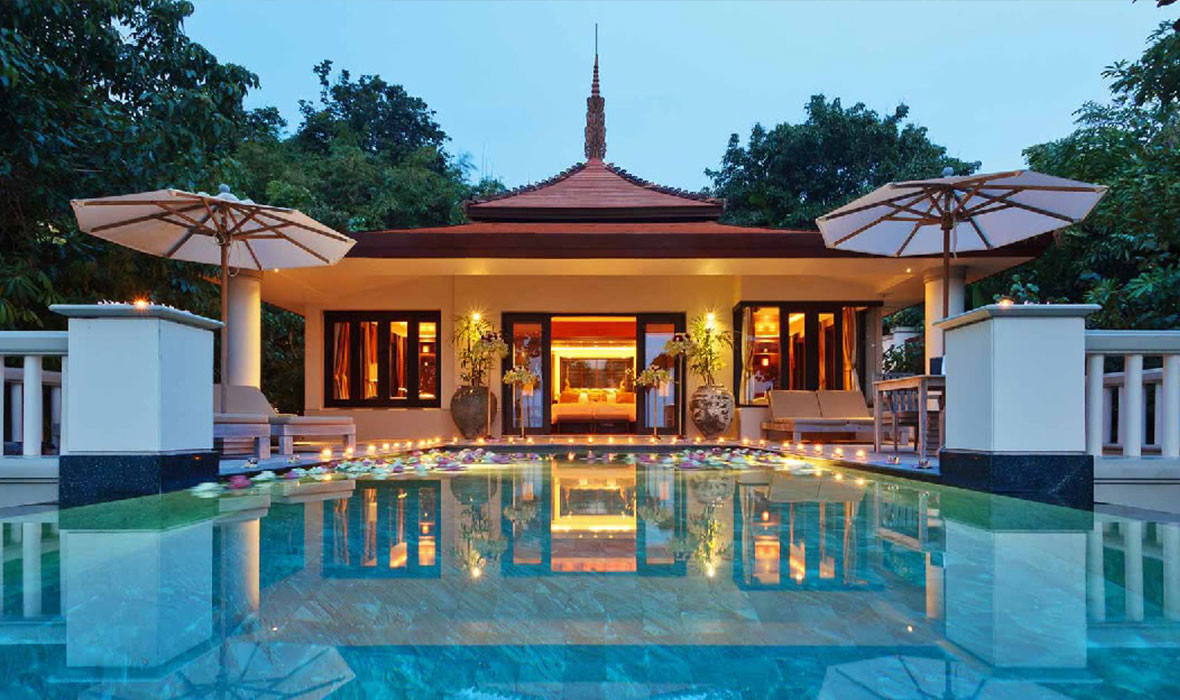 "Its secluded position on a quiet peninsula gives it an "away-from-it-all" feel, especially as you dip your feet in your own private pool (every room has one)." — Remote Lands cofounder and CEO, Catherine Heald
Found on a hilltop in its own private jungle, Trisara houses 48 villas and private residences. Equal parts family-friendly getaway and lovers' retreat, villas and facilities sit within 40 acres of garden that rise between two private headlands. Luxury travelers will want to upgrade to the Ocean Pool Front Villa and the Two Bedroom Ocean Pool Front Villa is ideal for families.
Last year, Trisara gained worldwide attention with PRU, the first restaurant in Phuket to receive a Michelin star. The restaurant's Head Chef Jim Ophorst — Chef Jimmy — first made a name for himself at Gaggan in Bangkok and carried his experiences growing up near the sea in the Netherlands with him as inspiration for such PRU dishes as smoked abalone with duck egg and hamachi tartare, though the bulk of PRU's offerings tend to be vegetable-based.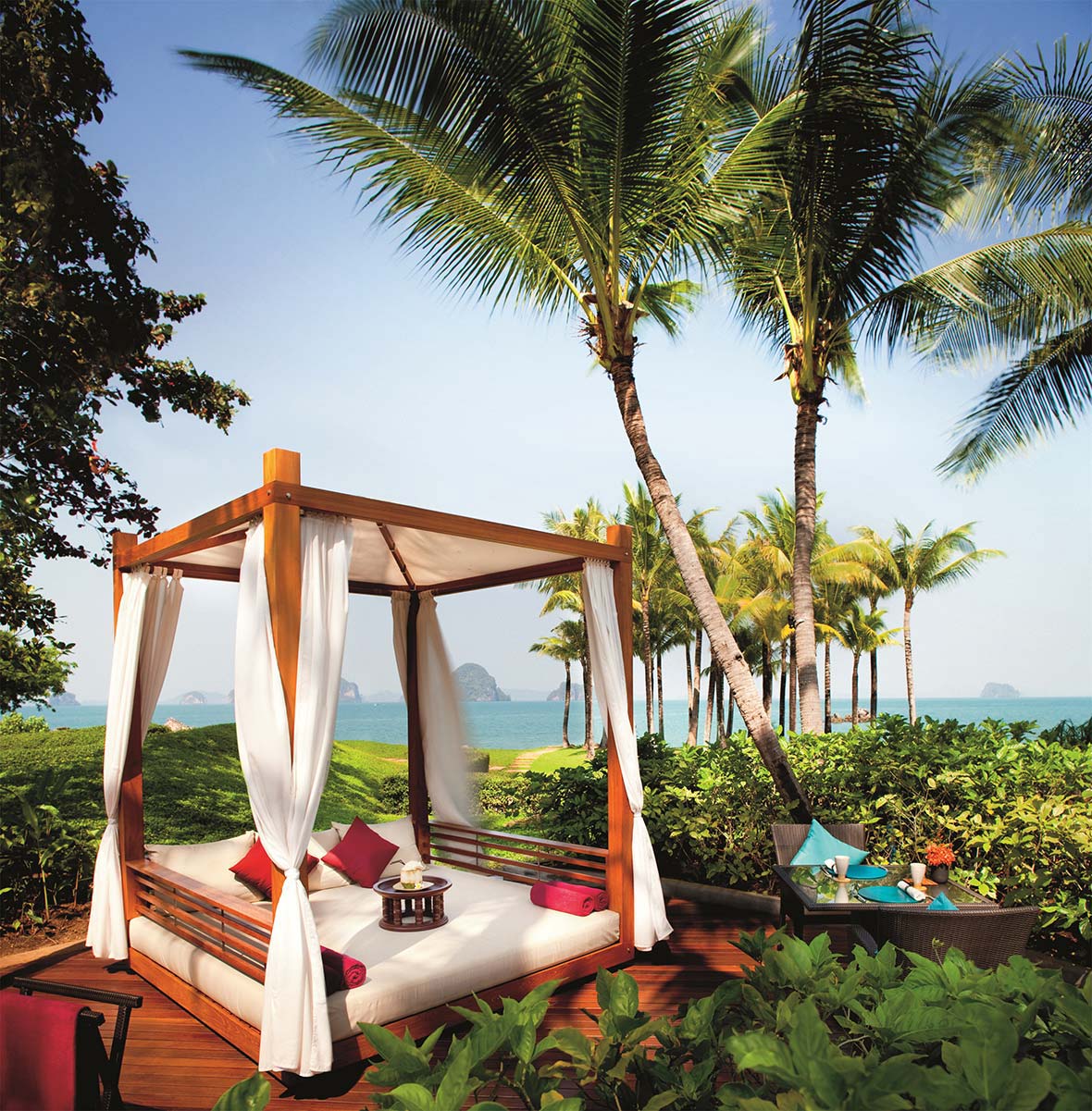 Though technically not on Phuket, the Ritz-Carlton at Phulay Bay is a unique stay to say the least. Built using a mix of Moroccan and Thai styles, the resort is laid out to afford guests total privacy. Best seen experienced at high tide, this reserve from the Ritz-Carlton features a total of 54 spacious, well-appointed one-bedroom villas or pavilions with contemporary Thai décor and either a private tropical garden or ocean view.
"Even the entry-level Reserve Pavilion rooms feel like a refuge from the outside world. Although they have floor-to-ceiling windows with views into pristine gardens, the greenery is positioned to ensure privacy." — Travel writer Ronan O'Connell
The largest of the rooms is the Reserve Pool Villa, measuring 1,141 square feet, with their own expansive private garden and a pool, as well as an indoor/outdoor bathroom with over-sized tub and rain shower.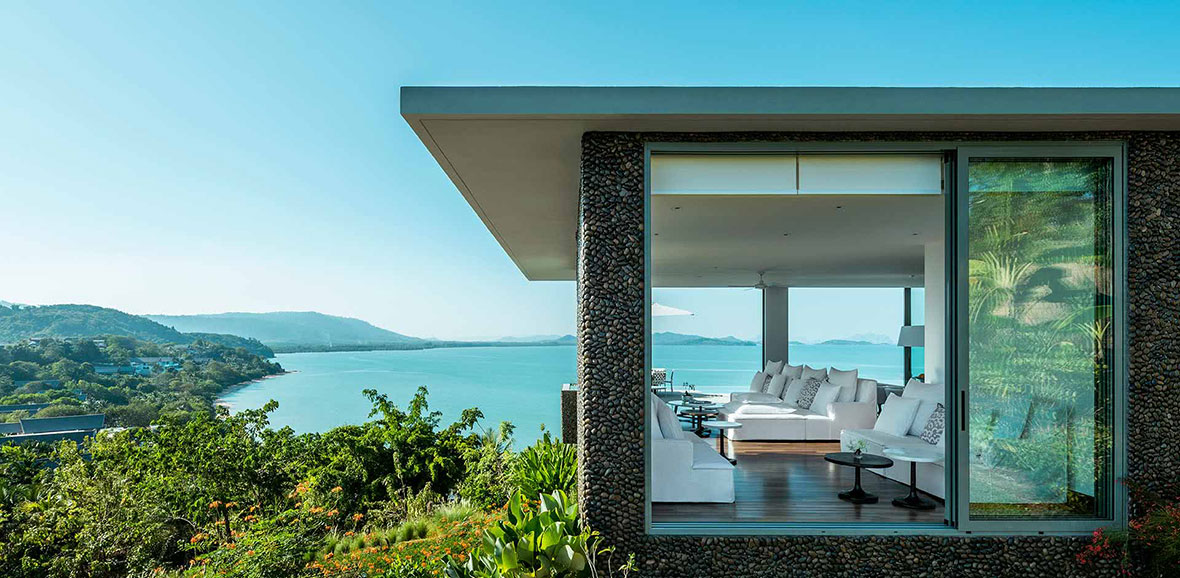 "What we love about this hotel is the surprising little extra touches – including an afternoon ice cream stand, boat trips to a nearby island, and eye-catching designs in places you'd least expect them." — Remote Lands cofounder and CEO, Catherine Heald
Found on Phuket's east on the tip of a small peninsula, Point Yamu by Como is on a unique piece of land on Thailand's biggest island, looking out over karsts and blue waters. Inside this plush hotel, travelers will find interiors by Paola Navone of Italian design fame as well as a five-star wellness retreat. The 21 Bay Suites offer a truly luxurious 1,076 square feet of space and guests can enjoy private dining overlooking bay views.
With one of the most interesting infinity pools on the island, Point Yamu by Como is a great place for families. In particular, The Play by COMO kids' club prides itself on its colorful games room where younger guests can play pool, foosball, and video games.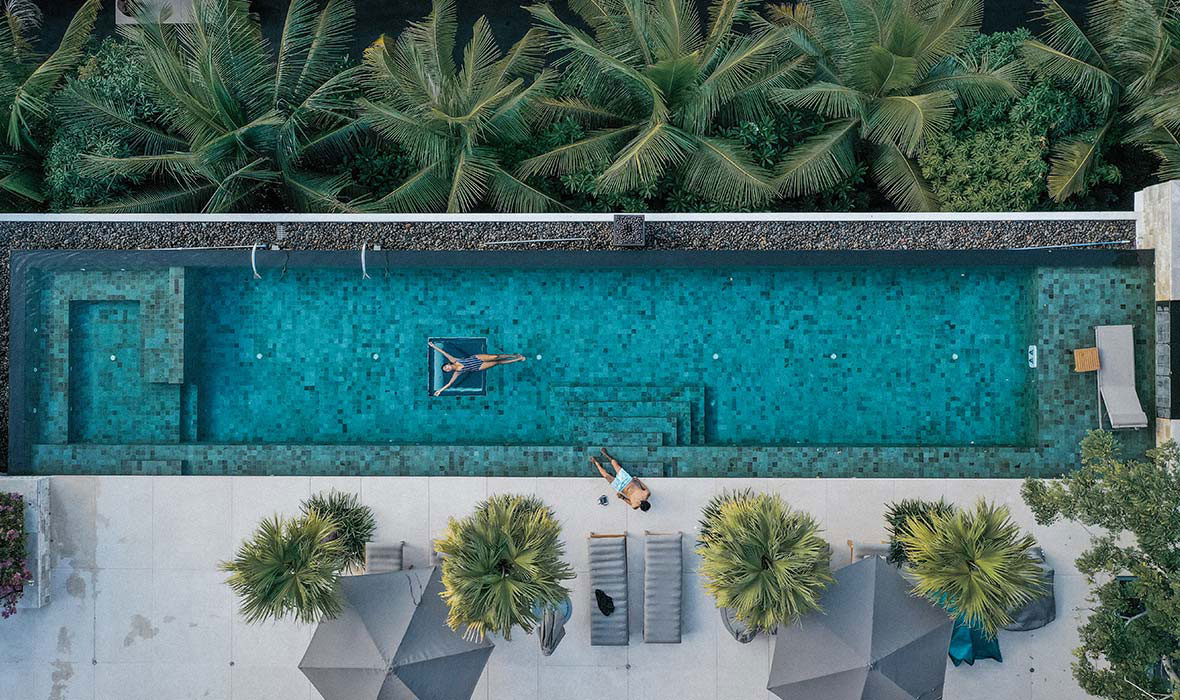 The Mercedes at the airport, stocked with tom yum peanuts and dried fruit, continues for 20 to 30 minutes through the surprisingly green surrounds of western Phuket before travelers step into their luxe new villa. The perfect villa for a family getaway is likely the expansive five-bedroom villa that looks down on the bay below; two people can have a very romantic stay indeed, complete with on-grounds butler, but the residence can support a party of 15.
"It's romantic, empty, and gives travelers plenty of space to move around, a rarity on Phuket beaches these days." Travelogues editor-in-chief Tyler Roney
If the group wants to get out of the villa for a spell, the Major Affair is a 90-foot Sunseeker yacht kitted out with all the major amenities one would expect from the flagship liner of a five-star hotel. For an overnight journey, travelers aboard the Major Affair will see, Koh Hong, Phang Nga, Koh Phi Phi, and stay overnight at Koh Dam Khwan.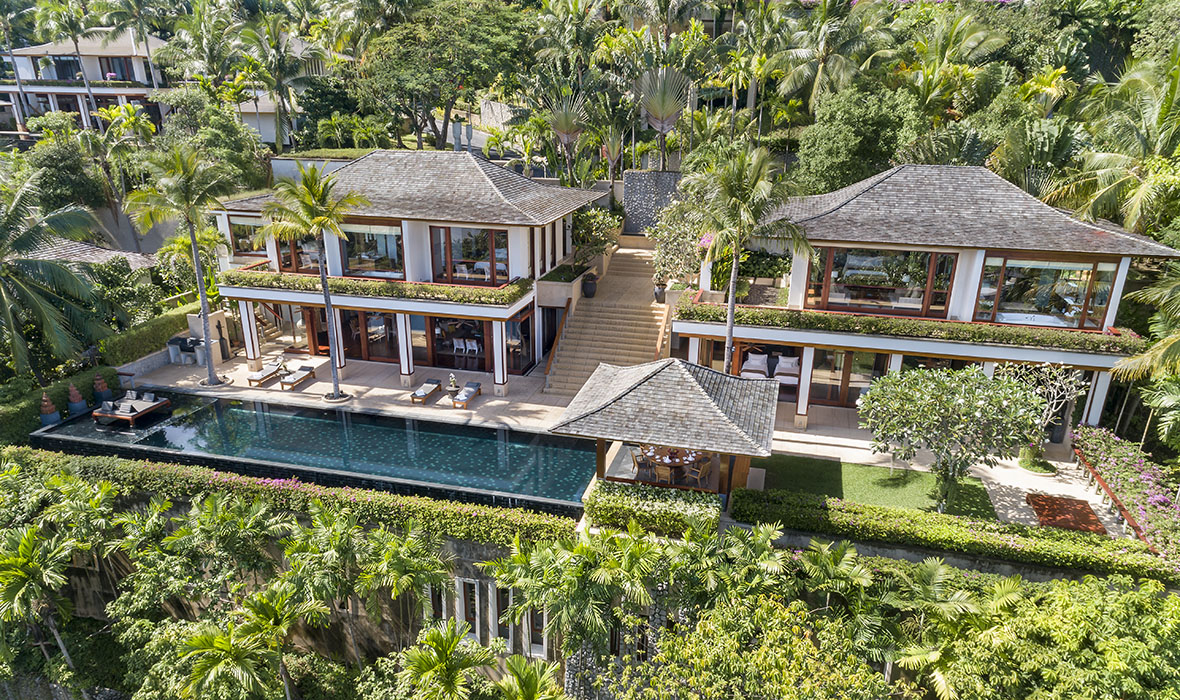 "The Andara is ideal for large groups, with colossal villas boasting three to six rooms each. Even better, each villa comes with its own personal butler and chef, so you won't have to lift a finger." — Remote Lands cofounder and CEO, Catherine Heald
An ideal choice for a luxe group getaway, Andara is found on Phuket's busy Kamala beach and one of the most impressive rooms is the Two-Bedroom Penthouse Pool Suite, which is 3,358 square feet and features a western style kitchen which opens up to views of the Andaman Sea.
From December to April, the clear waters are calm enough for paddle-boarding and from May to November surfers can hit the waves. On the waters, the hotel boasts two luxury yachts for special day trips and intimate on-board dinners.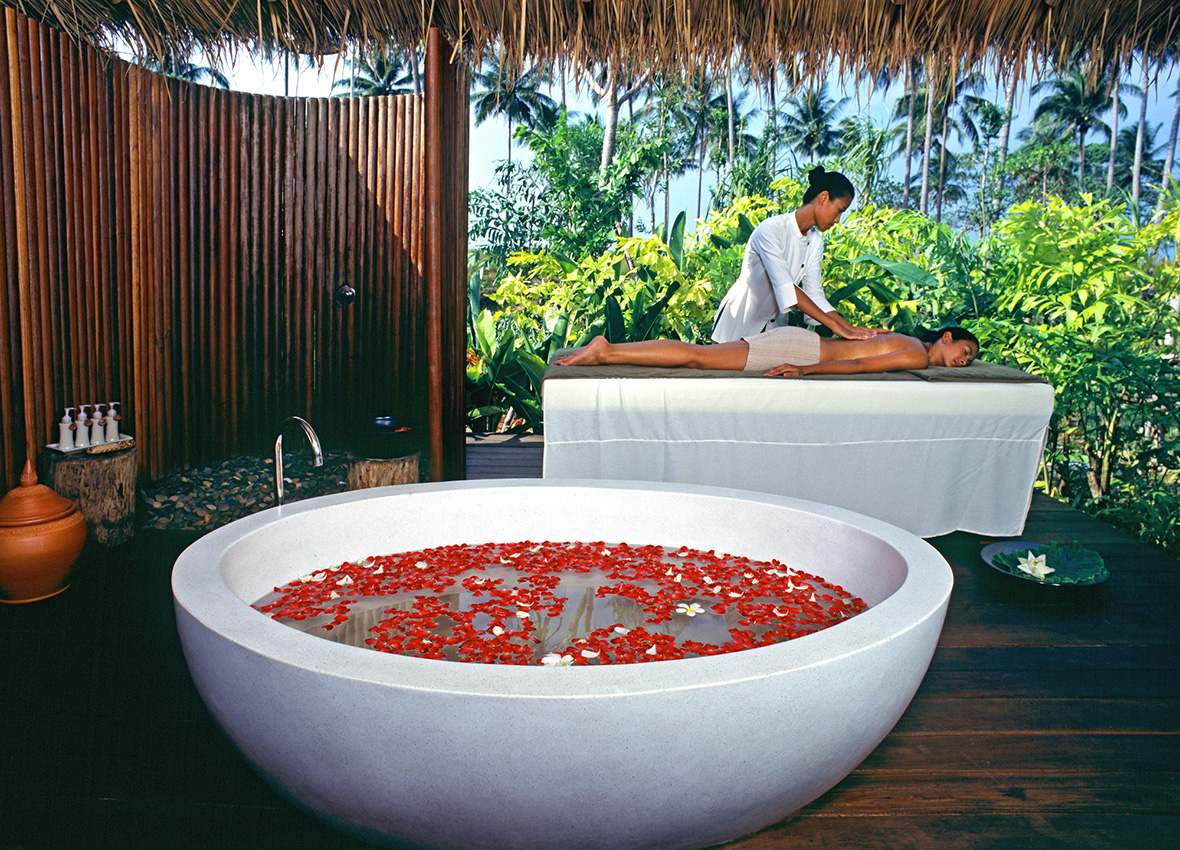 Again, quite far north of the island itself, Sarojin deserve a mention among the elite Phuket resorts for its superb accommodations and as a way station between Phuket and Khao Sok. A unique 56-room property, the rooms feature contemporary architecture that blends the two styles for which the region is famed: beach and jungle.
One of the more unique experiences offered by the Sarojin is the dinner at their private waterfall. Listed as one of the resort's "wow" experiences, guests begin their evening with a romantic walk down a jungle path to a discrete setting under the mists of the Sarojin's waterfall, where guests can dine on marinated Andaman prawns, roasted duck red curry, wok-fried sirloin steak, and steamed white snapper which are prepared and served by a private waiter and chef.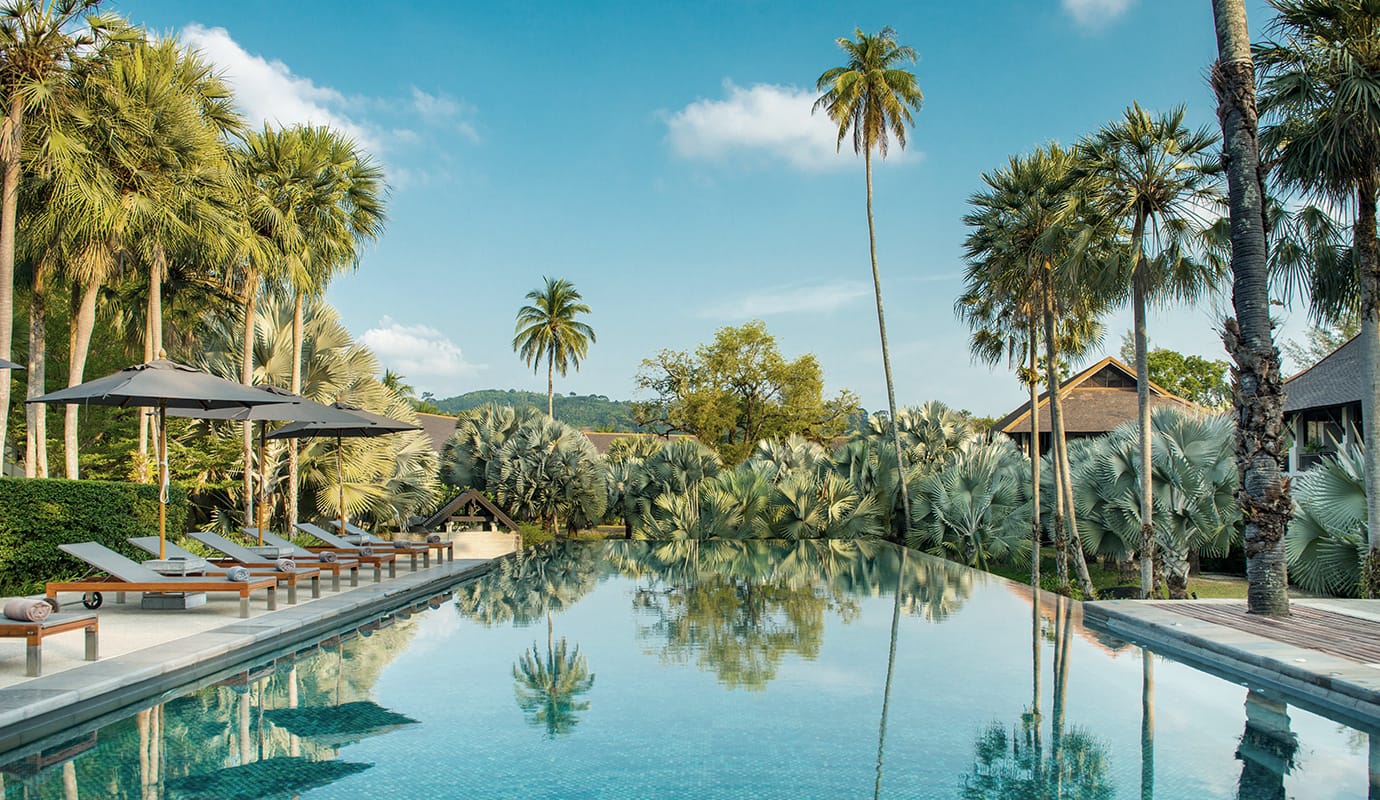 A little smaller than the uber-popular brands above, The Slate — formerly the Indigo Pearl — is unique in design and style. The design is more whimsical and artistic than anything available at the big name resorts closer to the beaches, and that's because this well-appointed resort comes from the mind of architect and designer Bill Bensley, a superstar in the hospitality industry.
It should come as no surprise then that one of the resort's best rooms is the Bensley Suite: tasteful flower arrangements, dark wood furnishings adds, an enchanted garden, and a private pool.
The Slate takes its heritage from the tin mines of the Phuket of old, and provides a much more in-land feel than the resorts on the water — a young, cool, design-forward luxury stay.