There were a lot of reasons Crazy Rich Asians was a success – the billing, the best-selling novel, Constance Wu being, well, Constance Wu – but a lot of people came away with a glimpse of Asia they hadn't seen before. With filming locations in both Singapore and Malaysia, Crazy Rich Asians highlighted some of Southeast Asia's finer accommodations, from tropical islands like Langkawi to metropolitan gems like Raffles. So, if you're a crazy rich traveler and want to stay like the characters in Crazy Rich Asians, give these hotels a try.
Carcosa Seri Negara, Kuala Lumpur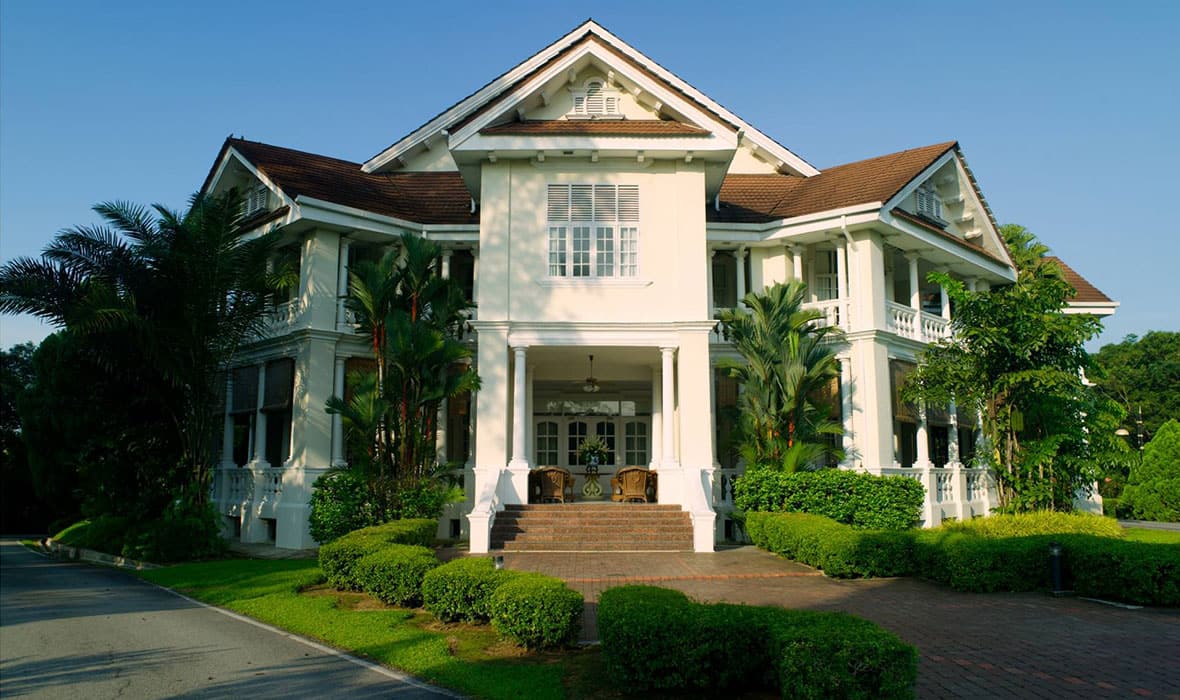 In 1896, construction began on the stately bungalows Carcosa and Seri Negara. Home to the first Resident-General of the Federated Malay States, the Carcosa mansion is a fusion of the Italian words cara and casa which come together to mean "desirable dwelling," and this is certainly the case. The stand in for Tyersall Park in Crazy Rich Asians, the mansion's eclectic fusion of Neo-Gothic and Tudor Revival styles create an environment that is the height of style and luxury in Kuala Lumpur.
The Seri Negara mansion was opened in 1913 as an official guest house, and over the intervening century the two mansions bore firsthand witness to world history: the Japanese army used them as their Malaya headquarters during the Second World War, the Constitution of Malaysia was drafted in Seri Negara. Welcoming guests since 1904, the meticulously maintained rooms are classical in design and overlook ornate gardens. The hotel is situated in the heart of Kuala Lumpur, which spells for panoramic views and a close proximity to tourist attractions.
Four Seasons Resort, Langkawi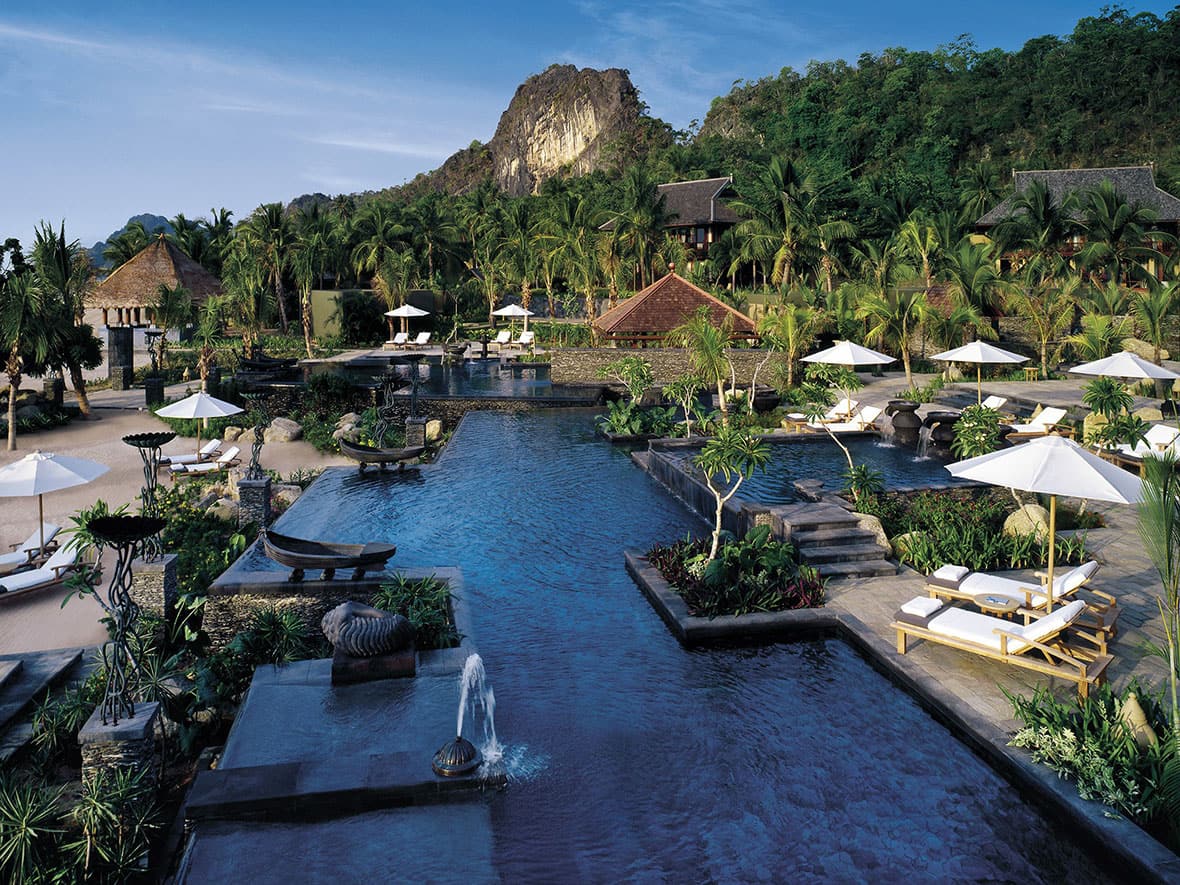 With mangrove forests to its back and a mile-long strip of private, pristine white-sand beaches ahead, the Four Seasons Resort Langkawi is truly a destination for those looking to relax in style; accordingly, the hotel was home to Araminta's glamorous bachelorette party, which decidedly did not turn out well for the movie's protagonist.
Dead fish aside, the hotel's architecture draws on Malaysian, Moroccan, and Middle Eastern themes to dazzling effect, and luxurious rooms have combinations of balconies, gardens, and even marble terrazzo soaking tubs. Moreover, the spas are indulgent and the guests can even go water skiing in the water sports center. It's a perfect place for everything from honeymoon to bachelorette party – just make sure you travel with friends that won't garnish your bed with dead sea life.
Perhaps if the characters had been filming at a different time, they would have opted for The Datai on Langkawi, a luxury accommodation that recently finished renovations and rivals the tropical opulence of the Fours Seasons Resort on the same island.
Raffles Singapore Hotel, Singapore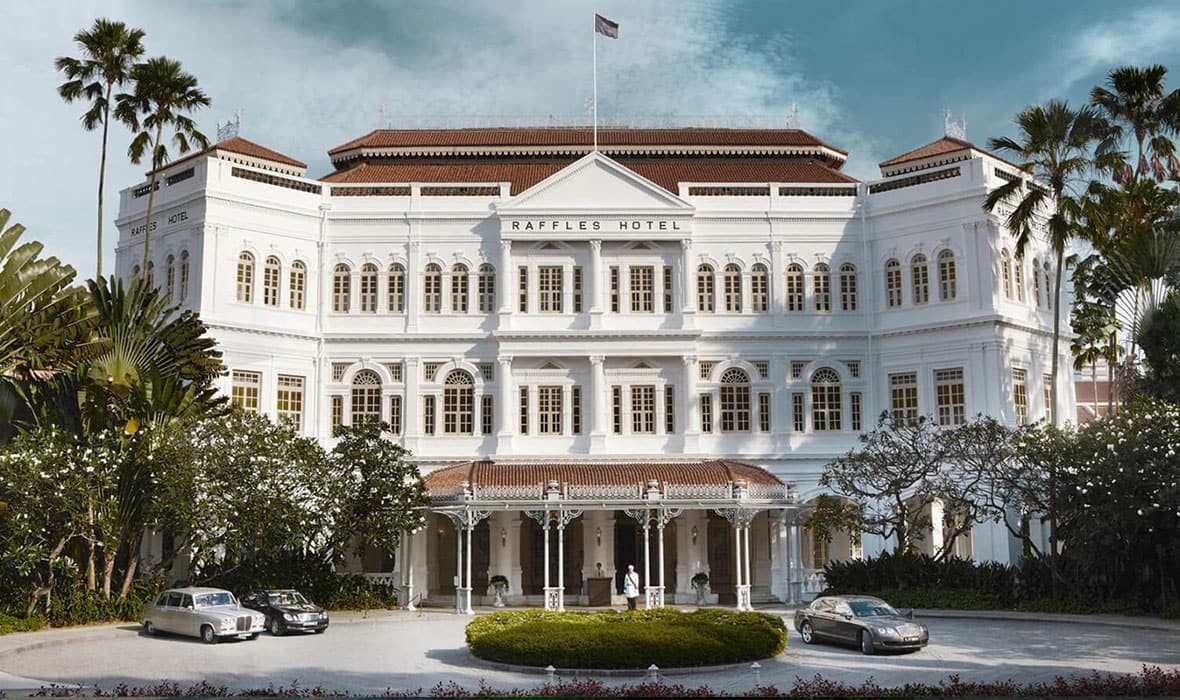 In the film Crazy Rich Asians, Nick elects to stay at the hotel instead of his parents' place because his girlfriend is not welcomed back home. The hotel scenes were shot at the Raffles Singapore, and while having a disapproving mother-in-law is not a requirement for staying at the hotel, a full wallet is.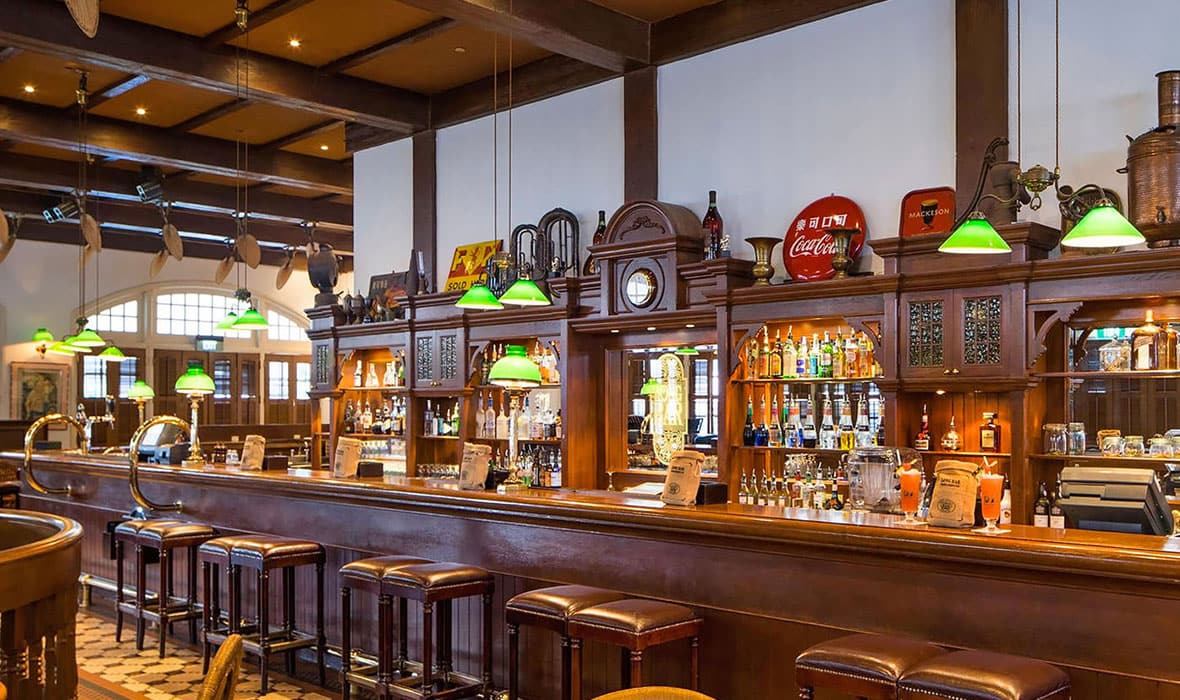 After founding a fledgling auctioneering business, Tigran Sarkies decided that hoteling was a more profitable venture, so he changed gears, laying the foundations for his family's famous hotel empire that spread throughout Southeast Asia. Among the many hotels founded by the Sarkies Brothers, the Raffles Hotel, Singapore, is one of the most renowned. Initially opened in 1887, the Raffles Hotel features colonial-style aesthetics, neo-Renaissance architecture, and boasts enough historical significance to keep history buffs in awe for the entirety of their stay. Home to 103 opulent suites, the heritage hotel has been declared a national monument by Singapore's government and lauded by poets and politicians alike.
Though currently under renovation, the hotel will soon reopen to guests hoping to stay in one of Singapore's most central districts at its most premier of hotels. Dinner, drinks, and facilities have always been world-class at this hotel – which just happens to be the birthplace of the Singapore Sling.
Belanda House, Kuala Lumpur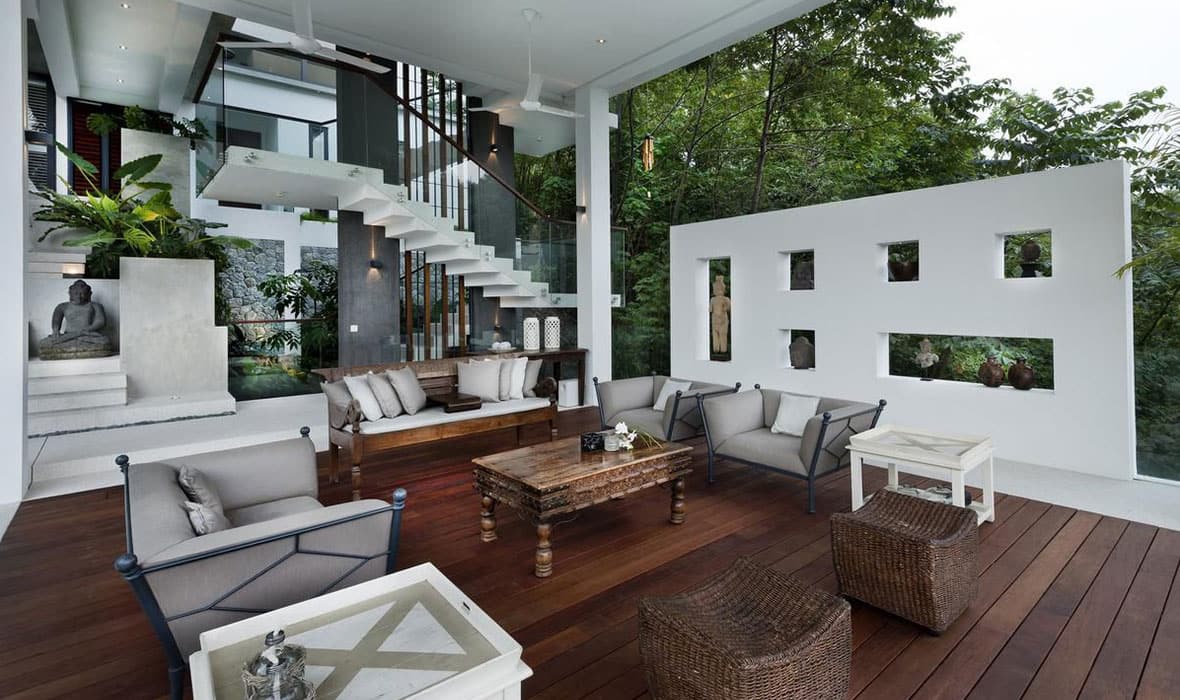 Situated in the middle of Kuala Lumpur, surrounded by jungle, and on a 34-degree-slope, the three-story Belanda House is truly a sight to see. The two-million-dollar property has three pavilions on different levels, seven staircases, and no shortage of beauty. The house's architectural concept aimed to eliminate the barrier between inside and outside, and this objective was completed along with an accompanying cast of muted colors, black and white timbers, polished concrete, and pebble wash finishes. As stunning as it is an architectural marvel, the private residence was rightfully selected for a scene depicting ladies oscillating between bible-study and gossip. That said, had the ladies wanted to enjoy sweeping vistas or take a dip in the home's picturesque infinity pool, the Belanda house could have readily accommodated.
Cheong Fatt Tze Mansion, Penang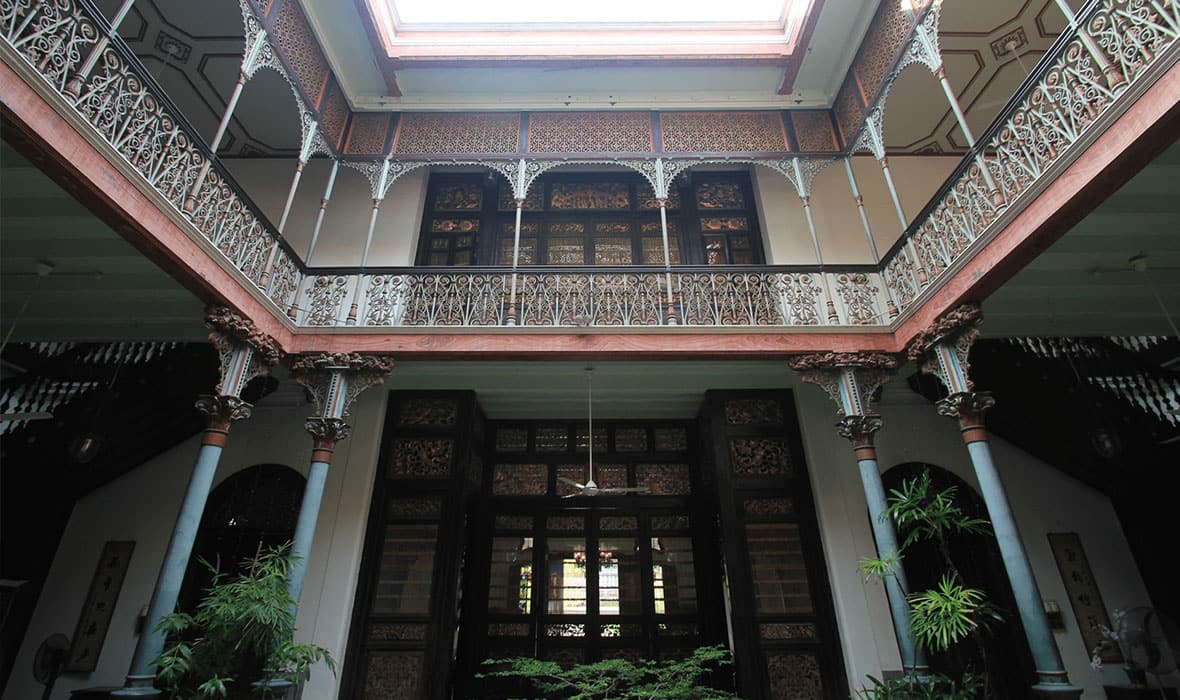 Famously eclectic, "The Blue Mansion" of Penang, Malaysia, is the lavish gem of 19th century merchant Cheong Fatt Tze. Combining Imperial Period Chinese architecture with Art Nouveau stained glass windows, Glasgow cast iron works, and a strict adherence to Feng Shui principles, the mansion offers a lot to marvel at, especially its iconic shade of blue. Today, the mansion serves as a 16-room bed and breakfast-cum-museum, and one of its rooms was redecorated as a mahjong parlor for the showdown between Rachel and her boyfriend's domineering mother, Eleanor, in Crazy Rich Asians. Accommodations in the current incarnation of the hotel feature modern amenities like wi-fi and flat screens along with refurbished plunge pools and rainfall showerheads, but details like the Victorian stained-glass windows and ornate courtyards are what keep mesmerized guests carrying luggage through its doors and directors setting up cameras in its halls.
Marina Bay Sands, Singapore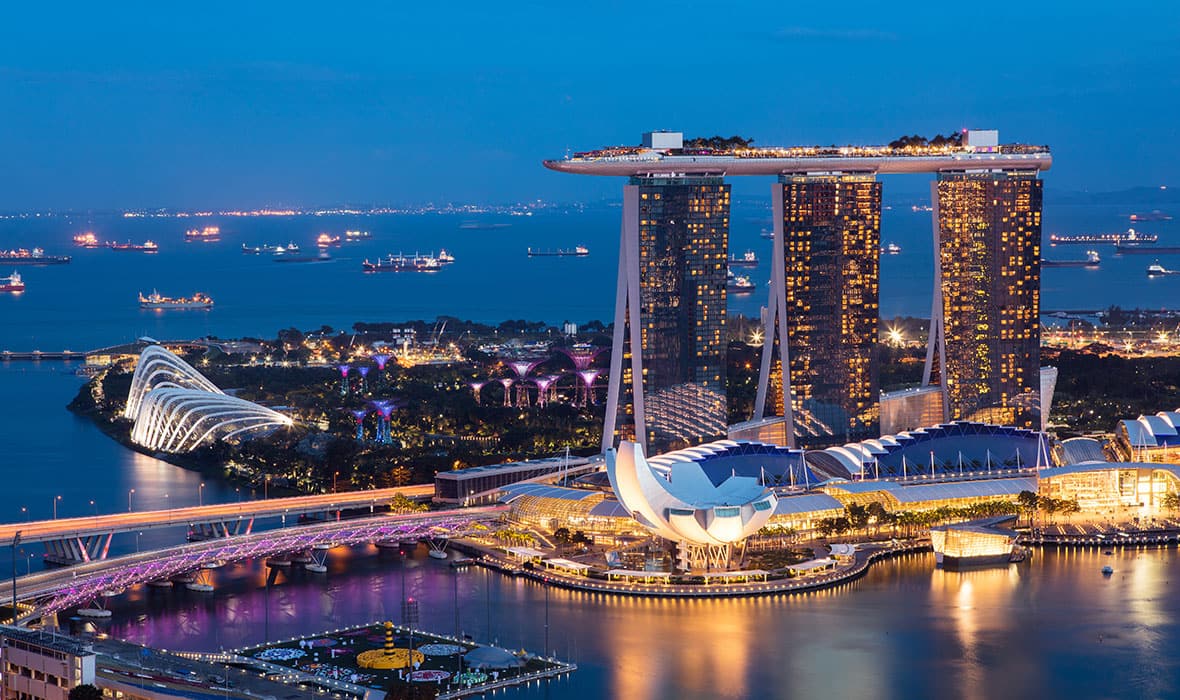 Crazy Rich Asians is a story about the extremes of class and money, so it was more than fitting that the most expensive standalone casino property in the world was chosen for the film's finale.
Boasting 2,561 hotel rooms, the world's largest atrium casino, an assortment of world class restaurants, and a variety of other lavish facilities, the Marina Bay Sands demands respect. Sublimely located and stunningly chic, all rooms are adorned with floor-to-ceiling windows, luxurious wood and marble furnishings, and modern amenities. There are more than 80 on-site dining options, nine of which are headed by celebrity chefs, and a number of places to enjoy a drink.
The resplendent Marina Bay Sands is a toast to the economic and cultural prowess of Singapore, so when it came time to shoot Hollywood's love letter to the small island nation, it was only natural the hotel be chosen for the movie's grand finale.
Nothing quite says "Singapore" like the Marina Bay Sands skyline, but the film Crazy Rich Asians made for locations all around Southeast Asia – giving Westerners a glimpse of a slice of luxury Asia has to offer for travelers who prefer the finer things.