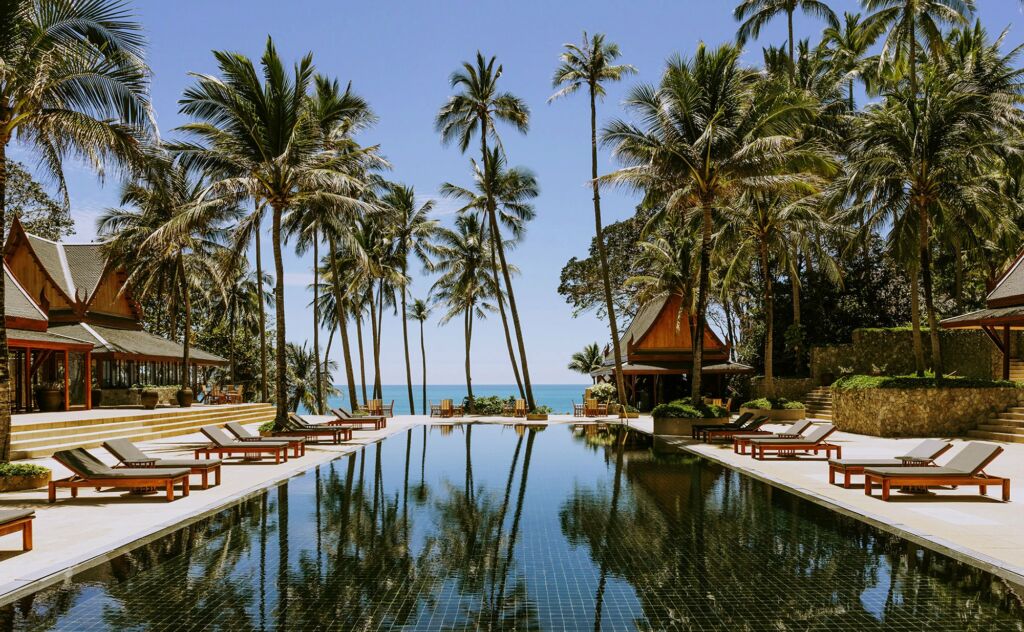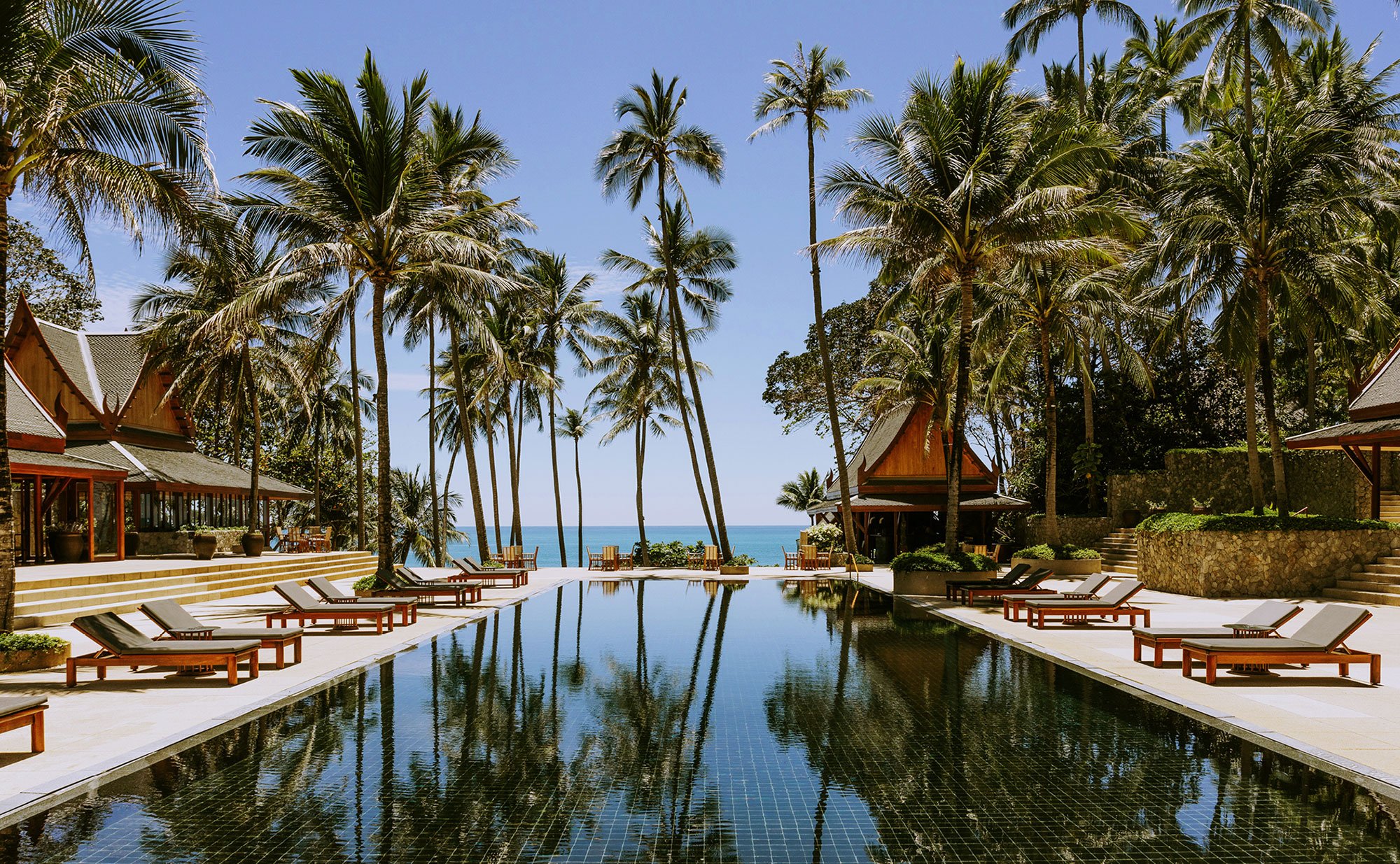 Thailand's paradise island is open (with some caveats), and while it's not exactly ready for the boom in tourism it once had, it's still a good time to start thinking about a trip. Apart from being one of the most beautiful islands in the Andaman, Phuket is a long-time travel hub drawing travelers from around the world. So, if you can't wait to hit the skies for white sands and crystal blues Asian waters, Phuket is looking like one of your best bets, and here are a few ideas to get you on your way.
Amanpuri for Ultra-luxe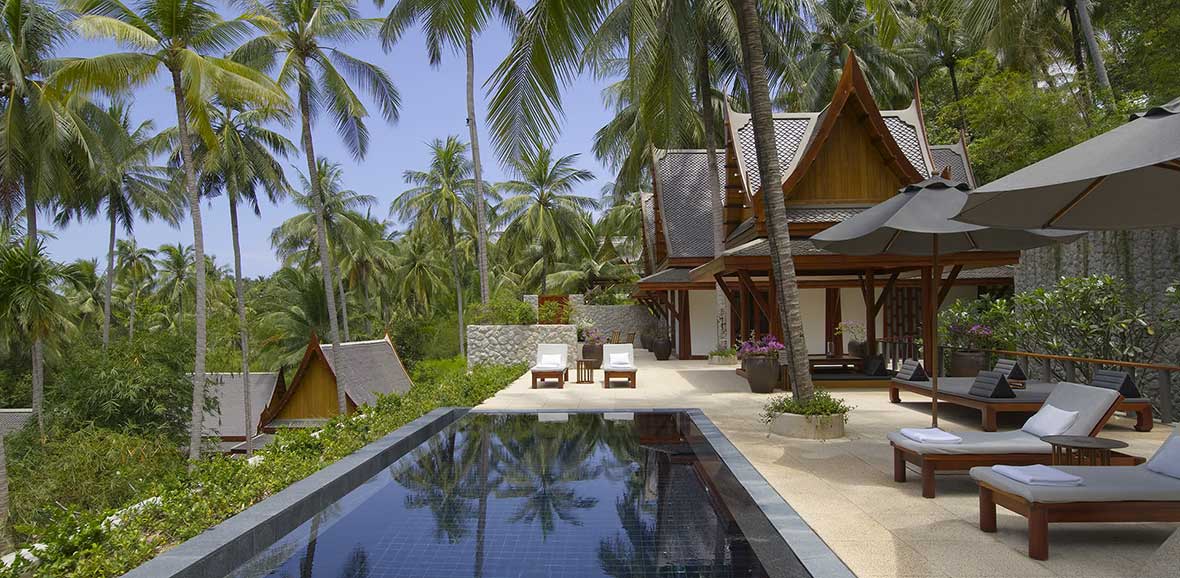 Amanpuri is one of Phuket's finest luxury resorts, a Remote Lands favorite, and the very first Aman destination. Amanpuri's 40 Thai style pavilions are located around a mature coconut plantation by a private white-sand beach. The pavilions are connected by raised wooden walkways with both garden and ocean views; however, regular rooms tend to lack both full ocean views and private pools, so it's recommended that travelers upgrade to the Pool Pavilions, which feature two bedrooms, an outdoor sala, sun deck, balcony and private plunge pool.
There is, simply put, no matching the Amanpuri for service, style, and luxury on Phuket. That's why the Amanpuri is the final stop on the Aman Jet Expedition: Southeast Asia 2021. In just one journey, travelers will explore a wonder of the world at Angkor Wat, wander the quiet streets of the ancient capital of Luang Prabang, and lounge on some of the finest beaches in Indochina — all in the comfort of luxe Aman resorts at every destination. Traveling by Airbus A318 Elite, this will be the first wave of ultra-luxe travel in Asia.
Anantara Layan for the Family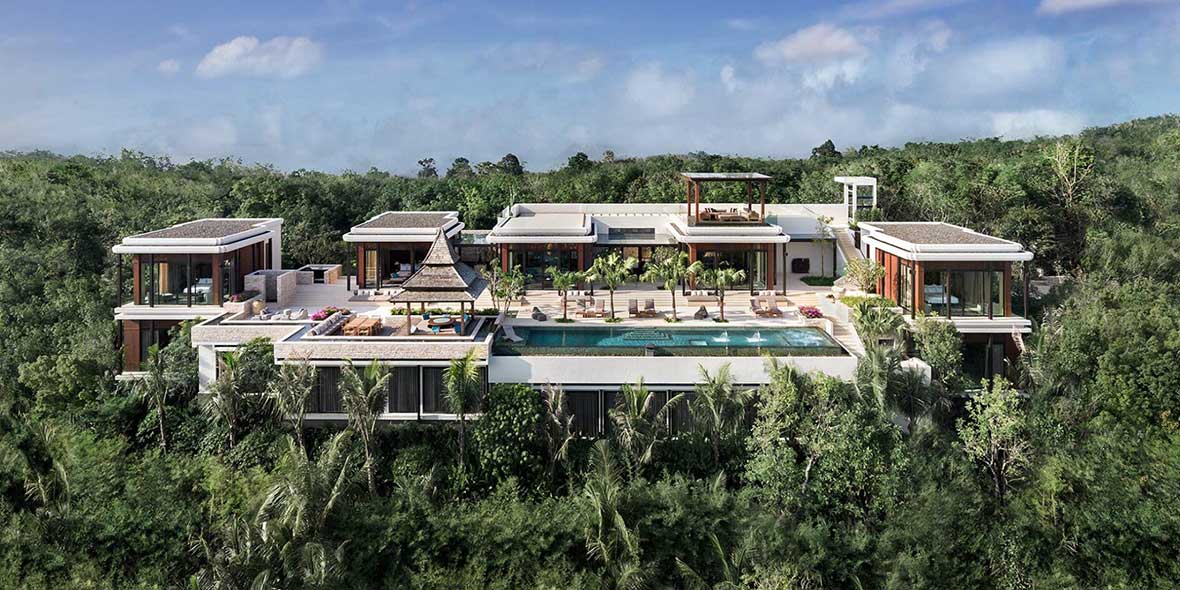 Anantara Layan has something a little extra for those traveling in a group: an expansive five-bedroom residence, complete with every possible amenity, a journey that begins with the Benz at the airport and ends with a wave from your private butler. The view, put simply, is extraordinary: blue water and green jungle and maybe sight of the Anantara Layan yacht, the Major Affair. Besides the million-dollar view, the pool is likely the first thing that will catch the traveler's eye: 21-meters of a private infinity swimming pool looking out onto the Andaman Sea. For a family or group of travelers – a wedding or just a birthday bash – this is party central.
The beach itself at Anantara Layan is quite unique. At low tide, guests can walk across the land bridge to the uninhabited Koh Kala for a human-free commune with nature or simply walk several hundred meters out into the water for a think. It's romantic, empty, and gives travelers plenty of space to move around, a rarity on Phuket beaches these days.
Trisara for the Food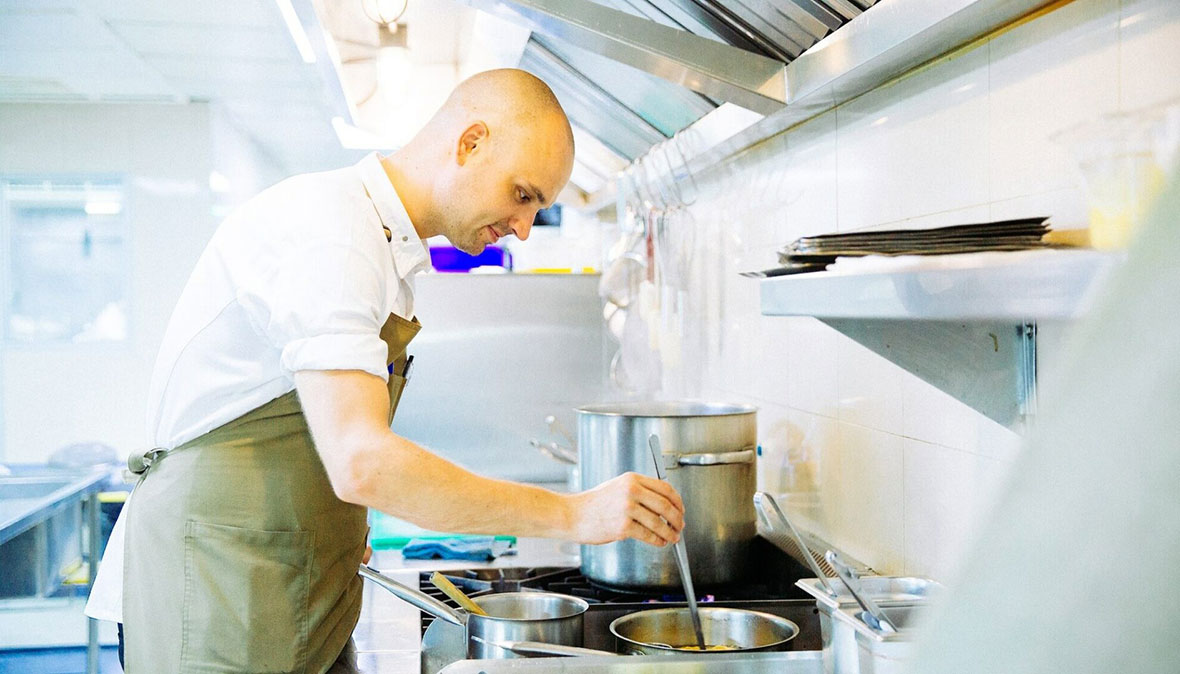 Trisara is a five-star experience all the way, but it has something a little extra for foodies, speaking, of course, of PRU — Phuket's first Michelin star. PRU stands for "Plant. Raise. Understand." — a sustainable concept inspired by the ecosystems and biodiversity of Thailand. Indigenous ingredients are grown and permaculture-focused farming methods are implemented at the Pru Jampa Farm, which supplies the restaurant with produce as well as a space for experimentation.
Found on a hilltop in its own private jungle, Trisara houses 48 villas and private residences. Equal parts family-friendly getaway and lovers' retreat, villas and facilities sit within 40 acres of garden that rise between two private headlands. Luxury travelers will want to upgrade to the Ocean Pool Front Villa and the Two Bedroom Ocean Pool Front Villa is ideal for families.
Andara for Balance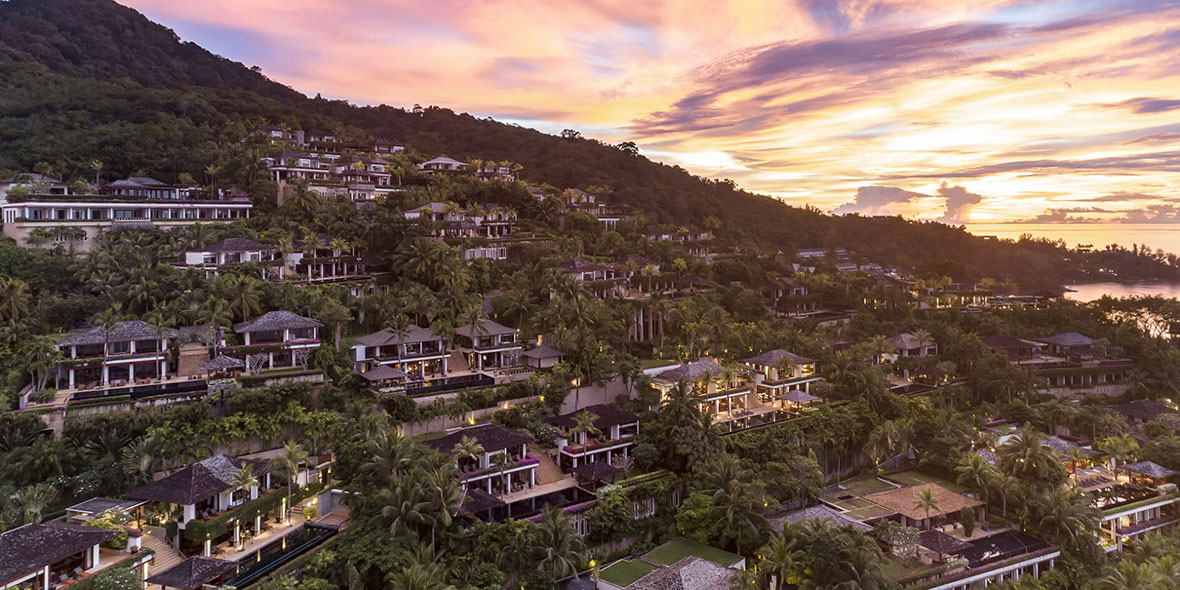 Choosing a Phuket hotel can be intimidating. There's so much competition one hardly knows where to start but the Andara is an ideal, can't-go-wrong choice. It's part glamour, part cliff-side getaway, part private pool paradise — all spread over acres of green.
Andara's luxury private villas offer the ultimate in seclusion and discretion, including two members of dedicated staff (a concierge and a personal chef), private facilities and a private infinity pool. If you're looking for peace and relaxation with family and friends, then this is the place for you. Also, the hotel owns two luxury yachts, which offer experiences such as special day trips and intimate on-board dinners. For beachlovers, Kamala Beach is one of Phuket's most beautiful stretches of sand, and the waves are calm enough for stand-up paddleboarding from December to April.
The Slate for Design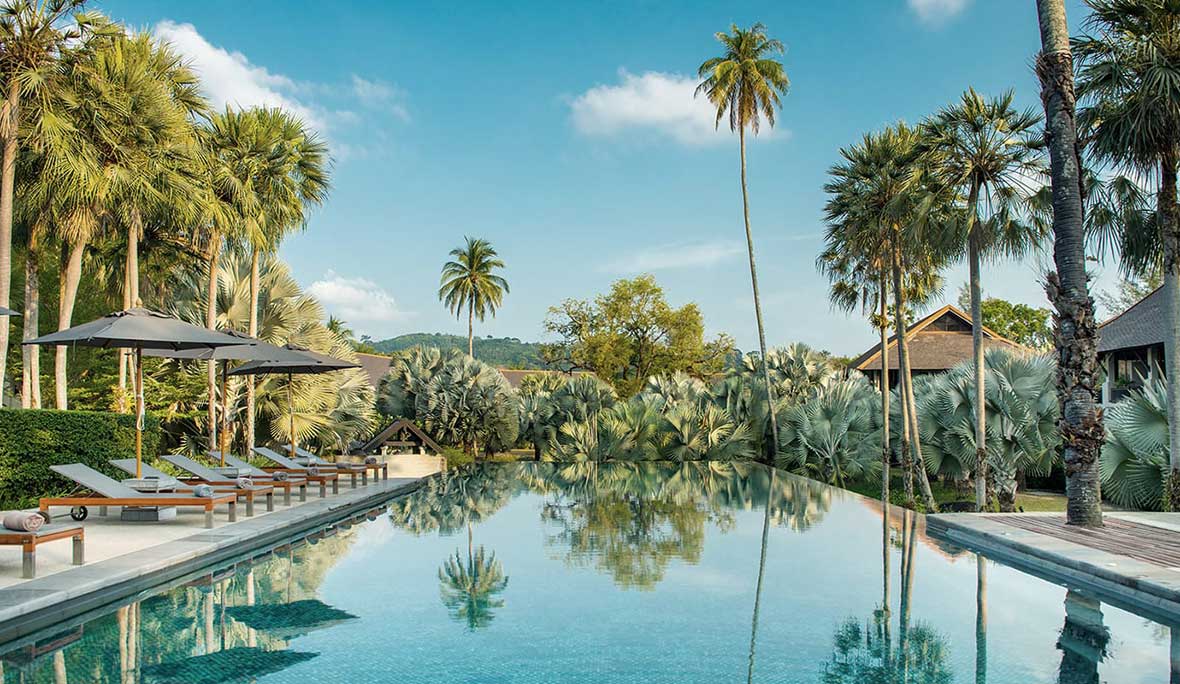 A little smaller than the uber-popular brands above, The Slate — formerly the Indigo Pearl — is unique in style. The design is more whimsical and artistic than anything available at the big name resorts closer to the beaches, and that's because this well-appointed resort comes from the mind of architect and designer Bill Bensley, a superstar in the hospitality industry.
It should come as no surprise then that one of the resort's best rooms is the Bensley Suite: tasteful flower arrangements, dark wood furnishings add, an enchanted garden, and a private pool. The Slate takes its heritage from the tin mines of the Phuket of old, and provides a much more in-land feel than the resorts on the water — a young, cool, design-forward luxury stay.