Why We Love This Hotel
Prosperity, Serenity, Romance: Sriwilai Sukhothai is built around these three pillars. Prosperity is emulated through the Lanna-style architecture and cultural nods to the Sukhothai era, the most prosperous in Thai history. Serenity is embedded in the peaceful natural surroundings, while romance is expressed in room design, the spa and the swimming pool area, inviting guests to unwind and reconnect.
Location: Sriwilai is a perfect jumping off point for exploring Sukhothai Historical Park, yet far enough away from the tourist sites to feel like a secret countryside retreat - the best of both worlds.
Sustainability: Both environmental and community iniatives are in place at this green resort, including solar energy, a waste water system, zero chlorine and ECOsmarte systems for swimming pools, as well as sourcing ingredients, textiles and pottery from local producers.
Read More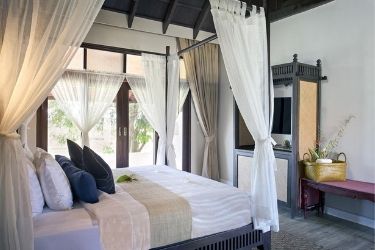 Preferred Hotel