A vast, landlocked area of seemingly endless steppes and mountainous highlands, Kazakhstan is both one of the world's largest and most culturally intricate nations. Kazakhstan's economy has boomed since its independence in 1991, bolstering the evolution of Silk Road-era national identity of Kazakhstan's origins. There are many sights, both naturally beautiful and manmade, worth seeing in this Central Asian nation, but these four cities deserve to be on any traveler's list.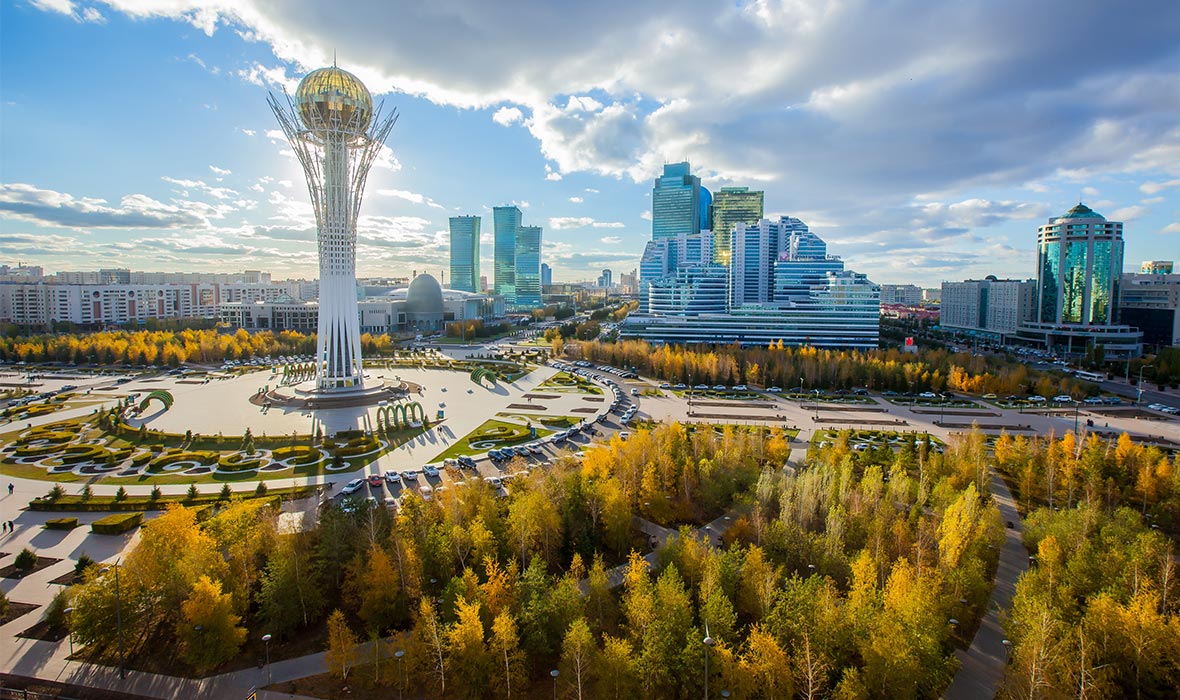 Nur-Sultan, which was formerly Astana until 2019, is the capital of Kazakhstan and its second-largest city behind the former capital of Almaty. This transition was initiated in 1998, and to this day billions of dollars are being invested in making the city as architecturally impressive as possible. Opportunities for excellent shopping, dining, and nightlife abound, but any visitor to Nur-Sultan should block out at least the better part of a day to tour some of the city's striking architecture. The Baiterek Tower – a futuristic building that is 318 feet tall and often compared to a giant lollipop – and the Duman entertainment complex are two must-visit destinations.
Thanks to the city's rapidly developing nature and economic prosperity, other chances at entertainment are in no short supply, but Nur-Sultan also has many culturally interesting sites. The Hazrat Sultan Mosque along with the Palace of Peace and Reconciliation are just two examples of religiously significant buildings in the city. The former is one of the largest mosques in Central Asia with the largest dome in all of Kazakhstan to boot. The latter consists of a more than 200-foot-tall pyramid atop an earth-covered block, and it hosts a summit of all world religions every two to three years.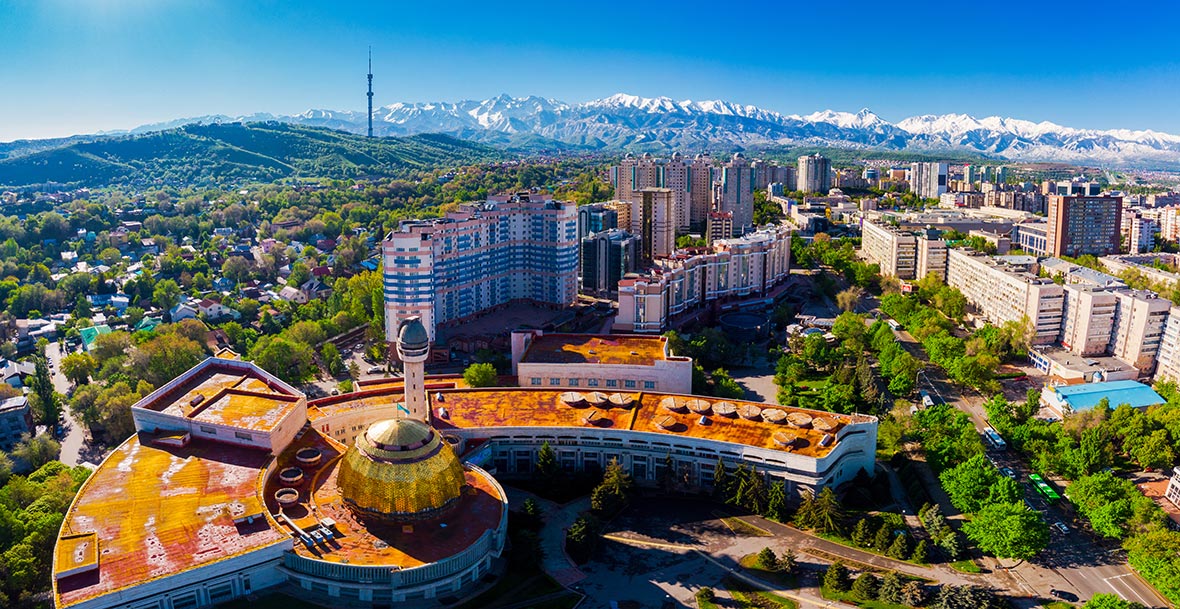 Kazakhstan's former capital is still its largest city and arguably the most scenic. Immense, snow-capped mountains lie to the immediate south, and another small mountain range borders the city to the east, making for excellent views and chances to get out and explore in the outdoors. Activities within the city include navigating bustling markets and visiting the artisan bath and sauna complexes, which are immensely popular here thanks to practically year-round cold and windy weather conditions. Saunas here are typically Russian-style banyas or Finnish steam rooms.
Almaty's greatest claim to fame might well be its excellent options for hiking and outdoor recreation. The gorges, lakes, and mountain trails surrounding the city range from peaceful to rugged, making it easy for intrepid mountaineers and casual walkers alike to find something to fit their style. Two places worthy of a trip are the Turgen Gorge – a national preserve complete with hot springs, plunging waterfalls, and pristine forest – and Big Almaty Lake, which has crystalline alpine waters and is surrounded by wide-ranging mountain views.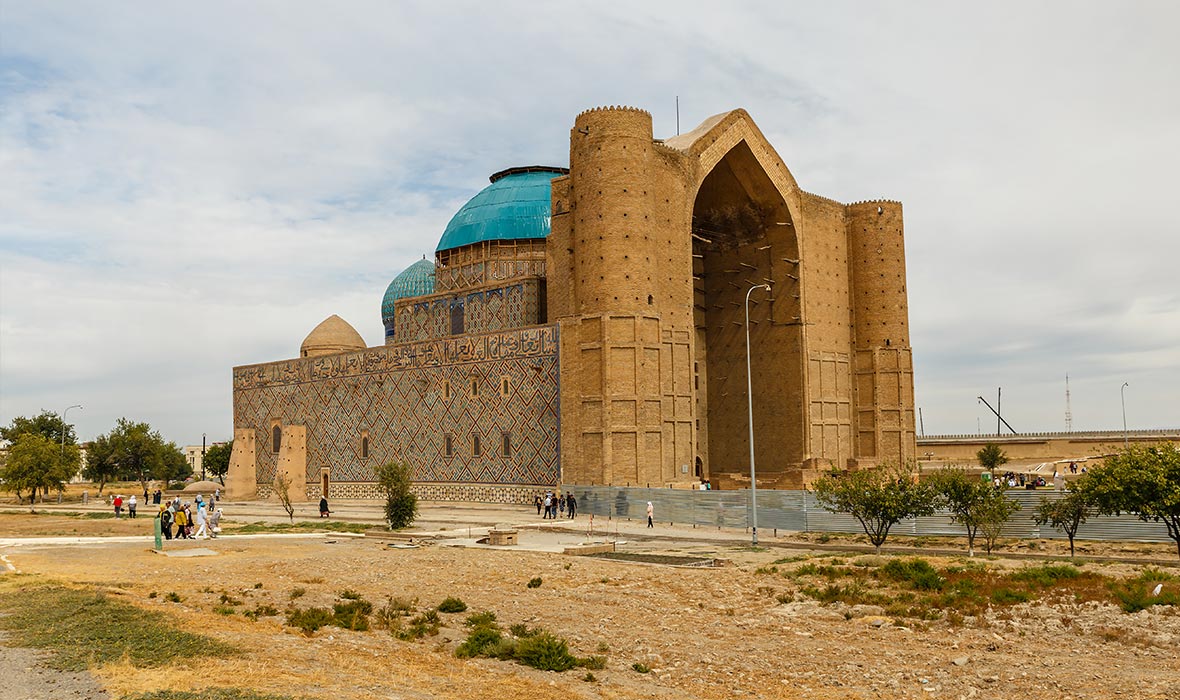 "I traveled by train from Almaty to Turkestan with the sole purpose of visiting the Mausoleum of Khoja Ahmed Yasawi, a UNESCO World Heritage Site. While unfinished, the building represents the early inspiration of the Timurid architecture that is seen across Uzbekistan, and as such an important forerunner for the blue domes and grand minarets that feature so heavily in every Uzbek itinerary."
— Victoria Hilley, Remote Lands General Manager.
Turkestan, a small, ancient city in the midst of the Kazakh Desert, is the most famous Muslim destination in all of Kazakhstan. This major Muslim pilgrimage site features a mausoleum that is a UNESCO World Heritage Site on account of its centuries-old status as a regional center of learning and scholarship. The beautifully designed mausoleum, which visitors may tour, was commissioned by the ruler Timur in the 14th Century to house the tomb of the Muslim holy man Yasawi.
In addition to the main mausoleum that includes a bathhouse, an underground mosque, a history museum, and more, the complex also features a Historical Cultural Ethnographic Center. This institution holds three stories of regional and national folk history and culture. The mausoleum's architecture and aesthetic touches are stunning in their own right, with ornate blue-tiled domes and highly skilled masonry on prominent display.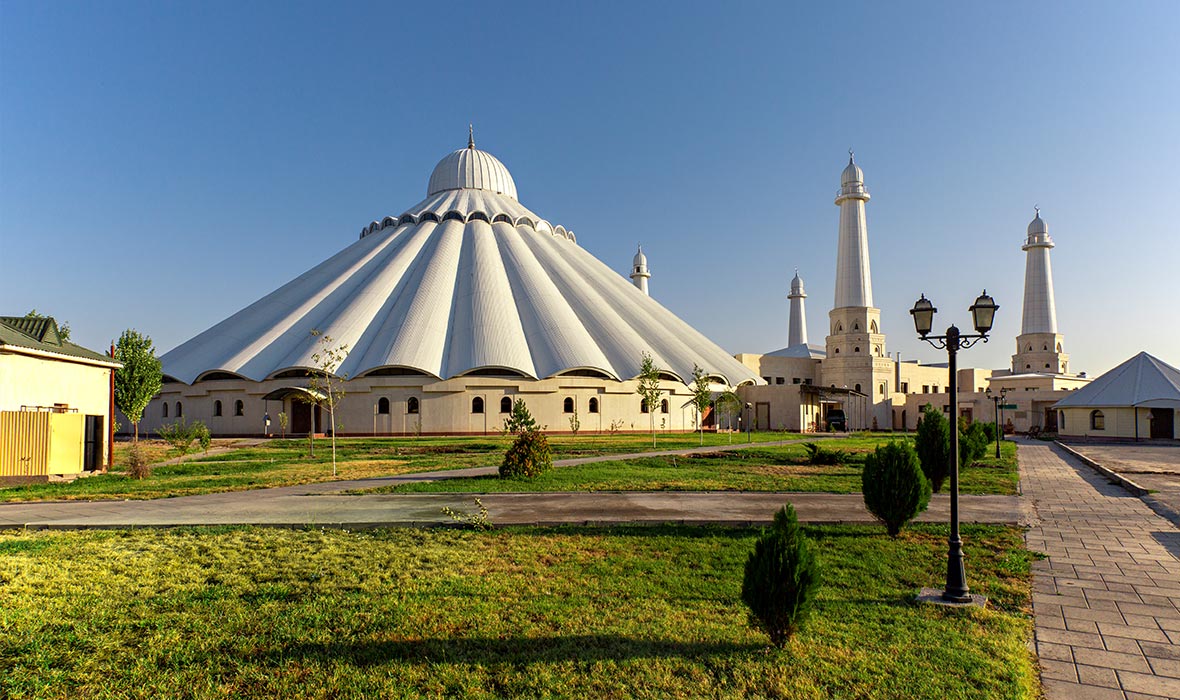 Kazakhstan's third-largest city behind Nur-Sultan and Almaty, Shymkent brings a more intimate feel than the bustling urban areas of its two more-populated cousins, though it has many of the same sorts of natural attractions and urban destinations. The climate here is dry and desert-like, so visitors shouldn't expect quite the same quantity of outdoor activities as the area surrounding Almaty, but many culturally important sites are located within the city. In particular, Shymkent is home to some impressive monuments, such as the New Memorial at the city's foundational site of Ordabasy Square. Other monuments and destinations for travelers to consider include the Park Ken-Baba, the Sheikh Khalifa Mosque, and Big Tulip Fountain.
"Shymkent is a great city to connect though to an overland border crossing into Uzbekistan. On my most recent trip I wanted to visit Turkestan's historical mausoleum – so we took one of the super-modern overnight trains from Almaty, got off in Turkestan to visit the UNESCO site, and then drove overland to Shymkent." — Victoria Hilley, Remote Lands General Manager
Other things to do in Shymkent include haggling with vendors in the local markets and bazaars. For those looking to learn about and experience the more authentic local cultures and their histories, consider making day trips to the nearby Sairam Mausoleums and the ancient city ruins of Sauran.