East India isn't visited as often as the subcontinent – despite having rhinos, the Himalayas, and a vibrant Buddhist culture in Arunachal Pradesh. But for lovers of all things tribal (photographers in particular), there is a certain celebration that blows away most other tribal gatherings in Asia: the Hornbill Festival.
Held in Nagaland in December, the Hornbill Festival, or "Festival of Festivals" as it is known, features the region's seventeen tribes in ten days of cultural exhortation, competition, and, of course, dancing. Travelers will find Naga warriors, Angami dodgeball, and non-stop tribal experiences in a celebration that has come to define Nagaland.
To get the best out of the experience, visitors would be well advised to use helicopters to get around. The roads to some of the most famous sights in Assam and East India are long, winding, and can often bumpy or dangerous. So travelers wanting to see the Hornbill Festival should board their chopper to the rhinos of Kaziranga and the monks of Tawang Monastery before landing at Mon and Kohima.
"My favorites were the Yimchunger, who sport large horned headdresses, and the Konyak, who wear wild boar horns on their heads and are known for their artisan skills." — Remote Lands co-founder and COO Jay Tindall
Nature lovers should be reminded to check out Majuli, one of the world's largest river islands on the mighty Brahmaputra river before or after the festival for some birdwatching, perhaps to spot the celebration's eponymous hornbill.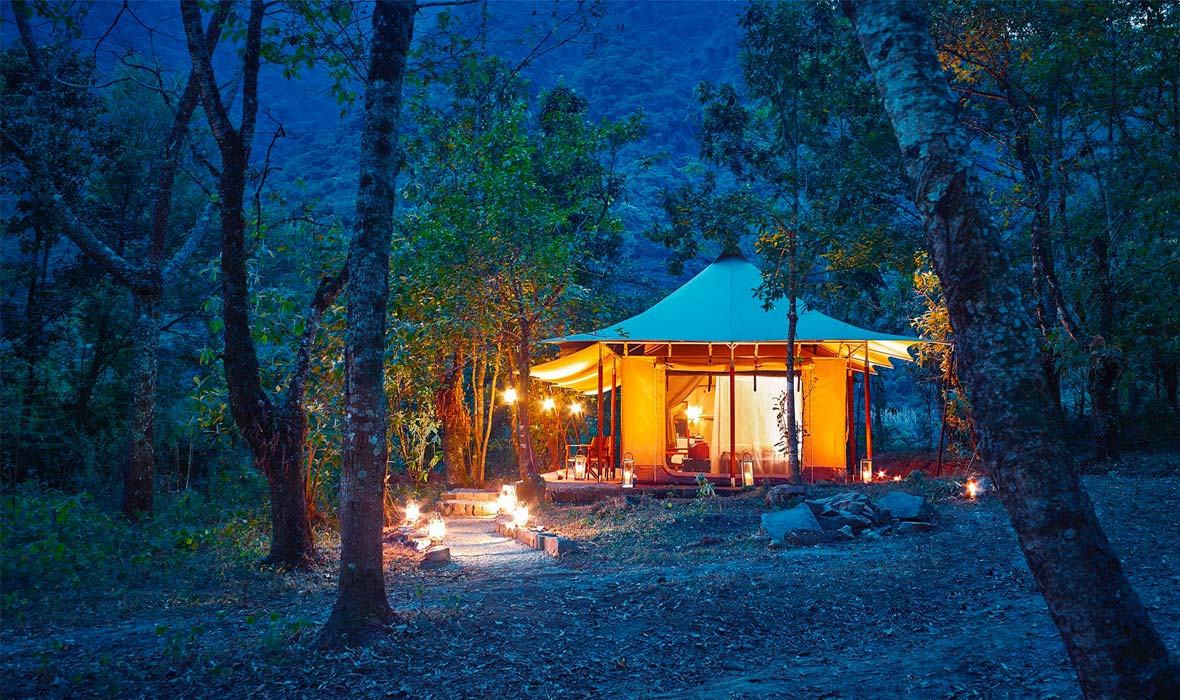 When it comes to accommodation, there is really only one answer for Nagaland: The Ultimate Travelling Camp. Nagaland is about as far as one can get off the beaten track in India, so luxury accommodations don't really exist – for long.
Kohima Camp, Nagaland from The Ultimate Travelling Camp is found in a secluded forest just 15 minutes away from the grounds of the Hornbill Festival. These large, self-contained tents feature a private sit-out, netted windows, and an en suite bathroom. It's a luxury safari-style tent with a four poster bed that allows travelers to enjoy the festivities in relative comfort.
With chef-made cuisine at the dining tent, a library, and expert service, this camp is the only luxury vantage for the Hornbill Festival.