Berinder and Karin are hidden under their loads with only their legs peaking out pulling them relentlessly onward and upward. Our scattered team is a ragged line of colored bulbs weaving in and out of rocks and ice, disappearing and then reappearing. It is Berinder's wool pink tuque amid a world of stone that stands out in the huge space ahead. On every side of this ever-shifting pathway, ice bodies climb upwards in shards and shattered pyramids, while ice pillars temporarily hold up boulders. We are little moving creatures in a realm of dissipating frozen Himalayan water towers. We move further into, and onto a sacred zone where Shiva is worshiped and to the source of one of the great flowing bodies of fresh water on the planet, the great Mother River, the Ganges.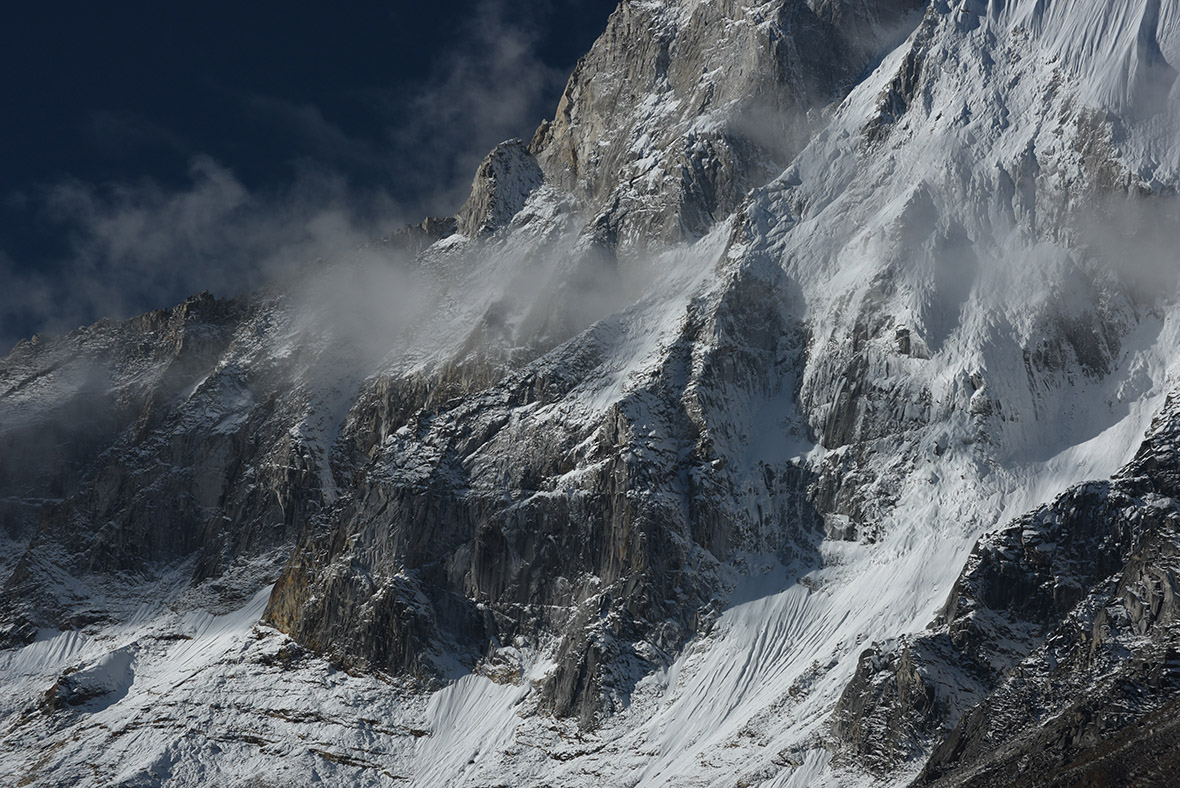 Shuddering sounds and vibrations rumble non-stop through the moraine beneath us as crevasses open up and yawn, and massive vertical shards of ice cleave off in the sun into the Bhagirathi River, which will feed the Ganges. We have passed the receding Gomukh (the 'cow's mouth') and its not-so gracefully disintegrating husks of ice, and rumbles are part of this living mass. The largest glacier in Asia, the Gangotri is the prime feeder of fresh water to the holy Ganges River starting high in, in India's Himalaya, in Uttarakhand State. It is as sacred as it is vital.
We are laced along a fractured kilometer or so path, treading through land that has long effortlessly mixed mythology, fact, and feelings. Nomadic pathways from another time are still visible disappearing into the sky. Tibet lies just to the north and for centuries, borders were but words but now, just over the next range of spires, access is restricted.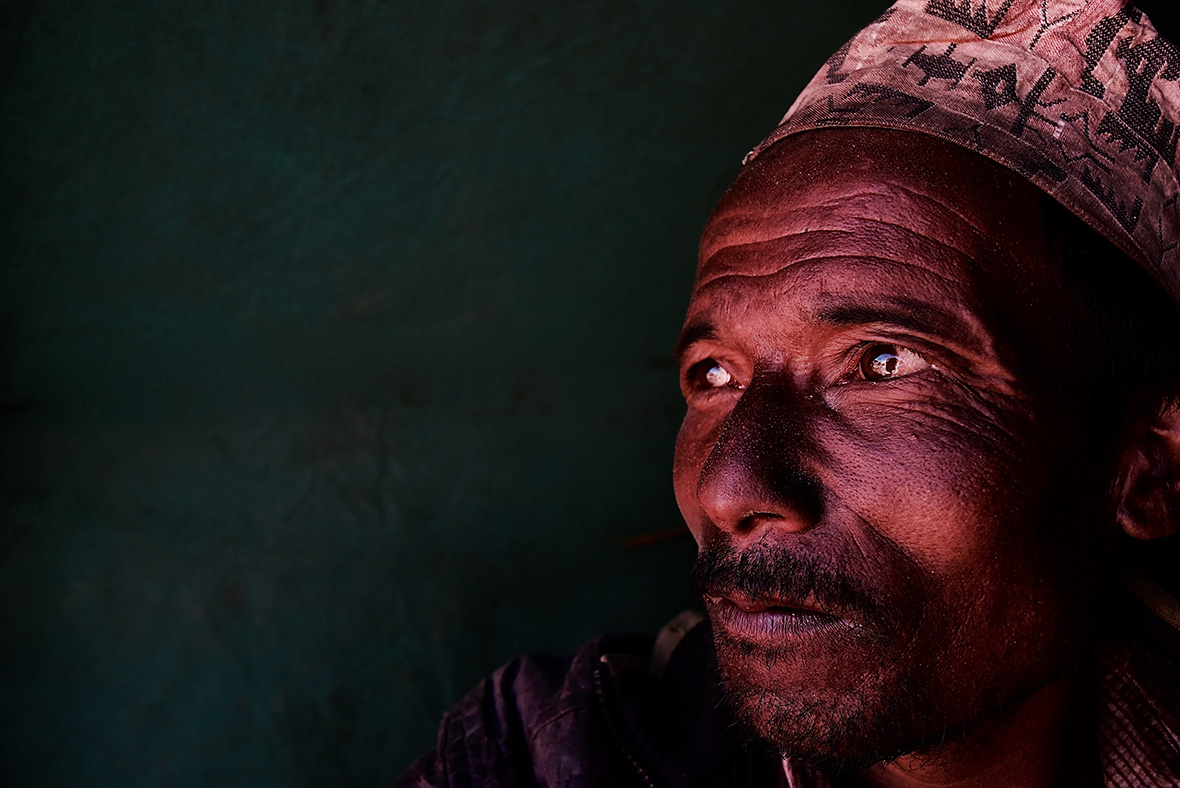 For pilgrims, the Ganges River and Lord Shiva are worshipped with whatever zeal is left after the great journeys to simply arrive here in Uttarakhand. Ganges is the name given to the River Bhagirathi, and once it is said the river was a celestial River called Akash Ganga (Sky River), which is the Hindu mythological equivalent of the Milky Way.
The legend, which lives large still, continues that Akash Ganga was convinced to come down to wash away the sins of mortals by King Bhagirathi. When she arrived, she descended into the locks of Lord Shiva (the very first yogi) and broke into several river channels. And so, from the heavens the Ganga descended at Gangotri (Ganga: river, Utri: descended).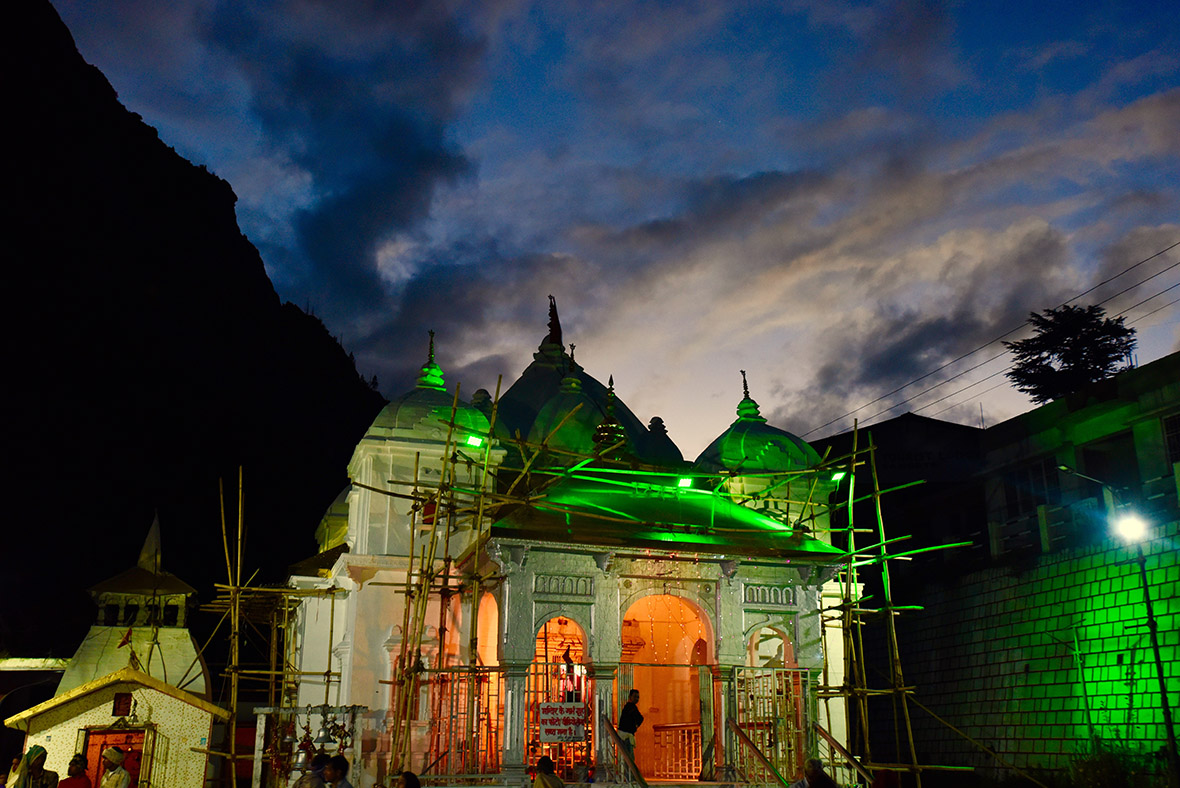 No cars, no engines, and none of man's noise echoes through the churning winds.

Morning comes to Tapovan camp (4,463 meters) with one of the mountaineering world's great bodies, Shivling, splaying its northeastern wall and exquisite peak in beams of sun. Further west is the revered Meru, and for all of the obsessive interest in the verticals it is below in the horizontals – the ebbing glaciers – that perhaps the most compelling story is taking place. Everything here in the mountains is interconnected and linked. The mountain mantra of "cooperate or perish" is entirely appropriate in these spaces and the glaciers, say locals, are diminishing.
Camps (our homes) along the greater Gangotri Glacier are etched into valleys and onto ridgelines beneath which, feeder glacier valleys empty into it. Nandovan, Kirti, and Tapovan camps sit along the ice body as vague smudges in the stone. The glacier hosts climbers and pilgrims. Committed trekkers make incursions as well and the blue sheep watch all of us from their high perches certain that we'll all have to leave at some point. Permits are limited in the region and meat isn't permitted within the park itself. As a sacred space to both Hindus and Buddhists, one must observe this little rule, or risk expulsion. It is very much a space where Mother Nature and her moods hold sway. No cars, no engines, and none of man's noise echoes through the churning winds. The nearby holy town of Gangotri along the Bhagirathi River with its temples is an entry point and place to bathe in the glacier river water.
Our kitchen tent for the next month is fronted up by old friend Karma, who conjures up pies, dhal, and veg pizza's in a wonderful whirl of surprises using a small propane stove. Those treats are coupled with his legendary masala chai, which is ritually served up every morning at 6am. We have a month of exploration in this visceral world of stone and ice and when the belly is content, all is well. Beyond his culinary abilities, Karma's vocal talents seamlessly shift between Tibetan mantras, and flawless bits of old Bollywood star Lata Mangeshkar. Karma and I have travelled together for months in the mountains in previous years and his food, mantras, and Bollywood tunes are welcome.
Northerly air currents swoop down at us and beg the eyes and imagination up to a skyline that is at once gargantuan and detailed. It is one of the most densely peak-ridden regions of the Himalayas and its ice contributes to the Indo-Gangetic Plain further south, a basin that accommodates and feeds nearly 42 percent of the Indian population. It is as utterly epic in scale as it is vital in nature with the Ganges' River's 2,500 plus kilometers exiting into the Bay of Bengal.
Exploring Gangotri is done slowly with the grace of the forces that hold sway…and a well supplied team. Altitude, air pressure systems, and winds all ensure that mortals understand the relationship at play here.  Karma can often be heard almost whispering his pleas "Kalè Kalè", or "Slowly Slowly" (in Tibetan).
We're northeast of the greater Gangotri Glacier after weeks of trekking and the sky-world above is in dark flux. The nearby Bhagirathi Peaks seem to funnel the winds down into us. Pyramidal peaks and golden tinged headwalls look so very reachable and accessible. Below us the Chaturangi Glacier (so named for its 'four colors' of stone and ice) lies like a multi-colored coil of stone. Every tributary glacier we've encountered has bled its tones into the larger Gangotri Glacier and every tributary has its own tonal range and accents.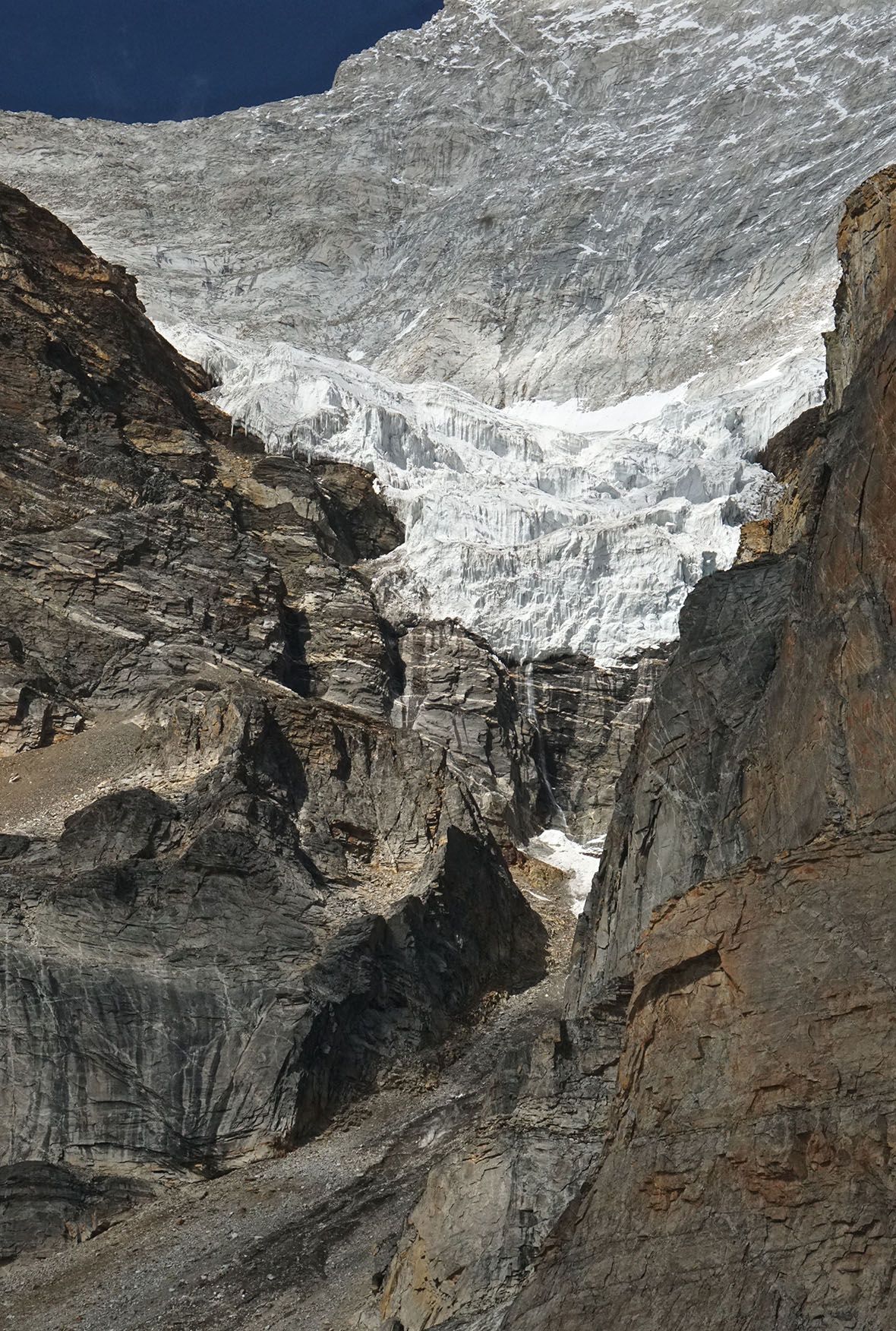 Berinder is impatient and imploring to hurry. We are deep into the valley far from camp and the air has changed with an unmistakable sharpness in the blowing winds. Wafts of snow are blown down from the Kalindi Pass northeast of us. For much of this journey Berinder and I have been a team of wanderers into the higher lands tracing pathways.
Above us is Bhagirathi ll peak and its 6,512-metre chunk of summit. These peaks are living deities and the dwelling places of spirits that still carry unimaginable power for locals. In the Himalayas, practicality and the world of deities and goddesses is remarkably collaborative – a leftover from a time when the mountains belonged to the animists.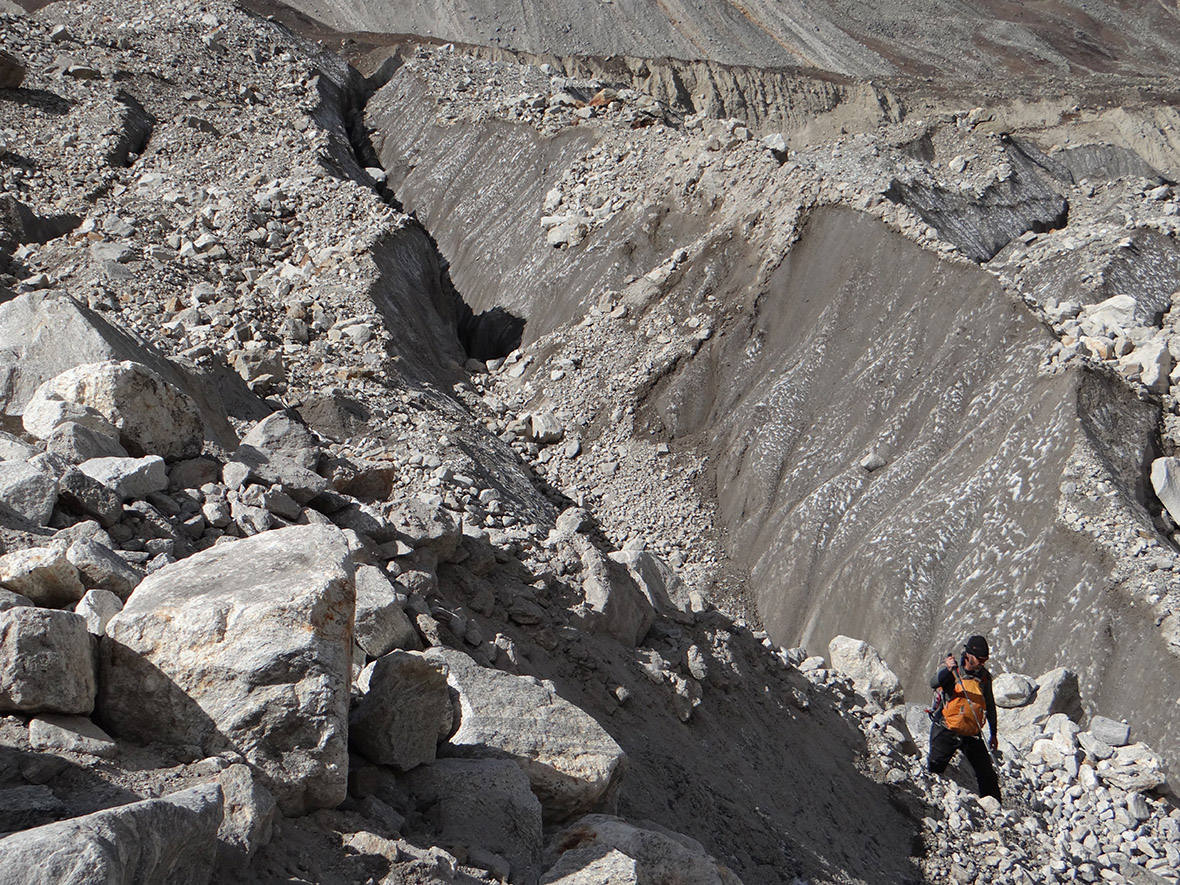 Cold here inspires the mountains' residents to move. Blue Sheep move down in small clans out of their high grazing lands and the foxes, which yip and whine most nights become silent.
Somewhere, there is a rumble that shakes everything briefly from the 'earth above', the mountains. An avalanche somewhere close. Snow is beginning to fall in long diagonal lines and our sightlines are eaten up. Turning to head back to camp a 'second' storm from far up the greater Gangotri Glacier begins to come at us.
We make haste. Somewhere 'down there' Karma's kitchen tent awaits…and some of that pungent masala chai that delights so much.