As an international city, it's no surprise that Hong Kong is home to a mix of international cuisines. From a good steak dinner to a dim sum feast at a Hong Kong hotel, there is no shortage dining options in Hong Kong. With its history as a British colony and its Chinese heritage, Hong Kong has a unique blend of East and West reflected in the local cuisine. Travelers journeying throughout the city – whether it's hiking or partying – would be well advised to give the Michelin stars a miss and dip into the street food for a little taste of authentic Hong Kong.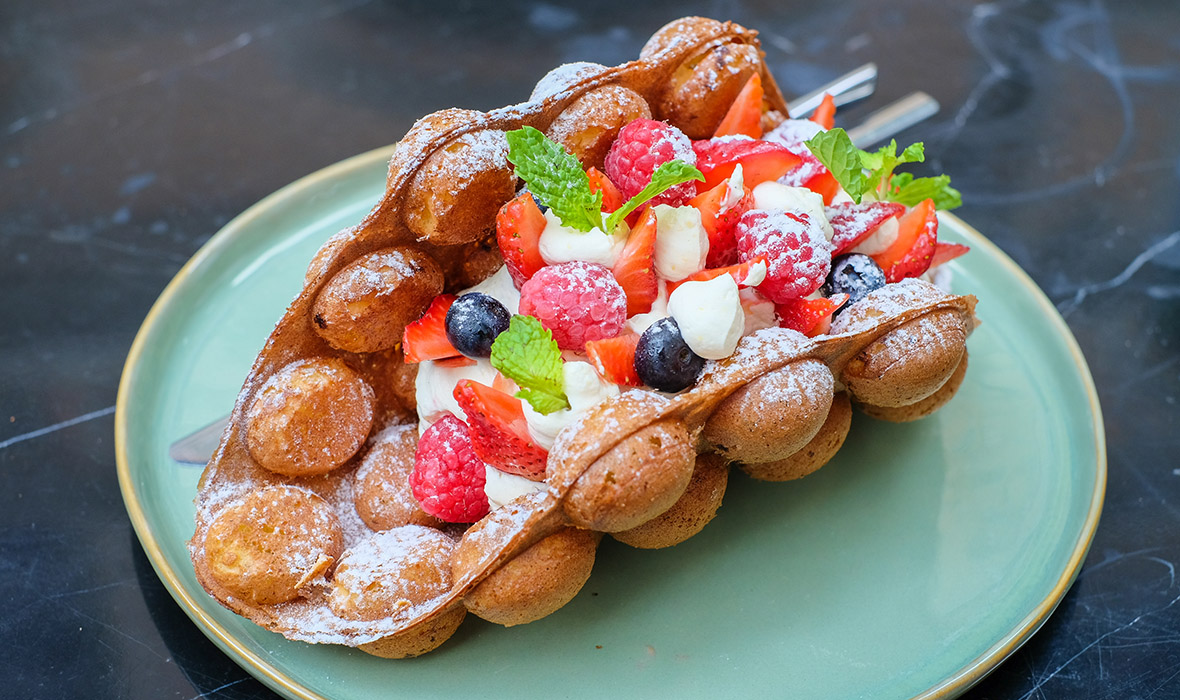 The humble egg waffle has come a long way in Hong Kong, from a snack born out of using broken eggs in the 50s to one of the most popular treats in the city. The snack's signature crispy exterior and airy interior makes an addictive texture, and it helps that it's bubbly shape is served in paper bags or in a cone.
Traditionally, the egg waffle is eaten on its own, but it is also sometimes accompanied by sprinkles and ice cream. Nowadays, you can find egg waffles in a variety of flavors, such as Matcha and even cheese. If you want the best combination possible, head over to Oddies in Sheung Wan for an exquisite egg waffle paired with handmade gelato.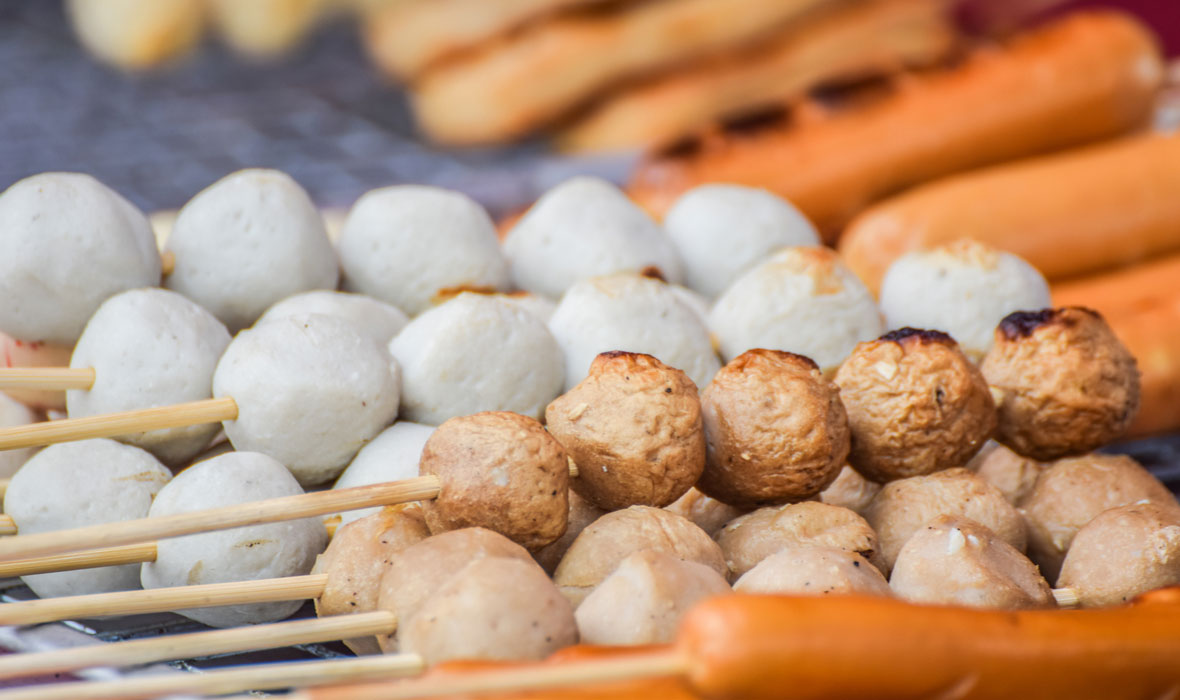 As an old fishing port, it should come as no surprise that fish balls are a household food in Hong Kong. Of course, travelers find fish balls all over the world, but nowhere has variety like Hong Kong. Back in the day, when there were just too many fish in the hold, fishermen would mince the fish and mix it with flour and seasoning to make fish balls.
In Hong Kong the fish ball is taken to the extreme, from cheese centers to squid ink-black fish balls. However, the most famous version of the Hong Kong fish ball is the whopping Cheung Chau – which are roughly the size of a tennis ball.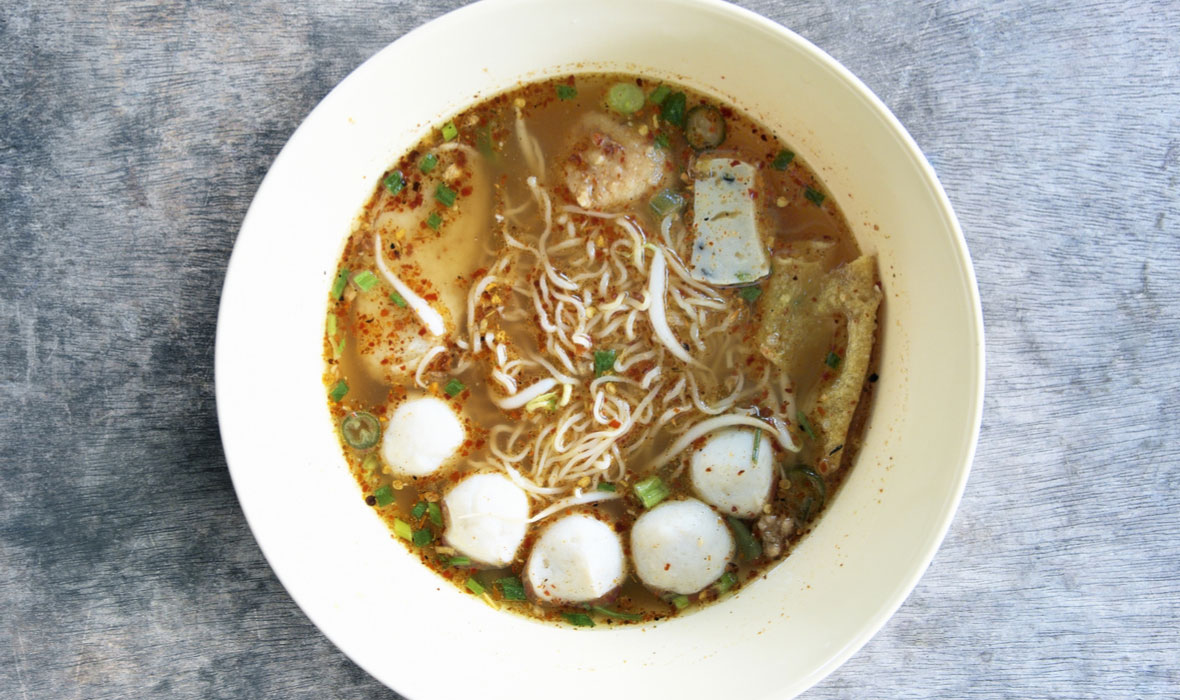 This snack also makes frequent appearances in noodle dishes and are an essential item in Hong Kong hot pot and are often sold on skewers at snack stalls. Travelers who want to try some world class fish balls should head over to Super Star Seafood Restaurant who make them out of the best quality stonefish.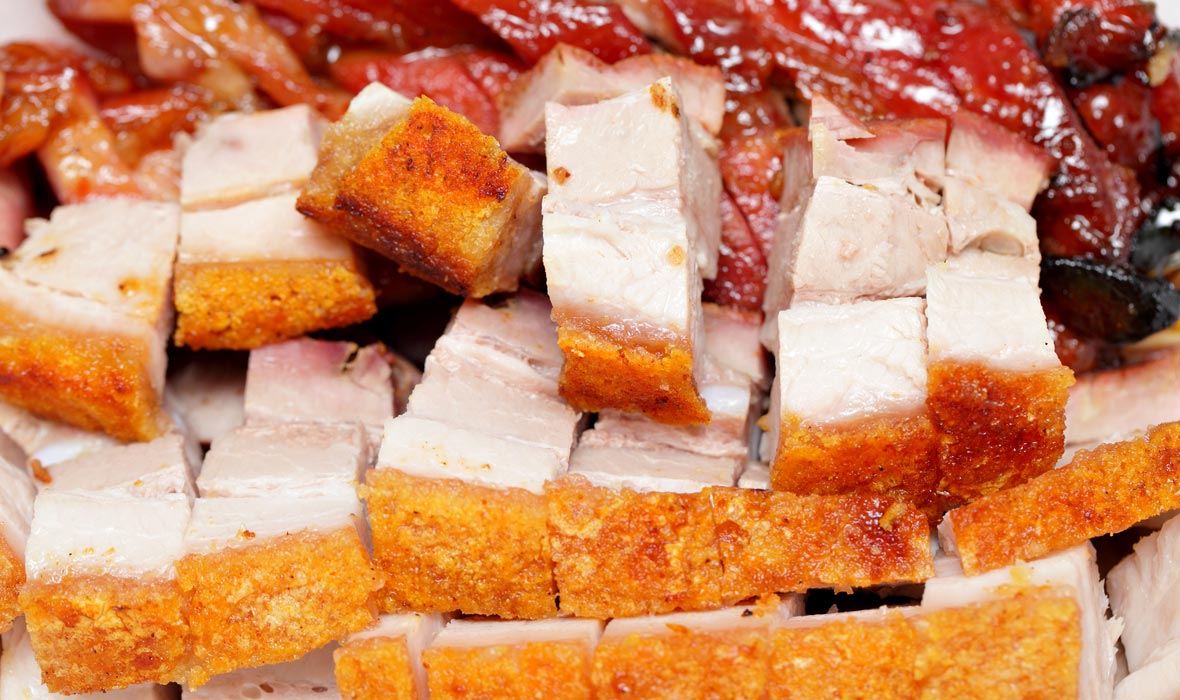 Siu mei is the catch-all term used for barbecued meat in Hong Kong, often cooked on a spit or an open flame. In the past, when many families could only afford to eat meat during celebrations and holidays, sui mei was a rare dish. But, today, it's common for people to 'cham liu' (bring some Siu Mei home) for lunch or dinner.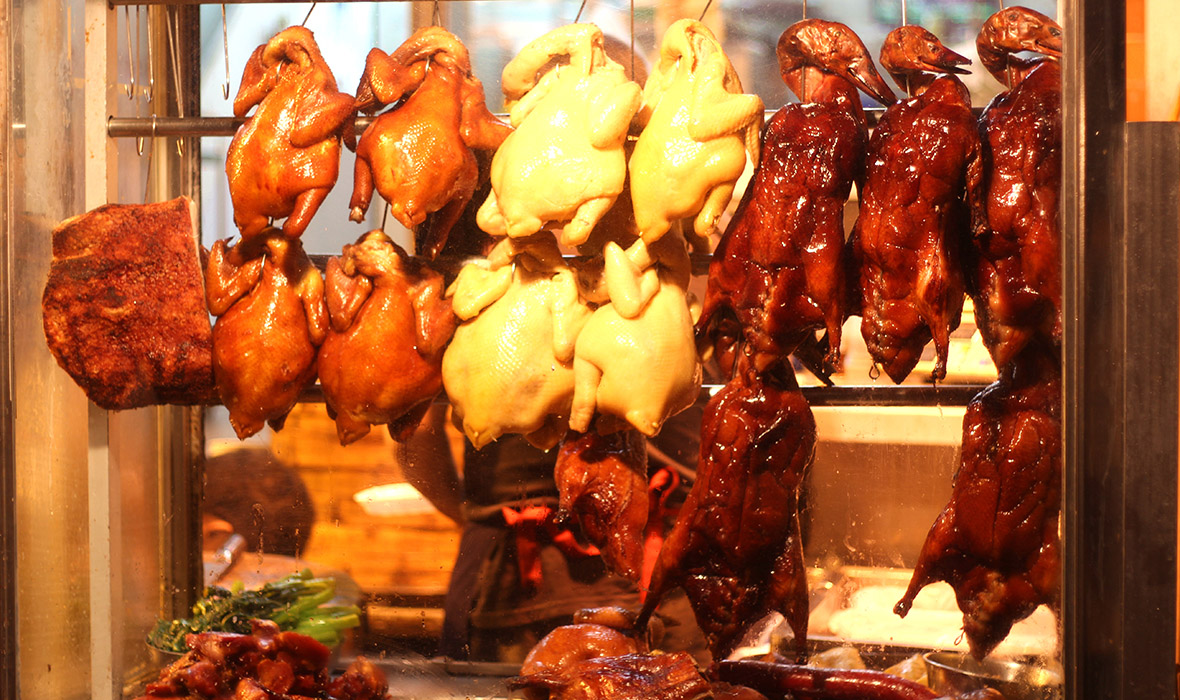 Some of the most popular siu mei comes in the form of barbecue pork, roast pork belly, and roast goose. Travelers can buy 'siu mei fan' (bbq meat rice) at almost all Hong Kong-style restaurants as well as the markets. Famously, siu mei is often hung on metal hooks by the display window of the restaurant to whet diners' appetites. The quality of the Siu Mei varies; for the best barbecue pork and roast pork belly, head over to the centrally located Duddell's which also serve up some good dim sum, best had from the 4th floor terrace. For roast goose, diners would be hard pressed to find somewhere better than Kam's Roast Goose.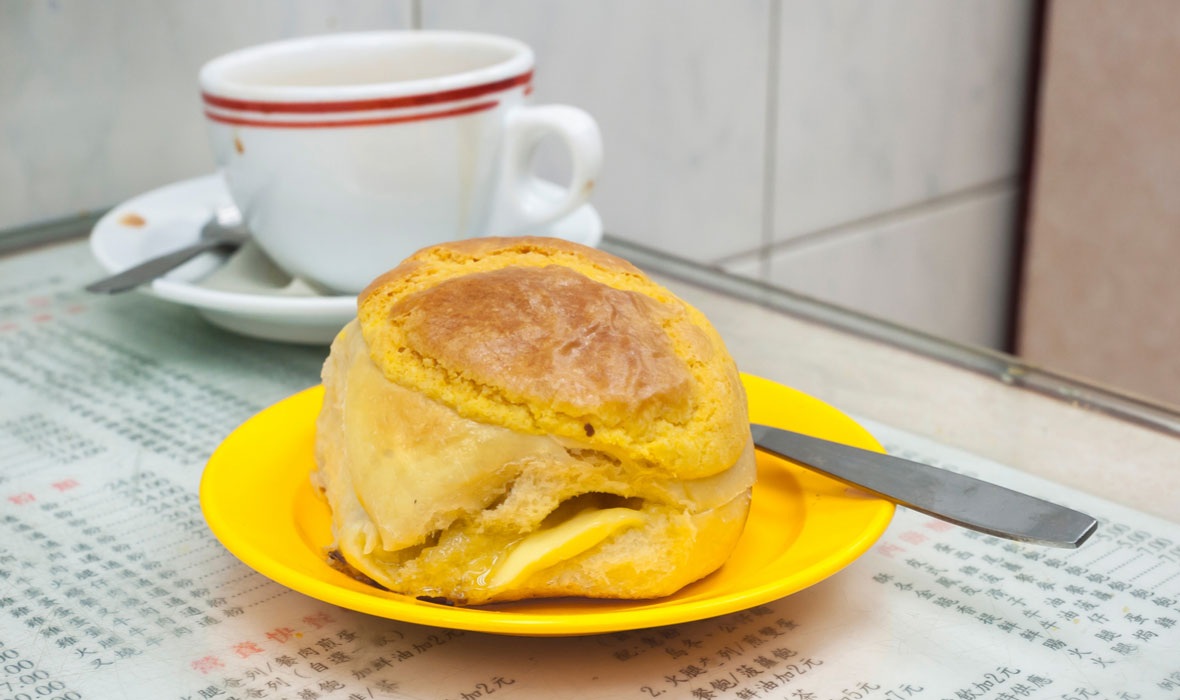 First things first, there is no pineapple in pineapple bun. The name came from the crust of the bun that makes it look like a pineapple and is actually made from a butter and a sugar coat. It is a local baking innovation that originated in the 1960s, developed to cater to the sweet tooth of the Hong Kongese.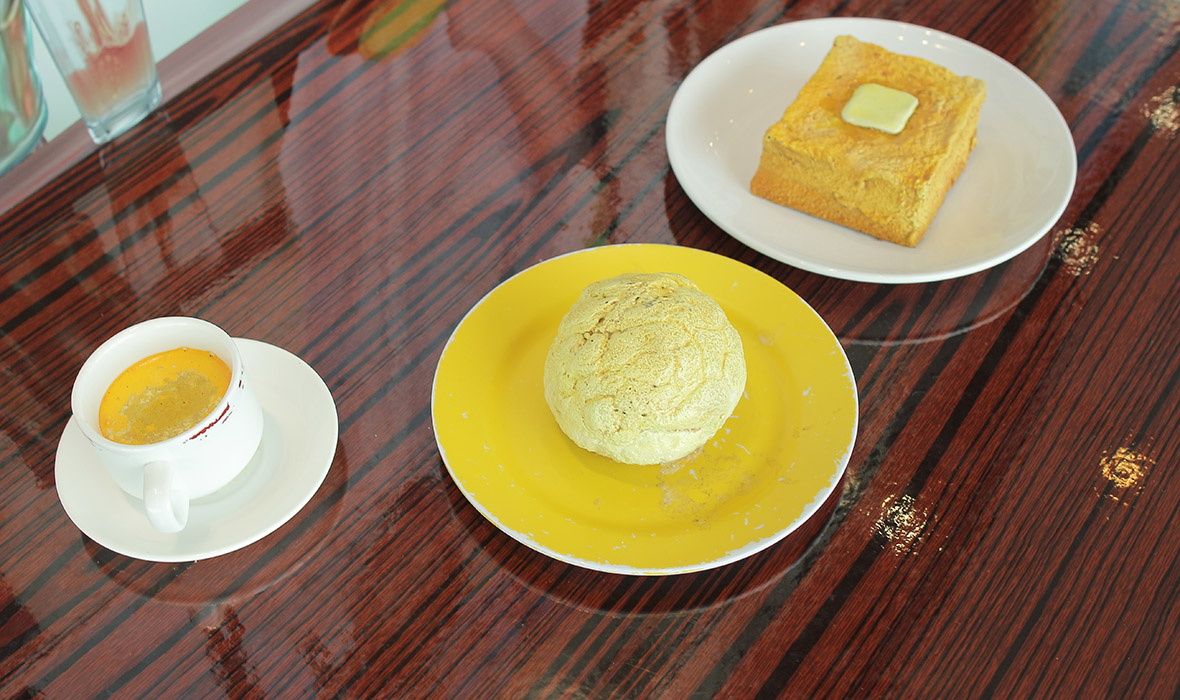 There are two ways to eat pineapple bun: with or without butter. For me, there's nothing better than butter in a piping hot pineapple-less pineapple bun – say that three times fast.
The best pineapple bun with butter would be from the Sai Kung Bakery, where you can sit in the shade and enjoy a glass of milk tea to wash down your bun. If you are up for something more adventurous, there is also a pineapple bun with barbeque pork inside. And no one does a better version than the Shatin Jockey Club for a proper Hong Kong jockey club experience.
Instant noodles with spam and egg (really)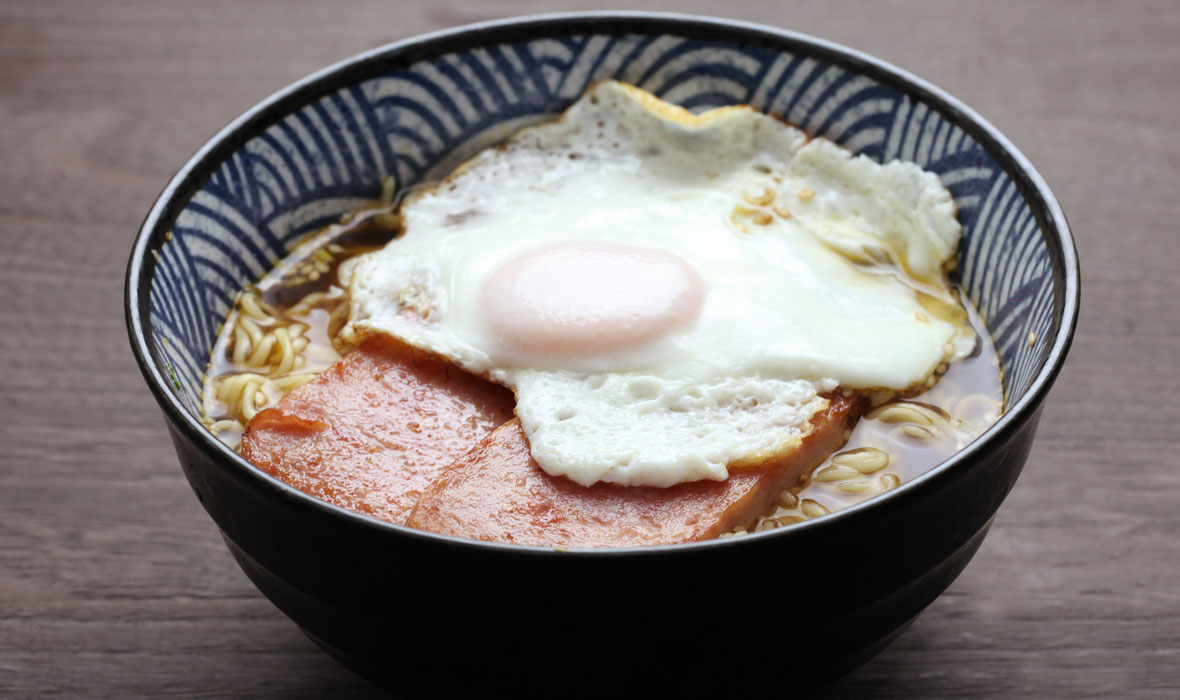 No, it's not exactly fine dining, but if you really want a taste of Hong Kong, Hong Kong tastes of spam. Instant noodles with spam and egg are a staple in the lives of Hong Kongers. This is a classic dish commonly consumed for lunch and afternoon tea, though many will eat it as part of any meal. Because the dish is easy to make, you can find it at practically every single local restaurant. But it's not always done right.
The key to a great instant noodles with spam and egg is that the spam must be crispy and the egg yolk still runny. Often you can replace the instant noodles with rice, as well as specify which type of instant noodles you want. As for where to try it, pretty much every breakfast shop will offer something in this style, or you can grab an egg and a can of spam with your instant noodles and do it yourself – Hong Kong style.