India sees a steady stream of foreign tourists every year, but only a few venture out into its northeast. Perched atop of a hilly terrain and overlooking the Bangladeshi plains is Meghalaya, which in Sanskrit means "the abode of clouds." Its rugged landscape, covered in layers and layers of ferngreen jungles, is the wettest place on earth, inundated with rain and fog. In Meghalaya, bridges are grown and waterfalls, fed by monsoon rains, cascade down emerald hills. Slowly opening to tourism, India's Meghalaya is a destination nature enthusiasts shouldn't miss.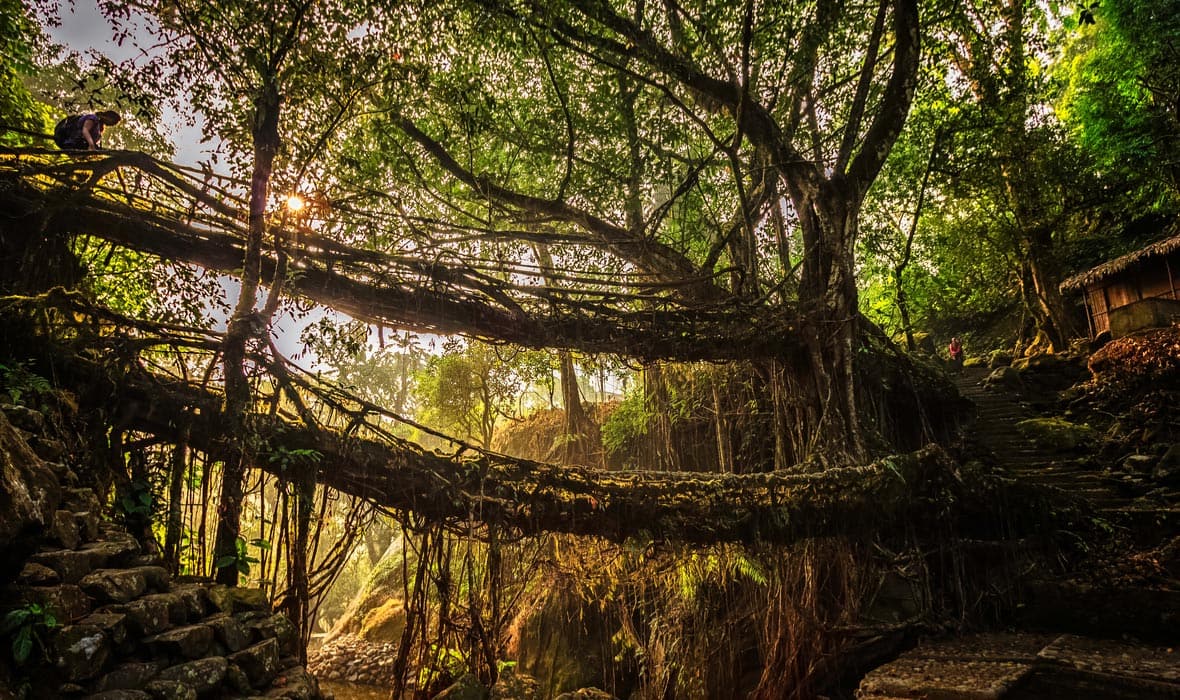 Either naturally grown or planted on both sides of the river bank, Ficus elastica, the Indian rubber fig tree, boasts of an impressively strong root system. The young, tender roots are guided out across temporary bamboo scaffolds or betel nut trunks by the indigenous Khasi or Jaintia people. A practice that came to existence years ago as a solution to decaying bamboo bridges, mature root bridges can bear up to 35 people at once over rain-fed rivers, gushing and full of life.
Within 15 to 30 years, the tangled root webs of Ficus elastica connect the two banks and with low maintenance lasts for centuries. Many root bridges are scattered across Meghalaya, attracting travelers and photographers from around the world.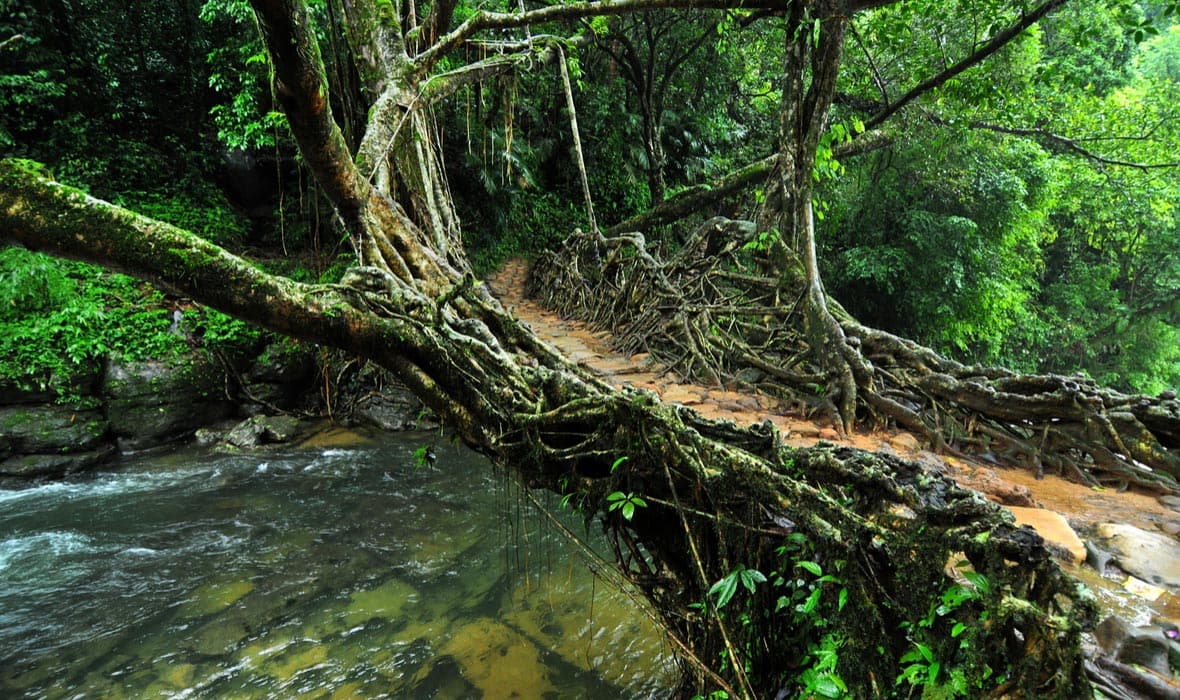 The single span root bridge in Riwai, a locality Asia's Cleanest Village of Mawlynnong, is easily accessible. In Nongriat, a village inside the dense subtropical forest and only accessible by foot, 3500 steps from nearby Tyrna lies the most famous double-decker root bridge. An entirely new third span is currently being nurtured over the already-existing two spans, connecting the banks of River Umshiang.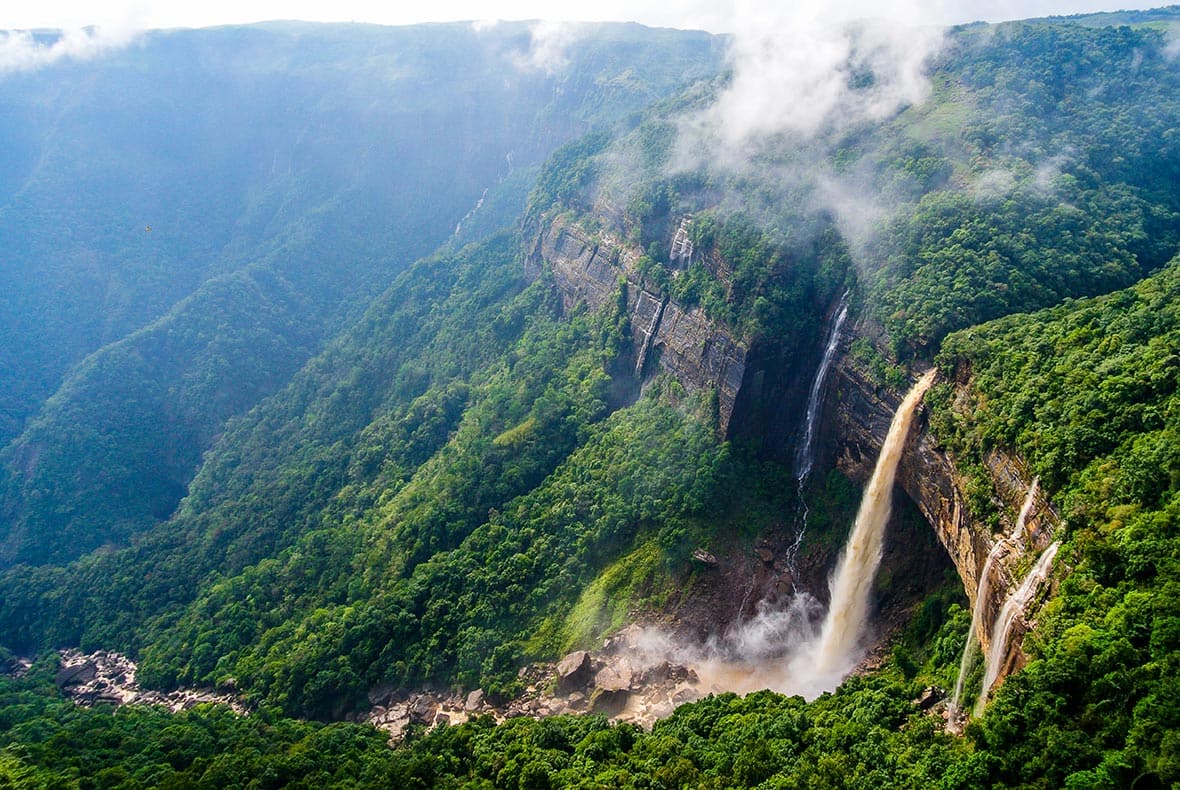 With monsoon rains, the otherwise gentle streams spring to life to create cascades in the hills of Meghalaya. Cherrapunji, locally known as Sohra, receives an average annual rainfall of 11,777 millimeters, only second to its neighbor, Mawsynram at 11,873 millimeters and often called the wettest place on Earth. In Cherrapunji, visitors flock to Nohkalikai Falls, India's tallest plunge waterfall.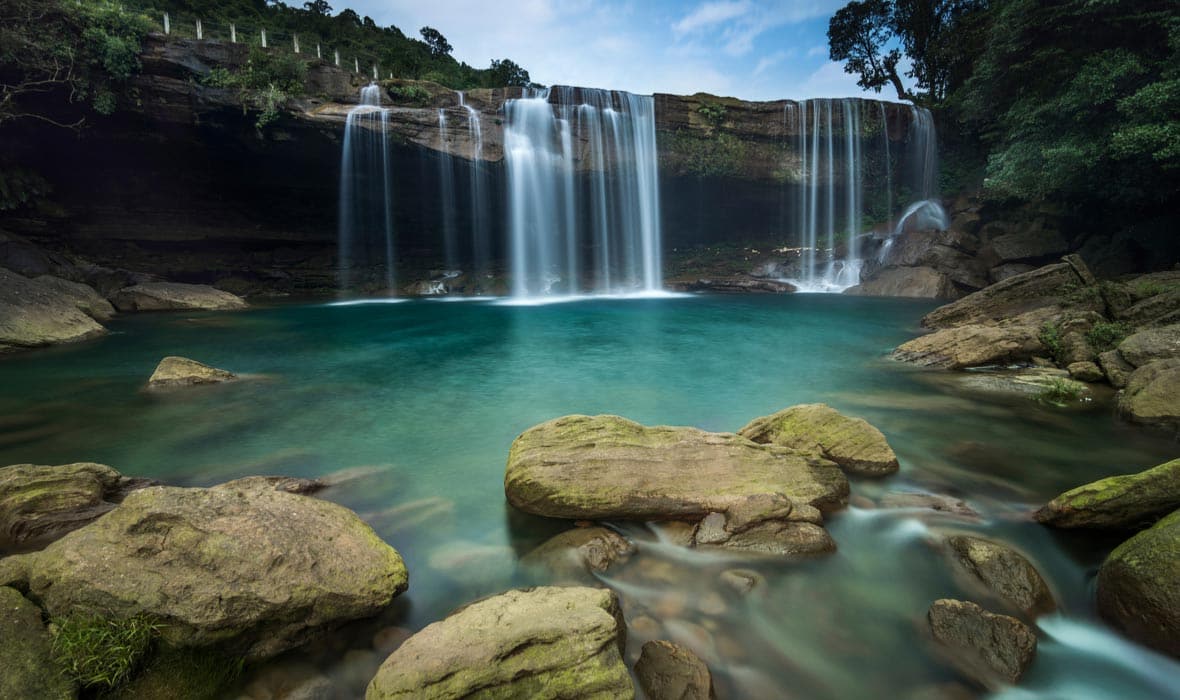 A short journey from Nohkalikai, Nohsngithiang Falls stumble down the Khasi Hills to nearby Sylhet plains in Bangladesh. It's popularly known as the Seven Sisters Falls – seven streams that combine to create India's 4th largest waterfall. In Southern Meghalaya near Pomshutia, just after the monsoon rains in July, a gigantic force named Byrdaw Falls swishes over the rocks. Often overlooked by visitors, Jaintia Hills houses its own stunner, Krang Shuri Falls, where one can take a dip in its turquoise blue base pool.
Monolith Parks and Sacred Forests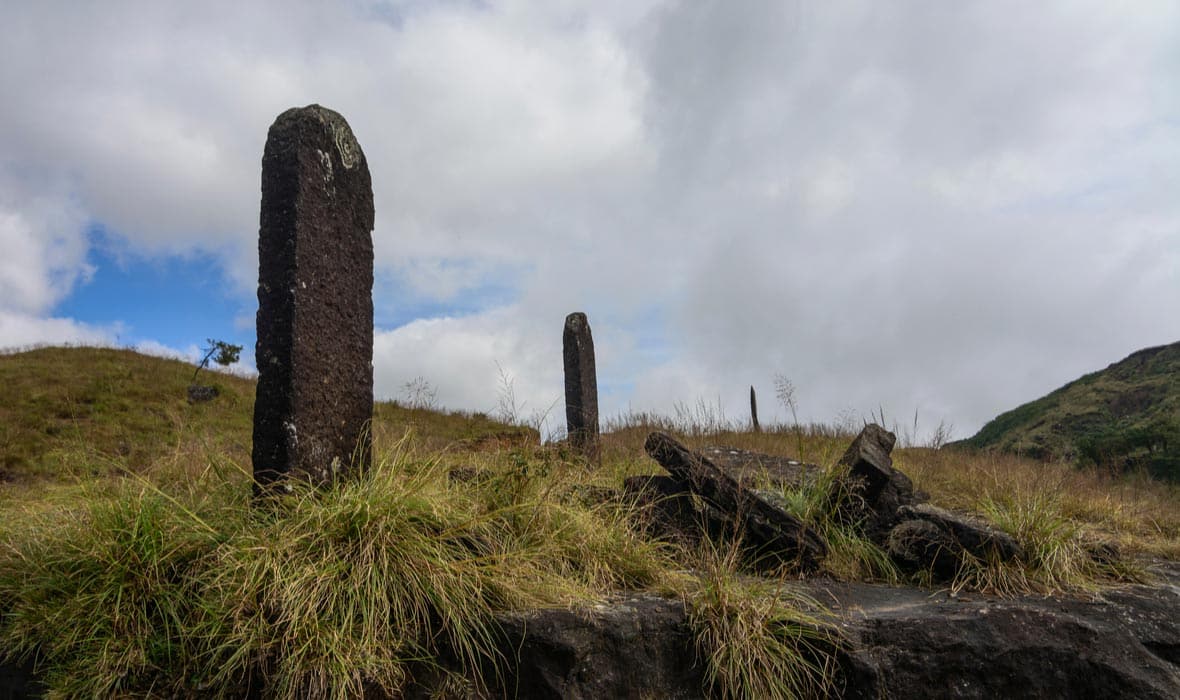 Around 26 kilometers from Shillong is Mawphlang Sacred Forest. Home to Labasa, a deity which inhabits the area according to local Khasi beliefs, the sacred forest is filled with an eerie silence. Visitors are advised to trek with a guide to help unlock some of the mystic charm.
Another short drive from Shillong is Nartiang Monoliths, nestled in the magnificent Jaintia Hills. It's a cluster of megalithic stones, including Moo Iong Syiem, which is eight meters high and believed to be the world's tallest monolith. On a good day, the midday sun creeps through the sheltering trees in Nartiang, a blissful site to soak in the quietude.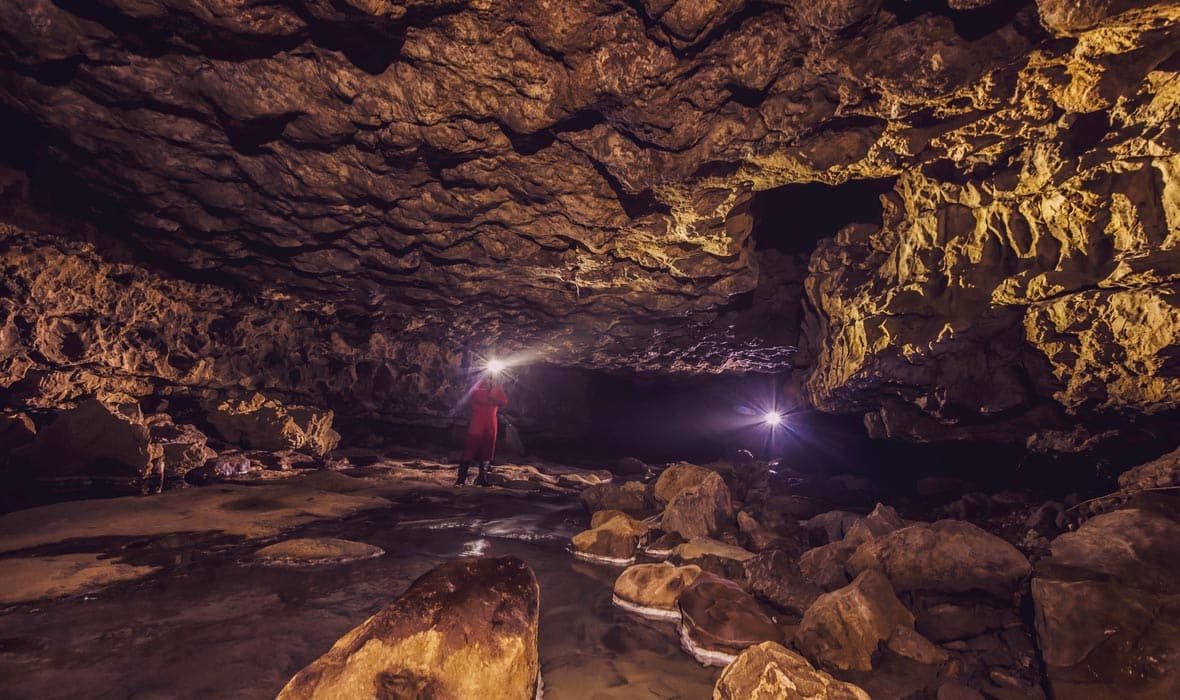 Meghalaya is a tiny state but boasts having nine out of the ten longest and deepest caves in India. Krem Puri, the world's longest sandstone cave and spanning over 24.5 kilometers in length, is located in the lush countryside of Mawsynram.
Filled to the brim with tourists from many parts of India, Mawsmai Cave is located in Cherrapunji, while Arwah Cave, a short drive from Mawsmai, is quite tranquil. A limestone cave where one can spot stalagmites, stalactites, and fossils on its walls, the mysterious twists and turns of Arwah Cave are quite fascinating. Adrenaline seekers can join Meghalaya's annual cave expeditions, usually taking place in the winter months to unexplored and semi-explored caves.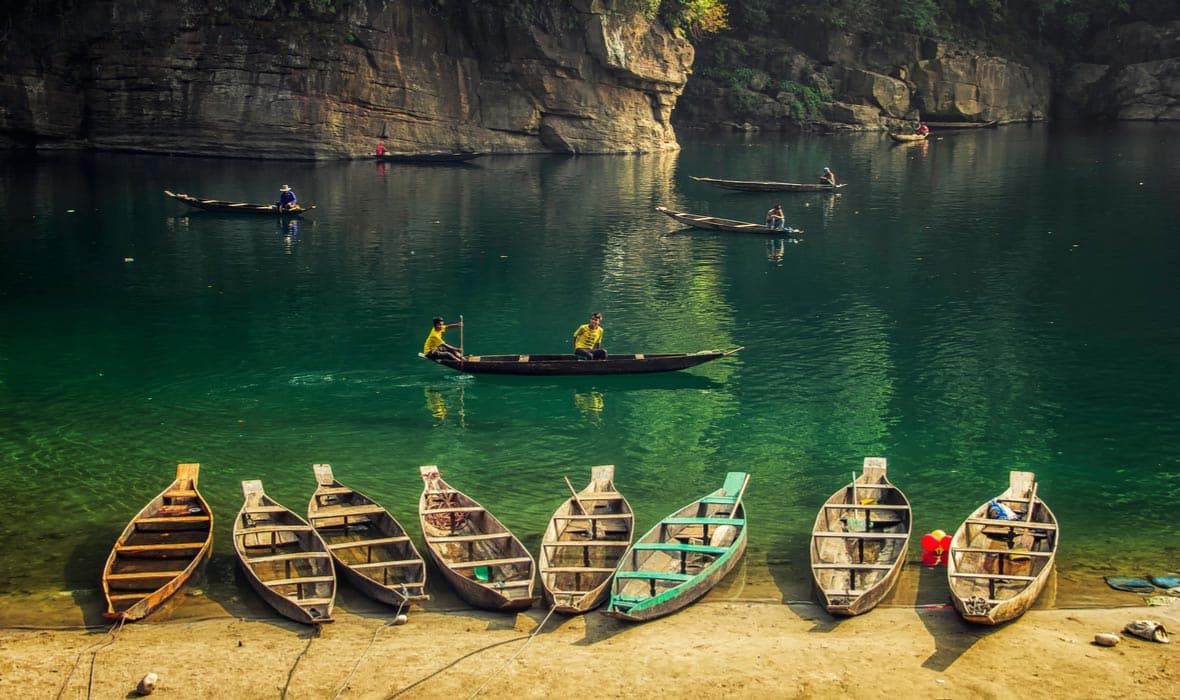 Separating India from Bangladesh, Umngot River flows seamlessly in a cramped little town named Dawki. 8 kilometers from Dawki is Shnongpdeng, a tiny hamlet by the Umngot River where a long suspension bridge connects the two banks. Water sports enthusiasts often frequent Shnongpdeng for kayaking, boating, fishing, snorkeling, and scuba diving. Cliff jumping and zip-lining are also available here. Another place to go on zip lining in Meghalaya is Mawkdok Valley near Cherrapunji. In winters, Umngot River turns azure blue and crowds frequent Shnongpdeng to get a glimpse of the crystal clear waters. Monsoons times are slightly muddy, but good days arrive even during the rainy season with soft sunrays and blue skies.
Those who have time venture into the West Khasi Hills where Asia's second largest river island is located. Only accessible by a bumpy journey from Nongstoin, Nongkhnum Island is smaller than its neighbor, Assam's Majuli. Mawphanlur is another tiny hamlet in West Khasi Hills, home to not one but ten lakes – a village with more lakes than houses.
Begging to be explored and still relatively low on amenities compared to northeast neighbors like Darjeeling and Rishikesh, Meghalaya truly is a paradise for nature lovers. When in Meghalaya, be sure to soak in Mother Nature with a cup of hot black tea and a plate of Jadoh, the local delicacy of the Khasi people.