Example Itinerary
Highlights of Madhya Pradesh
Duration

10 days / 9 nights
Price Per Person
Destinations
Meaning "central region" in native Hindi, Madhya Pradesh is an insular seat of India's rich religious, artistic, and even prehistoric past. Ancient temples – featuring some of the world's most breathtaking stone carvings – stand alongside other major historical sites sure to pique the interest of history buffs, photo enthusiasts, and general sightseers alike. But while your visit to Madhya Pradesh is sure to be a richly stimulating experience for all the senses, you can count on a distinct lack of one thing: bustling tourist crowds. Your trip will include visits to temples and ruins, such as those of an ancient Rajuput royal kingdom, as well as guided tours of tucked-away metropolitan sites like the central market in Old Bhopal City – known as the "City of Lakes" and one of the greenest cities in India. Feel as though you've stepped back in time, and away from the road most traveled, on this 10-day trip from Delhi to Mumbai through the highlights of Madhya Pradesh.
This itinerary is an example. It's designed to inspire you and provide you with thoughtfully curated ideas. You can choose to do this exact itinerary or completely personalize it. All trips are 100% bespoke.
Highlights
Ancient Kingdom: A comprehensive tour of the medieval city of Orccha, which was the 16th Century home to one of the largest and most influential central Indian kingdoms.
UNESCO Collection: The opportunity to see multiple UNESCO world heritage sites, including the Bhimbetka caves and their astonishing rock paintings done by some of the earliest Stone Age inhabitants of the Indian subcontinent.
Khajuraho Temples: This temple is renowned for its ornate carvings and sculptures which incorporate erotic themes of the Kama Sutra.
Day-by-Day
Day 1
New Delhi
A guide and private car awaits you at the Indira Gandhi International Airport for transfer to your hotel. Choose between the elegant Leela Palace or classic Oberoi. The rest of the day is yours to spend as you please in the capital city. We recommend a stop through the Rajpath ceremonial boulevard, which lies just a short walk from the hotel adjacent to the Rashtrapati Bhavan, the president's residence. Meaning "King's Way" in Hindi, the ceremonial boulevard is lined on both sides by foliage and is the site of the epic spectacle of the Republic Day parade each year on January 26. Regardless of how you choose to spend your leisure time, Delhi's abundance of museums, parks, culinary offerings, and bazaars means there will be something to please everyone.
Day 2
Khajuraho
Board a morning flight to Khajuraho, nestled in the gorgeous Vindhya Mountains and renowned for its ornately decorated temples. After a private transfer to the hotel and a brief respite to freshen up, the rest of the day will be spent touring the famed Khajuraho Temples. Built between 950 to 1050 CE, the temple's sculptures are especially of note, and while they are widely known for incorporating erotic themes of the Kama Sutra, in reality the carvings are arranged to express central ideas of Hinduism, as well as general themes of human life. The architecture of the temples is also of interest, as all are laid out in an intricate grid format.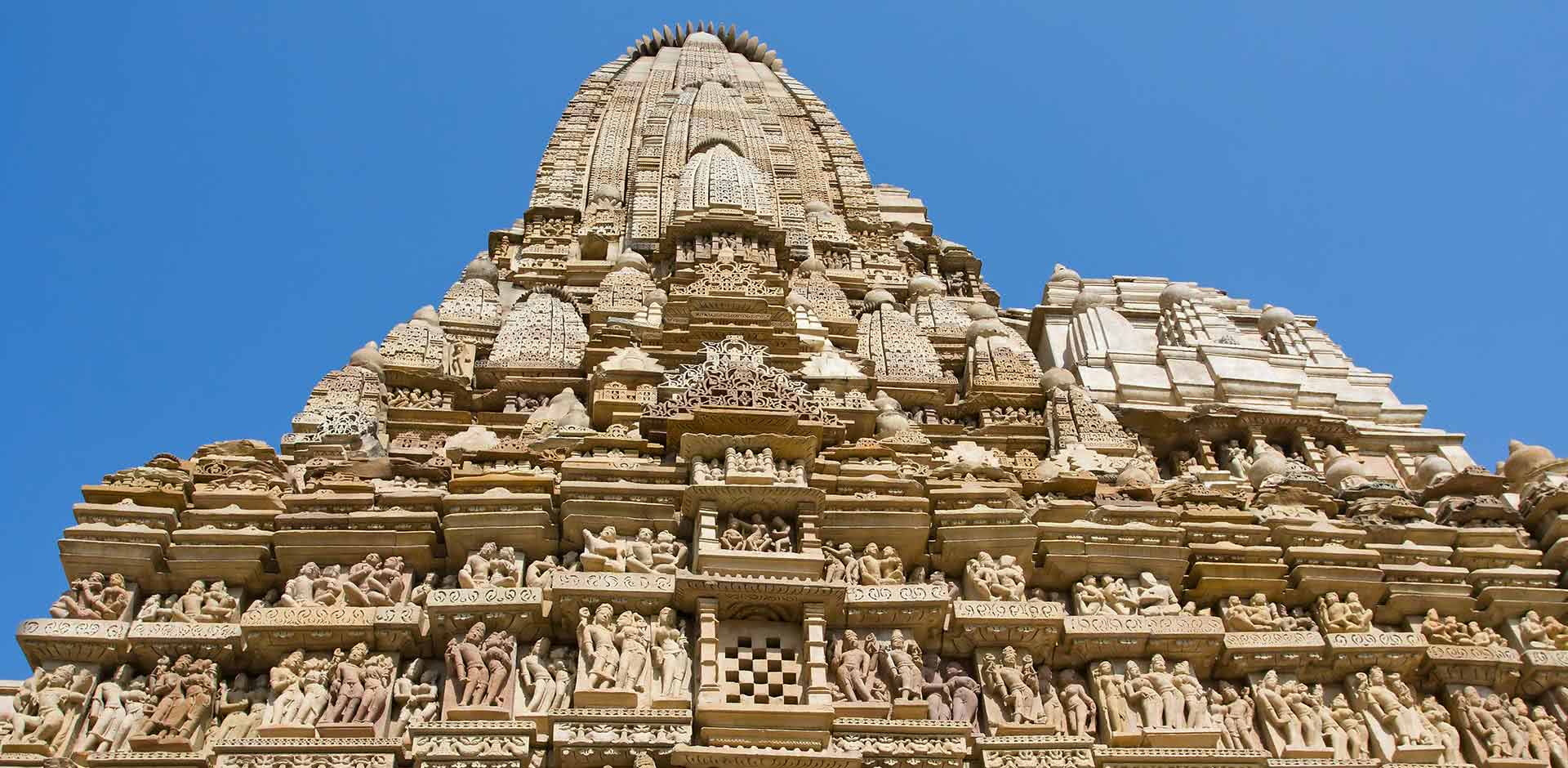 Day 3
Orchha
Spend the morning driving from Khajuraho to the ancient town of Orchha on the banks of the Betwa River. After arrival and check-in at the hotel, spend the afternoon touring the many temples, forts, and palaces that Orchha has to offer. The striking spires and domes of the city's temples stand in stark contrast to the river's peaceful waters. The city's many temples include the Chaturbhuj Temple, which is built on a massive platform of stone and incorporates the dual features of a religious structure combined with a royal palace.
Day 4
Gwalior
Embark on a three-hour drive to Gwalior with an en-route stop at Datia Fort, an awe-inspiring five-story castle that is sure to be an architectural highlight of your visit to India. The fort, which bears the remarkable distinction of being built entirely out of stone and wood without a single piece of iron incorporated, holds a large courtyard within its four distinct wings. The building is also deservedly famous for the artwork and aesthetic pieces it contains. These works include dazzling ceiling paintings and monumental tombs. In the afternoon, arrive in Gwalior, well known for its Fort, popularly called "the Gibraltar of India" which you will explore tomorrow.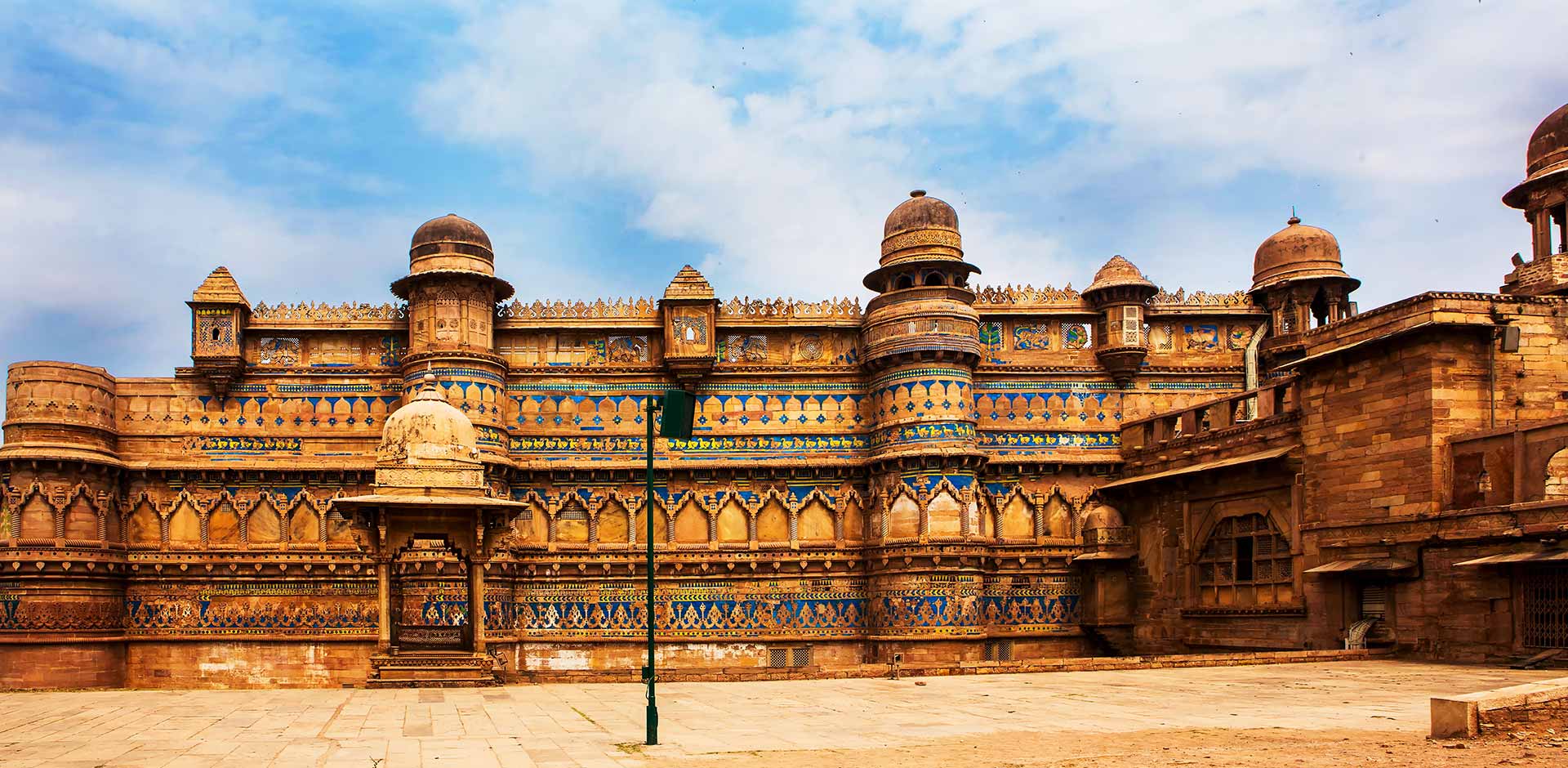 Day 5
Gwalior
Start off your day of exploration with a visit to the Gwalior Fort and its accompanying museum. This fort dates to roughly the 6th Century CE and almost seems to have become one with the rugged, ancient sandstone outcropping upon which it lies. Pay special attention to the archeological artifacts housed in the museum; many are extremely rare and date back to the 1st and 2nd centuries BCE. This afternoon, you'll pay a visit to Jai Vilas Palace and the nearby tombs of Muhammad Ghaus and Tansen. The Jai Vilas Palace, also commonly known as the Jai Vilas Mahal, is an opulent example of fine European architecture with its use of Italian, Corinthian, and Tuscan styles.
Day 6
Maheshwar
Primarily a travel day, you'll have this morning to spend at your leisure in the hotel or around the city. A short early afternoon flight and two-hour transfer will then have you in beautiful Maheshwar, known for its unique, colorful saris and its fabric tradition. Like other cities on your route through Madhya Pradesh, Maheshwar also bears the distinction of having been an imperial capital; its many temples attest to this fact. In the evening, you'll unwind in your luxurious accommodations at the Ahilya. We recommend sampling the outstanding, authentic Indian cuisine at the hotel's restaurant.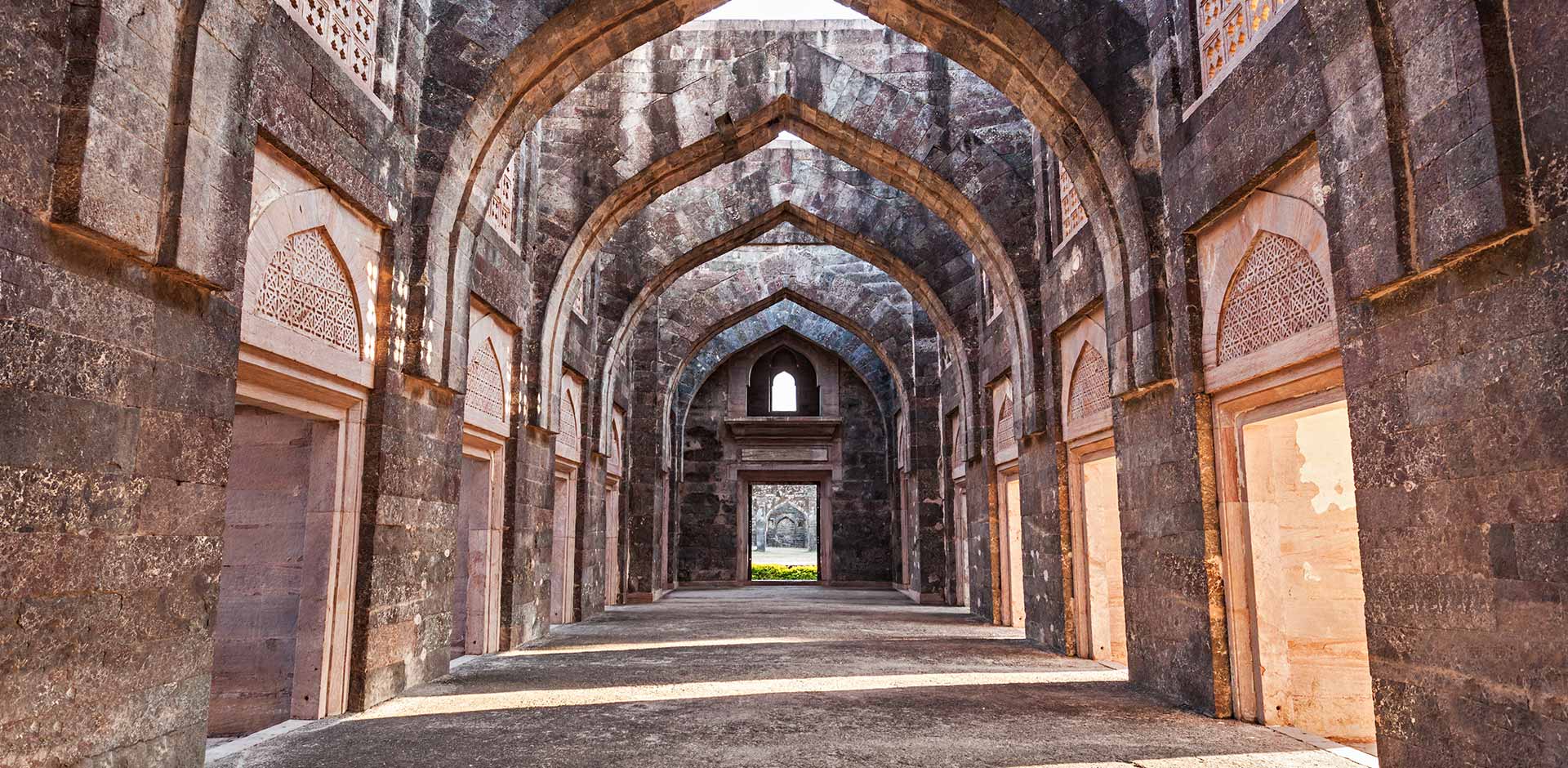 Day 7
Maheshwar
This morning, you'll depart by car on a day trip to heritage-rich Mandu. Here, you'll explore several UNESCO world heritage sites, including the ruins of a medieval kingdom that was under Rajput rule. In modern times, Rajputs still regard themselves as descendants of these warrior monarchs who above all else valued ancestral pride and honor. A delicious, fresh picnic lunch will be provided, and you'll have the chance to see some of the world's most incredible specimens of the African baobab tree. The baobab reaches great heights wherever it grows, and several of the ones you'll see at Mandu tower over verdant palace grounds in an awe-inspiring fashion.
Day 8
Bhopal
Today you'll depart on a roughly five-and-a-half-hour drive to Bhopal, the capital of Madhya Pradesh. Bhopal is a city with a distinct Mughal presence – a historic Indian empire that was founded and ruled by a Muslim dynasty – and is chock full of old mosques and bazaars. From a modern perspective, the city has become somewhat of a seat for the arts, complete with an impressive multi-use complex, Bharat Bhavan, which was completed in 1982 and designed by internationally renowned architect Charles Correa. In the evening upon arrival, we suggest relaxing and indulging in an expert massage at the Jehan Numa hotel's Chakra Spa.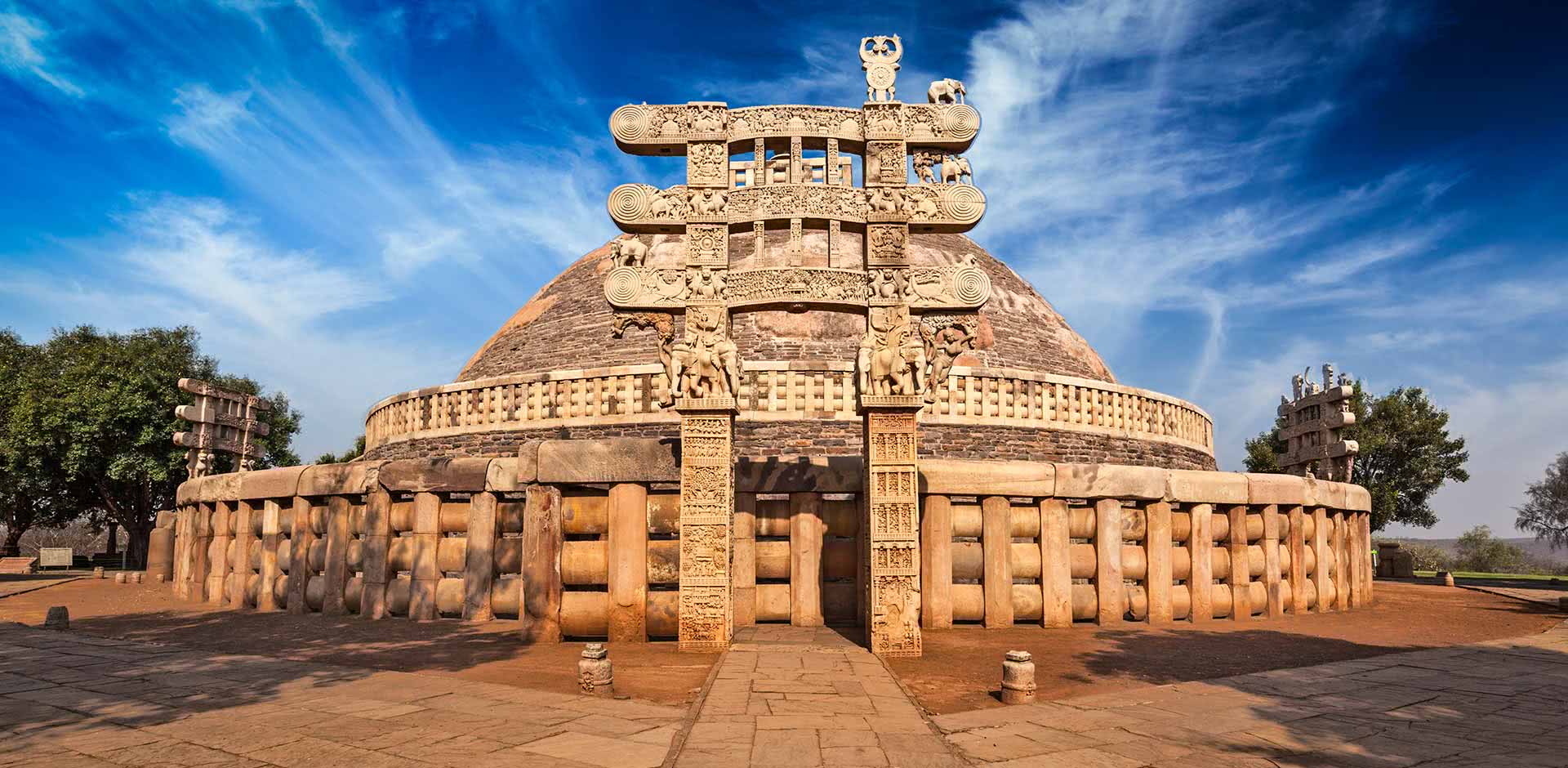 Day 9
Bhopal
This morning, you'll rise early for a short drive to the hilltop Buddhist complex of Sanchi to take in a stellar view as the colors of sunrise fill the sky around Bhopal. You'll also tour the Udayagiri caves before lunch, which contain some of the oldest surviving pieces of Hindu temple art depicting religious iconography. Additionally, the site is an archaeologist's dream as the caves also house a string of rock shelters, petroglyphs, water systems, and fortifications, among other features of interest. Return to Bhopal proper and you'll set out on a guided tour of Old Bhopal City and its central market. This is a busy scene in which old and new collide, as they often do in Bhopal, as rickshaws and motorbikes weave their way through streets lined by historic stone buildings. We recommend sampling some of the excellent street cuisine offered by market vendors.
Day 10
Departure
The final day of your trip promises a guided tour of one of India's most amazing archaeological attractions: the Bhimbetka Caves. To look upon the Bhimbetka rock paintings, which include scenes of dancing, hunting, agriculture, and more, is to catch a glimpse of our earliest human ancestors and their ways of life. The earliest of these paintings date back roughly 30,000 years, and scientists have determined it to be likely that some of the shelters were inhabited by Homo Erectus more than 100,000 years ago. Following the tour, you'll take an evening flight to Mumbai and connect to an onward flight home.
TERMS AND CONDITIONS
Price is based on double or twin hotel room occupancy and includes accommodation, transfers, car/driver, English-speaking guide, activities and entrance fees, and daily breakfasts. Flights and optional special activities will be quoted separately. Most personal expenses, including lunches, dinners, alcoholic beverages, spa treatments and gratuities can be paid on the spot while traveling. Prices may vary depending on season, choice of accommodation and other factors.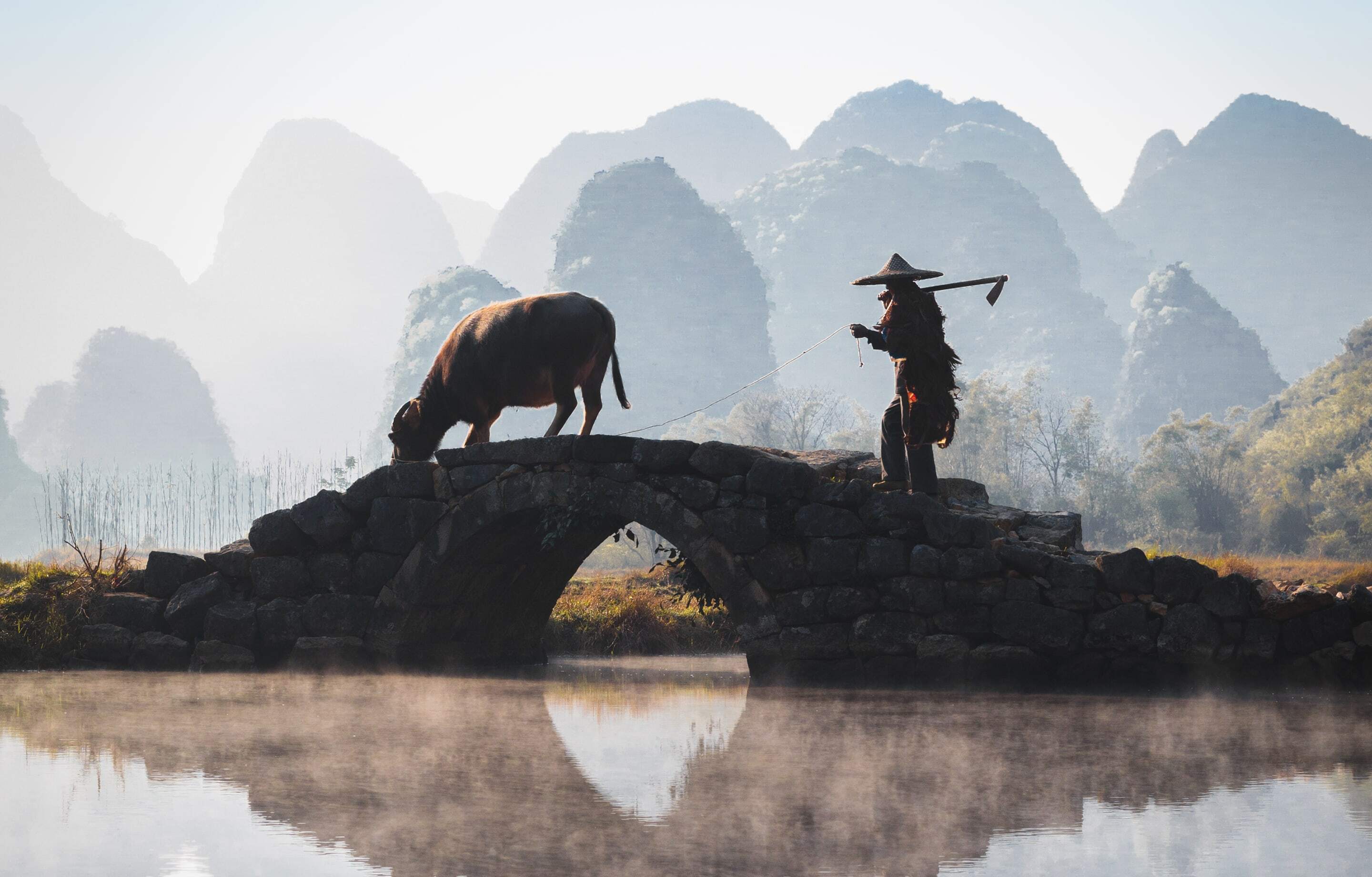 Why Remote Lands?
Exclusively Asia
With Remote Lands you'll travel with people who have made Asia the solitary focus of their own lifelong adventure. As our guest, you'll discover Asia on a journey that is completely, authentically your own, adapted from our own remarkable experiences and adventures over the years.
With Remote Lands you'll travel with people who have made Asia the solitary focus of their own lifelong adventure. As our guest, in the continent that our north American founders Catherine and Jay have adored and explored for decades, you'll discover Asia on a journey that is completely, authentically your own, adapted from our own remarkable experiences and adventures over the years.
Travelogues
An Asia-focused magazine brought to you by Remote Lands – a platform for adventure, luxury, and authenticity from experts and explorers around the continent.
What Others Say
Here is a small selection of the kind words our guests have said about us, as well as features by journalists and travel writers.
From the moment I happened upon the REMOTE LANDS website over a year ago, browsed the options, I knew that this would be well worth it. The entire staff is nothing less than professional with service that made us feel like royals.
This was truly the trip of a lifetime. Magical destinations, the most luxurious hotels in the world, and the most wonderful travel companions we could've wished for. We were treated like family everywhere we went and we have 14 new best friends.
We have used some of the top rated travel specialists all over the world and, without question, Catherine Heald and Remote Lands are at the very top of the list!