Example Itinerary
Celebrating Dev Deepawali and Other Gems of Madhya Pradesh
Duration

12 days / 11 nights
Price Per Person
Destinations
Madhya Pradesh is a cornerstone of India's rich religious, artistic, and even prehistoric past. This 12-day trip will see you enjoying numerous stops throughout the region at a variety of heritage-filled cities and UNESCO world heritage sites. Designed for visitors who have potentially been to India before and want to dig deeper into its vibrant culture, the itinerary features a healthy mixture of guided tours and opportunities to break away for independent exploration, should you desire. You can even do a charity city walk as organized by a local Indian non-profit. Visitors whose travel plans coincide with the Dev Deepawali celebration, typically celebrated in early November, are truly in for a treat with the opportunity to experience this holiday marking the Hindu gods' descent to Earth to bathe in the Ganges River. Fireworks fill the skies, oil lamps light the night, and homes are covered with colorful designs as a procession of elaborately decorated deities make their rounds through the streets. It's truly a sight worth seeing.
This itinerary is an example. It's designed to inspire you and provide you with thoughtfully curated ideas. You can choose to do this exact itinerary or completely personalize it. All trips are 100% bespoke.
Highlights
Udayagiri Caves: These twenty rock-cut caves that are among the most important archaeological sites in India and contain fascinating sculptures and reliefs.
Maharaj Bada: A humming marketplace which contains two bazaars – Sarafa and Topi – that are famous for handloom fabrics, handicrafts, jewelry, leather items, and much more.
Festival Insight: The chance to experience firsthand one of the world's most stunning celebrations in the Dev Deepawali, with guided experiences in Varanasi aimed at showing you various aspects of the festival.
Day-by-Day
Day 1
New Delhi
Upon arrival at the Indira Gandhi International Airport, take a private transfer to the hotel. The rest of the afternoon is yours to spend as you please. Nearby attractions in Delhi include the Rajpath ceremonial boulevard, a long thoroughfare filled with green space that comes to an end at the Rashtrapati Bhavan, the president's residence. Other nearby destinations include beautiful parks and gardens like the Lodhi Garden, the Mughal Garden, and the Garden of Five Senses, along with numerous temples, religious buildings, and markets. For dinner, we suggest sampling the gourmet cuisine at the hotel restaurant.
Day 2
Bhopal
A chock full second day of touring around Delhi beckons, with stops at locations such as the Chadni Chowk, or "Moonlight Square," and the tomb of Mughal emperor Humayun, which in many ways appears similar to a luxurious royal palace. Perhaps the most intriguing part of this day is an optional guided Old Delhi Walk with Salaam Baalak Trust, an Indian non-profit and non-governmental organization.The group helps children living on the streets of Delhi by organizing various support programs for them. As you stroll through the streets of Paharganj with your guide, you will have the opportunity to see city life through the eyes of a true native while also knowing you are contributing to an excellent cause. In the evening, fly onward to Bhopal.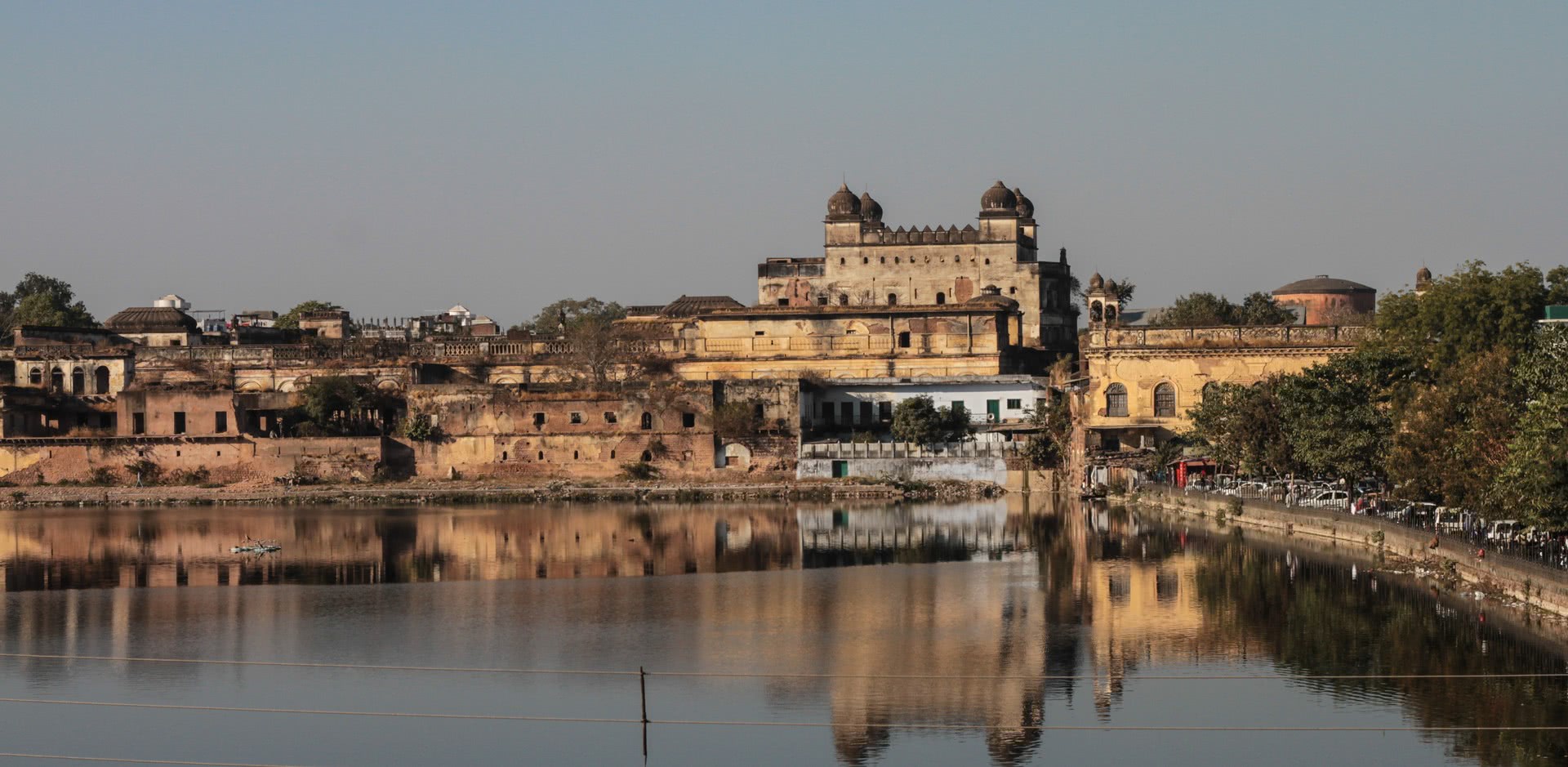 Day 3
Bhopal
This morning, you'll embark on a short drive to the hilltop Buddhist complex of Sanchi and the nearby Udayagiri Caves for a full day trip. The complex is known for its Great Stupa – an architectural phenomenon of great significance and beauty. Upon heading for the caves, you'll drop down from the hill to the caves' tranquil setting near the Betwa River. The caves are especially worth the trip for those interested in religious iconography and art. The many shrines, carvings, and reliefs housed within the caves are inscribed with a good deal of information and represent a classic example of early human scholarship.
Day 4
Maheshwar
Spend the morning touring Old Bhopal City and its central market. Here, rickshaws and motorbikes weave their way through streets lined by historic stone buildings in a bustling collision of old and new. We recommend sampling some of the excellent street cuisine offered by market vendors, such as delicious meat curries and kebabs. Travel onward to Maheshwar, a five and a half hour drive, where you will check in and spend the rest of the evening unwinding. We suggest sampling the authentic Indian cuisine at the Ahilya Fort hotel's restaurant.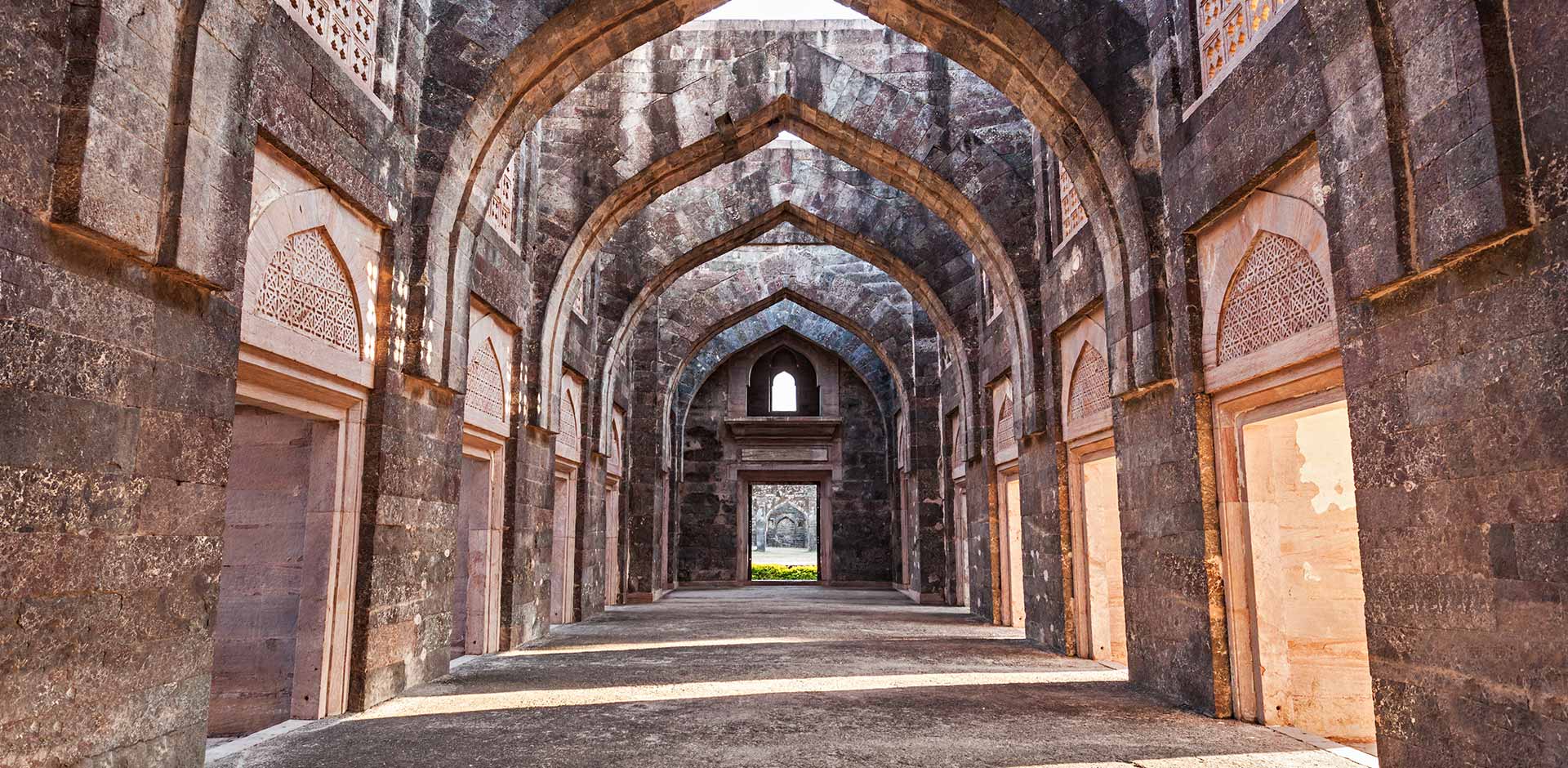 Day 5
Maheshwar
The only full leisure day of the trip, you'll have the opportunity to independently tour Maheshwar as you see fit. Suggested activities include a walk along ancient ghats below the fort and independently touring the temples and town near the fort. Maheshwar is famed for its thriving fabric tradition and its richly colored saris; a stroll through the surrounding area is sure to take you past some of the natives practicing handloom weaving. Finally, at either sunrise or sunset, opt to participate in a cruise with tea or cocktails and a picnic at Bakawa, which is famous for its handcrafted lingams.
Day 6
Maheshwar
This morning, set out on a day trip to heritage-rich Mandu. Here, you'll explore several UNESCO world heritage sites, including the ruins of a medieval Rajput kingdom. Rajputs are still a prominent group in India today and regard themselves as descendants of warrior monarchs who valued ancestral pride and honor. Following a fresh picnic lunch, you'll have the chance to see some of the Earth's most incredible specimens of the African baobab tree – a true testament to the early intrepid spirit, as these trees were likely transplanted from their native African habitat. The baobab reaches great heights wherever it grows, and several of those growing in Mandu tower over verdant palace grounds in a regal fashion.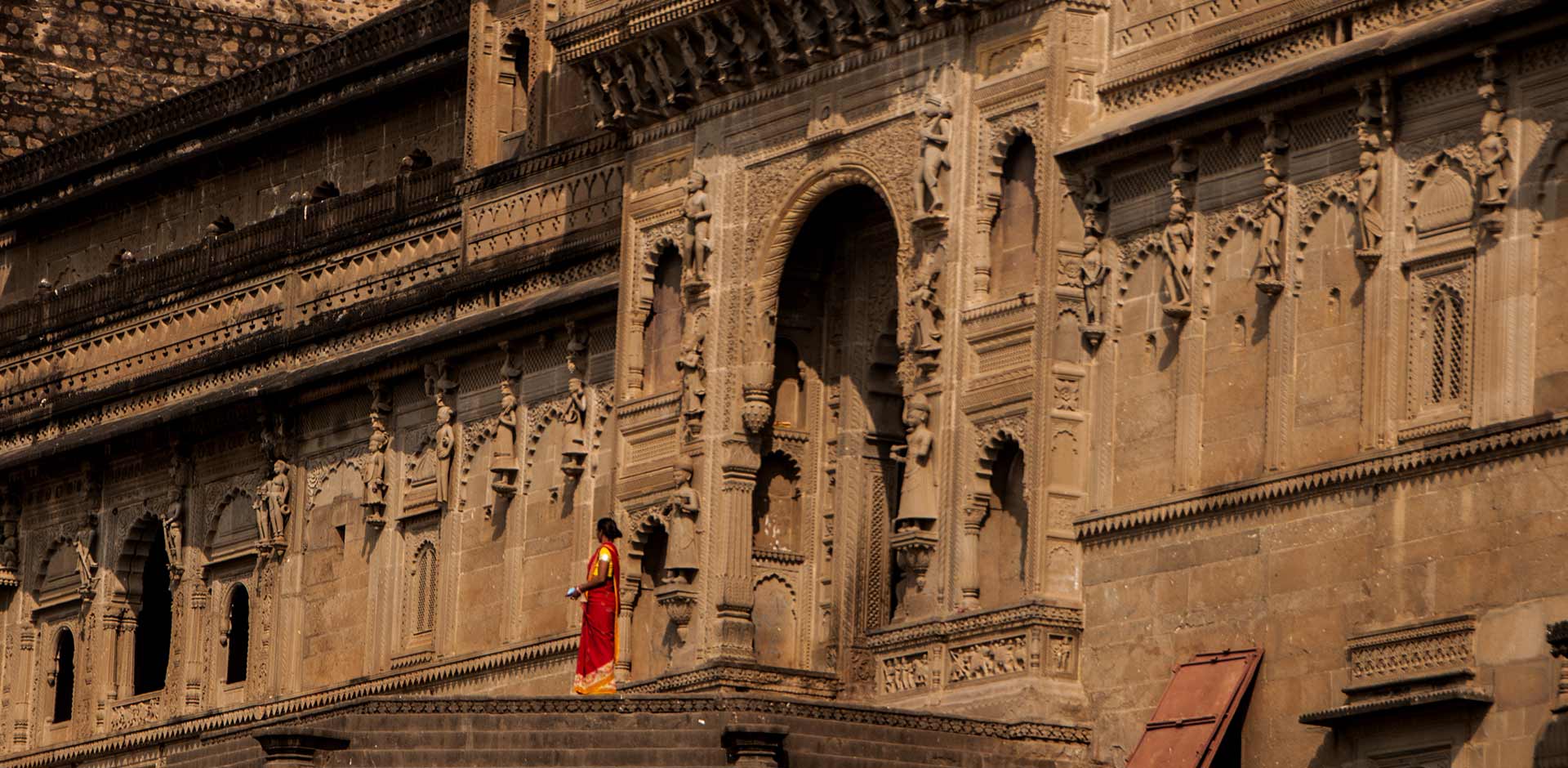 Day 7
Gwalior
Today is primarily a travel day and begins with a private two-hour transfer to the Indore Airport. Following your afternoon flight to Gwalior, transfer and check-in at the Taj Usha Kiran Palace hotel. This five-star hotel sets a high standard in luxury and service and has been around since 1902, when it was constructed as a home for visitors of the Prince of Wales. We suggest trying its delicious dining offerings – the Silver Saloon, Bada Bar, and The Courts – which are especially diverse and will provide a welcome, satisfying end to a busy day of transit.
Day 8
Gwalior
A full day of touring awaits you today, with planned stops at the Gwalior Fort and museum and an afternoon visit to Jai Vilas Palace and the tomb of Muhammad Ghaus and Tansen. The Jai Vilas Palace, also commonly known as the Jai Vilas Mahal, is an example of fine European architecture with its use of Italian, Corinthian, and Tuscan styles. An influential Muslim saint and a prominent figure of north Indian classical music, respectively, Muhammad Ghaus and Tansen number among the most important historical figures in Indian history. Tansen is buried in the same mausoleum complex as Muhammad Ghaus, who was in fact his Sufi master.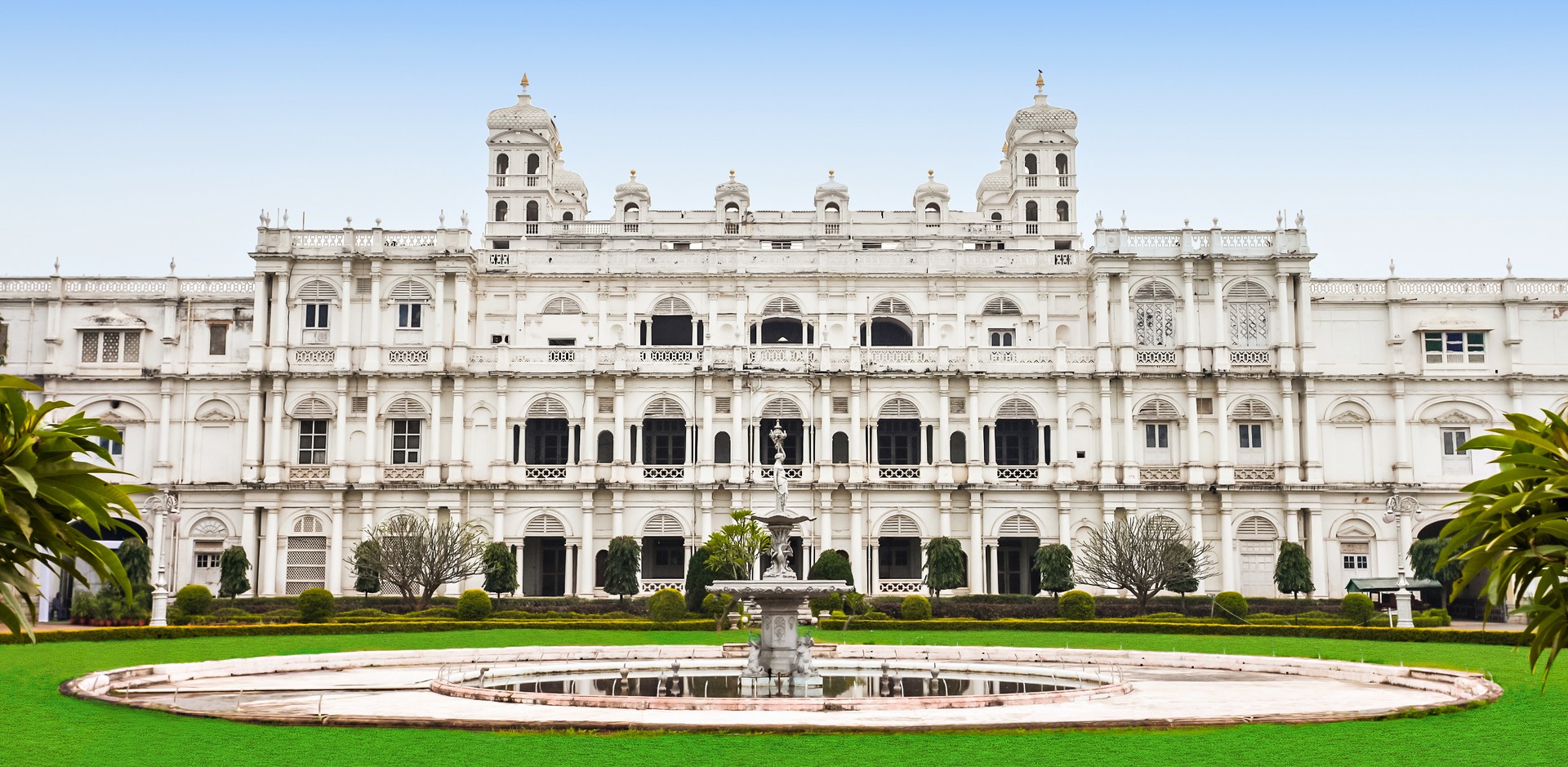 Day 9
Khajuraho
Transfer to the train station and take the Shatabdi Express for a roughly one-hour trip to Jhansi. Drive onward to Orccha then dive into a tour of several of the town's temples and palaces; among these are the Chaturbhuj Temple and the the Jahangir Mahal, which is regarded as an immensely beautiful example of Mughal architecture. In the late afternoon, you'll continue on to a final private transfer headed for Khajuraho, which will take approximately three and a half hours. Khajuraho is a small town famed for its group of Hindu, Buddhist, and Jain temples.
Day 10
Varanasi
This morning explore the eastern and western groups of temples in Khajuraho. Next, take a short early afternoon flight of just under an hour to the sacred city of Varanasi. In the late afternoon, take a rickshaw ride from Sanskrit University and a drive to Godowlia Chowk, the busiest market in town and a culinary hub of authentic Indian cuisine. Your chances to experience the cultural spectacle that is the Dev Deepawali celebration will really begin tonight with a walk to Ghats to attend the Ganga Aarti ceremony. The main rituals are performed in the evening by the Ganga river. Patriotic songs are sung, millions of candles and sky lamps are lit, awards and wreaths are presented, and chanting endures through the night.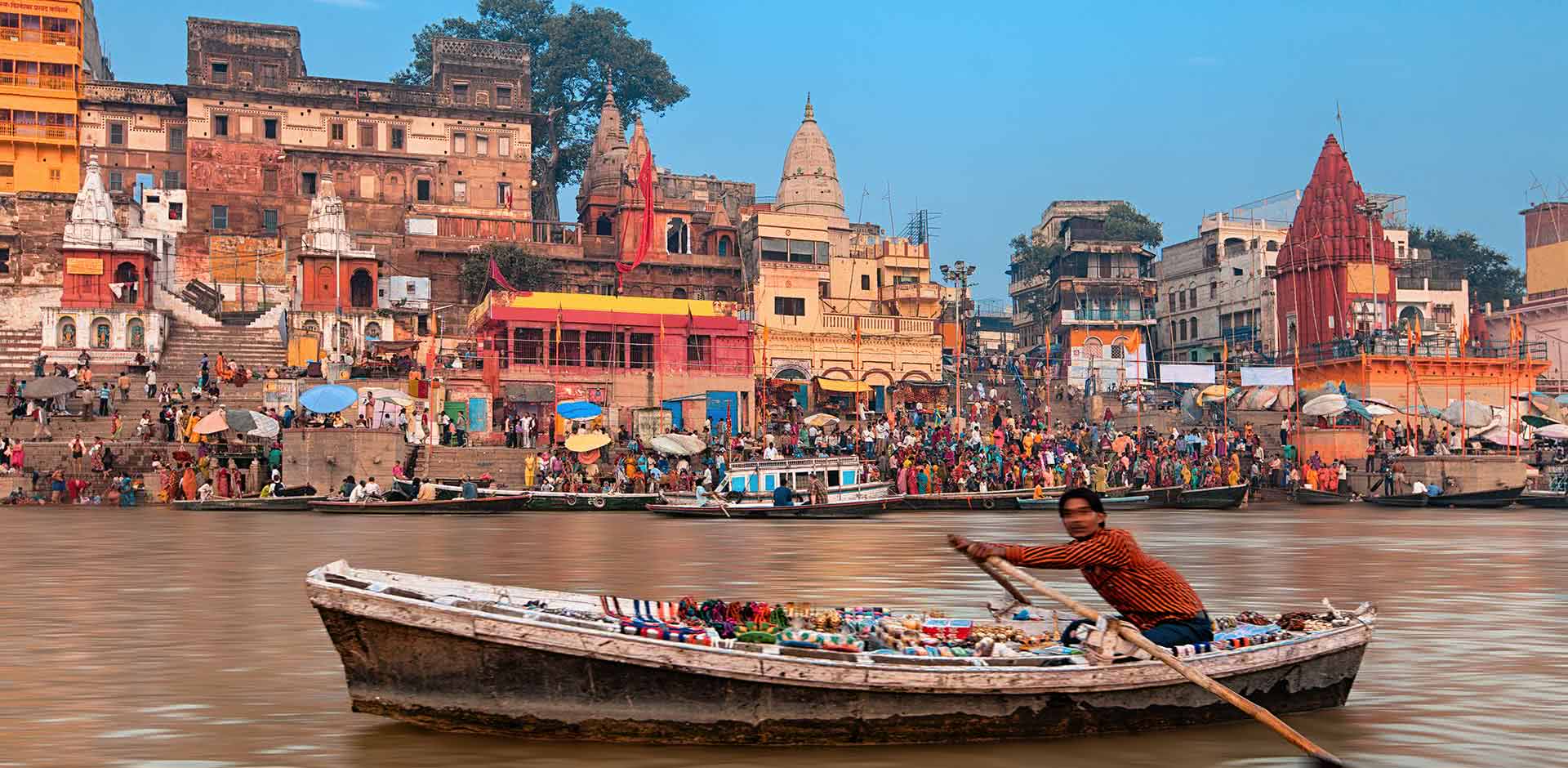 Day 11
Varanasi
The final full day of your trip is almost entirely centered on continuing to tour the city and experience the sights and sounds accompanying the Dev Deepawali. After a sunrise boat ride on the Ganges, you'll visit an Akhara facility and witness individuals practicing a sacred, spiritual form of martial arts. As you stroll through the city, you will see that houses are decorated with oil lamps and colored designs on their front doors during the Dev Deepawali festivities. Walk through the Ghats and visit the illustrious Kashi Vishwanath temple. One of the most famous Hindu temples dedicated to Shiva, the Kashi Vishwanath holds particular fascination in that it has been destroyed and rebuilt several times throughout history. When touring the temple, be sure to inquire about the numerous legends and stories behind the building's many breathtaking shrines. Visitors who opt to go on this trip outside of the seasonal time of the Dev Deepawali may also choose to take evening tea at the Ramnagar Fort to finish out their day.
Day 12
Departure
On the final morning of your trip, you'll pay a visit to Sarnath, located near the confluence of the Ganges and Varuna rivers, where the Buddha is said to have first taught the Dharma after achieving enlightenment. This city is considered a highly important Buddhist pilgrimage site. An afternoon flight to Delhi will then deliver you to your connecting flight home.
TERMS AND CONDITIONS
Price is based on double or twin hotel room occupancy and includes accommodation, transfers, car/driver, English-speaking guide, activities and entrance fees, and daily breakfasts. Flights and optional special activities will be quoted separately. Most personal expenses, including lunches, dinners, alcoholic beverages, spa treatments and gratuities can be paid on the spot while traveling. Prices may vary depending on season, choice of accommodation and other factors.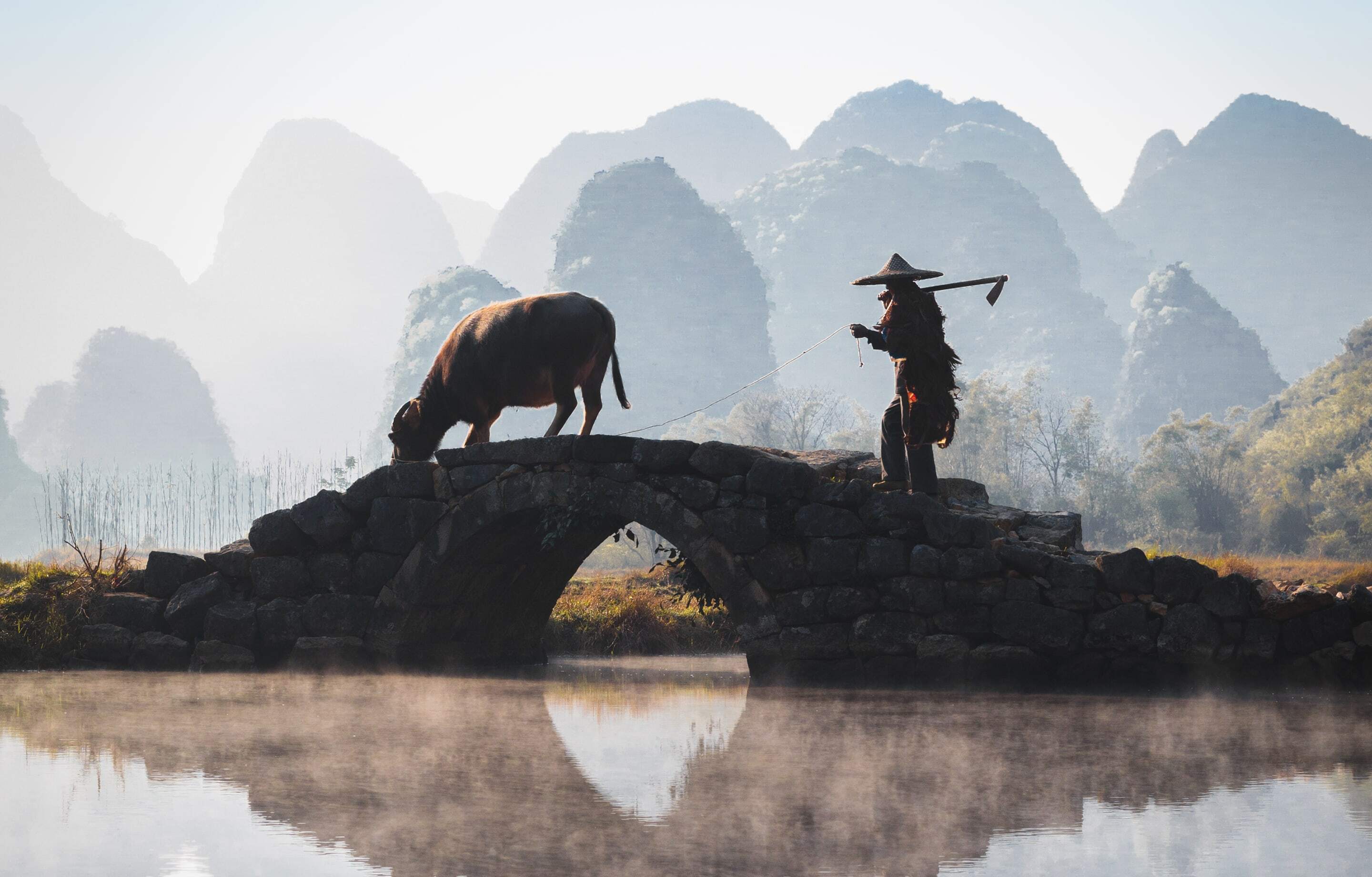 Why Remote Lands?
Exclusively Asia
With Remote Lands you'll travel with people who have made Asia the solitary focus of their own lifelong adventure. As our guest, you'll discover Asia on a journey that is completely, authentically your own, adapted from our own remarkable experiences and adventures over the years.
With Remote Lands you'll travel with people who have made Asia the solitary focus of their own lifelong adventure. As our guest, in the continent that our north American founders Catherine and Jay have adored and explored for decades, you'll discover Asia on a journey that is completely, authentically your own, adapted from our own remarkable experiences and adventures over the years.
Travelogues
An Asia-focused magazine brought to you by Remote Lands – a platform for adventure, luxury, and authenticity from experts and explorers around the continent.
What Others Say
Here is a small selection of the kind words our guests have said about us, as well as features by journalists and travel writers.
From the moment I happened upon the REMOTE LANDS website over a year ago, browsed the options, I knew that this would be well worth it. The entire staff is nothing less than professional with service that made us feel like royals.
This was truly the trip of a lifetime. Magical destinations, the most luxurious hotels in the world, and the most wonderful travel companions we could've wished for. We were treated like family everywhere we went and we have 14 new best friends.
We have used some of the top rated travel specialists all over the world and, without question, Catherine Heald and Remote Lands are at the very top of the list!