Karakol is unlike any other part of Kyrgyzstan. Its scenery, its diversity of people, its attractions, and even its cuisine are all unique and have a wonderfully authentic feel. And after my kitschy Issyk Kul lake experience, unique and authentic were two traits I was craving.
Founded in the 1870s, the city's former name looks as though it contains far too many consonants to pronounce – Przhevalsk – so it is fortunate thatl the name was changed to Karakol upon the city's declaration of independence from Russia. The town, on both the Russian and Chinese borders, boasts a population of 140,000, made up of an eclectic mix of ethnicities: Kyrgyz, Russians, Kazakhs, Tatars, Uyghurs, and Huis.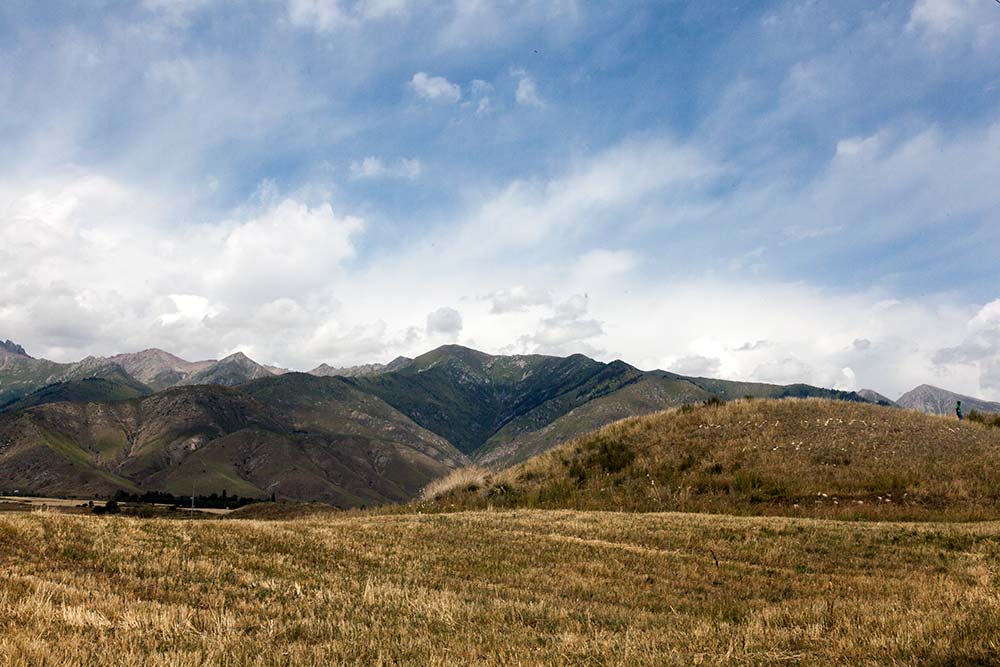 To get there, we drove 140 km east from Cholpon Ata on Issyk Kul lake. Even the terrain I saw from my window along the drive differed greatly from my other mountain road trips in the country – here, it was mostly flat farmland, with hills and mountains in the distance. The long road was dotted with horse carts and farmers. We passed burial mounds built by the Scythian people – a highly-developed race who originated in Iran and expanded throughout Central Asia from the Black Sea to Mongolia, during the Bronze and Iron Ages. These mounds, known as Kurgans, were built between the 7th century BC and the 4th century AD, my guide explained as we glided by them. I knew I was headed for a more traditional experience.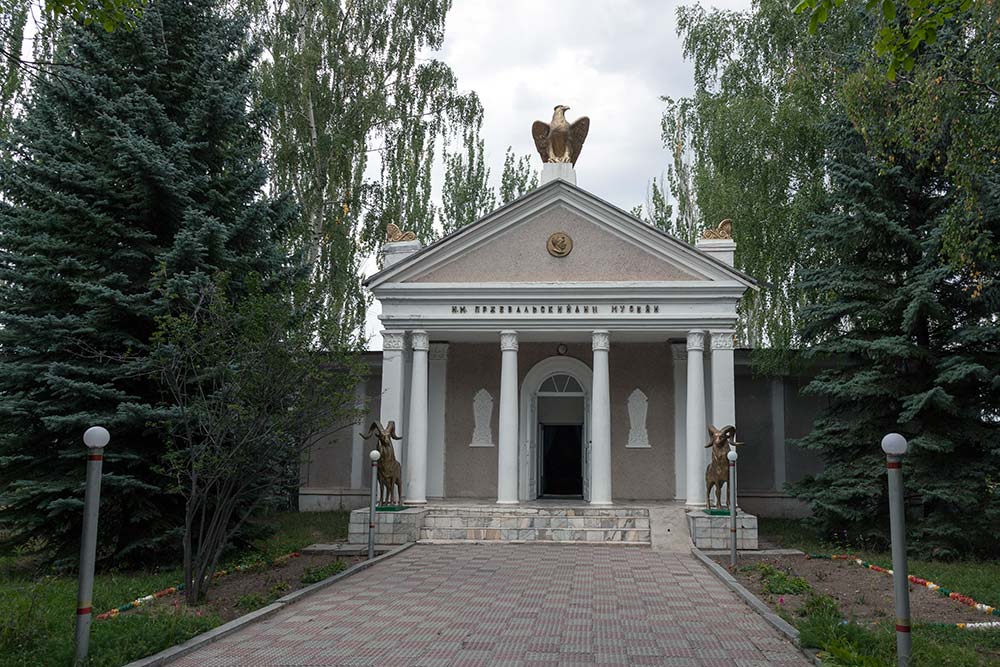 Along the way, we stopped at the Przhevalsky museum, dedicated to one of the most famous Russian explorers of the 19th century, and the first foreign explorer of Central Asia. The museum contained his notes and photos, alongside those of other lesser-known Russian explorers. There was also a collection of stuffed animals native to the area, most famously the Wild Mongolian Horse – also known as the Przhevalsky Horse.
We eventually arrived in the town, which was full of old Russian colonial-style buildings that I couldn't help thinking would make beautiful hotels one day – when the city's nascent tourism industry is ready for it – and checked in to our guesthouse. We were booked into the Green Yard Guest House, and I was pleasantly surprised by its quality. Outside of Kyrgyzstan's capital of Bishkek, hotels and guesthouses tend to be comfortable but a bit basic, often offering only shared bathrooms. Green Yard was different. It's much more like a real hotel, with well-appointed rooms and private baths, not to mention delicious food and friendly staff. It was one of the best guesthouses I stayed at in the country.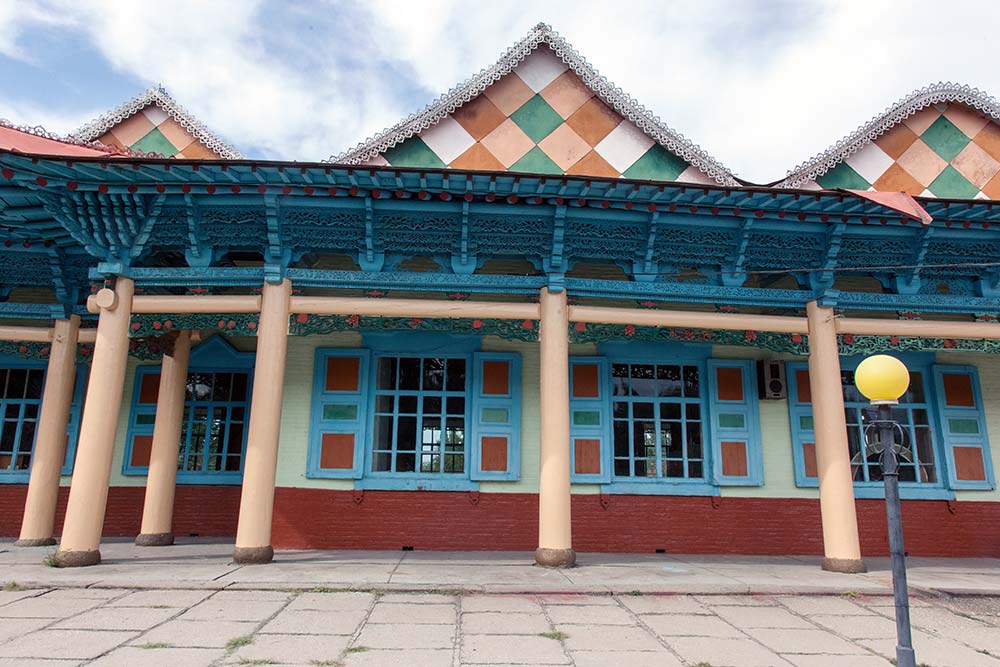 Once we were settled in, we headed out to explore the sights of Karakol. We started with Hui (Dungan) Mosque. The structure, built entirely of wood and without a single nail by Chinese Muslims who fled to the city after the 1904 Qin rule rebellion, looks out of place in Karakol. Many refer to it as a masterpiece of Dungan architecture, with its finely detailed carved frieze. Throughout, there is pre-Islamic Buddhist imagery, combined with the Chinese mythology. It is certainly an interesting structure.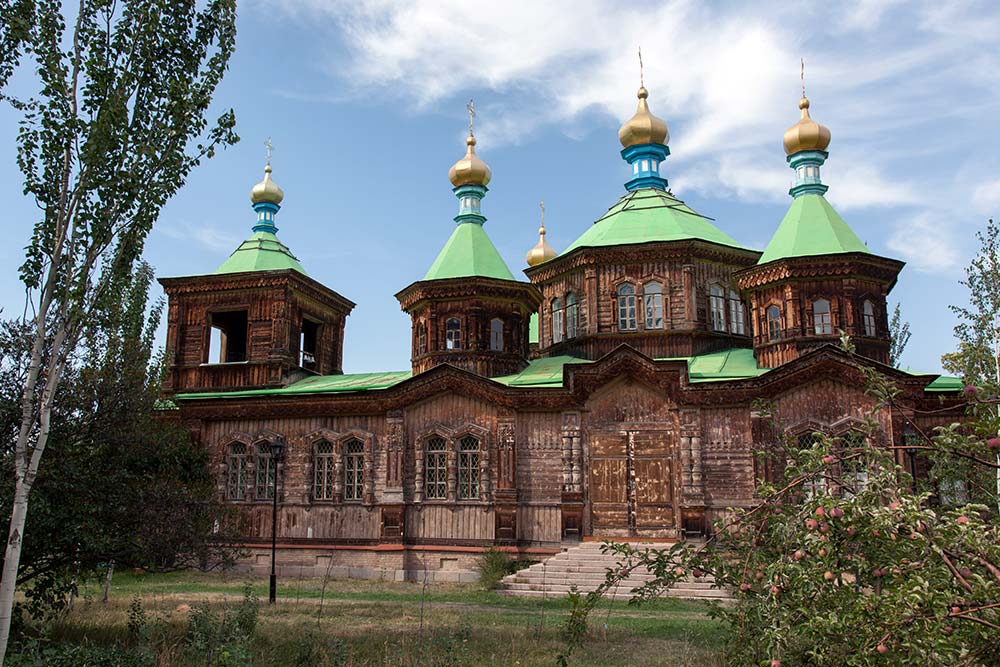 Our next stop was at one of Karakol's most famous attractions, the Russian Holy Trinity Church – also wooden – built at the end of the 19th century. It was impressive, and the only church of its kind I've ever had the chance to see. Interestingly, it was used as an officer's club during Soviet times, though it is now restored and in use for its original purpose once again.
Now it was time to see some of the city's great outdoors. We hopped in the car and drove 30 minutes to a ski base nestled into a beautiful gorge, blanketed by verdant fir trees. Karakol, I learned, is a popular ski destination for Kyrgyz, Kazak and Russian people.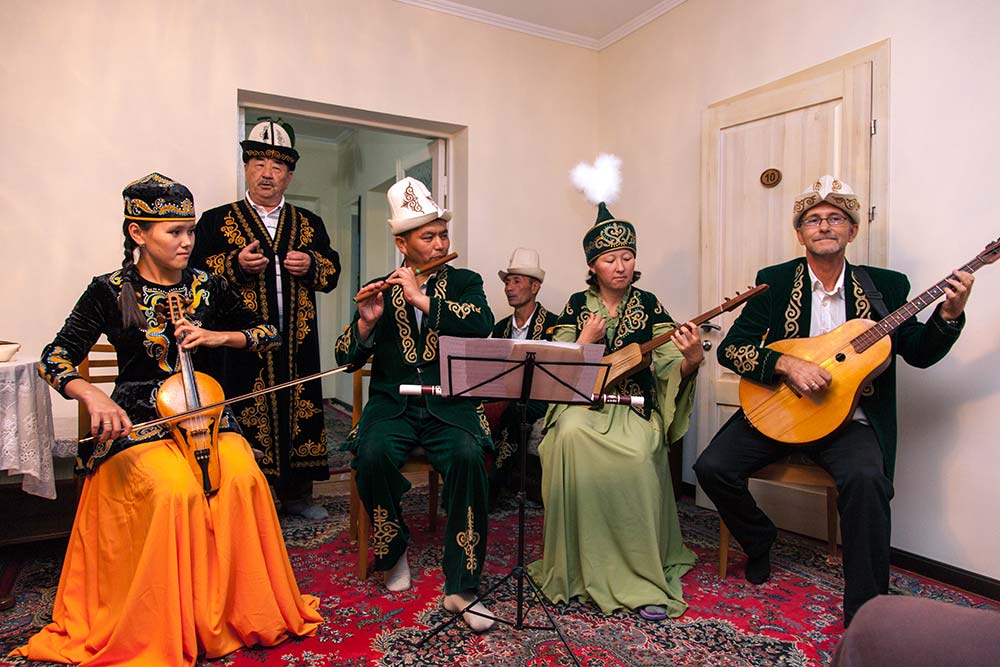 Upon our return to the hotel, we were treated to a private cultural show as local musicians entertained us with traditional instruments upon which they played national music. It was a truly special performance.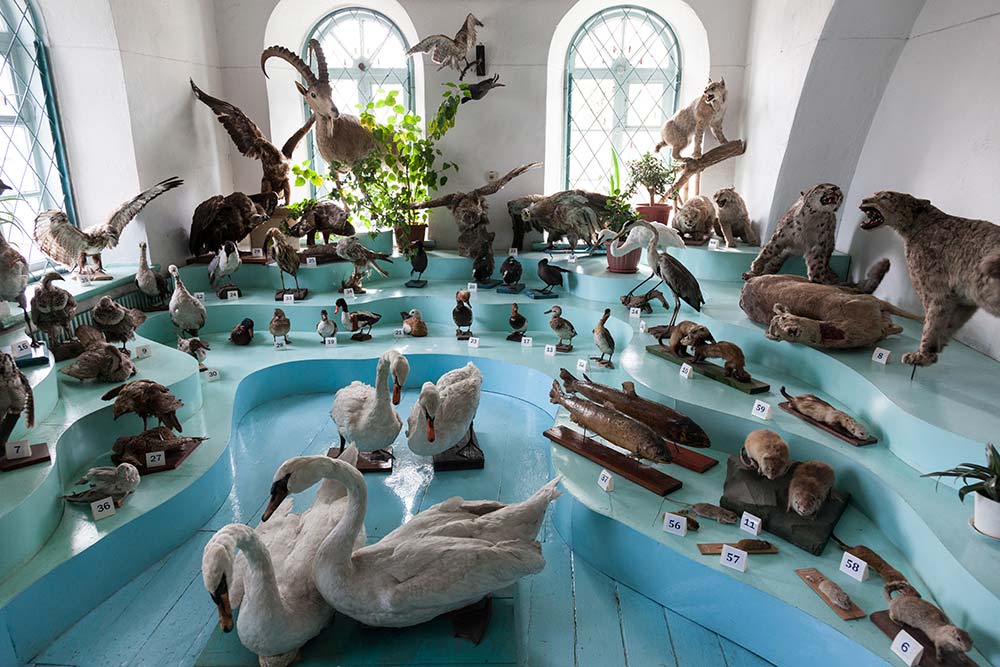 After a restful sleep in our comfortable rooms, we awoke the next day ready for more Karakol exploration. This time, we headed to the city's old town, which had even more Russian colonial buildings, and got even more in touch with the city's past at the Karakol History Museum. This pre-revolutionary Russian building, built in 1948, was small but interesting. My favorite display was its elaborate taxidermy collection – complete with swans, bears, and the rare Kyrgyz snow leopards who inhabit the area. Strangely, the only other place I'd seen a similarly impressive display like this was in North Korea.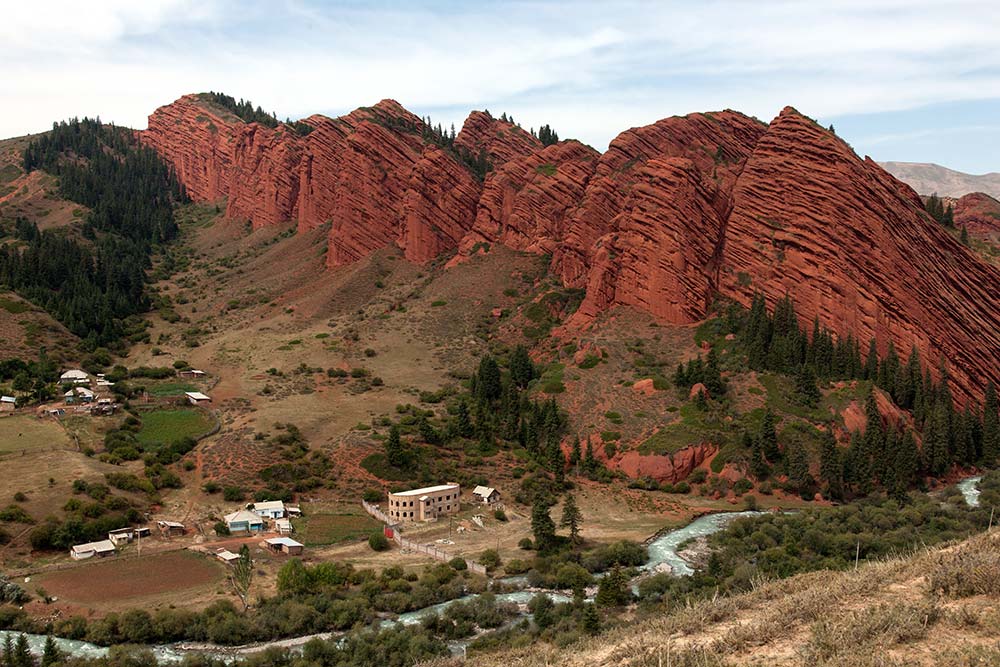 Keen to see more of the area's beautiful scenery, we headed 25 km outside of town to Issyk Kul province's Jet-Oghuz – or Seven Bulls. Here, we discovered a lush valley of red sandstone rock formations reminiscent of those in Arizona. Snaking its way through their crevices was a beautiful flowing river, along the banks of which were several traditional yurt homes that had been set up for tourists. We climbed our way to the ideal vantage point to get some photos of the exquisite scenery. Apparently, we weren't the only ones who thought this spot was a great backdrop for photos, as we ran into a newly-wed Uyghur couple who had come to the area for their wedding photos.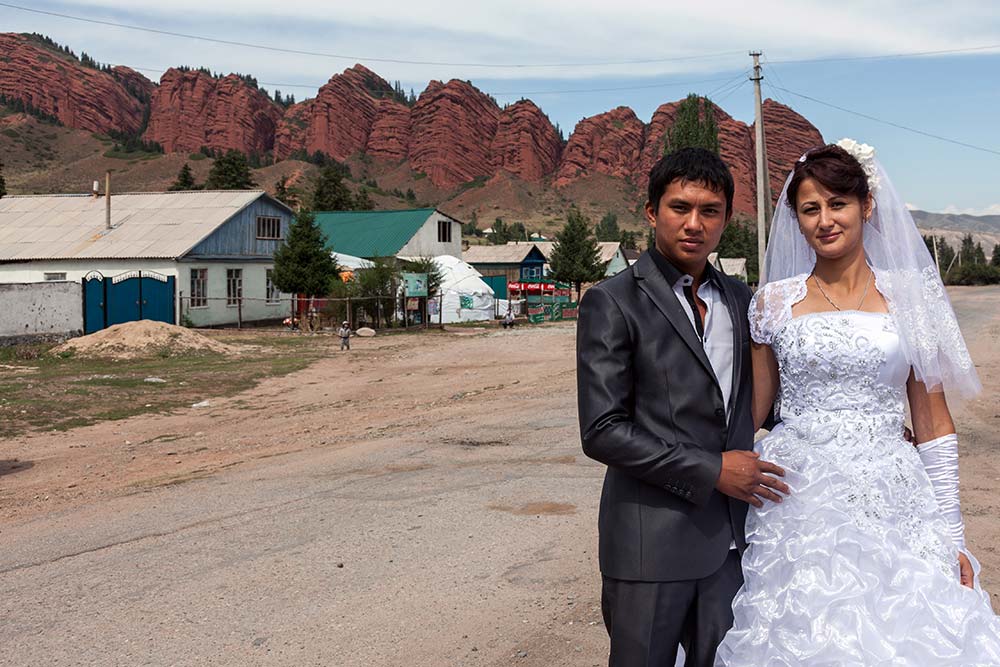 Though the area is beautiful, the legend behind the formation of the Seven Bulls is perhaps not the most romantic. The story goes that a Kyrgyz khan stole another man's wife. The wronged man asked a wise man how best he should reap revenge. The wise man eventually advised him to kill his wife and give the body to his rival – and that is exactly what he did. The blood that gushed from her heard is said to have carried bulls upon which she'd been feasting down the valley, where they transformed into these cliffs.
And thus concluded my trip to Karakol. I was so pleased to have the chance to go, for it truly provided me with the authentic Kyrgyzstan experience I was searching for. Not only that, but its unique culture – different from any other part of the country – made the place an even more special spot to visit, and one that should be a part of any Kyrgyzstan or Central Asian itinerary.