I am laughing to myself as my companions and I crest a pass at 3,700 meters, as it is the first time in all my years of outdoor exploration that a loaded down horse, one that happens to be carrying my pack and that of my wife's, is leisurely outpacing me up the steep slope. Then again, this is Kyrgyzstan, an adorable little country full of surprises and endless pleasant perks, which seems to leave us with something new to compliment every day.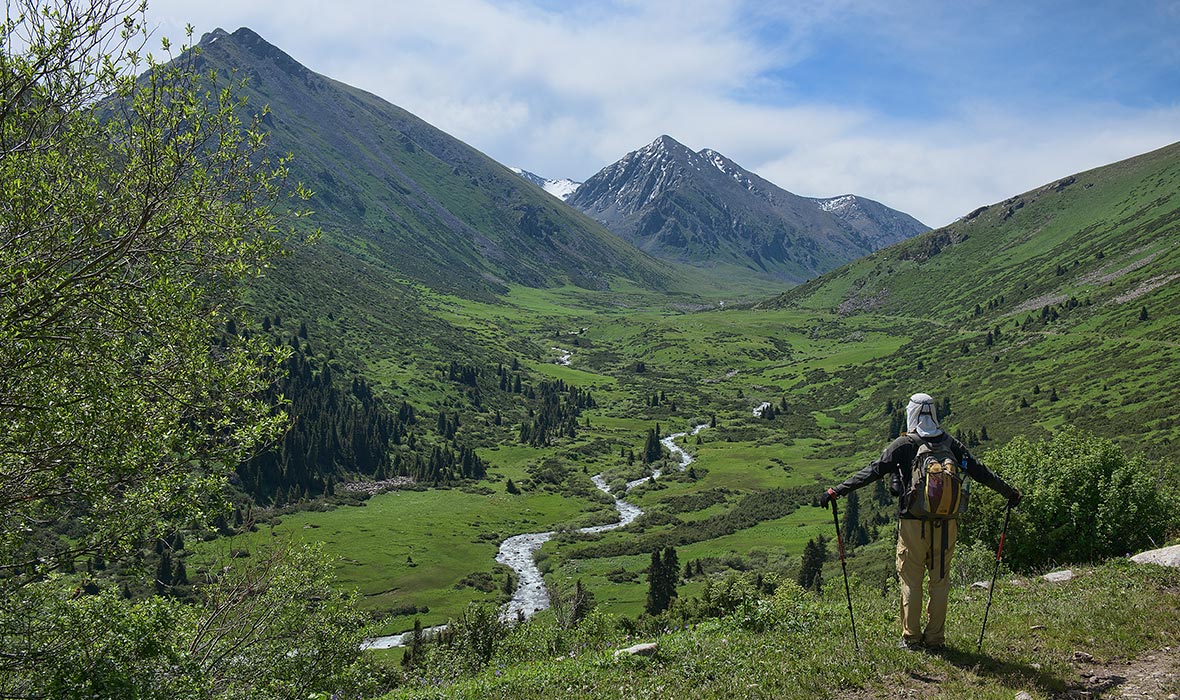 We are travelling on foot with two friends from home through the wildly verdant Jyrgalan Valley, where vistas around every bend make one think one is in Switzerland or New Zealand, yet without any of the crowds, nor any of the expense to boot. Before coming here, I only knew of Kyrgyzstan as a Central Asian country, one that featured adorable hats called kalpaks that the men wore, and that there were plenty of yurts to sleep in.
This was probably heaps more info than most of our friends had, many of whom would ask, "Whichistan?" or "Where is that?" when we mentioned that we were taking our summer vacation in this small country in Central Asia.
Jyrgalan, the small village for which the valley we are in is named, was a scruffy coal mining town made economically viable by the mine founded in 1932 during the Soviet era.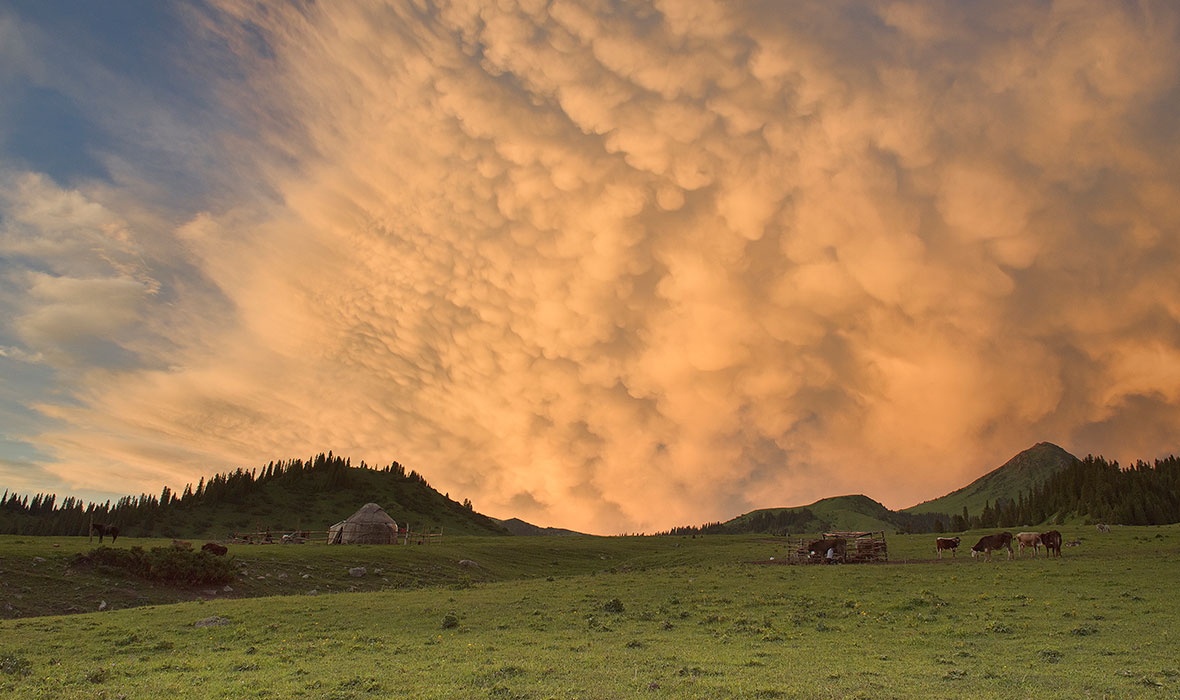 When the Soviet Union collapsed, the mine fell into limited use, and locals went from prosperity to lack of running water or plumbing. The coal mine still exists today, but has such limited output that locals started moving away in droves in the past decade, seeing no future for themselves or their children.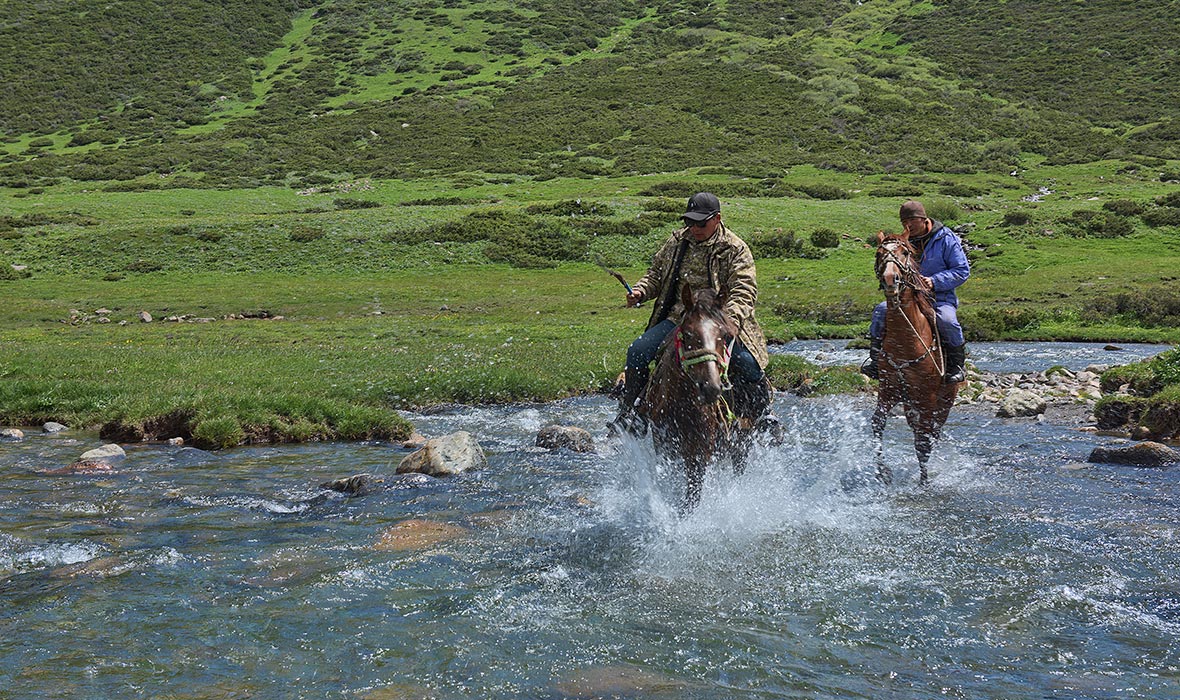 This economic despair drove six local families into starting a non-profit social management organization in the hopes of improving local conditions. Supported by a USAID business growth initiative, they underwent hospitality and guide training programs, fixed up several local homes to accommodate guests, and began running horse trekking routes into the surrounding mountains. A few years later, visitors to nearby Karakol, a burgeoning mountain resort town, hear whispers that Jyrgalan has become Kyrgyzstan's best kept secret.
Horses are a way of life in Jyrgalan, as in most of Kyrgyzstan, with nomadic herders using them to herd sheep and goats, and as the sole means of transport in many of the mountain regions. In the summer, visitors here can either ride horses into the Ala-Too Terskey mountains, or else walk, using the horses as pack animals.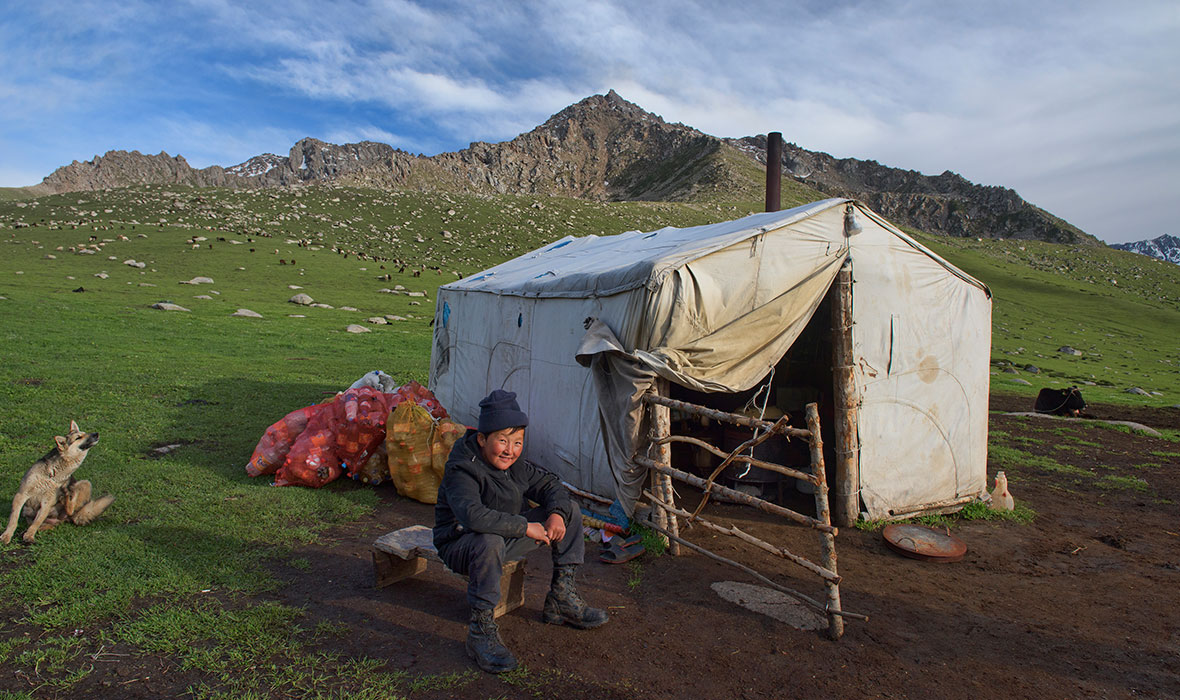 In winter, intrepid skiers from Austria, Switzerland, and France have slowly been making their way here, enticed by the country's first "freeride" skiing program, where horses take skiers and their gear up into the mountains, and then leave them to plunge downhill on their own.
Other than using our horses to cross rivers, we've elected to walk through this magnificent terrain. Every pass reveals a new mountain vista, every valley glistens in every shade of green imaginable, and the carpets of wildflowers we walk through every day are staggering. Without having to carry packs, the trekking is almost effortless, although the horses still beat us up the passes as we huff and puff to acclimatize to the altitude.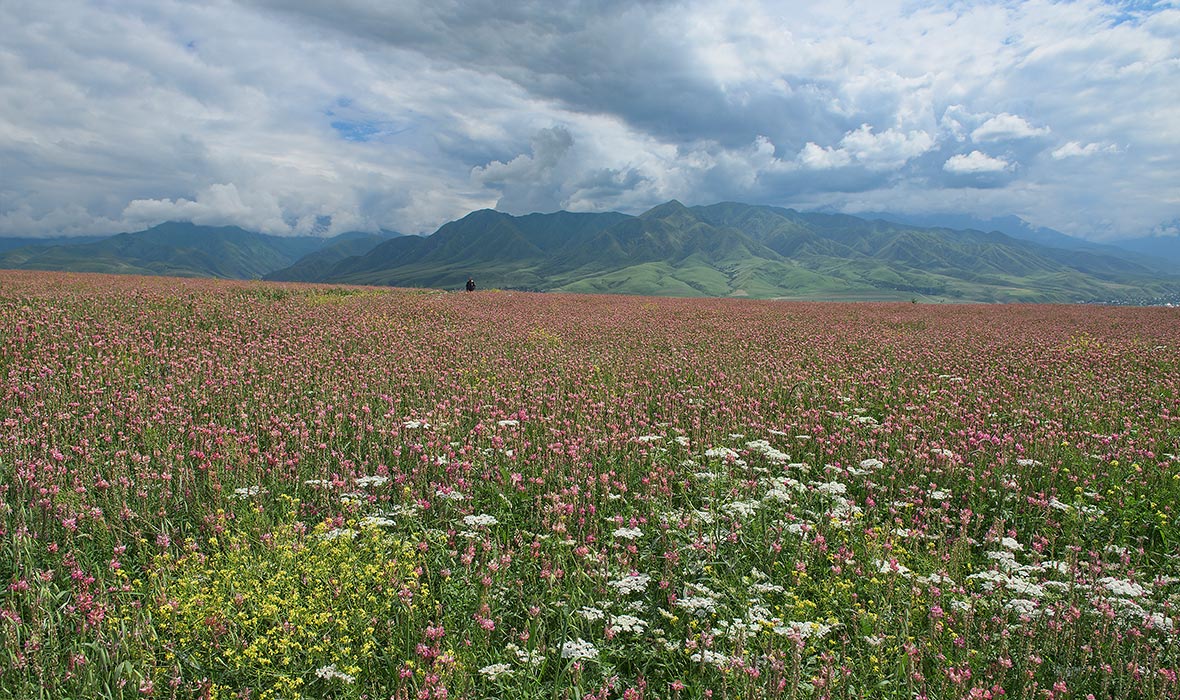 I am used to defined trails, but here we are often walking across rolling pastureland with open country at our feet. I worry about trampling the flowers as I go, but here there are so many of them, and so few trekkers, that our human footprint appears to be virtually negligible.
Most countries around the world have either seriously endangered their natural beauty or else have strict regulations to try and protect it, but Kyrgyzstan just seems to be blessed with an abundant amount of natural wonders and open space, not to mention a tiny enough population (six million, two million of which live in Bishkek) and plenty of room for people to enjoy it.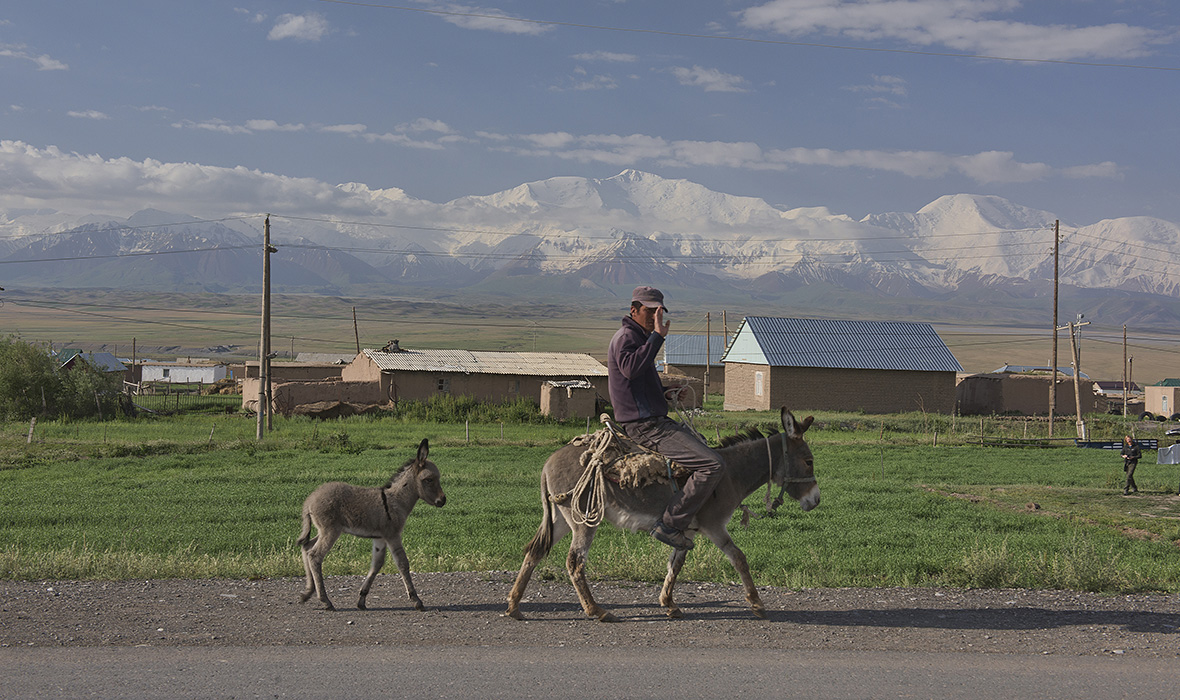 Our horse guide, Erjiggit, is easy going and amiable, which seems to be a common trait here in the open spaces of Kyrgyzstan. The high pastures he leads us up into are known as jailoo, and in summer are home to herders who warmly welcome us into their yurts, where they ply us with butter tea and a staggering array of dairy products, from fresh milk, yogurt, butter, kefir, and very sour cheese balls known as kaymak. And then there is kumuz, a slightly alcoholic drink made from fermented mare's milk. After being constantly invited into yurts for a few shots (and after enough protesting, unable to turn them down), I start to suspect there may be more at play in my feeling lightheaded than just the altitude.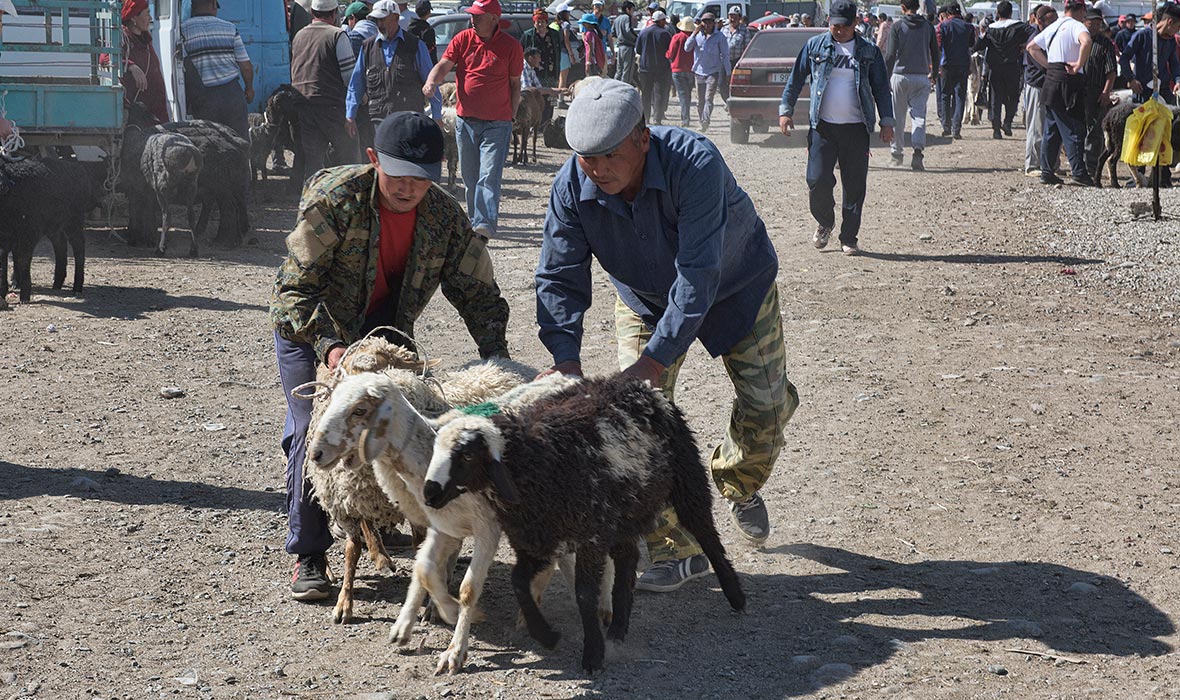 The hospitality here doesn't only extend into the highlands. A few days later, we are back in Karakol, which retains old Russian charm, filled with traditional gingerbread houses and a beautiful wooden Orthodox church; and where the world of delectable Kyrgyz mutton shashlik and kebabs collides with pancake and latte breakfasts. We go to the main bazaar to shop for nan flat bread, fresh cherries, and a smorgasbord of local berries in season.
An old woman passing by asks where we are from, smiles with a row of gold teeth, and then proceeds to take out some homemade bread from her purse which she presents to us as a gift. Half an hour later, we join the locals at the wild Sunday Animal Market, somewhat reminiscent of Kashgar, China's famed equivalent, where people come from miles around to buy and sell sheep, horses, goats, and cattle.
We're asked countless times if we need a sheep, reply that they won't fit in our backpacks, and then can only watch in amusement as the four-legged offerings are piled into the trunks of tiny old Russian Lada vehicles, not necessarily headed for greener pastures.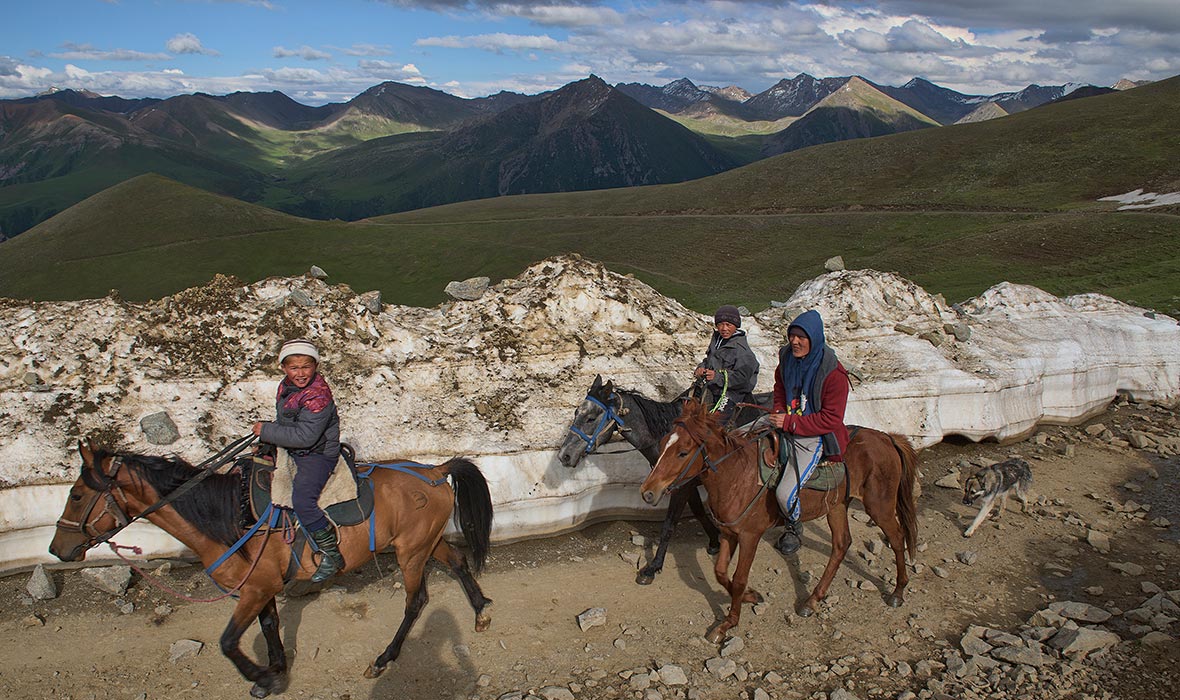 While in the Jyrgalan Valley, we saw a total of four other tourists over a span of five days. Across the country a few days later, it's the same thing, as we explore canyons reminiscent of the US Southwest, picturesque little villages snuggled under massive rock walls, and then high alpine passes, all part of the scenic Alay region which marks the start of the entry into the great Pamir Range and Tajikistan. Here we see no visitors at all as we head up along rushing rivers, again being welcomed everywhere we turn.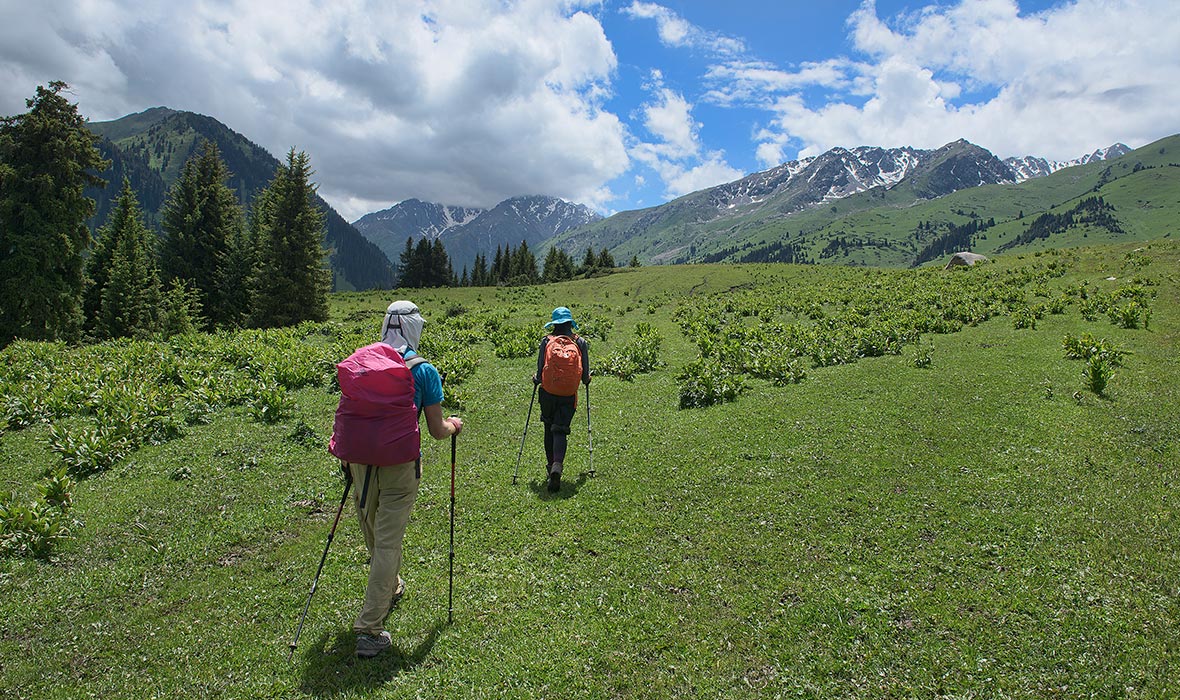 Our guide here, Chinggis, an energetic twenty year-old named after Ghengis Khan, lets us go ahead while he takes a post-lunch nap. We come to a fork in the trail, not sure of where to turn, but in minutes, a young woman riding a large donkey appears, and motions to us to follow her after we tell her where we are headed.
She rides slowly, leading us up the river, where we eventually emerge at her family yurt, where we are immediately invited in for baked bread right out of their home-built tandoor oven and freshly whipped butter. We refer to the young girl as our "trail angel," and Chinggis is surprised to see us sprawled out on the yurt carpets when he anxiously pops his head in an hour later.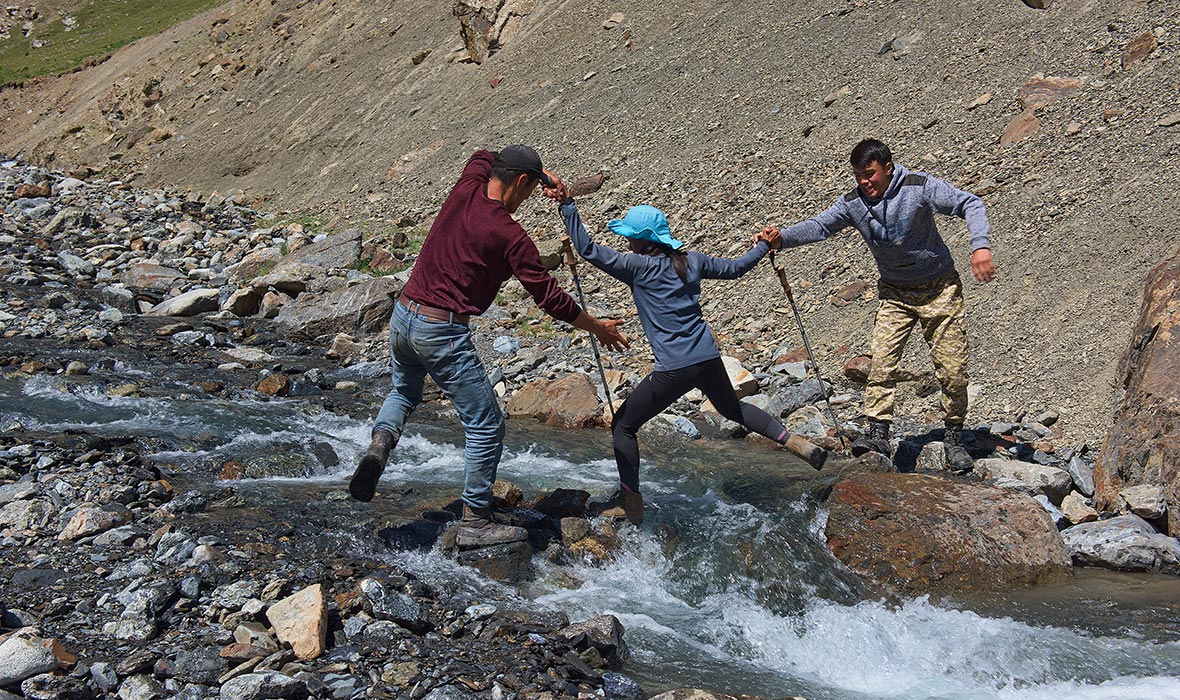 A day later we scramble up the Sary Mogul Pass, a steep climb that is rewarded at the top with stunning views of the Trans-Alay Range of the Pamirs. Peak Lenin, recently renamed Ibn Sina Peak, although still commonly called by its former Soviet moniker, rises from the plains seemingly high above the clouds, blanketed in permanent deep snow.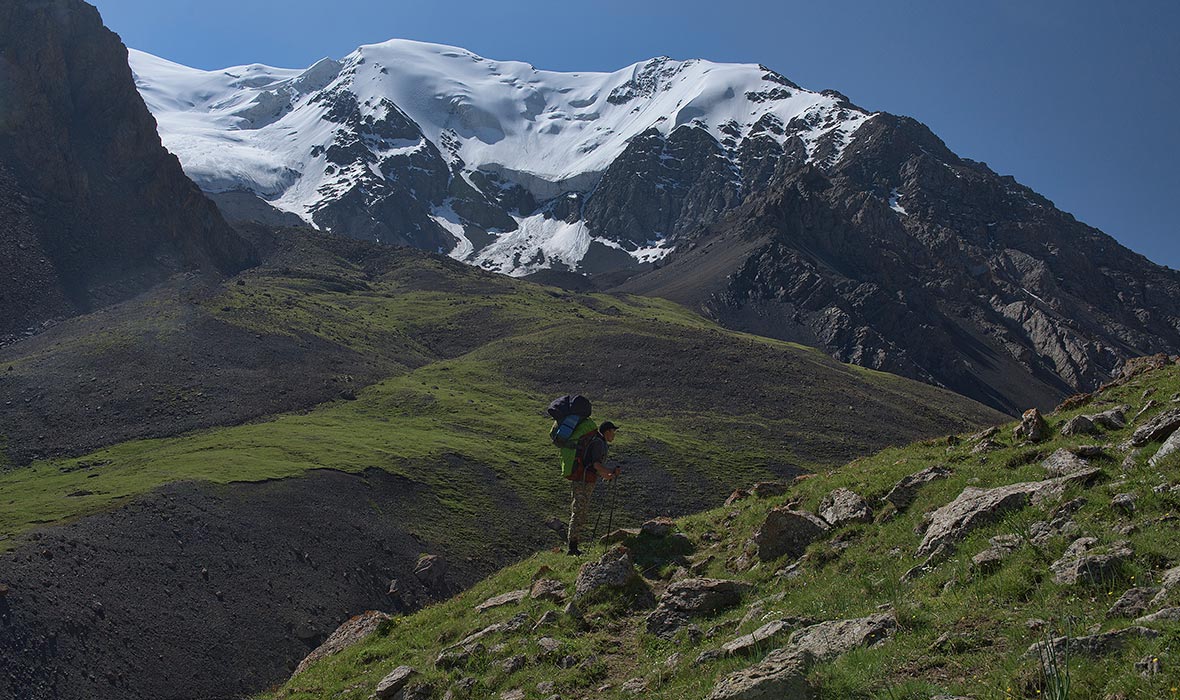 At 7,134 meters, it is the highest mountain in a sea of giants, and the white slopes are in stark contrast to the rolling carpets of green down below.
Here one finds Kyrgyzstan at its most classic. The mountains, the grasslands, and then a yurt or two, with an old rusty Lada out front, a pair of milk pails, some livestock, and smoke from the wood stove telling you someone is home.
The homesteaders here have a dose of rugged American do-it-yourself-ism, and are a cross between the hippies of the 70s and the living off the grid crowd of the same era. The door is always open out here, there are no locks, and you're pretty much guaranteed a cup of tea to go with the jaw dropping views.