Tucked away in the farthest corner of what was once British India, the highland tribes of Eastern Myanmar are diverse, and truly unique, each possessing their own customs, religion, history and language.
During my visit to Kengtung, Myanmar, located near the Golden Triangle – close to Laos, Thailand and China – I discovered true diversity for its own sake, free of any other agenda, political or otherwise.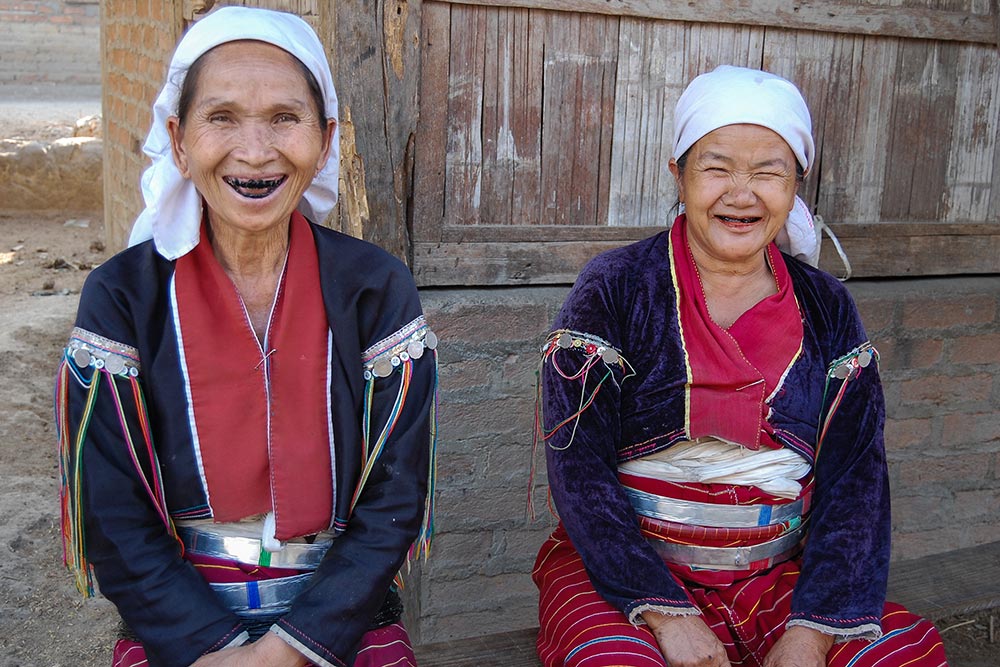 Kengtung is an area in the Shan State of Myanmar that has captured my imagination since 1993. The name means, "Walled City of Tung," in reference to its mythological founding. The whole area was once part of Northern Thailand's Lanna Kingdom in the 1200's, and echoes of that epoch remain today. Interestingly, Kengtung was occupied by the Thai Army from 1942 until the end of World War II.
The genesis for my interest in Kengtung came along one day as I flipped through an article in Cathay Pacific's inflight magazine featuring the area, depicted in stunning black and white images. This place is the real deal, I thought to myself.
At the time, Myanmar was just beginning to open up after five decades of isolation. The 8-8-88 unrest was just one of many polarizing and troubling episodes in Myanmar's dysfunctional history. I discovered that the area is not easily accessed from the rest of Myanmar, being closer the Mekong than it is to the nation's major geographic features like the Salween River to the west.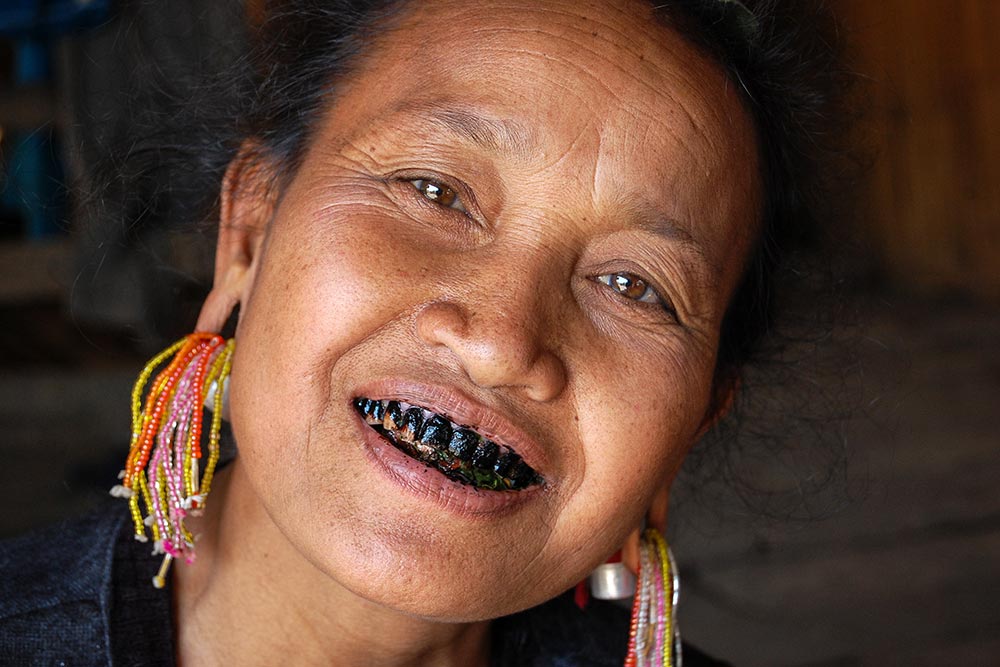 My appetite had been whet from an amazing daytrip I'd taken to Tachilek, just over the border from Thailand, in 1993. However, time hadn't permitted a trip to Kengtung, so I'd had to bide my time.
I finally got my chance to visit Kengtung a couple years ago. I flew into Thailand's Chiang Rai and crossed, as so many do, from Mai Sai to Tachilek. After walking across the border, and receiving our border passes, we met our guide and drove approximately 3.5 hours to Kengtung.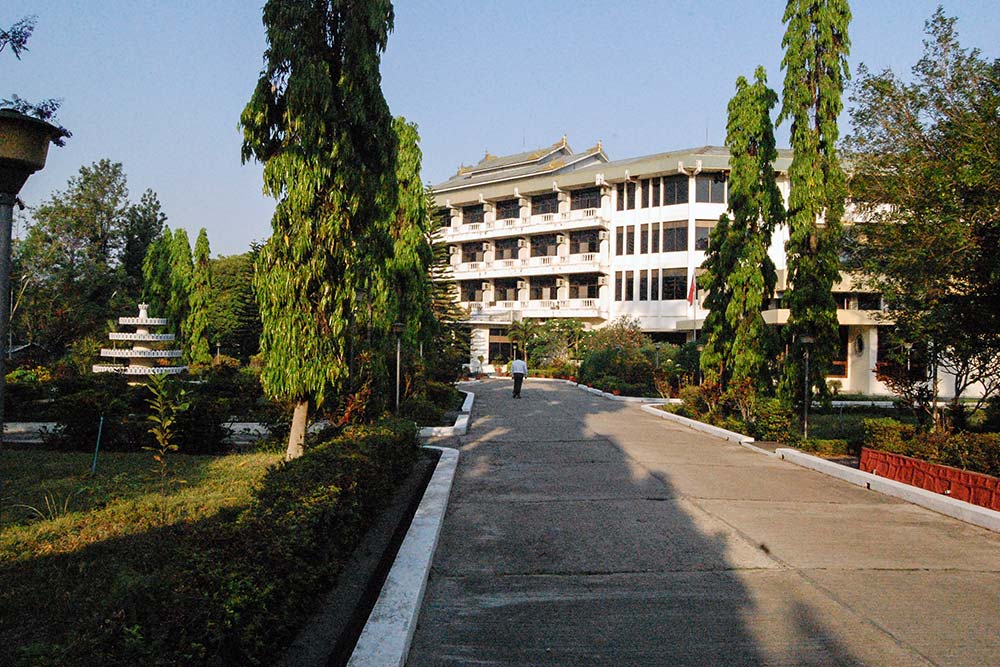 I stayed at the New Kyaing Tong Hotel, a somewhat rundown place with a noteworthy royal history. Once the Kengtung Palace, or Sawbwa Palace as it was called at the time, before the Burmese junta drove out the royal family in 1962, it was ultimately demolished in 1991 in order to build the hotel. The photographs I've seen of the palace in its heyday are extraordinary. It was a quintessential building in the region that defines the British Empire era. Sawbwa means "Prince," and the Prince of this area was anointed with the British Army's seal of approval in 1897. China invaded Kengtung in 1765 but was defeated by Burmese forces. Thailand, then known as "Siam," first invaded the area in 1804.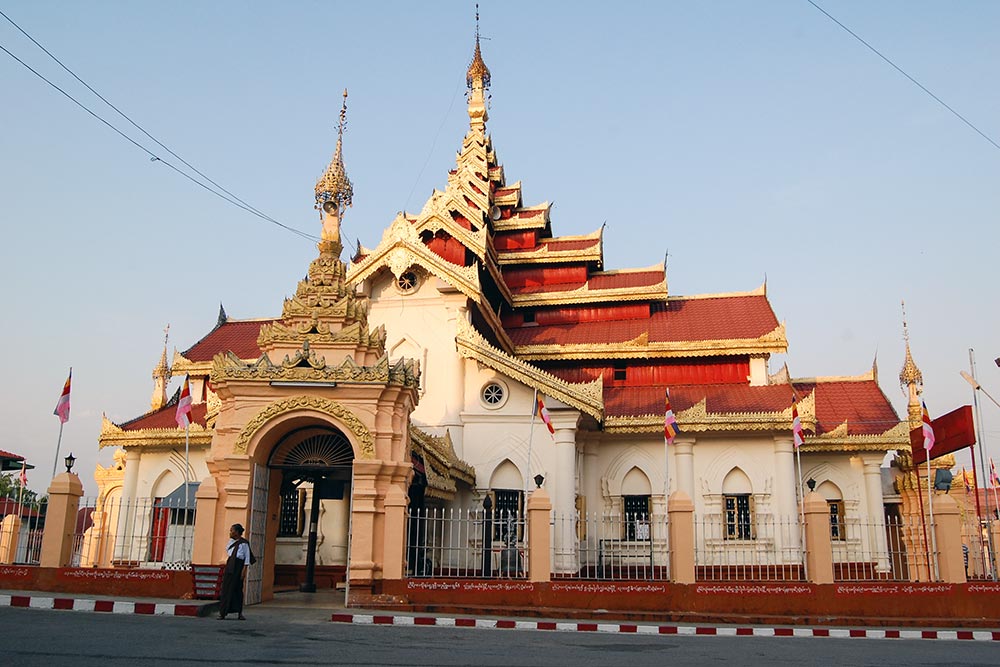 Kengtung is an interesting town. It displays various cultural influences, particularly Burmese and Thai. There are a number of 19th century Buddhist temples in town that are quite different to those found in other parts of Myanmar. Monk chants here echo those of Thailand. Thais feel that Kengtung is a part of their history and a real piece of their ancient empire.
While Kengtung itself is fairly pleasant, the real reason for visiting the area is to see a large variety of authentic hill tribes easily accessed from the town. It's one of the few places left in Asia where it's possible to see these hill tribes wearing their traditional clothes and embracing their tribal culture (other such areas include Vietnam's Sapa, as well as Northern Laos).
My mission here was to go exploring and meet as many of the hill tribes as I could. And I did just that …
Loi Village of Ban Ngaek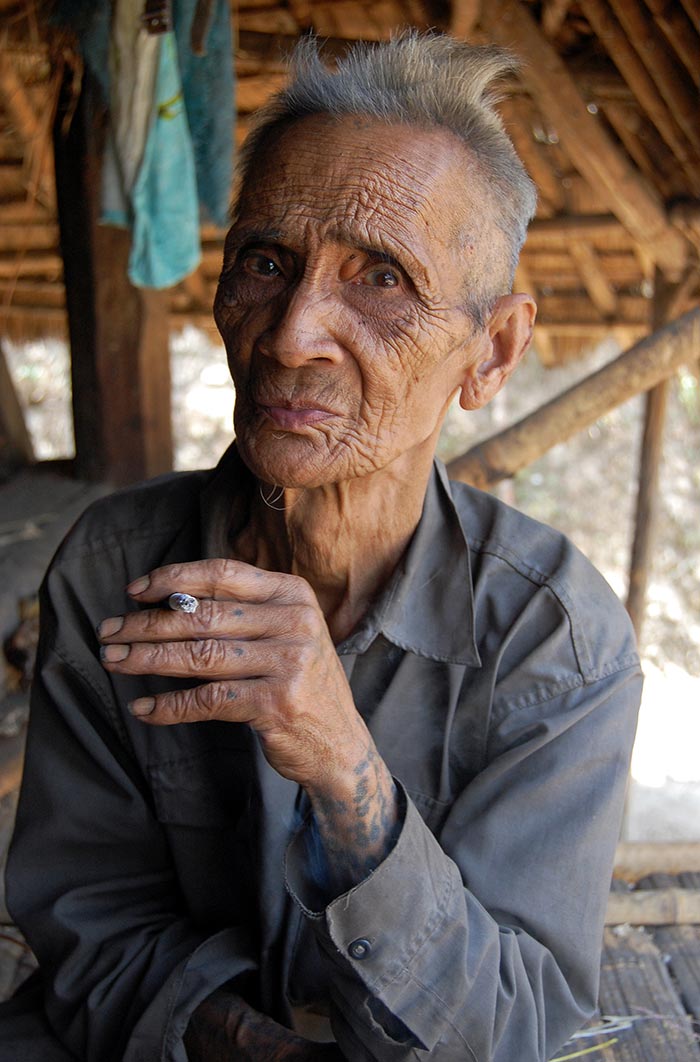 On the first day, we trekked several hours in the searing April heat to a Loi village. This area doesn't see many tourists. Unusual to the area, the Loi live in longhouses where multiple families share the same building, (in this regard, they are not dissimilar to Iban long houses in Borneo). The Loi lack the colorful traditional clothing of the other tribes, but they certainly lead a unique way of life. We met and chatted with an old Loi man. He said he had never left his village – never, not even once! The Loi have interesting farming and agricultural methodology. They are a proud people with unique traditions. Not far from the area where they live stands an interesting wooden monastery called Wat Wannyut, which I thought would look more at home in Northern Thailand or Laos. In this area, there is also an old monastery made of wood dating back to 1750.
Akhu Village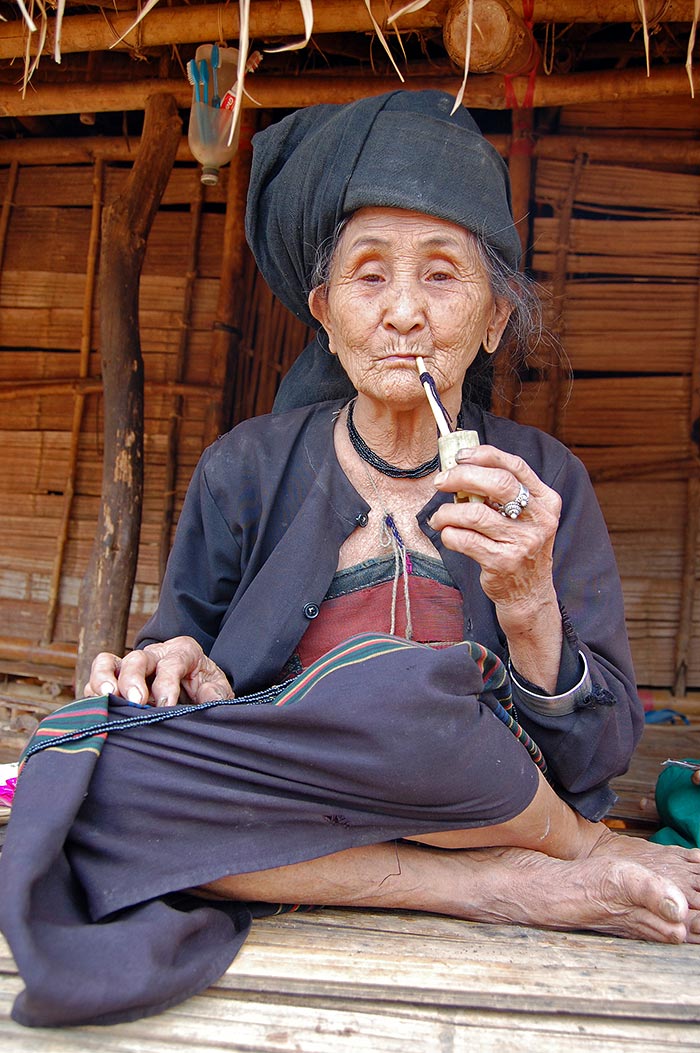 The Loi were just a warm up. On the next morning we drove forty minutes to visit an Akhu village called Wan Sai. Here, we encountered a charismatic old woman smoking a pipe, who told us tales of village life. Most of the women were smoking these long pipes, sporting all black attire. This former animist village had a Baptist church, and the people had unfortunately been converted to Christianity by missionaries. We visited another home and had a chat with an older married couple. The woman's teeth were black, and the man appeared to be drunk at 9 a.m.! He took a liking to Catherines sunglasses and asked if he could keep them.
Silver Palaung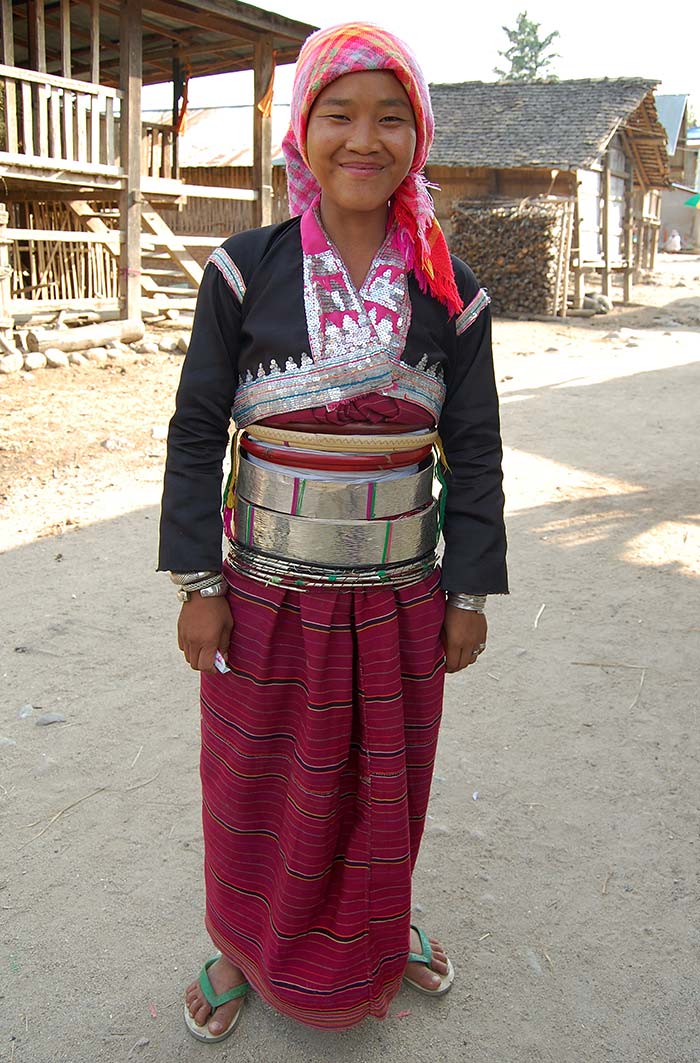 The next day, I visited the large Silver Palaung village of Wanpauk. The Silver Palaung wore very colorful clothing with large silver belts. Most of the older women teeth dyed black from chewing bettle nut. We visited a number of homes in this village,. Our guide was quite well known here, having helped a few local families in his own small way. , which made for a smooth visit.
The Silver Palaung, also known as the "Pale," are one of Myanmar's most ancient indigenous tribes.Women wear bright red sarongs, with silver hoops around their waists – a reminder, legend has it, of animal traps set by the Lisu peoples. Long ago, the legend goes, an angel visiting from heaven named Roi Ngoen was caught in one of the Lisu animal traps. The Palaung believe they are descended from Roi Ngoen. This is a people who can't be captured – the Palaung State Liberation Army fought the Burmese junta for more than four decades, in a demonstration of their thirst for freedom and autonomy.
The Ann Tribe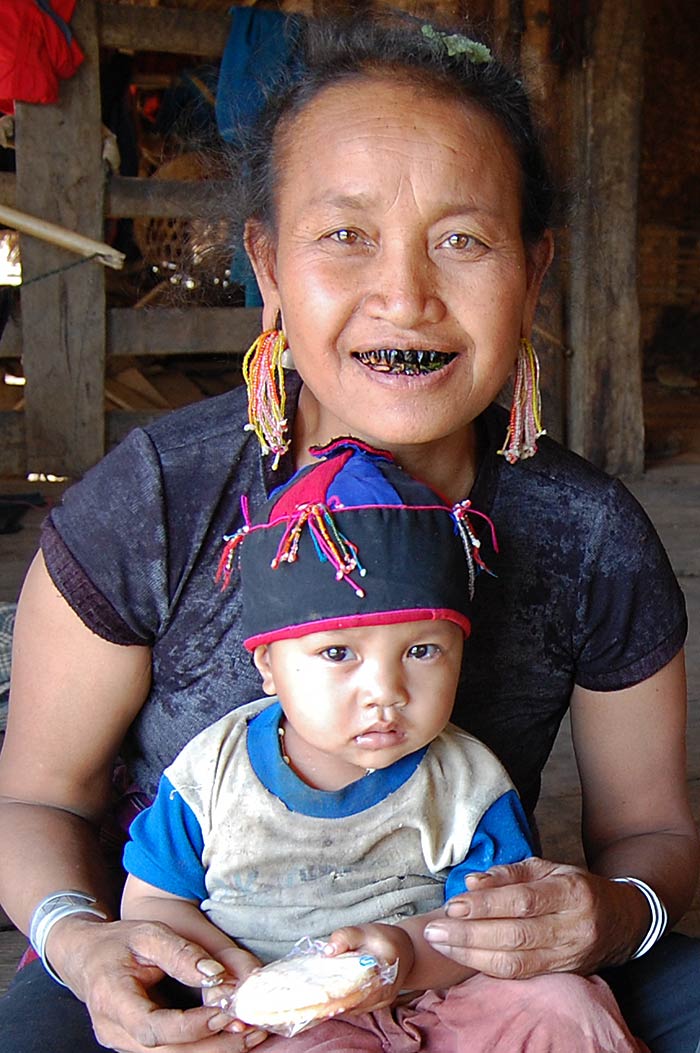 We drove about one hour by car towards the Ann's outpost, then trekking about an hour to the animist Ann village of Wan Pin. As a part of their animism, they believe in "Nat" spirits. There was a small ritual house within the village. We visited a home and had a long chat with a group of very friendly Ann women. Most notably, though seemingly not unusual around the region, Ann women have shockingly black teeth.
The Ann women, friendly and welcoming, sport traditional garb, often with large, silver earrings. Expert weavers, they can be seen spooling thread to make garments.
Akha Tribe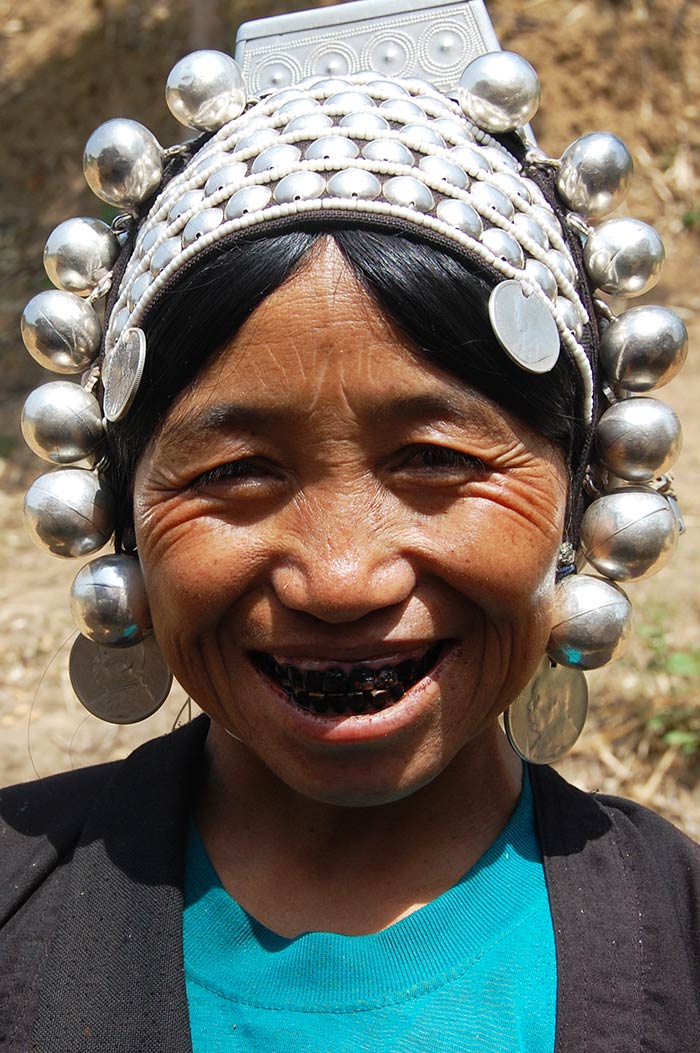 In this general vicinity, we also visited the Akha village of Wan Lar. I passed by a sole Akha woman, done up in full traditional costume, working in the field with her buffaloes. The Akha are one of Southeast Asia's most colorful hill tribes, seen commonly around Thailand and Laos.
Some say they lived on the borderlands of Tibet in ancient times. Others say they immigrated to China from Southeast Asia around 1900. Their language is close to Lisu and it is believed that they were once tribal hunters who were supplanted in their homeland by the Ming Dynasty in 1644. Their religion is a mixture of ancestor worship, rice rituals and animism.
Kengtung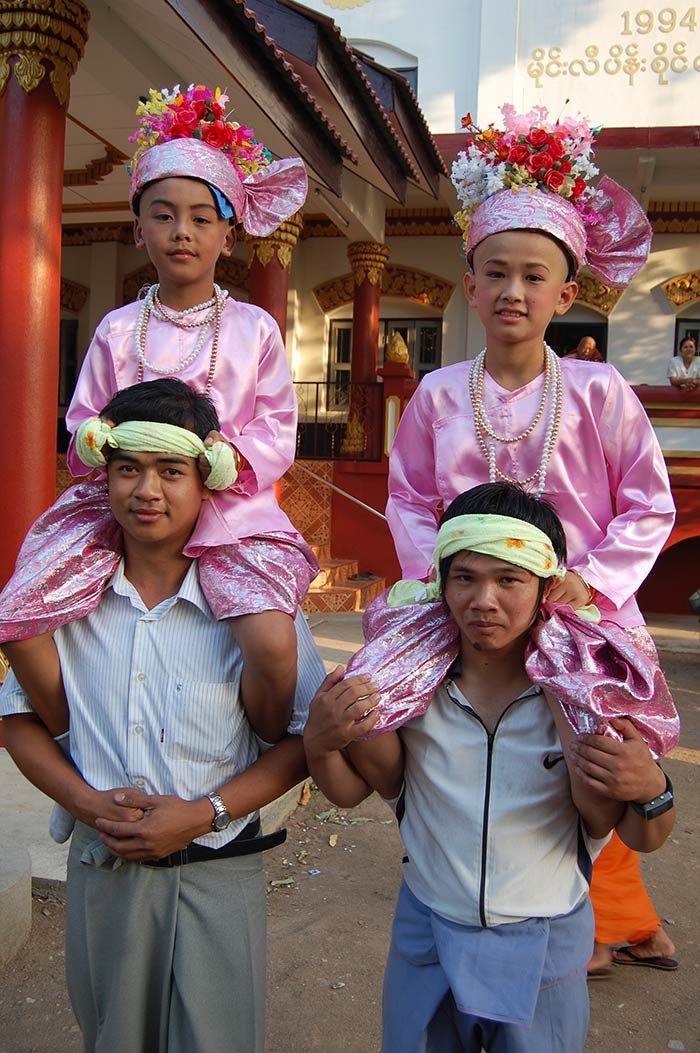 Back in Kengtung, I was lucky enough to happen upon a novice monk ceremony (and its accompanying celebration). Two young boys had been initiated as novice monks earlier that day, and the parents were parading them around on their shoulders while collecting money. It was a truly happy occasion and I was readily invited to join in their celebration.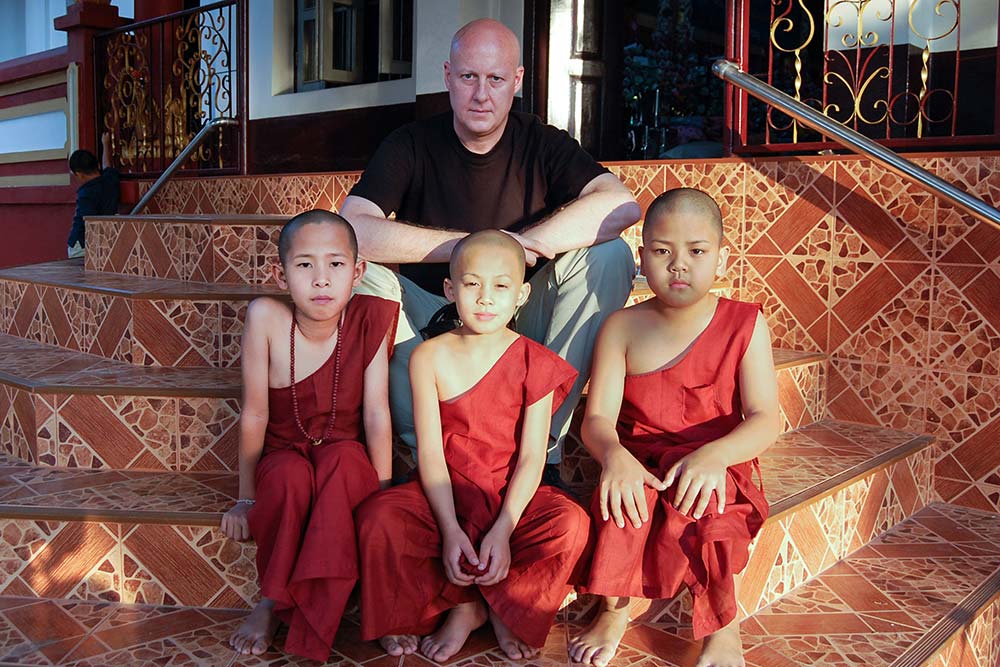 Teak wood and gold are to be found in this part of Myanmar, but those things are not the real treasures of the region. Rather it is the hill tribes and Shan people that are priceless. This true diversity is a crucial element that makes the world a place worth traveling for me.