There is no shortage of luxury resorts in the Maldives, but depending on what type of traveler you are, you'll want a different choice. A convenient speedboat ride from the airport or some fly-fishing on turquoise flats? Perhaps you'd rather have a romantic getaway and watch a classic movie on the sand. Whether you're a yachter, snorkeler, or a lounger, there are plenty of options in the Maldives. The Maldives is a destination that's all about the resort. It is where you are going to eat, sleep, and go on excursions — so choose wisely.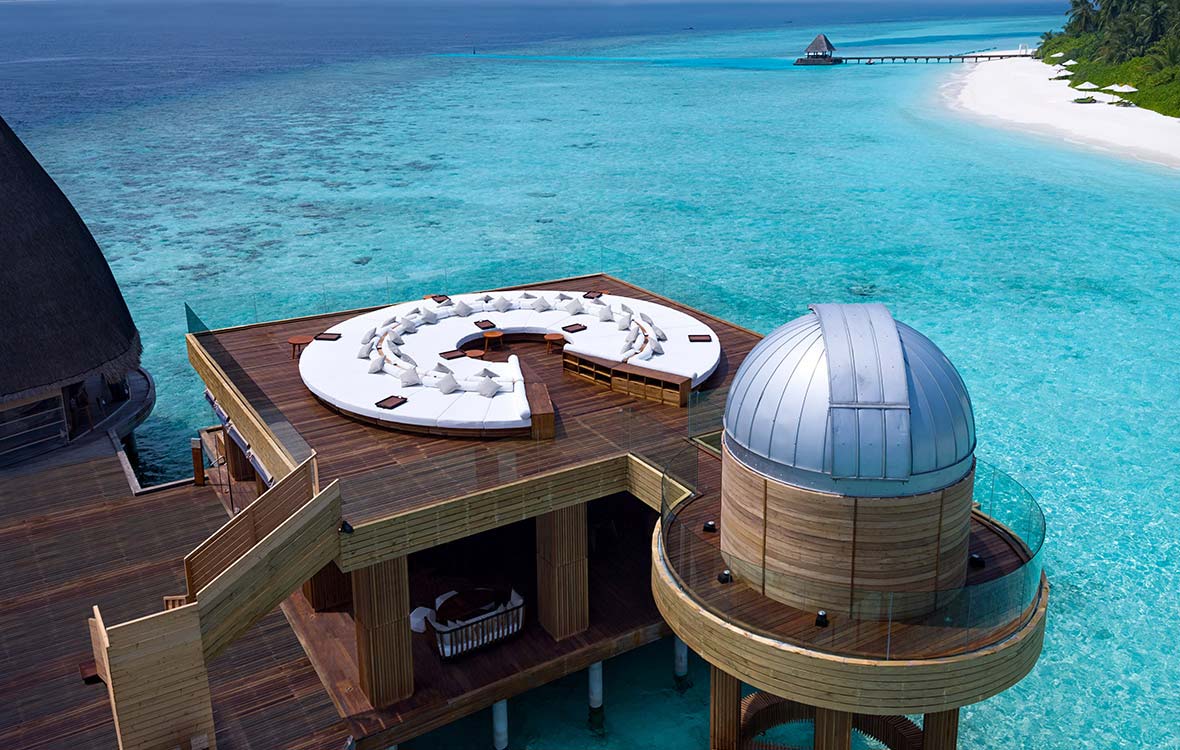 Anantara Kihavah is definitely a Remote Lands favorite. For the stargazing, for the coral, and even for the bathtub. Situated along the Maldives' Baa Atoll island archipelago, the Anantara Kihavah is ideal for a beach vacation and an overwater villa getaway. Private infinity pools, Jacuzzis, and oversized bathtubs are the norm at this resort of 80 spacious accommodations.
The Two-Bedroom Overwater Villa is the resort's largest accommodation and its most luxe. At 2,860 square feet, guests can lounge in an over water hammock, unwind in their infinity pool, or bathe in their expansive bathroom fitted with indoor and outdoor showers and an oversized bath. There is even a small kitchen for privately catered events, and guests can dine outdoors atop their glass-floored sala.
"Personally, I loved the iconic underwater restaurant, Sea, which offers a front row seat to an amazing coral ecosystem; my lunch was elevated by a graceful pair of circling black tip sharks and hundreds of coral fishes swimming outside my window," says Remote Lands general manager and Maldives expert Victoria Hilley.
The centerpiece for stargazers to this island experience is the Sky Observatory, a custom-built Ash-dome observatory that sits on the roof deck of the Sky Bar, featuring a research-grade Meade LX200 telescope mounted on a super-giant field tripod. For nature lovers, there's also an opportunity to adopt the coral around the clear waters of the island, helping to heal the Maldives.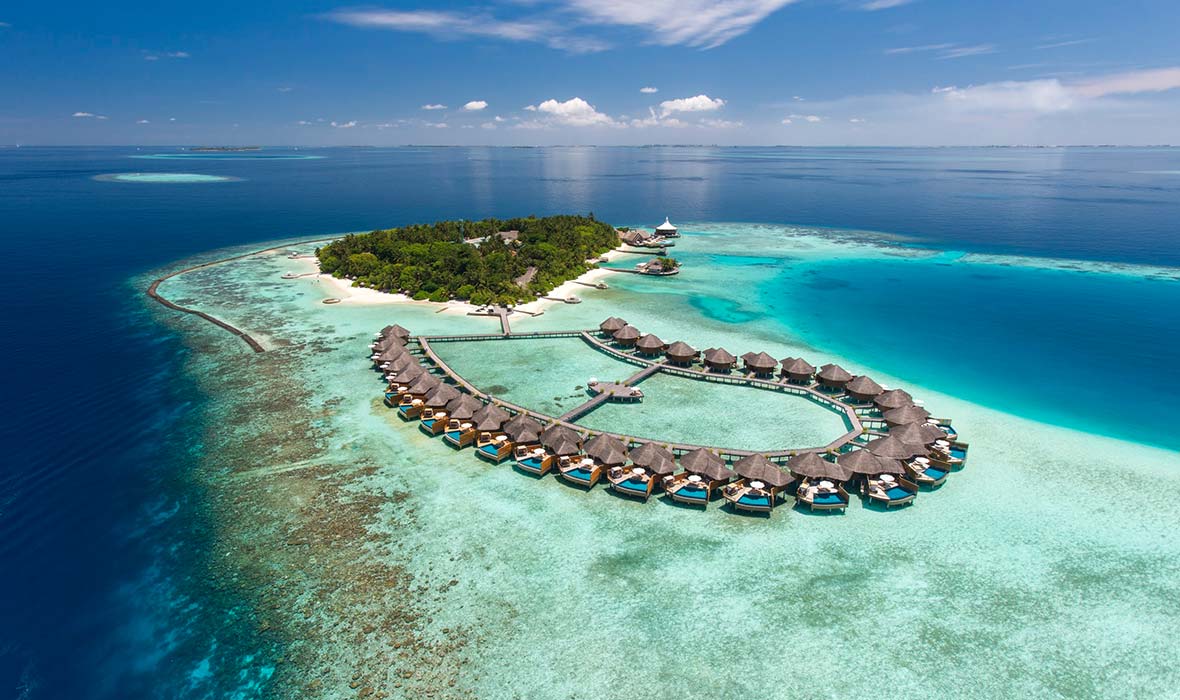 For a pristine, private island diver there is Baros. Its house reef boasts diverse underwater life, and the hotel is within a 50-minute reach of more than 30 unique dive sites. Awarded as Most Romantic Resort in the World for six consecutive years, Baros is an ideal choice for couples, honeymoons, and vow renewals.
"Baros exemplifies the true essence of the Maldives, the heritage and culture that often gets overlooked in the hedonistic Maldives," says Victoria Hilley. "This small island property shines with its warm personalized service and colorful house reef and is perfect for couples looking for a romantic getaway."
The timber luxury villas each have their own private balcony and the Baros Maldives Resort and Spa is only a 25-minute boat ride from the North Male Atoll Airport, making it a great choice after a long plane ride. For an excursion, hop aboard the Nooma, a Maldivian dhoni, for reef snorkelling, sunset sailing, or a dinner cruise for two.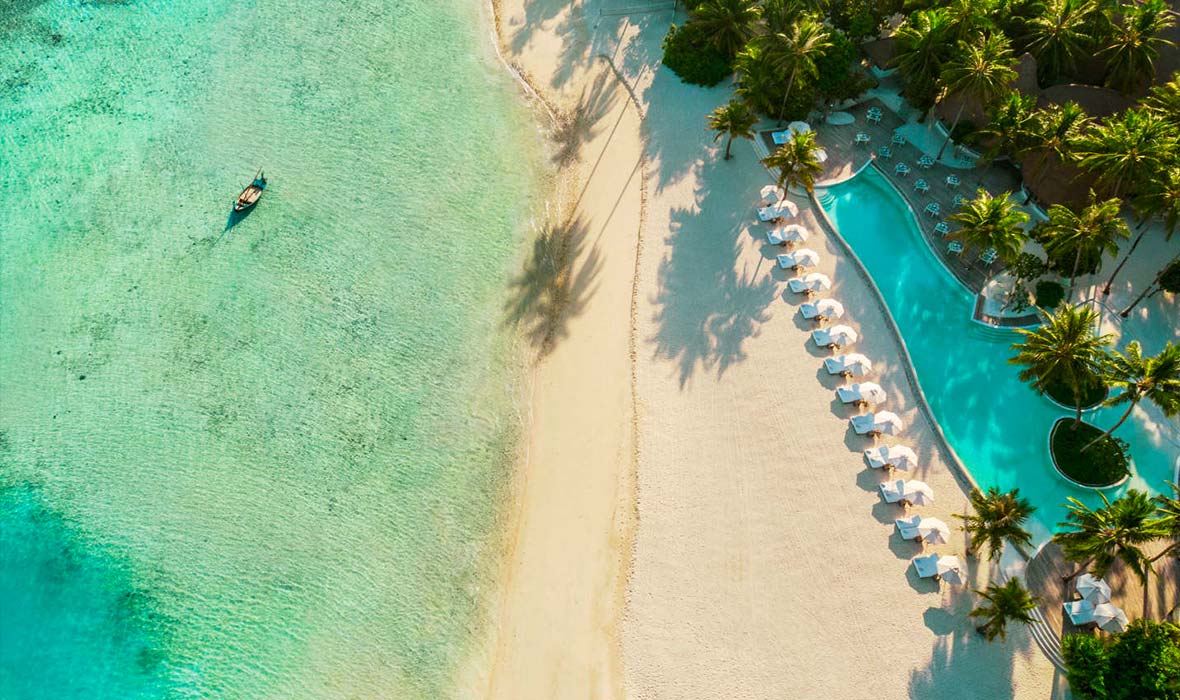 COMO Maalifushi is the only luxury resort in the Thaa Atoll in the southern area of the Maldives, famed for its diving (especially in the winter seasons). Accessible by a 35-minute domestic flight to Thimarafushi Airport followed by a 25-minute speedboat ride, this is about as remote as it gets in the Maldives.
Built with New Zealand pine, floored with teak, and artfully thatched, the accommodations can cater to both families and couples. For families, there are large villas and the splash net cruise — as well as a whole section of the island set apart for kids — and couples can take refuge with the privacy of the Maalifushi Villa at the end of the pier.
"A favorite for families and couples alike, this property offers many two bedroom options, both on land and overwater, making it a great family option. Children can enjoy downtime at 'Play by COMO' while mom and dad are able to enjoy yoga and wellness offerings at the COMO Shambhala Retreat," says Melisa Novick, director of business development at Remote Lands.
For chartered fishing there is the resort's 68-foot Hatteras yacht, "Cameron," which enables exploration of even the farther reaches of the Maldives archipelago. The yacht often sets out from the Thaa Atoll with a skiff in tow, allowing guests to access and fish the skinniest flats to deep inter-atoll channels.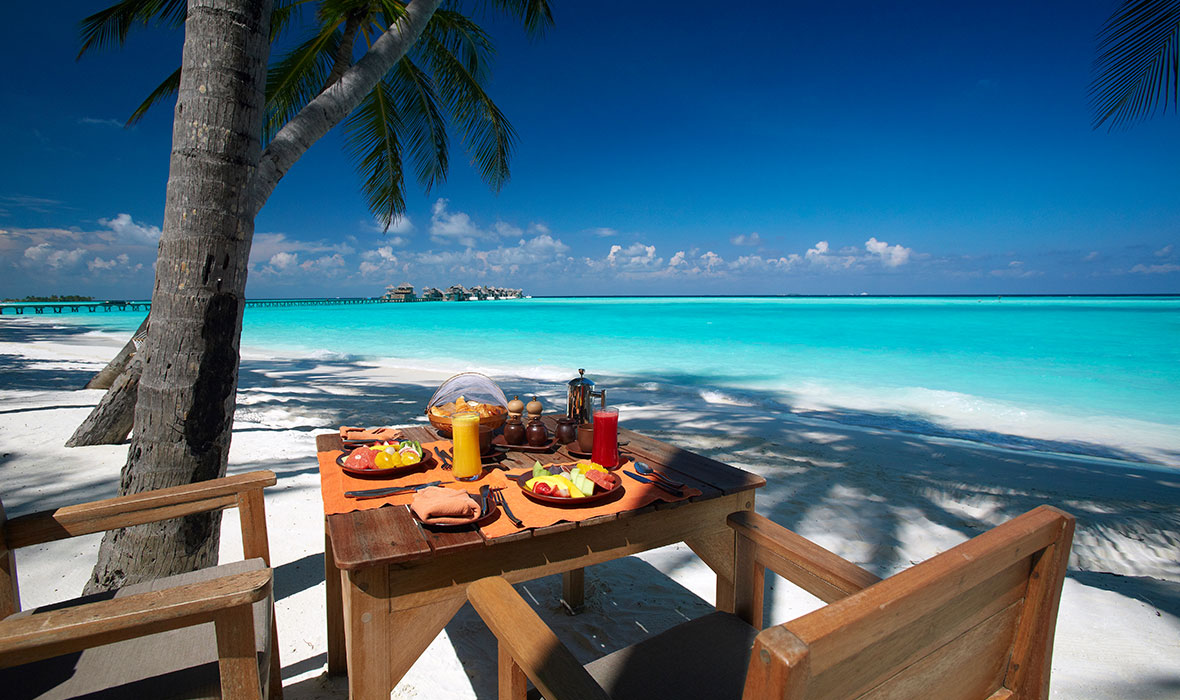 "One of my favorites for honeymooners, Gili Lankanfushi offers an intimate rustic eco-luxury concept with only 45 over-water villas set in a stunning turquoise lagoon." — Remote Lands general manager Victoria Hilley.
Having only recently reopened its doors at the end of 2019 after a fire at the start of the year: new and improved. Gili Lankanfushi is a 20-minute boat ride from Male and is found in the waters of the North Malé Atoll, complete with 45 refurbished villas featuring open-air living spaces, roof terraces, and private decks with direct access to the lagoon below.
Every piece of furniture in the new villas and living areas are custom made by skilled local craftsmen using a variety of upcycled materials, including recycled teak bed frames, lampshades handwoven from recycled wire mesh, and cushion fabrics hand printed with coral patterns. Guests will also have the option to set up rooftop daybeds for an atmospheric night's sleep beneath the stars.
The Family Villas with Pools are a new addition to the resort, featuring two en suite bedrooms, a private swimming pool, and a rooftop terrace. The vast 1,700 square meter Private Reserve is the largest overwater villa in the world and is located 500 meters from the main island. This stay includes four bedrooms, a private open-air cinema, spa, air-conditioned gymnasium, infinity pool, and a two-storey waterslide leading directly into the water.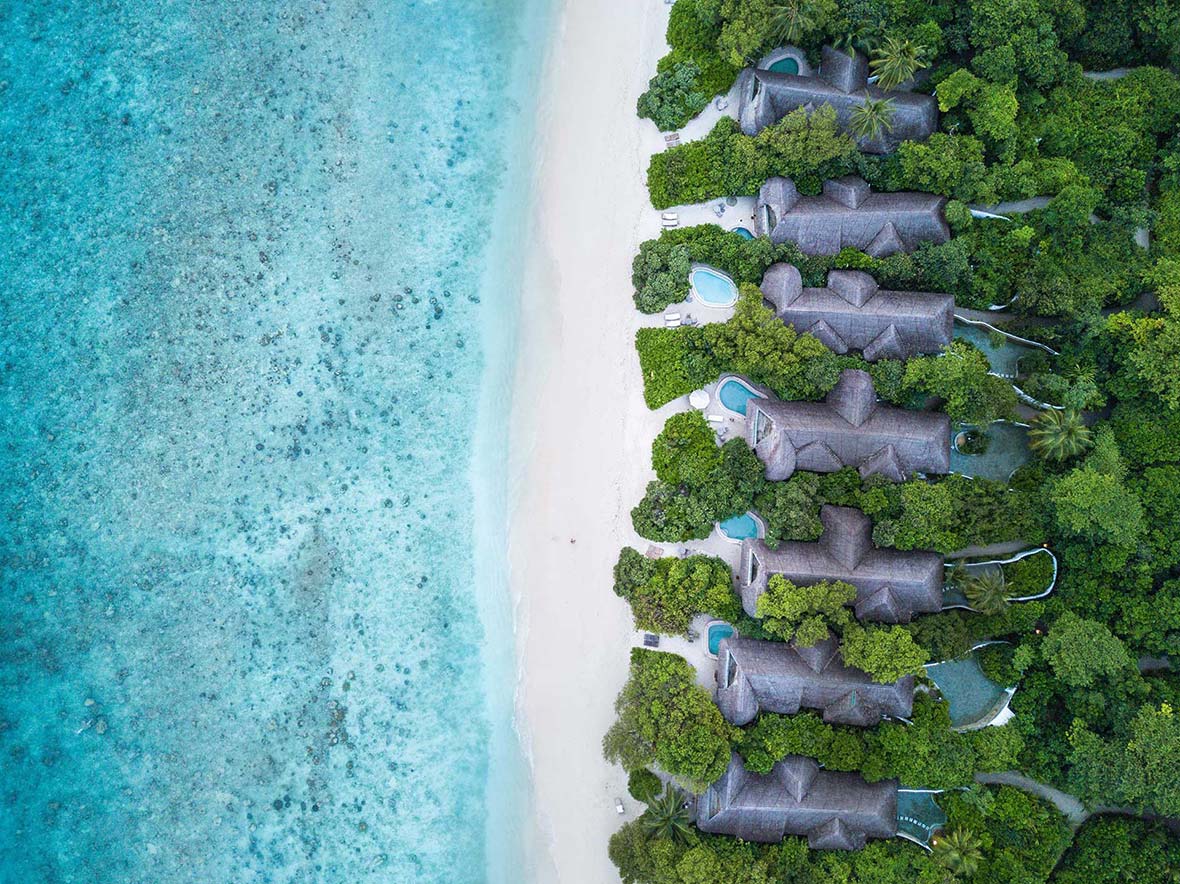 Even for the luxury-resort laden Maldives, Soneva Fushi stands out as a luxurious destination. Soneva Fushi is found on the island of Kunfunadhoo in Baa Atoll, one of the largest islands in the Maldives, reached via a 30-minute seaplane flight from Malé International Airport or a 20 minute domestic flight to Dharavandhoo followed by a 12 minute speedboat ride.
One of the more exceptional elements of the Baa Atoll life are the manta rays in June through October. If conditions are favorable, guests are taken to Hanifaru Bay, located only 20 minutes by speedboat from Soneva Fushi, which has one of the world's largest population of manta rays feeding on the plankton rich waters. For those that would like to dive but prefer to breathe while doing so, Soneva Fushi's Soleni Dive Center's multilingual PADI instructors offer classes for all levels.
"The original 'no news, no shoes' resort, Soneva Fushi is the epitome of relaxed luxury with a 'rustic eco-chic' style. The property offers a mindful approach to wellness and dining, as well as a star observatory and kids' club," says Victoria Hilley.
The accommodations range from the 235-square-meter one-bedroom villa to the nine bedrooms of the 5,540 square meter private reserve. Featuring signature barefoot luxury of Soneva properties, Soneva Fushi also offers an array of dining options, including Sobah's Restaurant from "Best Chef in the Maldives" award winner Chef Sobah.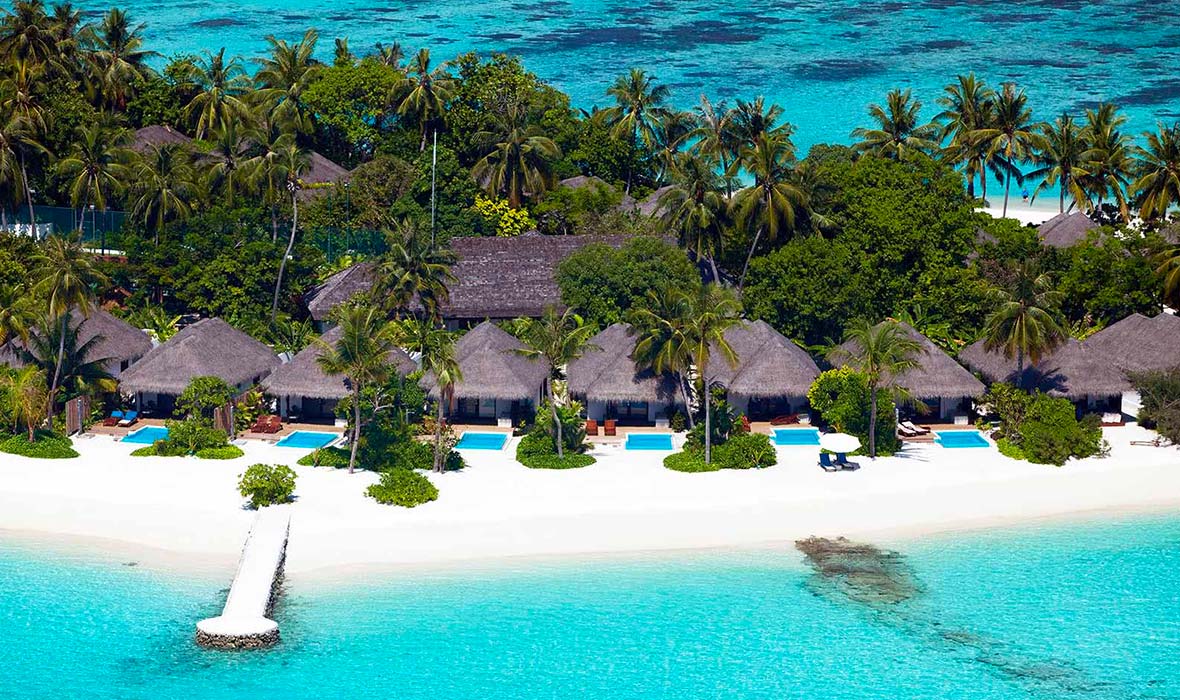 "This is one of my go-tos for the Maldives – affordable and refreshing chic luxury with a wide selection of restaurants and bars. For more good value, I always suggest the 'Indulgence Package' that offers an 'all-inclusive dine-around' and unlimited beverages." — Remote Lands general manager Victoria Hilley
Just a 25-minute speedboat ride from Malé airport, this is a private paradise of fine dining, indulgent spas, and world-class diving and snorkeling.
There are no shortage of room types at Velassaru, but the height of luxury is the Water Suite; arranged over nearly 3,000 square feet, this palatial hideaway is equipped with everything — including a 24-hour butler — the private deck and adjoining infinity pool spans the length of the suite and the separate living space features a cocktail bar.
As with many Maldives resorts, this is all-in-one, so travelers should take extra special attention to try out all the dining. Wake up for breakfast at Vela, have Mediteranean for lunch at Etesian, and finish the night off with a candlelit dinner with Sand on the white beaches of Velassaru. Even with all that, the next day you can stop by Teppanyaki for an overwater dining experience and try drinks at Chill Bar or Fen Bar.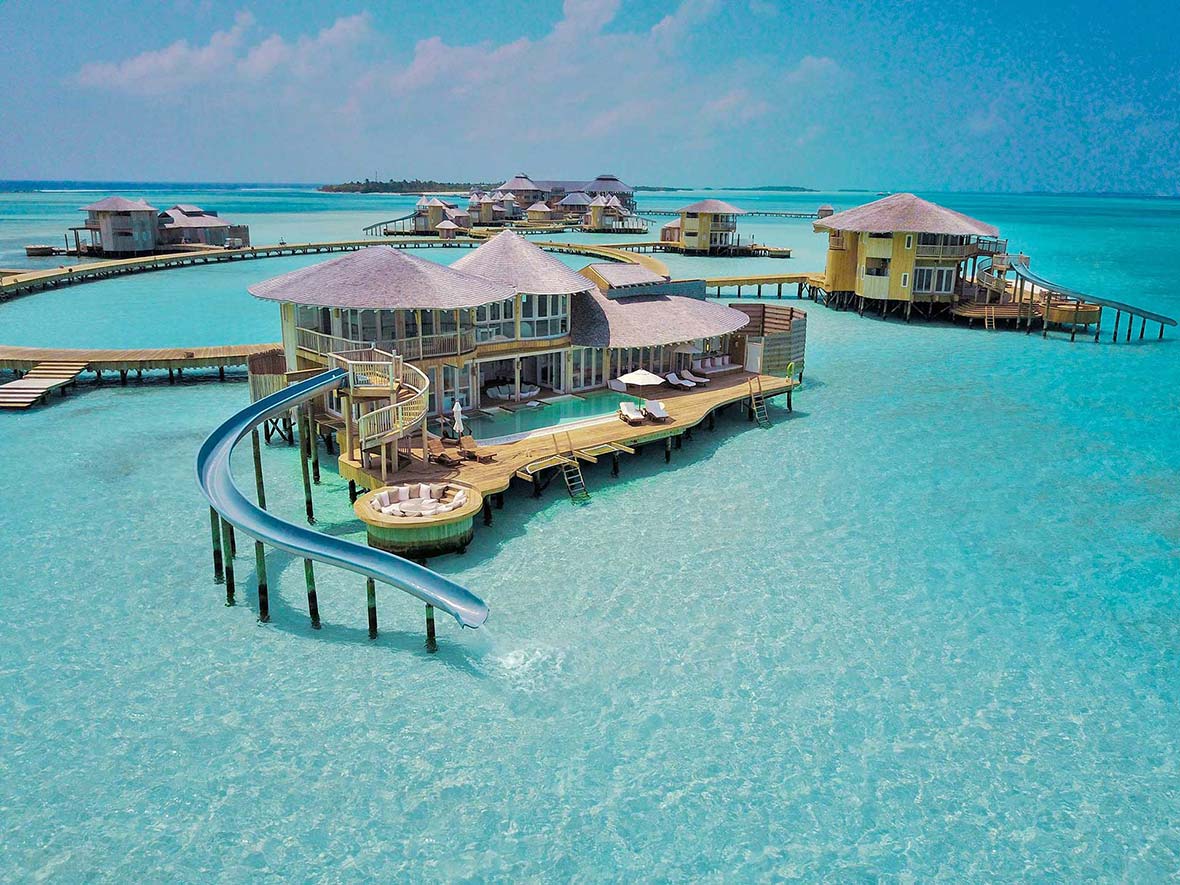 Soneva Jani spans an entire island archipelago and private lagoon. Accessible only by plane, speedboat, or half-day cruise, Soneva Jani is a secluded retreat, in which travelers can choose from seven villas featuring anywhere from one to four bedrooms.
The two floors of the Water Retreat cover 416 square meters, and travelers can even upgrade to a villa with a long slide that shoots down from the top floor into the clear waters below. Guests wanting more space can upgrade to the two or three bedroom Water Retreat Villa which span between 570 to 650 square meters and are also fitted with a retractable roof, private pool with catamaran nets, and a daybed.
"The ultimate in intelligent luxury and mod-cons — Soneva Jani is a play-ground — half of the villas even have giant water slides," says Victoria Hilley. "Here it is about slowing down, relaxing and taking off your shoes to enjoy the fun of the moment."
Both Soneva Fushi and Soneva Jani — well known by fans of the brand — host some very interesting movie nights. If you don't stay long enough to sample the Cinema Paradiso at Soneva Fushi and Jani (or for that matter Soneva Kiri in Thailand), then you're missing out.