On vacation in the Maldives, it's entirely possible to not dine on Maldivian food once, given the international menus at private-island resorts from Anantara and Four Seasons to Conrad Rangali, a region famed for toothpaste-white beaches, crystal-clear waters, and almost 1,200 islands. This is a mistake. Your experience will be all the richer if you take a cooking class: a souvenir that allows you to add a touch of the Maldives to your home.
Food in the Maldives is somewhat reminiscent of the food of South India, similar to regions like Kerala: seafood, coconut milk, curry leaves, and spices. Indeed, this reflects the Maldives' centuries-long history trading with the Arab world, Africa, and the Far East.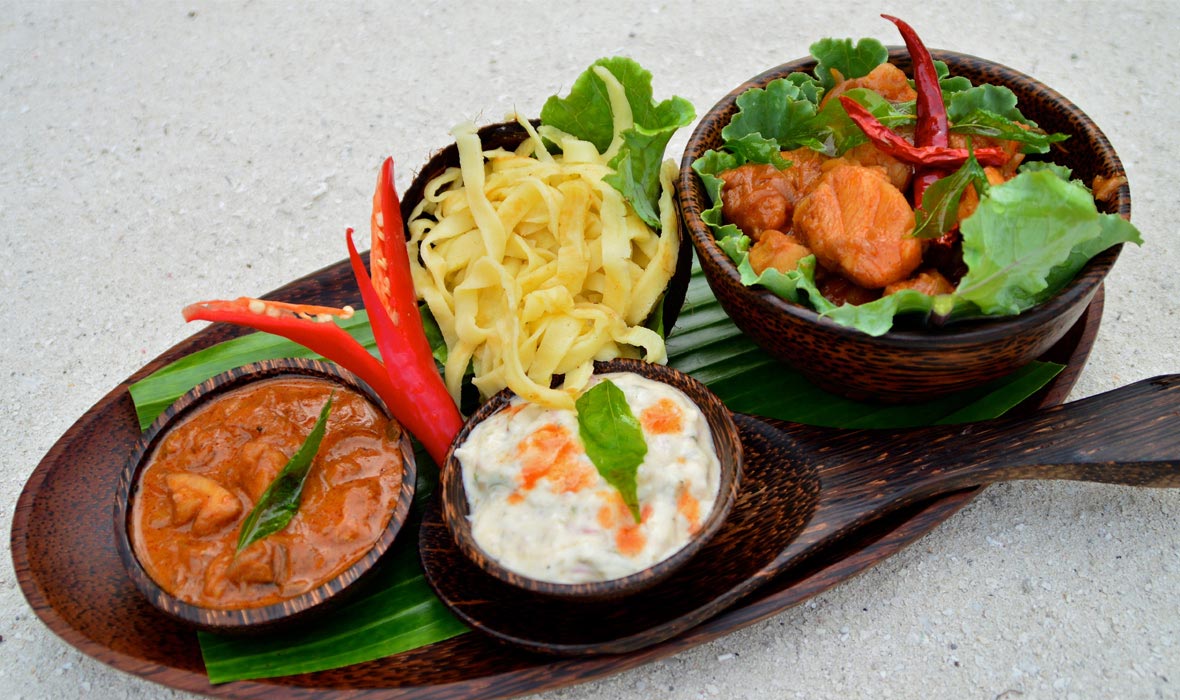 While the original settlers of the are believed to be from India and Sri Lanka, Arab traders first arrived in the 10th century, and the Maldives converted to Islam from Buddhism two centuries later. But the curry in the Maldives visitors find themselves eating is tuna, not South India's shrimp, crab, and meat curries.
Coconuts are in almost every dish, in milk or grated form, since coconut palms sway everywhere on these islands. Curry leaves, by the way, are misnamed. The dark green leaves of a tree in the citrus family with a smoky, citrusy flavor aren't remotely connected to curry, a powdered spice mix made to approximate Indian spices invented by the British.
At Anantara Dhigu, a private-island resort of 110 overwater and beach bungalows in South Male Atoll a half-hour by speedboat south of Male International Airport, the cooking classes begin with admiring a table heaped with beautifully-arranged raw spices and other foodstuffs.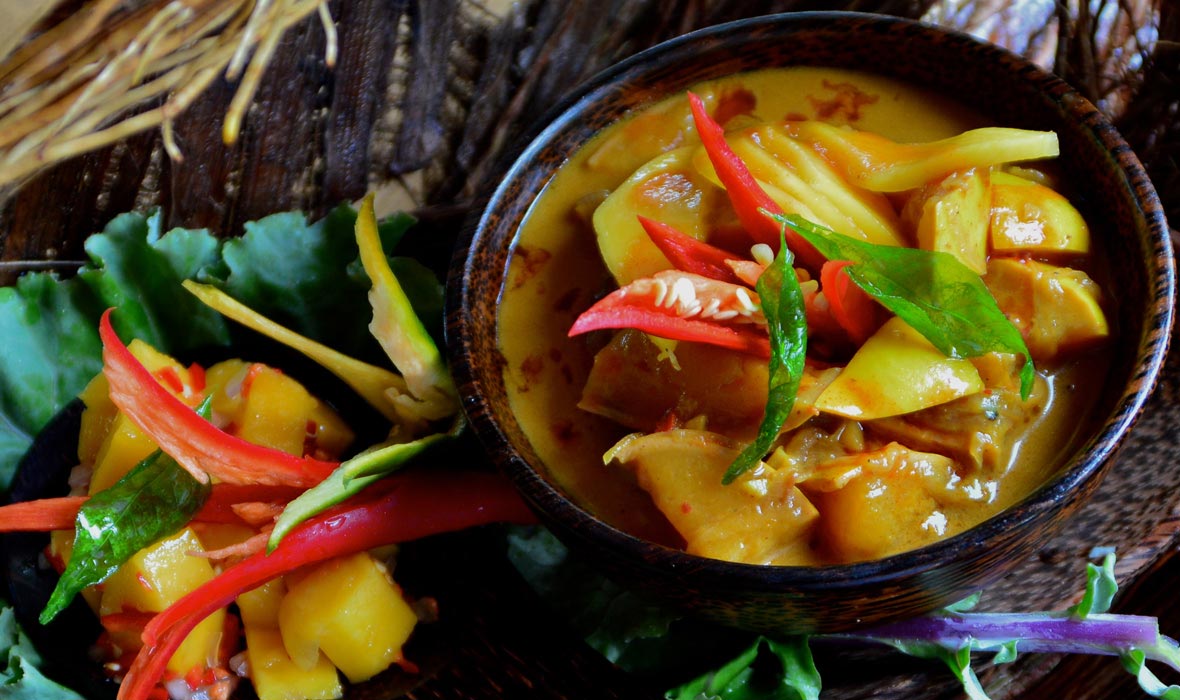 Our class at Spice Spoons Cooking School was actually at Anantara Veli, an adults-only resort of 67 overwater and beach bungalows on a private island just across the water; both share facilities and are in the same lagoon as Naladhu, a private-island resort of just 19 large villas, the lagoon's highest-end Anantara resort.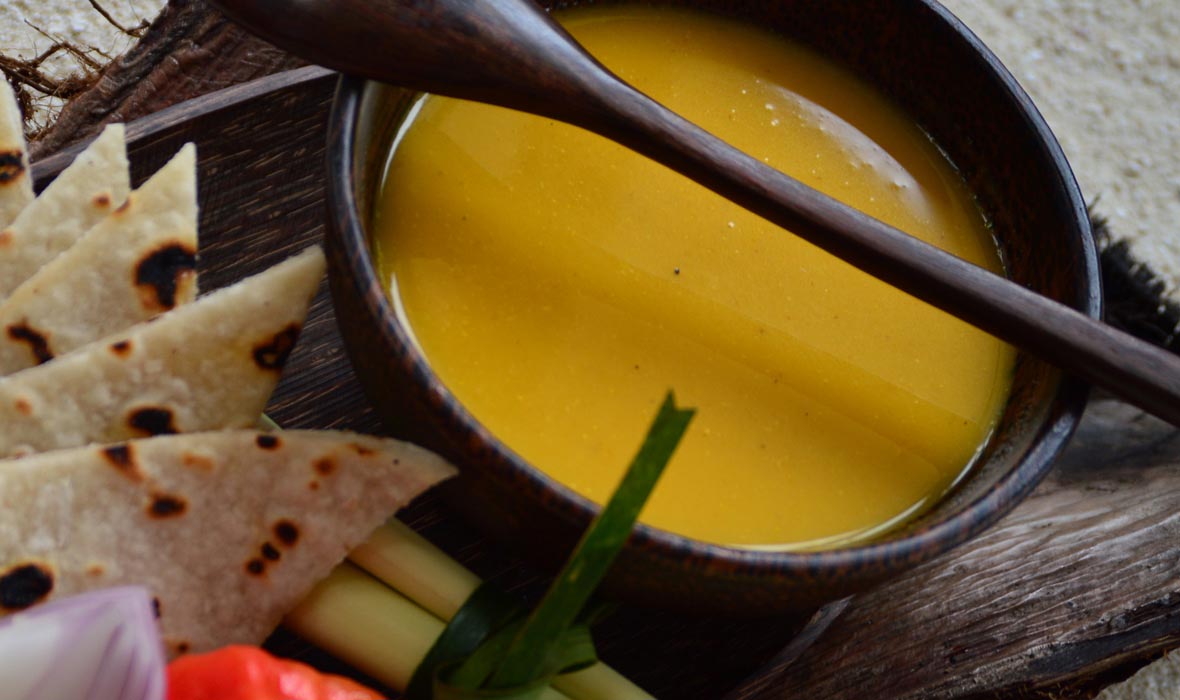 At sperate cooking stations in pairs, we cooked tuna curry in coconut milk, crabcakes (truly crab-rich), and a rice noodle pudding accented by almonds and raisins. Afterward, we dined on the fruit of our labors at an outdoor table a few feet from the turquoise Indian Ocean. Spice Spoons also has a location at Anantara Khihavah Villas in Baa Atoll, north of Male in a UNESCO Biosphere Reserve.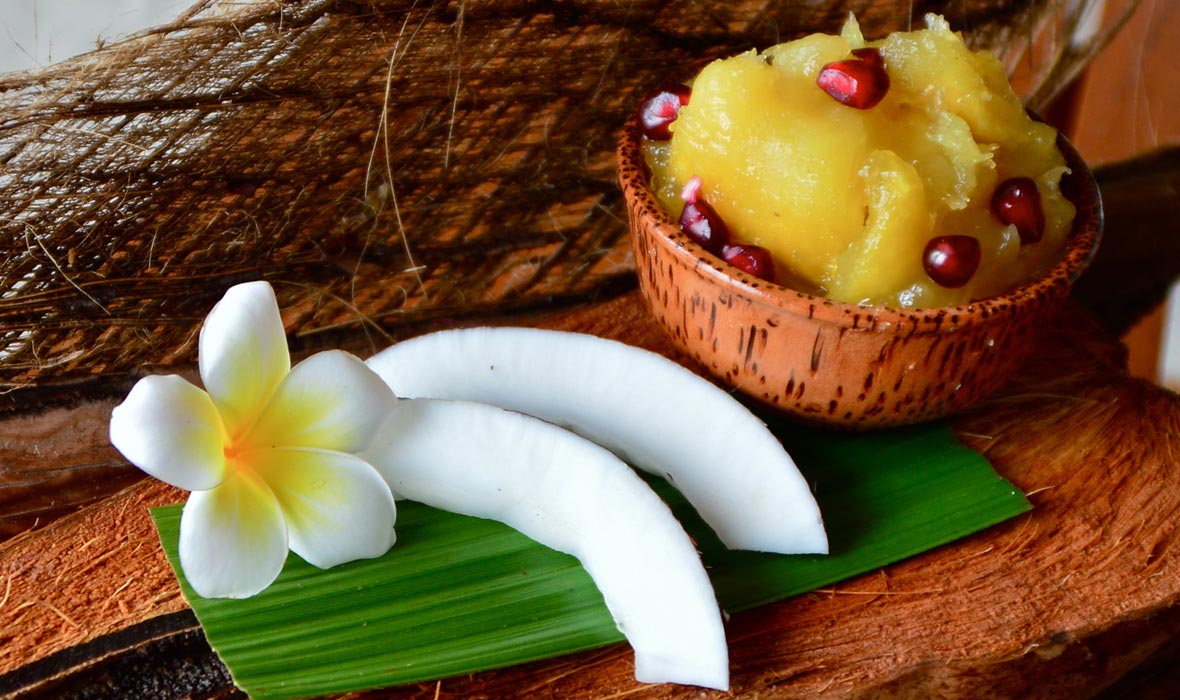 Mango tuna curry, called anbu riha in the local language of Dhivehi, was another dish in the recipe booklet we took home. Other recipes included faana kulhi riha, or grouper curry – made with coconut milk, curry leaves, cinnamon, cardamom, fennel, and green chili peppers – as well as fihunu, a type of grilled fish with black peppercorns, curry leaves, garlic, cumin, onion, and dried chili.
Another useful dish is the green jobfish fillet, a type of snapper native to the Indian Ocean, called hanaa kuri giyulhu mas; it's made with coconut milk, curry leaves, ginger, garlic, onions, chili pepper and turmeric. The dish is often served with coconut milk noodles made of egg and flour, called fenfolhi.
For other Maldivian snacks to watch out fort, don't miss the tapas-like hedhikaa served in homes and teashops. These snacks include bite-sized curried tuna rolls made with smoked chopped tuna, roasted curry powder, lemon juice, onions, ginger-garlic paste, and (of course) coconut milk, wrapped in pandan leaves. Tuna tapas called kandu mahu musamma and bite-sized crabcakes knowns as raih kakuni (with potato, curry leaves, and lemon juice – a dish we cooked – are also favorite snacks.
So, if you've got a taste for coconut and pristine blue water, take some time out of relaxing to learn how to take some of the Maldives back home with you.