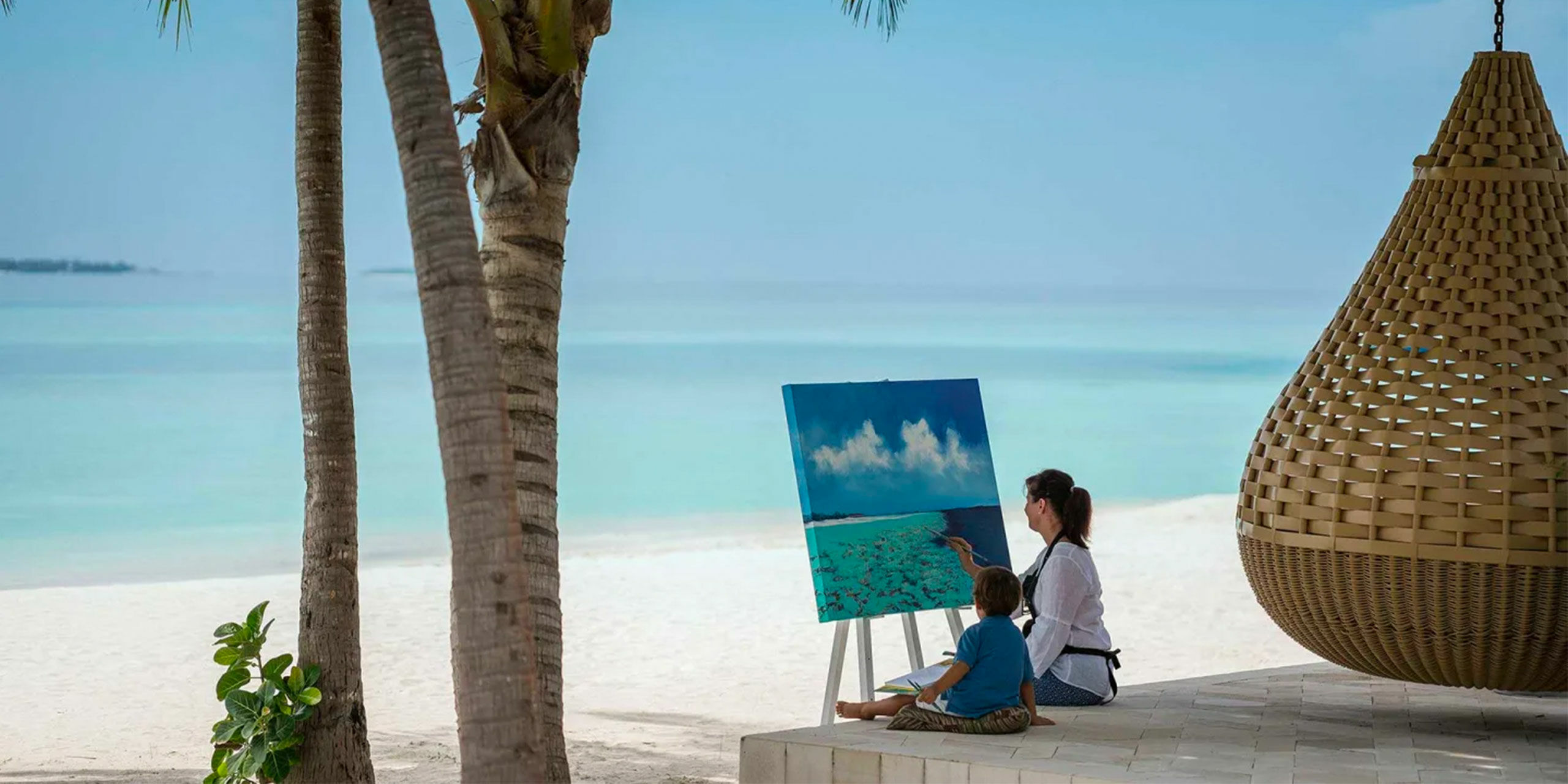 One of the few places in Asia that allow international travelers right now, the Maldives is an oasis of relaxation and an adventure playground all in one — the perfect getaway for the family looking to reconnect and recharge. Remote Lands has chosen five of our favorite Maldives resorts with fascinating ocean adventures, engaging learning experiences, and world-class service that put family first.
ANANTARA KIHAVAH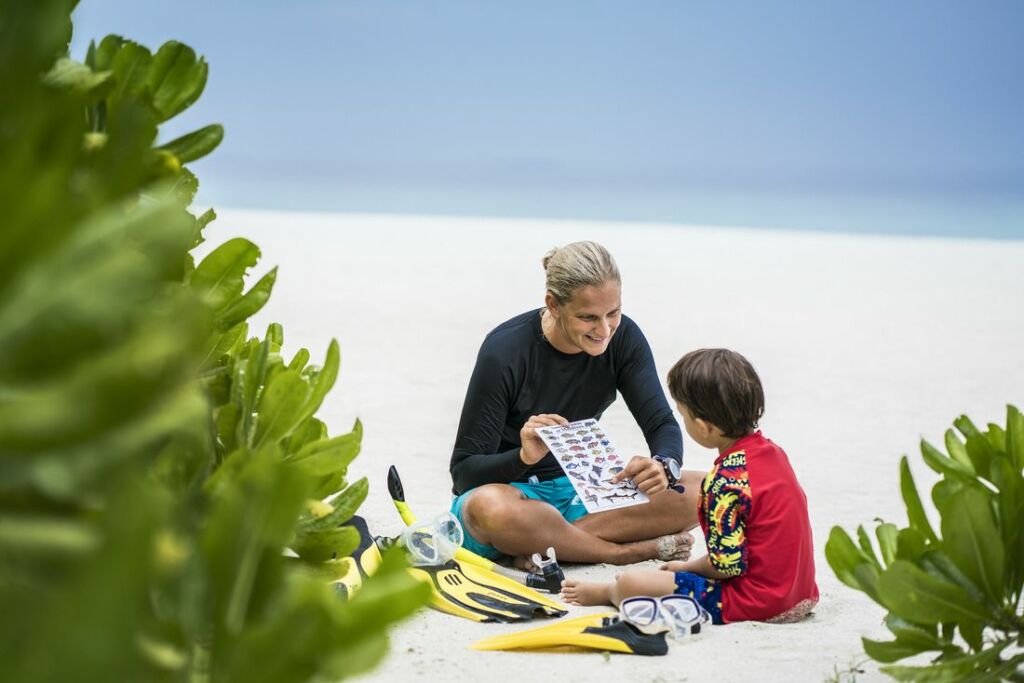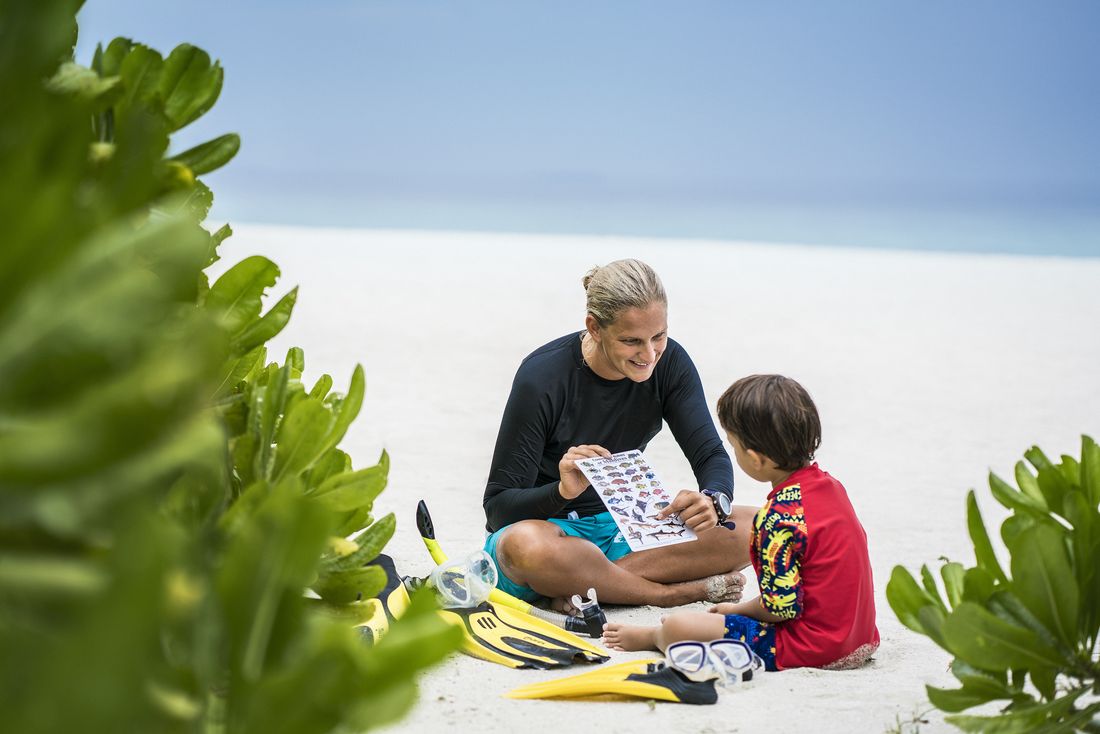 Featuring two, three, and four-bedroom pool beach villas to accommodate families of all sizes, Anantara Kihavah boasts an impressive array of activities for the kids. The little ones can dress as pirates in the Kid's Club and the older children can snorkel or dive to see the colorful fish and sea life of the house reef. After a world-class dinner at the underwater restaurant, Sea, explore the cosmos and learn about the constellations and galaxies with the in-house "Sky Guru" through a powerful Sky Deck telescope.
"Many people consider Maldives as purely a romantic couples destination but it's perfect for families too. From the obvious turquoise waters and white sands, families can truly immerse in quality time together, enjoying activities such as snorkelling, dolphin spotting, or paddle boarding," says General Manager Giles Selves who helms Anantara Dhigu, Anantara Kihavah Maldives Villas, Anantara Veli, and Naladhu Private Island. "The island nation is a great place for children to learn about nature and the vast underwater world including fish, turtles and mantas in their coral habitat, plus charming hermit crabs and herons on the shoreline."
The light pollution-free skies of the Maldives make it the stargazing capital of Asia. From here, the family can experience the yellow rings of Saturn, the counter-rotating belts of Jupiter and the 300,000 stars that make up the Messier 13.
For stars of a different kind, guests can indulge in the Cinema Under the Stars, a fun, family-friendly outdoor movie experience with comfortable bean bag chairs, cushions, and popcorn.
COMO MAALIFUSHI
With a safe, shallow swimming lagoon and a choice of Beach Suites and Villas, COMO Maalifushi is ideal for families with younger children. Play by COMO is designed to inspire creative play for children aged four to 12 in a comfortable environment.
A wide range of exciting experiences are available including turtle snorkeling with a marine biologist, catamaran sailing lessons, dolphin watching and sushi making classes. Tropicsurf's Turtle Club Play also offers a learn-to-surf children's programme every day, an ideal way for youngsters to discover a new, healthy hobby in a safe, educational environment.
THE NAUTILUS MALDIVES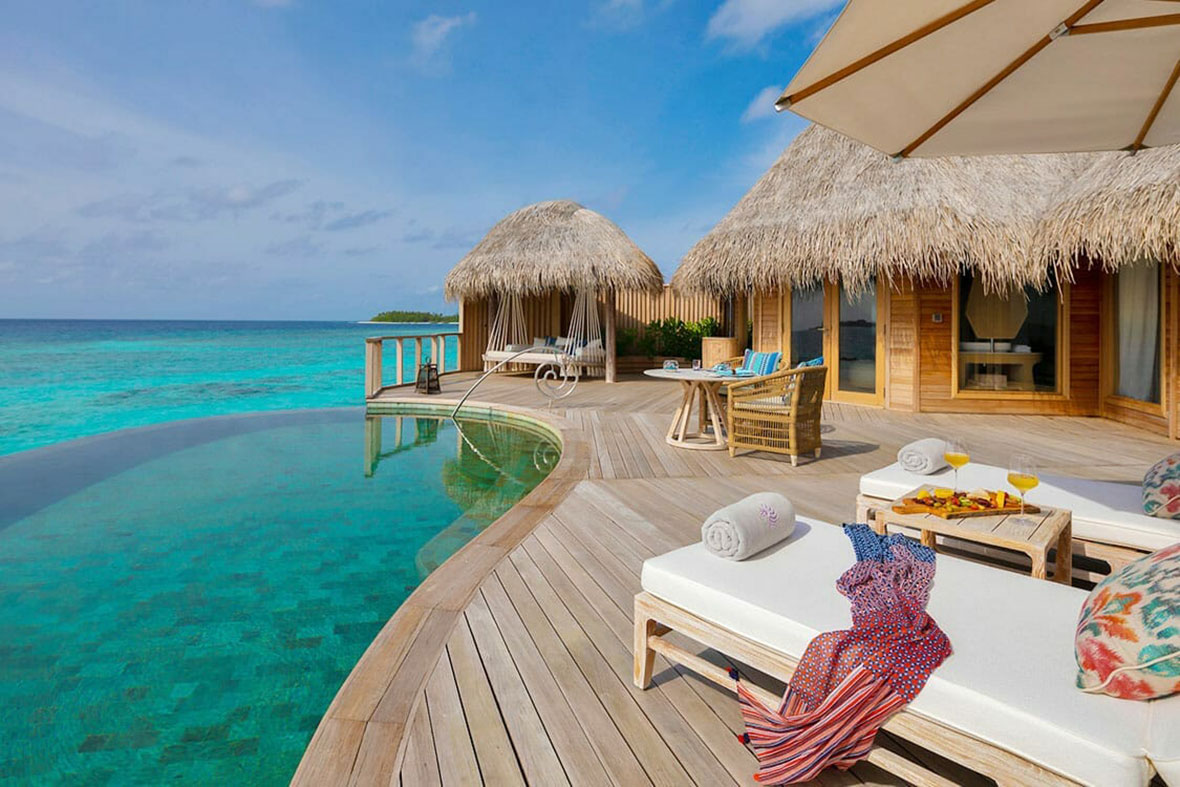 At the Nautilus Maldives, a wide array of activities have been designed for families with kids of all ages. The Nautilus' Underwater World features sea bob safaris and scuba diving in the UNESCO Biosphere Reserve, and there's even a mermaid photoshoot for Instagram-happy teenagers.
Younger travelers can avail themselves of the Young Wonderers program, working with a personal House Master to ensure their time on the island is rich in cultural and educational development. Parents will want to check out The Nautilus Maldives' new adrenaline rush skydiving program jumping out of a plane from 12,000 feet above into the Indian Ocean.
ONE&ONLY REETHI RAH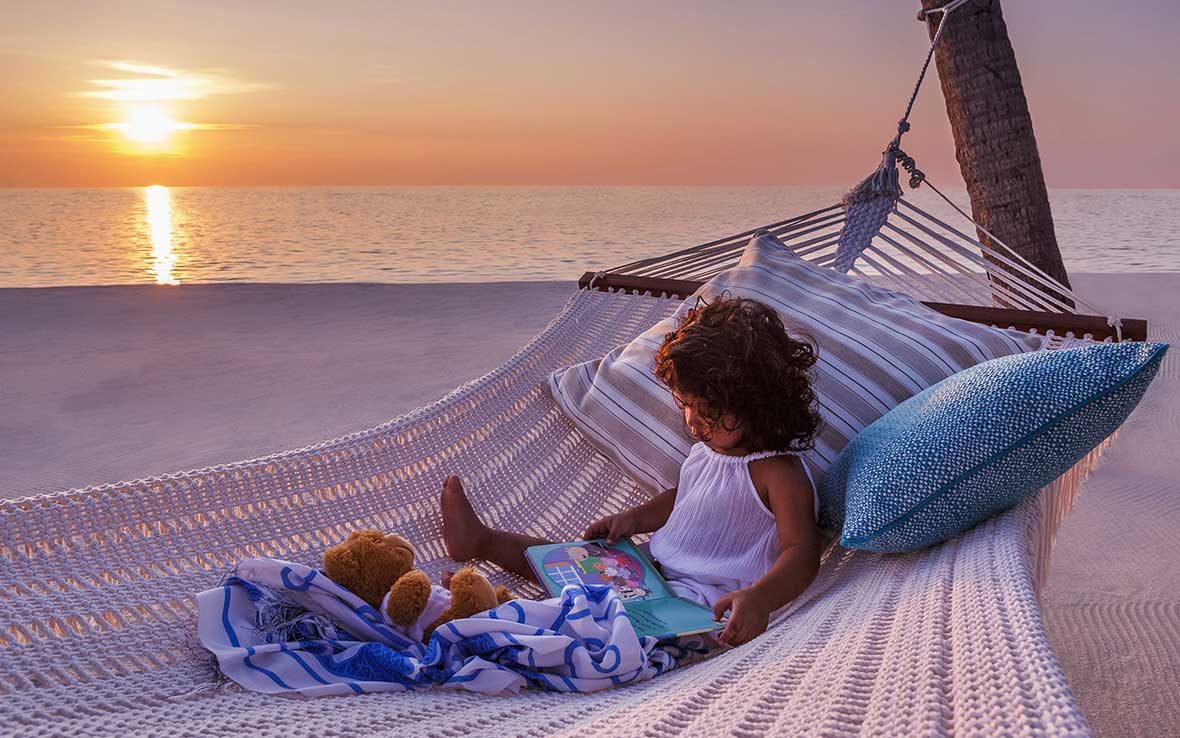 The super-stylish One&Only Reethi Rah is a Remote Lands favorite. In addition to being home to the only National Geographic Dive Center in the Maldives — providing intrepid guests with dives of the reefs and wrecks of the Rasfari Marine Area — the resort hosts 12 beaches and 40 different pools, including a large freeform infinity edge swimming pool next to Reethi Restaurant.
"The Kids Buddy programme is curated to focus on every child's individual characteristics, with activities and experiences specially designed for active, cognitive and creative minds," a One&Only Reethi Rah representative tells Remote Lands. "One&Only Reethi Rah's villas and residences are ideal for families – giving each family more space, while keeping everyone together."
Endless adventure awaits with whale shark expeditions, snorkeling with manta rays, ocean kayaking and banana tubing. Younger children can enjoy KidsOnly's arts and crafts and creative play while tweens can discover island inspired activities or chill out at OneTribe.
SONEVA JANI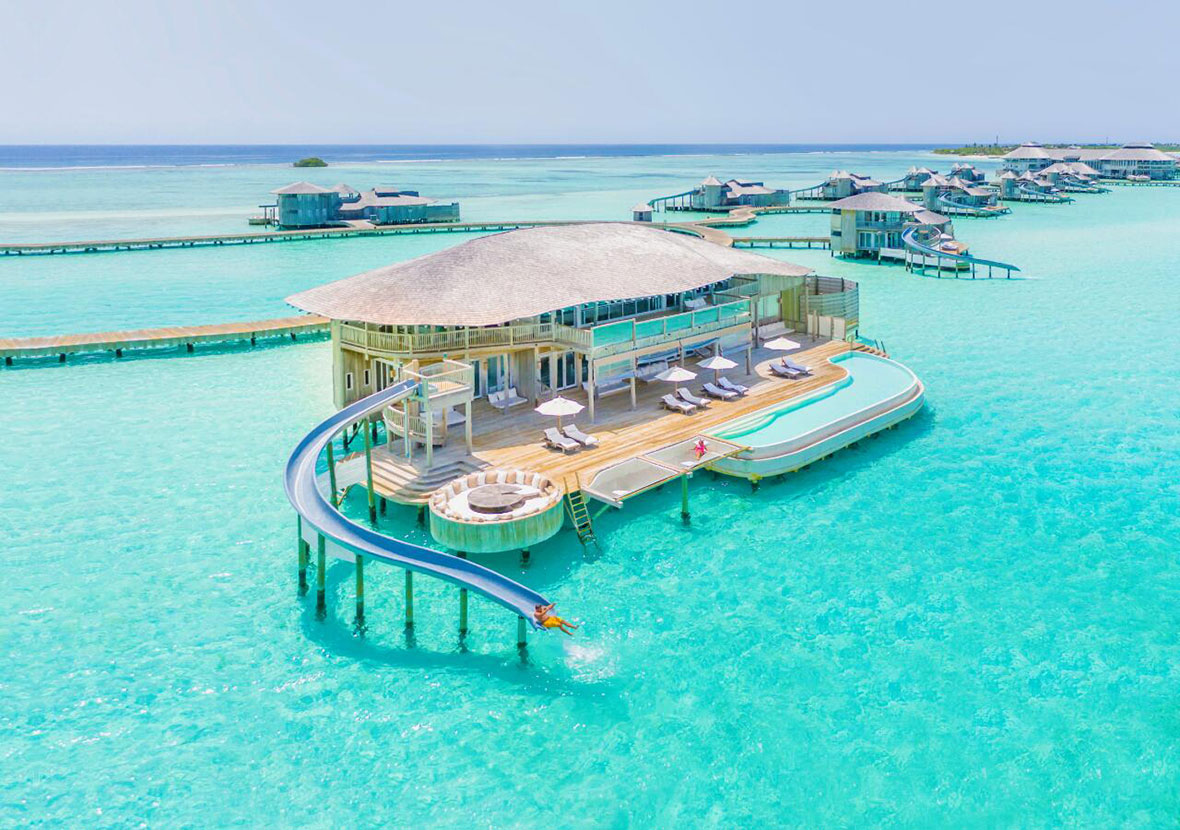 From the white powder sands to uninterrupted blue ocean views, Soneva Jani is barefoot luxury at its best — a place for the family to indulge while having tons of fun (oh, and did we mention the water slides?). Family activities bring out everyone's inner child, from The Willy Wonka style fantasy of never ending chocolates and homemade ice cream, to the "silent" Cinema Paradiso on the beach. For an unusual Robinson Crusoe learning experience for ages 12-15, cruise to an uninhabited island to learn how to pitch a tent, make a bush toilet, fish for your lunch, snorkel a real 17th century French shipwreck — and produce a short GoPro film about your amazing adventure.
"At Soneva Jani, our family facilities offer an array of things to do for children of all ages. Our young Soneva guests can explore the island itself or learn about our natural environment by land or sea," Frederic Brohez, General Manager at Soneva Jani, tells Remote Lands. "They can also visit the Mini Den kids' club with lots of interactive games and adventures for them to enjoy. Many of our restaurants are also family-friendly, allowing guests to enjoy quality time and reconnect as a family over a shared meal — our Crab Shack is particularly popular with families!"
The Mini Den is a technology-free zone for young guests to learn and play (without their phones and tablets). In Soneva's chocolate room, the little ones can sample complimentary cardamom chocolate truffles, passion fruit pralines, chocolate cake, and a continually changing profusion of confections.