Vietnam is a country of contrasts, with a rich history and background that keeps travelers visiting time and again to its various cities, each of which offer a different variety of experiences. This is also true of the cuisine, where each region has a speciality that has been honed over the years to make them experts in their chosen culinary delight today. Let us show you there is so much more than Pho by taking you on a journey through Vietnam via what's on the plate!
Like any nation with a rich culinary tradition, food plays a vital role in Vietnamese culture. Whether it is in the preparation or the consummation of their tantalizing range of ingredients, the pleasure of food is a serious undertaking, and cherished recipes passed from generation to generation has created a gastronomic legacy which is unsurpassed within the region.
The Vietnamese tradition is built around a vibrant range of staple ingredients including rice, coconut, ginger, garlic, chilies, lashing amounts of fish sauce and the fragrant flavours of freshly picked herbs. These are often paired with small pieces of meat, fish and poultry which may be stir-fried, steamed or even stewed in clay pots to create exotic dishes with a distinct Chinese influence. The people of Vietnam also have an appetite for less typical proteins and are as happy chowing down on dogs, frogs, field rats, snakes and monkeys as they are beef, chicken or pork. This adventurous taste is shared with their former colonial overlords – the French – who are famous for their willingness to comb the Gallic countryside in the hunt for new taste sensations. It is in fact this European connection which introduced tomatoes, peanuts, coffee, yogurt and butter into the Vietnam's cuisine… not to mention baguettes, which the country has adapted upon to create a version unique to themselves.
Unlike Western cooking, which espouses a philosophy of mixing and combining ingredients to create a new palette of flavors greater than the sum of its parts, the Vietnam method follows the yin-yang concept to create bold and contrasting dishes often built around the five flavors of sweet, sour, salty, bitter and, most importantly, spicy. Adherents of this style of cooking claim it is necessary for a healthy body and balanced mind, and studies have indeed found that the Vietnamese maintain one of the healthiest diets on the planet.
Regional cuisines differ according to the climate and availability of local products. The abundance of rice, fresh fruits, vegetables, coconuts and sugarcane is reflected in the dishes of Southern Vietnam, which are often spicier while also emphasizing sweet and sour flavors. The influence of French cooking is most evident here in the South, where Bánh Mi (crispy baguettes filled with pate, pickled salad and succulent meats) are the preferred street food.
Moving north into Hue, you will discover more refined dishes – a custom that goes back to Emperor Tu Duc. As a noted gourmand and lover of new taste sensations, who had both the standing and the cash to feast on the finer things in life, he would demand as many as 50 ostentatious and complex dishes for every single meal! Even now, restaurants in Hue have a preference for more extravagant menu items than the rest of the country. The cooler climate in the central region is also an influence for heavier dishes that feature thicker noodles and spicier broths.
Northern Vietnam has even colder weather and has thus produced pho – the hearty dish likely to be Vietnam's most famous edible export. This spicy beef broth – served with wafer thin slices of meat, rice noodles and finished with zesty herbs – is a phenomenon that has taken the world by storm over the last 20 years. The North is also home to bun cha – grilled pork patties served over rice vermicelli, herbs, and a nuoc mam-based sauce – and cha ca – grilled fish accompanied by rice vermicelli, liberal amounts of dill and other herbs, lettuce, peanuts, and the ubiquitous dipping sauce. North Vietnamese also use less meat, focusing more on fish and vegetables, and unlike the prevalent chili of the South, heat is provided by the incredible local black pepper.
Let's have a closer look at some of the unique dishes specific to each region in Vietnam.
Saigon & Hue – Bánh xèo
Literally translating to "sizzling cake", these delicious fried crepes are an extremely popular street food, lending their base from rice flour and their bright yellow color from turmeric powder. Vendors of these flavorsome pockets can be found all over Saigon, where they are stuffed with either grilled pork or shrimp, lettuce, and herbs. Hue has its own version which are often called "Happy Crepes". Both are served alongside the ubiquitous fish sauce condiment, nước chấm.
Danang – Mì Quảng
Mì Quảng is often served for breakfast, where thick-cut, freshly-made noodles are mixed with roast pork, garlic and herbs. The bowl is further boosted with a healthy dose of river shrimp, quail eggs, peanuts and a final topping of broth, providing enough energy to keep you going all day. Mì Quảng has many variations, and dishes may sometimes variate between chicken or beef.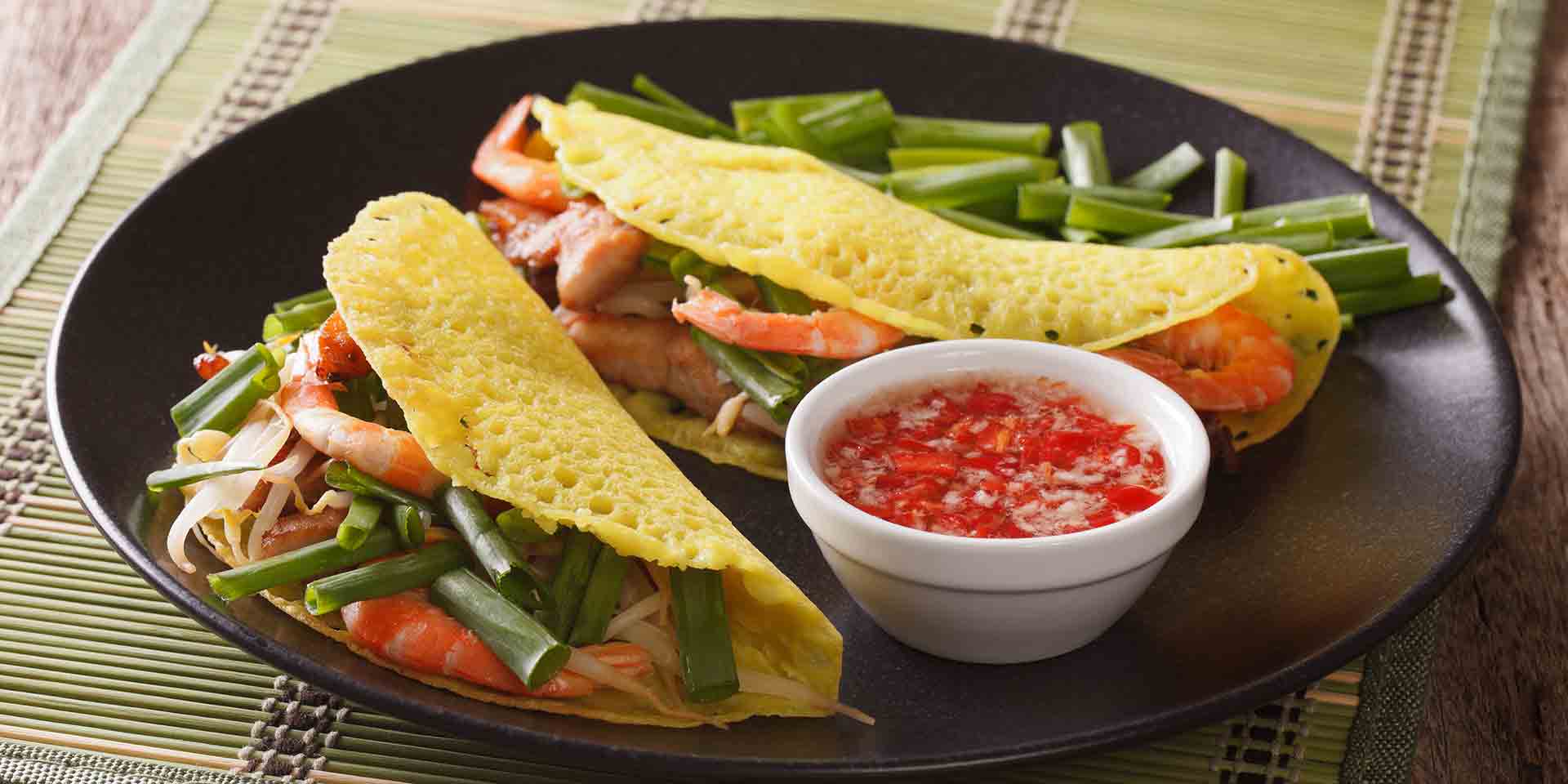 Hoi An – Cao lầu
Cao lầu is the preeminent dish of Hoi An; comprised of signature cao lầu noodle (made only from the youngest and freshest rice), strips of barbecue pork, pork crackling, bean sprouts, lettuce and herbs, topped off with a ladle of savory stock. This uniquely flavored dish is – despite its appearance – distinct from the usual influences of the Japanese and Chinese in the region, and its origins remain an enigma to this day.
It is said this mysterious dish cannot be truly made anywhere other than Hoi An, as recipes state the water used must be drawn from the nearby Ba Le well. It is this water, mixed with ashes, that provides the singular taste and texture of the noodle which has made Cao lầu so sought after.
Ba Ria-Vung Tau – Bánh khot
Another example of the Vietnamese predilection for stuffed pancakes, Bánh khot is here prepared with rice, herbs and a sweet/spicy fish sauce. These are combined with coconut and griddled to produce a rich and creamy crepe which is then topped with shrimp and spring onions. The Bánh khot is not dissimilar to the Thai street food dessert khanom krok in concept, although the flavorings are rather different.
With your whistle stop tour of the hearty and exotic fare of Vietnam's different regions, you could consider yourself a mini expert on the delights of this spectacular country. However you might find that with such a broad and diverse range of culinary delights on offer through the country, there are endless concoctions, recipes and variations on time-honored classics, so venture forth and explore beyond the cities to discover menus of indescribable pleasure.