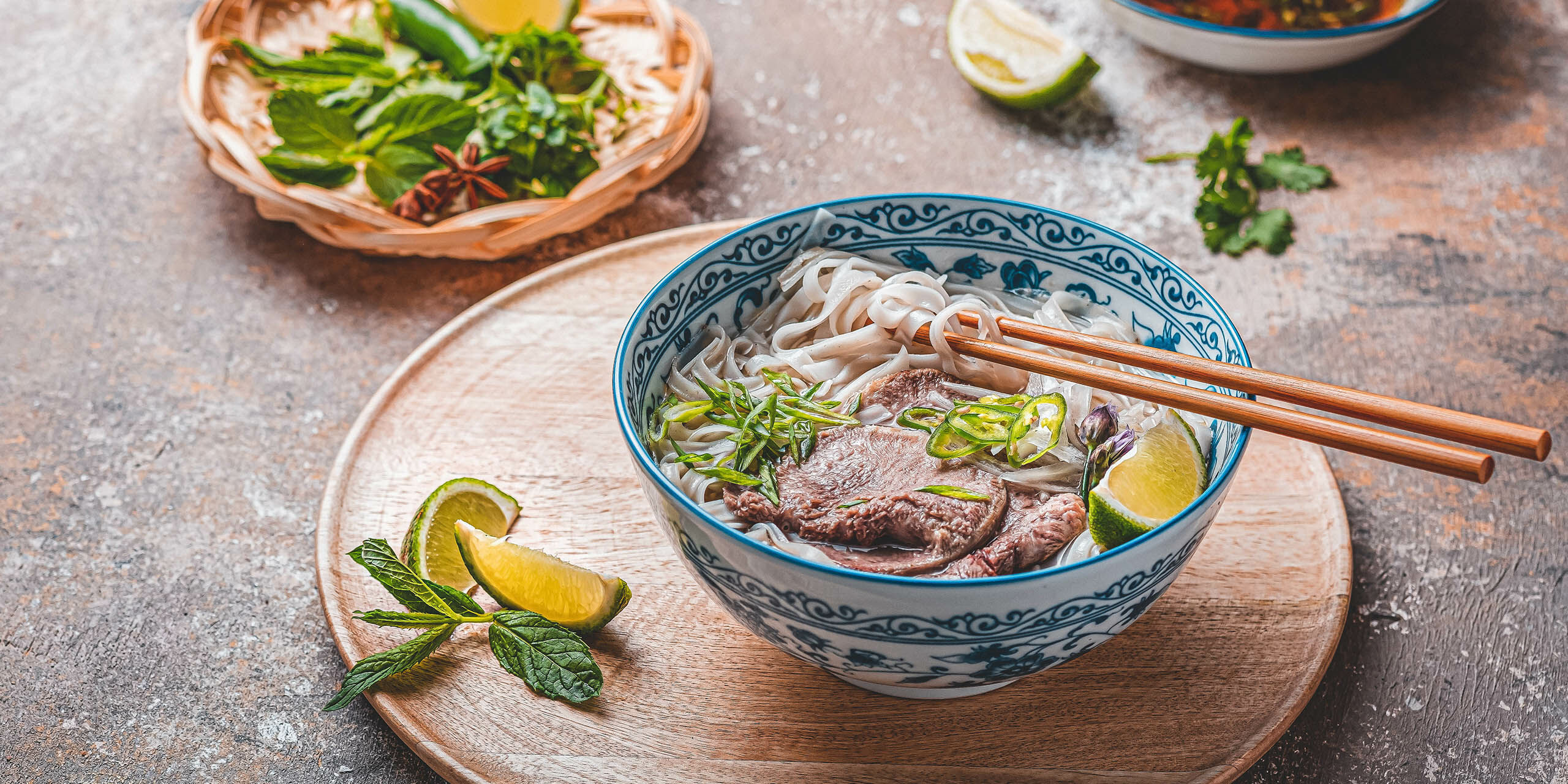 The clock has barely struck 6.30 am. And Hanoi's Old Quarter is already a hive of activity.
It's especially lively at Pho Gia Truyen on the city's Bat Dan Street, where a mob is forming around a stern-looking matron taking orders and shouting instructions from behind a giant steaming cauldron.
Illuminated by a couple of naked light bulbs that cast a sickly pallor on the bare white walls and utilitarian metal tables, the venue is not much to look at.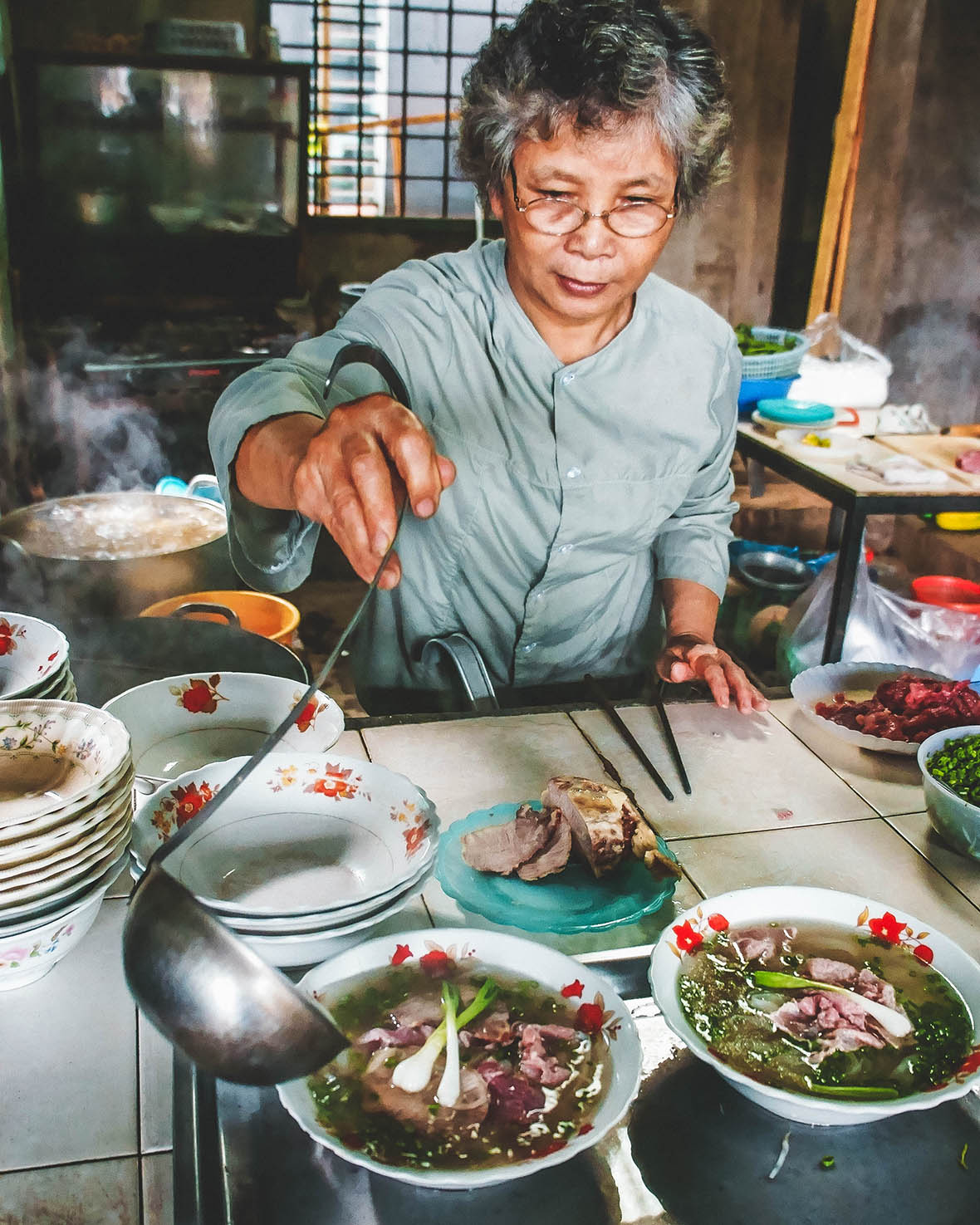 It's not the décor or the levels of charming service that draws in breakfast crowds. Rather it's the perfectly rendered bowls of beef noodle soup, regarded by many as among the finest in the city.
As the caretaker of the cauldron shares barked exchanges with the waiting hordes, one silent accomplice fills bowls with springy rice noodles and chopped scallions while another carves strips of ruby red beef from hulking slabs of brisket suspended from hooks behind the counter. Behind them, diners slurp their soup in reverential silence while others consume their bowls perched on their motorbikes outside.
People from Hanoi guard their traditions fiercely. Therefore, it is no surprise that — even as the 1000-year-old city continues to modernize and evolve to meet the changing requirements of the Starbucks generation – pho remains so integral to the morning ritual in the Vietnamese capital.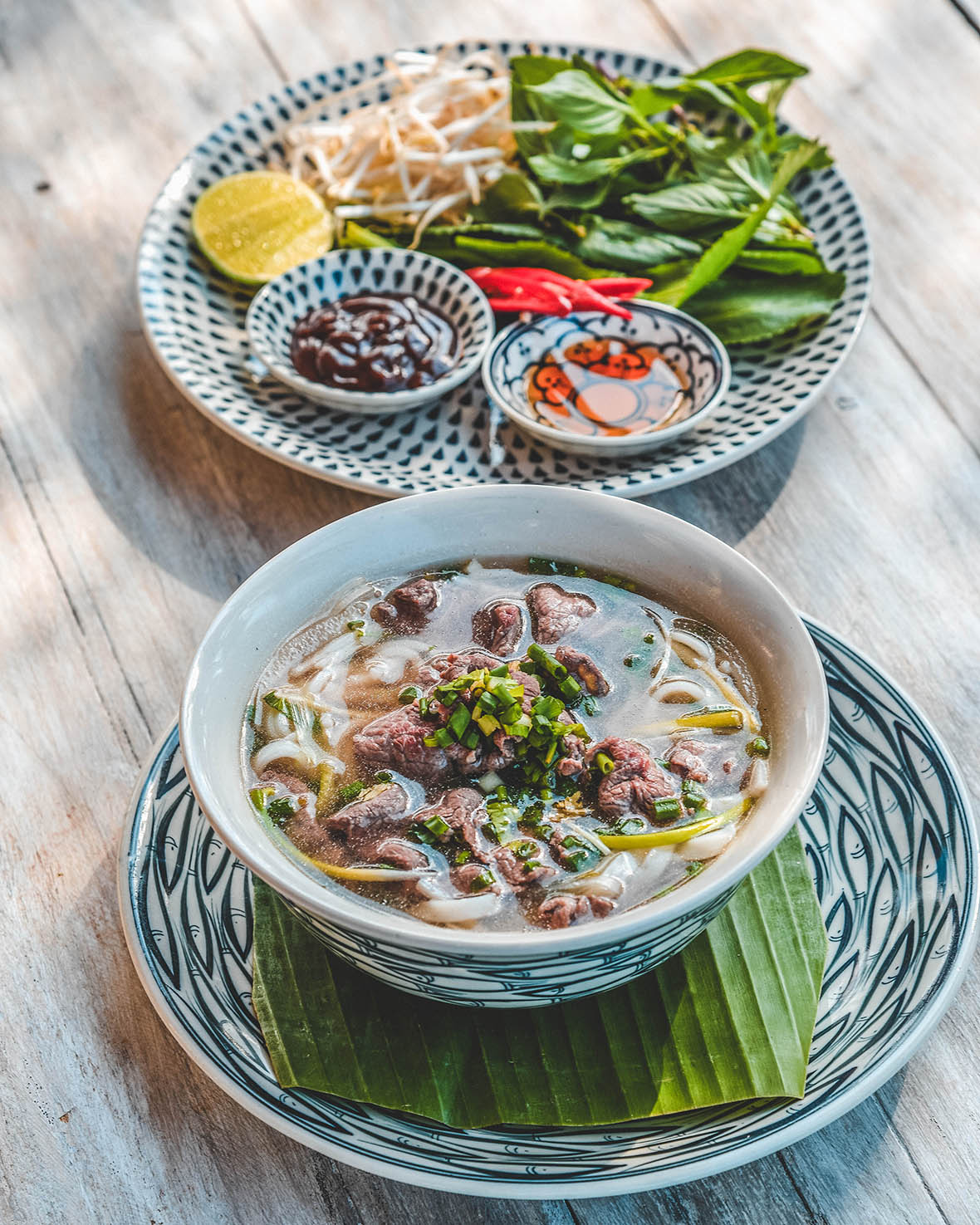 "Pho represents many things to Vietnamese people," says author Andrea Nguyen. "It's food, but it also represents the resourcefulness of local cooks who took beef scraps left by the French colonials and turned it into something delicious and accessible to everyone.
"There are Chinese influences in the spice seasonings and noodles. However, in totality, pho is purely Vietnamese. It is an amalgam of ideas and it is also customizable to each diner's needs. The dish is the perfect metaphor for the Vietnamese quest for self-determination."
Certainly, the trials faced by Vietnam during its tumultuous 20th Century helped intertwine the dish with the national psyche.
Originating in the French colonial period, it became a symbol of nationhood during times of war, privation, and national reconciliation. So synonymous is it with Vietnam, it surprises many that pho is a relative baby in historic terms.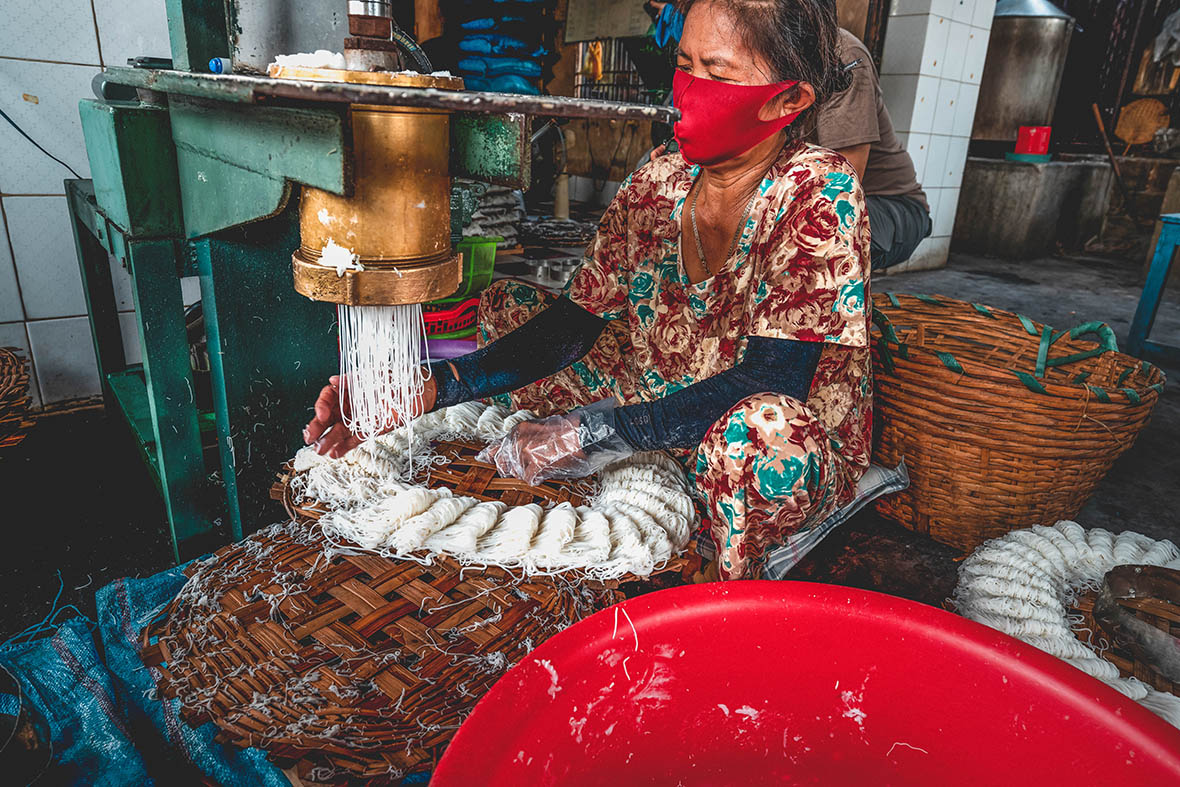 Its roots can be traced to just outside Hanoi in the province of Nam Dinh. Yet while Nam Dinh is believed to be the geographical cradle of pho, few would dispute that Hanoi is its spiritual home.
It was in the capital that the intersection of several historical and cultural factors led to the popularisation of the noodle soup. The ball started rolling in earnest at the end of the 19th Century during the peak years of French colonialism.
French demand led to greater availability of beef. This produced a surplus of beef bones. And these deepened and perfected the flavor of the Nam Dinh broth.
By this time, pho was gaining serious traction in the capital. It had evolved from a noodle soup called xao trau, a simple dish made with slices of water-buffalo meat cooked in broth with rice vermicelli. Buffalo meat was swapped for beef and round rice noodles were added. Thus, the humble – verging on austere – classic Hanoi take on pho was perfected.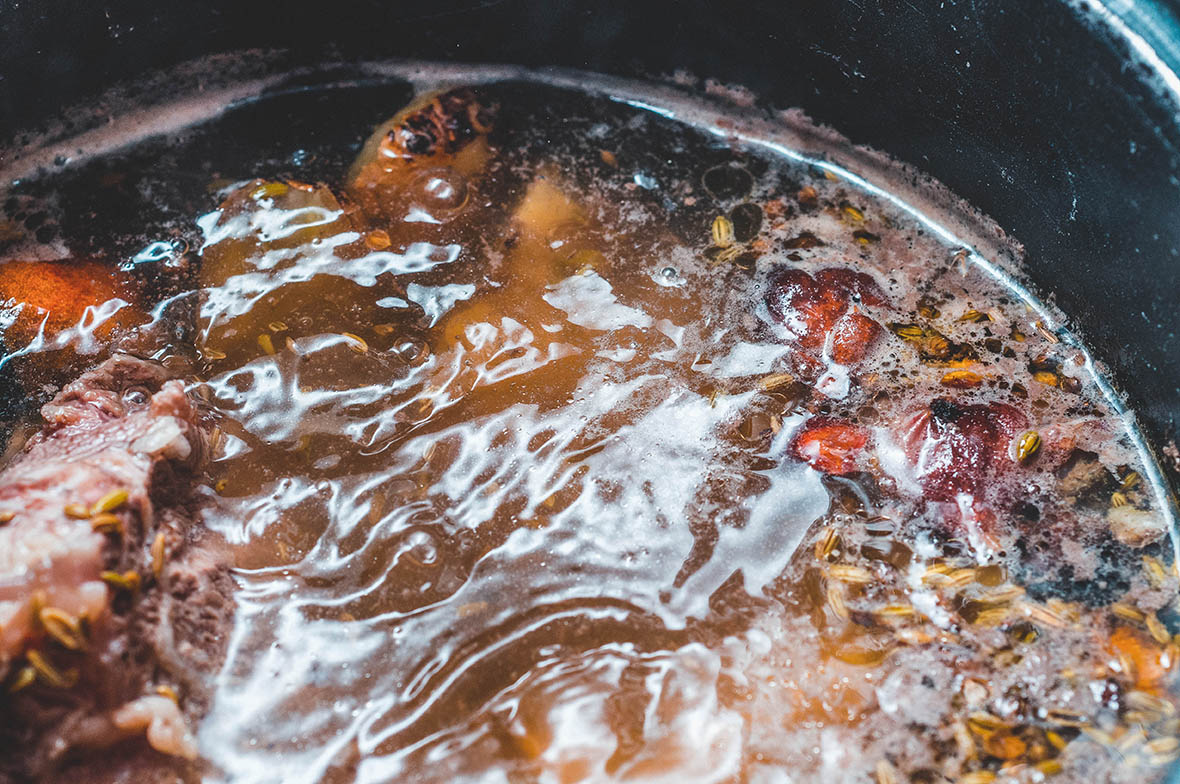 Beef bones, flank steak oxtails, charred onion, charred ginger, and spices including star anise, cinnamon, cloves, black cardamom, and coriander were used to make the slow cooked broth. Garnishes were limited to some fresh chili slices and a few herbs. Migrant workers from the Chinese provinces of Yunnan and Guangdong loved it due to its similarity with dishes from back home. Vietnamese, meanwhile, grew equally enamored.
By the 1930s, ganh pho – roaming vendors shouldering mobile kitchens on bamboo poles – had become a ubiquitous sight in the streets of the Old Quarter.
Since then, pho has been entwined with the national psyche. In his poem "An Ode to Pho", poet Tu Mo celebrated the subtle flavor of the soup and its egalitarianism as a dish loved by both rich and poor.
Like Vietnam itself, the dish has undergone some impactful changes. Privation during hard times resulted in some pretty meager bowls of soup hitting the streets. The most divisive shake-up occurred following the country's partition in 1954 when pho moved south along with millions of northerners.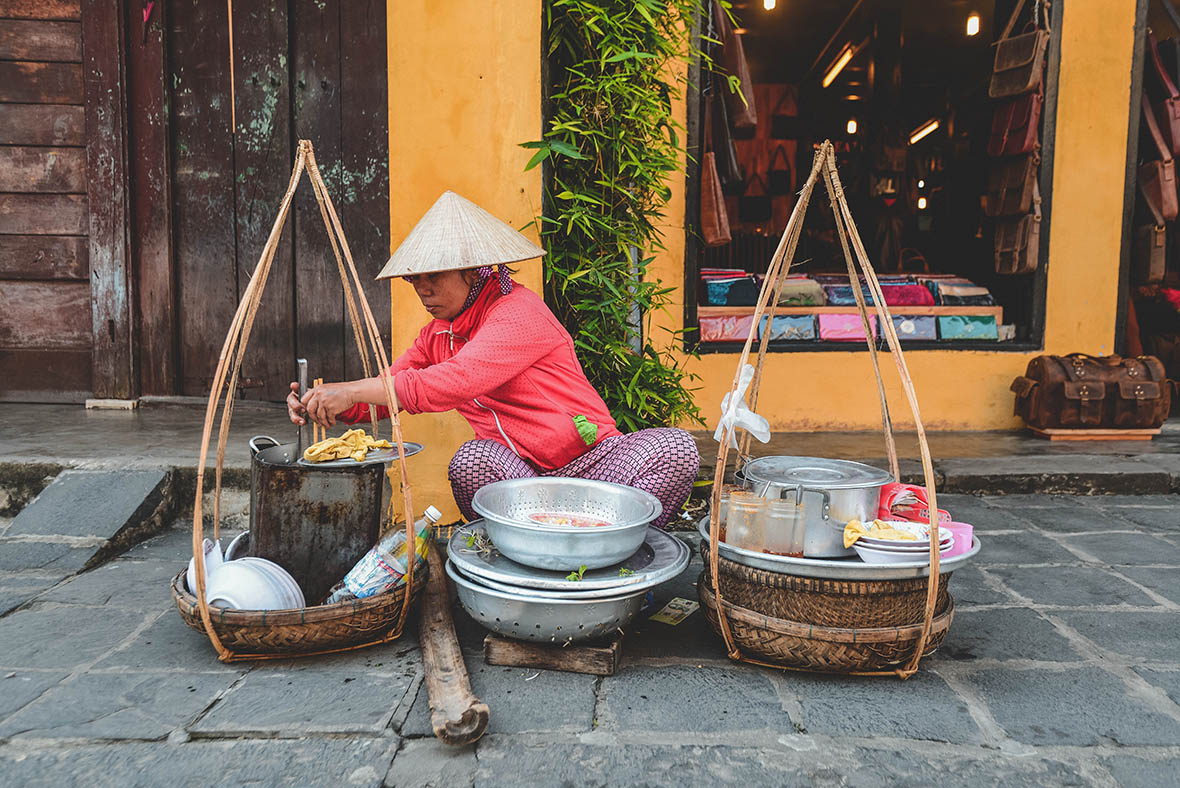 Unshackled in this southern land of plenty, chefs started sweetening their broth and accessorizing with a hedge-load of herbs and other blasphemous (to die-hard northern traditionalists at least) additions like hoisin and chili sauce. This "broth-off" continues with pho purists erring towards simpler Hanoi pho.
While the debate over the identity of Vietnam's best pho still rages, the dish hasn't evolved all that radically since the early years.
Different cuts of meat have been brought to the table. Instead of a simple broth with boiled beef, diners can choose from a range of beef cuts including rare beef (tai), flank (nam), brisket (gau), and tripe (sach), tendon (gan), and meatballs (bo vien). The invention of chicken pho (pho ga) in 1939 caused ructions for a while. But, by and large, pho has stayed true to its original tenets. After all, why mess around with a good thing?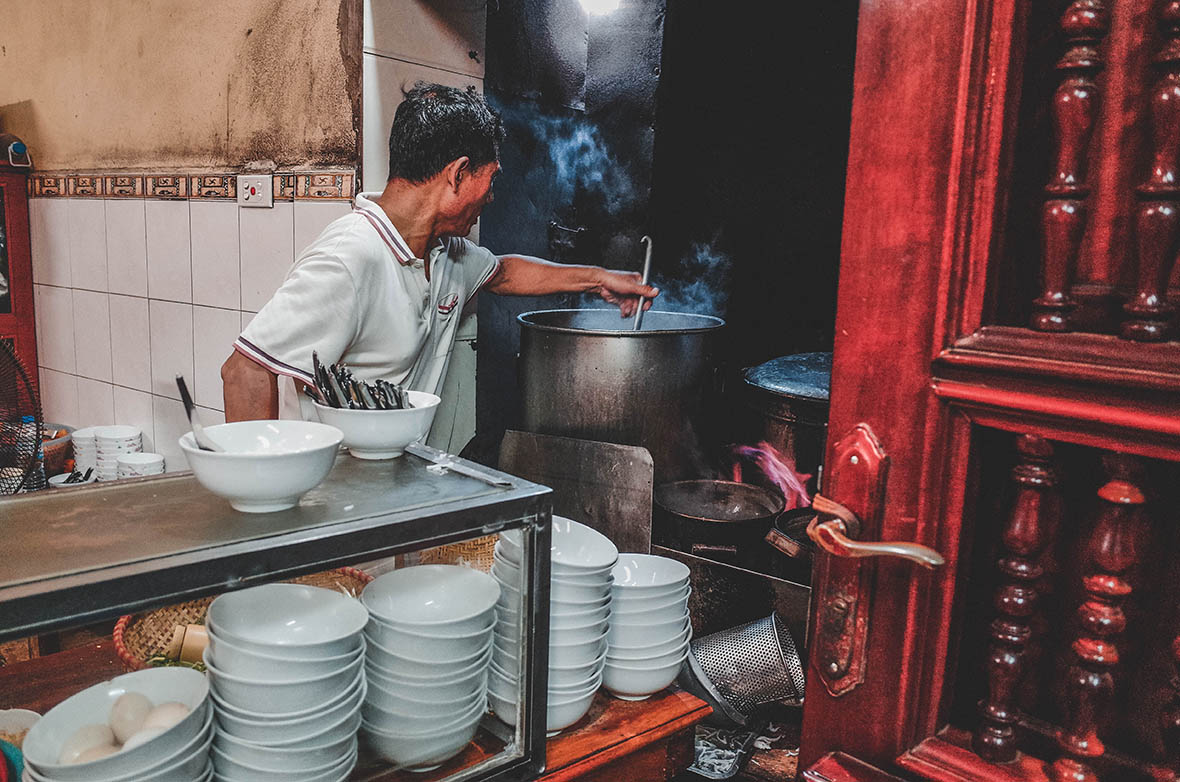 "Hanoians love their pho," comments Mark Lowerson, an expert guide to Hanoi street food. "It is also go-to comfort food. There are vendors serving pho at all times. If nobody's going to cook for you or you can't decide what to cook for yourself, can't decide where or what to go out for – it's simple, you just go and eat pho. It'll always fill the gap and be satisfying."
That said, pho is not an immovable feast. Some young chefs in Vietnam are experimenting with items such as brown rice noodles and fresh pho noodle rolls. Chefs overseas are getting even more wild and crazy with additions such as crawfish and sous vide beef.
In Hanoi, however, the onus on simplicity remains. "Pho is a northern dish and Hanoians like to stay true to the traditional flavors," explains Tracey Lister, a Hanoi-based chef and author of the book Vietnamese Street Food. "It all hinges on the quality of the broth. Southerners have adapted the dish to suit their palates. But adding hoisin sauce, basil, and bean shoots muddy the flavors in my opinion."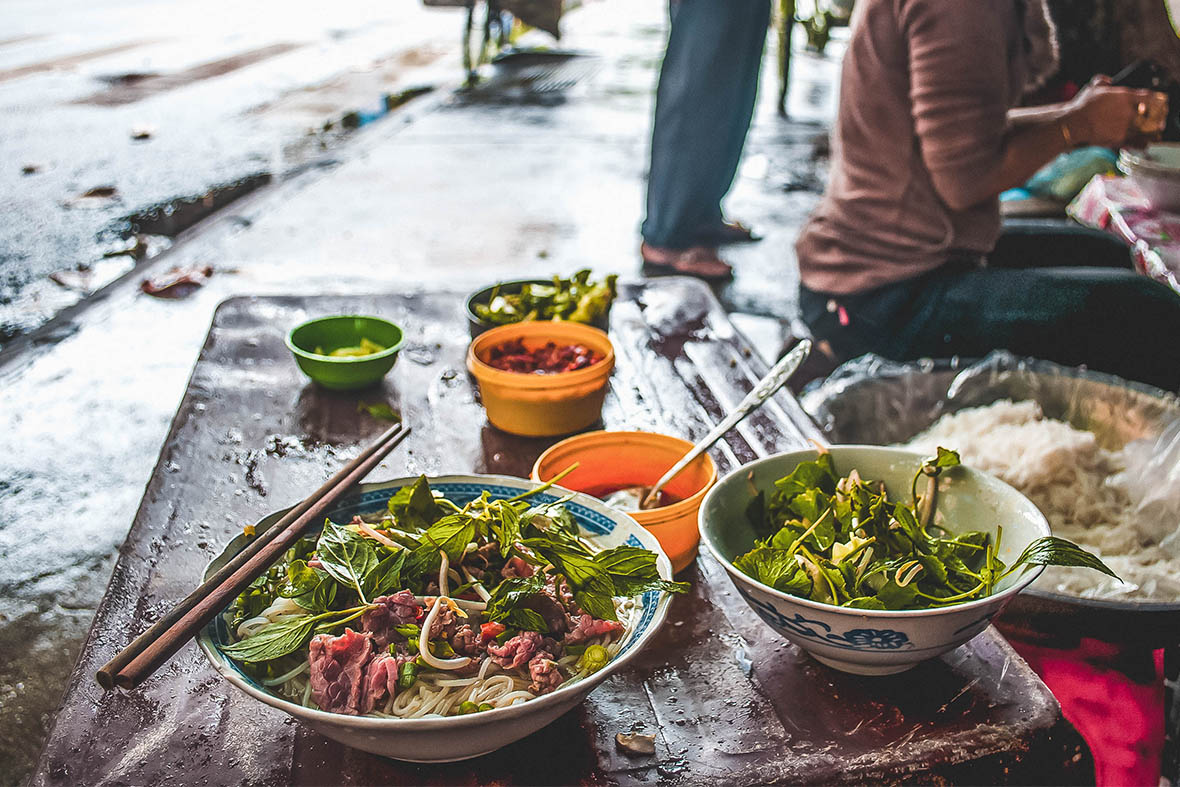 Although the city's best pho venues keep their secrets closely guarded, experts mostly agree on the basic elements of a great bowl of Hanoi-style pho. The broth should be clear and fragrant, with a thin layer of oil on top to give it a "silky" feel, and it should be simmered to perfection rather than boiled into submission. Fresh noodles should be used within three hours otherwise they become sticky and sour. Accompaniments, meanwhile, should be limited to lime, fresh chili, and perhaps some garlic vinegar.
"Hanoi food is pure and elegant," adds Andrea Nguyen. "People misunderstand this as bland and simple. It's not. They enjoy the nuances delicately. People need to respect that, not put it down."
Back at Pho Gia Truyen, the morning crowd has thinned out. The formerly mighty slabs of beef hanging above the counter are reduced to tiny hunks. The indomitable boss lady is showing signs of weariness. A few remaining stragglers spoon down their soup with abandon. The rest of Hanoi might already be at work, but there's no bad time to sample Vietnam's breakfast of champions.
Hanoi's top 5 for pho
1: Pho Gia Truyen Bat Dan
Long morning lines attest to the quality of the pho here. The broth is clear and rich, and the beef is tender and soft with a glowing pink hue.
Address: 49 Bat Dan Street
2: Pho Suong
The broth is known to be light at this tucked away venue near Hoan Kiem Lake. But there is plenty of depth of flavor to the fragrant liquid, springy noodles, and generous slices of tender beef.
Address: 24 Trung Yen
3: Quan Pho Huyen
When it's cold and rainy (a frequent state of affairs in Hanoi) few things are as satisfying as a bowl of pho ga (chicken pho). And the version here is particularly excellent.
Address: 31 Chau Long
4: Pho Tu Lun
Famous for its rich broth, which carries strong hints of fish sauce, this venue has been popular for over 20 years. It's a perfect version for those who like a saltier version of the dish.
Address: 23 Hai Ba Trung
5: Pho Thin Bo Ho
The broth is clear, light, and slightly sweet due to judicious seasoning and braised beef bones. Garlic vinegar gives this righteous version just the right kind of lift.
Address: 61 Dinh Tien Hoang