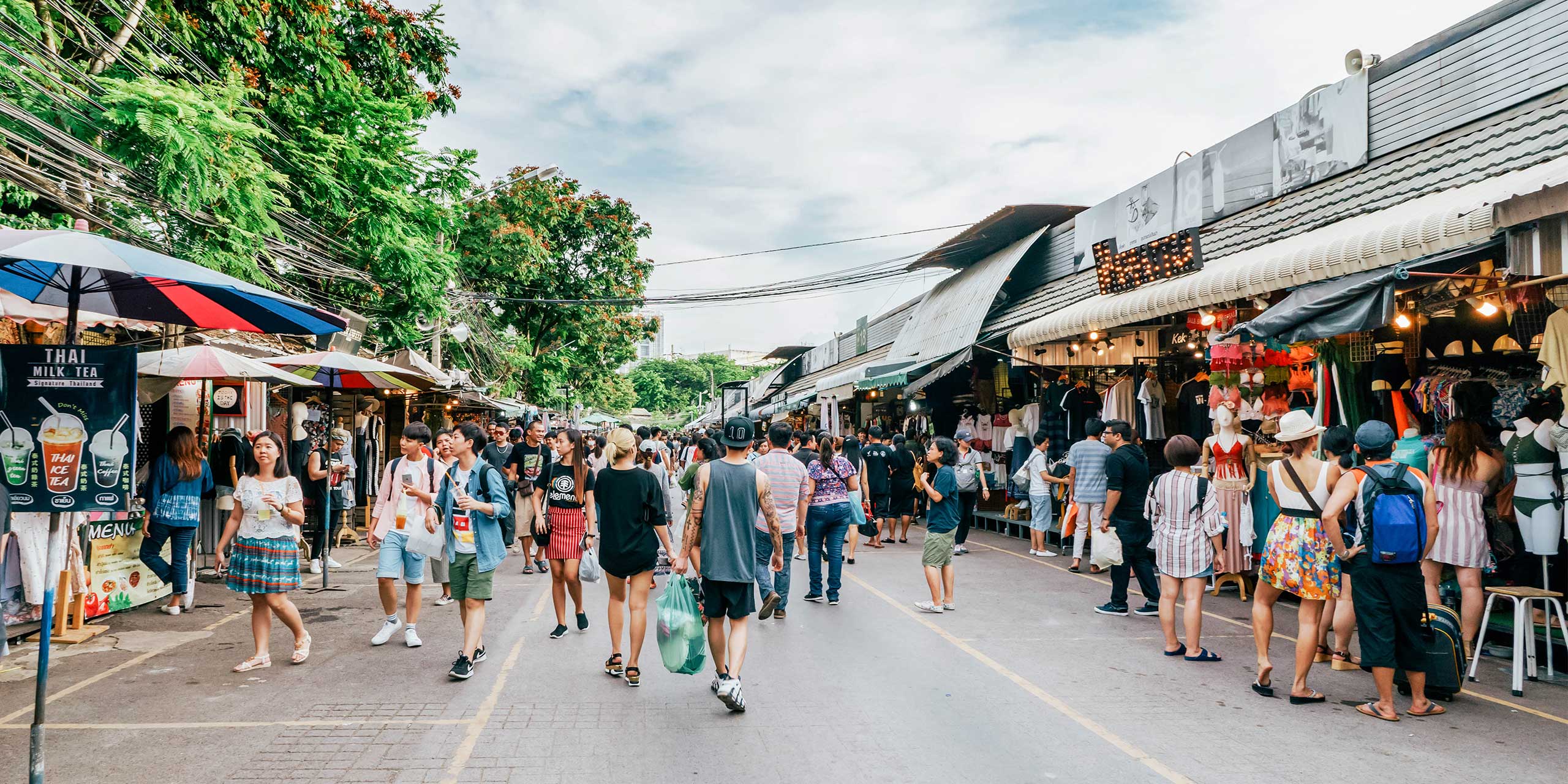 A wall of vivid fake flowers leaves barely enough space to squeeze past the Thai hipsters crowding the narrow passageway. A moment ago, I was browsing leather jackets and trying out goofy spectacle frames for size. The meaty whiff of pet food hits my nose and my ears ring from the whimpers of caged puppies.
Such diversity of retail options is all very well, but I'm trying to track down a coffee table for my apartment, not edibles for my wife's dog. Such is life at Chatuchak Weekend Market, where everything under the blazing Thai sun can be purchased. If you can find it, that is.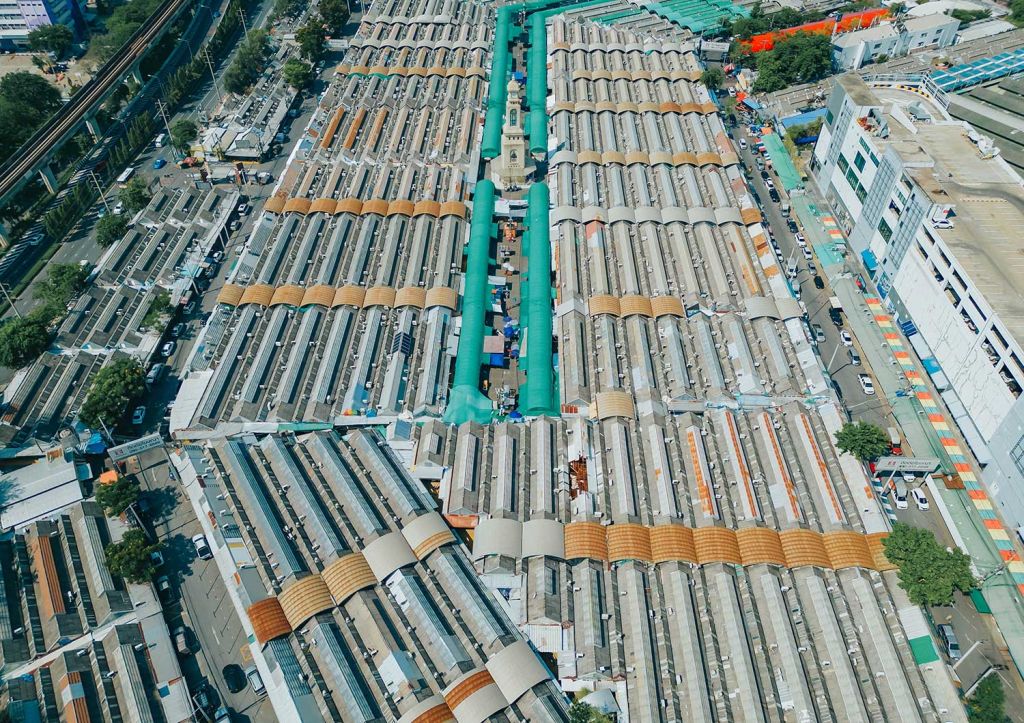 Thailand's largest outdoor bazaar, known as "Jatujak" or simply "JJ" by Thais sells everything from Beatles cushion cover sets to shark's tooth amulets. Navigating the 35-acre site and its 8000-plus stalls, however, can be a thankless task.
Vendors in the know haul their wares during the evening lull. "I usually bring in my stock early on Friday in time for the wholesale night market, which starts at 2am," says Ekawit Chepanukroh, who owns a streetwear brand. There's no freight entrance; everything moves through the main gate.
I emerge, blinking, from the pet section with a lingering hiss of cobras and head to an information kiosk for directions. The market is loosely divided into 27 color-coded zones. For furniture and home décor, it head to sections 22-26 or to Chatuchak Plaza, a newer section to the northwest.
I weave my way toward a furniture shop called Mango in Chatuchak Plaza. While most stalls require bargaining skills, Mango's sleek, natural wood is fixed-price and beyond my budget.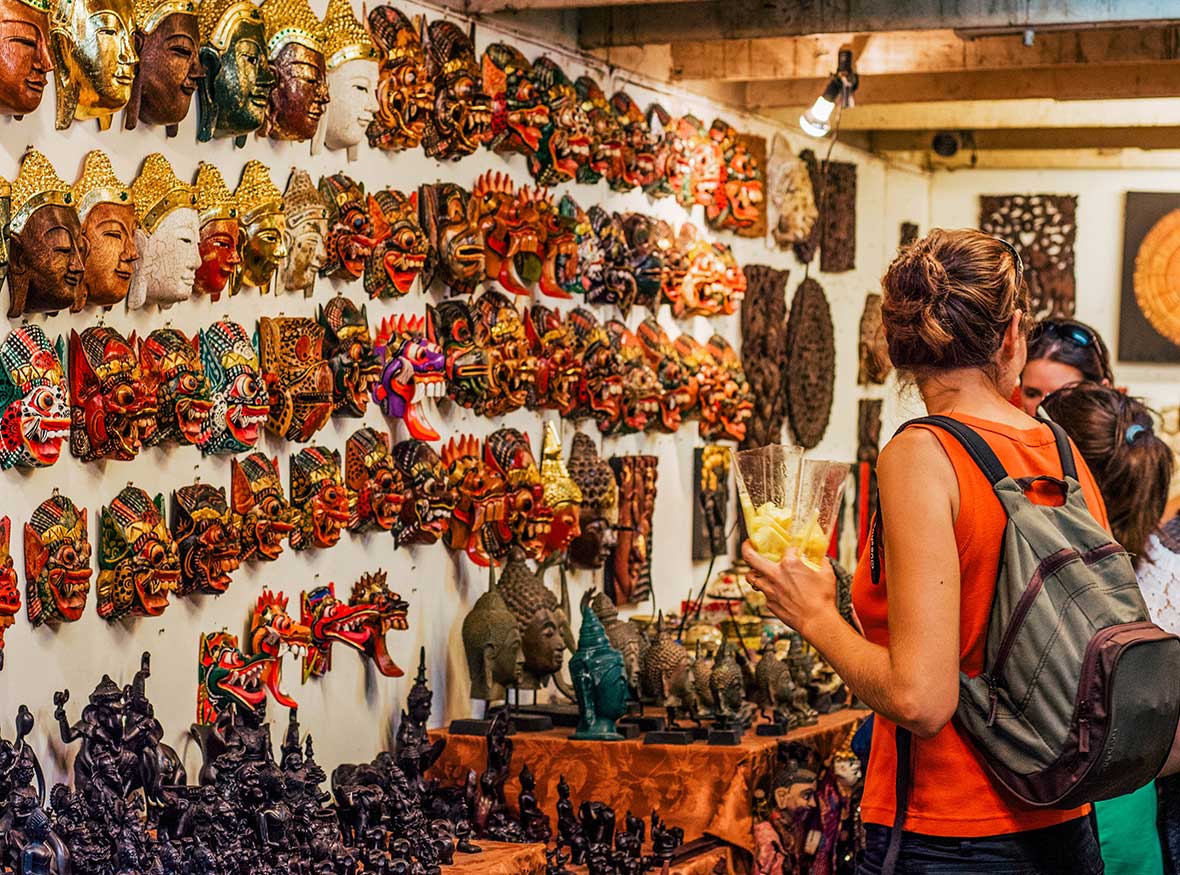 Patchwipa May Mahapornpaisal, a furniture designer who sells her pieces at various Chatuchak outlets, lends some advice. "Regular customers get the wholesale price—and that applies to most stalls. Normally, Thai people will get an additional discount."
Ekawit says vendors don't coordinate pricing, though, meaning bargains can still be had. "Many vendors are enemies because we sell similar items in close proximity," she says. "Mostly we will sneak out to check other prices, then lower our own."
Thankfully, there's no shortage of cheaper options in Mango's vicinity. Among the hodgepodge, I pick up the perfect rosewood item for a song (USD 100) after shaving USD 40 off the asking price. The motherlode of unique Bangkok retail experiences is undoubtedly the Chatuchak weekend market. And perseverance can uncover a veritable treasure trove of gems and collectables ranging from beautiful ceramics and handicrafts to exquisite jewelry.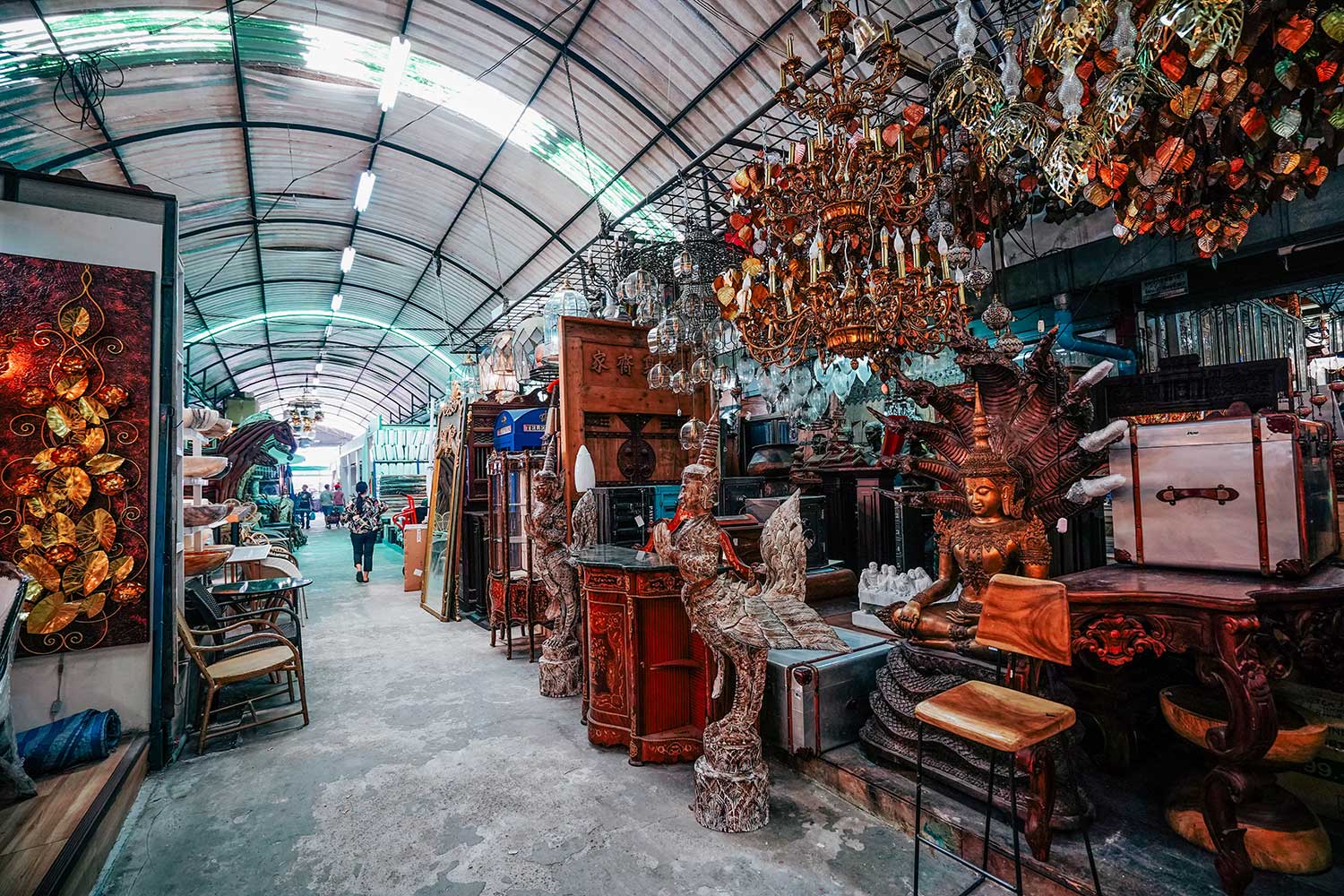 Allow plenty of time to explore as the market is sprawling. There are shipping companies on site to help you get your goodies home, and plenty of food and coffee options. There are even indoor massage parlors with aircon and free WIFI, so set aside the day.
It's usually heaving with locals and tourists alike (some days over 200,000 visitors) and on a particularly hot day can be rather sweaty, so prepare yourself – bring sunscreen, a hat and comfortable walking shoes.
You'll find quite a bit of cheap imported tat, but it's also not unusual to find young local designers working away on their sewing machines. Some of our favorite vendors include Silver Strand (section 26, soi 1/9, room 205-208 and 217-220) for delicate hand-made earrings, Little Wings House (section 25, soi 3/2, room 217-219) for taxidermy bugs, butterflies and beetles, and Raleuk (section 28, room 049) for handmade skincare, candles and fragrances.
Content with my purchase, I graze on paella and down a cold beer at Viva 8, the market's atmospheric bar area. Not only can you get what you want at JJ, you can also get what you need.