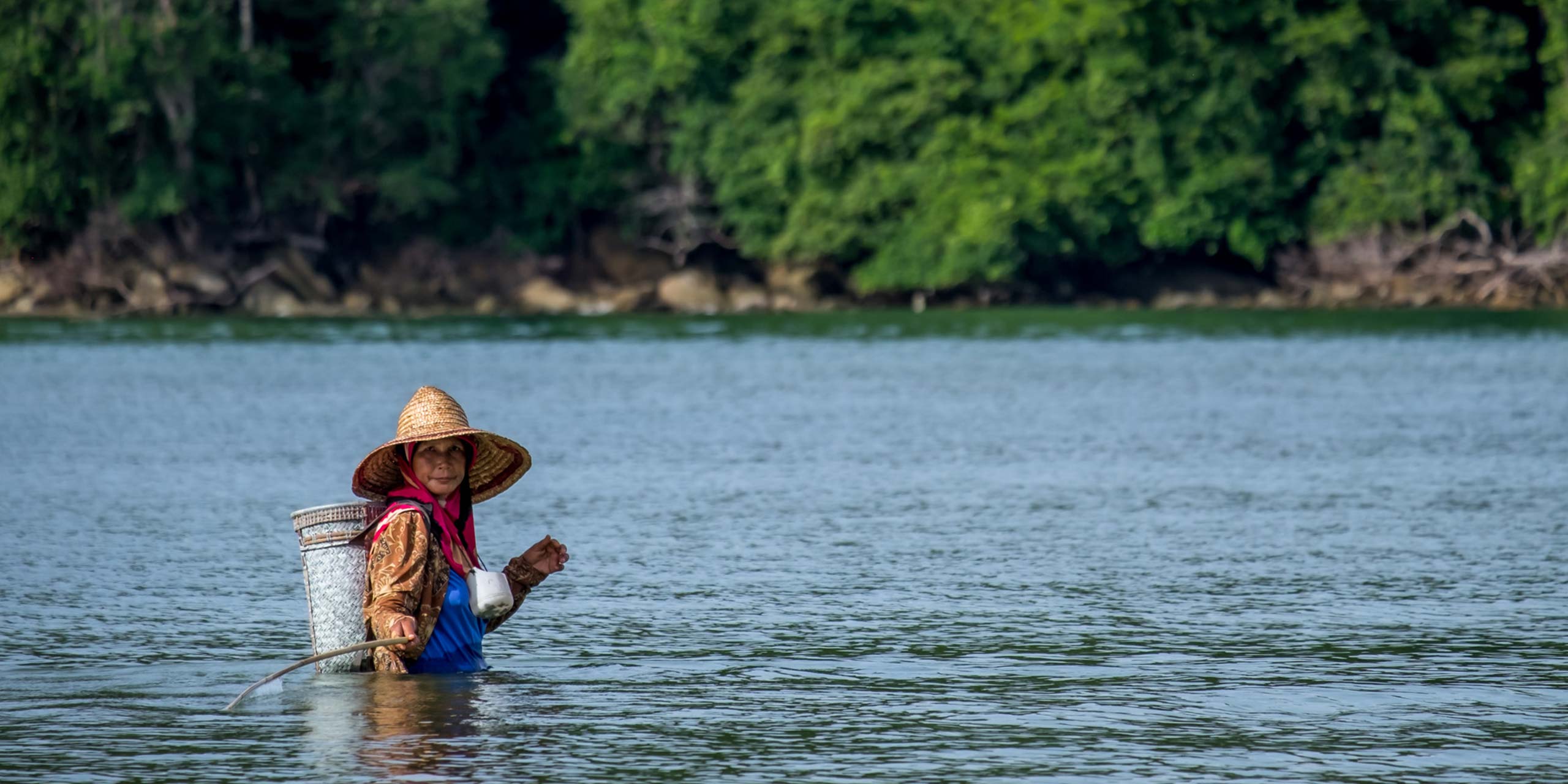 It's like a dangerous game of tug-of-war. But no ropes are involved. Waves as tall as walls ruffle in from the open sea, crashing against a smooth, dark-grey crest. The dozens of tourists who try to reach the edge run away as soon as the water folds in, crashing like liquid punches over the dark headland that marks the Tip of Borneo. Some get drenched—a fair price to pay to catch that perfect, yet silly dangerous, selfie shot.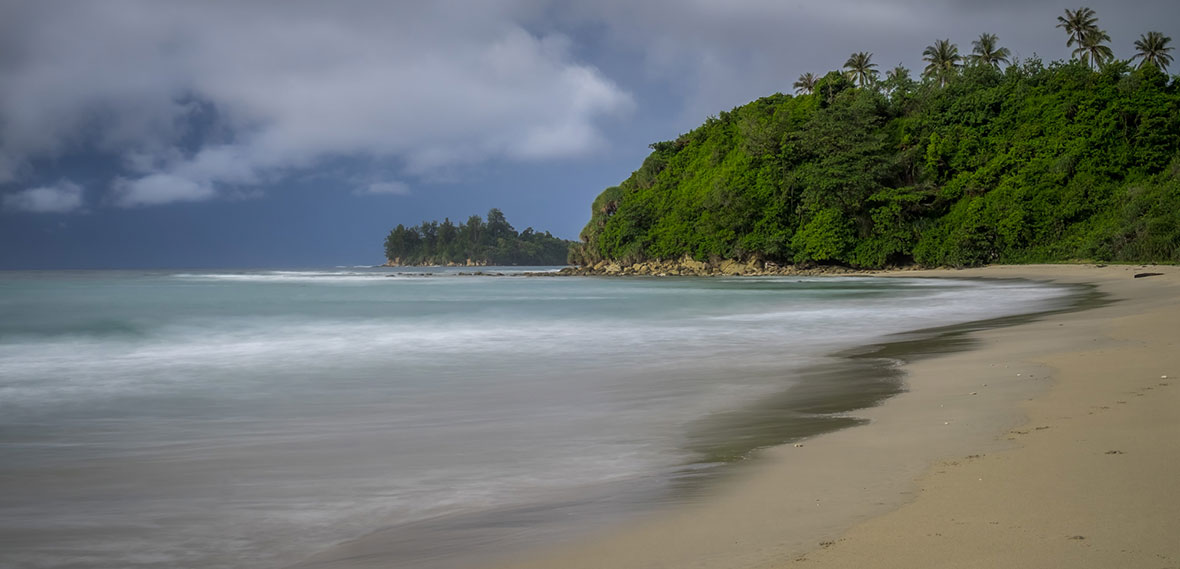 For decades, Simpangan Mengayau (the Malay name of this cape) has been a popular weekend getaway for Kota Kinabalu's residents. Tommy's Place, a simple resort five minutes drive from the tip, is the closest place to rest one's head. But right before the pandemic halted tourism to Sabah for two years, the blissfully empty beaches south of Borneo's northernmost tip started witnessing the bloom of more atmospheric and affordable grassroots accommodation managed by the native Rungus people.
The Rungus are a sub-group of the Kadazan-Dusun. They have their distinctive language and reside primarily around the town of Kudat, the last sizeable settlement before Simpangan Mengayau. The Rungus are one of Sabah's most traditional tribes, and even in these times of quickening global transitions, they maintain their ancestors' rice-farming and fishing lifestyles. Their remarkable beadworks, such as the sandang—two beaded strands that are worn across the chest—carry designs embedded with Rungus' folk legends.
Built with low roofs and stilts, with outward inclining walls of wide-spaced poles, the Rungus' longhouse dwellings are another distinguishing trait of this indigenous group, and have become the staple of Simpangan Mengayau's notable eco-tourism developments. These charming Nipah-strewn traditional longhouses, which pair with campsites nestled along the coast's irresistible ochre crescents, feel more authentic. Most importantly, they serve a real purpose: to keep the area clean.
Indeed, Sabah's northern coast lies at the bottom end of the South China Sea, and the Tip of Borneo is an unfortunate receptacle of the currents that flush garbage ashore from as far as the Philippines, Kota Kinabalu, and other villages strung along the coast. If this wasn't enough, waste collectors don't come to Simpang Mengayau from Kudat, the nearest town.
"The problem should be solved at the source by better managing waste disposal from the villages and Kota Kinabalu itself," says Howard Stanton, a British man married to a Rungus woman, and the owner of Tampat Do Aman, which was the first eco-minded resort to open in the region in the early 2010s. Tucked into the jungle, it has two dorm-like longhouses, five chalets, and a Rungus cultural museum filled with rare local antiques.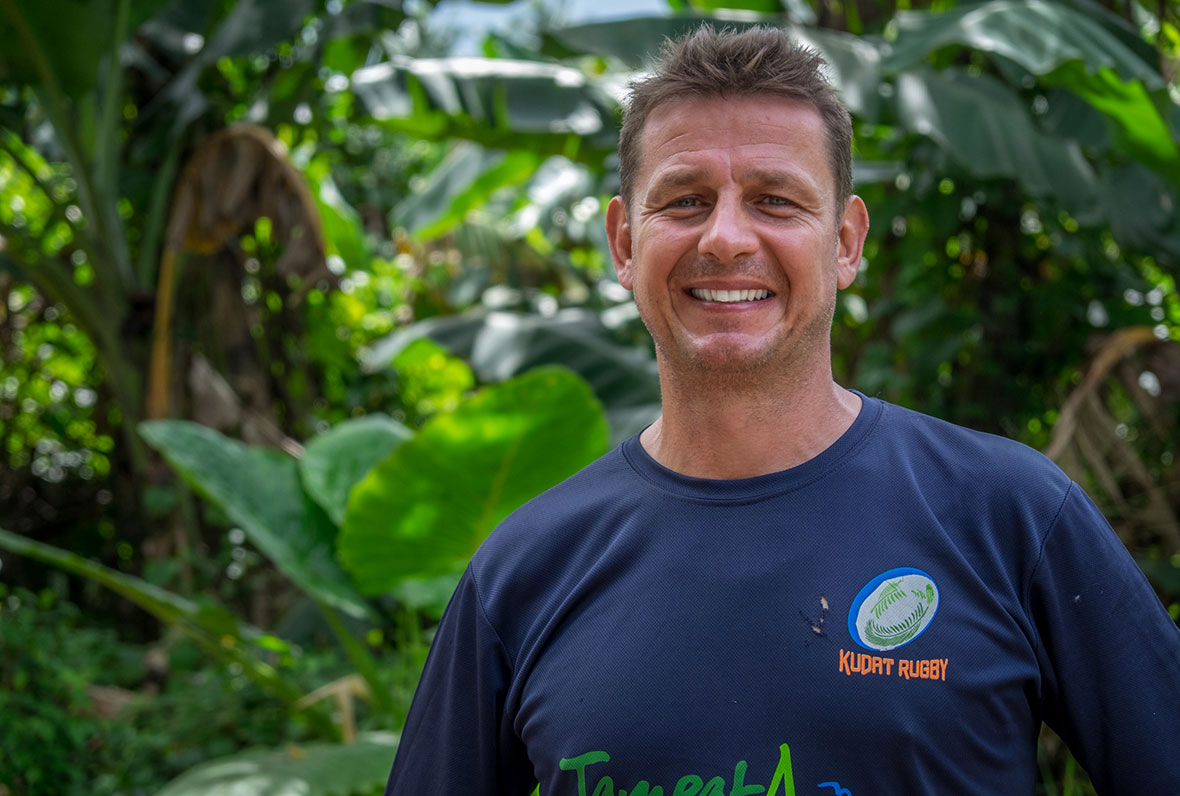 "If the refuse collection issue is tackled, the amount of rubbish would be reduced on the beaches," continues Howard. "We take ours to Kudat town every day, but I know that many other resorts either burn it or just throw it in the bushes, both of which are not great ideas."
Tampat Do Aman was instrumental to raise local awareness. Howard founded the Kudat Turtle Conservation Society and organized the first beach clean-ups, teaching locals how conservation is the necessary way forward. His effort has pushed things in the right direction.
"Resorts and tour operators realized that, if the beaches are dirty, even their incomes will inevitably dwindle," said Howard. "Also, few local fellas have taken up the mantle and tried to clean the beaches off their backs, but it's not regular enough".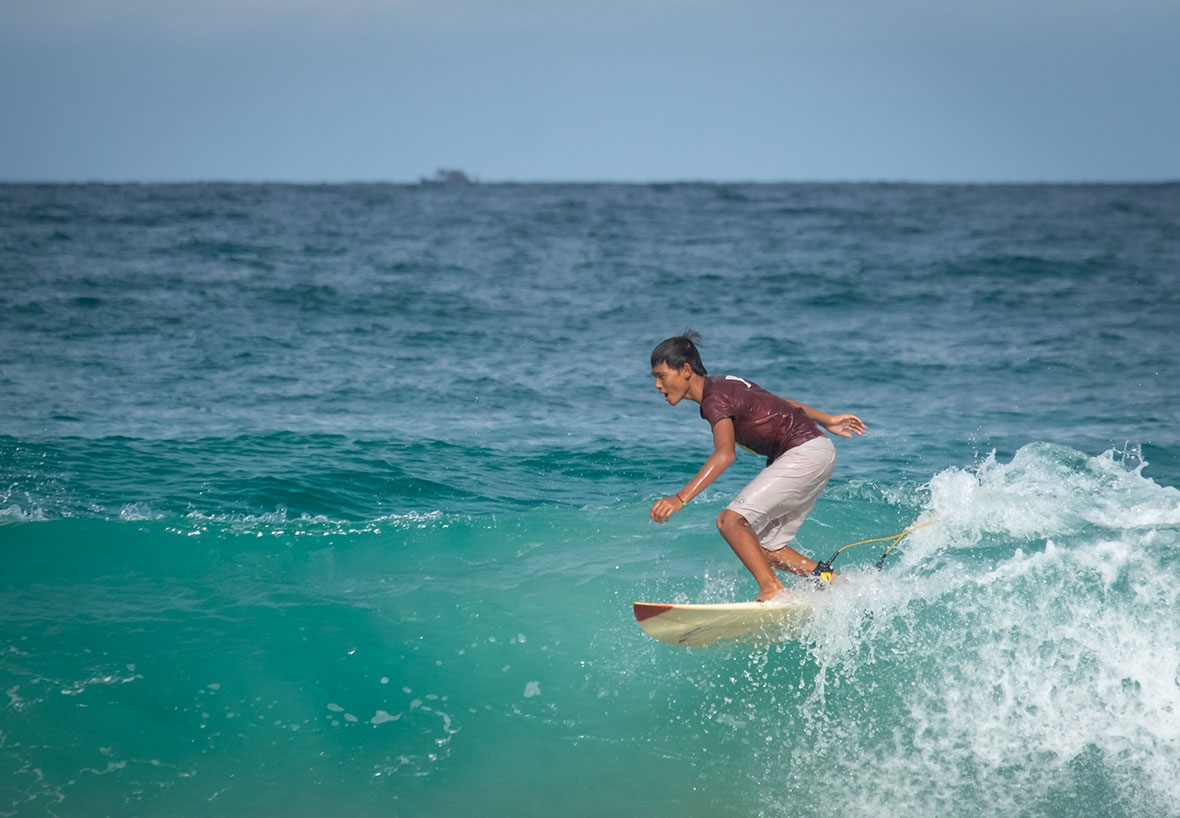 On a morning walk on Kosohui beach—where Howard opened Tip Top restaurant—we see no garbage. It's only clumps of young local surfers who jump into the sea to slide down perfect waves that still need to be discovered by international tourists. Moving further south along the attractive Bavang Jamal beach, we bump into Pulau Kulambu, a tiny atoll connected to the mainland by a sandbank. Long and beautiful, the beach of the same name is filled with coconut husks, plastic containers, and piles of trash that have washed ashore.
As we try to avoid stepping on the garbage, a Rungus fisherman emerges from the sea, rod, and net still in hand, and we cross paths on the sand. "It's such a beautiful place," we tell him, pretending the refuse doesn't exist. "That's a pearl of an island," he replies, wind sweeping plastic bottles between our feet. The man doesn't seem to notice. He scrambles back to his motorbike, seemingly too tired to nag about a persistent problem to yet another stranger.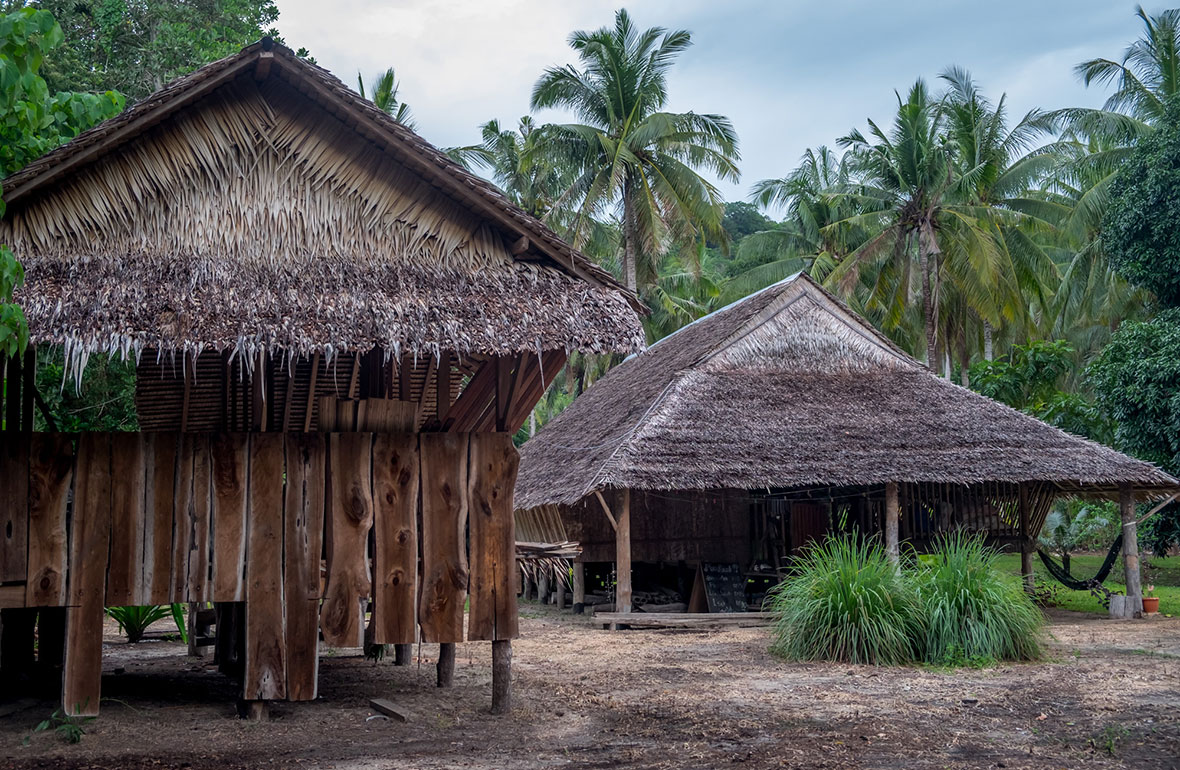 Following Tampat Do Aman's example, a few villages along the coast are actively tackling the problem by welcoming tourists. Started in 2016 and backed by the Asian Development Bank, the Alternative Kudat CBET Collective, formed by the villages of Bavang Jamal, Loro Kecil, Inukiran, and Banggi Island promoted eco-tourism in remote Rungus communities to give them a motivation to take care of the environment and improve their livelihoods.
In Bavang Jamal, Roland Agansai and his family built the Bavang Jamal Longhouse Stay, an attractive longhouse within five minutes walk from the beach. To keep visitors coming, they take care of keeping the surroundings clean. In Loro Kecil, a tiny village burrowed in a quiet, idyllic bay, the community is cooperating to receive tourists.
"I have been working as a guide for Howard Stanton," says Jacky Justin, a young father who shuns the idea of having to work in Kota Kinabalu to support his family. "Howard keeps sending guests here, and we take them around the bay on a boat. We have thought that, if people love it here, we may as well offer homestay accommodation," said Jacky.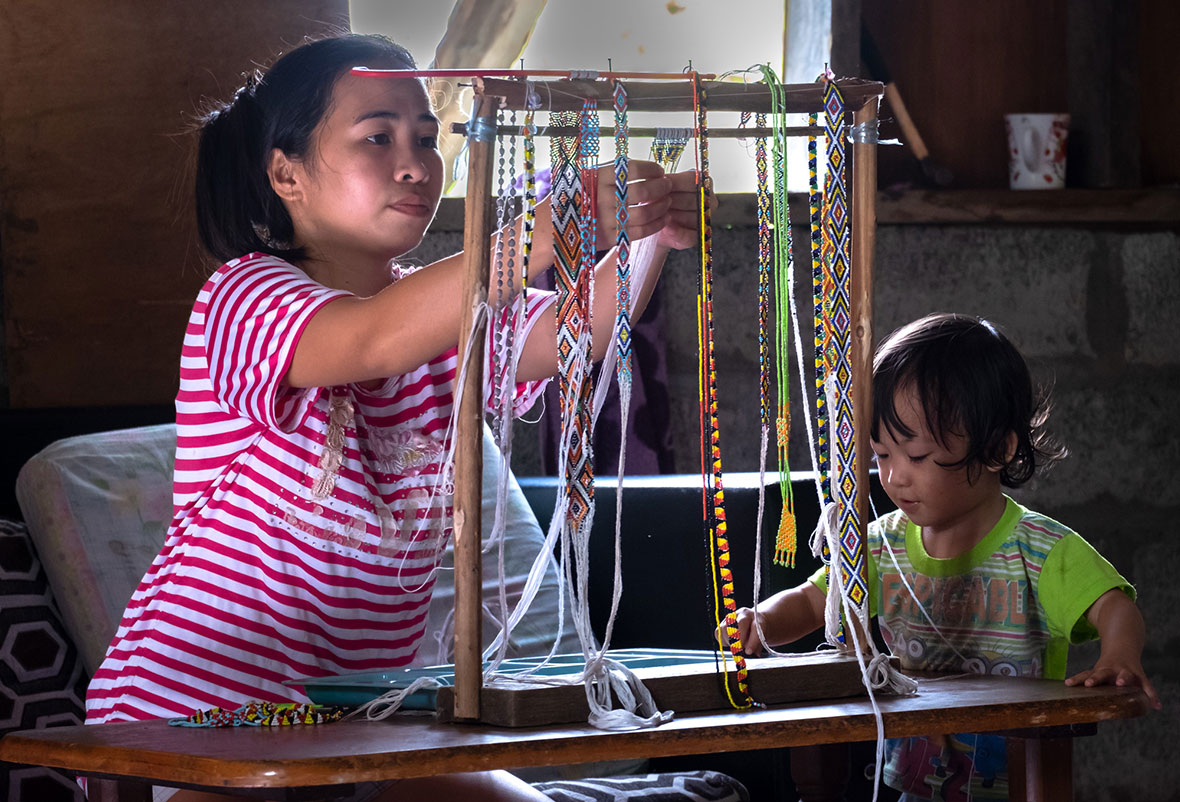 However, the place has basic facilities, and it's hard to focus on embellishments when most of the time is spent cleaning up the beaches. "There's a lot of work to do, but we are not giving up," he said.
As we speak, Jacky's wife emerges on the doorstep of their home with their baby snuggled against her chest. Her husband sends them a fond glance. "I'm not born for the city, and this is where I want to stay," Jacky says with a smile. If more tourists come, even selling the beadwork that his wife and other village women hand-make in their homes using traditional Rungus threads and patterns could help improve things.
For now—and especially after the hardships inflicted on the region by the pandemic—it's time to remind people that the Tip of Borneo is still ready to welcome all of them.