There is nothing quite like a bird's-eye view from 500 to 1,000 feet in the air to put a new perspective on a destination. At Remote Lands, helicopter experiences are one of the signature aspects of our bespoke luxury itineraries. As you glide above your chosen location in private, air-conditioned comfort, you'll catch unforgettable views of the natural and man-made wonders as they unfold beneath you. We think any destination is enhanced with a helicopter flight, and in this blog we pick five of our favorites. From swooping around the iconic limestone karsts of Halong Bay, to hovering over the magnificent structures of the Angkor Wat kingdom, to climbing the seemingly impossible-to-reach heights of Mt. Everest, as well as journeys over Bali's rugged, volcanic peaks, and the Philippines' highly active Mt. Pinatubo, these once-in-a-lifetime helicopter journeys are guaranteed to amaze.
Halong Helicopter Adventure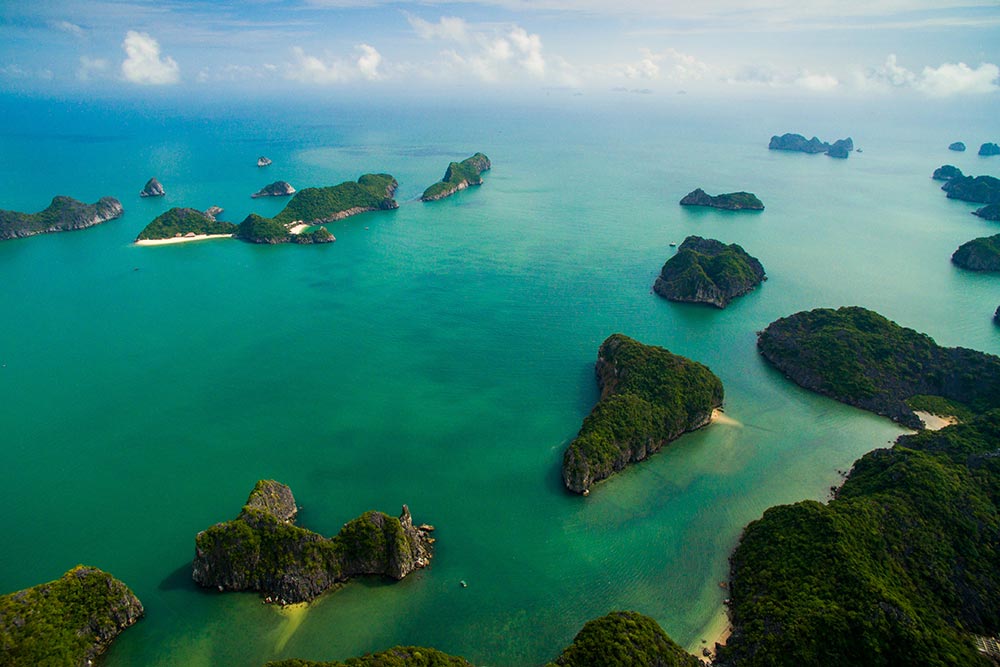 Vietnam's Halong Bay is a can't-miss stop on every Vietnam itinerary. The often foggy bay holds an incredible 1,969 to 3,000 limestone karsts thousands sculpted by time over thousands of years, and gives off a mystical feel seemingly straight out of folklore. Indeed, the name 'Ha Long' translates to 'bay of descending dragons' in Chinese, adding to the area's mythical appeal. The much-favorited spot has been named a UNESCO World Heritage site, most commonly visited by boat. However, a helicopter journey, floating across skies above the thousand-isle bay is even more breathtaking, allowing you to capture the myriad of islands and truly understand the scope of the place. Aboard your luxury lightweight aircraft, you'll take an easy and comfortable one-hour, 30-minute roundtrip journey from Hanoi to Halong Bay, where you'll take in the area's magnificent seascape. Among the islands you'll discover from above are the thickly-forested Ban Sen, the popular Cat Ba, the historically-significant Quan Lan, and the legendary Bo Hon island. Your helicopter journey will also allow you access to some of the most difficult-to-reach corners of the bay, with views of hidden caves and private, untouched islands rarely visited by boat tours.
Angkor Wat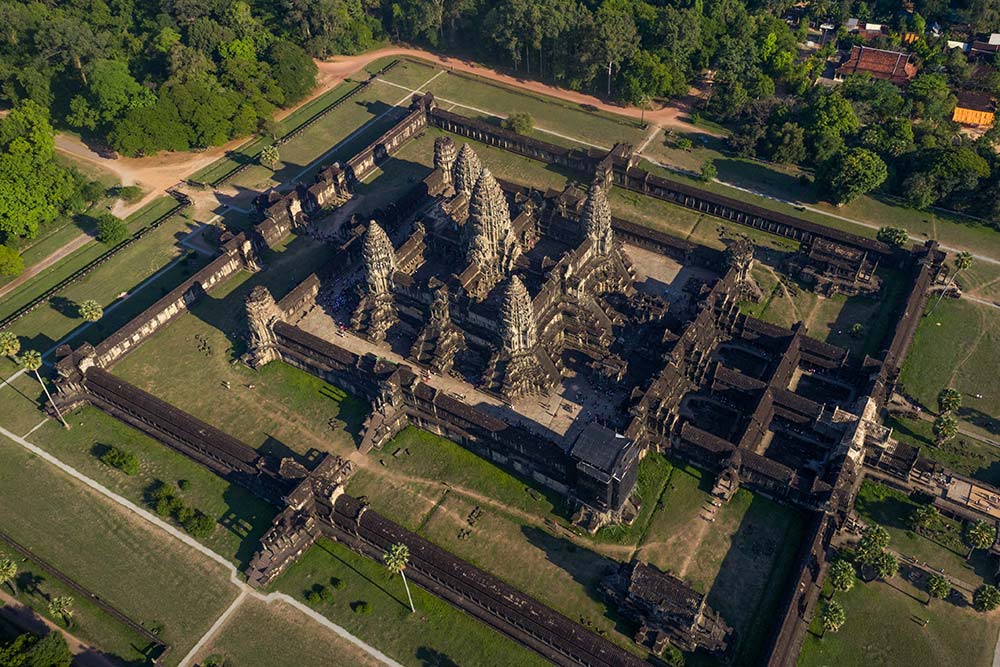 The Temples of Angkor, in Cambodia's Siem Reap, remain today some of the most impressive heritage structures in the world, and certainly the most important archaeological site in Southeast Asia. Between the 9th to 15th century, the thriving Khmer empire built colossal temples over approximately 249 square miles, consisting of monuments, temples, hydraulic structures, and more. The most popular method of checking out this expansive area is by chauffeured vehicle, but why not take the experience up a notch and take in breathtaking aerial views of the ancient architecture? Aboard your cozy private helicopter, you'll soar over important complexes, gliding easily to far-off temples that usually take hours to reach by car. Among the popular structures you'll view from the air are Banteay Srei, Phnom Bok, the Roluos Group, Phnom Krom, the charming Tonle Sap floating village, and the rarely-visited hilltop Phnom Krom temple, all from the safe and secure comfort of your lightweight helicopter.
Everest by Helicopter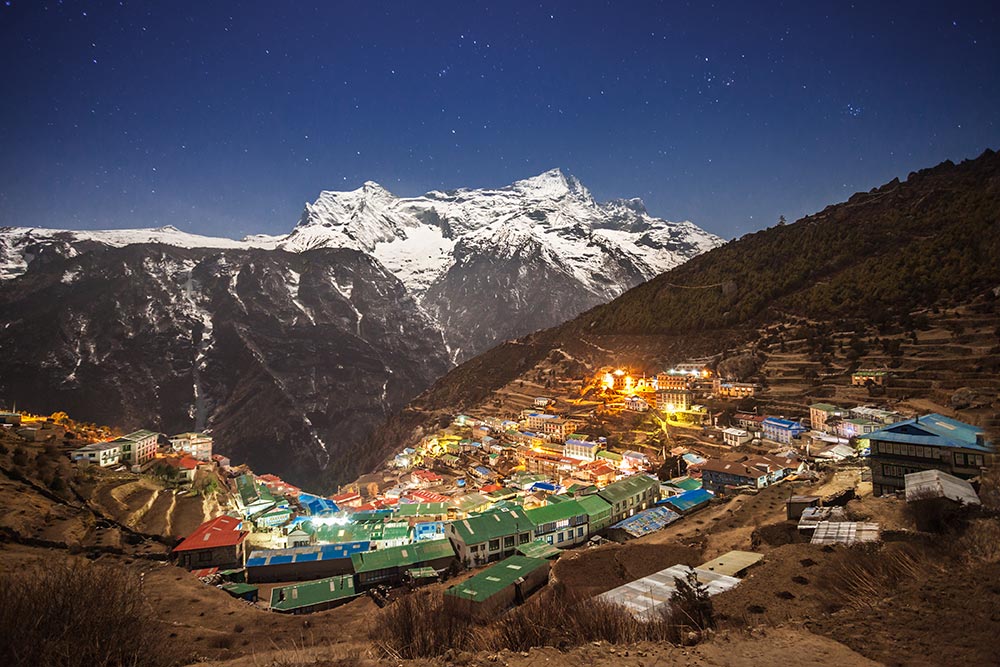 Realize your dream of getting up-close and personal with the world's highest peak on a thrilling helicopter journey. Mt. Everest rises close to 30,000 feet above sea-level, and climbing its treacherous terrain is not for the faint-of-heart. Save yourself the trouble, and trade in your hiking boots for an Ecureuil AS 350 B3e helicopter, which will whisk you up over 22,000 feet into the air as you scale the mountain in style and comfort. The incredible journey includes a delectable lunch at the world's highest-placed hotel, The Everest View, where you'll take in even more panoramic views of Nepal's majestic Himalayan mountain range. On this thrilling journey, not only will you stop at Mt. Everest, but you'll fly over other iconic Himalayan peaks like Ganesh, Dorjee, Lhakpa, and Gaurishanker, as well as ancient monasteries and mountain villages.
Bali's Highest Peaks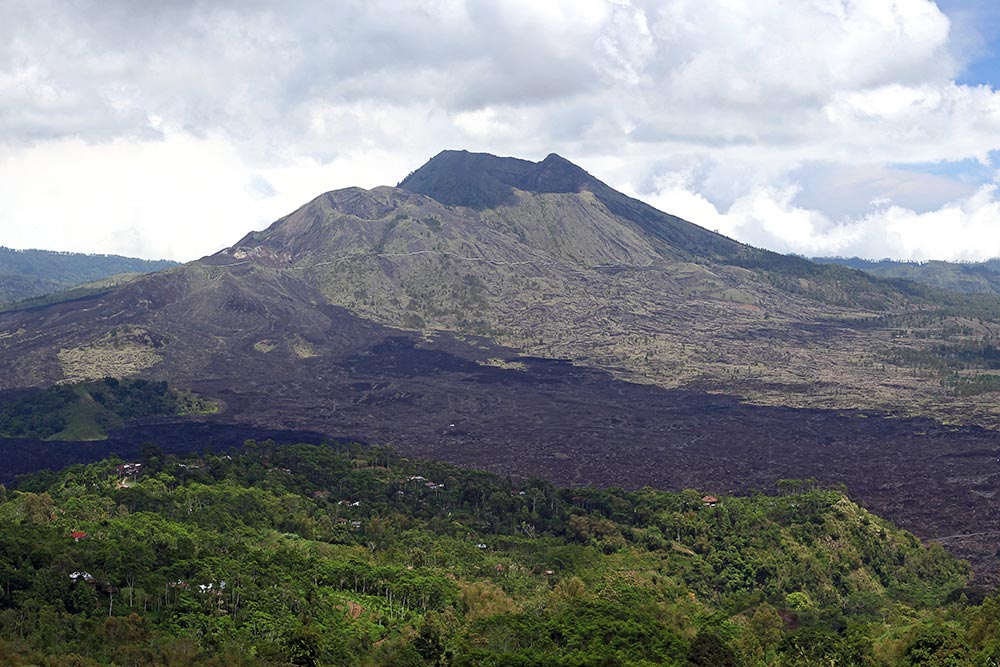 Bali, known as the Island of the Gods, is famous for its volcanic activity. The popular Indonesian island is home to not just one, but two active volcanoes – Mt Batur and Mt Agung. You'll take in Mt Batur's beautiful caldera, with its lake and cone of Batur, formed during an eruption nearly 30,000 years ago. This is one of Bali's most popular destinations, which normally consists of an early morning hike to catch sunset – but you'll make the journey with ease aboard a lightweight, private helicopter, and capture unrivaled views of the area. Next you'll ascend overtop Bali's majestic mountaintops as you jet between the two peaks along the island's stunning west coast, past Mt Abang and its sprawling temple complex, before reaching Mt. Agung. Here, you'll climb an amazing 11,000 feet to reach Mt. Agung's colossal crater, which occasionally belches smoke and ash. This is also Bali's highest point, and neighboring Lombok's Mt Rinjani – yet another active volcano – can be seen from this vantage point on a clear day. Viewed from the air, you'll take in Mt Agung's unique topography, lush and verdant on the mountain's west side, and dry and barren on the east side, due to the weather conditions. This unique and fun experience is an unforgettable way to see Bali.
The Philippines' Mt Pinatubo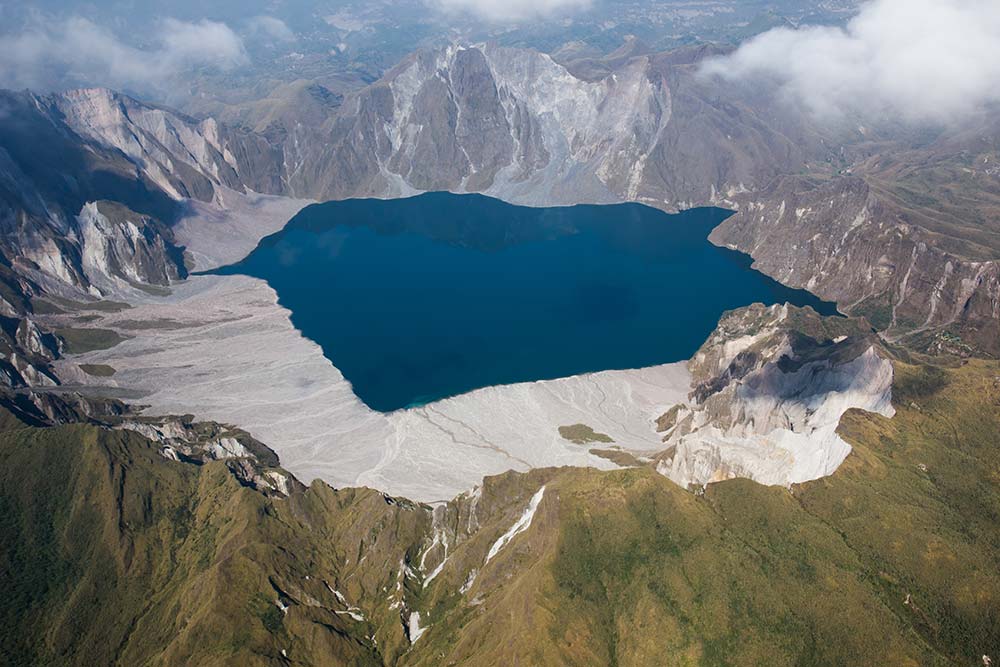 Located on the main Philippine island of Luzon, Mt. Pinabuto is a part of the Cabusilan mountain range, separating the west coast from the central plains. The volcano is responsible for the second-largest terrestrial eruption of the 20th century, and the crevices from the lava flows can still be seen to this day. Truly get a feel for its immense power with a bird's-eye view of the natural wonder and the Philippines' beautiful natural landscape aboard a luxury private helicopter, on a one-hour and 30-minute journey soaring overtop Manila Bay's internationally-renowned shipyards, past the historic areas of Plaridel and Bulacan, continuing onwards and upwards as you float atop Mt Arayat, before circumnavigating the stunning active volcano. Here, you'll get a close-up of the impressive crater, as well as the pristine turquoise-colored crater lake, before beginning your equally-stunning journey back.