Laos is one of those barely-touched destinations that I love to visit for its stunning natural beauty, its friendly locals, and its ancient sites. On this trip, I was headed once again to Southern Laos, where I would spend time gazing at exquisite waterfalls, zip-lining and abseiling through the lush jungle, and having close encounters with the welcoming locals.
My journey began in Paksong – the coffee capital of the Bolaven Plateau. It's a sleepy village surrounded by grass moorlands, with a cool climate due to its altitude. We arrived early, in plenty of time to start our trek at noon. We were about to embark on a  trek to Tree Top Explorer – a type of adventure that is becoming quite common in Southeast Asia, but this had to be one of the more exciting ones I'd ever done!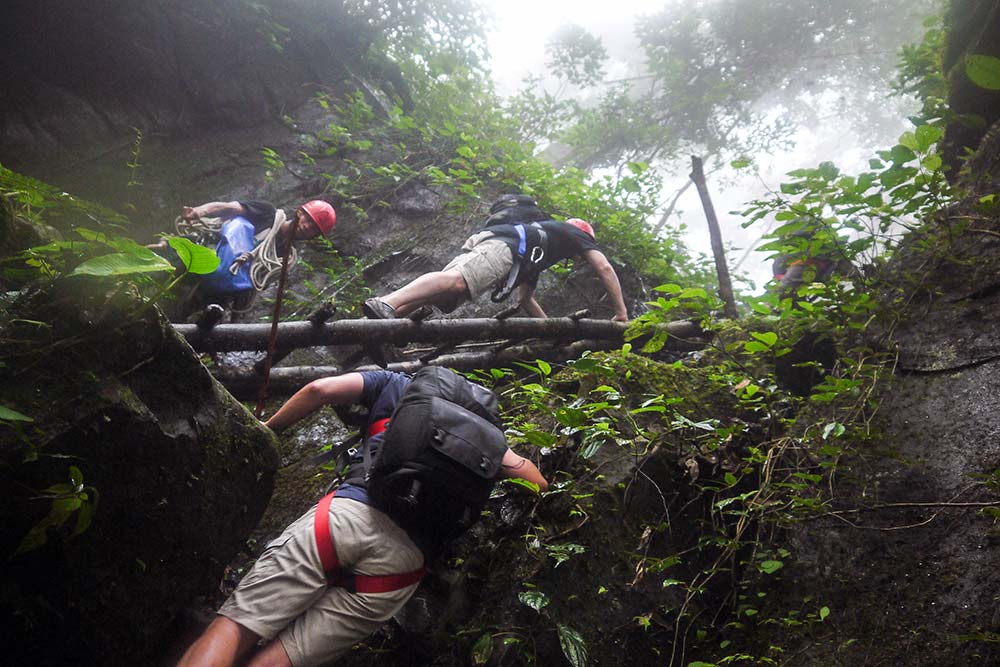 Suited and booted with helmets, harnesses, and the rest of the zip-lining equipment, we began our hike into the jungle. A small trickle of rain turned into a whole lot of it, and before I knew it, I was soaking wet. At this point, I had no idea what I was getting myself into, but as the trek continued, I realized that it was going to be more intense than I'd expected.
We crossed a log bridge, climbed and descended hills, and even took on a suspension bridge crossing over a deep gorge – our minds slightly more at ease with our harnesses clamped to the line. The first hour was tough. But after that, it was mostly smooth sailing as we began the zip-lining portion of the trek, with short hikes in between. These were no ordinary zip-lines – they must have been the longest and most dramatic I'd ever tried (I had done this activity twice before in Thailand). The scenery that wooshed by as I glided from treetop to treetop was lush and incredible. At one point, we even abseiled 100 feet down a tree, which was a particular highlight for me!
As our adventure continued, we zipped past a colossal waterfall wall to the right, with a deep gorge below. What a thrill! It was scary and breathtaking at the same time. As I floated over the dramatic scenery below, I wondered to myself what we would do should an accident happen out here in the middle of nowhere. Between myself and my two guides, we didn't exactly have many resources at our disposal. Still, I suppose that's part of the fun! The equipment was, afterall, top of the line, and it was clear to me that safety was a top priority, so everything went quite smoothly.
It was late afternoon by the time we reached camp. It was nestled in a stunning location under the zip-line that had taken my breath away earlier that day. My room for the night would be in a treehouse – how fitting! The only way to reach it was, of course, by zip-line. The interior was quite basic, but did have a private bathroom (though no shower). Still, it was comfortable enough for the night to be bedded down atop a tree in the middle of the Laotian jungle. I did, however, wonder what I would do if I needed to get out of the tree unexpectedly in the middle of the night!
The next morning, I awoke with the sun for our early morning trek back out of the jungle to Paksong. It was raining once again, and if it weren't for the bad weather, I would have done the Via Feratta, which goes directly under the waterfall itself. I am sure it would have been an amazingly memorable experience, but with the weather, it was enough of a challenge just getting out of the camp!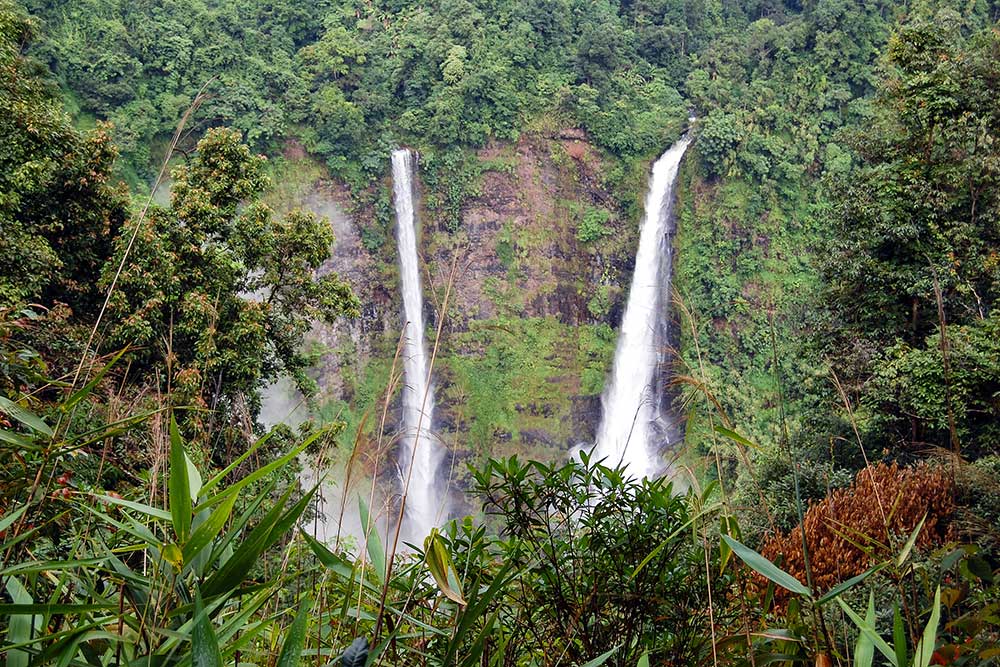 We drove further into the Bolaven Plateau, heading to see some waterfalls. The plateau, which rises as high as 4,430 feet in elevation, is located between the Annamite Mountain Range and the Mekong River. The area is crossed by several rivers and is home to quite a few waterfalls. We were on our way to a local coffee plantation to observe the coffee- and tea-making process. After this, we stopped to take in Tad Fane – a nearby waterfall known for its impressive height. I'm not normally much of a waterfall person myself, but the waterfalls in Laos certainly changed my mind! This majestic beauty had two narrow waterfalls located nearly 400 feet high, their water plummeting into a deep canyon.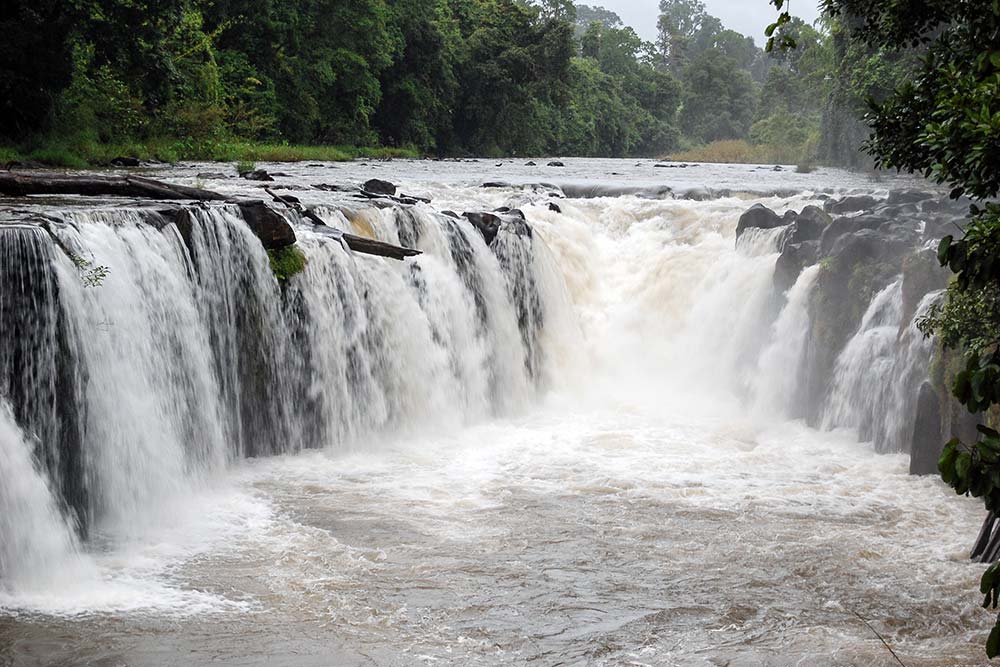 We continued to Tad Yeung waterfall, where we sat down to a scenic lunch, while watching a group of western tourists enjoy the fresh water pools. With waterfalls as our theme this day, we continued on to another one – Tad Pha Suam, which was the prettiest waterfall I'd seen all day (and that says a lot!). Though the falls were not particularly high, they had been carved by nature over the years into an impressive bowl shape. In this area, a popular tourist activity involves visiting an ethnic minority park that presents the Laven, Taoy, Aluk, and other local tribes. I knew this to be a contrived tourist trap, and thus opted not to include this activity in my day's itinerary. We headed back to Pakse, where I checked in to my hotel, the Champasak Grand Hotel. It was an amazing – though slightly dilapidated – colonial structure. I settled in and rested up for the coming days.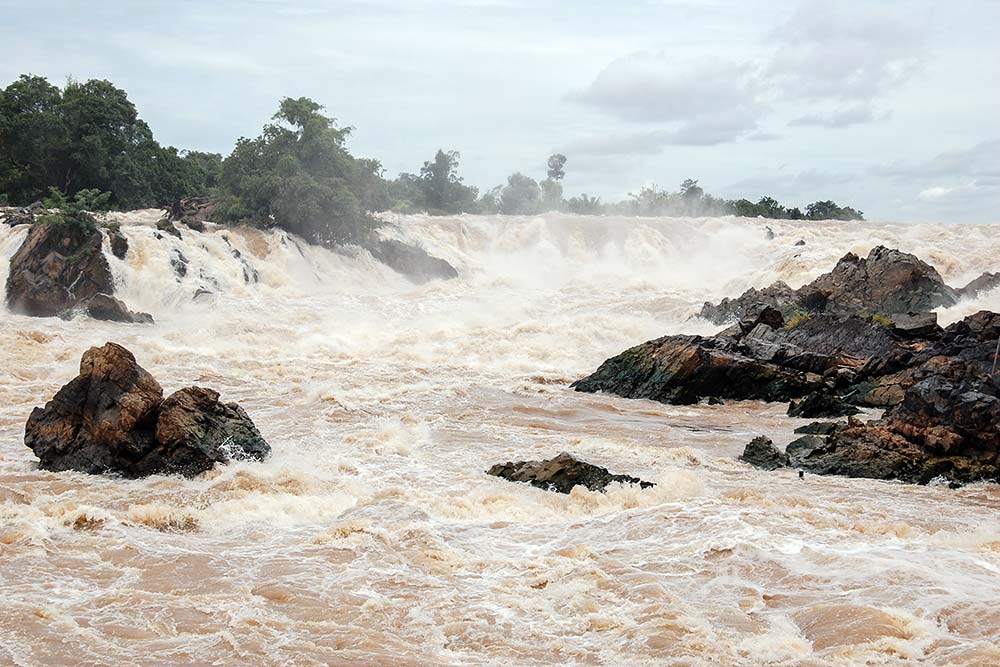 I woke up early once again this morning, this time to drive south nearly 100 miles through pleasant, scenic terrain, to the largest waterfall in Southeast Asia: Khone Phapheng. This waterfall was the only one I'd heard of before my visit, and was one of the main reasons for my trip. As we approached the waterfall, we could actually hear the falls long before they came into view, as the rushing water was so loud. As it was rainy season, the water level was high and the falls were roaring. Khone Phapheng waterfall is characterized by thousands of islands surrounded by venous waterways sneaking in and out and all around them, which is how the area got its name 'The 4,000 Islands', or Si Phan Don as it's referred to locally. I was interested to learn that the falls here are the primary reason why ships cannot navigate the length of the Mekong river from China to Vietnam.
After  a simple lunch at the falls, we headed back to Nakasang, where we caught a small boat to Don Khone island – one of the largest and most famous of the 4000 islands. The boat was basic but seemed appropriate for the area, and the scenery was – once again – breathtaking, with the lush tropical jungle acting as a dramatic background to locals skitting about the water on their boats in and out of the endless small islands that make up the area.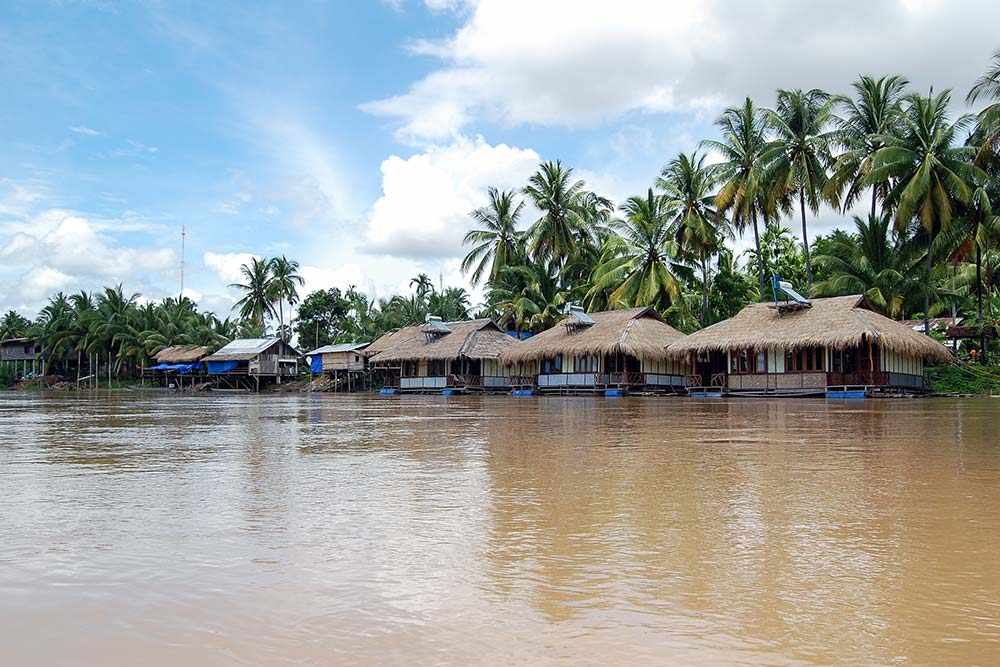 The boat dropped me off at my humble but comfortable floating hotel on Don Khone. It wasn't long before I was out the door once again, and on my rented motorbike headed towards the old French wharf, driving along the old French railway line to Liphi falls. Along the way, my guide and I paused to check out an abandoned old train engine, before continuing onwards.
Even after all the incredible waterfalls I'd taken in over the previous days, Liphi falls still turned out to be my favorite falls of my entire trip. Like Khone Phaphang, they covered a wide area, with water crashing over the rocks in all directions. Here, many locals had set up unique fish traps dubiously placed between the rocks. It's such a dangerous fishing trap that the BBC once featured this Laotian technique in their series, Human Planet.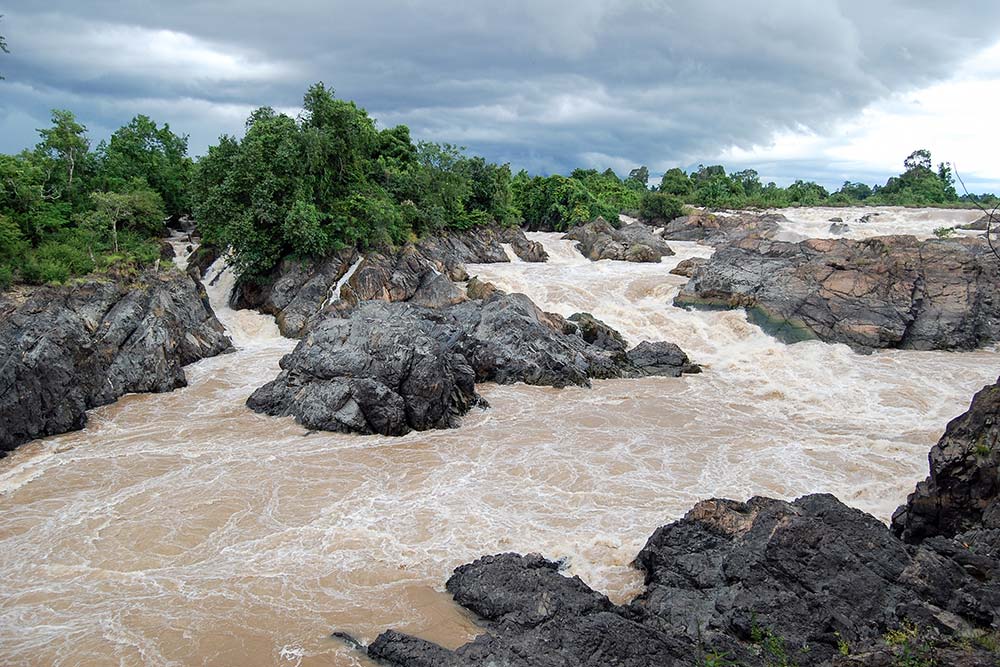 Later, we took a boat downstream for nearly half an hour to see the rare freshwater Irrawaddy Dolphin. We actually found ourselves on the Cambodian side of the border – no visas required – to observe the beautiful creatures from that side. For me, I found the novelty of crossing into Cambodia more interesting than watching the dolphins, as they were a bit far (about 100 yards) to get too excited about. After about an hour of dolphin observation, we headed back to Don Khone for the night.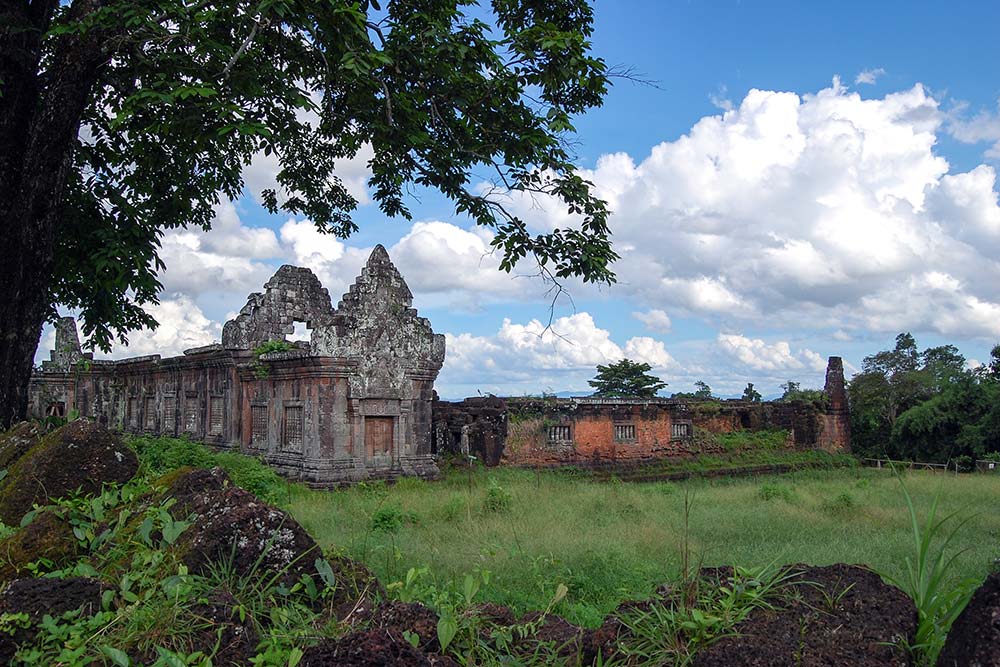 The next day, I took an early boat back to Ban Nakasang, and drove to Champasak to check out the ancient Khmer temple ruins of Wat Phou. Named a UNESCO World Heritage Site, Wat Phou is situated on a hillside, offering scenic views. But for me, I was less interested in the scenery than I was in the beautiful ruins that lay before me. The temple dates back to the 11th century, and was a part of the Khmer empire – brought to us by the same Kingdom responsible for Angkor Wat. What's particularly wonderful about Wat Phou though is that it is not anywhere near as well-known as Angkor Wat, and so there are very few tourists (indeed there were none during my visit, and only a sprinkling of locals), making you feel as if you have the place almost to yourself. For me, I found it fascinating to see the results of the Khmer Empire's reach, all the way into Laos.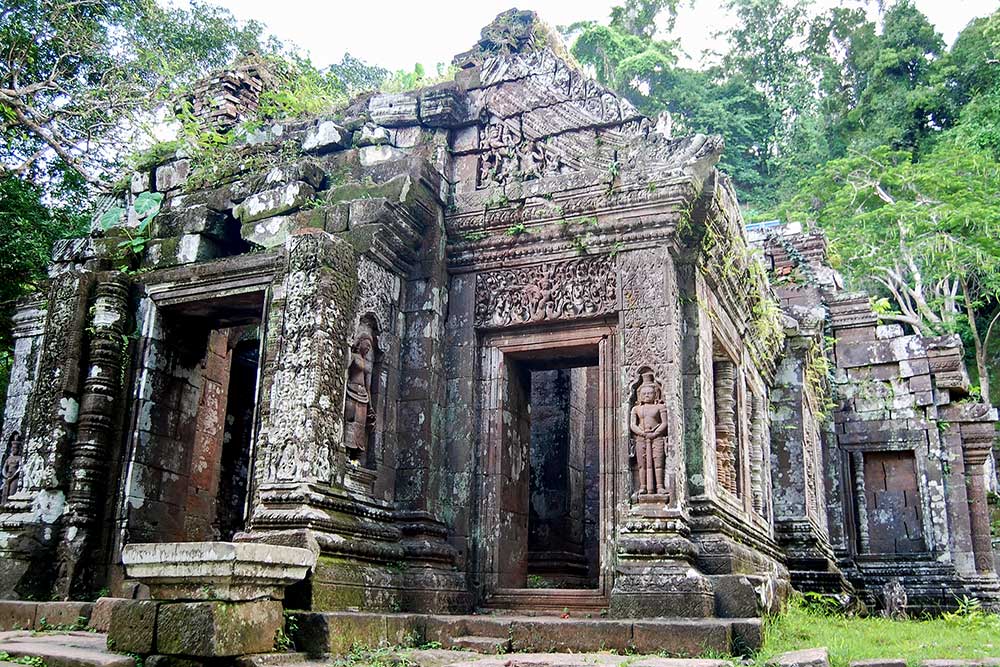 Upon arrival at Wat Phou, there is a path leading up to the top of a big hill, lined by large structures. At the top of the hill is a small temple complex. I explored the tourist-free area, enjoying the freedom I had to shoot as many photos as I wished of this beautiful structure.
Upon leaving the area, we passed through a rice farm, where farmers on the job caught my eye. Eager to have some local encounters, I volunteered to get my feet muddy and give them a hand planting rice. They had obviously never heard of a tourist offering to do this, and were incredibly welcoming to me as I helped them with their work. We had a good laugh, and I managed to grab some wonderfully candid shots of them as they worked.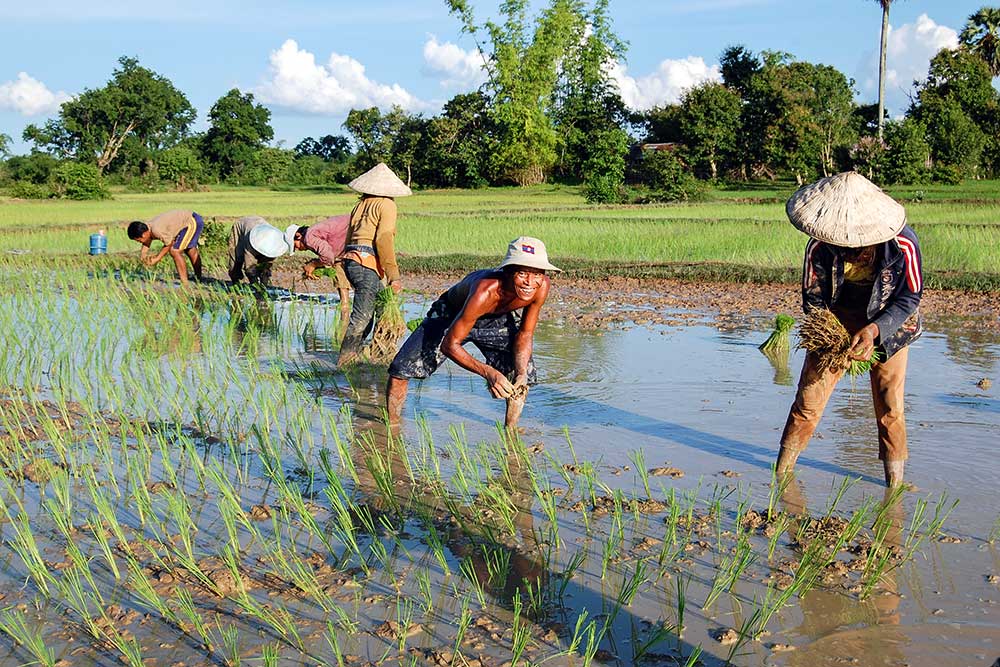 All in all, my visit to Southern Laos was memorable for its epic scenery, the exhilarating adventure I enjoyed at the Tree Top Explorer, and the fact that it wasn't as touristy as other parts of the country, being somewhat off the tourist trail, unlike Luang Prabang, Vang Vieng, and other places that are closer to airports.