Thailand is home to some of Asia's best festivals, and the thrilling seven-day Buffalo Races festival that takes place annually during Buddhist Lent (normally in October) in Chonburi is no exception. Chonburi is located just southeast of Bangkok, and it takes about 1.5 hours to get there by car.
I recently hit the road to attend my first Buffalo Race festival. When I arrived, it was no surprise to see the grounds abuzz with a carnival-like atmosphere. As is typical of a Thai festival, there was plenty of food and booths selling locally-made handicrafts, as well as singers and dancers entertaining the crowds. The unique element of this festival was the hundreds of buffaloes that moved slowly before the watchful eyes of their owners.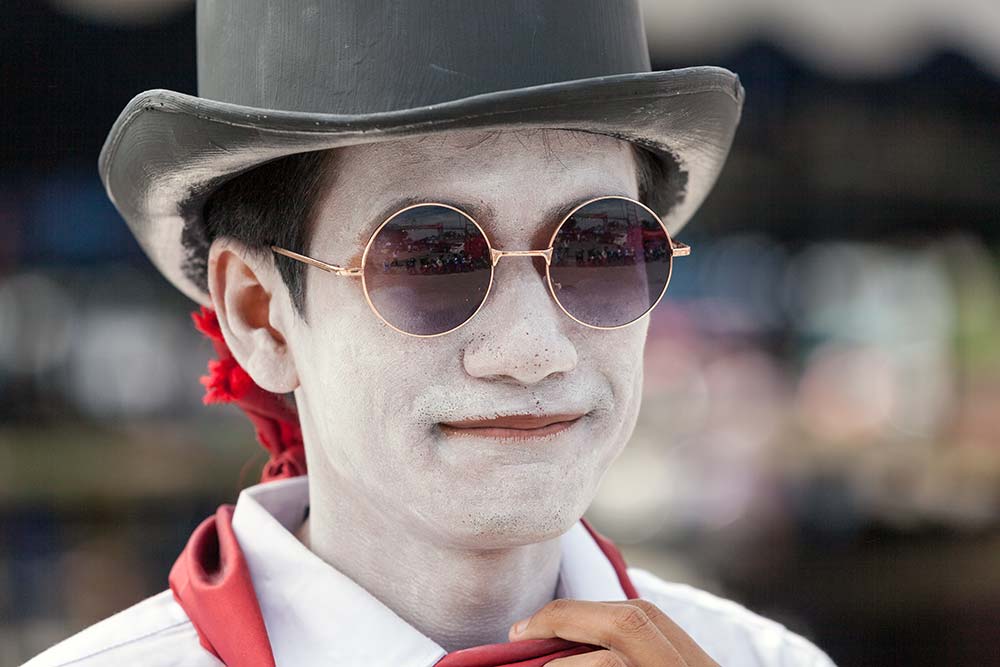 Established more than a century ago, the festival celebrates the majestic beasts – water buffaloes are the most useful animal to Thai farmers, and have long played an integral role in Thai culture and society. Though mechanical tractors have been slowly replacing the animals as ploughing tools for the fields, many farmers still prefer the old ways. It is said that in the past, farmers from across Chonburi province would congregate at the local temple, where they would sell their produce. Their farm buffaloes often accompanied them on this journey, and before long, informal races began as a way for farmers to pass the time and get in some fun during the slow season. The races grew and grew, and have now developed into a huge tourism draw for Chonburi, and a grand event for locals to enjoy.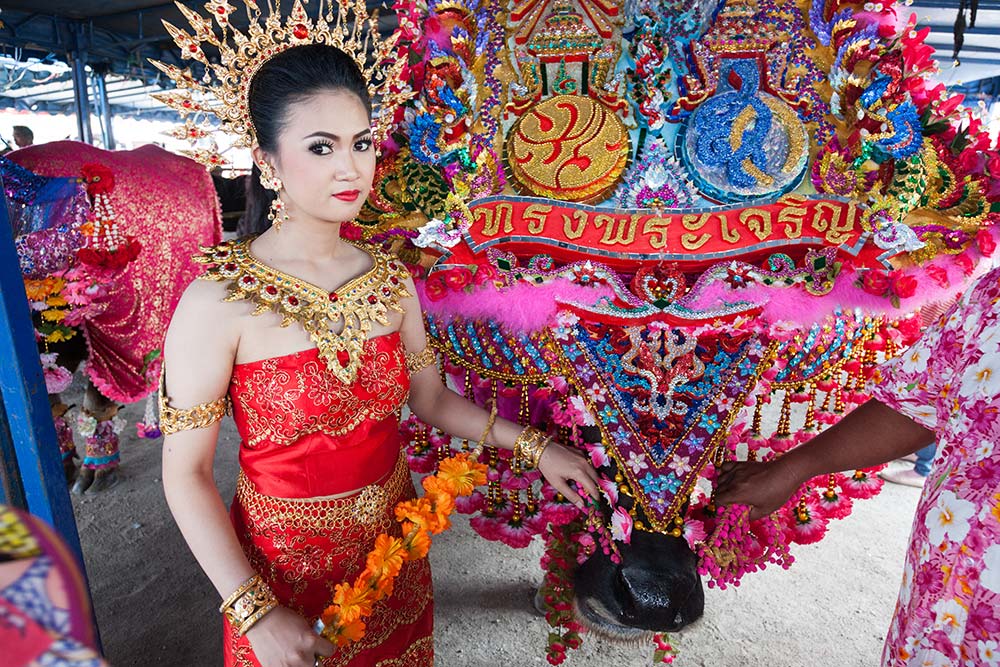 The Buffalo Races are held in Chonburi, as well as Ban Bueng and Nong Yai districts. The buffaloes, dressed in elaborate, colorful costumes, partake in racing, as well as physical fitness and fashion competitions. The fashion competitions have different prizes for most beautiful and most amusing costumes.
Shortly after we arrived, we noticed some of the buffaloes had won awards for their vibrant attire. Their owners were being congratulated by the mayor and other important locals, as is traditional with Thai festivals. They posed for photos with the winners and gave speeches.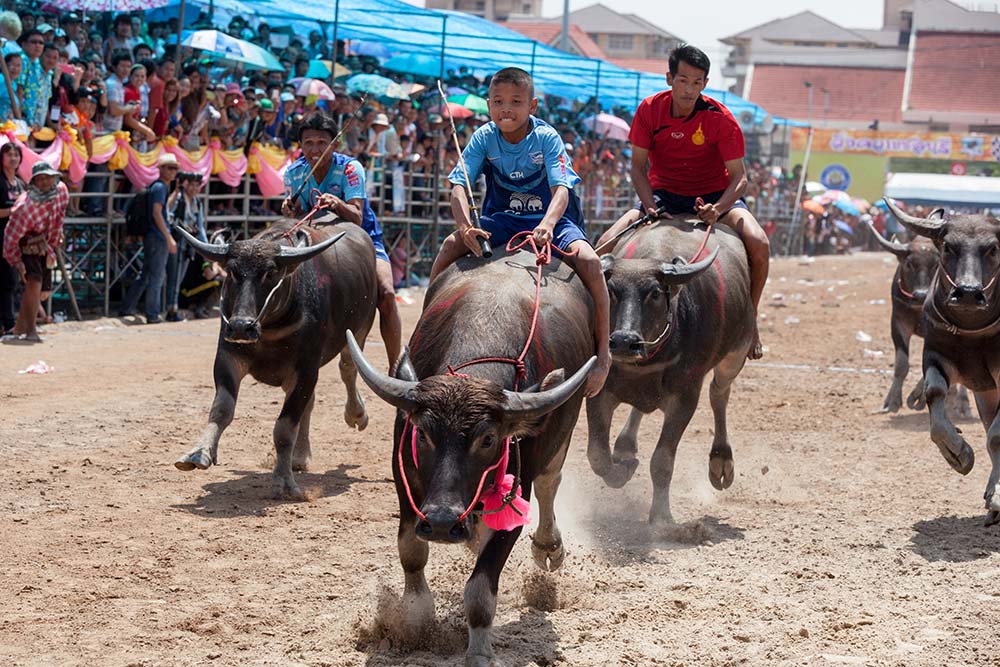 Next, I was off to observe the main attraction: the buffalo races, of course! They were taking place along a dirt track out front of Chonburi's Town Hall, between noon and 4pm. The races were segmented by buffalo size, from small, to medium, and large (large buffalo translates as Kwai Yai in Thai) and take place over two days of the weeklong festival.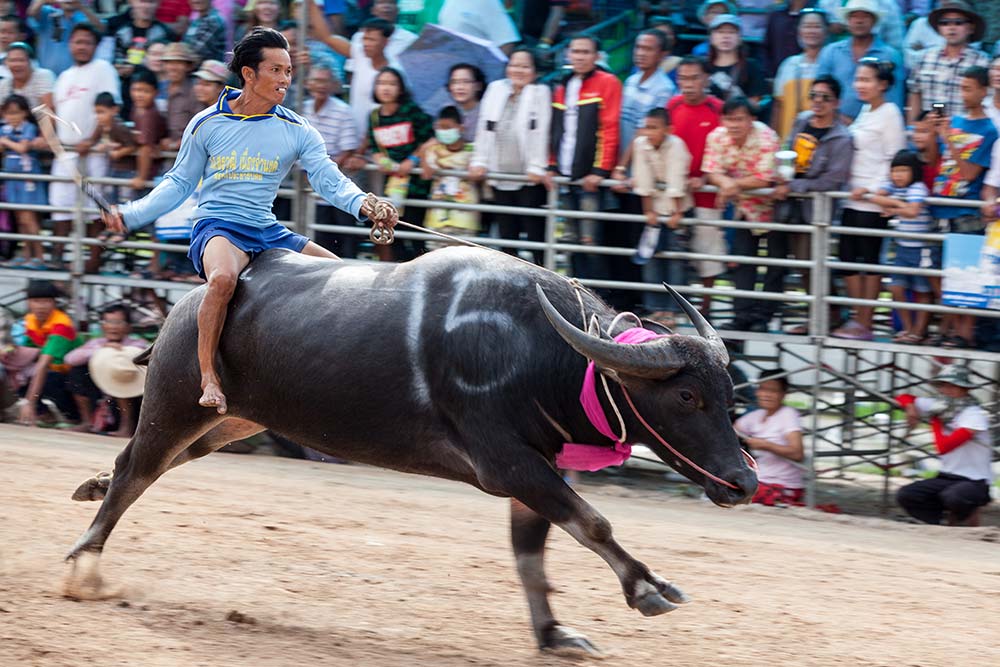 The crowd was mainly Thai, with a sprinkling of western press and photographers. I stood amongst the Thais directly on the 325-foot-long dirt track, and got quite a thrill as the buffaloes raced directly towards me at the finish line, just feet from where I was standing. The experience had a raw feeling to it, and I found it far more exciting than the typical horse races back in the United States, or in Hong Kong.
A seemingly odd act caught my eye at one point – a man, walking with his buffalo, bent down to scoop up a handful of dirt, which he rubbed on his buffalo's head. A Thai photographer, noticing both my interest and confusion by this event, explained that this dirt had been blessed by monks earlier, and the man had massaged it into the beast's head for good luck.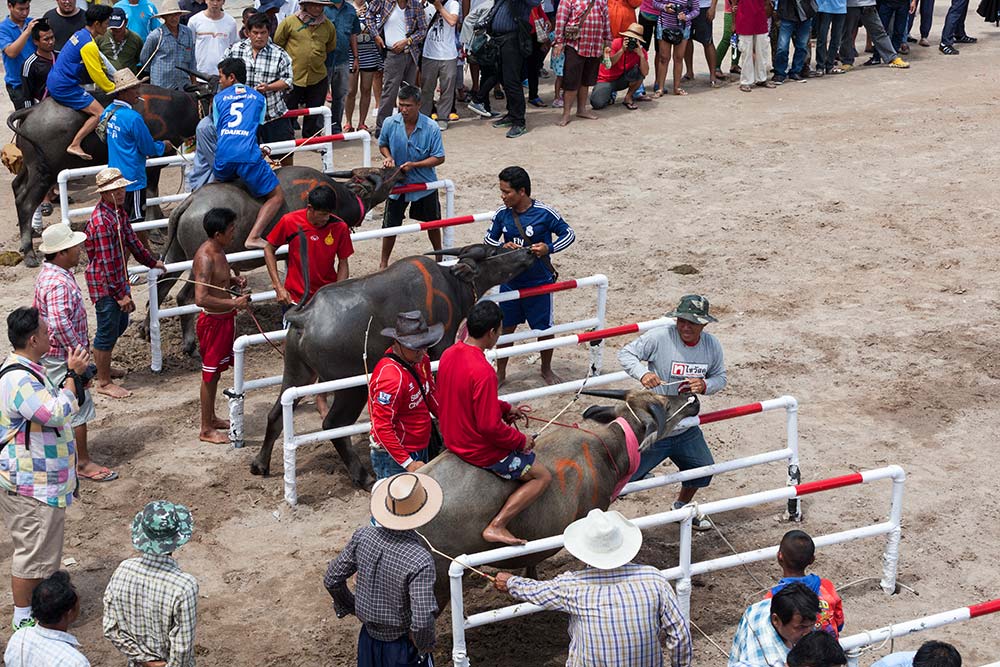 The races were slow to start – many buffaloes made false starts, and then it would take time to get them all settled and ready again. Once out of the gate, however, they were surprisingly fast! Another surprising element was the age of some of the jockeys – many of whom didn't look more than 12. I was also fascinated by where they sat on the buffalo – not in the middle, like where you'd sit on a horse, but all the way at the back. Sometimes they were even tossed off the back in the heat of the race.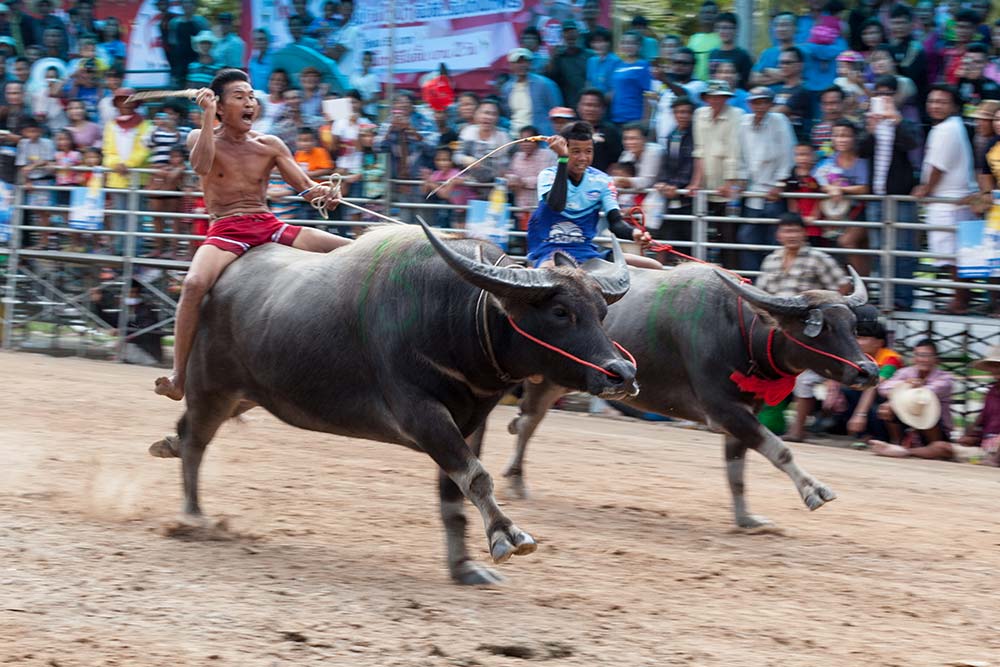 Most exciting of all were the Kwai Yai races, as the buffaloes were positively huge! It was impressive to see these magnificent beings race towards the finish line – and a bit intimidating!
Finally, what Thai festival would be complete without entertainment in the form of song and dance? Once the races were completed and awards handed out (typically trophies and cash), I stuck around to watch some of the singing and dancing. During one particularly notable performance, a ladyboy sung as the frontman (or frontwoman?), surrounded by Thai female dancers. It was a wonderful afternoon, and one that was completely and unmistakably Thai.