Example Itinerary
Classic Papua New Guinea
Adventure seekers and nature lovers look no further than Papua New Guinea for your next unforgettable, off-the-beaten-track journey. This 10-day trip takes you through Papua New Guinea's thick jungles, driving through rugged highland tracks, and canoeing along the Sepik river you seek intimate tribal encounters. Come face to face with these proud traditional tribes, each one unique and different from even their close neighbors. Along the way, keep an eye out for the incredible birdlife which includes endemic and rare species including the Victoria crowned pigeon, cassowaries, and 38 types of Bird of Paradise. Amazing landscapes, rich tribal culture, and vibrant wildlife are the classic cornerstones of this journey through wild Papua New Guinea, one of the most untouched locations in the world.
This itinerary is an example. It's designed to inspire you and provide you with thoughtfully curated ideas. You can choose to do this exact itinerary or completely personalize it. All trips are 100% bespoke.
Highlights
Asia's Last Frontier: On this island nation at the far eastern tail-end of Indonesia in the south Pacific Ocean exists tribes that still live in the jungles, who still hunt and gather, who still believe in sorcery, and still look as they do on the covers of National Geographic. Though modernity has touched and changed much of the country, the rustic traditional lifestyle and values hold steadfast and can be found outside of the cities. There are even tribes are remain isolated and uncontacted today.
Diverse Tribal Culture: One tribe wears clay masks, one has scars made to look like crocodile skin, and one wears wigs made of their own hair. With over 300 different tribes, the diversity and uniqueness of traditions and cultures you will witness will be astonishing.
Into the Wild: Papua New Guinea consists of mountains with altitudes over 15,000 feet, surrounded by steep slopes and valleys covered in tropical rainforest. It is a rugged, dramatic land with fast-flowing rivers surrounded with swampy plains. This is a truly off-the-beaten-track adventure that will have you traversing through remote jungles, trekking mountain trails, and canoeing along the rivers.
Day-by-Day
Day 1
Port Moresby
Arrive in Port Moresby, the seaside capital of Papua New Guinea. You'll be met at the airport and privately chauffeured to your hotel. After freshening up, begin your journey through PNG with a city tour of the capital. Named after Captain John Moresby, the first European visitor, the city is the largest in the country and mostly a business district. However, there are a few scenic points where visitors can enjoy the natural landscape, such as at Burns Peak lookout, Fairfax Harbor, and Port Moresby Nature Park. Make a stop at the Koki fish market for a glimpse of local life, followed by the National Museum to learn more about the country as a preface to your journey.
Day 2
Goroka
Today you truly begin your adventure into the real side of Papua New Guinea. A morning flight takes you to Goroka, a city in the Eastern Highlands that is famous for the yearly Goroka Sing Sing, a grand celebration and competition of dance, music, and traditional dress with a large attendance of tribes from across the country. The city is quieter outside of the festival time and there is still much to see as well as enjoy cool highland climes. After a tour of the city's fresh produce market and coffee factory, meet the indigenous Goroka tribe who live in isolated villages in the area. The Goroka men wear ornate colorful headdresses covered in feathers, a part of their traditions as well as a means of intimidation since tribal warfare is common. This evening you will witness the Courtship Ceremony, where young adults can meet with others from the same tribe and perform a ritual involving singing.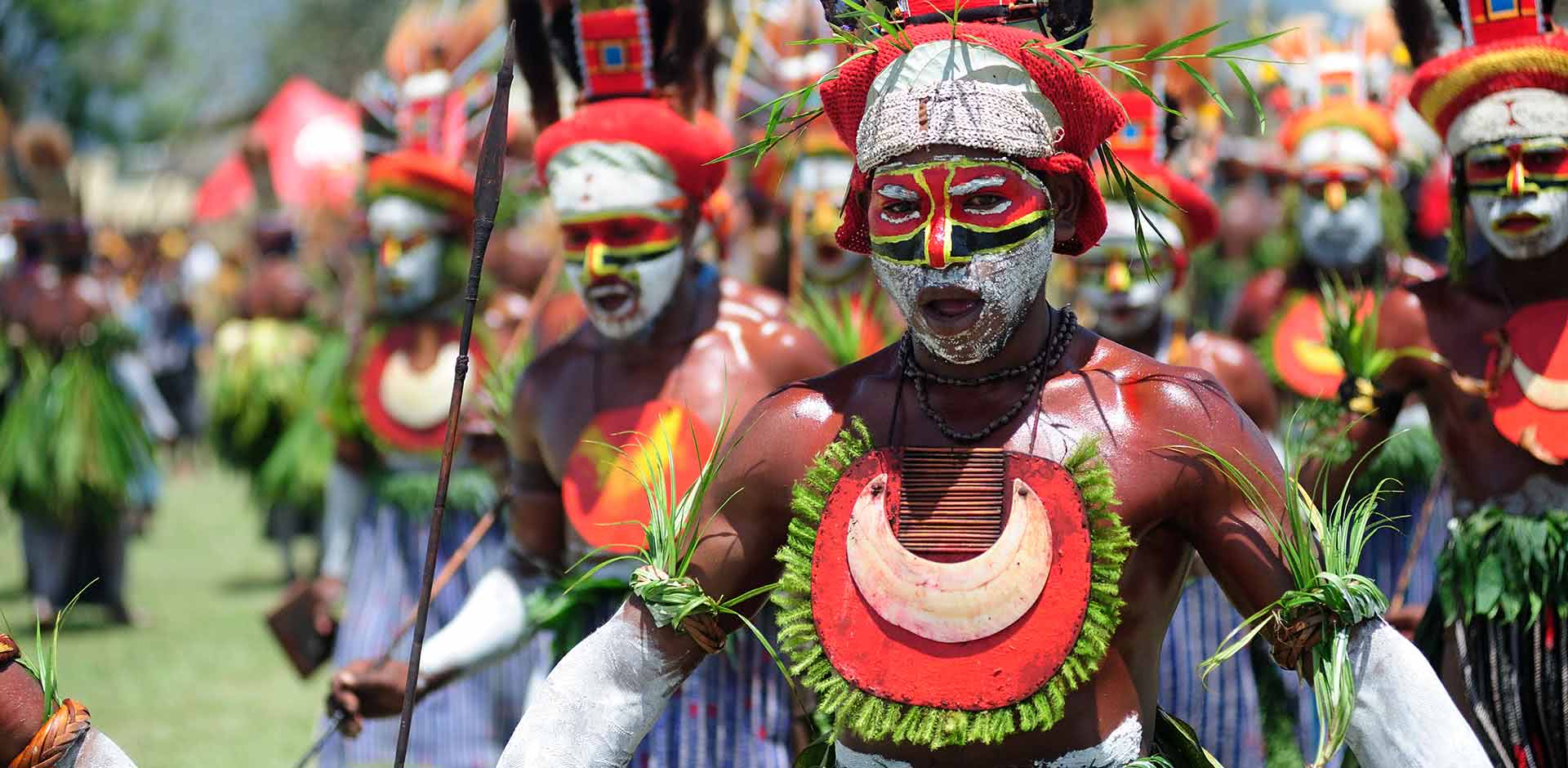 Day 3
Goroka
Start today with a visit to the J.K. McCarthy Museum, dedicated to one of PNG's legendary patrol officers, full of ancient cultural curiosities. Then, meet a couple more tribes that also live in the highlands. The Asara Mudmen are amongst the most famous and most recognizable tribes due to their ghoulish clay masks adorned with pigs' teeth and shells. The costume is completed with white paint spread across the whole body and elongated bamboo fingers. Despite their fearsome appearance, they are amongst the most welcoming and friendly tribes around and will be happy to show you their dances and masks. You will also meet the Moko Moko tribe, a reclusive tribe that is sensitive about keeping their cultural identity and traditions sacred. However, as their guest today, you will have the opportunity to see their wild dances - and participate if you wish.
Day 4
Mount Hagen
Travel onward to Mt. Hagen, a 6-hour journey by winding mountain road which takes you on a tour of several Highlands tribes and villages along the way. See the Asaro mudmen around Daulo pass, skeleton dancers of the Mindima village, the clay and ash painted Simbu villagers, and more. These Highland tribes all gather annually for the sing-sing at Mt. Hagen. Upon arrival at Mt. Hagen in the late afternoon, check in to the comfortable Rondon Ridge Hotel and rest up for tomorrow.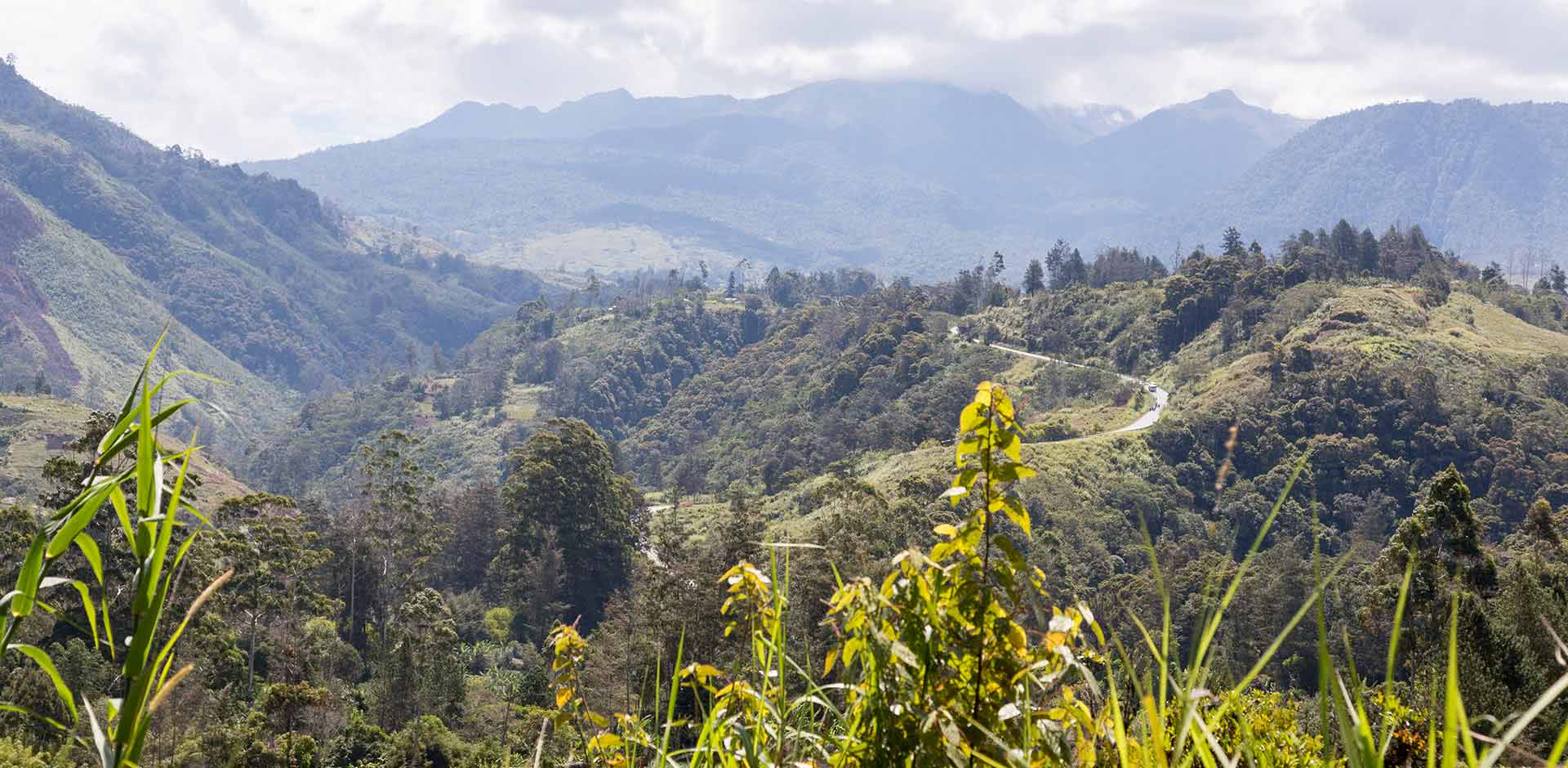 Day 5
Mount Hagen
Spend the morning strolling around Mt. Hagen town, an urban center with shops and agri-farms. The area is famed for its coffee, and its coffee and tea plantations have brought rapid changes to the local lifestyle. Visit a coffee plantation to learn the intricacies behind the major local trade, and sample its delicate and bold flavors. At the city market, you can see colorful traditionally-dressed locals of the region shopping and trading. Afterwards, drive out to meet the local Melpa tribe. Mostly unchanged by time and modernism, sweet potato gardening is the main food source and pigs are signifiers of wealth. However, due to the founding of Mt. Hagen as a missionary center in the 1930s, a number of the Melpa are now practicing Christianity and attend the local churches regularly. You will see that men and women live separately in gender-designated communal houses though few Melpa have adopted missionary-introduced family unit homes. Learn about the tribes' traditions and how their lives are impacted by foreign influence.
Day 6
Sepik Region
This morning, drive to the airport and take a charter flight to the Sepik River where you'll land near Karawari Lodge, your base in the area. After lunch at the lodge, head to the river to explore by canoe the villages that line this central Sepik River region. There are several clans and sub-clans that live along the river independently of each other, with tribal wars and headhunting being a reality of the past. Though peaceful resolutions are sought today, mistrust and tensions between the villages still exist. Visitors are welcomed and treated as guests, and you may even enter the spirit houses.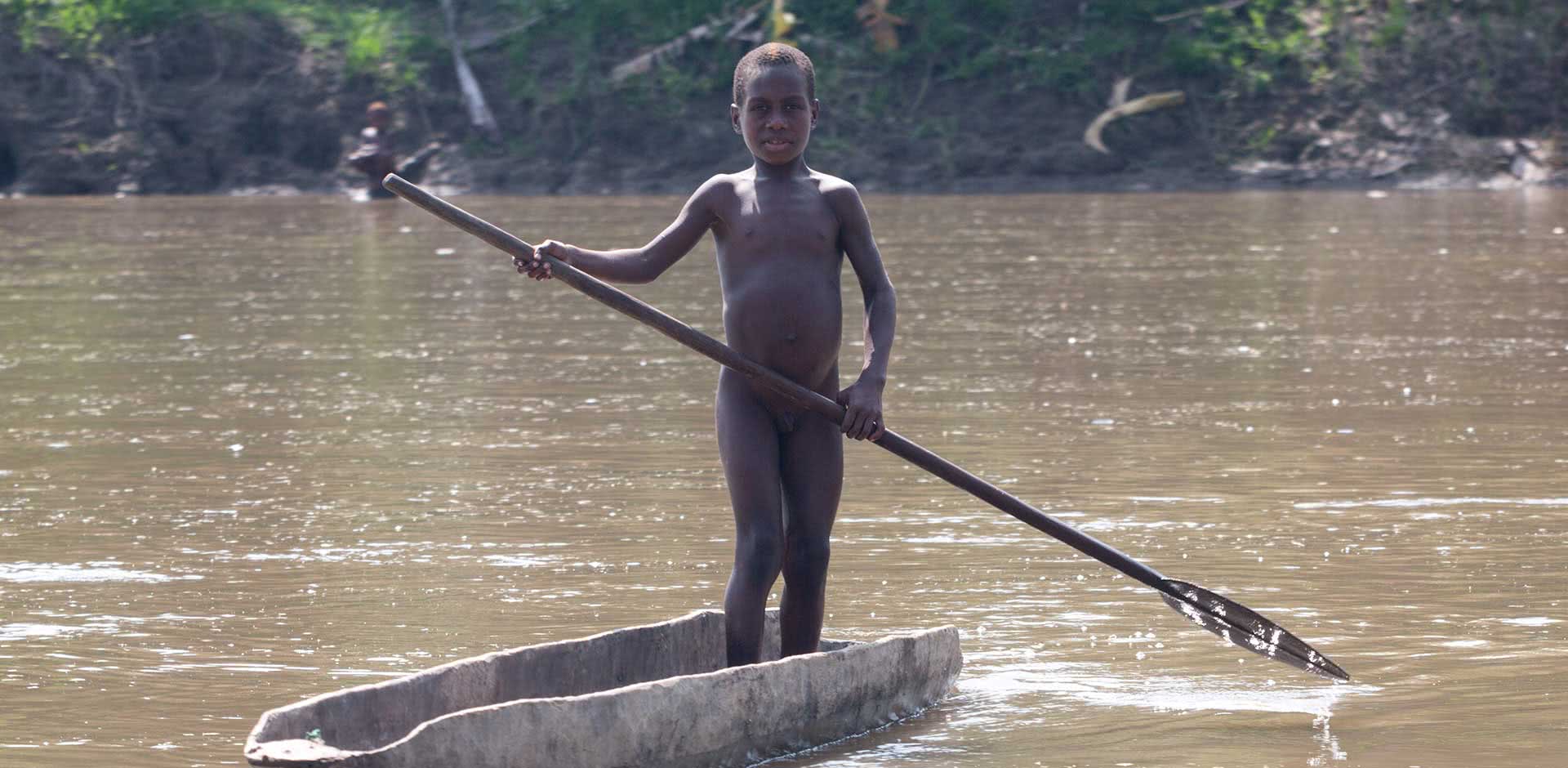 Day 7
Sepik Region
Spend another day visiting the various villages along the river. Each clan's art is also unique, reflected in their masks, totems, drums, shields, and furniture. As you travel along the river, keep an eye out for crocodiles in the water and along the banks. These creatures are an important element of the economy and traditions in the area and you may even see men sporting scars made to resemble the skin of a crocodile.
Day 8
Tari
Today you'll fly by charter plane to Tari, home to a proud, flamboyant tribe known for their elaborate dress. You'll check into your room at the Ambua Lodge, an award-winning, eco-friendly facility with stunning panoramas of the Tari Valley, before going to meet the "Huli Wigmen" tribe. This nomadic tribe is the largest ethnic group in the Highlands. Meet local villagers and learn about their traditional culture, which still remains largely uninfluenced by outside forces. This tribe is famous for their wigs, made of their own hair, worn as headdresses for ceremonial rituals and on a daily basis. At the age of 14, boys must attend wig schools and live together in isolation while they make several wigs which can take ten years to finish. Upon completion, they paint their faces with yellow ochre, find wives, and rejoin the community.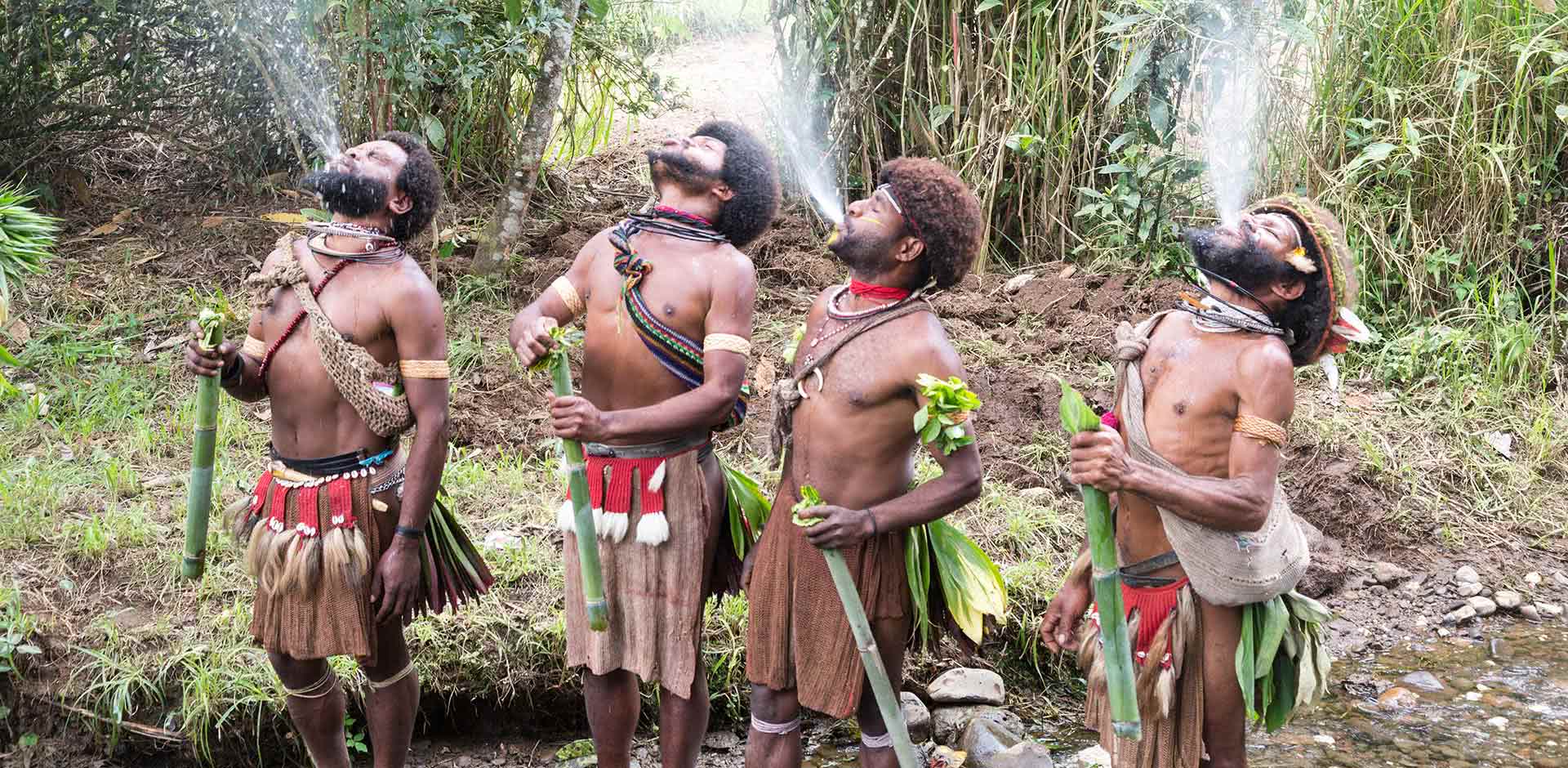 Day 9
Tari
Today, spend more time with the Huli tribe. Although visitors are forbidden at the wig school - strictly for instructors and students only - you may meet a wig school teacher who can tell you more about the magic of making these intricate headpieces. You can also spend time spotting exotic bird life and hiking through winding rainforest pathways.
Day 10
Departure
Today, the final day of your journey through wild Papua New Guinea, you'll take a plane back to Port Moresby, from where you can check in to your international flight onward.
TERMS AND CONDITIONS
Price is based on double or twin hotel room occupancy and includes accommodation, transfers, car/driver, English-speaking guide, activities and entrance fees, breakfasts and some casual lunches while touring. Flights and optional special activities will be quoted separately. Most personal expenses, including dinners, alcoholic beverages, spa treatments and gratuities can be paid on the spot while traveling. Prices may vary depending on season, choice of accommodation and other factors.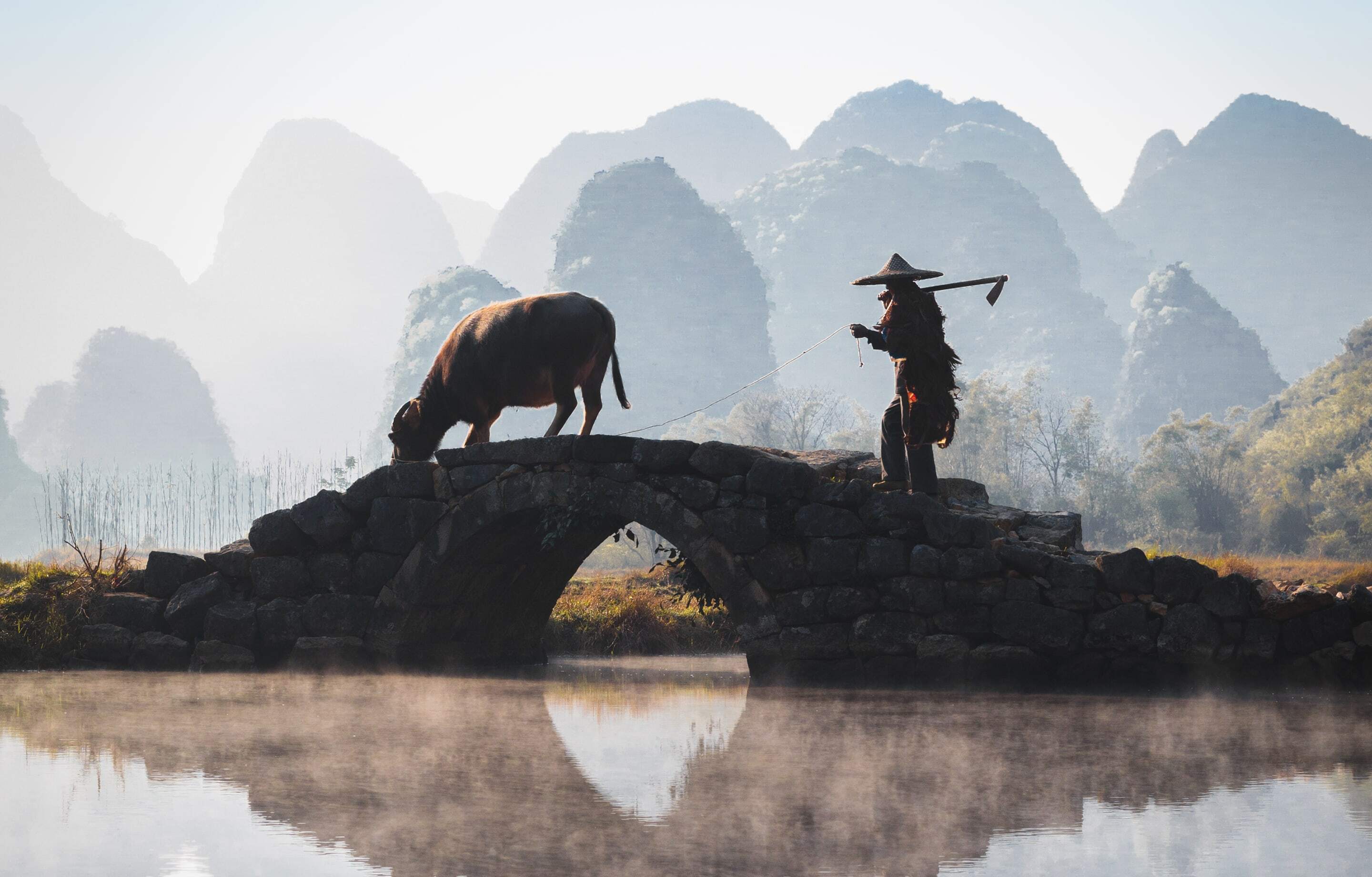 Why Remote Lands?
Exclusively Asia
With Remote Lands you'll travel with people who have made Asia the solitary focus of their own lifelong adventure. As our guest, you'll discover Asia on a journey that is completely, authentically your own, adapted from our own remarkable experiences and adventures over the years.
With Remote Lands you'll travel with people who have made Asia the solitary focus of their own lifelong adventure. As our guest, in the continent that our north American founders Catherine and Jay have adored and explored for decades, you'll discover Asia on a journey that is completely, authentically your own, adapted from our own remarkable experiences and adventures over the years.
Travelogues
An Asia-focused magazine brought to you by Remote Lands – a platform for adventure, luxury, and authenticity from experts and explorers around the continent.
What Others Say
Here is a small selection of the kind words our guests have said about us, as well as features by journalists and travel writers.
From the moment I happened upon the REMOTE LANDS website over a year ago, browsed the options, I knew that this would be well worth it. The entire staff is nothing less than professional with service that made us feel like royals.
This was truly the trip of a lifetime. Magical destinations, the most luxurious hotels in the world, and the most wonderful travel companions we could've wished for. We were treated like family everywhere we went and we have 14 new best friends.
We have used some of the top rated travel specialists all over the world and, without question, Catherine Heald and Remote Lands are at the very top of the list!