Example Itinerary
Classic Taiwan
Duration

8 days / 7 nights
Price Per Person
Destinations
Explore the underappreciated island of Taiwan on this exciting 8-day Classic Taiwan journey. Its island landscape is comprised of mostly mountains along a north-south axis dotted with hot springs, dramatic cliffs on the east coast, deep ravines, sandy beaches with world-class surf, and swathes of verdant farmland. Taipei is a cultural epicenter with a unique lifestyle, owing to its complex history with China and influences absorbed from Japan during colonial times. Experience the juxtaposition of ancient temples and towering skyscrapers on the age-old landscape. Travel down the scenic coastline to go trekking in a gorge before heading to Kaosiung, a port city in the south.
This itinerary is an example. It's designed to inspire you and provide you with thoughtfully curated ideas. You can choose to do this exact itinerary or completely personalize it. All trips are 100% bespoke.
Highlights
New and Old: Taiwan's cities appeal to the whole family, offering history, culture, and nature everyone can appreciate. Amongst the incense-perfumed temples, memorial halls, and museums displaying ancient national treasures, are street art, lotus ponds, youth shopping plazas, and futuristic buildings.
Dramatic Coastal Scenes: The island's east coast is defined by its stunning coastal bluffs, steep cliffs that drop off into the Pacific Ocean of jewel blue shades.Take a drive along this coastal road, arguably one of Asia's most magnificent roadtrips.
Gorge Trekking: Taroko Gorge National Park is a premier destination for nature-lovers. An impressive almost 12-mile long canyon, this area offers a variety of easy to difficult treks amongst rugged coastal cliffs, narrow passages cut into rock, and coniferous forests.
Snacking Paradise: If you didn't visit a night market, did you really visit Taiwan? These ubiquitous lively evening markets are quintessentially Taiwan. Cheap clothes and accessories aside, these markets' main draw is the variety of delicious local delicacies at affordable prices.
Day-by-Day
Day 1
Taipei
Begin your journey in Taiwan at the capital city of Taipei. You will be met at the airport and privately transferred to your hotel to check in and freshen up. In the afternoon, explore Ximending, a lively hip entertainment and commercial pedestrian zone. Hip since the Japanese colonial era, this recreation district offers boutiques, brand name shops, an adjoining theatre district, bars, a graffiti lane, and casual eateries. Stop at the Red House, one of the oldest buildings in the area at 110-years old which showcases arts and crafts from local artists. At night, it is time to visit the quintessential night market. Raohe Night Market is one of the oldest and most popular. Its almost 2000-feet stretch is packed with shops and stalls selling souvenirs and snacks. Eat your way down the market as you browse deeply discounted fashion. Don't forget to try this market's famed black pepper bun.
Day 2
Taipei
Today discover the city's mix of new and old. Start the morning at Longshan temple, built in 1738 by settlers from Fujian, China. Then head to the Taiwan 101 building, an iconic skyscraper for its unique architectural style evoking traditional Asian aesthetics in a modern structure. Head to the observation deck for views over the city and to see the world's largest damper sphere which helps the building endure earthquakes. We recommend trying soup dumplings made famous by Taiwanese restaurant Din Tai Fung, at its original location for lunch. In the afternoon, pay a visit to the Chiang Kai-Shek Memorial Hall and catch the changing of the guards before exploring the National Palace Museum. This museum has an impressive permanent collection of ancient Chinese imperial artifacts and artwork which were brought to Taiwan by the fleeing Nationalist party, saving them from being destroyed during China's Cultural Revolution. This evening, visit the nearby Shilin night market, the largest and most famous in the city. Peruse the alleys and lanes lined with food stalls, video arcades, shops, karaoke bars and snack to your heart's content. If you dare, try the night market classic snack, stinky tofu.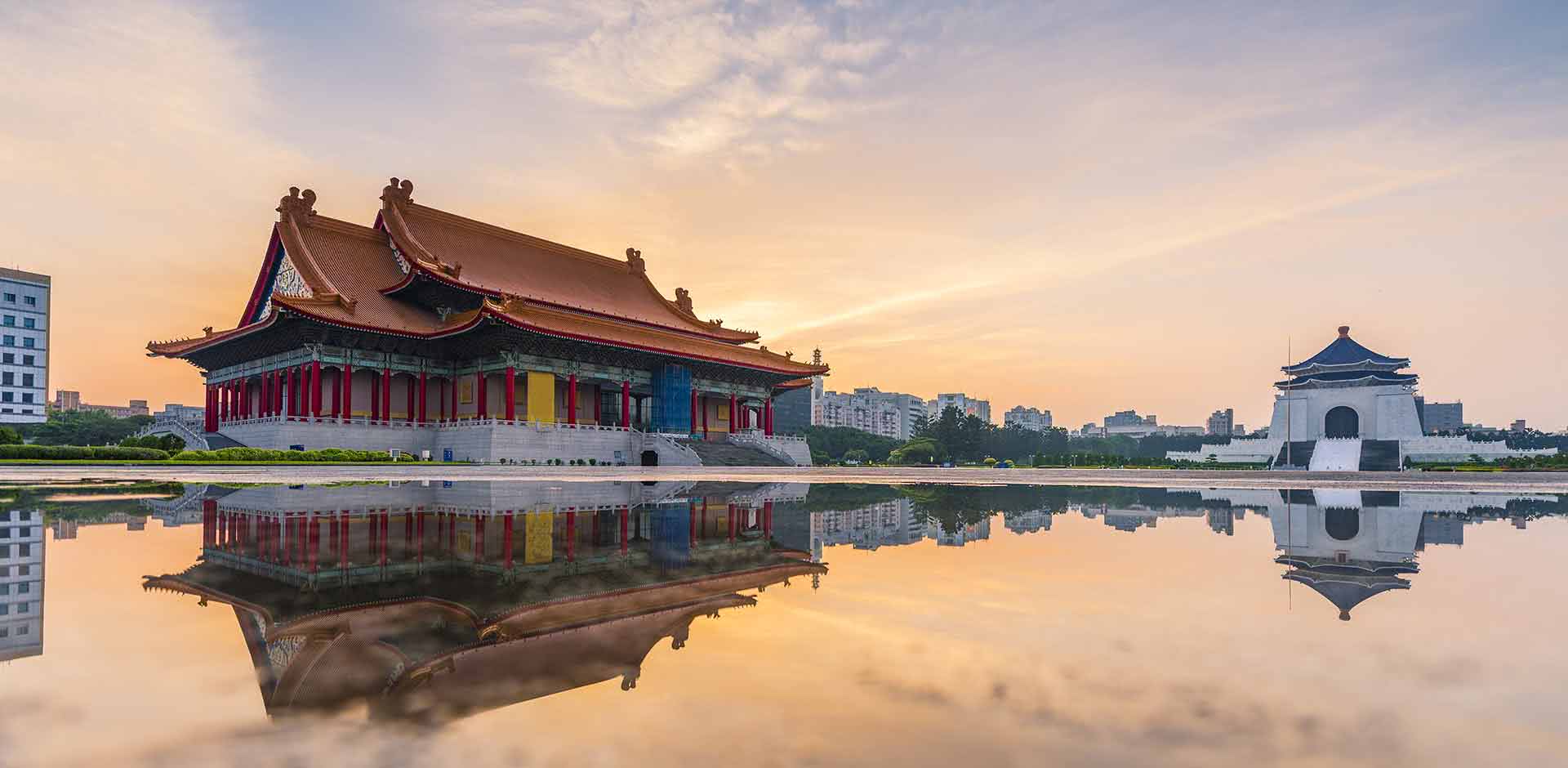 Day 3
Taipei
Take a day-trip to explore a few nearby villages, just to the north of Taipei. At the very north coast on a cape is an interesting geopark known for unique geological formations. The soft limestone eroded by seawater and wave has created interesting formations named for the shape, the most iconic of which is the 'Queen's Head.' A short walk beyond the geopark brings you to the top of a cliff for outstanding views of the North Coast and Pacific Ocean. Continue to the fairytale-esque hillside village of Jiufen which offers rich history, atmospheric lanes, teahouses, and snacks at every turn. Then, visit the nearby Shifen village, a collection of lanes and alleys built around the central railway that runs through the town. Visit the town's waterfall and if you wish, release a sky lantern. The final stop is your choice between the traditional Keelung port city with its famous Miaokou night market and seafood, or the obscure and strange Wanli UFO village, a collection of derelict Venturo houses lining an eerie abandoned beachside town.
Day 4
Taroko Gorge
Leave the city behind and embark on a spectacular car journey along the island's east coast. The land here consists of volcanic rock that has been pushed upward by tectonic action, creating dramatic landforms of coastal terraces, sand and pebble beaches, shoreline reefs, trenches, and caves. Travel south with the emerald mountains to your right and ocean blues to your left. Enroute, visit Kavalan Whisky Distillery which makes Taiwan's acclaimed spirit, followed by lunch at a local fishing village, and a stop at the magnificent Qingshui Cliff. Your final destination is Silk's Place hotel located deep inside Taroko Gorge National Park. Unwind and rest up for tomorrow's adventure in the park.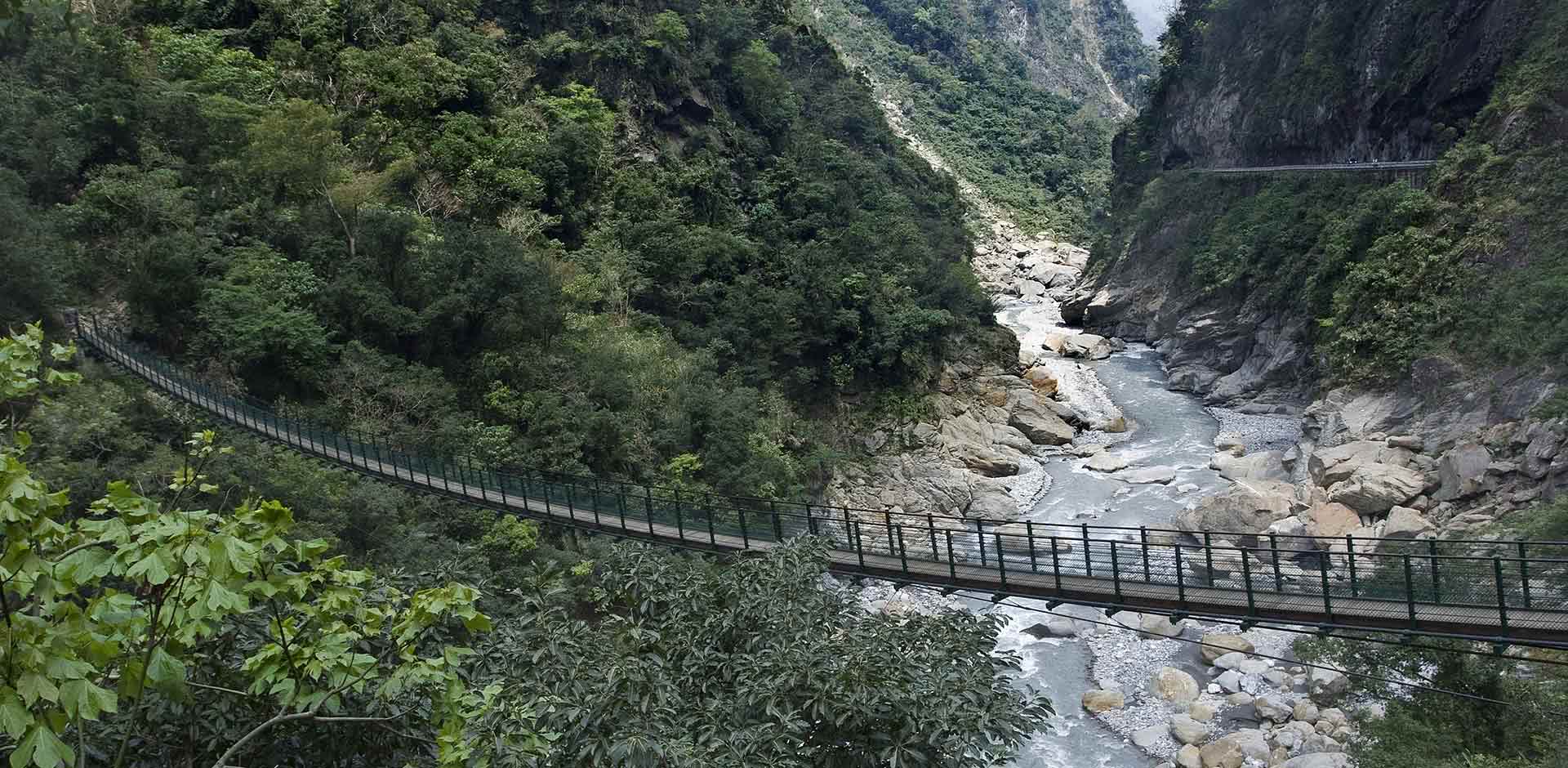 Day 5
Taroko Gorge
Take your journey to the next level as you river trace in the Taroko Gorge. Truly the best way to enjoy the view, you will combine climbing and hiking in the picturesque (and safe) environment. Visit the Changchun Shrine, or the Eternal Spring Shrine. The shrine commemorates the 212 construction workers who died building the Central Cross-Island Highway. Enjoy a unique lunch of aboriginal cuisine at a local restaurant. Put on your waterproof gear when you visit the Shuilian Cave, or the Water Curtain Cave. Brought to fame by the novel, Journey to the West, this is where the main character sought enlightenment. End the day with a hike along the Shakadang Trail, or Mysterious Valley Trail, built along the river's edge, and get one last glimpse of the postcard-perfect views.
Day 6
Kaohsiung
Today you are headed to your final destination of this journey, the southern port city of Kaohsiung. Depart from Taroko and cut across the island to Taichung via the curvy and mountainous Cross Island Highway. In Taichung, have lunch and visit the Rainbow Village, a settlement of brightly painted homes and streets. The work was single-handedly done by a man on the quest to save his village from demolition. Before getting on the train, stop in at Miyahara, a red-brick building that was formerly a ophthalmology clinic during the Japanese colonial period. Check out its historic architecture while also trying ice cream and bubble tea from the pastry company that moved in. The high-speed rail journey takes only an hour to reach Kaosiung. Check in to your hotel and spend the evening at leisure.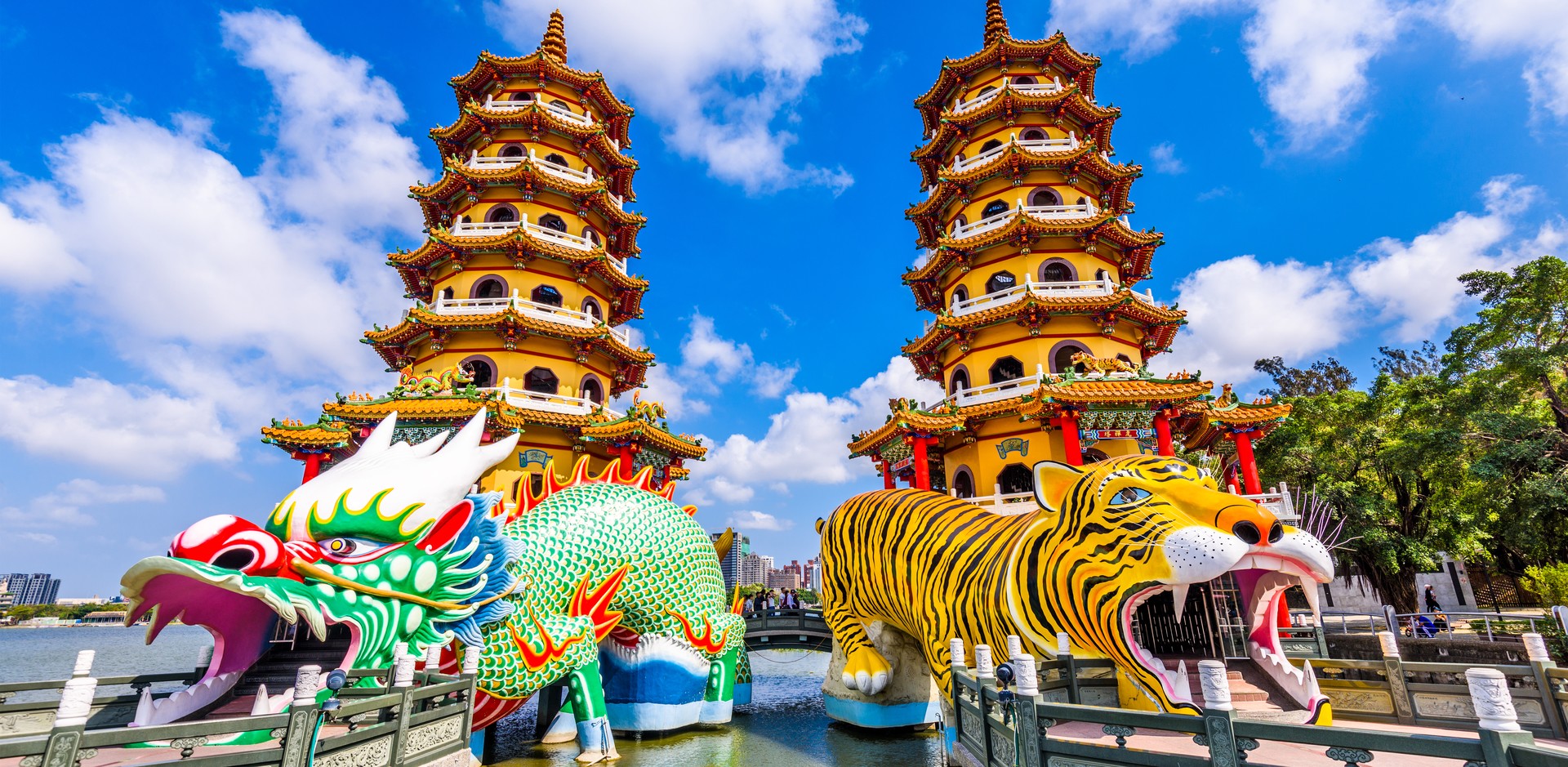 Day 7
Kaohsiung
Once a purely industrial city with a busy harbor, Kaohsiung has become an exciting, trendy landscape. Visit Fo Guang Shan, Taiwan's largest temple which has an impressive path called The Noble Eightfold Path which leads to an enormous bronze sitting Buddha statue. Head to the scenic Lotus Lake, fringed with temples. The most interesting and popular of which is the flamboyant Dragon and Tiger Pagodas, twin seven-storey towers with a dragon's mouth entrance and tiger's jaws exit. Take it easy in the afternoon with a stroll around the Pier 2 Art District and Xinjuejiang shopping district. Tonight, take one last opportunity to enjoy the snacks at one of the city's night markets.
Day 8
Departure
Have breakfast and spend the morning at leisure, perhaps enjoying a final bowl of Taiwanese beef noodle soup or last minute souvenir collecting. When ready, a private transfer will take you to the airport for your flight onward.
TERMS AND CONDITIONS
Price is based on double or twin hotel room occupancy and includes accommodation, transfers, car/driver, high-speed train ticket Taichung-Kaosiung, English-speaking guide, activities and entrance fees, and breakfasts while touring. Flights and optional special activities will be quoted separately. Most personal expenses, including lunches and dinners, alcoholic beverages, spa treatments and gratuities can be paid on the spot while traveling. Prices may vary depending on season, choice of accommodation and other factors.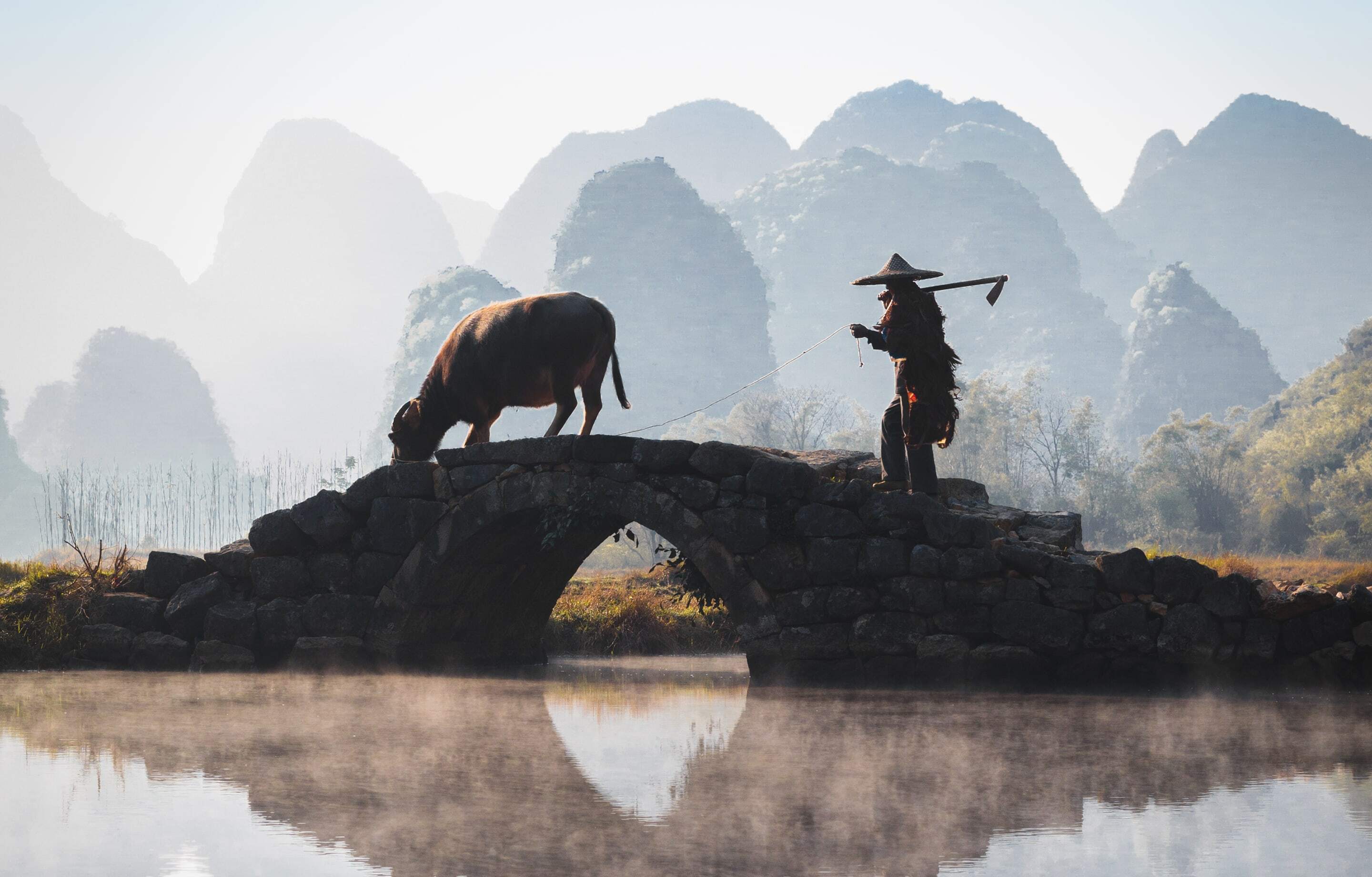 Why Remote Lands?
Exclusively Asia
With Remote Lands you'll travel with people who have made Asia the solitary focus of their own lifelong adventure. As our guest, you'll discover Asia on a journey that is completely, authentically your own, adapted from our own remarkable experiences and adventures over the years.
With Remote Lands you'll travel with people who have made Asia the solitary focus of their own lifelong adventure. As our guest, in the continent that our north American founders Catherine and Jay have adored and explored for decades, you'll discover Asia on a journey that is completely, authentically your own, adapted from our own remarkable experiences and adventures over the years.
Travelogues
An Asia-focused magazine brought to you by Remote Lands – a platform for adventure, luxury, and authenticity from experts and explorers around the continent.
What Others Say
Here is a small selection of the kind words our guests have said about us, as well as features by journalists and travel writers.
From the moment I happened upon the REMOTE LANDS website over a year ago, browsed the options, I knew that this would be well worth it. The entire staff is nothing less than professional with service that made us feel like royals.
This was truly the trip of a lifetime. Magical destinations, the most luxurious hotels in the world, and the most wonderful travel companions we could've wished for. We were treated like family everywhere we went and we have 14 new best friends.
We have used some of the top rated travel specialists all over the world and, without question, Catherine Heald and Remote Lands are at the very top of the list!