Example Itinerary
Heritage and Islands of the Philippines
Duration

16 days / 15 nights
Price Per Person
Destinations
This 16-day luxury tour takes you to the Philippines' must-see sites, with a varied itinerary that encompasses volcanoes, rainforest, pristine coral reefs and the historic Intramuros area of Manila. Adventure-seekers have a range of activities to get the adrenaline pumping, while there's plenty of time for rest and relaxation in some of the country's most luxurious beach resorts.
This itinerary is an example. It's designed to inspire you and provide you with thoughtfully curated ideas. You can choose to do this exact itinerary or completely personalize it. All trips are 100% bespoke.
Highlights
The massive caldera of Taal Volcano and Taal Lake in its center
Snorkeling and diving around the coral reefs of Palawan
Stay in luxury beach resorts in your private villa or bungalow
A helicopter flight over UNESCO-protected Banaue terraced rice fields
A visit to a tarsier sanctuary to see Bohol's most famous inhabitan
Day-by-Day
Day 1
Manila
To begin your journey, we start at the Philippines' bustling capital, Manila. A local activist and artist takes you on a walking tour through Intramuros, after which you'll sample some delicious Filipino cuisine at La Cocina de Tita Moning in a 1937 ancestral home. In the evening, enjoy this night in Manila at one of the city's sterling five-star hotels, such as the Makati Shangri-la or the iconic and luxurious Raffles.
Day 2
Taal Volcano
Today you'll travel to the nearby Taal Volcano, a truly picturesque caldera that holds a lake and a smaller volcanic peak. Here, visit St. Joseph Parish Church in Las Piñas and marvel at the bamboo pipe organ there. Next, it's off to the Jeepney Factory to see how these iconic taxis are made, then you'll stop for lunch with a view over Taal Lake from Antonio's Grill. In the afternoon, visit the picturesque Taal Heritage Town before heading back to your luxury hotel in Makati.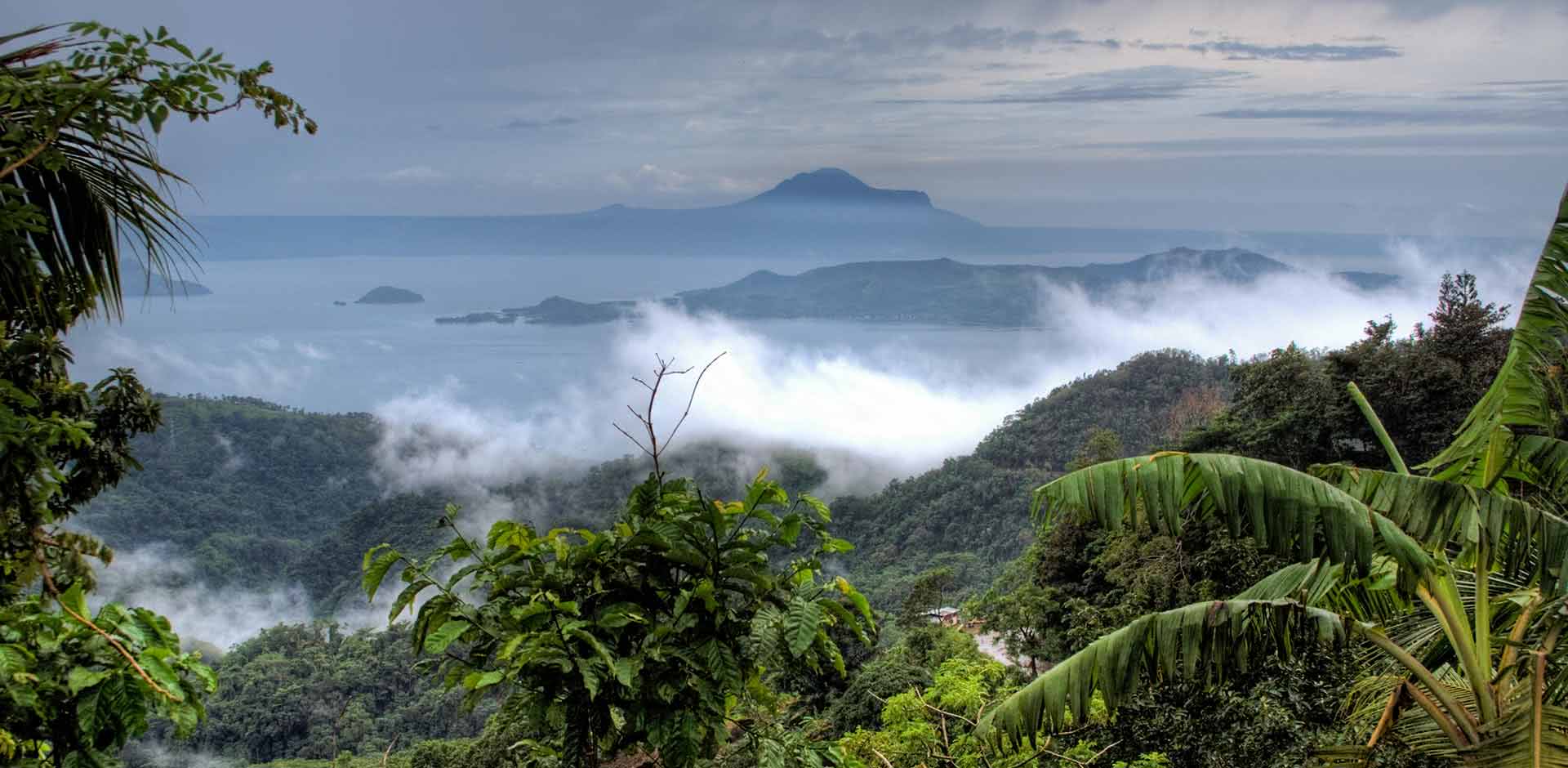 Day 3
Banaue
Travel in style to the emerald green Banaue Rice Terraces, where a helicopter will provide you with an unbeatable aerial view of this UNESCO-protected site. Embark on a hike through the rice fields of Bangaan Village, a tiny, picturesque town nestled in the terraces of this awe-inspiring location. In the evening, check into your spacious suite at Banaue Hotel, overlooking the mountains and valleys.
Day 4
Banaue
Today, you'll see one of the area's most intriguing sights – the Hanging Coffins of Sagada. Wander the caves with a guide and, if you're the more adventurous type, go spelunking in Sumaguing Cave. Sumaguing Cave houses beautiful rock formations and a vertical rock wall called King's Curtain. Tonight, check into Banaue Hotel and enjoy delicious local cuisine before retiring to your spacious room.
Day 5
Manila
In the morning, enjoy a helicopter transfer from Banaue back to Manila. En route, you'll fly past the crater of active volcano, Mt. Pinatubo. Enjoy the evening in Makati, Manila where you can check out local eateries, enjoy some luxury shopping or indulge in a spa treatment in a five-star hotel such as Makati Shangri-La or Raffles.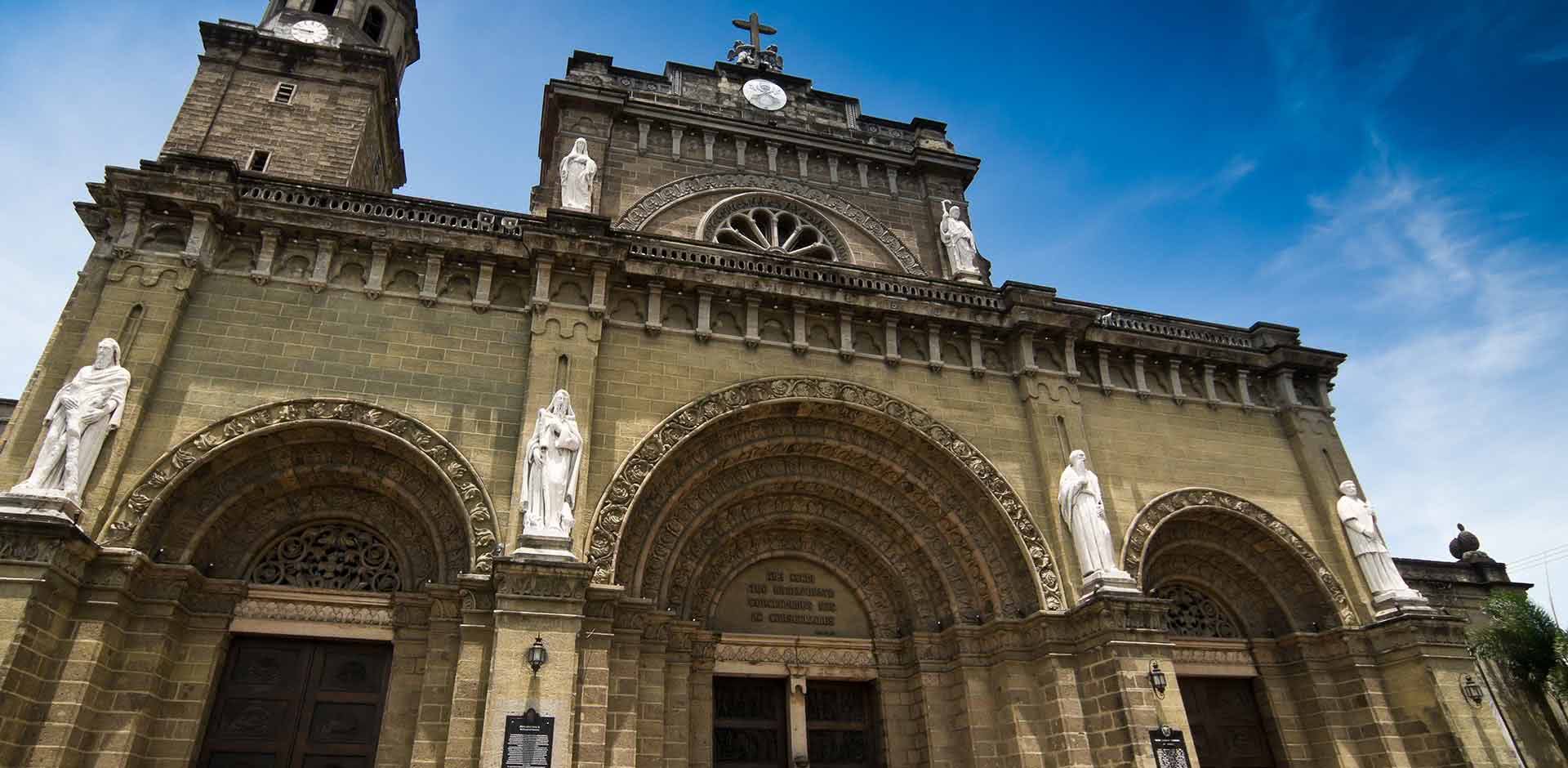 Day 6
Bohol
The island of Bohol is home to intriguing landscapes and endemic fauna, such as the tarsier. Today, we'll visit Bohol's Tarsier Sanctuary, where you can see these adorable creatures up close. You'll also see the undulating terrain of the Chocolate Hills, then join a Loboc River Cruise and visit a local Butterfly Farm. Tonight, check into Eskaya Beach Resort and Spa and spend the night in your luxury beach villa.
Day 7
Bohol
There's so much to see around Bohol, and today we visit the clear tropical waters of Panglao Island to do some dolphin and whale spotting. Cruising these pristine tropical seas on a luxury vessel, you can truly relax into the island pace. In the evening it's back to Eskaya Beach Resort and Spa for fine dining and a sound night's sleep.
Day 8
Bohol
Explore the fertile mangroves of Bohol's Abatan River. The river wends its way past four coastal towns, through lush mangrove forests that house abundant birdlife, monkeys and other local fauna. Kayaking past river communities you can stop in each town and be treated to a cultural show and get the chance experience different aspects of local indigenous culture before returning to your luxurious room at the Eskaya Beach Resort and Spa.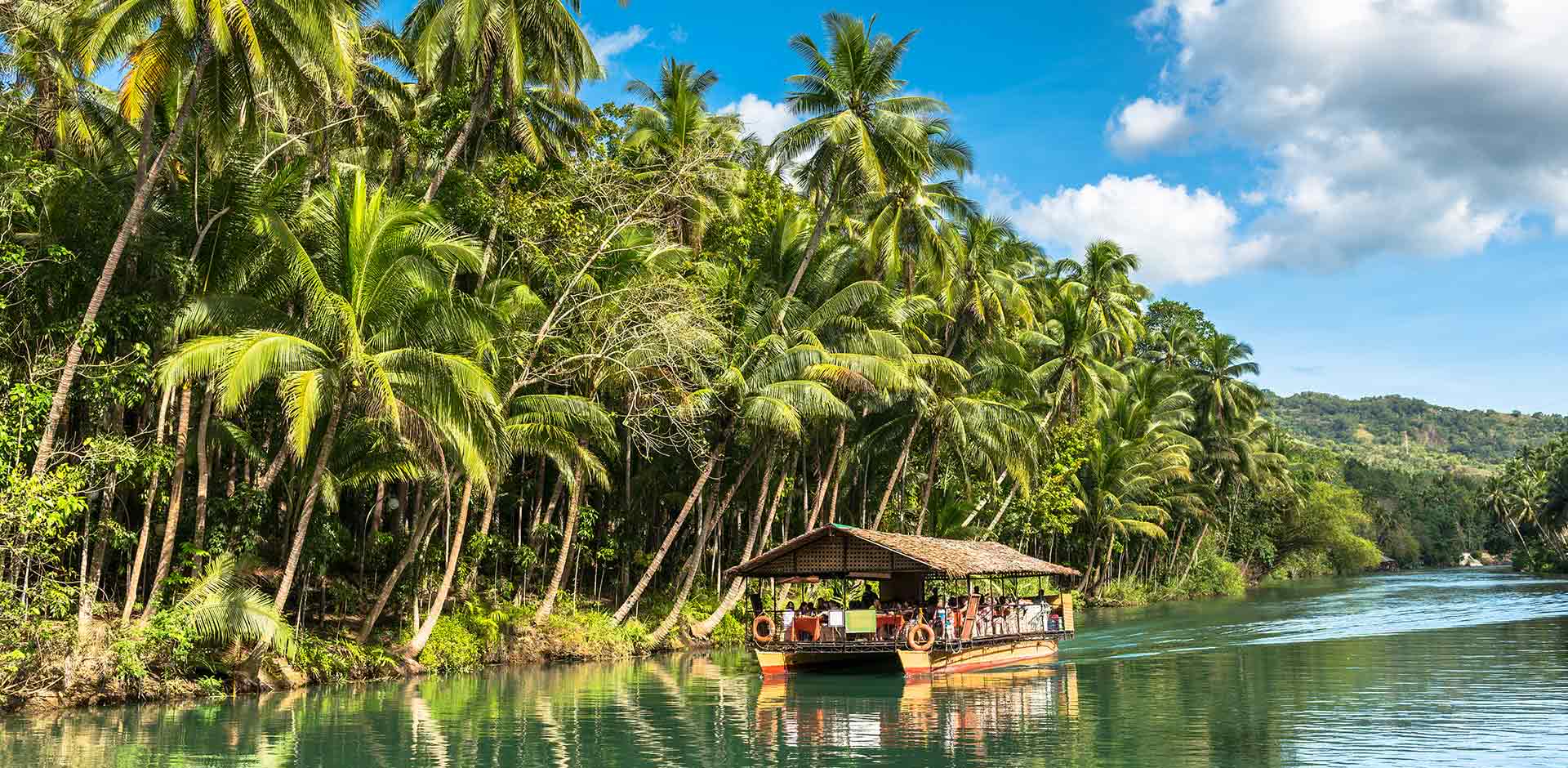 Day 9
Bohol
The beaches of Panglao Island are some of the most idyllic in the world, with turquoise green water and clean white sand as well as exceptional diving. Here, you'll visit Our Lady of the Assumption Church in Dauis, a mid-18th century cathedral with beautifully-maintained interiors, complete with vaulted ceilings and frescoes. After lunch in a heritage house, you can get up close with some tarsiers at the Tarsier Botanika park. In the evening, head back to the luxurious Eskaya Beach Resort and Spa.
Day 10
Bohol
Today you have all day to rest and enjoy the beach and the luxury environs of Eskaya Beach Resort and Spa. Book a pampering treatment at Handuraw Spa, relax by the infinity pool, join a diving expedition or just enjoy a lazy day in your villa by your private jacuzzi.
Day 11
Palawan
The Two Seasons Island Resort and Spa near the town of Coron is your next destination. Here, you can settle into your spacious private bungalow and enjoy snorkeling the house reef. This beautiful property is completely self-sufficient, providing its own water and electricity, and boasts stunning tropical gardens, a top-notch restaurant and the luxurious Narra Spa.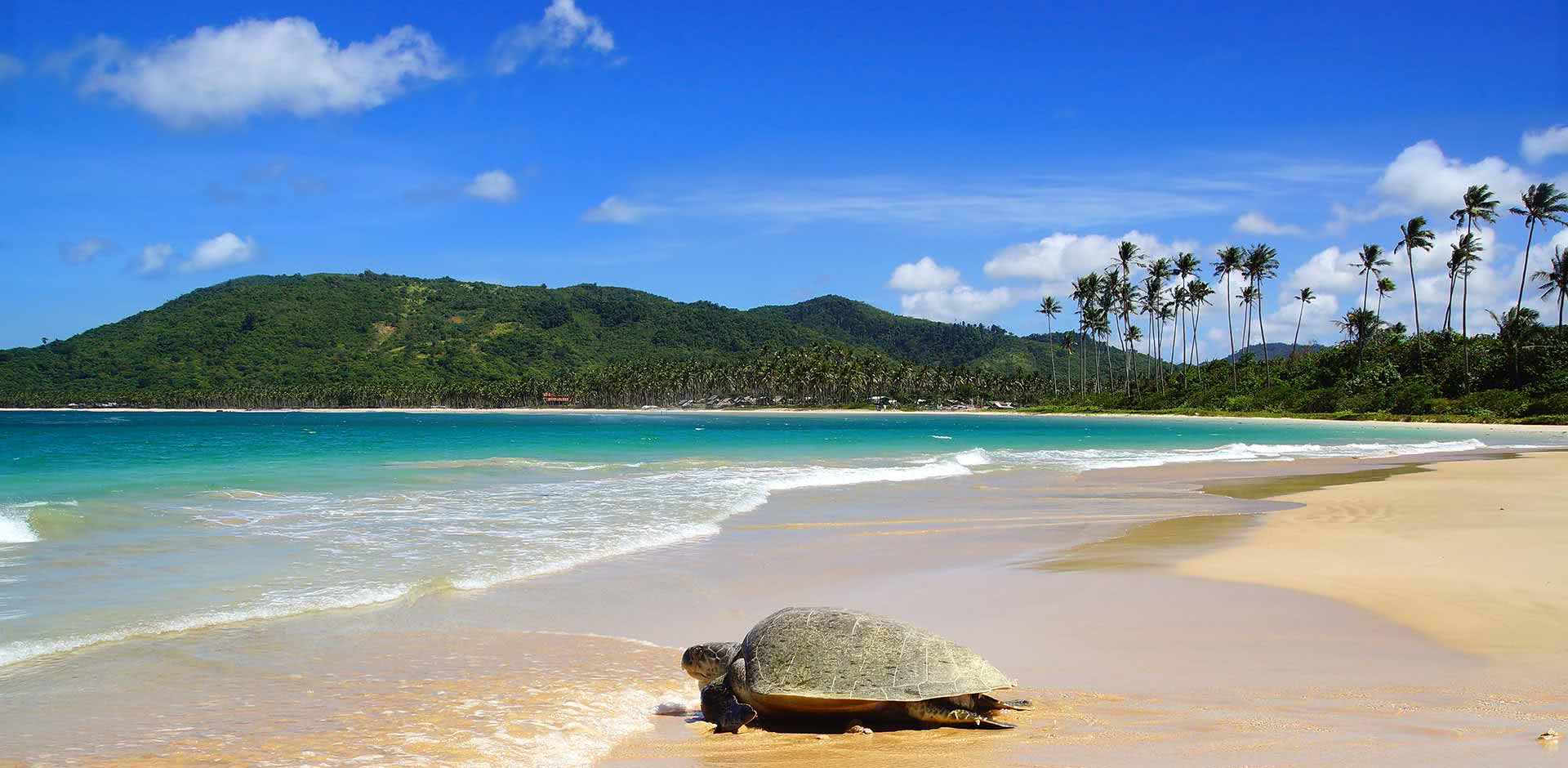 Day 12
Palawan
Today, go island-hopping in a luxury vessel, visiting several neighboring islands. You'll sail to the stunning Cayangan Lake – bright blue waters enclosed by tall limestone cliffs and dense forest. Then it's off to the equally-spectacular Twin Lagoons, another sheltered area of crystal clear waters and karst formations. In the evening, enjoy dinner back at Two Seasons Island Resort and Spa at the open-air Sulu Restaurant.
Day 13
Palawan
Travel to the waters of Barracuda Lake, one of the area's more unusual dive sites. This fresh- and saltwater lake is situated in the crater of a volcano and features visible layers of heated water (thermoclines) up to 38 degrees. To get to it, you have to climb over the caldera rim. Considered a must-see dive site for its unique topography, you'll glimpse various shrimp species here. At night, wind down in your luxurious room at the Two Seasons Beach Resort and Spa.
Day 14
Palawan
Today you'll venture to Sangat Island Reserve to do some wreck diving. The shallow reef-filled waters around Coron were treacherous for ships passing through here during World War II, and many a historic wreck now lies submerged here, home to corals and fish. Giant Puffers, Giant Batfish, Sweet Lips, Groupers and Tuna Fish are just some of the species you might spot. Some wrecks are also suitable for snorkelers. At night, return to Two Seasons Beach Resort and Spa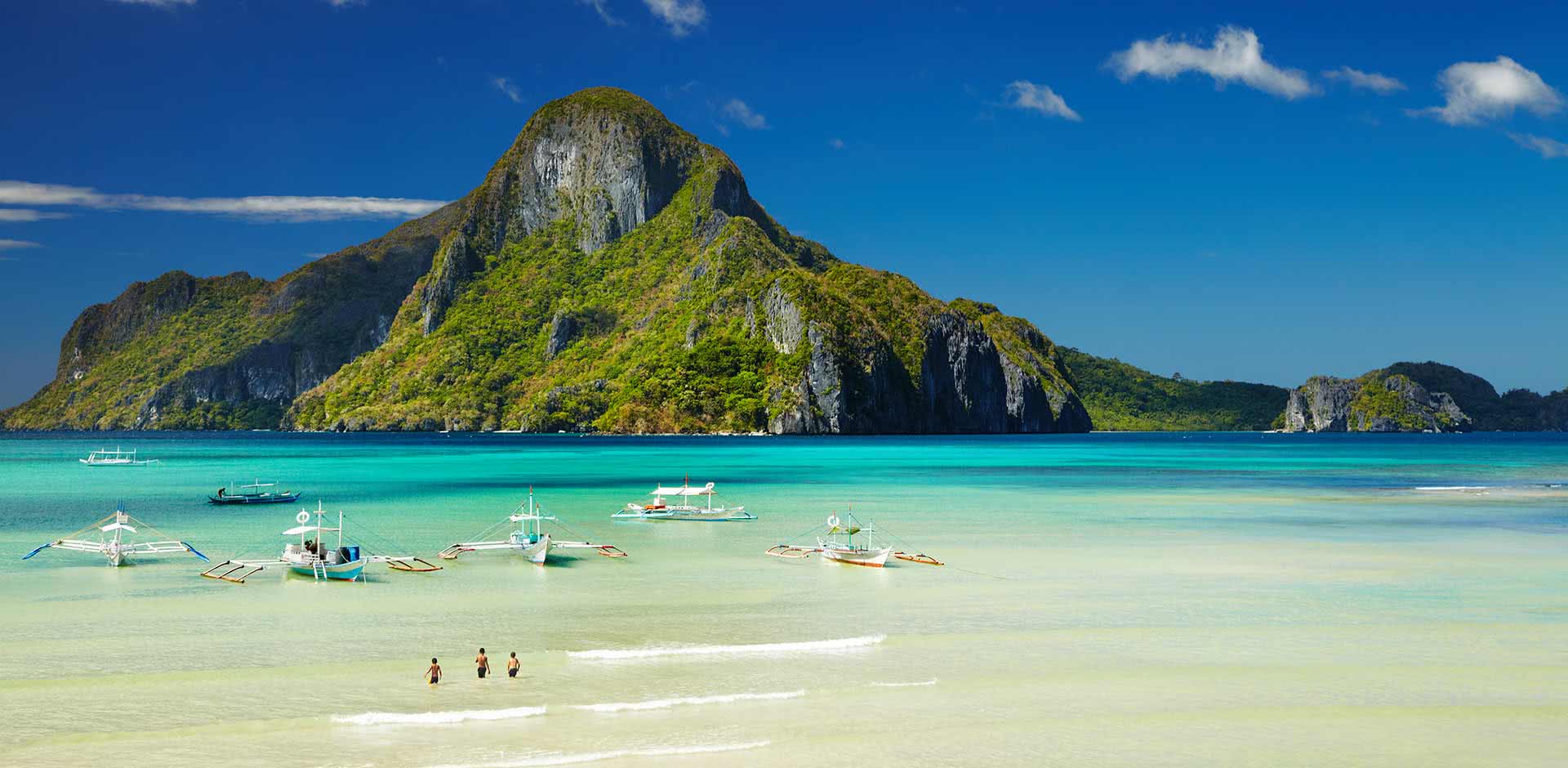 Day 15
Manila
Spend the final days of your luxury Philippines trip enjoying the facilities of the Two Seasons Beach Resort and Spa. Book a treatment at Narra Spa, go hiking, make use of the property's Aqua Sports Center, or just relax in your spacious bungalow with a DVD from the library. After enjoying the tropical gardens and private beach for a few days, it's back to the bustle of Manila.
Day 16
Departure
Enjoy breakfast and your morning at leisure before transferring to the airport for your flight onward.
TERMS AND CONDITIONS
Price is based on double or twin hotel room occupancy and includes accommodation, transfers, car/driver, English-speaking guide, activities and entrance fees, breakfasts and some casual lunches while touring. Flights and optional special activities will be quoted separately. Most personal expenses, including dinners, alcoholic beverages, spa treatments and gratuities can be paid on the spot while traveling. Prices may vary depending on season, choice of accommodation and other factors.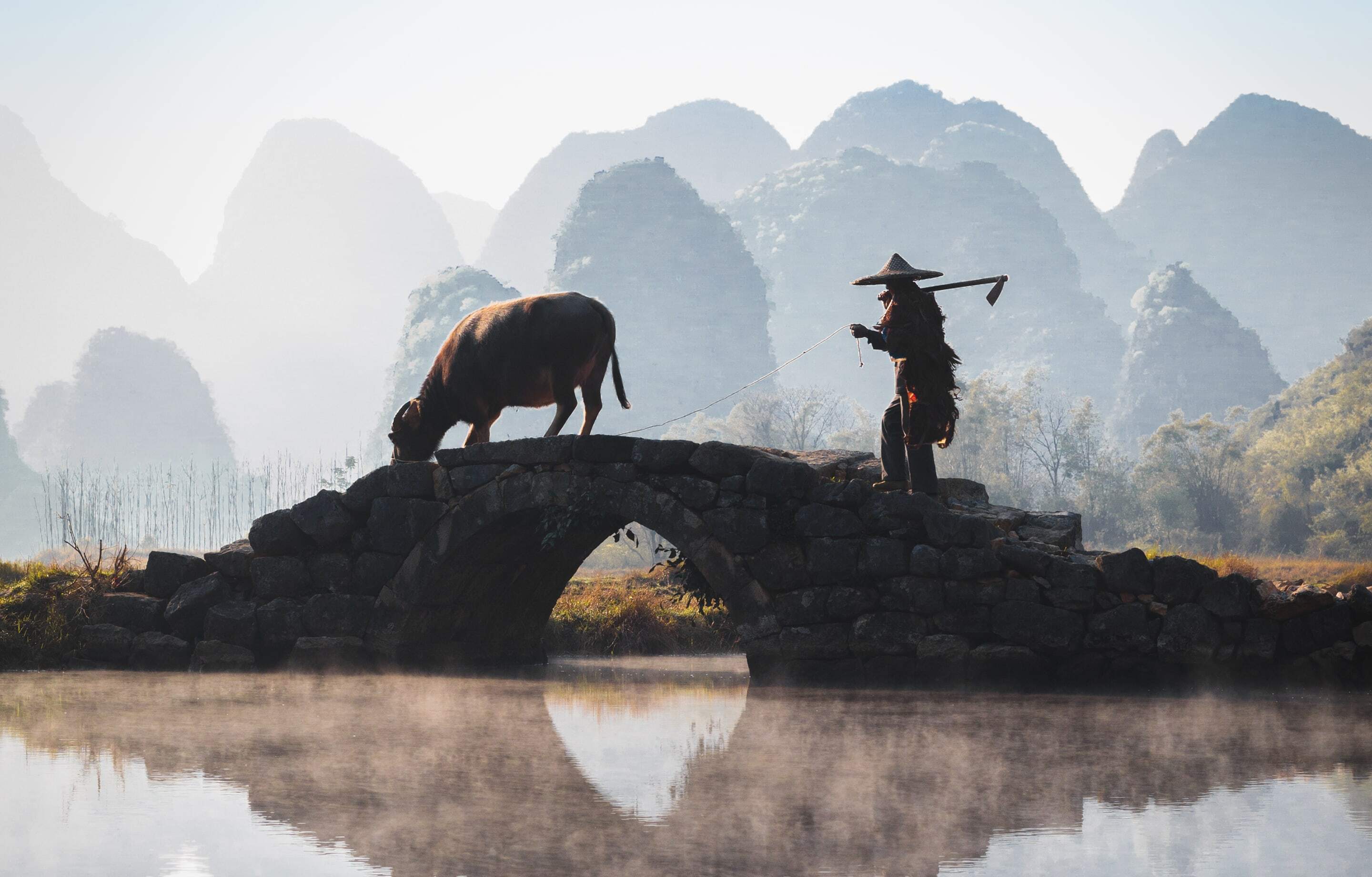 Why Remote Lands?
Exclusively Asia
With Remote Lands you'll travel with people who have made Asia the solitary focus of their own lifelong adventure. As our guest, you'll discover Asia on a journey that is completely, authentically your own, adapted from our own remarkable experiences and adventures over the years.
With Remote Lands you'll travel with people who have made Asia the solitary focus of their own lifelong adventure. As our guest, in the continent that our north American founders Catherine and Jay have adored and explored for decades, you'll discover Asia on a journey that is completely, authentically your own, adapted from our own remarkable experiences and adventures over the years.
Travelogues
An Asia-focused magazine brought to you by Remote Lands – a platform for adventure, luxury, and authenticity from experts and explorers around the continent.
What Others Say
Here is a small selection of the kind words our guests have said about us, as well as features by journalists and travel writers.
From the moment I happened upon the REMOTE LANDS website over a year ago, browsed the options, I knew that this would be well worth it. The entire staff is nothing less than professional with service that made us feel like royals.
This was truly the trip of a lifetime. Magical destinations, the most luxurious hotels in the world, and the most wonderful travel companions we could've wished for. We were treated like family everywhere we went and we have 14 new best friends.
We have used some of the top rated travel specialists all over the world and, without question, Catherine Heald and Remote Lands are at the very top of the list!