Example Itinerary
Really Remote Lands: Siberia, Western Mongolia & Northern China
Adventure-seekers looking to get off the beaten path are in for a real treat with this two-week journey through Siberia, Western Mongolia and Northern China. Starting in Russia, you'll venture through the vast Altai Mountains - a range shared between Siberia, Mongolia, China and Kazakhstan. Starting in Gorno-Altaisk, you'll head to Inegen via the Karakol Valley and spend a day at Mt. Belukha. From here, it's down to Kosh-Agach and across the border to Mongolia's Ölgii, followed by Altantsögts, Tsambagarav Mountain, Khovd and a ger camp on the Bulgan River. Crossing over into China, you'll reach Fuyun and explore Keketuohai National Park before finishing up your trip in the city of Urumqi. The trip allows time to see the traditions of local communities, and is perfect for those whose idea of a good time is to venture through rocky deserts and tackle towering mountains.
This itinerary is an example. It's designed to inspire you and provide you with thoughtfully curated ideas. You can choose to do this exact itinerary or completely personalize it. All trips are 100% bespoke.
Highlights
• Landscapes: Discover the breathtaking Altai Mountains from various perspectives (and through the lens of three different nations), exploring peaks and valleys by road, on foot and even by helicopter.
• Accommodation: Stays at private ger camps within communities of Kazakh eagle hunters and nomadic Mongol Torguud tribes uncover a deeper level of cultural experience.
• Heritage: The Altai's rich history is layered with ancient civilizations, Silk Road trade routes, migrations and conquests, border movements and formations, as well as the enduring "living legacy" cultures of the region's many ethnic groups.
Day-by-Day
Day 1
Gorno-altaisk
Arrive into Gorno-Altaisk from Moscow (depending on available flights, you may arrive into Barnaul and transfer from there), where you will be met by your local guide and enjoy either breakfast or lunch together, as per your arrival time. Gorno-Altaisk is the capital of the Altai Republic and it's here that you'll begin your "really remote" adventures. In the mid-afternoon, pay a visit to the Anokhina Museum, the prime attraction of which is the mummified Ice Maiden of Ukok.
Day 2
Inegen via the Karakol Valley
Today, you'll start your road trip with a long drive following the Katun River. Climbing the Seminskiy Pass, you'll drive in the shadows of towering Siberian pines as you delve into the intermontane Karakol Valley, which is a sacred site for the indigenous Altaians. This valley has been inhabited since the Bronze Age, when it was home to ancient groups such as the Scythians and the Huns - therefore the collection of archaeological relics here is impressive. Today, the region is home to the Altaian people, who speak a Turkic language and have their own unique history and culture. Upon arrival into Karakol Valley and Uch-Enmek Nature Park, you'll stop for a home-cooked lunch with an Altaian community, and they may treat you to a performance of Kai (Altaian throat singing).
After lunch, the drive continues as you traverse the spectacular Chike-Taman Pass. Not only is this route considered one of National Geographic's top 10 most scenic roads in the world, but it also has a dark history as the foundations were laid pre-WWII by Gulag inmates. Next, you'll drive through the village of Kupchegen (where Vladimir Putin has a summer home) until you reach the confluence of the Chuya and Katun Rivers, an scenic area named the Chui-Oozy Sanctuary.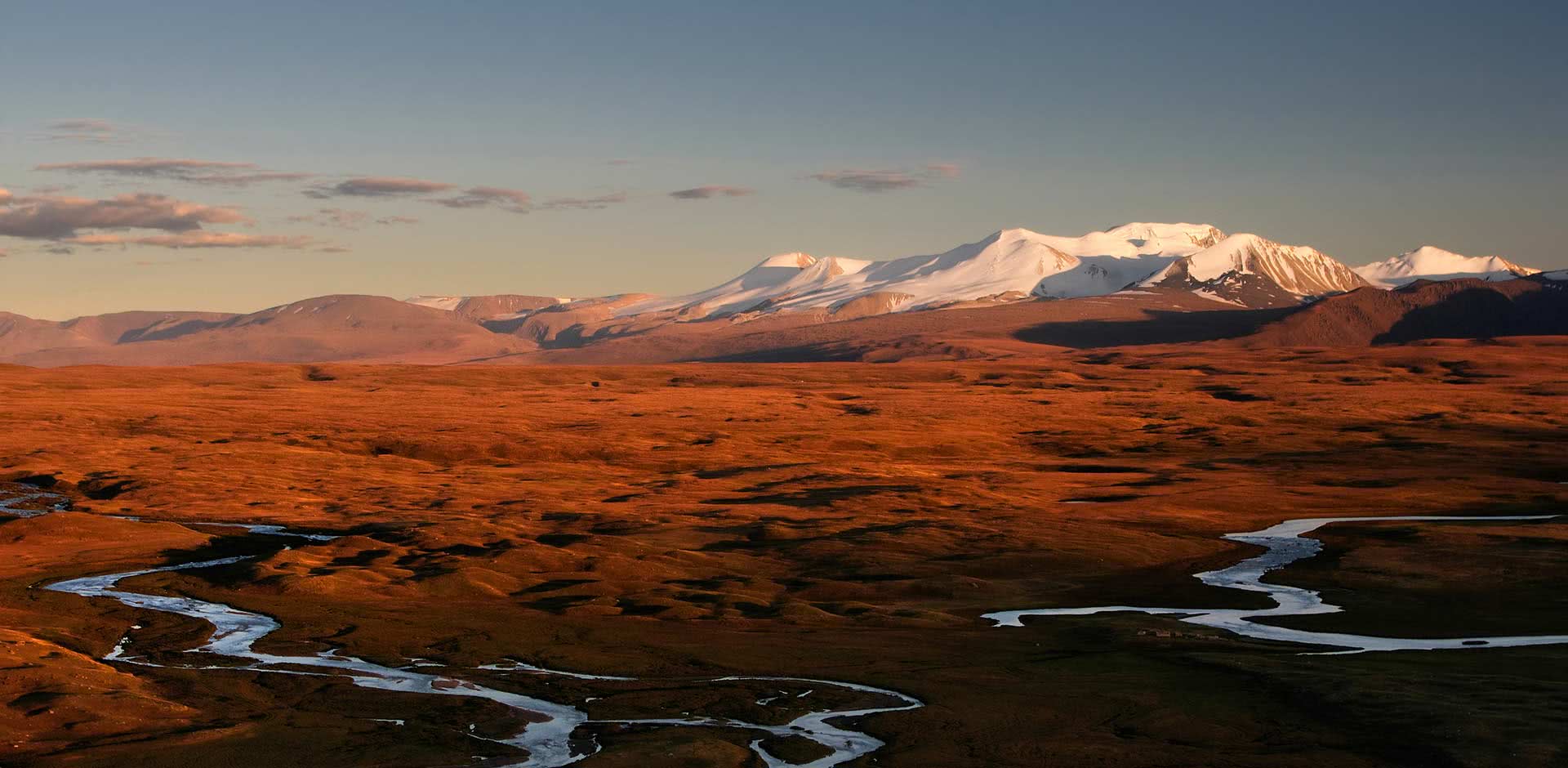 Day 3
Inegen & Mt Belukha
Explore your surrounds starting with a walk along the remains of Old Chuya Road, which was cut out of the cliffs, descending to the mouth of the Argut River. This is a known habitat for snow leopards, though be aware that sightings are rare and cannot be guaranteed.
Optional: take your explorations to new heights with a half-day heli-tour in a Robinson R-66 helicopter (at an additional cost). Taking off from the village of Tyungur, you'll fly over complete wilderness; glaciers, the Argut River, alpine meadows (where you can also land), waterfalls and snow-capped Mount Belukha - you'll even be able to see across the border into Kazakhstan.
Day 4
Kosh-Agach
The next leg of your road trip takes you through the Chuya Valley, which has a rich history as Silk Road trade route, as evidenced in ancient Chinese chronicles. Following the vivid blue-green waters of the Chuya River, you'll stop off at several natural beauty spots en route, including waterfalls near the village of Chibit, Geizernoye Lake (Geyser Lake), "Altaisky Mars" (an otherworldly clay landscape of green, yellow and red) and the Kurai Steppe (a dead ringer for the Altiplano of Peru and Bolivia, with views out to the snowy peaks of the North Chuya Range).
Your final destination is the modern town of Kosh-Agach, mostly populated by ethnic Kazakhs. You'll stay overnight at Sailyugem National Park Guest House, where you can enjoy home-cooked meals and discussions on local wildlife, including the elusive snow leopard.
Day 5
Bayan Olgi
Leave Siberia behind as you drive one hour to the Tashanta border crossing to pass into Mongolia. Note that the border crossing process can be cumbersome, taking anywhere between two and six hours. Once formalities are complete, continue along the road to Ölgii, then stop for a late lunch with your guide. Later in the afternoon, you'll drive an hour downstream of the Khovd River to reach an Altantsögts community on the north side of Tsambagarav and Tsast twin peaks. Here, your private ger camp will be pitched and you'll overnight as the locals do.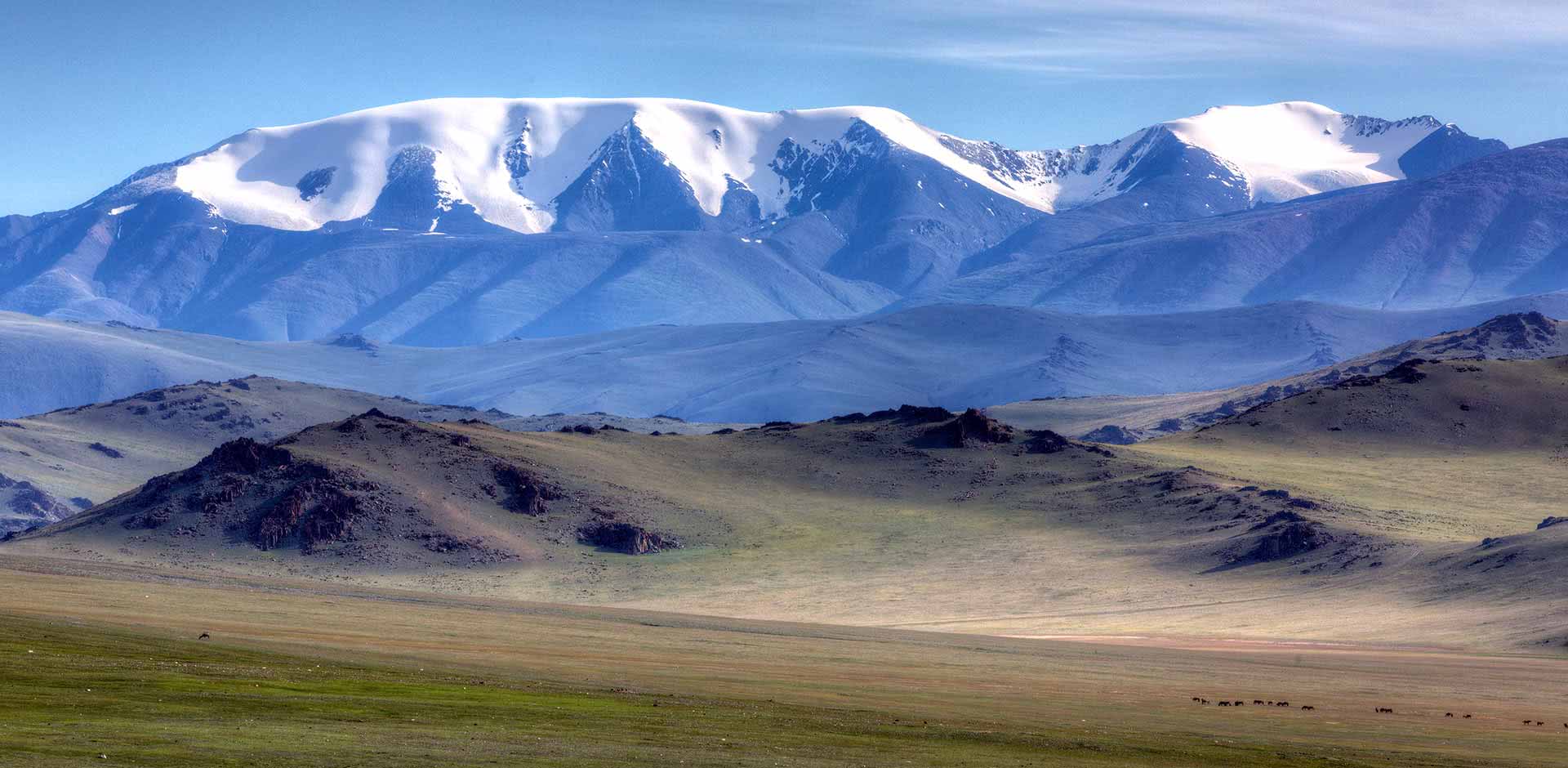 Day 6
Altantsögts
Spend time with your eagle hunter neighbors to discover their heritage as well as the beauty of the surrounding landscapes. Unlike the Kazakhs and Altaians of Russia and Kazakhstan, who were forced to abandon their nomadic traditions under Stalin's rule, the ethnic Kazakhs of Mongolia have retained their pastoralist culture. Mongolia's Kazakhs, like the Altaians, speak Turkic; but unlike the Altaians, they are Sunni Muslims. You'll be able to spot the Kazakh yurts, as they are typically richer in decoration and handicrafts than traditional Mongol gers.
Day 7
Tsambagarav Mountain
Today you have the choice to spend part of the day with your Kazakh hosts or to venture further into the wilderness of the Khovd River and Tsambagarav Mountain National Park - it's up to you. Drive up to the five pastures of Tavanbelchir, the highest elevation on the mountain, then you can take a short hike to the twin peaks, Tavanbelchir and Tsast.
Day 8
Khovd
Take the scenic route winding around Tsambagarav as you aim for Khovd and the Mongol parts of Mongolia. Stop for a picnic lunch with a panorama and take in the impressive mountain views. Entering into Kovd province, you may encounter ethnic Mongol people called the Ööld or Dzungarians, who arrived here from the Dzungarian plains on what is today China's Xinjiang province. The capital of Khovd itself is a multi-ethnic town of Halkh Mongols, Myangad Mongols, Kazakhs and other groups, which is why you'll notice both Buddhist temples and mosques. Attractions to visit include a noteworthy local museum, the only university in West Mongolia and a vibrant local market.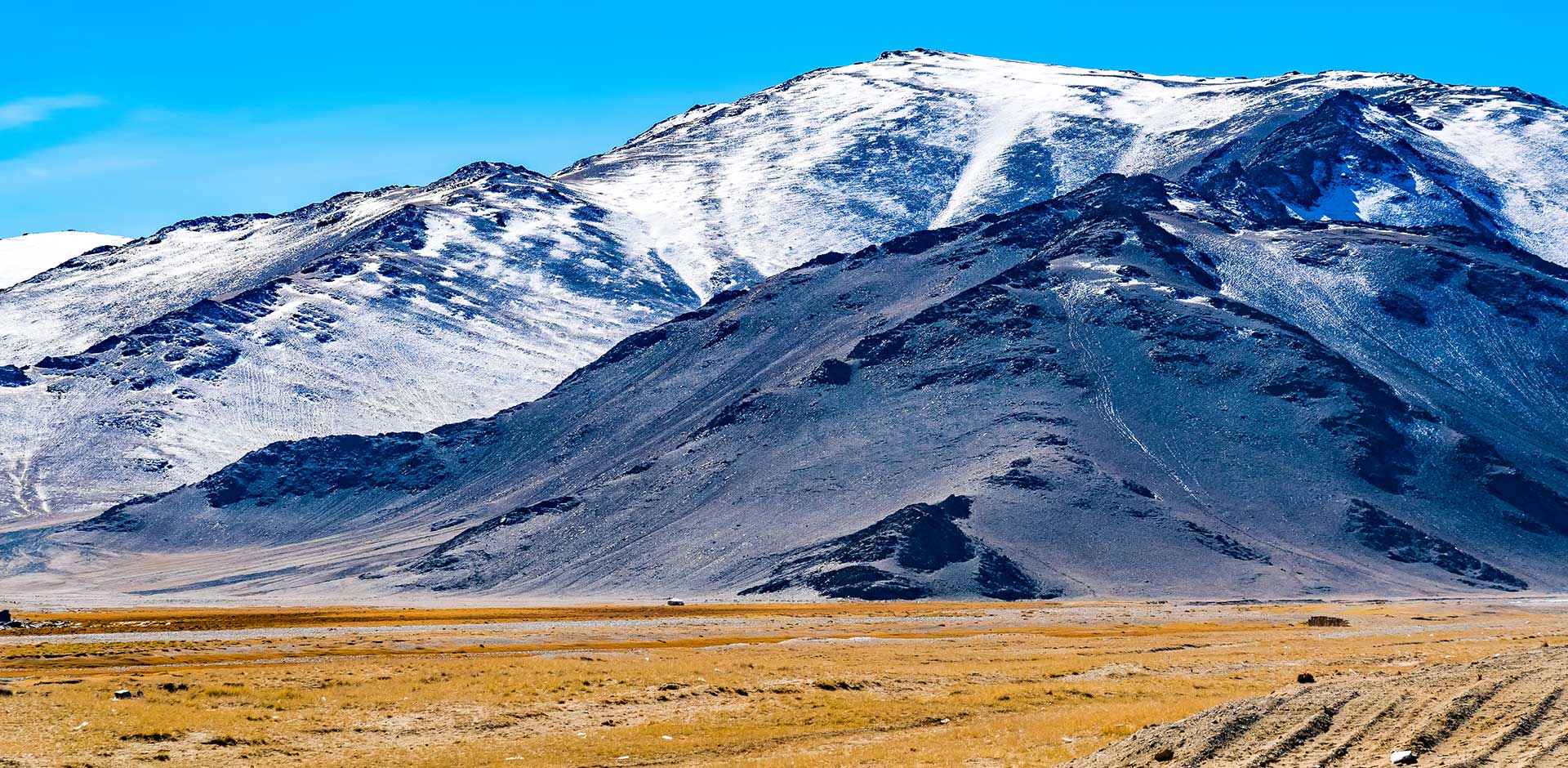 Day 9
Bulgan River
A full day's drive will bring you south to Bodonch Canyon and the archeaological sites and pre-historic caves of Bayanzürkh. As you drive through the Altai Mountains, you may spot Zaichin Mongol nomads, who herd goats, sheep, horses, camels and yaks - their lifestyle has not changed much in the last 2,000 years and they are fascinating examples of living ancient heritage.
Your destination is the remote Bulgan River, where the edge of the river canyon empties out from the Altais to the Dzungarian Plains, then flows south into Xinjiang, China. You might be able to spot the Mongolian beaver in its waters - a species endemic to the Bulgan. Your private ger camp will be set up here and your nomadic neighbors with be both Kazakhs and Torguuds. The Torguuds are Mongol Buddhists and one of the four west Mongol Oirat tribes - they spread over the land following the campaigns of the Mongol khans during imperial times and settled not only here, but also in Siberia (where they are known as the Kalmyks), Amdo (now Qinghai, China) and Tibet.
Day 10
Bulgan River
Your day today can be tailored to your preferences and interests. You may wish to get to know the local nomadic groups a little better or appreciate the great outdoors in one of the most remote regions of Mongolia - there are a range of excursions that are available, which can be decided on the spot.
Day 11
Fuyun
Say your farewells to your Mongolian crew as you cross the border into China. Once through the border posts, you'll continue on to the town of Fuyun, located in the northernmost prefecture of Xinjiang province. The population here is comprised of mostly Kazakhs. Check in to your hotel, tuck into your evening meal and relax.
Day 12
Urumqi
Rise and check out of your hotel early, ready for an action-packed day (remember to reset your watch, as the whole of China operates on Beijing time). First, it's a 45-minute drive north to Keketuohai National Park, a UNESCO-recognized geopark known for its dramatic granite rock formations. One of the most beautiful regions of the Altai Mountains, the park's infrastructure is more geared towards tourism than the wild landscapes you've traversed so far on this trip, with comfortable walkways and viewing platforms. Although you're unlikely to see them from the viewing platforms, snow leopards and wolverines call Keketuohai home. The park is also the source of the Irtysh River, the longest tributary river in the world, which flows north into Kazakhstan and feeds into the Siberian Ob on its way to the Arctic Ocean.
In the mid-afternoon, you'll return to Fuyun and then fly to your next destination: Urumqi, the capital city of Xinjiang province.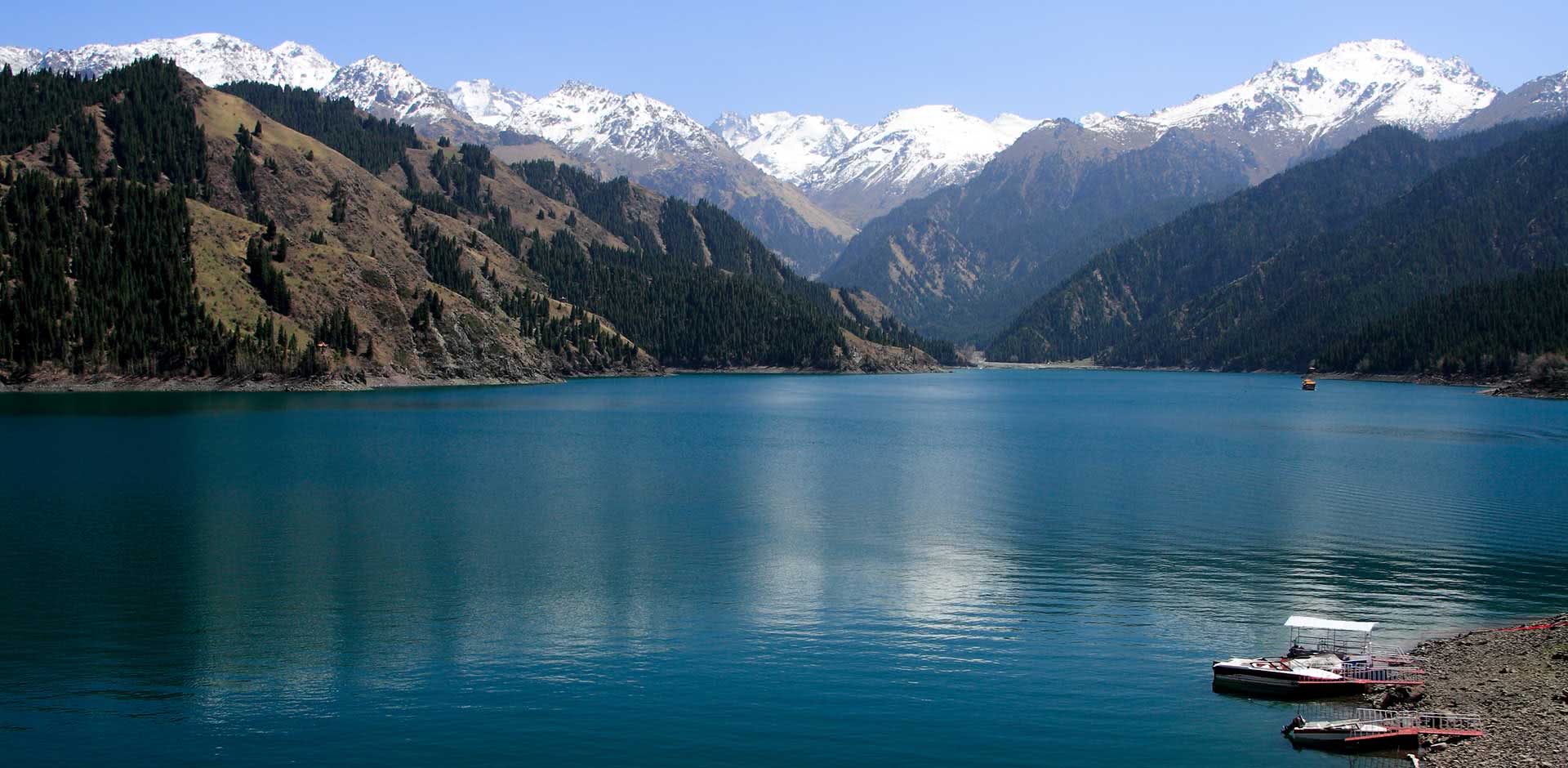 Day 13
Urumqi
Urumqi is home to three million people and although it's the capital of the Uyghur Automonous Region, it has a Han Chinese feel. Start your tour of the city with a visit to the Xinjiang Regional Museum, one of the most fascinating museums of Inner Asia, which houses informative exhibits on the 13 ethnic groups of Xinjiang, plus the "Beauty of Loulan" - a well-preserved Tarim mummy that dates back to 1800 BC. Take lunch at a local restaurant, then walk around town with your guide for an introduction to contemporary Urumqi.
Day 14
Departure
Check out of your hotel and transfer to Urumqi International Airport, ready for your onward journey. Urumqi has direct flights to various destinations in China, Central Asian countries, Russia and the UAE, among others, and you may wish to continue your adventures in those places before heading home.
TERMS AND CONDITIONS
Price is based on double or twin hotel room occupancy and includes accommodation, transfers, car/driver, English-speaking guide, activities and entrance fees, breakfasts and some casual lunches while touring. Flights and optional special activities will be quoted separately. Most personal expenses, including dinners, alcoholic beverages, spa treatments and gratuities can be paid on the spot while traveling. Prices may vary depending on season, choice of accommodation and other factors.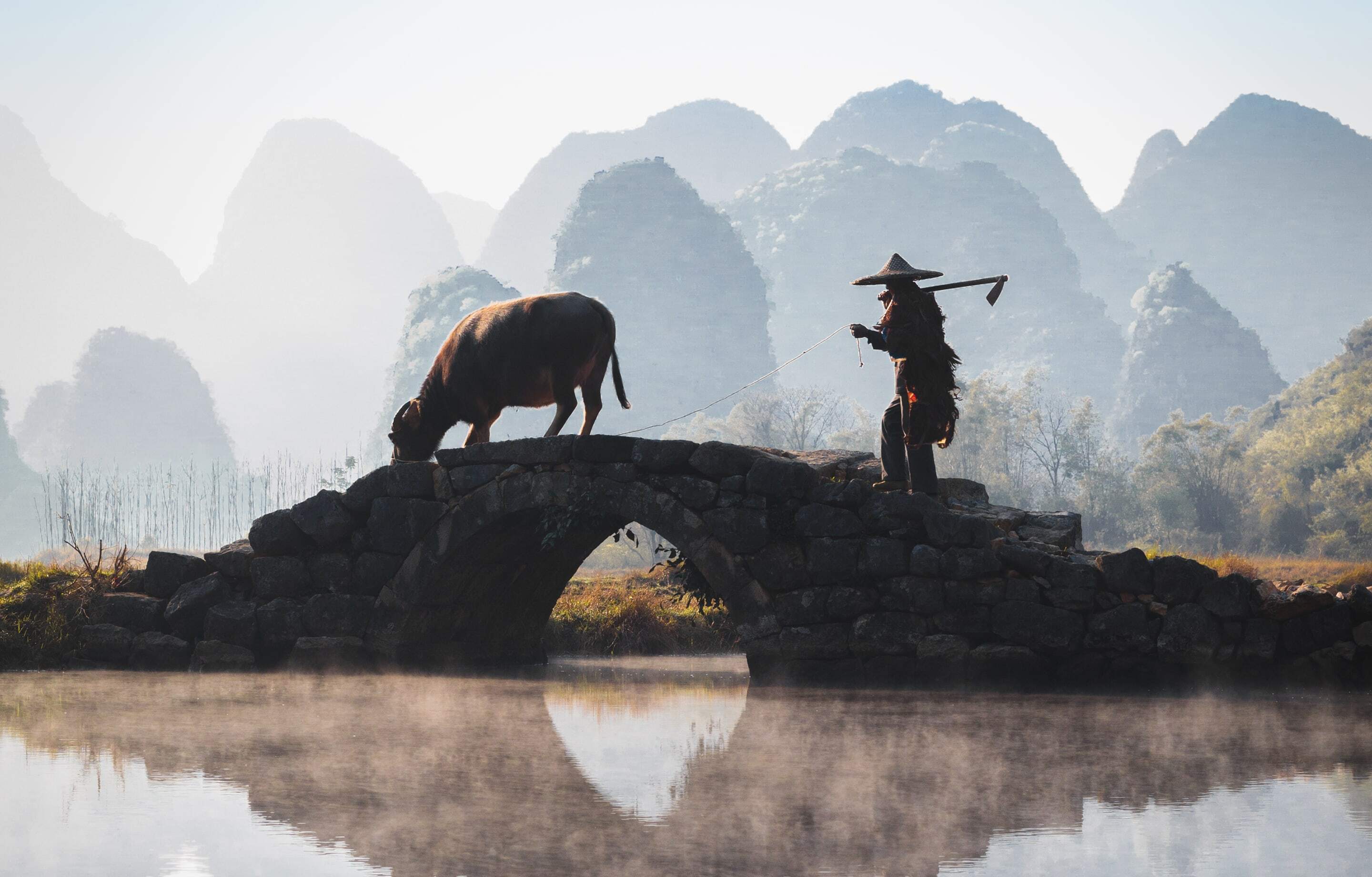 Why Remote Lands?
Exclusively Asia
With Remote Lands you'll travel with people who have made Asia the solitary focus of their own lifelong adventure. As our guest, you'll discover Asia on a journey that is completely, authentically your own, adapted from our own remarkable experiences and adventures over the years.
With Remote Lands you'll travel with people who have made Asia the solitary focus of their own lifelong adventure. As our guest, in the continent that our north American founders Catherine and Jay have adored and explored for decades, you'll discover Asia on a journey that is completely, authentically your own, adapted from our own remarkable experiences and adventures over the years.
Travelogues
An Asia-focused magazine brought to you by Remote Lands – a platform for adventure, luxury, and authenticity from experts and explorers around the continent.
What Others Say
Here is a small selection of the kind words our guests have said about us, as well as features by journalists and travel writers.
From the moment I happened upon the REMOTE LANDS website over a year ago, browsed the options, I knew that this would be well worth it. The entire staff is nothing less than professional with service that made us feel like royals.
This was truly the trip of a lifetime. Magical destinations, the most luxurious hotels in the world, and the most wonderful travel companions we could've wished for. We were treated like family everywhere we went and we have 14 new best friends.
We have used some of the top rated travel specialists all over the world and, without question, Catherine Heald and Remote Lands are at the very top of the list!