Dinner garners all the glamour, and brunch and lunch are a posh midday adventure. But breakfast, lowly breakfast, is so often taken for granted that hotels routinely just fold it into the cost of a single night's accommodation. But these days, all across Asia, people are waking up to breakfast in more ways than one. From Tokyo to Bali, from Taipei to Saigon, chefs are seizing an opportunity to make a statement, with inventive new dishes in settings all the more inspiring for the morning light.
Ambitious Buffet at Grand Hyatt Taipei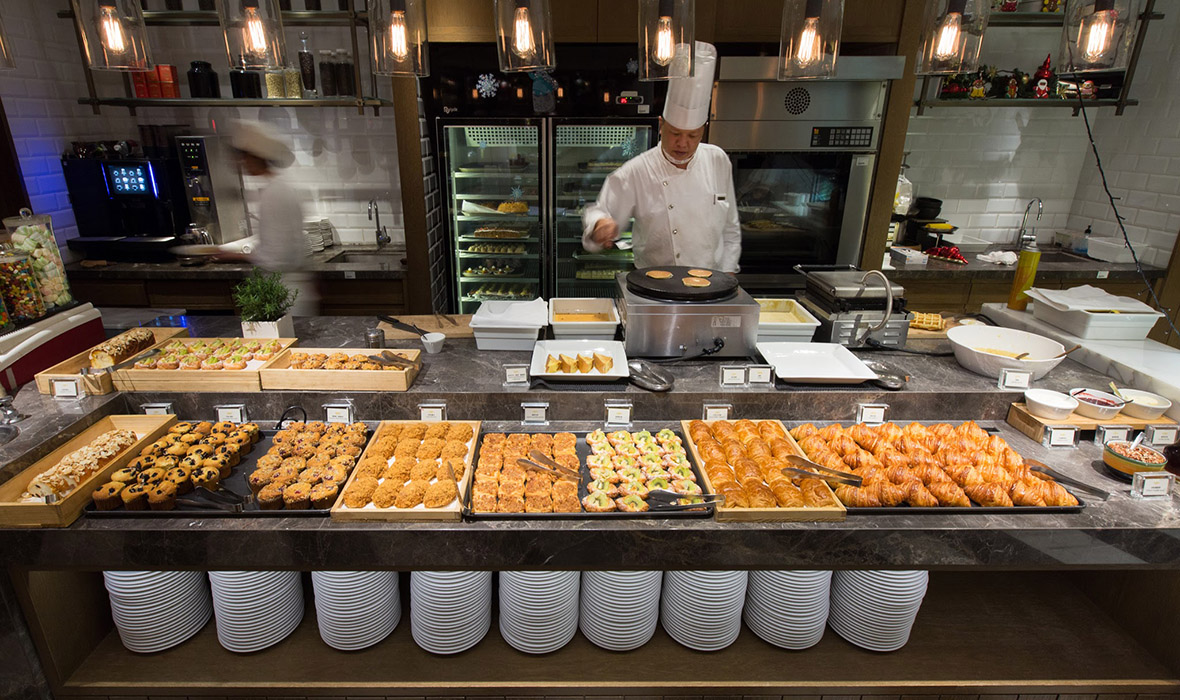 With nearly three-dozen chefs at the helm in a plethora of show kitchens, with 168 culinary options that span the globe and with a variety of artfully conceived venues, the vibrant new Café is collection of plays within one grand, international play.
The Café seats 290 on multiple tiers of dining, and the low-level buzz of people at work in the morning on their omelettes and coffee is a welcome jump-start on the day. You can indulge traditional Western fare here, from the Continent, from the Americas, and from Japan to boot.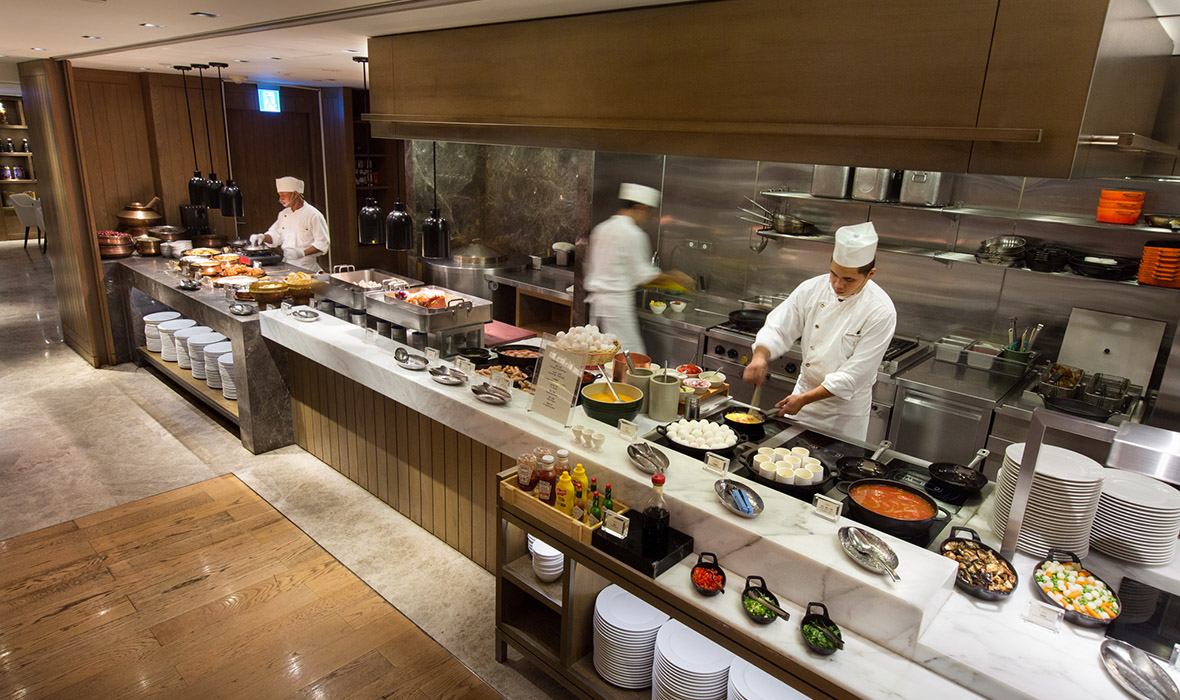 But the mindful traveler knows that this hotel is also home to two of Taipei's premier Chinese eateries – Pearl Liang (Cantonese) and Yun Jin (pan-China) – and that, by osmosis, the dim sum is going to be inspired. And it is, from the shrimp dumplings and sui mai to the steamed rice cakes. And if pancakes have to be part of your breakfast fare in Taipei, try the pan-fried pork Chinese pancakes. Don't miss the fresh juice bar where the bartender is on hand at breakfast, every breakfast, to produce juice on order – watermelon, mango, carrot, and so on, seemingly ad infinitum.
Royalty at Palace Hotel Tokyo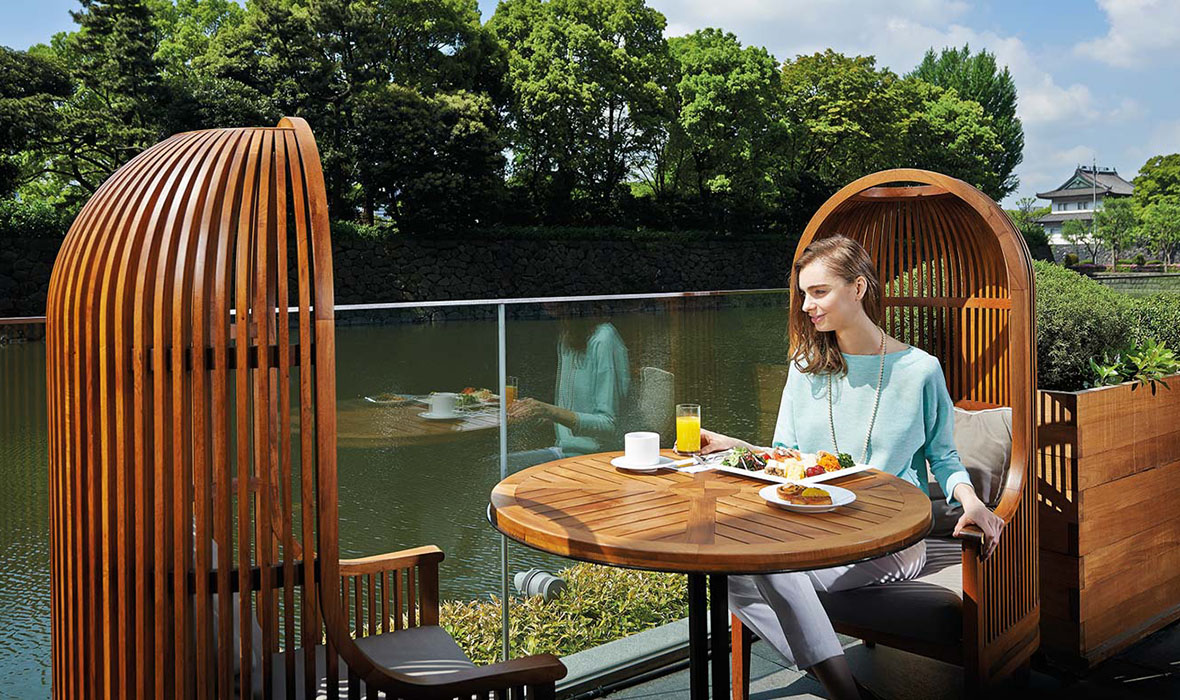 The moat outside Palace Hotel Tokyo wasn't built to safeguard the guest base of this 2012 debut, but diners on the terrace of the Grand Kitchen are nevertheless beneficiaries of this watery oasis on the edge of the Imperial Palace gardens, a sprawling East Asian complex where Japan's imperial family lives.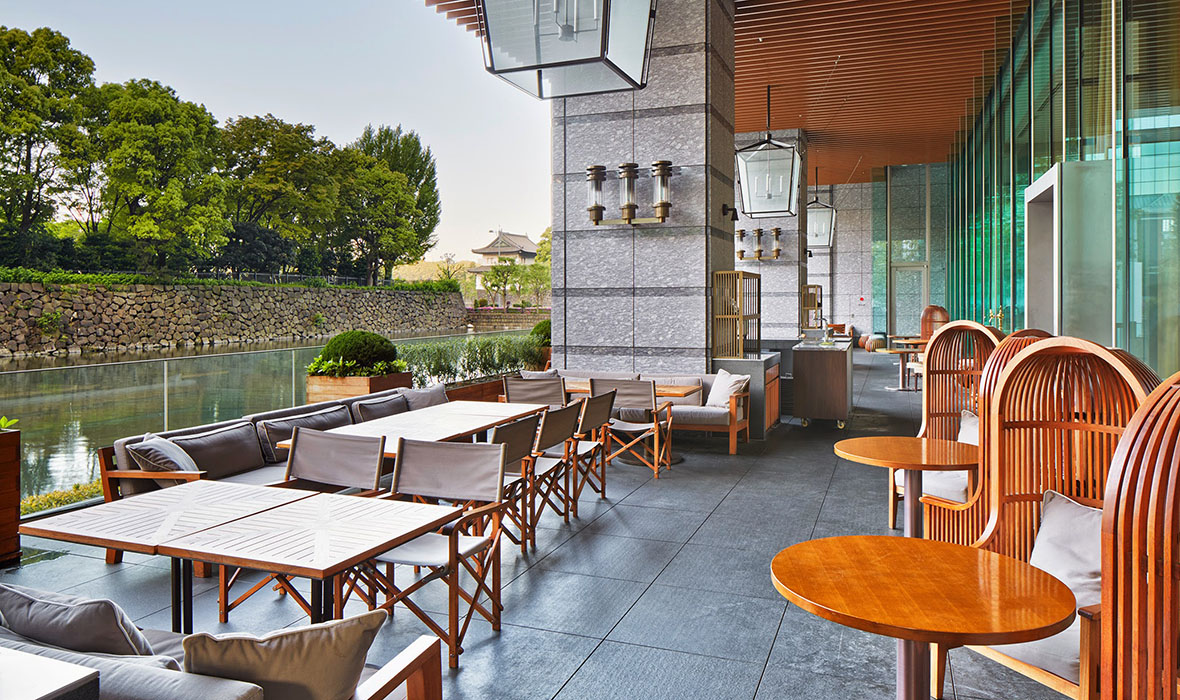 It seems fitting, given the view, to choose a local meal from the menu options or variety of food stations peppered throughout the restaurant. The authentic Japanese breakfast features fresh and light grilled fish, flavorful yet not salty miso soup, and tamago-yaki (sweet omelette) cooked to perfection, along with special rice called yume-gokochi – which fittingly translates as "a dreamy state of mind."
Europe's Finest at Reverie Saigon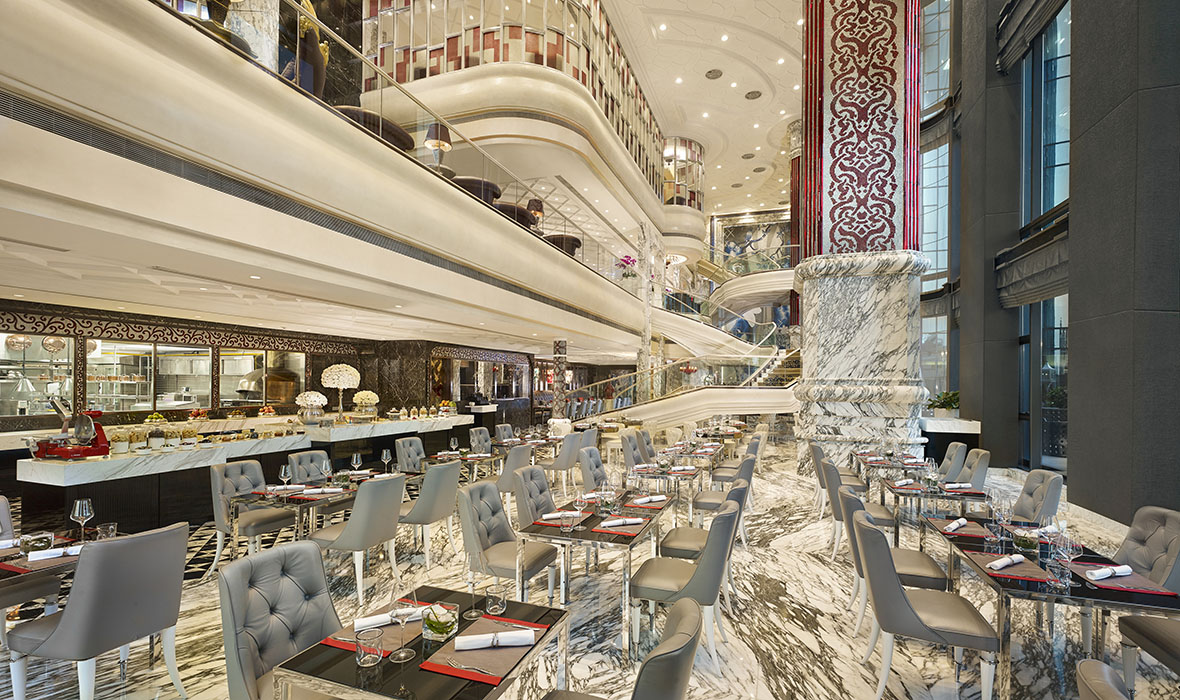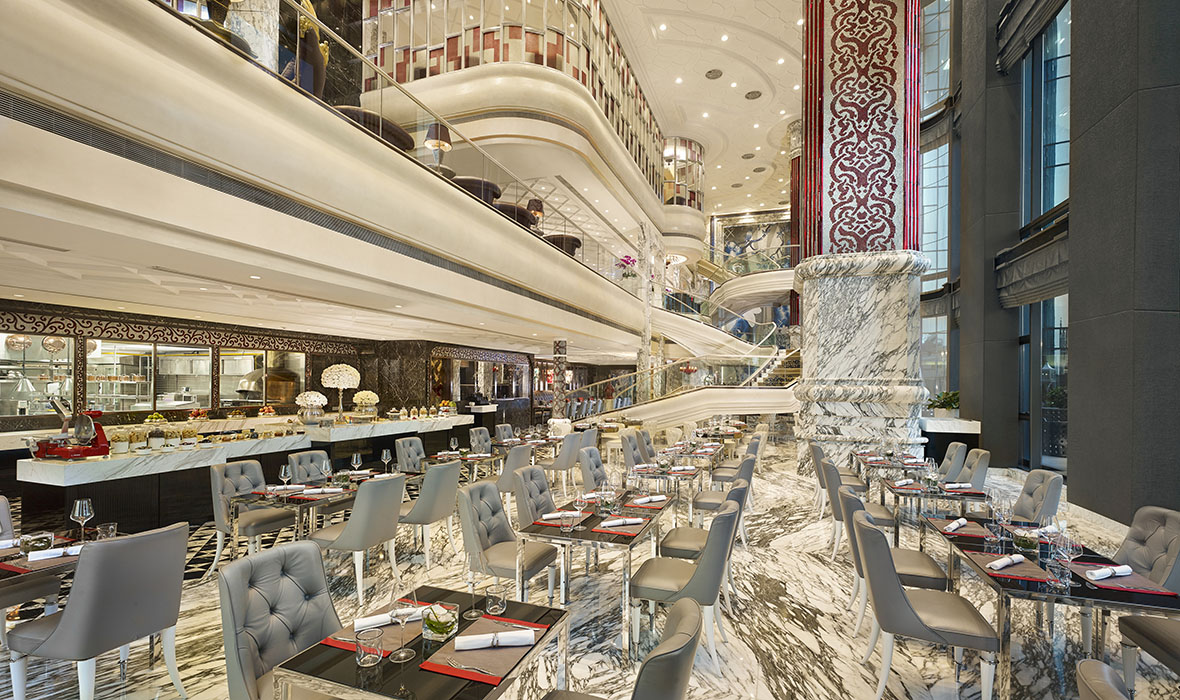 The European flair of Saigon's newest luxury hotel isn't limited to the décor. Here dining menus demand as much attention as the mosaics and marble that furnish the restaurants. It all begins at breakfast with Café Cardinal's buffet spread.
With a French chef at the helm the Parisian-quality baguettes are a must, and best enjoyed with a selection of imported cheese and prosciutto.
But don't forget to sample Vietnamese favorites like ice coffee over condensed milk or bo kho (slow-braised beef stew), then sit back and take in the view of a resort-style pool terrace that wouldn't be out of place in Versailles.
Steak and Eggs on the Equator at Sanchaya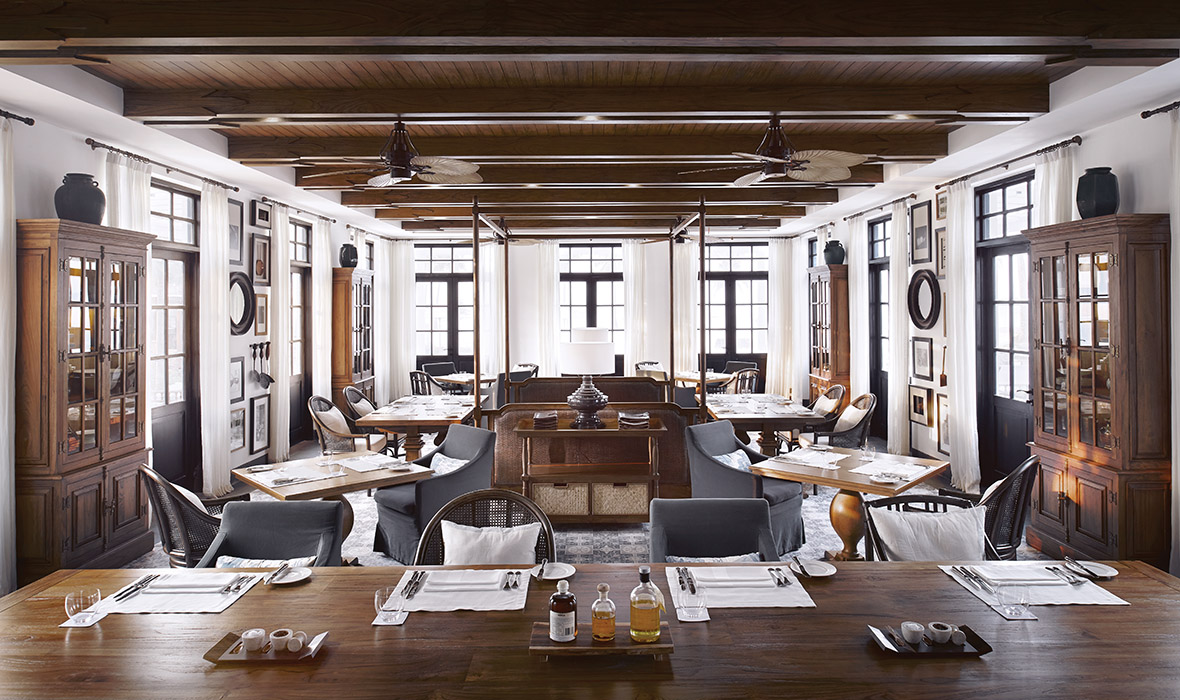 The Sanchaya lavishes the most important meal of the day with the attention it deserves, all to a backdrop of powder white sands, swaying palm trees, aquamarine waters and picturesque islands. Fancy sous vide egg innovative with soft-boiled egg, crab meat, yuzu hollandaise, parsley, toasted sourdough and black caviar? Or bo ne, comprising a sizzling wagyu steak, fried egg, grilled tomato, shallots and soya sauce?
It's a treat in itself determining what a la carte creation to indulge from a menu drawing on a mélange of Western, Japanese, Vietnamese and Malaysian influences, not to mention the chef's 'harvest table' packed with granola, home-made yogurts, sourdough breads, preserves, honeys and fruit, as well as traditional Indonesian Jamu Gendong tonics served by a roving herbalist.
Yet if you cannot find exactly what you want, talk to the estate's 'culinary artisans' who will create a bespoke dish for you not featured on the menu.
Dimsum and Then Some at Hanoi Sofitel
Gone are the days of boring continental hotel breakfasts. Instead say "good morning Vietnam" with a selection of dimsum, freshly baked breads and pastries, made-to-order eggs, exotic fruits, and piping hot coffee at the Metropole Hanoi's Spices Garden restaurant.
The Vietnamese restaurant boasts an extensive juice menu, featuring local favorites such as the Avocado Sinh To (avocado smoothie with yogurt) and other fruit smoothies with mango, pineapple and papaya. With views of the lush garden courtyard and palm-fringed pool, the expansive private terrace is a memorable way to kickstart the most important meal of the day.
Bart Conley contributed to this article.