Around eight million people visit the Taj Mahal every year, India's most popular monument. And, honestly, when you see it, that level of praise is well deserved. Some moan that it's over-hyped and they're wrong. However, there's more to see in Agra than the famous tomb. Agra was once the capital of Mughal Empire, from 1556 to 1658, under the reign of great rulers such as Akbar, Jahangir, and Shah Jahan. The Mughal influence in Agra is palpable, felt in every corner of the city.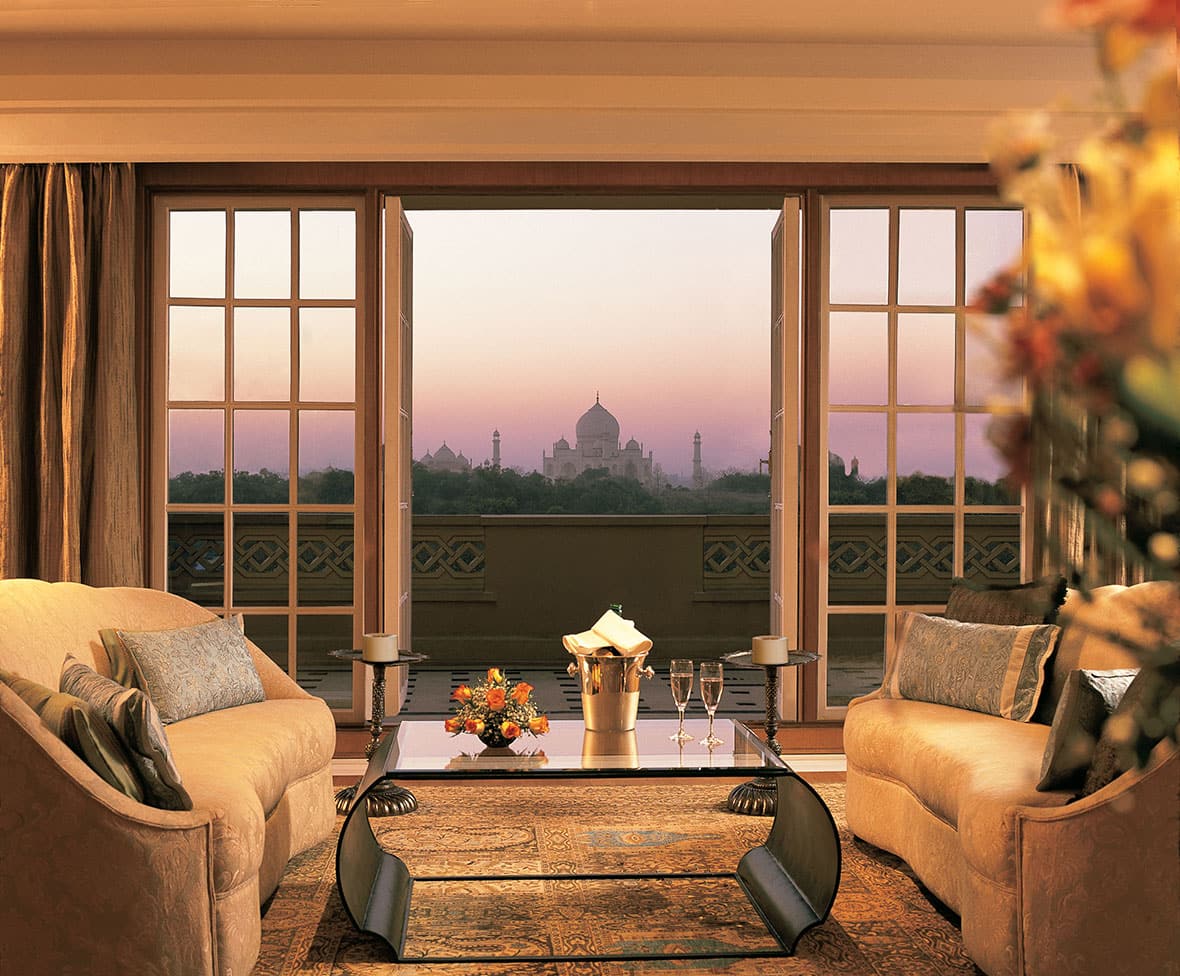 As to where to stay, the Oberoi Amarvilas is reason enough to fly to Agra. For luxury and location, few can compete. A reflection of the ancient Mughal architecture, Oberoi Amarvilas, Agra is located just 600 meters from the Taj Mahal. The luxe hotel by The Oberoi Group features a nine-acre elaborate garden with fountains and reflection pools, opening up to jaw-dropping views of Mumtaz's mausoleum. At Amarvilas, visitors can dine under a star-lit sky next to poolside pavilions and enjoy a personal butler service.
There are 102 luxuriously appointed rooms in total. The Kohinoor Suite, one of the seven suites at the hotel, is lavishly furnished and features a private terrace and the master bedroom opens up to the Taj Mahal. For dining travelers can choose from Bellevue, Esphahan, and The Lounge.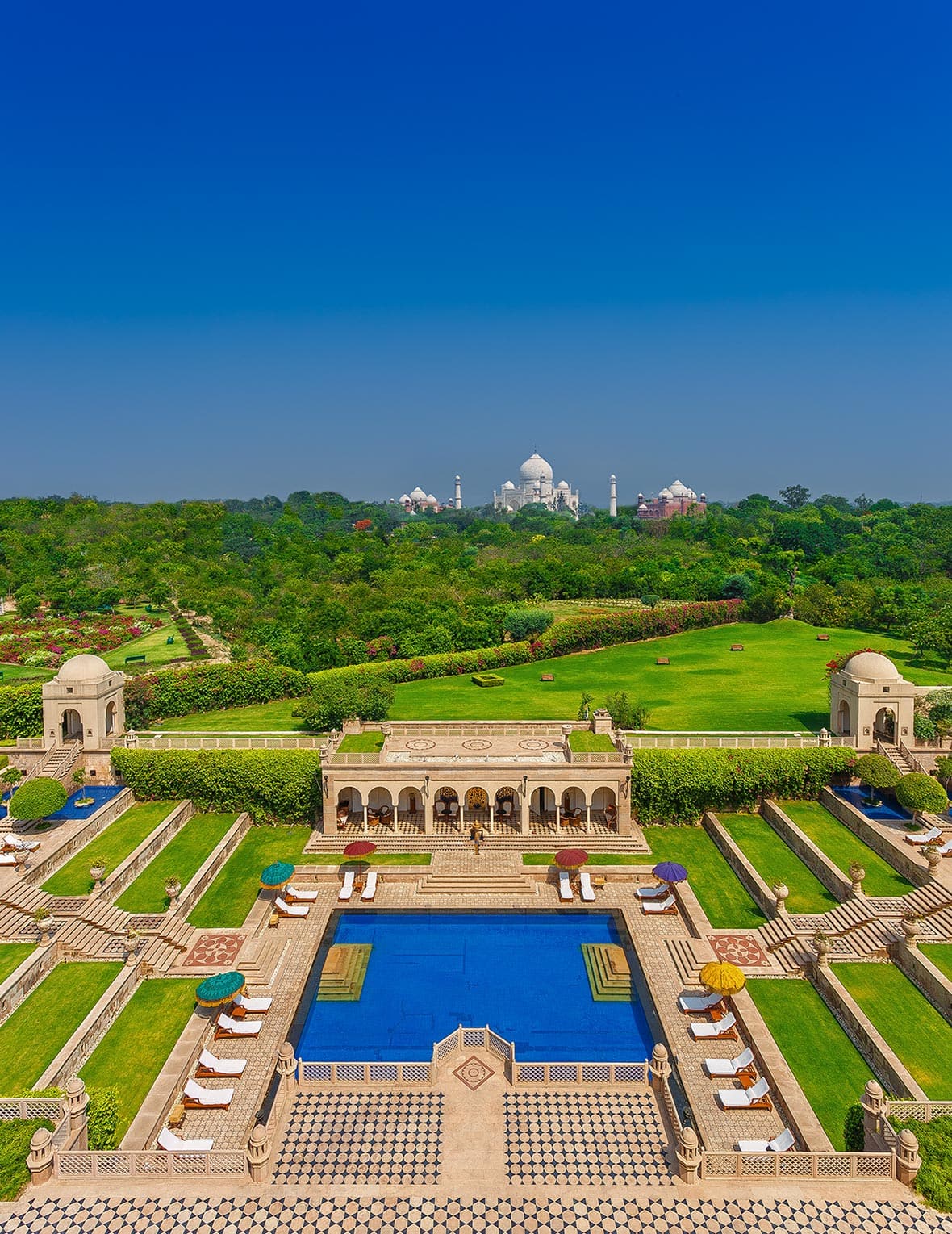 The Taj Romance offers a rejuvenating Ayurvedic spa experience for couples. The hotel also has its Jodha Mahal Temple where married couples can renew their wedding vows. The couple dresses in traditional Indian attire (men in kurtas and women in a saree), and the ceremony can follow traditional Indian rituals. There are plenty of fun options for kids as well, like the Junior Chef experience where younger ones can learn to cook Indian sweets with the chefs at Amarvilas.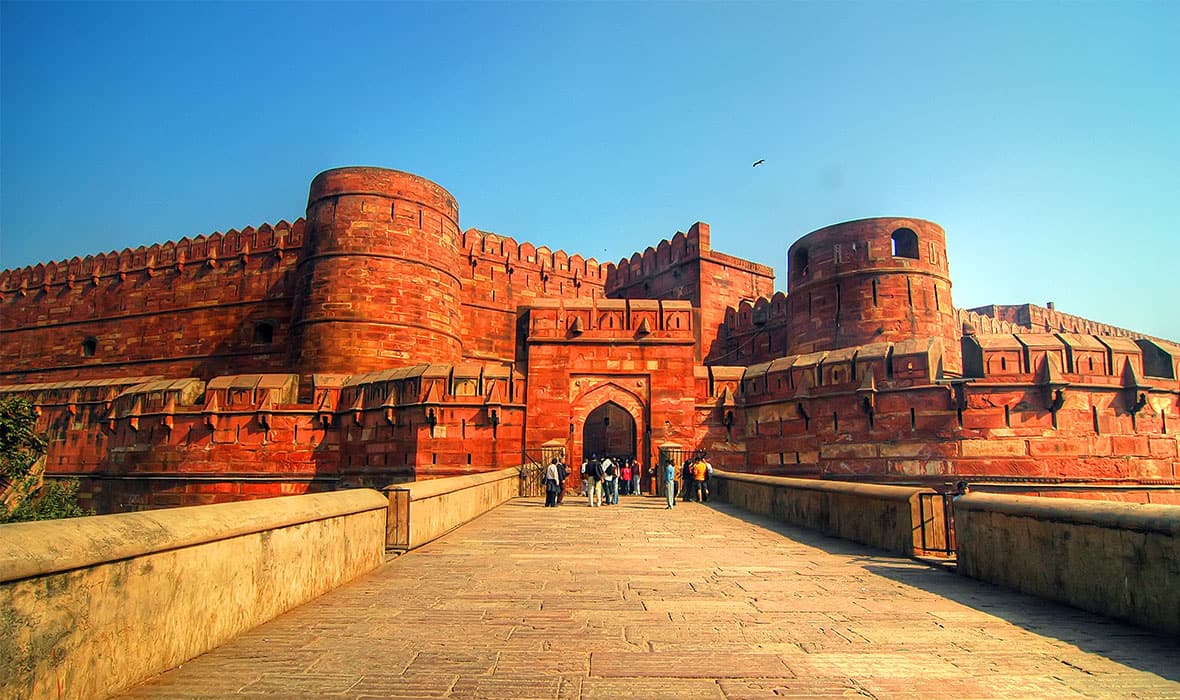 This massive structure was built primarily for military purposes during the Mughal Empire. Originally a brick fort, the structure was rebuilt during the reign of King Akbar and was completed in 1573. However, when Shah Jahan (Akbar's grandson) came to power, he replaced certain sandstone structures inside the fort with marble enclosures, giving a palace-like appearance to some areas of the fort. The marble work partly resembles the Taj Mahal, which was also built by Shah Jahan in memory of his wife, Mumtaz. During the rule of Aurangzeb, Shah Jahan was imprisoned inside the fort. History says he died in Musamman Burj, a marble tower next to his private hall where he could only look at the Taj Mahal from a small window.
Today, Agra Fort isn't as popular as the Taj Mahal, but travelers who do their research and locals know that this is a spot not to be missed. There's often a queue to get inside, but the place is so massive that it's a lot quieter inside than most travelers imagine; to visit all of the fort, visitors should set aside three to four hours.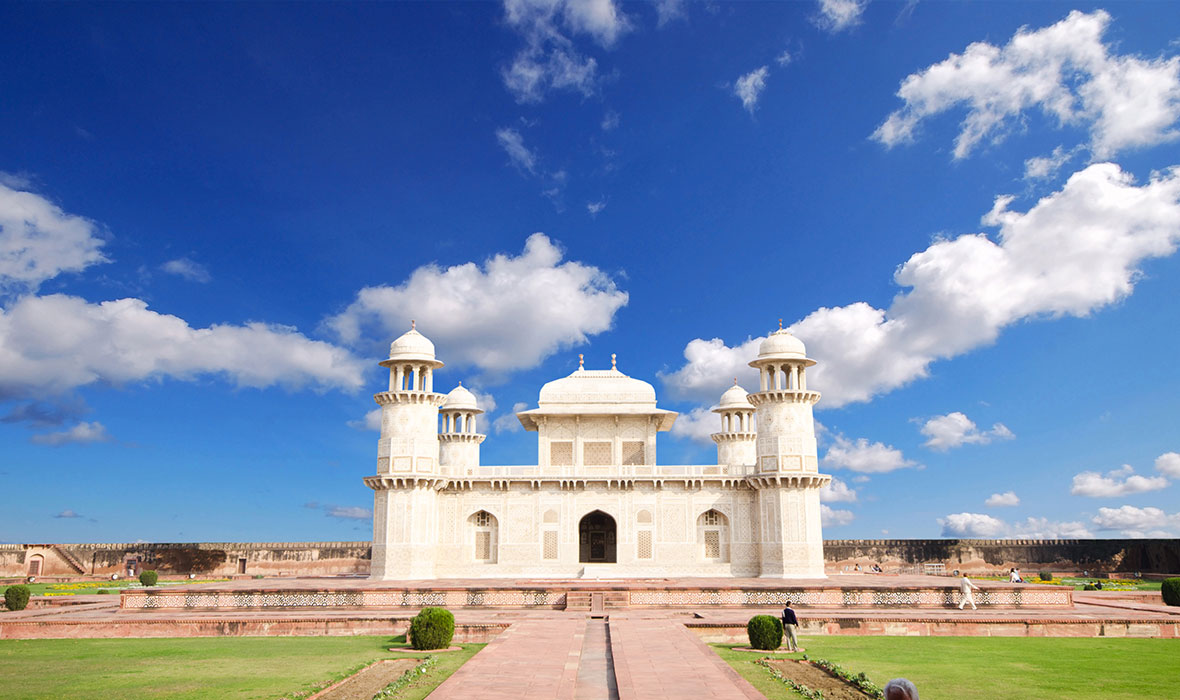 Fondly described as the 'jewel box in marble' and more widely known as the Baby Taj, the Tomb of Itimad-ud-Daulah is an easily missed monument, but the intricate marble work is not to be forgotten. The square structure has four minarets and while the handmade paintings on the ceilings are no more, visitors can still find a number of Persian inscriptions.
Completed in 1628, the floor is made out of hand-cut marble which is well-preserved even today. Baby Taj is the tomb of Mirza Ghiyas Baig, who was Jahangir's father-in-law as well as his chief minister. Although smaller in size than its popular neighbor, the Taj Mahal – which was made years later by Shah Jahan, Jahangir's son – the delicate architecture of the Tomb of Itimad-ud-Daulah is unique.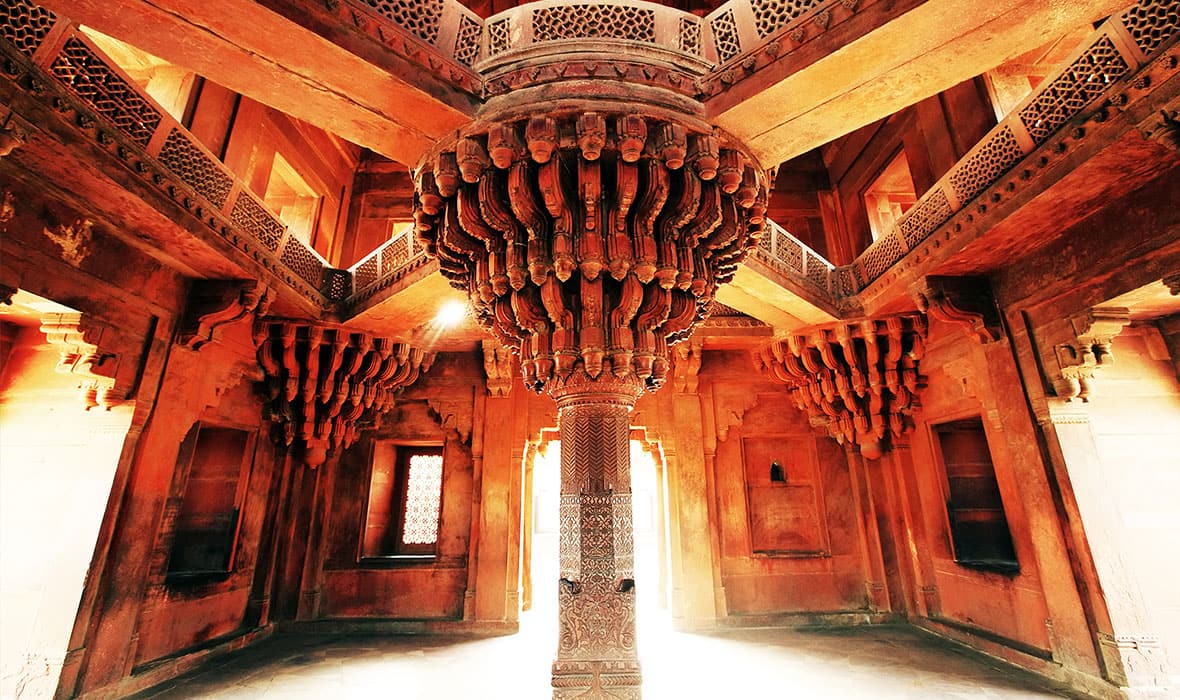 Forty kilometers from Agra, there lies Fatehpur Sikri, which was the capital of Mughal Empire from 1571 to 1585. Today, its red sandstone walls depict stories of that erstwhile era. In this historical complex, travelers will find Buland Darwaza, a 54-meter gate made by Akbar after his victory over Gujarat in 1601. The tomb of Sufi saint Salim Chishti and Jama Masjid is placed behind Buland Darwaza. Inside the premises, travelers will discover Diwan-e-Khas, which features a single magnificent Lotus Throne Pillar. The Palace of Mariam-uz-Zamani (popularly known as Jodha Bai Palace) was where Akbar's Hindu queen, Jodha lived and is perhaps the most impressive structure in the whole complex.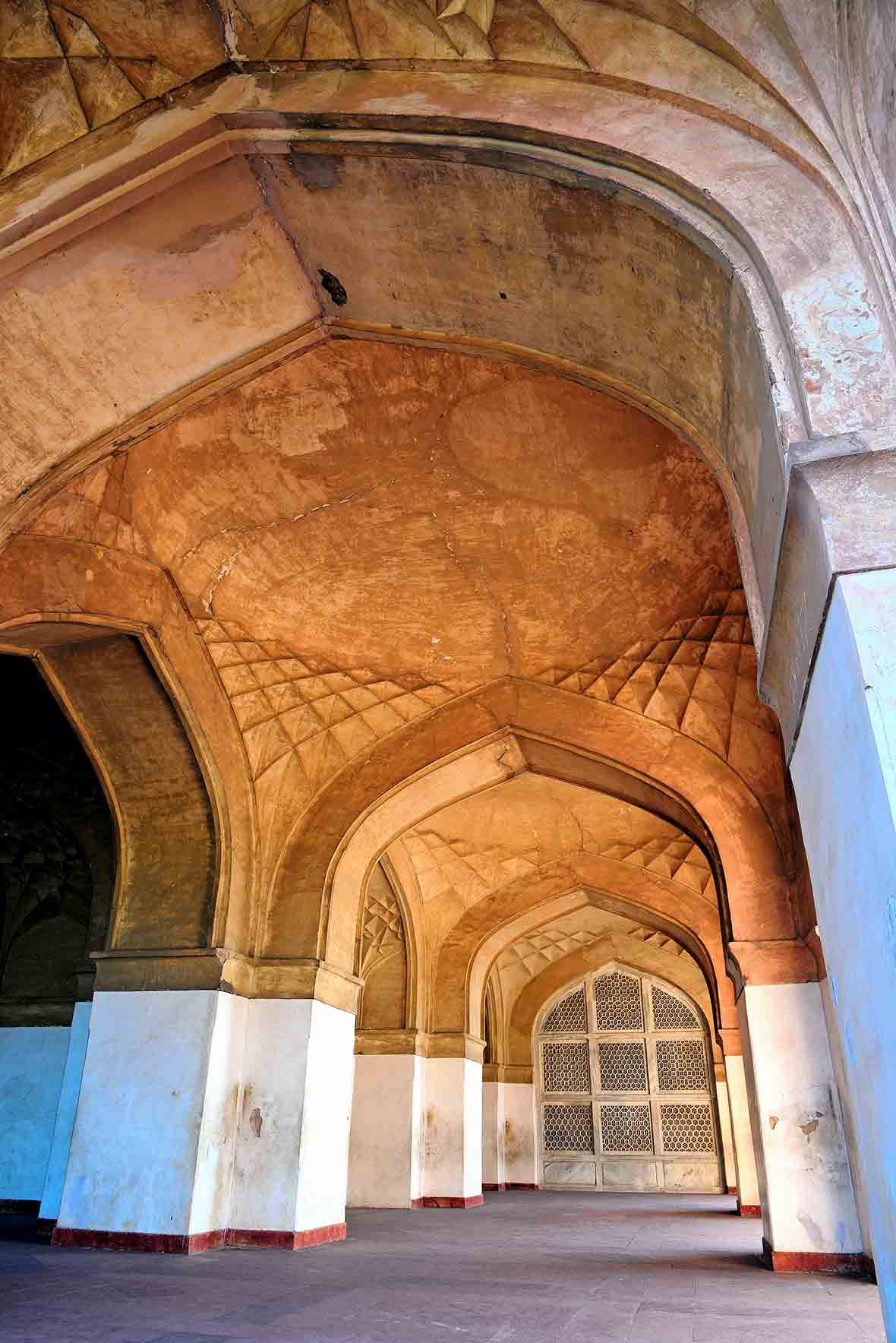 Akbar's Tomb is only a quick trip from Agra, found just 20 kilometers away from the city center, in Sikandara. Placed in a 119-acre ground, the large south gate consists of four marble-topped minarets and it's usually used as the main entrance as well. Vividly-detailed, the main tomb is surrounded by a Charbagh garden following a quadrilateral structure, a common feature in old Islamic landscaping. A commonly held belief is that Emperor Akbar himself planned the design of his tomb prior to his death. A short distance from Akbar's Tomb, lies the Tomb of Mariam-uz-Zamani, chief consort of Akbar and the mother of Jahangir.
Travelers with yet more time on their hands in Agra should consider heading to the Mehtab Bagh and the Jama Masjid as well. The former is a beautiful green garden, which according to the history books, was constructed before the Taj Mahal. However, it remains quiet and one of the best places to view the Taj Mahal from afar, especially during the sunset hours. Although partly destroyed during the colonial rule, the Jama Masjid in the center of Agra consists of spectacular domes, which is located right opposite Agra Fort. Too many people go to Agra for the Taj Mahal and head on their way; but this city has so much more to offer.