Proof that heritage architecture never goes out of style, Remote Lands has uncovered why you need to check out the recently refreshed colonial surrounds of the FCC Angkor. The perfect pitstop for dinner and drinks after your expedition exploring the wonders of Angkor, the FCC is the sister venue of the famed Foreign Correspondents' Club in Phnom Penh, renowned for its views over the Mekong and its historic halls—that same blend of colonial class is now found in Siem Reap, and here are four reasons you should stop by for a bite.
Indulge your inner explorer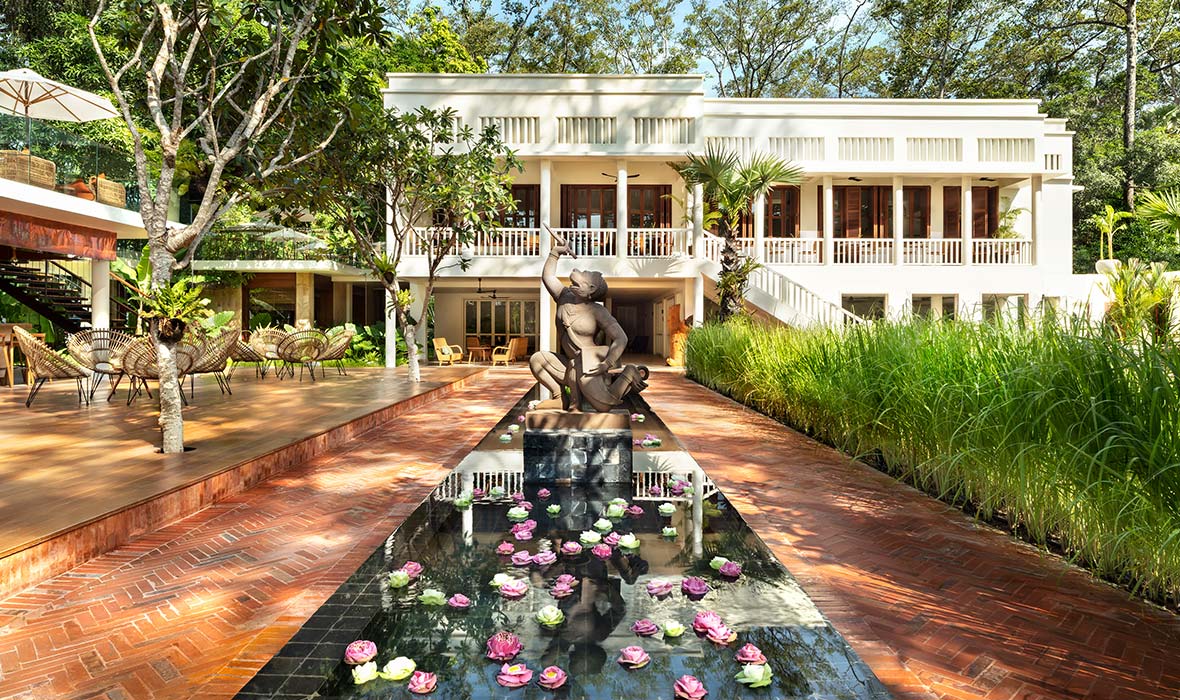 It's hard not to get swept up in the timeless magic of it all as you sip tea in elegant China and nibble on freshly-made croissants, all while the sun rises over the flowing, tree-lined river that runs in front of the property. Admittedly, the trucks and tuk-tuks that also sweep by do shake you from your early 20th century daydream, but the whirring ceiling fans, rattan furniture and genuine historic surroundings soon draw you back in. Add in the traditional-patterned tiles, intruding jungle foliage, and vintage typewriters used to adorn the rooms, and it's 1910 again.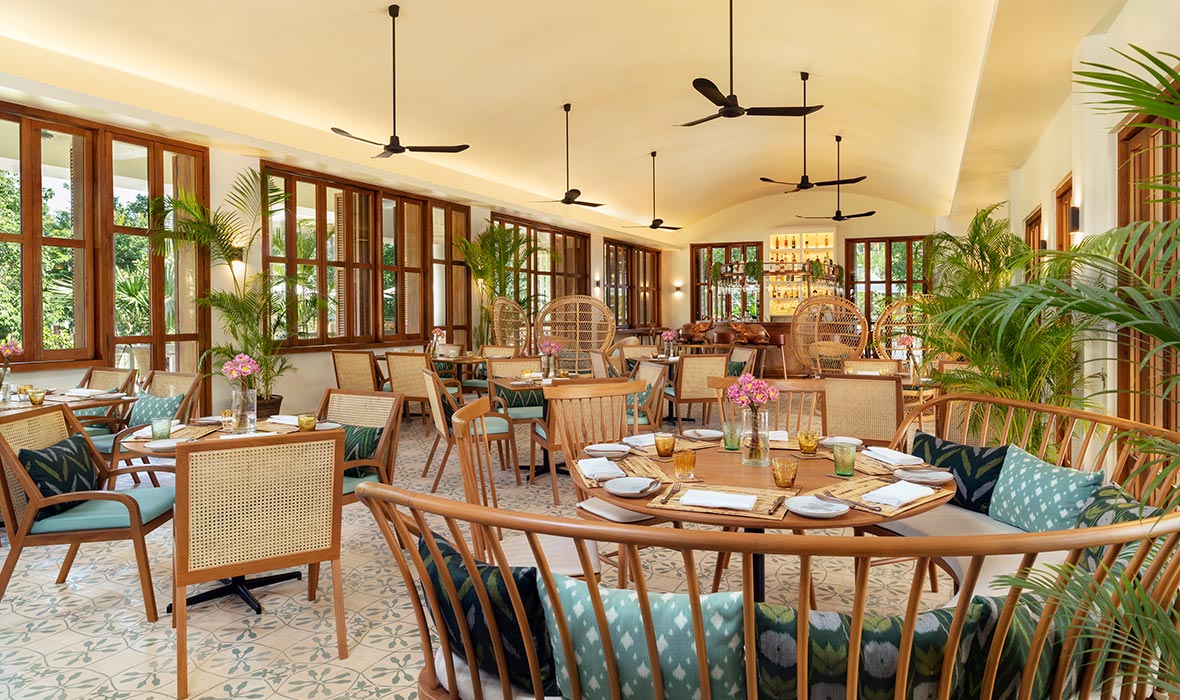 Besides poolside dining (which is always tempting after a busy day morning climbing ruins, or quad-biking through the countryside) for guests, the FCC Angkor offers two superb dining and drinking venues. The main Mansion restaurant offers a well-curated menu that stretches from Khmer specialties such as the beef lok lak to all-day Western classics like eggs Benedict. The latter can be ordered off the a la carte breakfast menu, and indeed there's nothing quite like dropping by for an early morning coffee on the restaurant's terrace, savoring the day ahead.
Since it opened in the middle of Cambodia's wild 1990s, the FCC Phnom Penh has catered to journalists, ambassadors and intrepid travelers, providing them with comfort food and a home away from home. That's why, if in doubt about what to eat, seek out the FCC name on the menu: from the salt and pepper calamari, served with a signature side of wasabi mayonnaise, to the classic chicken Caesar, prawn-filled pad Thai, and fan favorite fish and chips. Then there's the famous wood-fired pizza, club sandwich, and lush brownie. Are you hungry yet?
A menu full of high spirits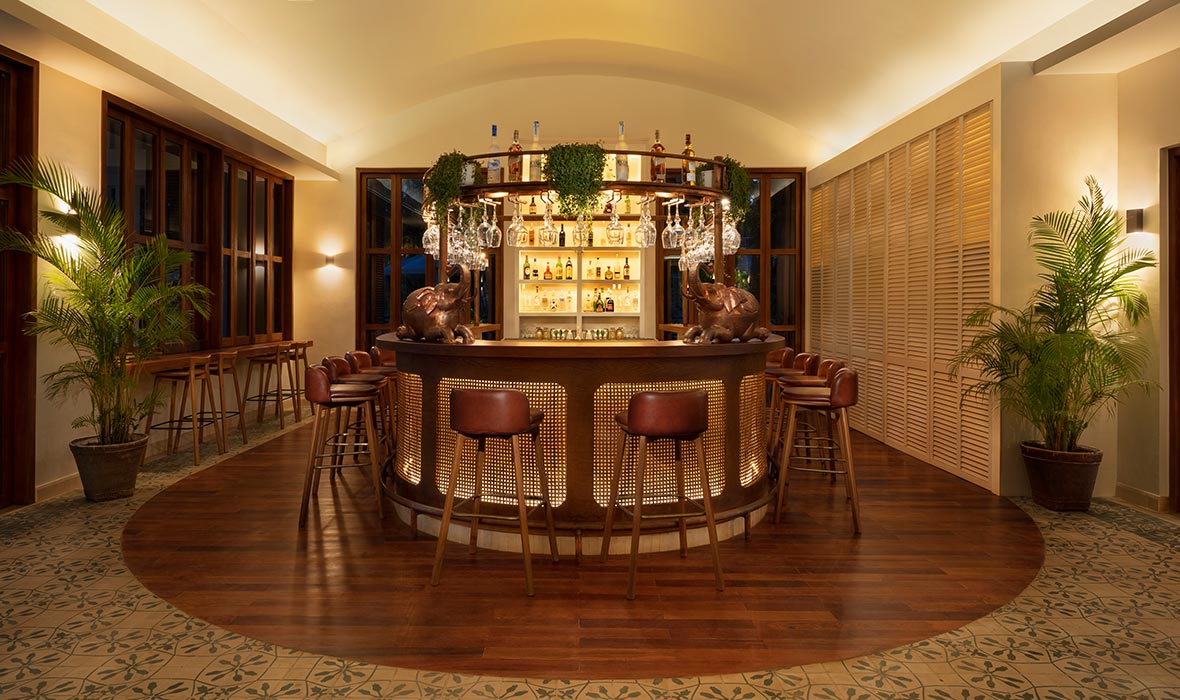 The drinks menu contains something for everyone, but we're most drawn by their range of cocktails. While the curated one page menu has a mix of all-time classics—try the New York Sour, with its mix of whisky, lime, egg whites and palm sugar—it's the locally-inspired drinks that stand out, such as 'Call Me Al', a tasty blend of pandan-infused vodka, grapefruit and rose, of which Paul Simon would no doubt approve. If spirits are not your thing, then opt for the Cambodian craft beers on tap, such as the particularly yummy Kingdom Mango IPA.
Location, location, location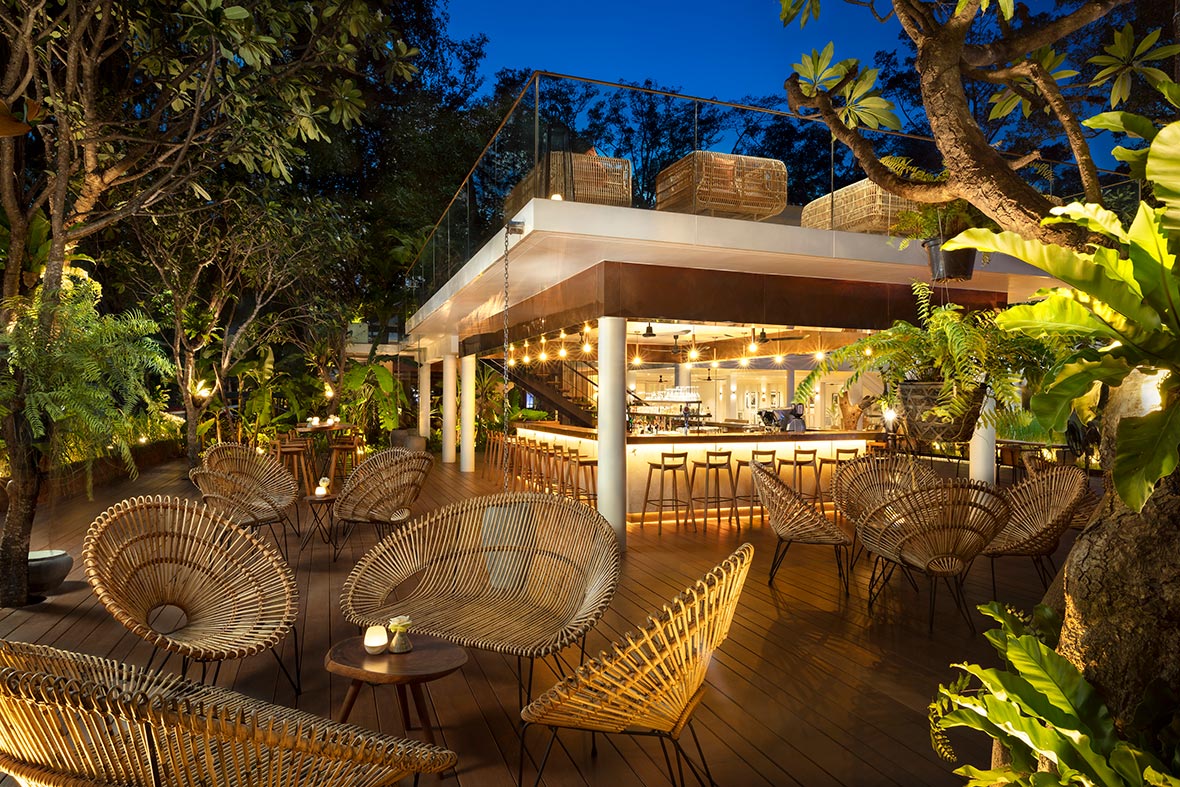 As the realtor adage goes, you can't beat a good location. By that measure, the FCC Angkor wins hands down for its position in the center of Siem Reap. Firstly you're riverside, making for pleasant post-breakfast walks or evening strolls after dinner along its banks. Next, it's just a short ride in the hotel's own tuk-tuk to Kandal Village, the hipster shopping street full of smart boutiques and cool cafes, and the bustling charms of the Old Market area. Of course, you're here to see the ruins of Angkor, but cap a visit off with a sunset tipple at Scribe bar.