Not many large Asian cities are known for their beaches, but Busan is pretty special. What makes Busan's seaside unique compared to other Asian cities is that it is a hub of community activity, flanked by cafes, bars and, restaurants. The beaches themselves are filled with people walking, sunbathing, swimming, fishing, sailing, and relaxing. It's not the most relaxing or pristine beach in Asia, but it is a great way to combine sun, sand, and modern Korea.
Home to almost four million people, Busan has a very relaxed atmosphere and slow pace of life, particularly in comparison to the frenetic capital of Seoul. Here is your guide to Busan's top three beaches, each of which has a different flavor.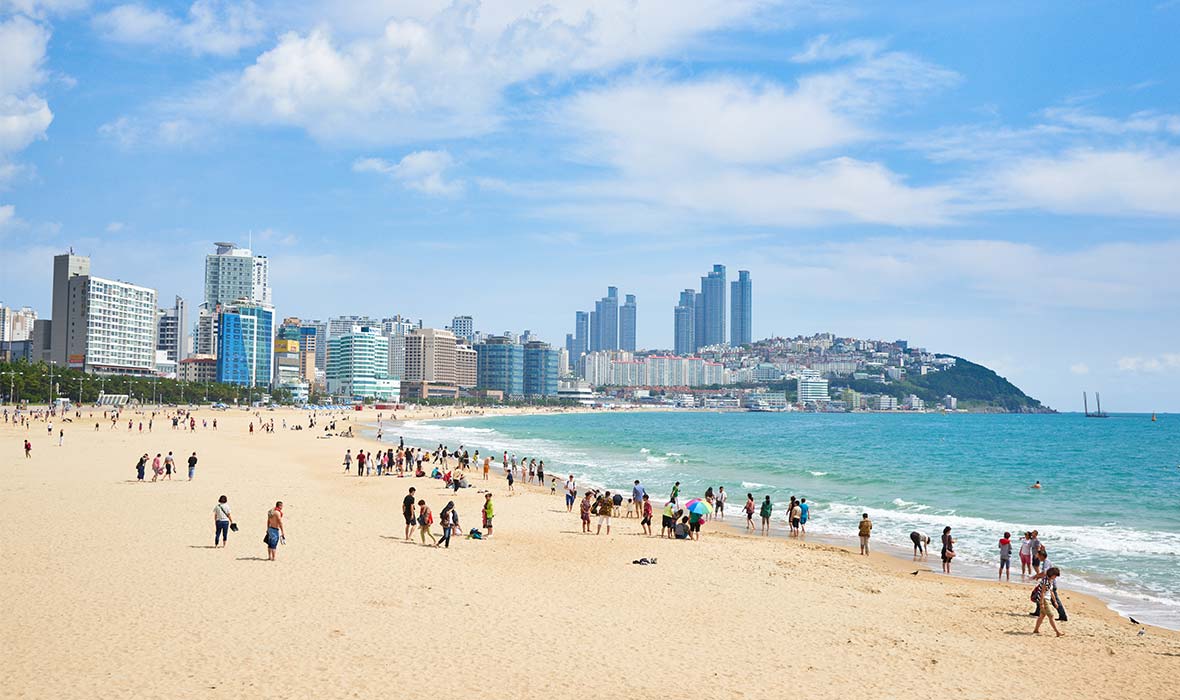 Stretching for 1.5 kilometers, Haeundae Beach it is fringed by a cluster of high-end apartment blocks and luxury hotels like Paradise Busan. Haeundae is quite possibly the most famous beach in South Korea, renowned not just for its natural beauty but also for its nightlife and dining scene.
Aside from the regular cultural events and festivals hosted in Haeundae throughout the year, the beachside area is lined with chic bars, pulsating nightclubs, fine dining establishments, and the fascinating Bay 101 arts and culture complex. Busan is the seafood capital of South Korea, home to one of the largest fish markets in Asia, so the many restaurants of Haeundae Beach offer notably delicious lobster, oysters, crab, and prawns.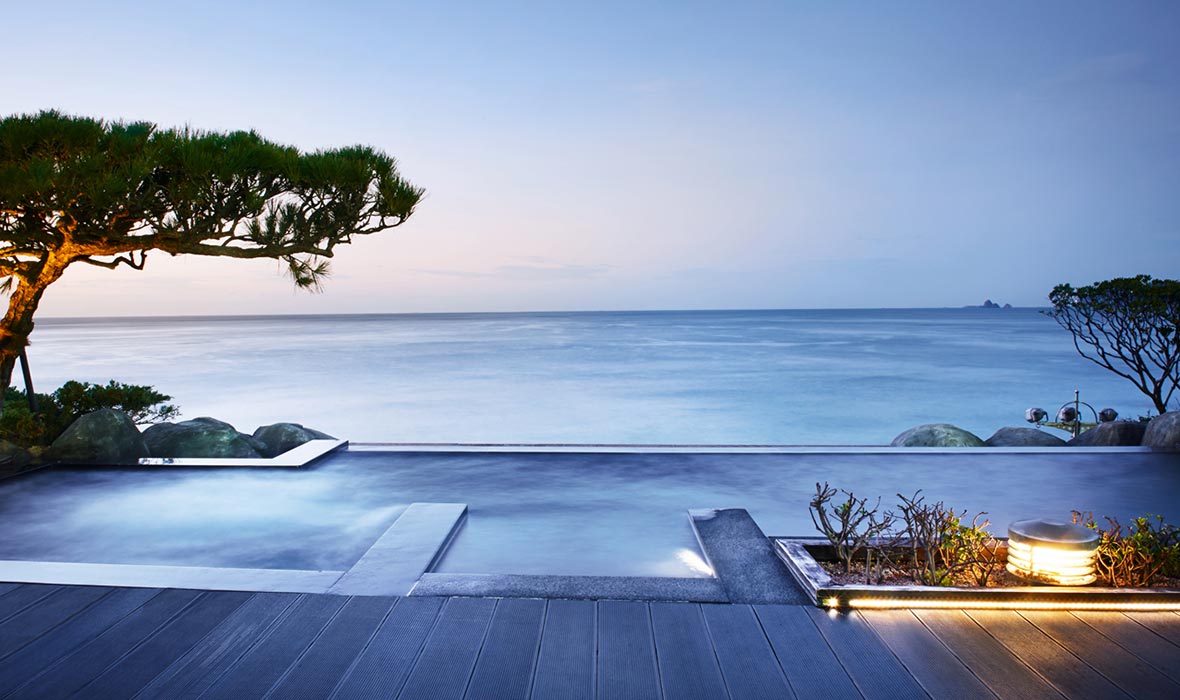 The beach itself is alluring thanks to the fine, soft white sand and clean, calm water. It's a busy beach to be sure, but Koreans travel from all over the country to swim and sunbathe at Haeundae, particularly in the summer when temperatures here can exceed 30C. The beach is also connected to one of the most unique and attractive places in Busan: Dongbaek Island. The name is a bit of a misnomer considering it is now connected to the mainland, but Dongbaek has the feeling of a nature reserve thanks to its lush vegetation, hiking trails, and rocky sea cliffs. It also offers great views of Haeundae Beach.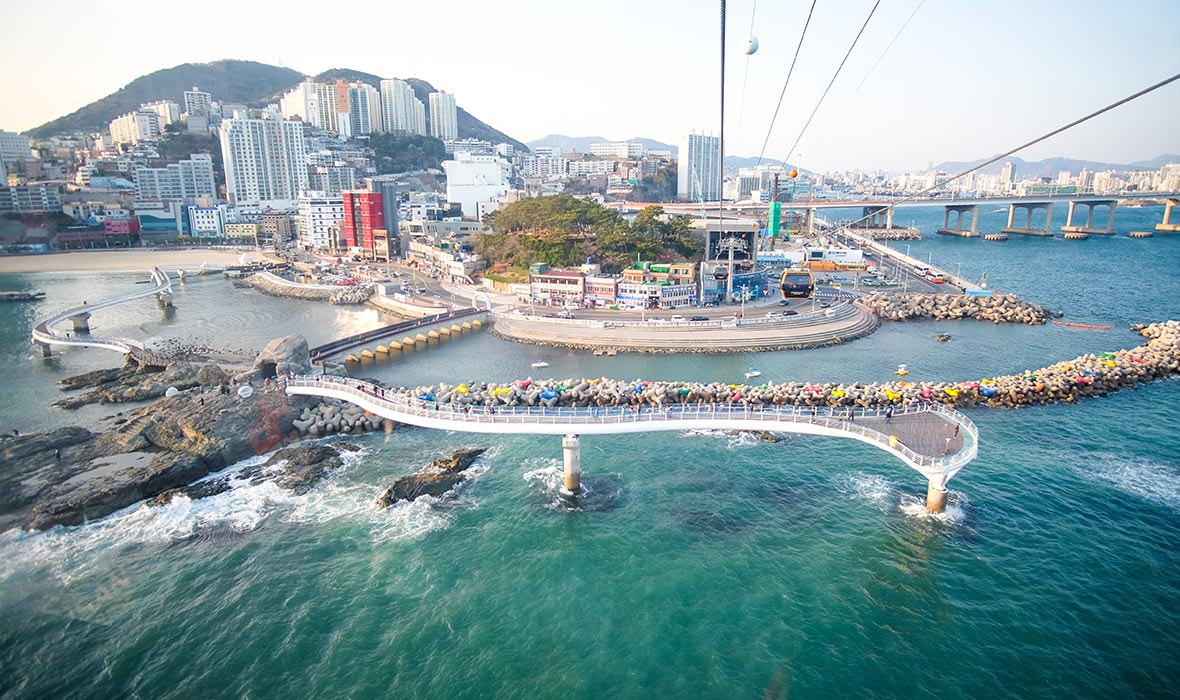 If you're looking to avoid the Busan crowds, and in particular other tourists, then Songdo is the beach of choice. Although it is only five kilometers south of Nampo-dong, one of the busiest commercial and entertainment areas in Busan, Songdo feels far removed from the city. On one visit, this 400-meter-long stretch of soft sand was populated only by a handful of other swimmers and a few dogs exercising with their owners. Travelers can climb up on to a high diving board which was erected in the middle of Songdo Bay and stroll along the raised walkway which crosses the bay. Visitors can step off the sand and into a cluster of restaurants and bars, which have an easy-going vibe to match that of Songdo itself.
For those wanting to spend more time in this area, there are more lofty views to be had from inside the cable car which runs from one side of Songdo beach to the hills at its southern end. This is a particularly popular activity in the evenings as Songdo is famed for its sunsets. It is also the venue for one of the city's best annual events: the Busan Sea Festival which each summer boasts live performances on Songdo Beach.
Like a mix between Haeundae and Songdo beaches, Gwangalli is just busy enough to be vibrant and chill enough to be relaxing. Because this stretch of sand extends for 1.4 kilometers it is easy to find a bit of peace and solitude here on anything but the most frenetic of summer days. Travelers can walk its length and come across fishermen plying their trade from the rocks, teenagers playing beach volleyball, families having picnics, and children chasing each other through the shallow waters. It is an idyllic, charming city beach.
The vistas from the beach become even more interesting as the sun slides from view and the nearby Gwangandaegyo Bridge lights up. Gwangalli has a well-regarded nightlife scene which is not as rowdy as Haeundae and is probably better suited to families or couples seeking a romantic evening. The streets fringing the beach are also popular for shopping, home to a range of local and international fashion boutiques.
Other popular beaches include Dadeapo Beach and Songjeong Beach, both are near the city and easily accessed by main roads. However, there are a number of seaside, non-beach sites worth checking out in Busan, including Haedong Yonggusa, a 14th-century Buddhist temple clinging to a cliff.