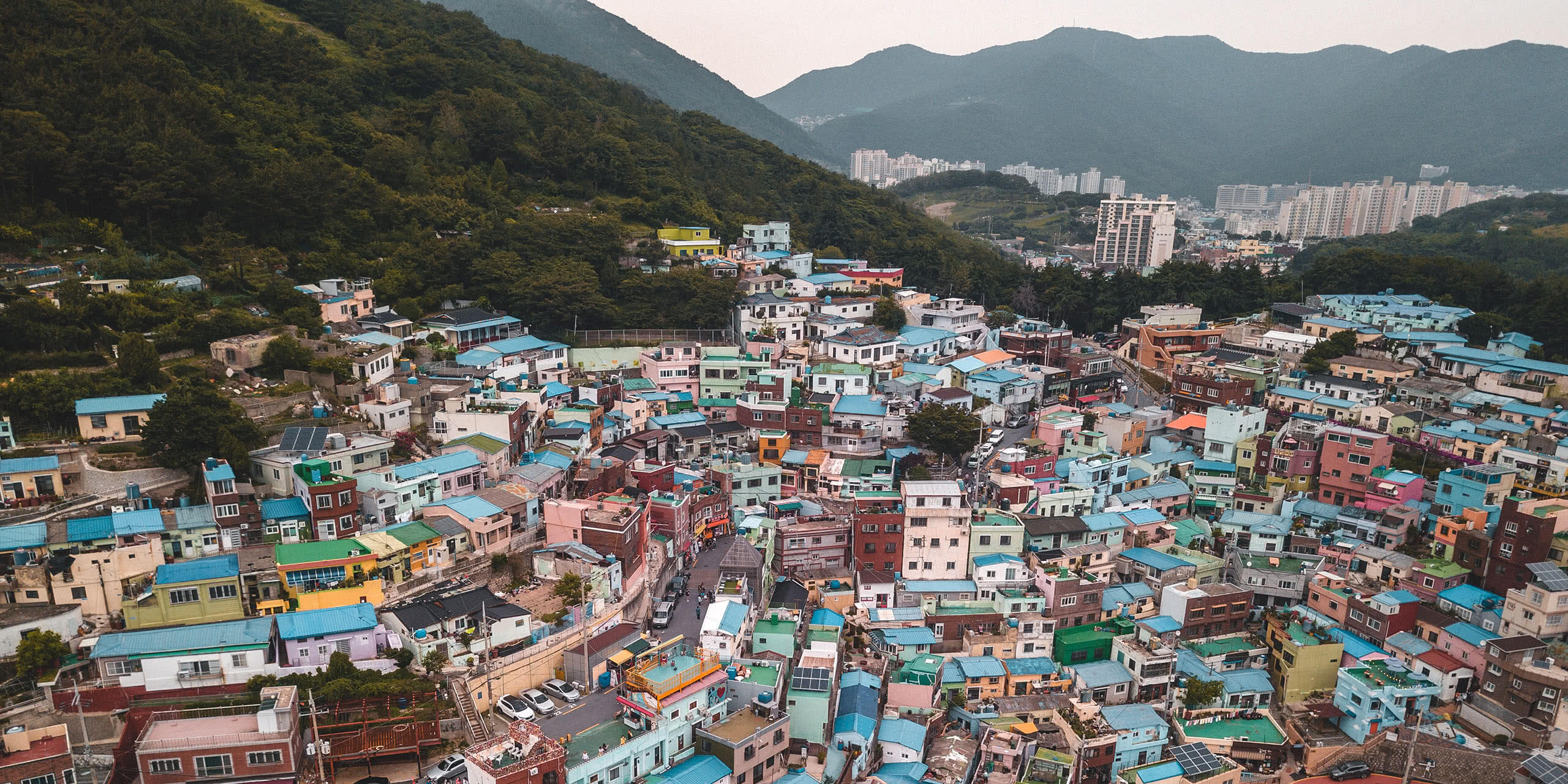 After traveling through the Korean highlands, tea fields, and cultural villages, Busan proved to be a refreshing city oasis — but not without natural charisma. On the ground I would find craft beer, Jagalchi fish market and harbor, and I would again eat my way around the deadly tetrodotoxin of the deadly fugu fish. In the air, though, travelers and photographers can see this southern city on the beach from an unusual vantage. 
Haeundae Beach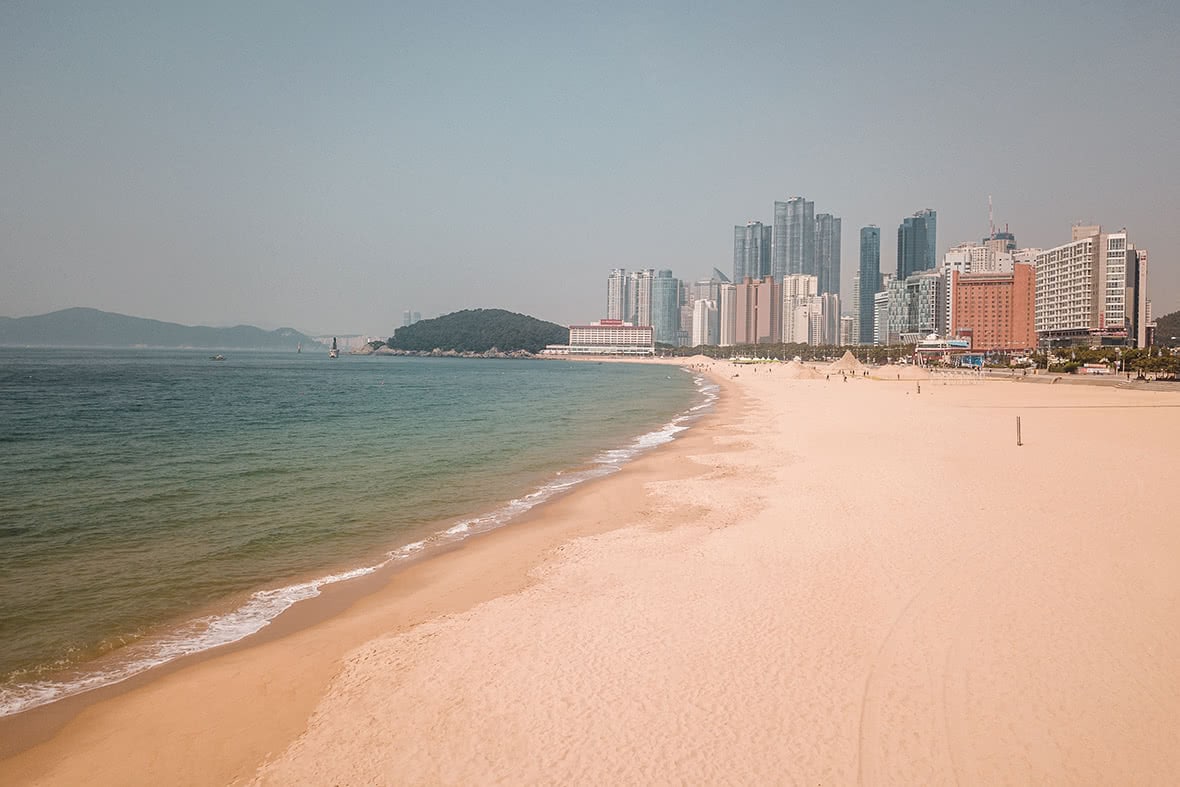 Busan is becoming famous for its lively streets and cultural treats — featured in Marvel blockbuster Black Panther and of course the Korean zombie sensations. Nowhere is this more evident than the beaches. I stayed on Haeundae Beach. At 1.5 kilometers along, this is quite possibly the most famous beach in Korea. No, this isn't what one would find in the tropical, crystal clear volcanic waters of Jeju; this is a city beach.
This beach and others like it in Busan can be lively — very lively, with constant events, sports, or even volleyball, but here too travelers can find peace and quiet. The beach was surprisingly quiet when I filmed it; it also had a hazy look which gave it an odd feel. The beach is sizable and a great way to really get to know Busan's daily life on the ground, and, of course, from above. 
Busan Port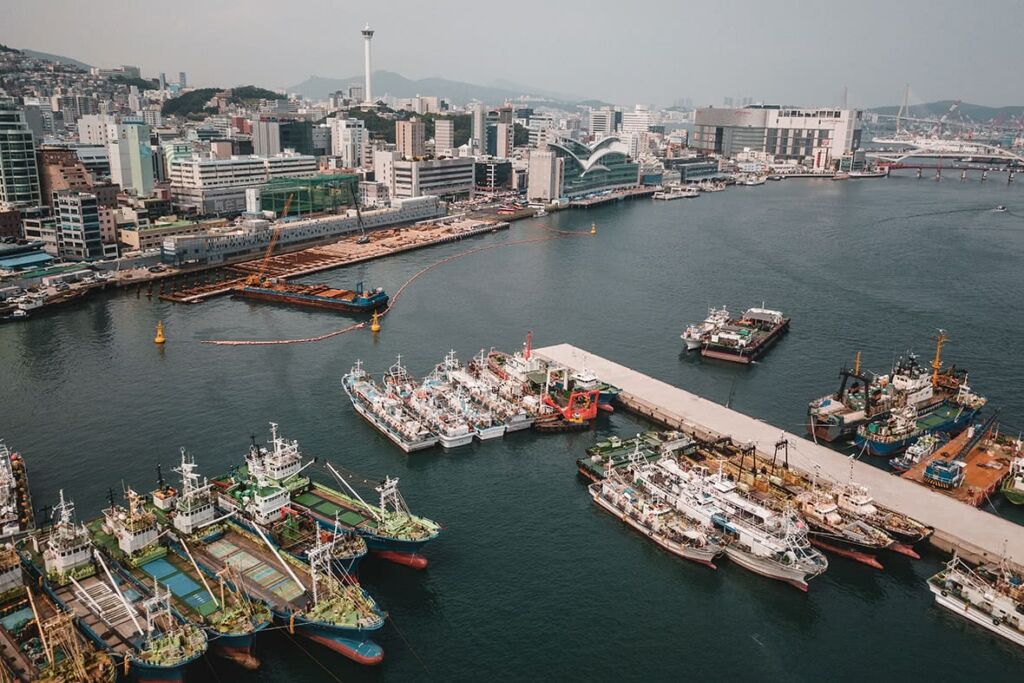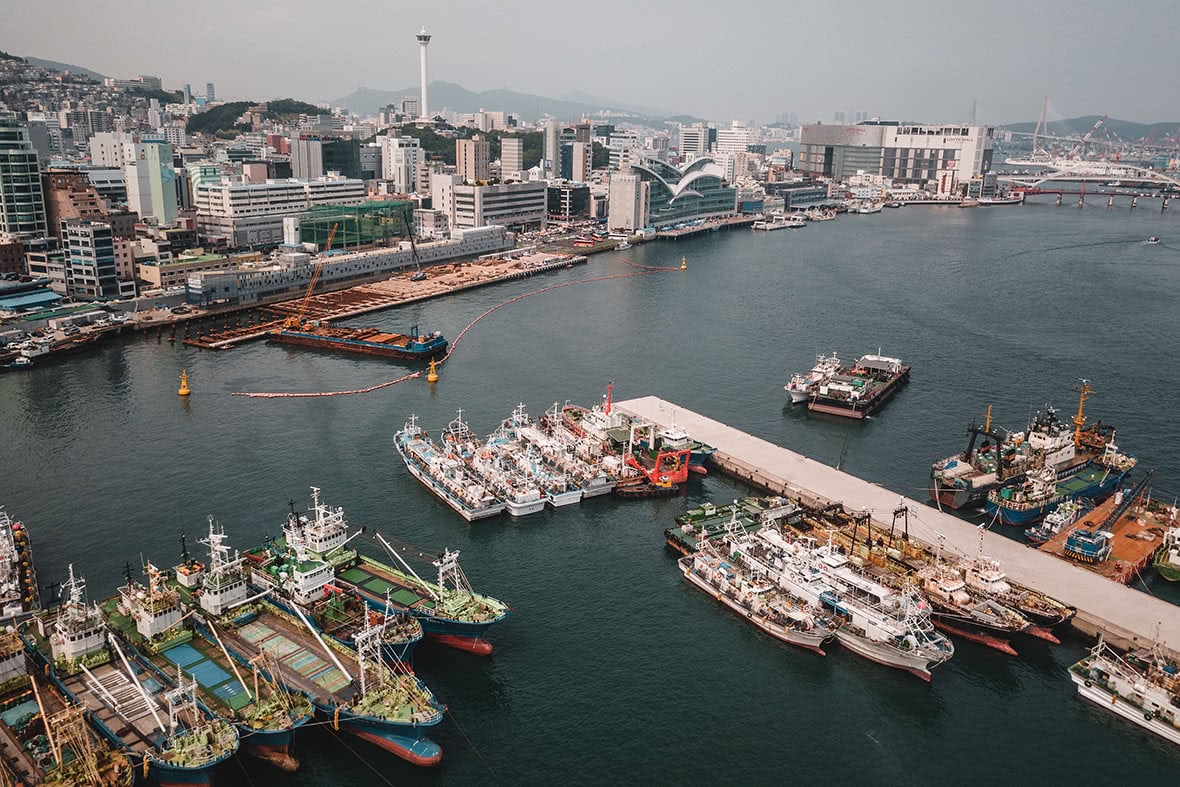 Most tourists will know this area for the gigantic Jagalchi fish market but from the air travelers can see Busan Port, also known as Busan Harbor. While Busan is very much a modern, glitzy city, it is still very much a city on the sea and this is Korea's largest port. As both a port city and fishing hub there are few places in Korea that can match Busan's economic might on the waves.
The Port of Busan is hemmed in by an island and two over-ocean bridges and even at this can be an interesting skyline, with the ships mingling with the high rises. The history of this port goes all the way back to 1876 when it was a small port trading with China out of the Nakdong River.
Haedong Yonggungsa Temple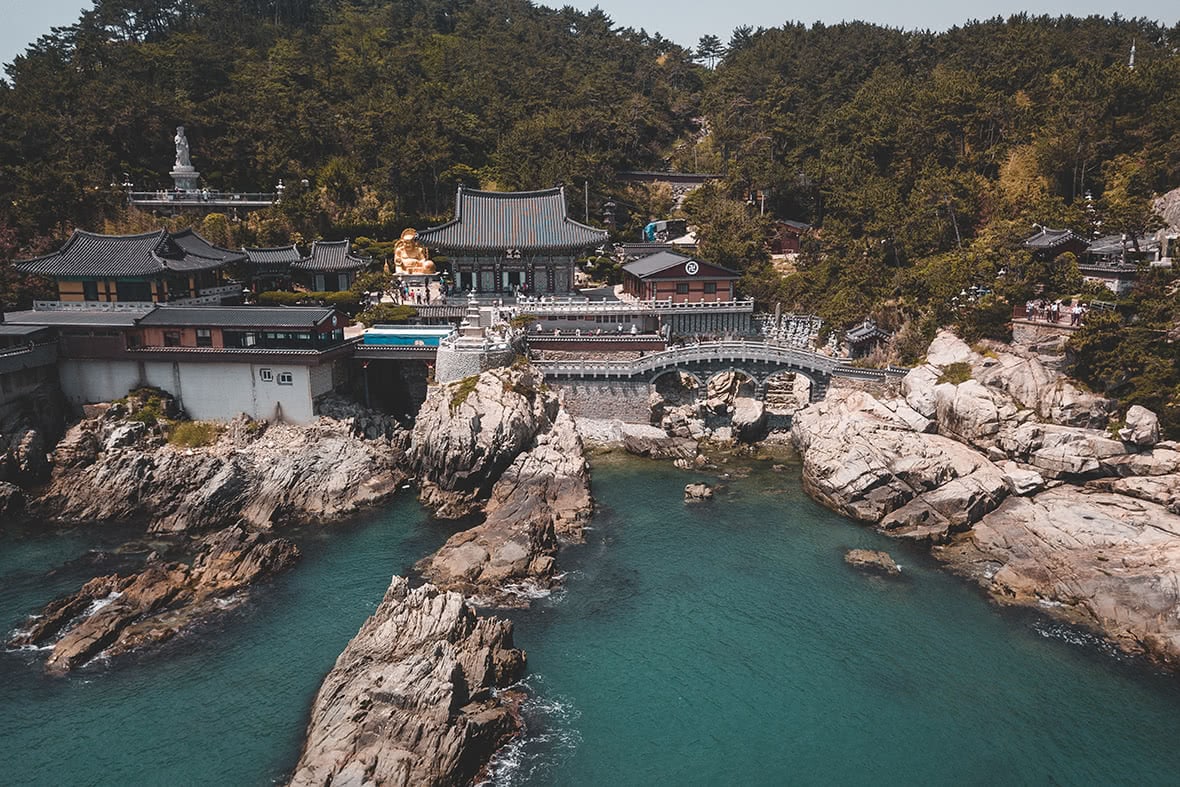 For the drone photographer, Haedong Yonggungsa Temple is unusually well placed, though somehow seems out of sorts with the urban hills of downtown. The temple is found to Busan's east and is on the mainland, surrounded by the crashing waves of the Sea of Japan.
Built in 1376 in the Goryeo Dynasty, Haedong Yonggungsa Temple was originally known as Bomun Temple and is one of few in Korea to be set on the seaside, making it quite popular with domestic tourists — very popular. So popular as to be unpleasant. But from the air my view, then, was a special one. The waters around this area, indeed all around southeastern Korea, are reliably aqua blue, even in less than optimal weather.
Gamcheon District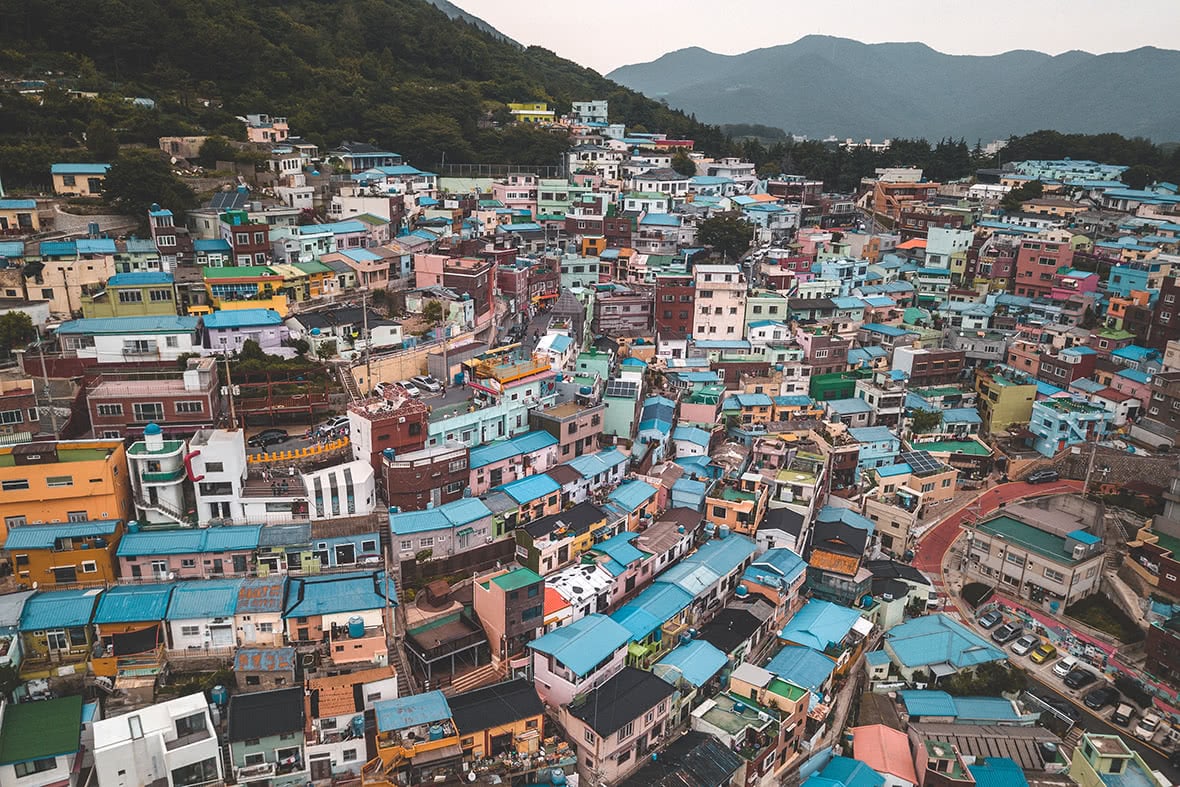 While this may not be the height of sophistication of the five-star Signiel Busan or Michelin dining, Gamcheon district is a must-see for photographers from the air because, well, it looks strangely like there's a Brazlian favela on the Korean peninsula. This was one of my favorite sites, mostly because it was the least expected.
The area was originally built in the 1920's and 30's to keep the city's poor away from the port area but close enough for cheap, easy labor. For decades the winding streets on this hill were known mainly for their poverty. But, in 2009, the government renovation efforts called on artists and residents to decorate the district, and the results were better than expected. Once infamous for poor living conditions, official statistics state that the area had 1.4 million visitors in 2015.
The resulting work makes for some of the most interesting drone footage, complete with mountains, cityscapes, and this odd-looking little community. It had quite a thriving sunset scene on the ground, but from above it took on a whole different feel.
Cheongsapao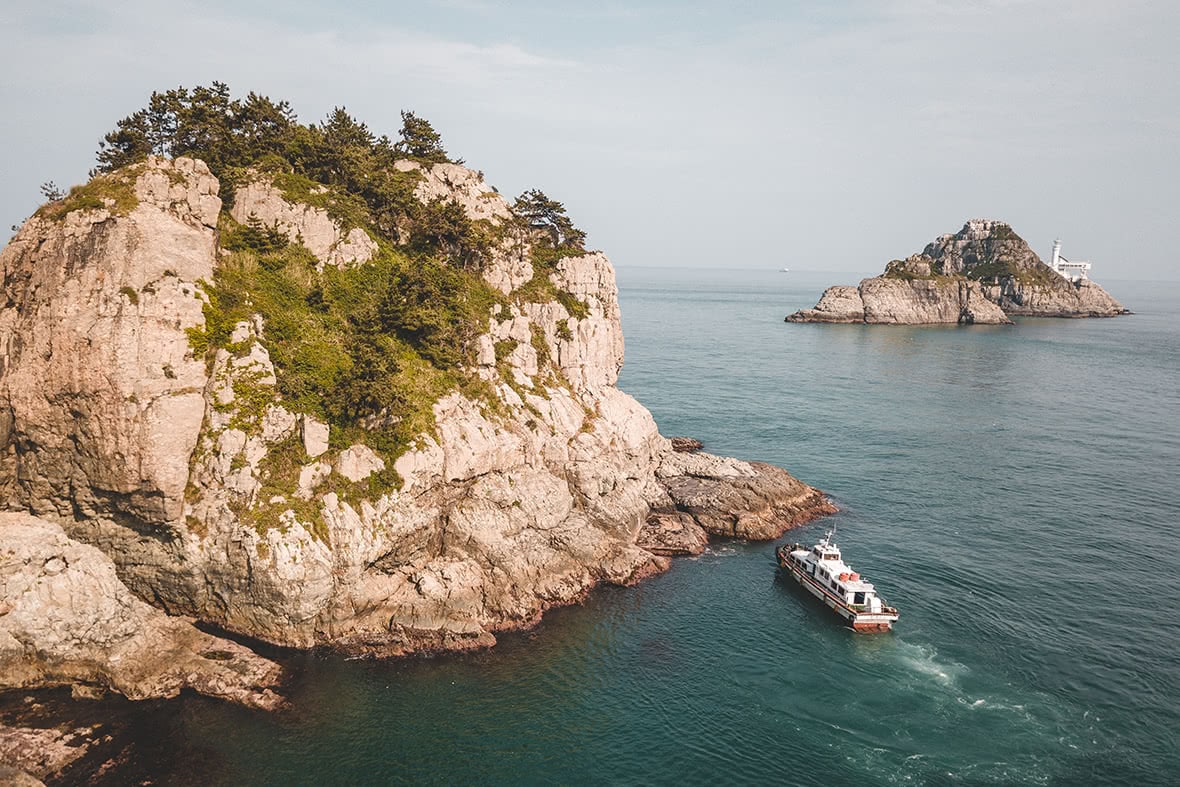 Before leaving and ending my long trip from Seoul to this coastal metropolis, I had one more stop: Cheongsapao. The area is mostly known to tourists for the skywalk, but drones get even higher. Despite being just outside of the bustling city, it felt quite remote.
South of Songjeong Beach, the shoreline around Korea's coasts is surprisingly dramatic, and the fishing and shipping vessels making their way through this area make it all that more fascinating. Memorably, before I left, I had the chance off of Cheongsapao to meet the haenyeo, sea women. In a tradition dating back to the fifth century, these women dive into the freezing cold waters for sea life, later selling their quarry to tourists and travelers on shore. Famous for their strength and independence throughout Korea, the one I photographed was none too happy about it — and I didn't want to argue with her.