The street is saturated with people – some selling, some buying; most just watch the commercial chaos unfold. Street vendors walk beneath weathered stone arches and past timeworn shophouses as they advertise everything from shoes to jewelry, children's toys, and local snacks like keema samosas. Soon the evening call to prayer echoes through the neighborhood, and the mayhem will quieten for a short moment. But, eventually the human traffic resumes. One grand structure holds court over this hectic scene: the 16th century heart of Hyderabad.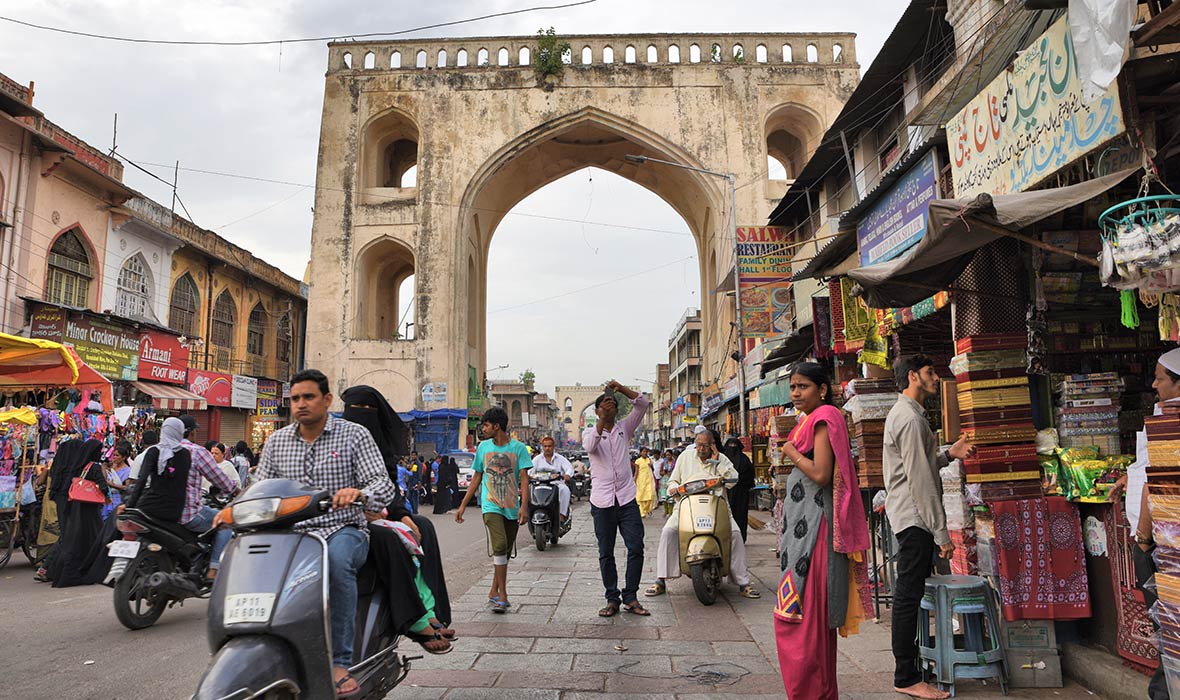 As one of the emerging centres of finance in India, Hyderabad's downtown precinct is growing evermore modern. But visitors need only travel five kilometers to its south to discover ancient lifestyles, culture and communities here in the city's Old Town.
Centered around the towering Charminar, buzzing street markets spoke off in all directions past shophouses, historic Hindu temples, and opulent mosques. A giant jewelry bazaar sprawls one way, a heaving wet market in the other, while in between people sell, shop, eat, and drink en-masse. This teeming precinct represents the surprising, quirky, and enchanting India which lives in the dreams of most tourists.
Charminar seemed like the obvious place from which to begin an adventure exploring Hyderabad's history. The commanding gate, built of granite in the Indo-Saracenic style, is believed to have been the first building erected in Hyderabad. It was constructed in 1591 by the ruler of the powerful Qutb Shahi dynasty, Muhammad Quli Qutb Shah, when he decided to build Hyderabad as the new capital of his empire.
The Qutb Shahis presided over the Golconda Kingdom in this southern part of India from 1518 to 1687. Their hub was the magnificent Golconda Fort, about ten kilometers west of Charminar, before they had to abandon that citadel due to a plague which had ravaged the fort. To mark the beginning of the new capital, Charminar was built as its centrepiece, embellished by four 50-meter-tall minarets. Today, this monument sits in the center of a traffic roundabout, which hums with activity at all but the darkest of hours.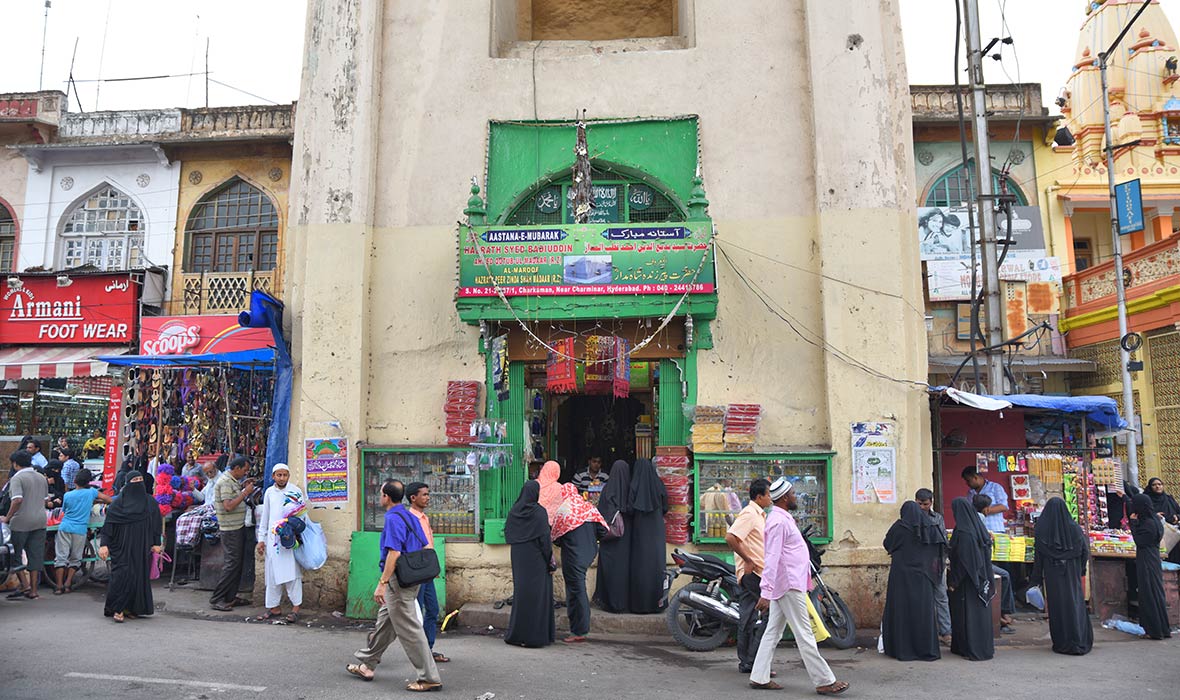 While it is not possible to climb the hundreds of stairs which lead to the tops of these minarets, visitors can climb about halfway up the structure to its two main viewing platforms. I make my way up a narrow spiral staircase, passing dozens of other visitors, before I arrive at the first platform. Its interior is beautiful, decorated by intricate stucco work, beautiful balustrades, arabesque designs and floral motifs – a synthesis of Mughal and Hindu architecture. This platform was once home to an Islamic college, while the floor above it has a petite mosque.
It is from a small window near this prayer hall that I spend at least 10 minutes admiring the sprawling views across Hyderabad's old town. Just below me, past the throng of street activity, is Mecca Masjid, one of the largest mosques in India. Capable of accommodating up to 20,000 worshippers, it took more than 70 years to complete, such was its scale and the complexities of its Indo-Saracenic design.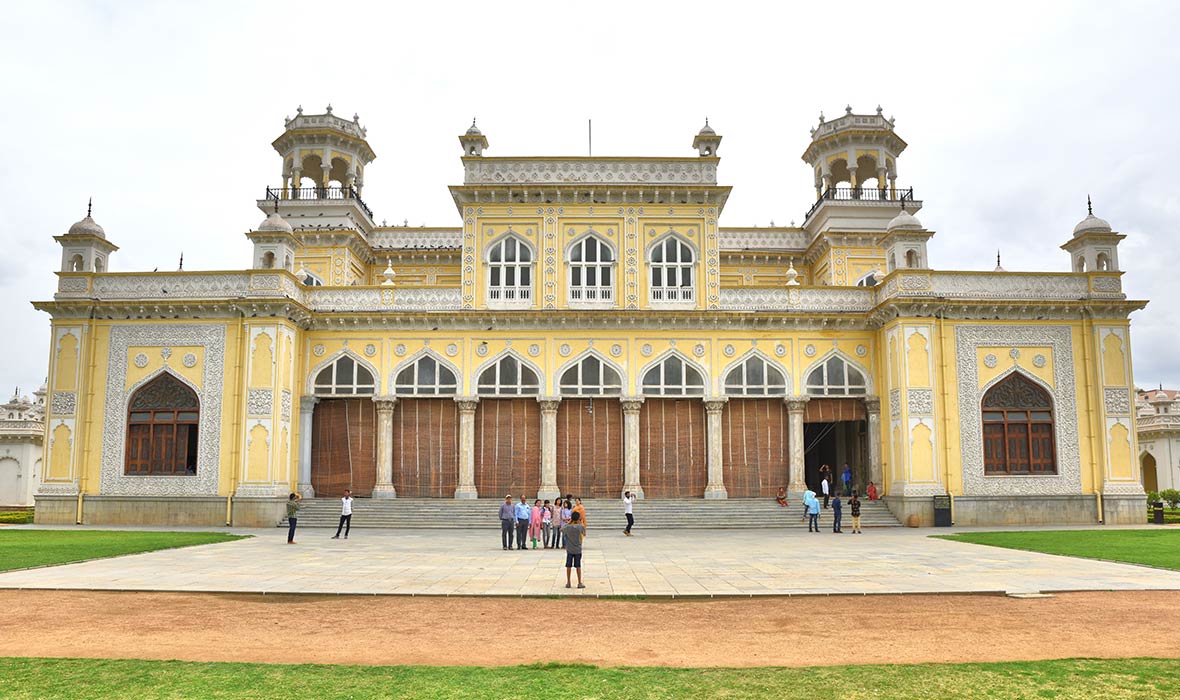 More than 8,000 masons were involved in its construction, which began in the late 1500s. It is not until I admire it from street level that I fathom just how enormous it is. Fifteen towering arches, each etched with verses from the holy Quran, support the roof of its cavernous, 25-metre tall prayer hall.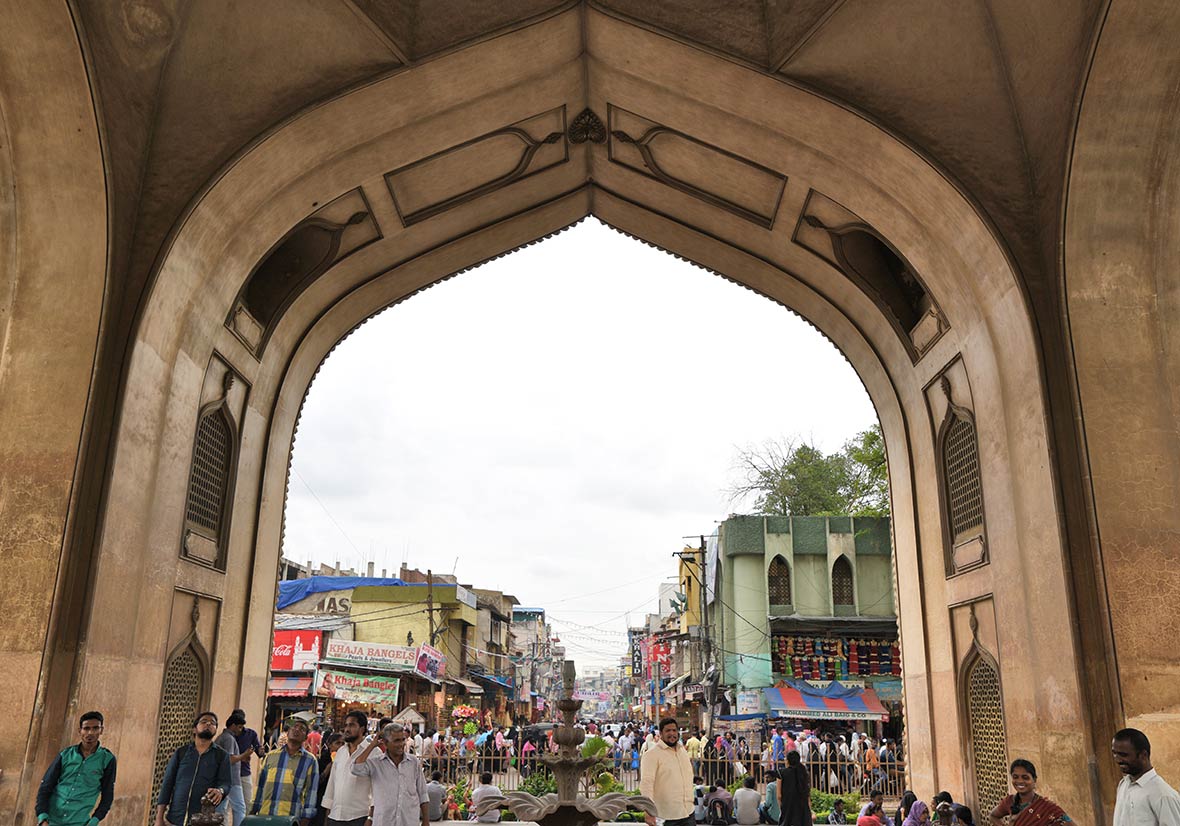 Just behind Mecca Masjid is a similarly magnificent, although much more curious structure. It was inspired by the Shah of Iran's palace, and its design borrows from a range of revered architectural styles from around the world. There are Roman-style columns, Mughal domes, Persian-style stucco work, Belgian chandeliers and Arabesque etchings. Chowmahalla Palace is a brash construction reflective of the bold monarch who once ruled Hyderabad and built this sprawling complex as his home.
Wandering through its manicured gardens, grand halls and royal chambers, it is easy to imagine the splendour of life enjoyed here in the 18th century by the Nizam of Hyderabad. The palace remains the property of his descendants and is now an icon of Hyderabad, with tourists streaming in every day to explore the magnificent complex and learn about its fascinating history.
The past is ever-present here in this charming neighbourhood of Hyderabad. After a day of wandering the Old Town it feels as if I am a vast distance away from the modern steel-and-glass hotel where I'm staying. This is the joy of the historic heart of Hyderabad.