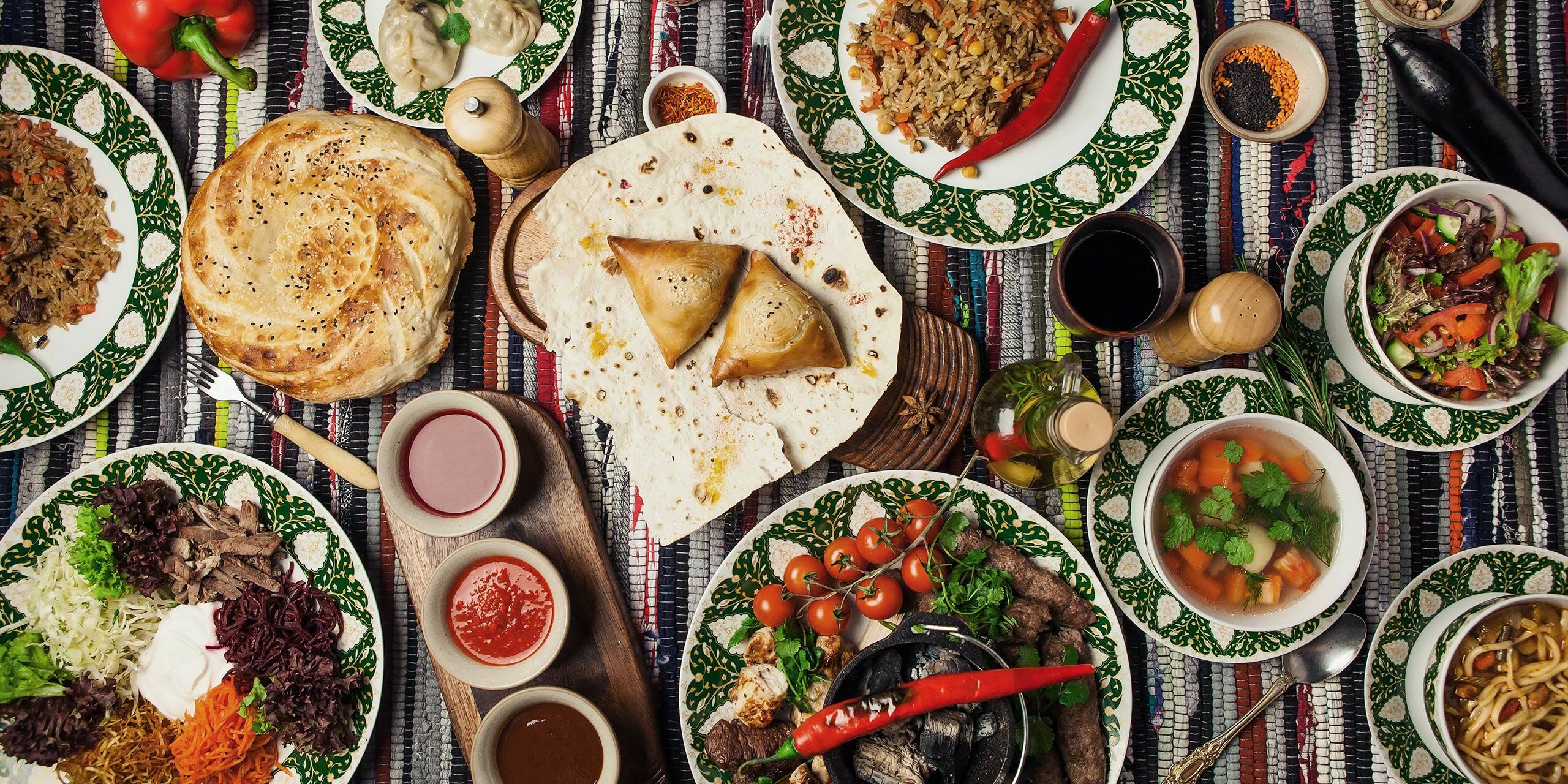 Uzbekistan has long drawn visitors with its awe-inspiring Islamic architecture, ancient walled cities, and Silk Road history, and Remote Lands is proud to release its newest itinerary, "A Culinary Journey Across Uzbekistan", an 11-day journey that takes travelers through its most storied cities. For those in-the-know, Uzbek cuisine is a delicious mix of East and West, offering spit-roasted meats and tandoor-baked breads from Central and Eastern European countries like Turkey, Iran, and Morocco as well as steamed dumplings and hand-pulled noodles from China.
Tashkent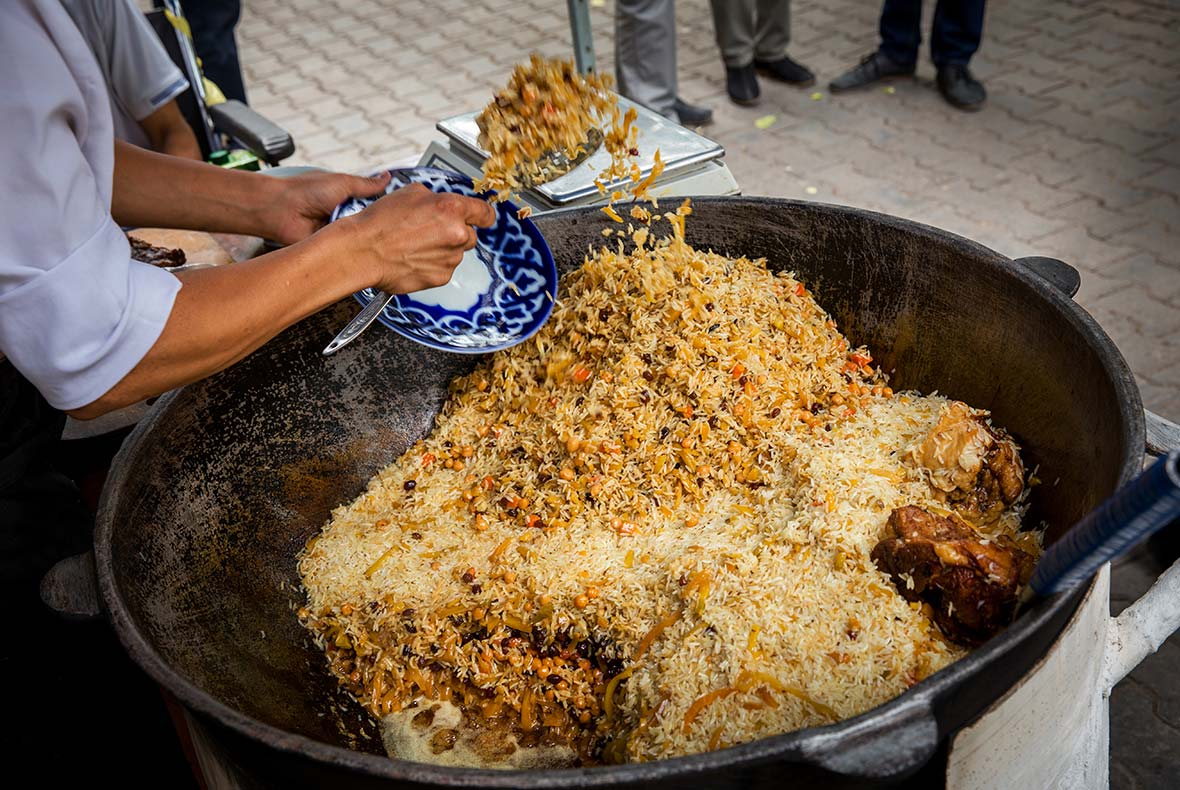 This journey begins and ends in Tashkent, the capital. Travelers dive straight into a cooking class, and the star of the menu is Uzbekistan's national dish: plov. This hearty dish of rice, meat, onion, carrots, and cumin seeds is socially and traditionally integral to the country's culture, originating back as far as the 10th century. For a closer look, visitors will explore the Plov Center and create your very own in a kazan.
But, it's not all about the food. Spend the rest of the day sightseeing around the capital. Stroll through the ancient part of the city, visiting Khas Imam square and Independence Square. In the Barak-Khan madrassah, meet artisans and see their craft in action: miniaturists, sculptors, and painters. Round out the day at the capital's best-known market, Chorsu Bazaar. Both a place where locals do daily shopping and a huge attraction, Chorsu Bazaar sees thousands of shoppers looking for the freshest ingredients. End the day at the Hyatt Regency Tashkent, a rare taste of ultra-luxe in the Uzbekistan capital.
Khiva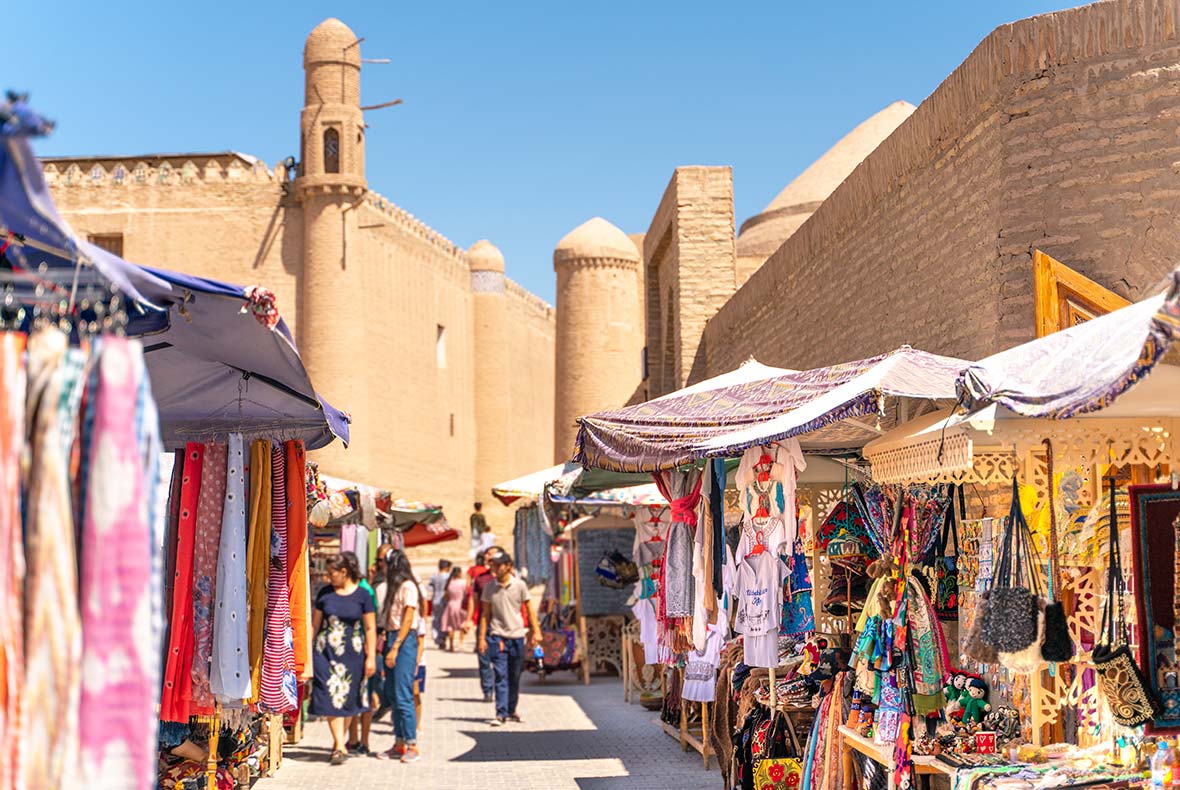 Fly to Urgench and drive to Khiva, a living museum in a labyrinth of narrow mud-walled alleyways and blue mosaics. After checking in at your hotel, learn how to cook the Khorezm region's two exclusive dishes: takhum barak and shivit oshi. In this hot, arid region, locals favored foods that were cooler that could quench thirst.
The influence of Chinese culture by way of the Silk Road is evident in the takhum barak, egg dumplings, cooled in cold water and served with kefir or sour cream. Shivit oshi is a specialty of Khiva, a dish of bright green noodles colored with dill and topped with a savory stew of beef, potatoes, and carrots, and served with yogurt on the side. Then, travelers will explore the small walled inner part of Khiva which is dotted with 52 historical monuments. Explore madrassas and mausoleums, stroll around idyllic courtyards, and meander the alleyways. Retire to the comfortable surrounds of the Zarafshon Boutique Hotel.
Bukhara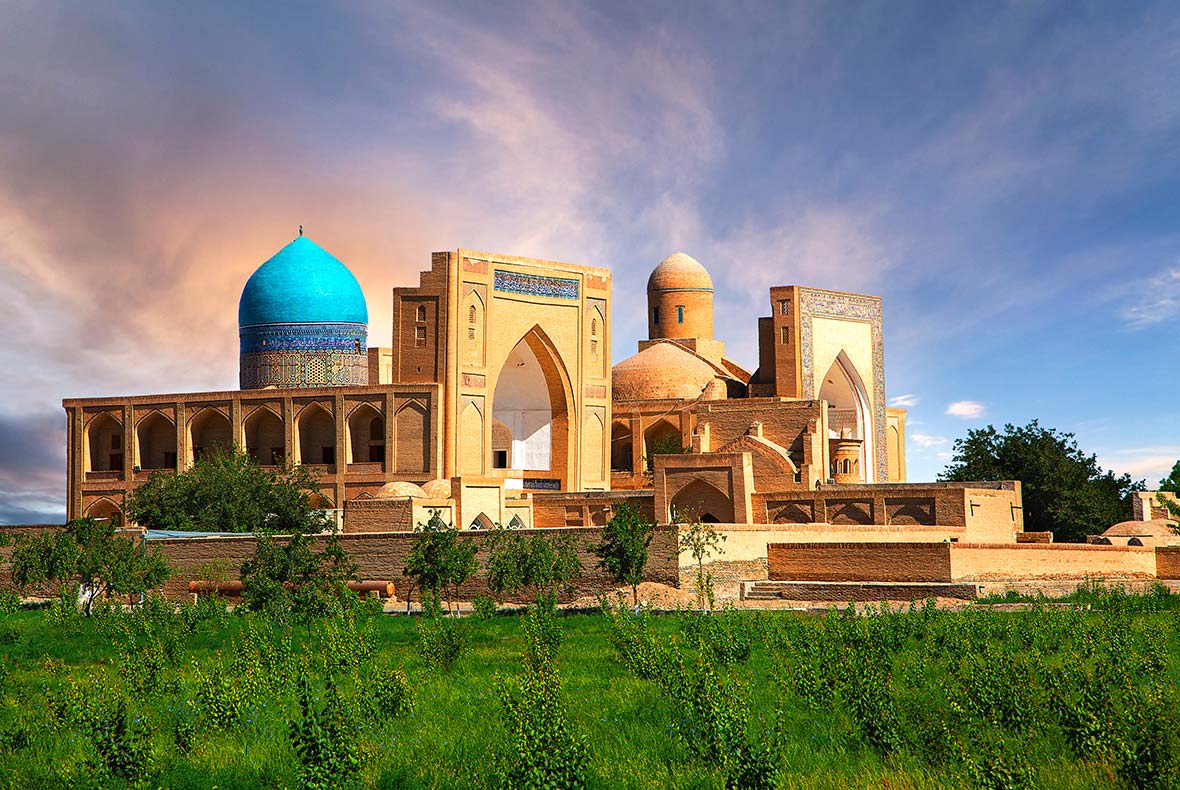 Bukhara starts the adventure in earnest for three days of cultural exploration. Traverse the Kyzyl-kum desert and cross the Amu Darya river to arrive at Bukhara. Begin with a stroll along Lyabi Khauz Place and for dinner, try your hand at cooking Bukharan plov which is sparsely seasoned with few spices so the flavors of the main ingredients are stronger. As home to one of the largest and oldest Jewish communities, it is common to see chicken and quail used instead of lamb.
Continue the Bukhara deep dive by marveling at the Abdul-Azizkhan and Ulugbek madrassahs, before taking to the trading domes, huge dome-shaped covered markets where lively commercial life intersects with busy streets. At lunch time, travelers are invited into the home of a local family to learn how to make traditional samsa (samosas). For a little culture, hit the Chor-Bakr Necropolis, a burial site for one of the four descendants of Muhammad before taking int the Silk Road tea house for a cup of local tea flavored with cardamom, cinnamon, and saffron, followed by a visit to the hammam, a bathhouse, for a relaxing spa treatment with sesame and almond oil.
With one last day in Bukhara, take a tour of the Royal Mosque Bolo Khauz, once the residence of the Emir of Bukhara. For the foodies, delve into making traditional Uzbek bread with a local host family. Today will be a treat for the culture vultures, as travelers will meet an Uzbek healer who will show visitors how to create a natural medical remedy made from medicinal herbs and spices such as mint, cinnamon, cardamom, and saffron; then, learn more about the Jewish community of Bukhara by visiting the synagogue and trying the local kosher cuisine for dinner.
Samarkand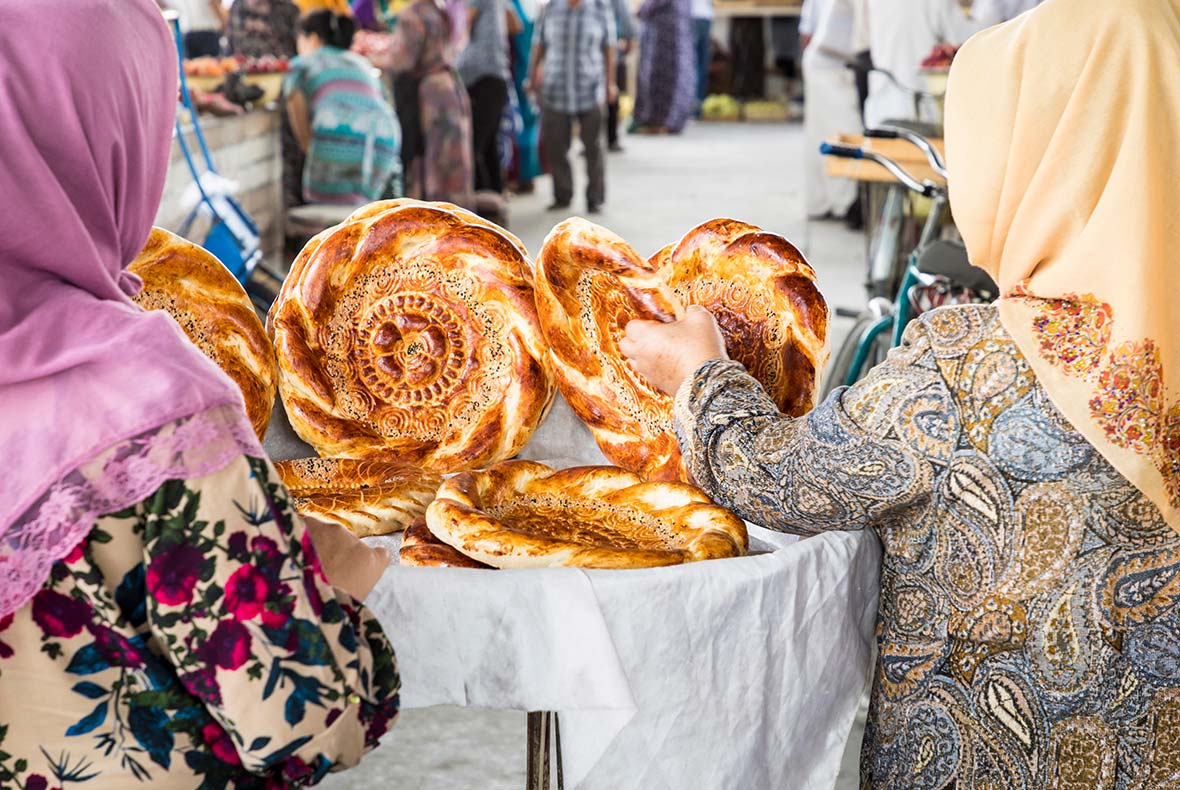 The final new destination is perhaps one of the most prized in all of Uzbekistan: Samarkand. Here, travelers will enjoy four days of culture, food, and relaxation. Perhaps the most famous city in Uzbekistan, and one of the oldest in Central Asia, Samarkand has long prospered due to its close proximity to the ancient silk trade route from Asia to Europe. After making your own Samarkand plov, journey to Siyab local bazaar to taste the best traditional bread and fruits in the ancient city before dinner and a lesson on how to cook kazan-kabob, a classic dish of meat and potatoes cooked in a cauldron.
Journey outside of the city for a little time in the town of Urgut in the mountains just outside of Samarkand. After visiting the market, meet a local family who will take you on a short walk in the mountains before returning to their home to make bugirsoks, local donuts, and beyashes, round fried meat pies to enjoy with some tea. Enroute back to Samarkand hrough the mountain pass, stop at a local restaurant for lunch and try the famous tandoor dish of lamb cooked with spruce branches, as well as jiz-biz, an incredibly tender meat dish that originated from Jizzak city.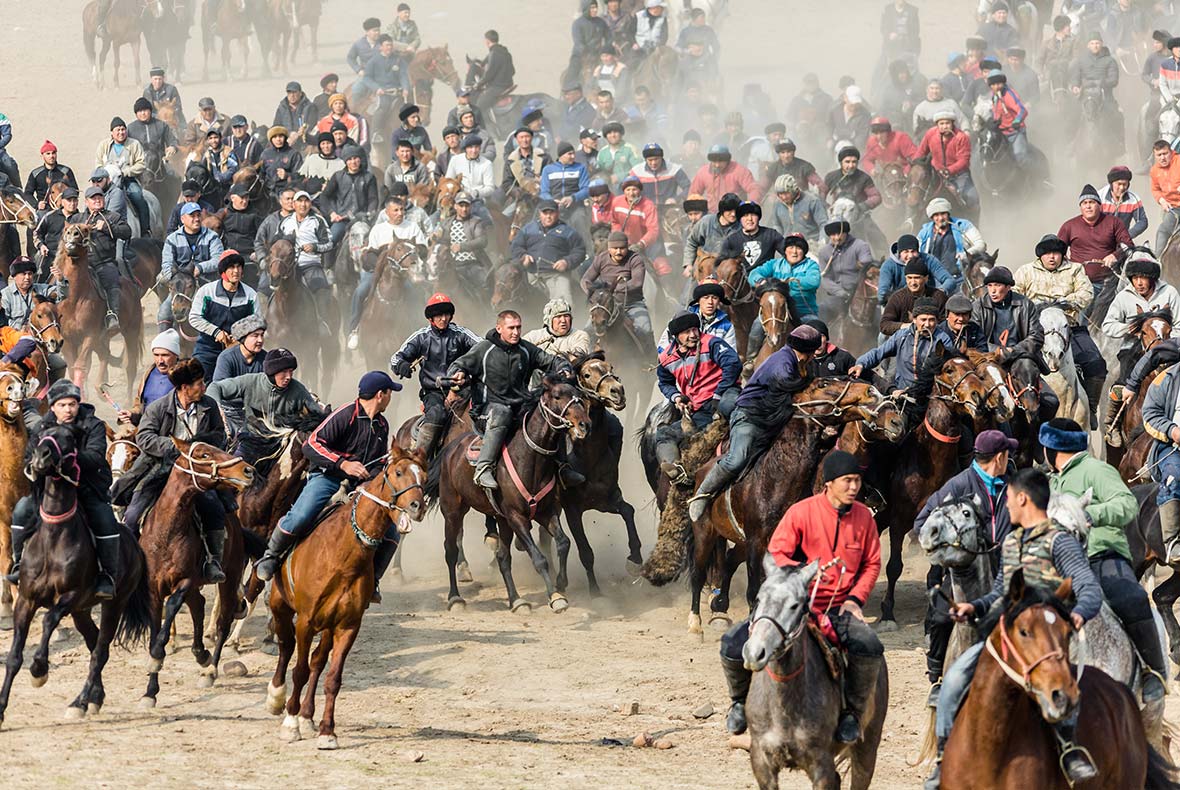 For what many consider the highlight of the trip, get ready for a traditional Buzkashi match. Buzkashi is a popular equestrian sport which translates literally to "goat pulling" in Persian. The sport involves horse-mounted players attempting to place a goat carcass across a goal line. Buzkashi is very popular across Central Asia from Afghanistan to China's western region of Xinjiang. Legend has it that the game was first invented centuries ago when Afghan tribes would gallop on horseback to steal a rival tribe's goats. And what would the experience be without a little lamb stew (tuy-kabob).