Snow clad peaks, monks with maroon robes, colorful monasteries with yak butter scents, and smoking juniper leaves conjure up images of the high plains of Tibet. But this isn't Tibet. Little known Gansu province in China is home to Labrang Monastery, one of the most important Gelugpa (Yellow Hat) sect Tibetan Buddhist institutions in the world, as well as to spectacular mountains and grasslands that are far off the normal tourist path.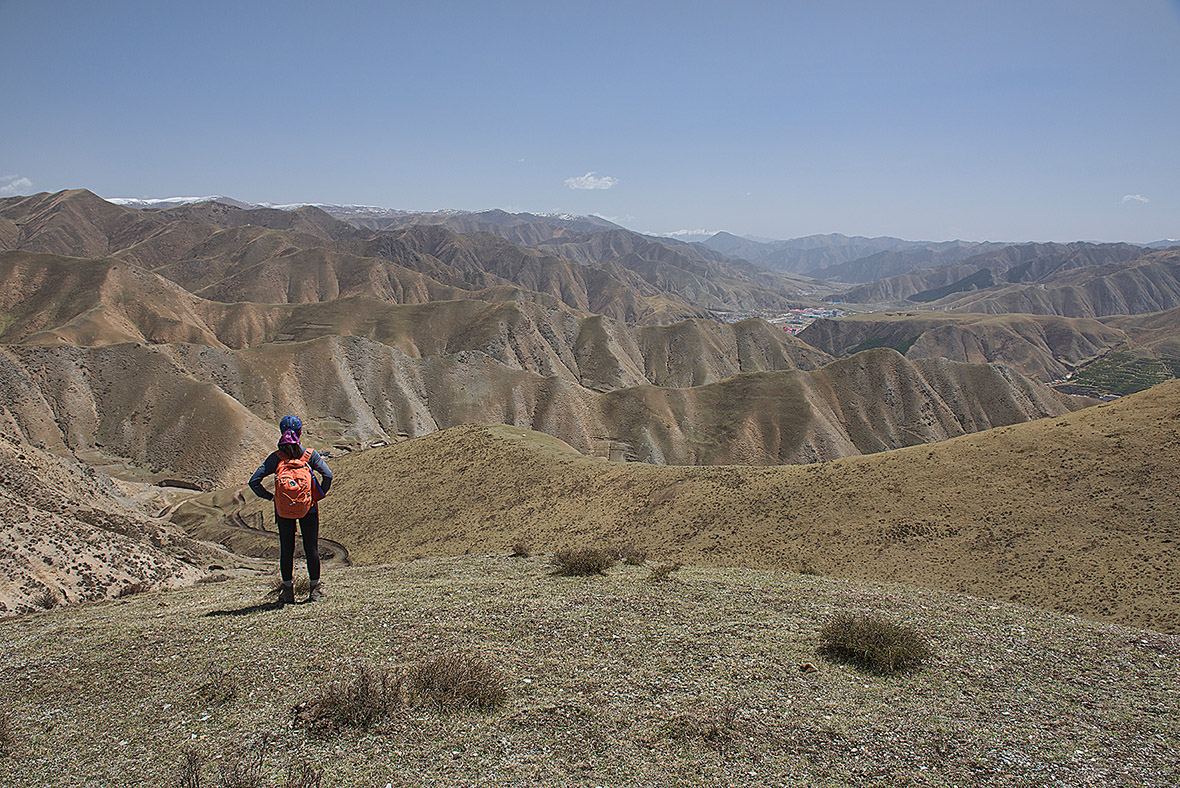 It's mid-May, the perfect spring day to be making our way down a sheep trail from the grasslands of Sangke to Xiahe, a small town set on the edge of the high plains of Gansu. My wife and I are planning to relax there after several days of trekking through scenery I never knew existed in China: big open spaces, endless snowy mountain vistas, and empty remote areas where we encounter few people other than Tibetan nomads herding yaks and sheep. It is breathtakingly perfect, except it's snowing hard and getting heavier by the minute.
Winter lingers late in this remote northwestern region of China, as the entire area is set on a plateau above 3,000 meters. While summer is the ideal time to visit, with the hills covered in a riot of wildflowers, traveling here at any time is worthwhile, as autumn sees the leaves change and potato and barley crops harvested, and spring, as we witnessed, still sees plenty of winter wonderland.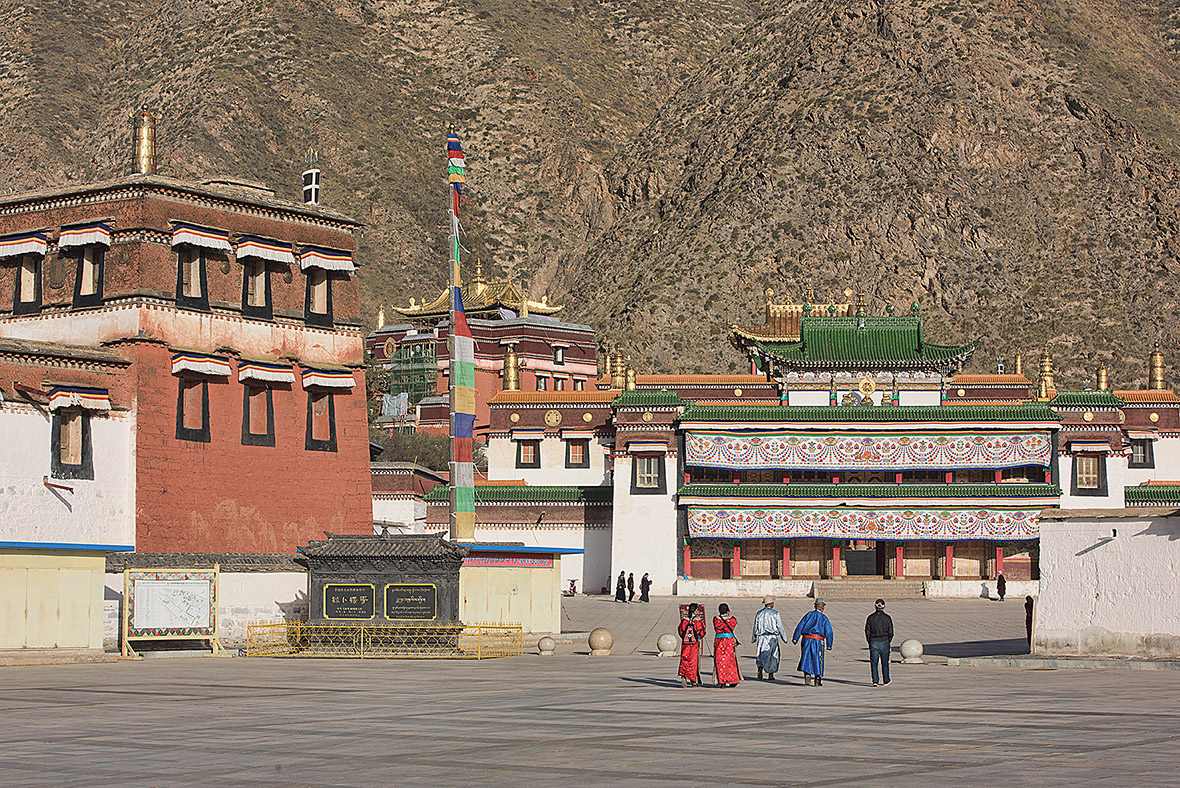 Our guide, Lobsang, an energetic and wizened Tibetan who hikes wearing his thick sheepskin chuba – a traditional long-sleeved loose coat, quite a contrast to our flimsy Goretex jackets – doesn't seem too perturbed by the near whiteout conditions. He gaits along confidently, muttering "Om mani padme hum" repeatedly under his breath, a six-syllabled Sanskrit mantra that translates to "Behold! The jewel in the lotus." It is recited by Tibetans thousands of times per day as part of their daily prayer rituals. I figure that his chants have to be working, as he's gotten us over a few passes unscathed and kept us on route.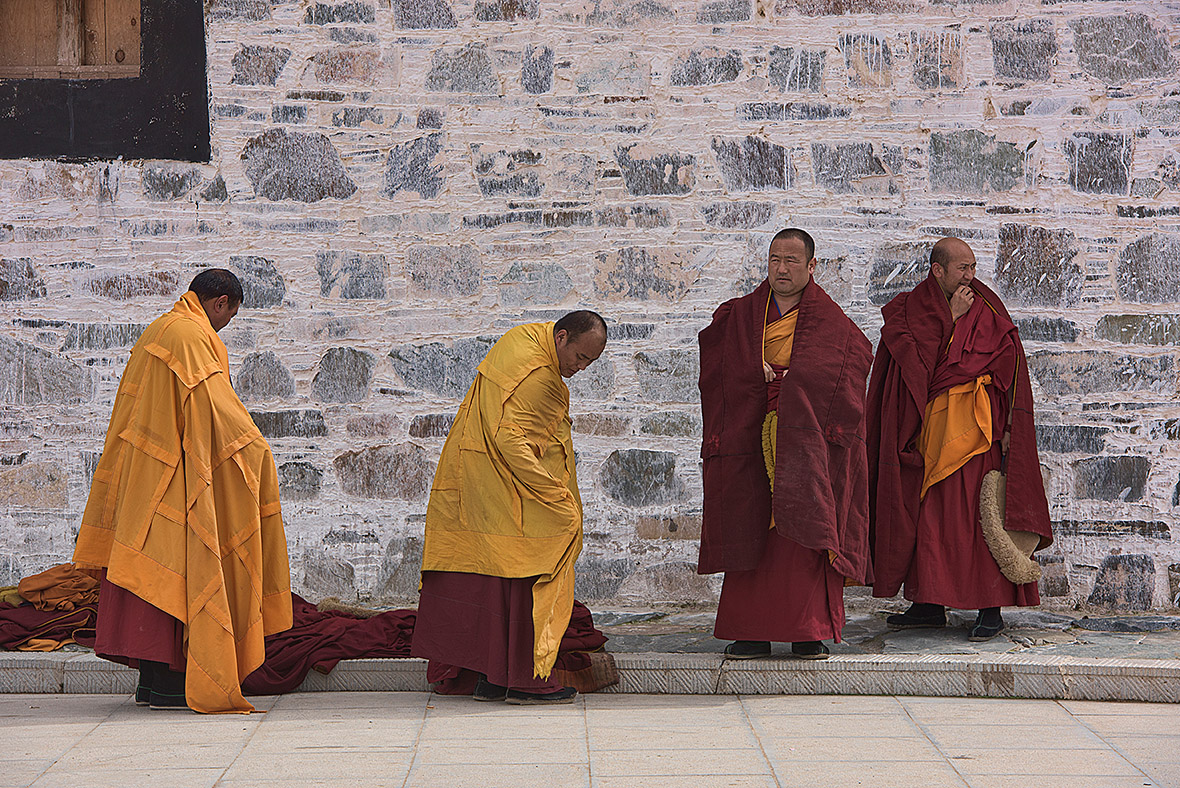 While we are excited about the prospects of hot showers, local bakeries, and a chance to catch up on email and all the comforts of home (all of which are available in Xiahe), Lobsang is thrilled to be nearing the Labrang Monastery. Founded in 1709 by Ngawang Tsondru, a Jamyang (reincarnated Rinpoche) ranking third in Tibetan Buddhist importance after the Dalai and Panchen lamas, Labrang is the most important Tibetan Buddhist monastery outside of Tibet.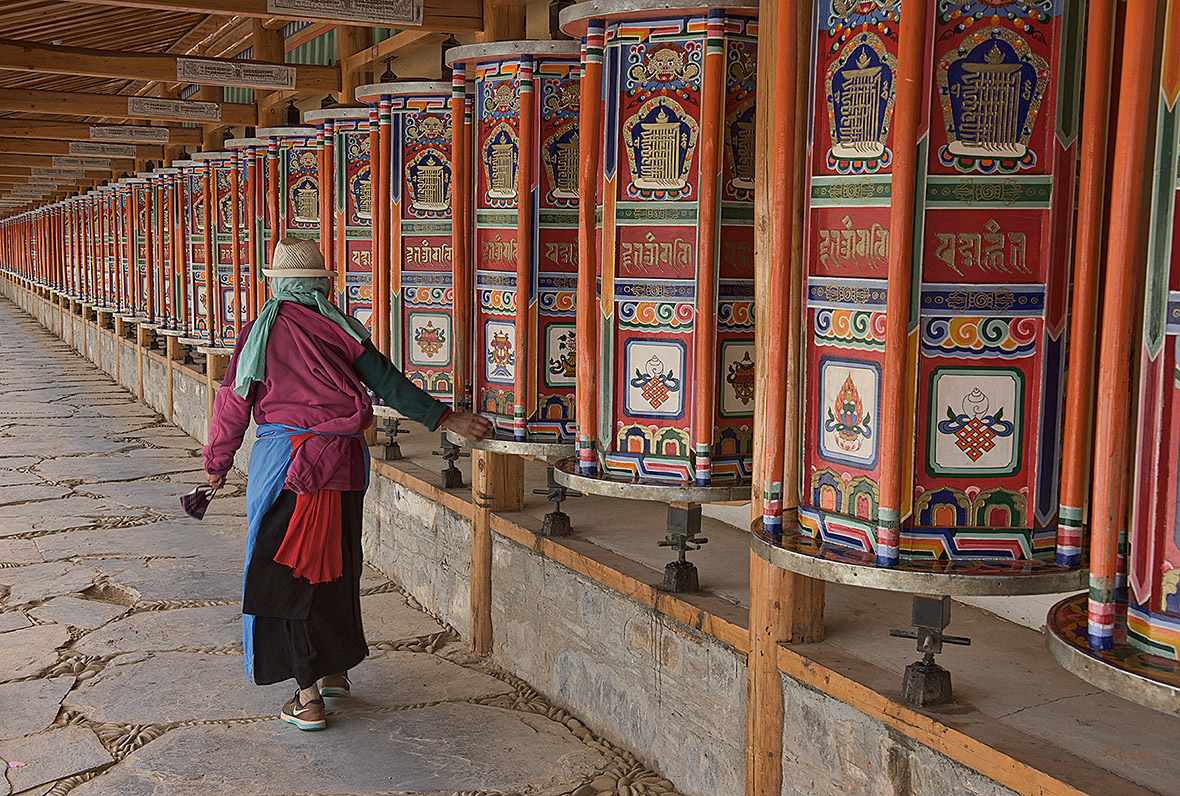 Thousands of Tibetans make pilgrimages here each year, attending teachings, festivals, or just doing endless kora circles around the large monastic complex. Koras are circumambulations around holy sites said to make merit for future incarnations and are also part of daily Tibetan ritual. We encountered a few pilgrims on the grasslands making their way not on foot – but prostrating themselves the entire way, wearing kneepads and heavy cloaks made of yak or sheepskin to protect them as they slide along, crossing snowfields, rivers, and asphalt roads as they go.
For us mere mortals, we join the throngs of pilgrims once we arrive in Labrang, doing the three kilometer kora that winds its way around the monastery. At 3,000 meters in altitude, we are huffing and puffing in the cold thin air, yet next to us scores of jovial septuagenarians stride eagerly past, most of them not just doing one 3km lap, but three-four hour's worth as part of their daily routine. Given how lively and enthralled they seem, I reckon they might be some of the healthiest people on the planet if they are doing this kind of exercise every day.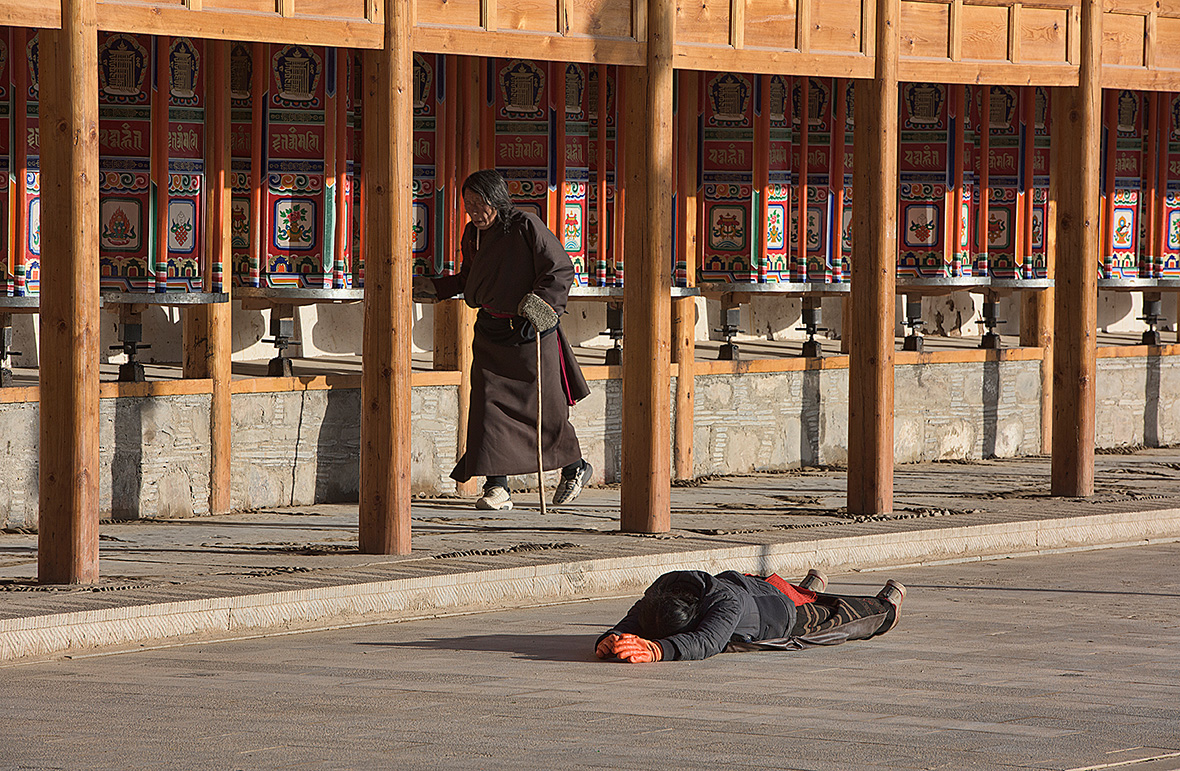 The monastery is composed of several different halls and temples, which are surrounded by dusty alleyways and adobe residential dwellings that hide behind mud-packed walls . At its height, Labrang was home to over 4,000 monks, but the monastery was partly destroyed during the Cultural Revolution and most of the monks sent out to work in the fields. Since reopening, the Chinese authorities, sensitive to the politics and control of Tibet, have limited enrolment, but there are still upwards of 1,500 monks here today, and when you enter the monastery complex, you feel firmly in the heart of Tibet.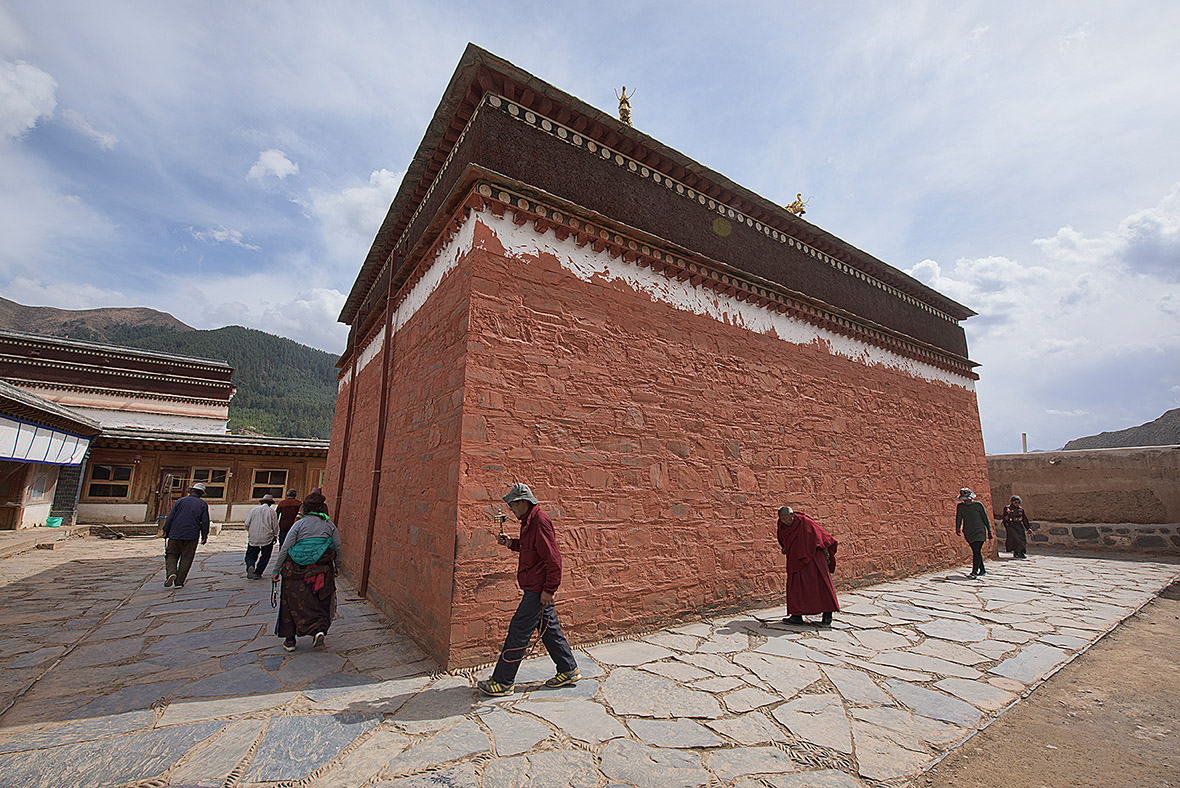 Wandering around Labrang in the early morning, I'm mesmerized by the hubbub of activities going on. The pilgrims, seemingly up all night, are already spinning the large prayer wheels that line a long corridor on one side of the circuit around the gompa. Meanwhile, monks wrap their yellow and maroon robes around themselves, huddling in courtyards and starting to recite Buddhist sutras, while several of their brethren blow into long horns, reminiscent of the Swiss alpine horns, which resonate deep throaty tones, similar to the raspy chants of the senior lamas who lead morning prayers.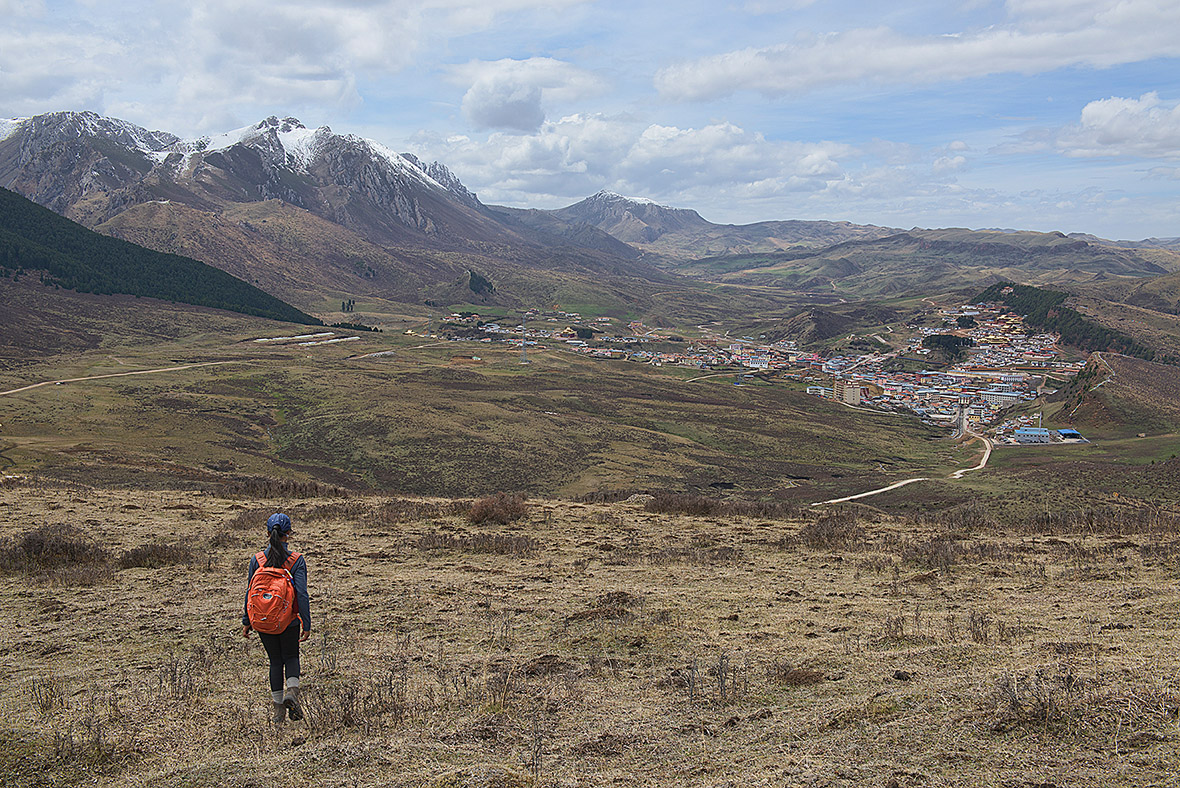 While Xiahe may seem miles away from the modern world, Langmusi, a small village several hours up the road, is even more timeless and enchanting. The setting resembles a chunk of Tirol or Bavaria set down into rural China, with jagged peaks rising over green hills, in to which a small village nestles.
The 4,200 meter Mt. Huagaishan towers over the valley, and the peaks here are accessed via a fun trek through the Namo Gorge, where Tibetan pilgrims come to visit holy caves draped in prayer flags, and wade through the shallow stream that flows through the chiseled gorge, eroded over time by the wind and water that abseil down from the granite outcroppings further in and above.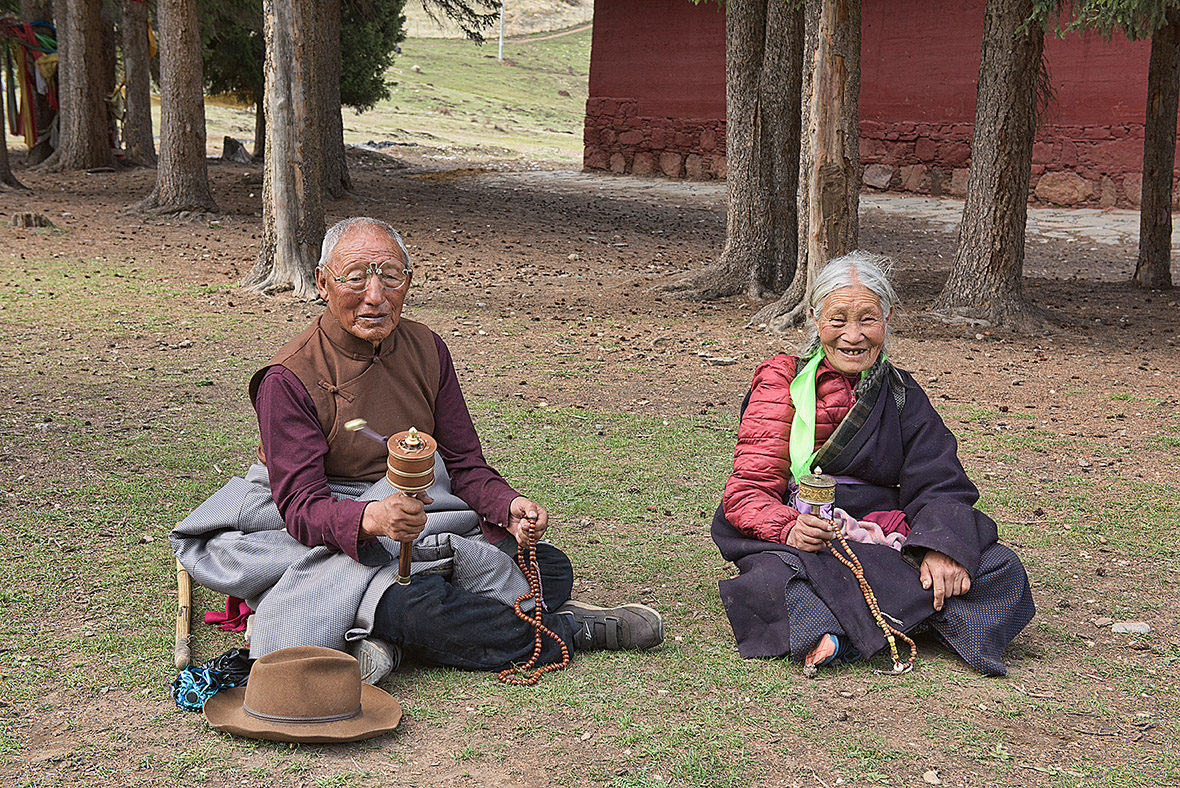 Langmusi also is a popular stop on the Tibetan pilgrimage circuit, home to two glittering golden gompas which make up most of the western side of the village. Kerti Gompa is the older of the two monasteries, dating from 1413, and is set on the Sichuan side of the White Dragon River, which divides Langmusi in two. The Serti Gompa lies in Gansu and is slightly higher than Kerti, perched up on a small hill.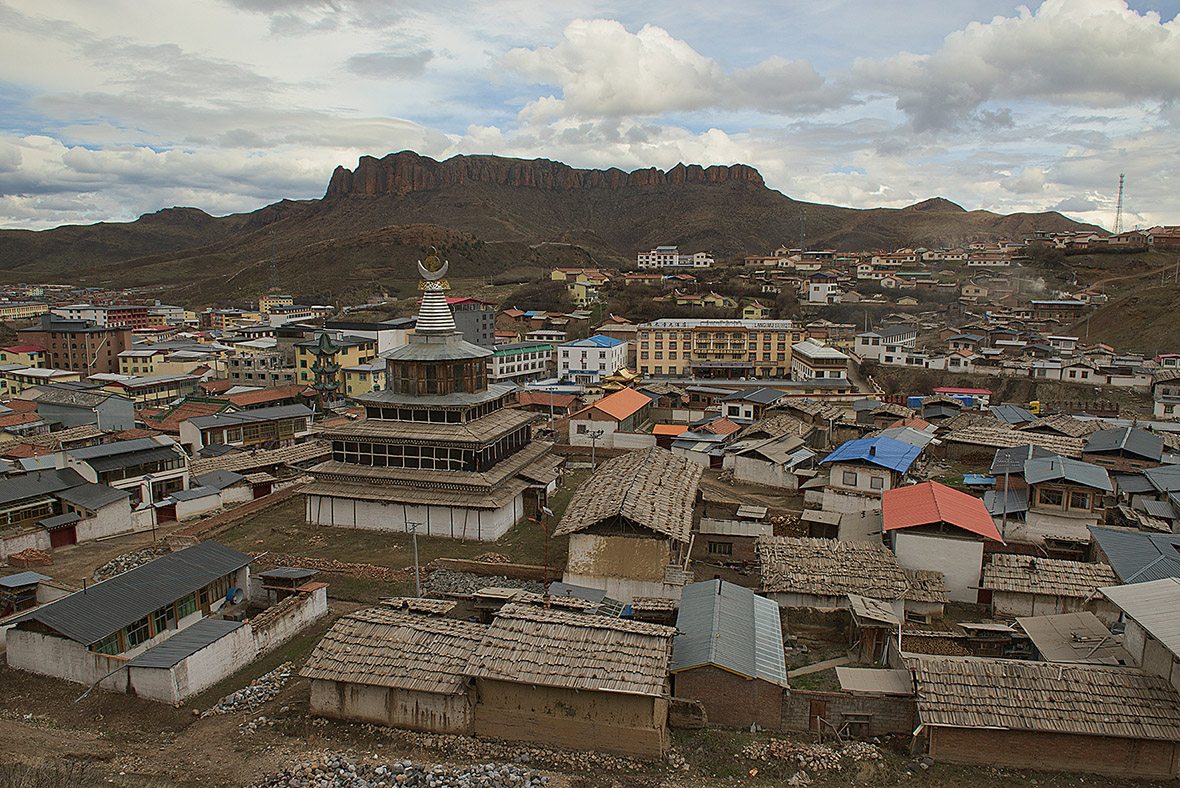 For a small town, Langmusi is quite multi-cultural. In addition to the Tibetan monks, pilgrims, and yak-grazing nomads, there is a large Hui Muslim presence, their glitzy green pagoda-style mosque just steps away from the entrance to Kirti Gompa.
Young monks frequent the Muslim bakeries for hot round flatbread and hand-pulled long noodle shops for breakfast, and horse traders, who now operate trekking trips for visiting travelers into the nearby grasslands, stop in to local teahouses to sample the sweet "ba bao cha," (eight treasure tea), so named because of its eight ingredients, which include dried longan, Chinese dates, licorice root, rock sugar, goji berries, and dried chrysanthemum flowers, found throughout Gansu.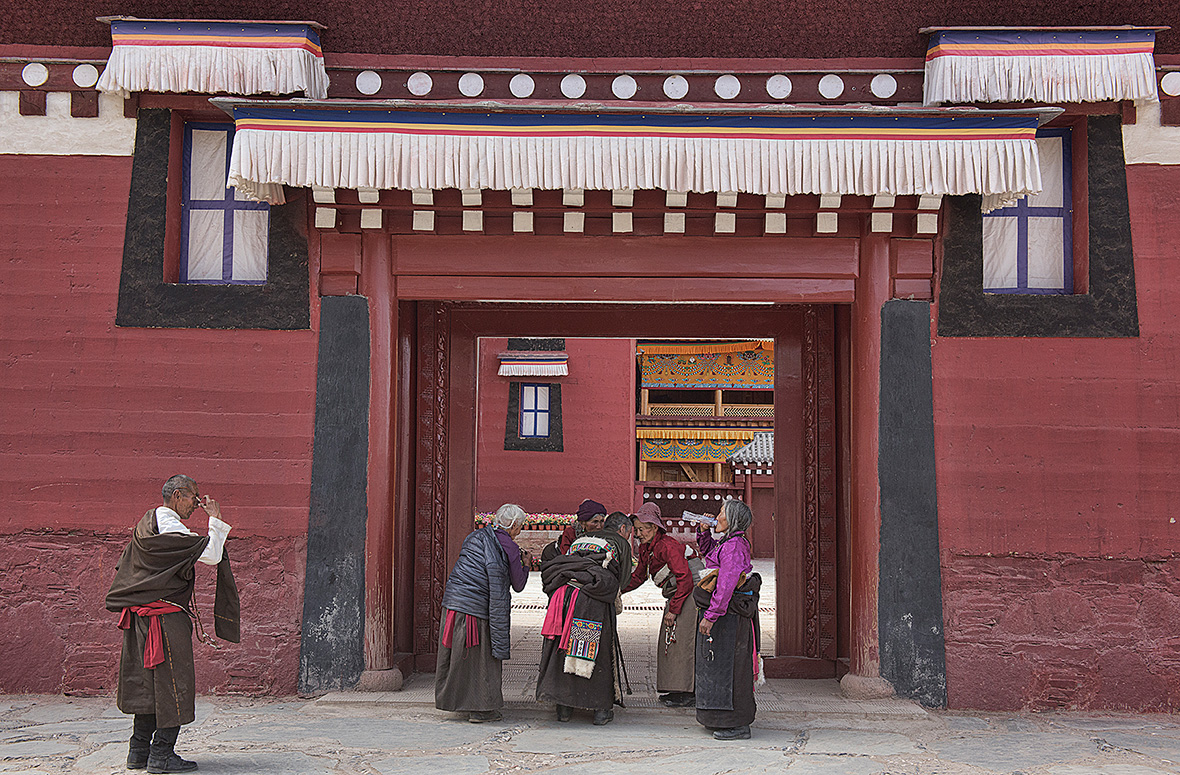 On the other side of the valley, large red boulders form an escarpment that wouldn't be too out of place in the U.S. Southwest, and we clamber up for a panorama of the surroundings. This is China's equivalent of some Rocky Mountain Shangri-La, where one chooses each day whether to go hiking or perhaps just sit with novice monks who shyly but ever so eagerly want to practice their English, all topped off of course with China's best cappuccino, whipped up by the folks in The Black Tent, a cozy wood-paneled restaurant that is home to Langmusi's horse trekking outfitters.
Run by an outdoor loving Chinese couple from Chengdu, who fled the city life over a decade ago, the restaurant is a haven for meeting other travelers, sharing road stories, or planning further adventures in this lovely slice of paradise.
It starts to snow again, but this time I'm not too worried. We've found our way safely, surely blessed by all the prayer wheel-spinning and well-wishing Tibetans who've greeted us, and with hot drinks in hand, we can just watch the snowflakes outside flutter gently down, knowing that we'll wake up to another dreamy morning on what feels like the roof of the world tomorrow.