WRITTEN BY
Joe Cummings
SELECTED PHOTOGRAPHY
Thomas Kelly
PUBLISHED ON
April 23, 2018
LOCATION
Tibet

From Egypt's Mount Sinai, where God handed laws down to the Israelites, to Japan's Mount Fuji, the home of Shinto Buddhism's eternal youth goddess Sengen, certain peaks lend themselves to spiritual passage more than others.
In Asia, no mountain is more venerated than 6,638-meter Mount Kailash, an isolated peak in far western Tibet, and part of the Trans-Himalayas, which run parallel to, and north of, the Himalayas. Four religions make Kailash the mythological center of their theology. For Hindus, it's the home of Shiva and his wife Parvati, who enjoyed a 10,000-year sexual union here. Buddhists see the earthly reflection of Meru, a mountain that reaches underground to the lowest of hells and ascends to the highest heaven. Tibetan Buddhists call the mountain Kang Rinpoche, presided over by meditation deity Demchog and once the abode of famed guru-poet Milarepa. To followers of Bonpo, Tibet's animist, pre-Buddhist faith, the mountain was the earthly arrival point of their primeval god Tonpa Shenrab. The Jains, meanwhile, believe that this is the place Rishabha, the first of 24 founding tirtankharas, achieved enlightenment.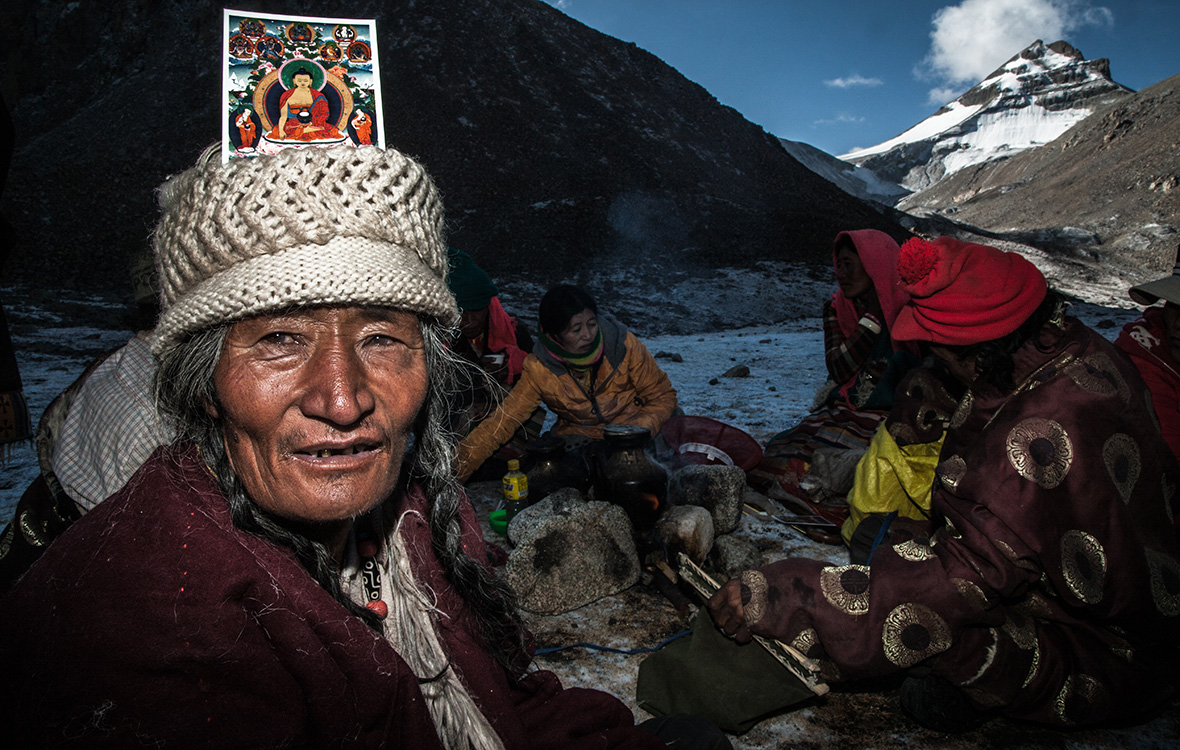 All that cosmic energy can be ascribed to the fact that the glacier-capped, four-sided peak forms a massive natural pyramid, almost as symmetrical as one of Egypt's Greats, a quadrangular Buddhist stupa, or a Hindu shikara – a shape which people around the world and through the ages have worshiped as a symbolic launch pad to heaven.
No other mountain of similar height stands alongside it. Records of religious pilgrimages to Kailash date back 1,700 years, when a journey on foot from India to the base of the mountain might take months. Over the centuries, thousands of devotees died of exposure, malnutrition or acute mountain sickness, often without having laid eyes on their holy goal.
Although it only takes three days to make the 52-kilometer circumambulation (many Tibetans do it all in one go), Kailash remains one of the most demanding pilgrimages in the world. Even in the relatively mild May-through-October open season, a hard weather front adds hypothermia to the list of risks.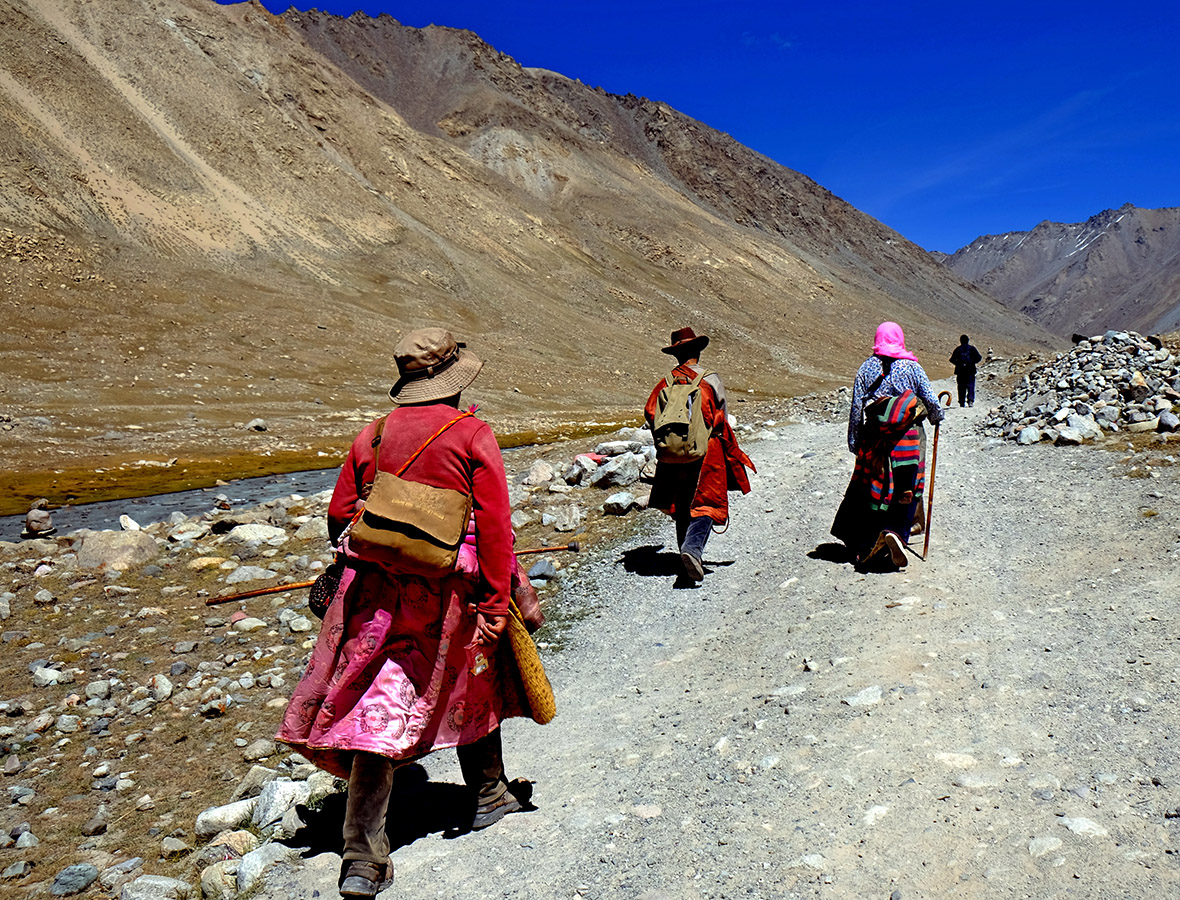 Rough Tibetan cowboys stand in clusters, haggling over prices while fingering strands of precious beads carved of agate, coral, and turquoise.

Luckily I don't have to walk from India; I'm arriving at the kora's starting point at Darchen from Lhasa by tour bus. Still, the high-altitude, seemingly endless-switchback, sometimes uncomfortable 1,400-kilometer drive, coupled with the unexpected last-minute hurtles in procuring permits to ascend the mountain ratcheted up the difficulty factor even before I set foot on it. Or subsequently got lost and began to wonder whether it was a stairway to hell rather than heaven. In all, it was a trip that offered equal parts of each in a true test of body and soul.
Two weeks before I was scheduled to depart Bangkok for Lhasa, my agency delivered the news that it was impossible to secure travel permits for the three weeks I was planning to be in Tibet because it overlapped with the 50th anniversary of China's annexing the country. As a security measure, no one would be allowed to leave Lhasa. At a loose end, I contacted other China-based travel services about trekking Kailash and by luck hit upon one which came through with travel permits for 13 people. Hence we were the only non-Chinese tourists in western Tibet during this singular stretch of time.
Within hours of landing in Lhasa, I feel lightheaded and short of breath. At 3,600 meters, the atmosphere here contains 68 percent as much oxygen as I'm used to breathing at sea level, and at the kora's highest point, nearly 6,000 meters, the oxygen will drop to 40 percent of normal intake. To prevent acute mountain sickness, most tour companies mandate you spend three days in Lhasa to acclimatize to the elevation.
As I discover while getting used to the thinned air, the modern Chinese infrastructure that surrounds the ancient capital is part façade, part functional –  new buildings imitate Tibetan architecture, the taxi system actually works, and the streets are clean – but for the most part it leaves Lhasa's cultural heart intact.
That heart is the Barkhor, a honeycomb of narrow streets and alleys circumscribing a sizeable urban Tibetan market and the Jokhang, Tibet's holiest temple. Although dolled up for international consumption with the addition of a pedestrian plaza around the temple itself, the back streets are still lined with shops selling colorful fabrics to be cut and sewn into traditional outfits, and rustic butcheries fronted by thick slabs of fresh yak meat. Rough Tibetan cowboys stand in clusters, haggling over prices while fingering strands of precious beads carved of agate, coral and turquoise.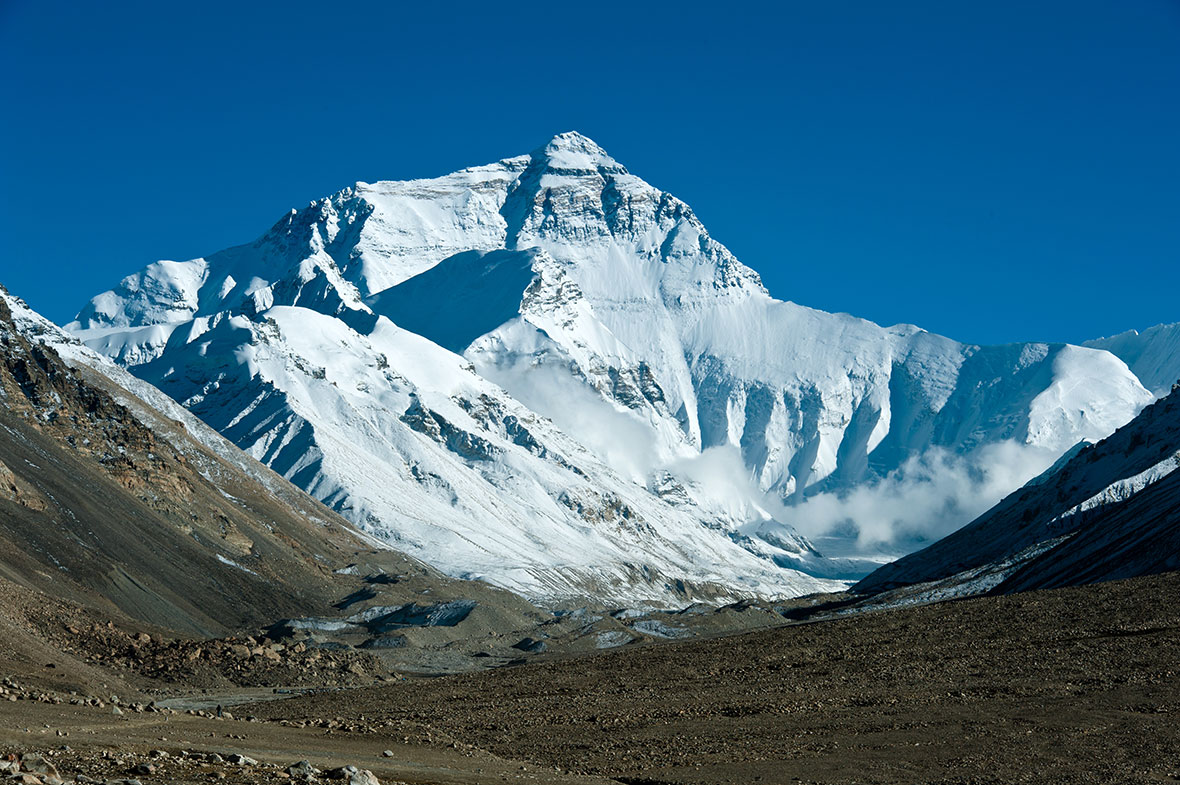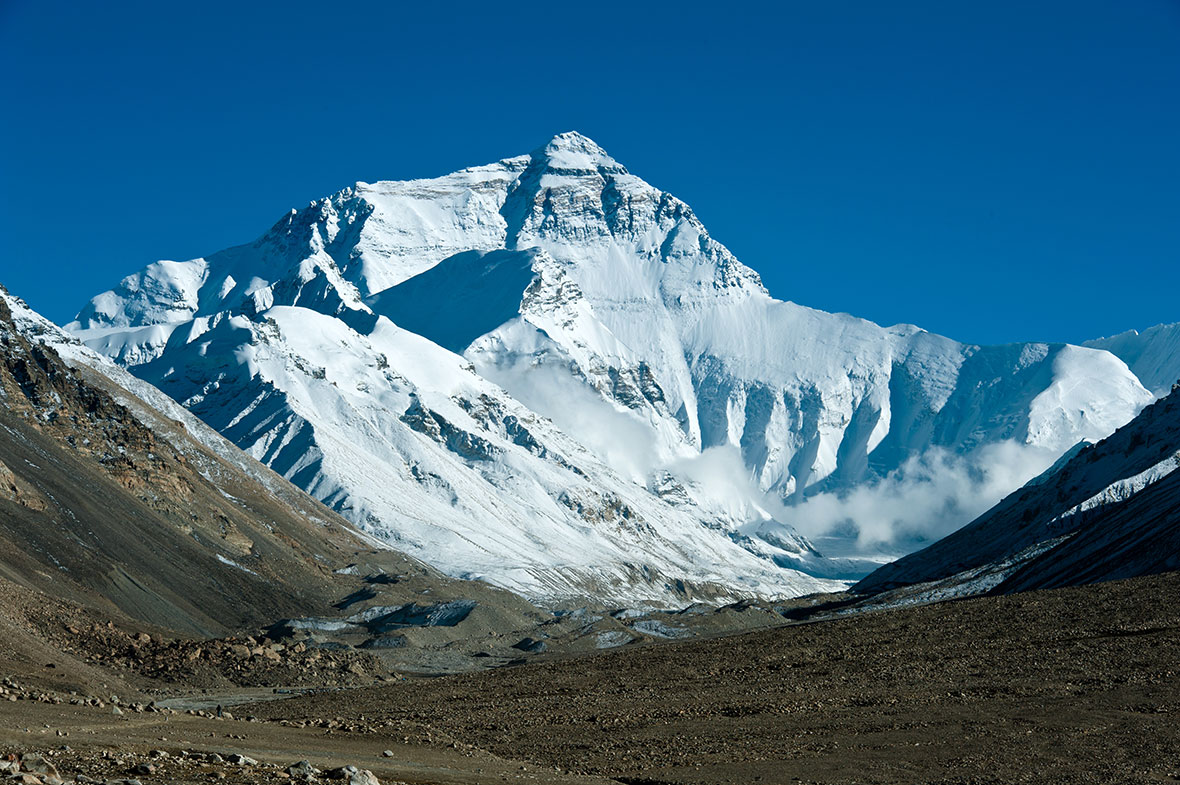 In a bus that becomes our second home over the next two weeks, we leave Lhasa and roll southwest through a patchwork of jagged rock hills, sand dunes, rivers, pastures and lakes, under a striking, blue sky. The road counts hundreds of extreme hairpin turns – and views of five glacier-encrusted peaks that, at over 8,000 meters, are among the top 10 highest in the world.
From the one-street Tibetan town of Tingri, the bus climbs the steep road through the Rongbuk Valley to 5,200-meter Everest Base Camp, only four kilometers from the Nepal border. Along the way we can see the top of mighty Everest playing hide and seek with passing clouds.
At base camp, we park next to a collection of semi-permanent tents woven from pure yak wool. Hand-forged iron stoves fueled by yak dung provide heat and cooking. After a brief tea break in one of the tents, we set off on a four-kilometer hike to the actual staging point for Everest climbers, beyond which no vehicles are permitted. Our Tibetan guide, a Jackie Chan-lookalike named Lotse, takes us on an off-road shortcut through rocky chasms and gravelly slopes. At lower elevations, the route would be only moderately challenging. But here the added elevation makes four kilometers feel like 10.
At trail's end, we climb a low bluff topped by a chorten streaming with prayer flags. Ahead in the distance, beyond a vale of lesser peaks, stands Earth's tallest extrusion, the mountain that British surveyors named for Sir George Everest and which has been known much longer among Tibetans as Qomolangma (Holy Mother). We manage a 15-minute audience before passing clouds cling to the peak, obscuring the view.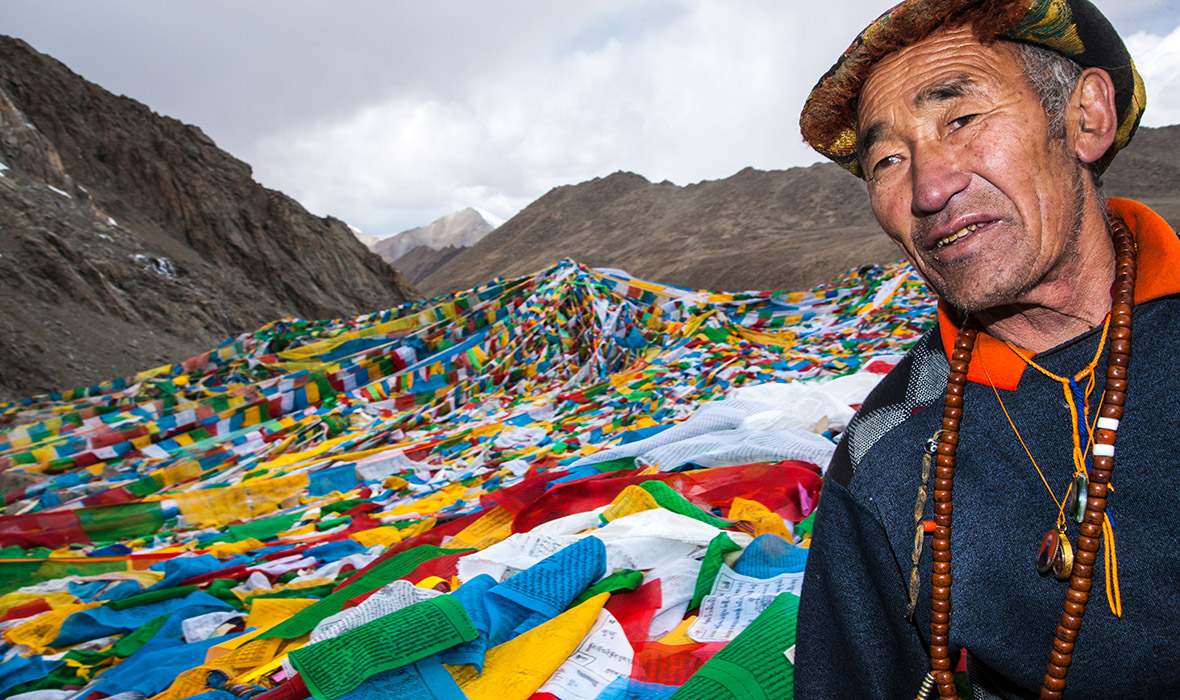 On the way down to continue our eastward journey to Kailash, we stop off at Rongbuk Monastery, founded in 1899 on a spot hermits and monks have favored for meditation for at least four centuries. Clinging to the side of a mountain at 5,100 meters, the remote refuge for around 50 monks and nuns is the highest monastery in the world.
That night we sleep at Saga, a military garrison town with the last hot-water shower we'll see for a week. The next day our bus rambles on. Towns become villages, and villages give way to nomadic tent camps for Tibetan herders. Long stretches of windswept, arid terrain show no sign of human or animal life at all, other than the occasional Chinese police checkpoint in the middle of nowhere.
Along China National Highway 219, the highest roadway in the world and only completely paved in 2013, we climb over five mountains taller than 5,000 meters and pass 44 glaciers through Mars-meets-Middle-Earth landscapes.
An oversized gateway looming over a desolate high plain marks the way to Lake Manasarovar. Just as every Indian temple is paired with a water tank for ritual ablutions, the southern foot of Kailash boasts the highest freshwater lake in the world. At 4,588 meters, it's as much an object of veneration and pilgrimage as Mount Kailash.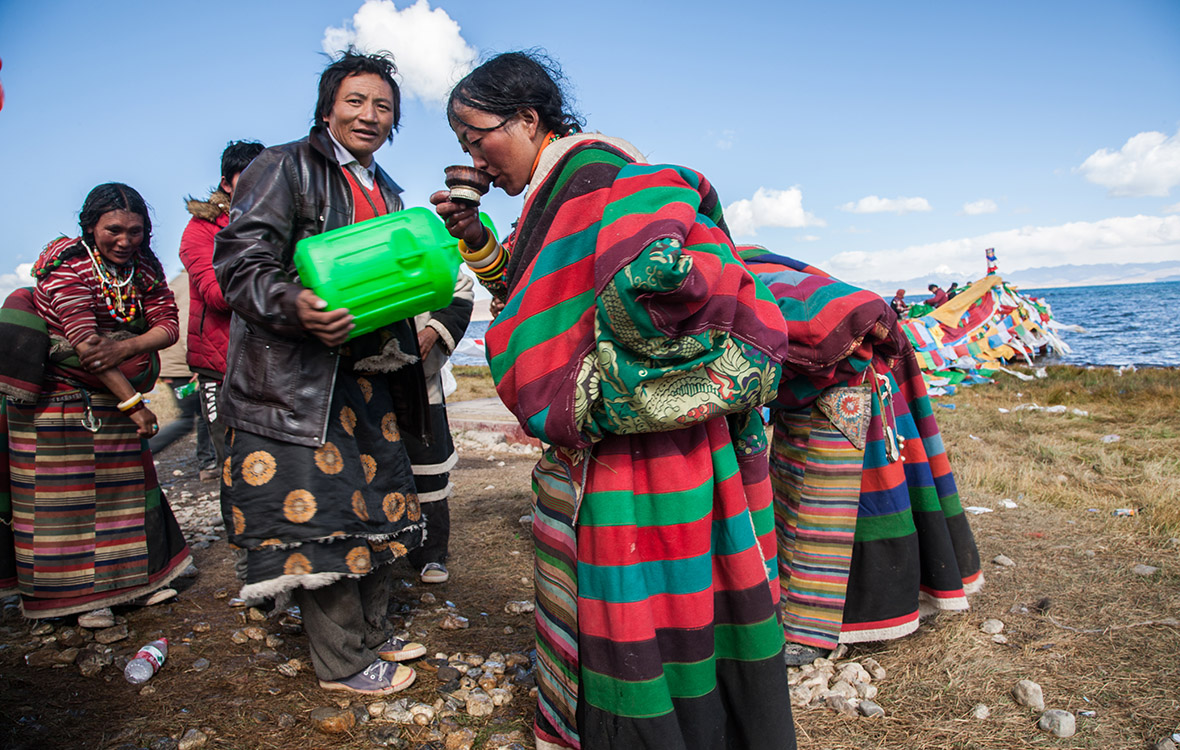 Hindus see the lake as an outward manifestation of the mind of Brahma, the creator god. For Buddhists, it is Anavatapta, a calming, karma-curative lake at the center of the cosmos. For the rest of us, it's a marvelous vision of shimmering sapphire blue rimmed by scintillating, multi-colored sand and grassy marshes visited by water-birds one would never expect to see at this altitude. Then you remember that within a 40-kilometer radius one finds the sources of four mighty rivers, all of them sacred on the Indian subcontinent: Indus, Sutlej, Brahmaputra and Karnali
Darchen is our last overnight stop before the kora. Over yak curry in a Tibetan tea house, Lotse explains that we need to pack everything we won't need on the trail into bags to be carried by yaks that will follow behind us. Any supplies we need while trekking we must carry ourselves.
After packing a light daypack with nuts, chocolate bars, sunscreen, blister gels, and a water bottle, I climb under thick Chinese quilts in the unheated room I share with a German trekker. I'm both excited and apprehensive about the next three days. I hope the weather holds, and that I'll be able to handle walking 52 kilometers at elevations between 5,000 and 6,000 meters.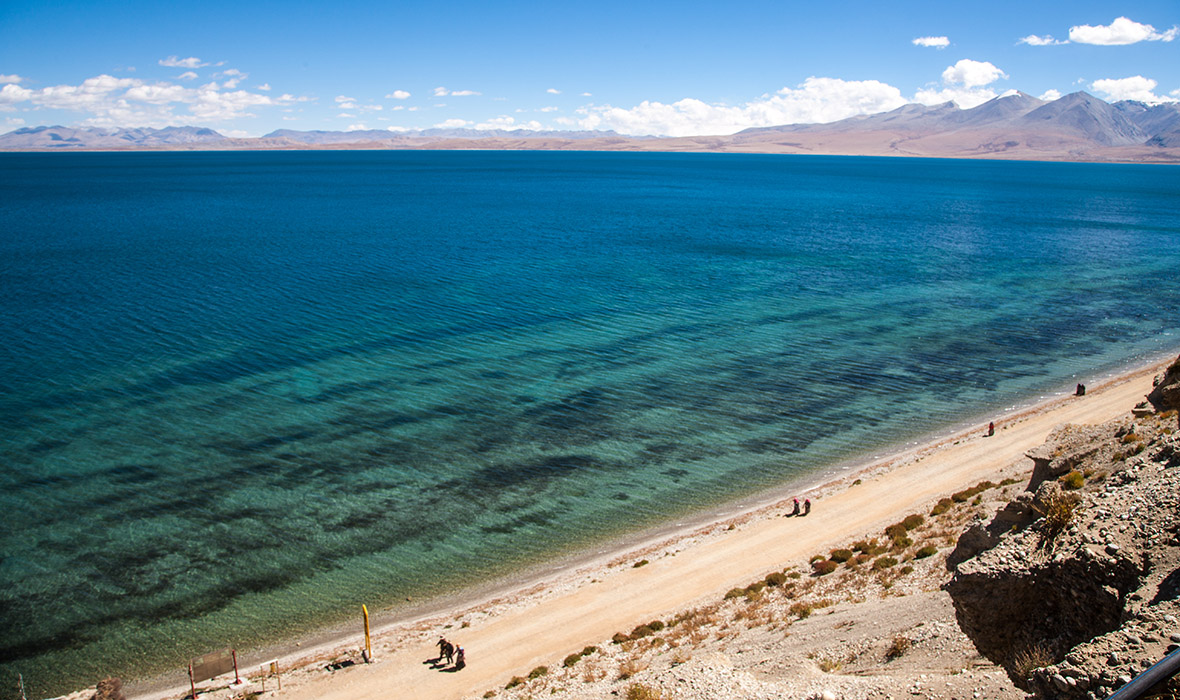 Almost immediately the stony trail begins its steep ascent towards Dolma-la Pass. We zigzag among rocks and boulders that seem to increase in size the higher we climb.

Day one begins well, as we start up the kora path across the sandy Barkha plain with views of high peaks in Nepal and India to the south and southwest. The weather is sunny and crisp, and soon the path is winding along Lha-chu River past meadows shorn short by grazing yaks. Around four kilometers in, the trail climbs a ridge for an inspiring first view of Kailash's southern flank. As the valley opens below we come to Tarboche, a lofty prayer-flag pole first erected in 1681 and still renovated annually.
We settle into walking rhythms that serendipitously divide our group into clusters of two or three. I find myself walking alongside Sonja, from Utrecht, on the first day because our respective paces are similar.
Chuku Monastery, founded in the 13th century, appears high to the west of the trail. Its rock walls exude intrigue. A little further on, a long, thin waterfall cascades from a soaring rock cliff, probably originating from glacier melt.
After an 11-kilometer day, we reach Dirapuk Monastery and a primitive guesthouse where we spend the night. On a hillside, both afford views across the river to the dark, glacier-streaked north face of Mount Kailash.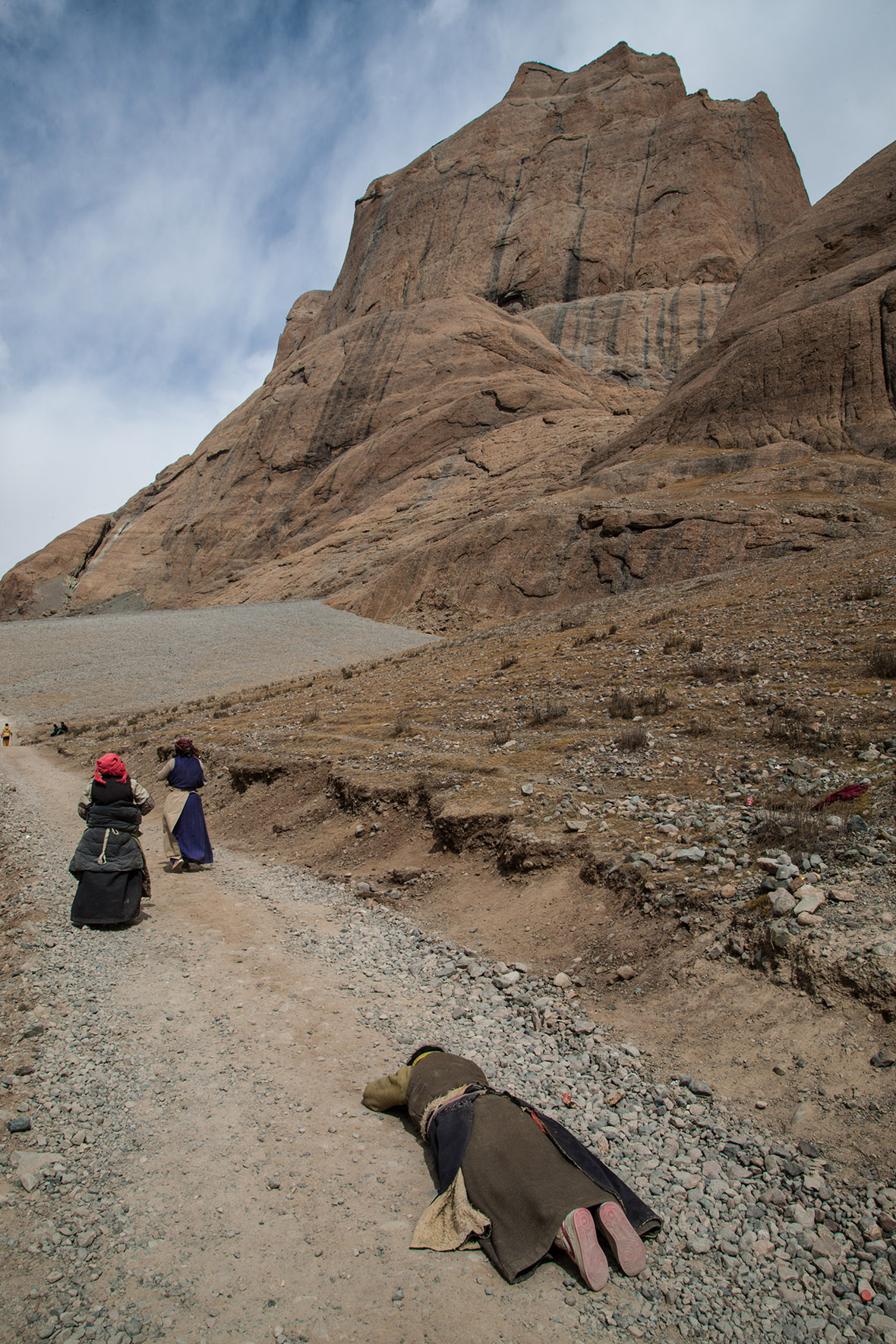 As Lotse and the yak driver prepare noodles for our evening meal, I compare notes on the day's hike with my fellow trekkers. Spirits are high, but everyone knows the next day's 22-kilometer trek up and over the highest point on the kora will be the real test. I fall asleep hoping that the good weather will last, and that my knees will hold up.
At 6 a.m., after a breakfast of boiled egg and Tibetan flatbread, we set off on day two in total darkness. I realize I've forgotten my flashlight. Gilles, a sporty 33-year-old from Switzerland, is wearing a strong LED headlamp, and kindly offers to hike alongside me till the sun comes up so that I don't lose the trail.
Almost immediately the stony trail begins its steep ascent towards Dolma-la Pass. We zigzag among rocks and boulders that seem to increase in size the higher we climb. By 8 a.m. the sun is up, and we're nearing the top of the pass. The exertion at this altitude is so intense that I have to stop to catch my breath every 10 or 15 meters. I tell Gilles, who is accustomed to Alpine heights, to go on ahead now that there's daylight.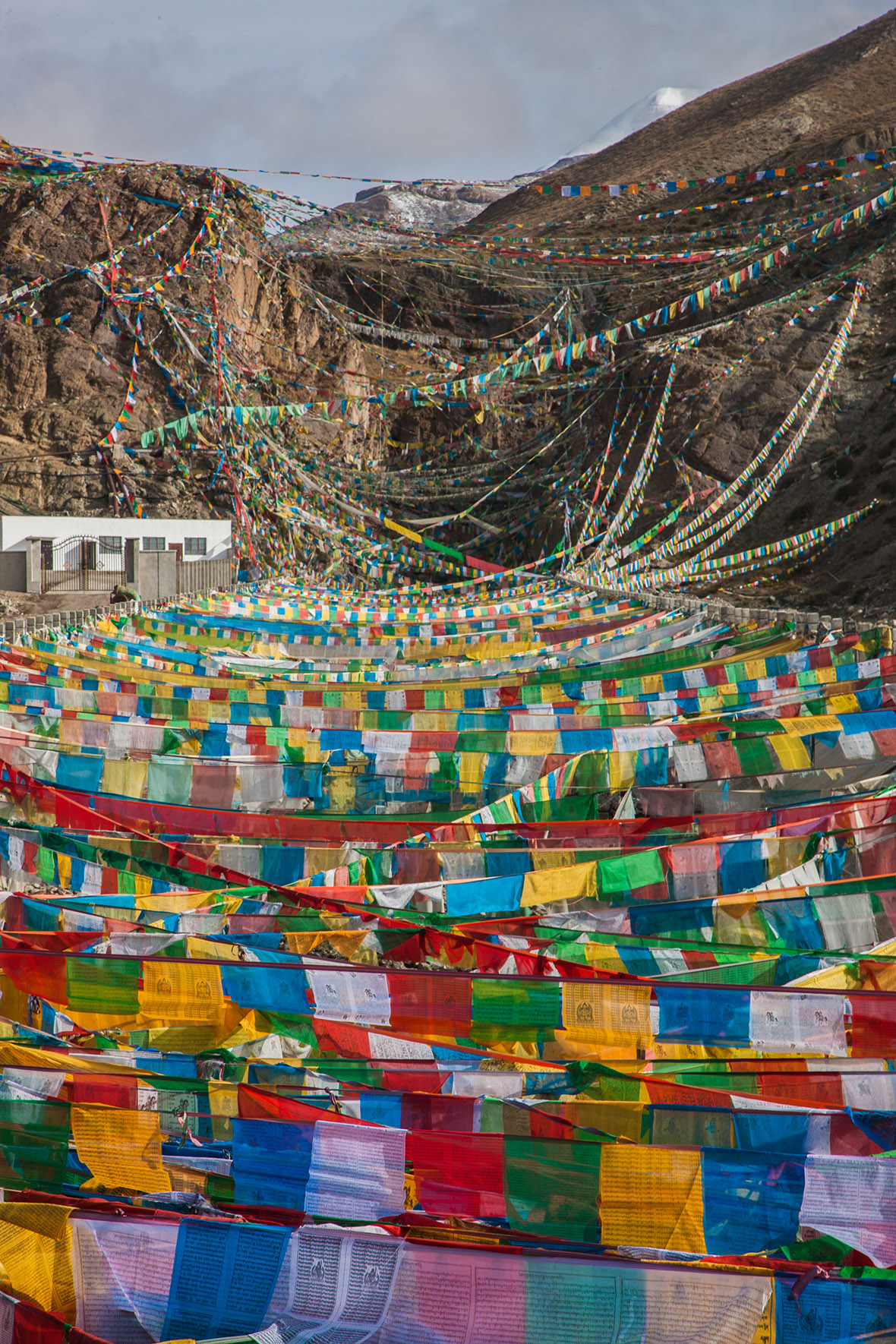 Vast herds of yak nibble on lichen fields alongside the river. A large raven flies parallel to my route for a while. The valley is so quiet that I can hear the raven's wings rustle like silk as it soars overhead.

On cue, I come upon Shiva-tsal, a 5,330-meter rock mass where true pilgrims suffer symbolic death as they enter the realm of Yama, Lord of the Dead. Here pilgrims leave a lock of hair, a drop of blood, a piece of jewelry or other vestige of their everyday lives to represent leaving this life behind. I spot packs of Chinese cigarettes and discarded clothing among the karmic debris, to which I add a Dunlop Big Stubby guitar pick.
A stiff wind is whipping down the mountain into my face and, just to drive the point home, it begins to snow. It comes down in tiny dense balls that bounce off my parka and off the rock face under my boots. The snow is so icy it refuses to stick to anything.
Twice I think I've made the top of the pass, only to realize it's a false summit. After another hour of labored climbing, I'm finally standing at the top of Dolma-la Pass, where the goddess Tara (Dolma in Tibetan) opens her merciful arms and the snow stops whirling around me. I feel tired and exuberant at the same time. I could lie down for a nap, or I could boogie on the rocks. In Hindu-Buddhist terms, I've been reborn in the same life with a clean karmic bill.
As I stagger over the 5,636-meter glacial ridge forming the pass, I'm tempted to take a break. But the 600-meter ascent was enough to induce acute mountain sickness if I stick around. What's more, I can see no one else ahead of me, nor anyone else behind me, on the trail. I have to keep moving.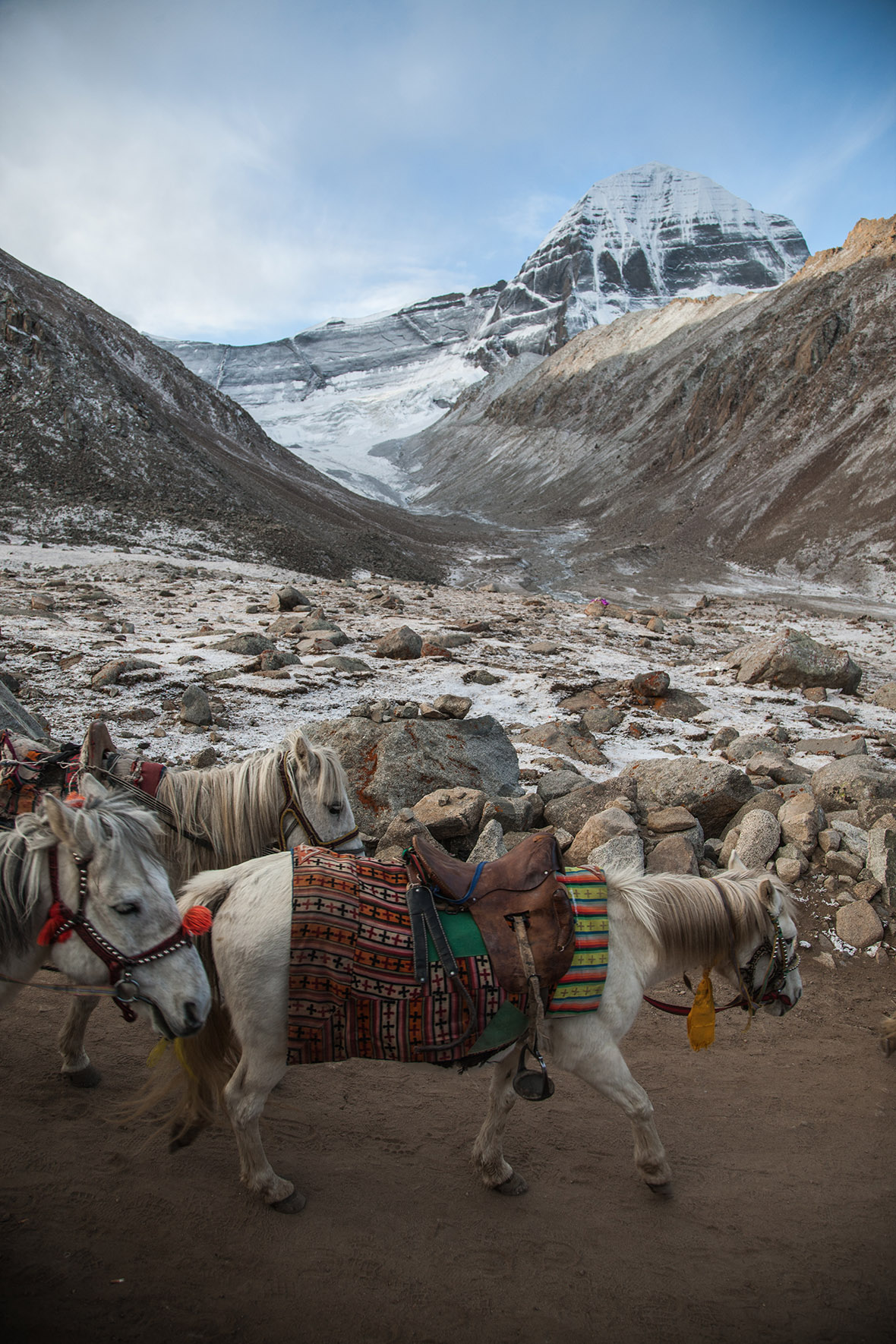 Gauri Kund, a round glacier lake in its own bowl-like valley, glitters like an emerald mirage below. Meanwhile I have to make a precipitous 400-meter descent to the valley floor while staying vertical on the slippery, and at times treacherous, rock-and-gravel inclines. At several points, the trail splits into honeycombs of narrow footpaths through scrub and stones the size of baseballs. When this happens, I stop and survey the geography, then pick what appears to be the most direct line between me and the valley ahead.
I stumble down from the pass, and enter the Aksobhya Valley, alone. Now and then a small group of Tibetan pilgrims pass me in either direction, smiling and intoning 'tashidelek,' the all-purpose Tibetan greeting and farewell. Even little grannies in sandals negotiate the rough trails faster than I do. This turns out to be a blessing as it's a granny who offers me a bottle of water that helps me power through, and assures me that though I may have lost my group, I am not alone.
The further I get from the pass, the more welcoming Aksobhya Valley becomes. Vast herds of yak nibble on lichen fields alongside the river. A large raven flies parallel to my route for a while. The valley is so quiet that I can hear the raven's wings rustle like silk as it soars overhead. Later I read that Tibetans believe the bird to be a manifestation of Mahakala, 'Great Black One,' a protector deity in Vajrayana Buddhism. On Everest, they've been seen at altitudes as high as 6,350 meters. Looking down at me as it flies past, the raven seems so at home in this beautifully bleak environment. I feel like a lonely spaceman on an alien planet.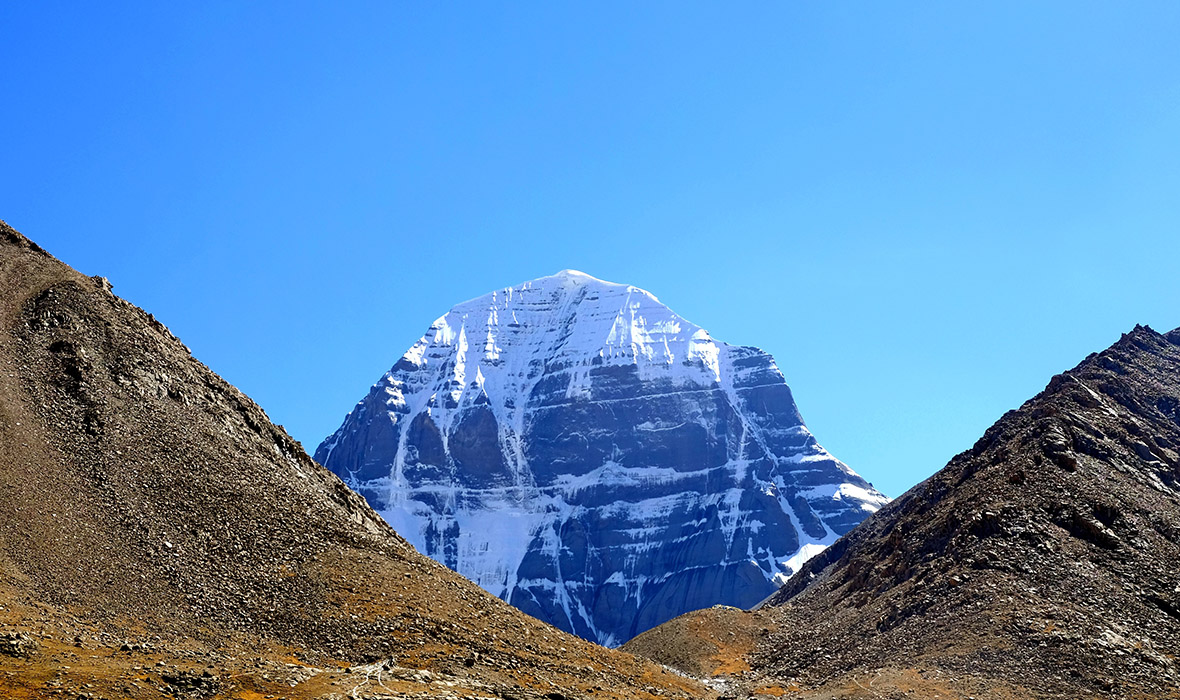 After nine and a half hours, I spot a small monastery clinging to a slope. A hundred meters below the monastery stands a cluster of stone and mud-brick buildings. I detour from the trail to investigate, and almost immediately run into Don, the first member of our group I've seen since early morning. I'm overjoyed to learn that this is the end of today's long trek.
Two other trekkers are also there, having reached Zutrul Phuk an hour earlier. We all share a room at the tea house, where I remove my boots, lie down on one of the bunks, and doze off straight away.
The slower members of the group straggle in after 11 or 12 hours on the trail. A couple who had trouble negotiating the ascent to Dolma-la Pass spends nearly 14 reaching the tea house. They're suffering from the altitude, and make frequent use of emergency oxygen canisters. In the evening, all 13 of us join together for hot noodles in the cozy tea house, quietly celebrating the fact that everyone made it through the most difficult day. It turned out we were all just going at our own pace, and none of us was truly lost.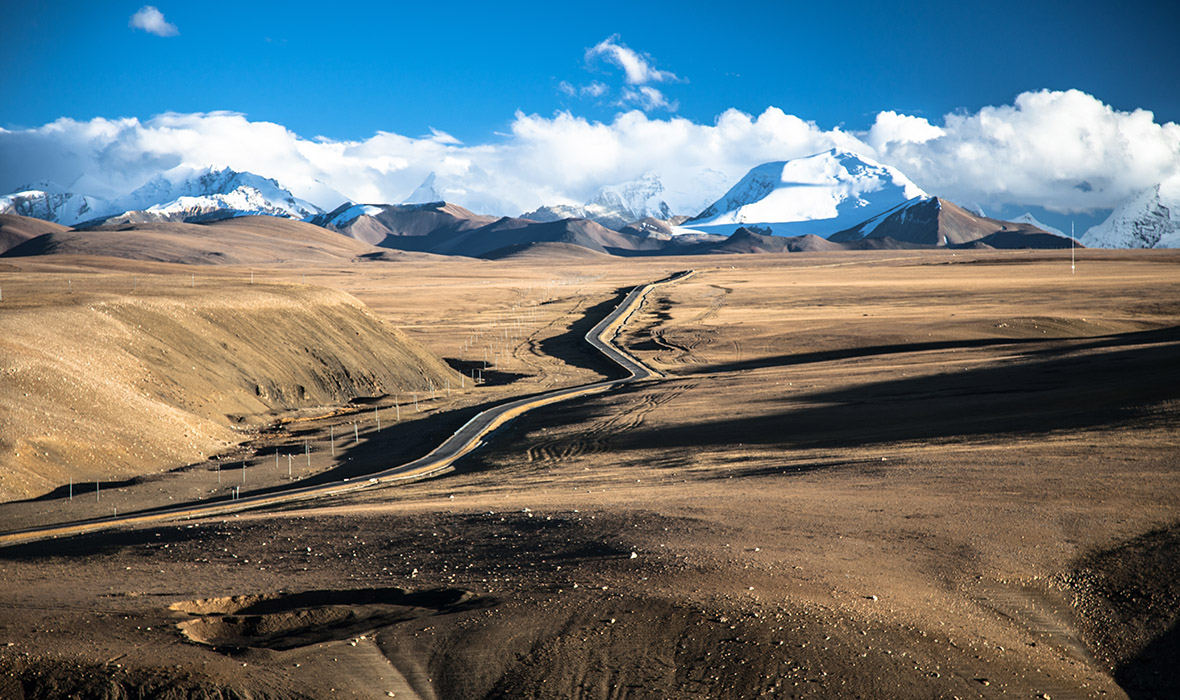 The best part of day three's 11-kilometer hike is a gentle climb through a cobalt- and rust-streaked canyon high above the river. Another hour through comparatively tame countryside, and we're back in Darchen. My fellow trekkers and I toast the completion of the kora over a Nepali curry dinner in a Tibetan tea house. To help prevent altitude sickness, I haven't had a drink in nearly 20 days, but tonight I'm delighted to pop a tall bottle of Lhasa beer.
That evening, while shopping for beads and souvenirs on the streets of Darchen, Dan, Don and I come across a shopfront signed "Holy Water Hot Shower." An enterprising Chinese migrant has set up private booths. The water, while hot enough to elicit moans of pleasure from three guys who haven't showered in five days, probably isn't holy. But at this sacred intersection of four religions, I'm finding my ablutions divine.