The guntû is a small blue crab considered a delicacy in the Seto Inland Sea area of Japan; not particularly meaty, it's used to enhance miso soups. But to those who know luxury travel in Japan, guntû is something very special indeed. This tasty little blue crab is also the namesake of Setouchi Cruises luxury hotel, a five-star floating ryokan and one of the most exclusive venues in East Asia. It is by far the most luxurious way to see the Seto Inland Sea.
"There is a harmony between the sea, sky, islands and the human activity in Setouchi. guntû was designed to uncover the allure of Setouchi, and to show it as it is," says guntû representative Meguro Shinichi.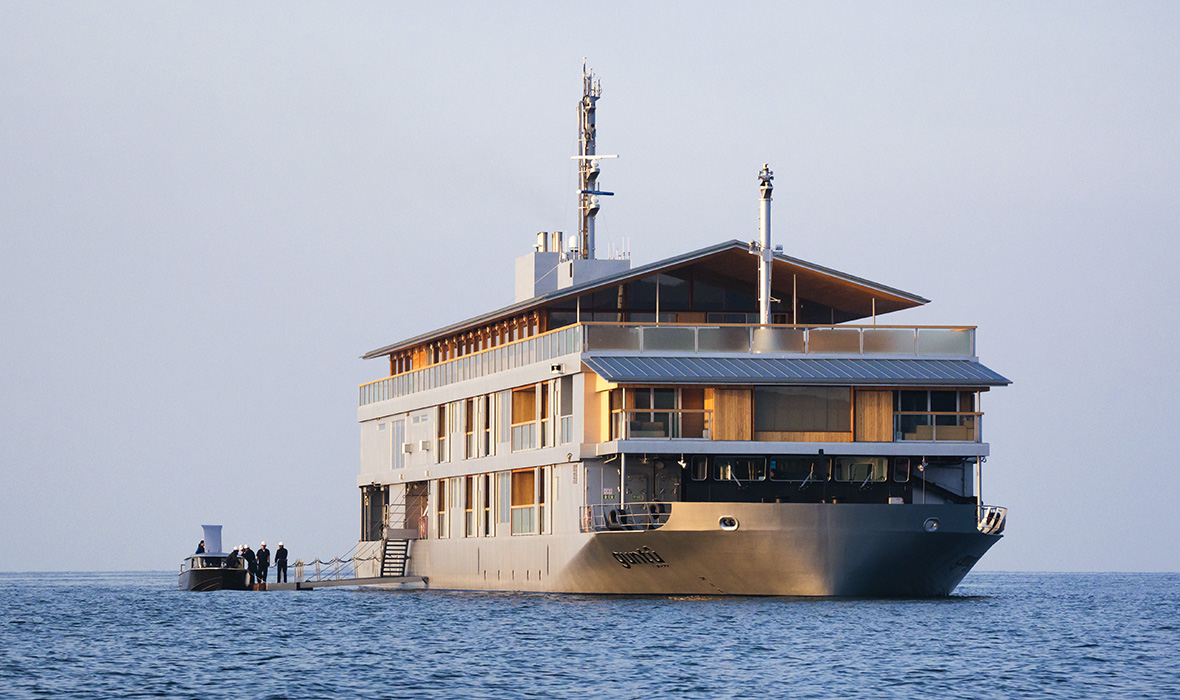 The guntû is a 19-cabin, 82-meter-long yacht designed by architect Yasushi Horibe which sets out for multi-day tours of the Seto waterway from a private marina in Onomichi. The craft's design was inspired by the ryokan, a type of traditional Japanese inn. It's sparse but elegant aesthetic is epitomized by a single lily in a simple vase atop a polished wooden stand that occupies the ship's otherwise featureless lobby.
"Setouchi, Japan's inland sea, is surrounded by the mainland Honshu, Shikoku, and Kyushu, it was the main waterway when western Japan was the center of Japan. Each island has developed it's unique mixture of cultural and industrial histories," says Shinichi
Dotted with 700 craggy, forested islands Setochi's waters have doubtlessly seen no shortage of pleasure craft throughout its long history as a trading route, but perhaps never one as well appointed as guntû. The triple deck ship offers luxury boutique cruising at the highest level with it's choice of suites. The largest, an airy 90 square meter, monopolizes the bow and features its own terrace and open air bath that allows for panoramic views of the seascape through which the ship passes.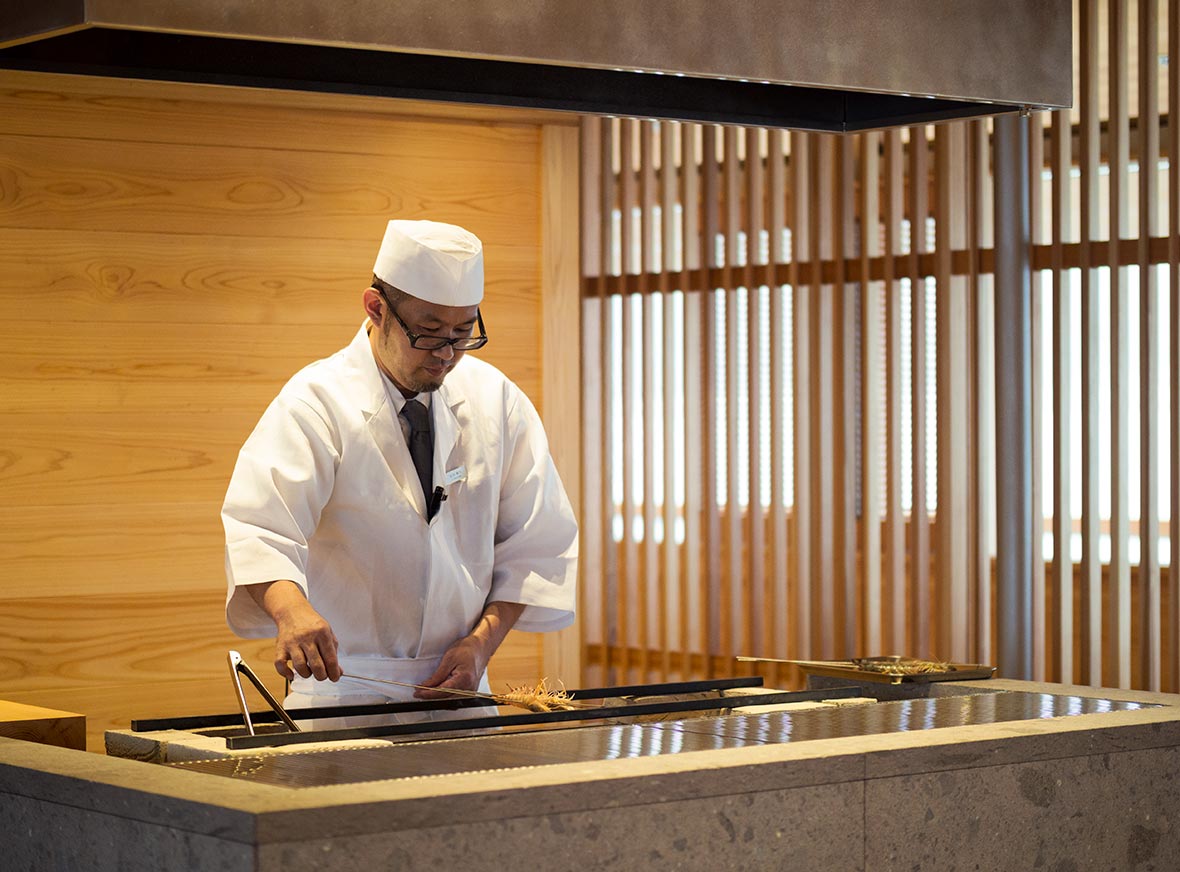 The company describes it's accommodations as like staying in a friend's refined guest house, in which case I would move in permanently. Each cabin is finished in a combination of hardwoods with a floor-to-ceiling window wall facing the sea. Appointed to the smallest details including crisp cotton kimonos in the closet and cold ginger juice in the mini fridge. The plan of the ship makes it feel like a private yacht where passengers can find plenty of space to be alone on their private balconies, in a chair on the foredeck, or while soaking in onsen.
Award winning architect and designer Yasushi Horibe, known best for his Charnel House in Chikirun-Ji which won him the Architectural Institute of Japan prize in 2016, used materials for the hull and gabled roof that reflect the tones of the sea and sky around it. Twin electric propulsion engines are used to lessen vibrations and noise pollution which helps to maintain the serenity of the interior design. Horibe writes that the look and feel of the boat reflects his personal philosophy of cherishing natural scenery and climate as it is.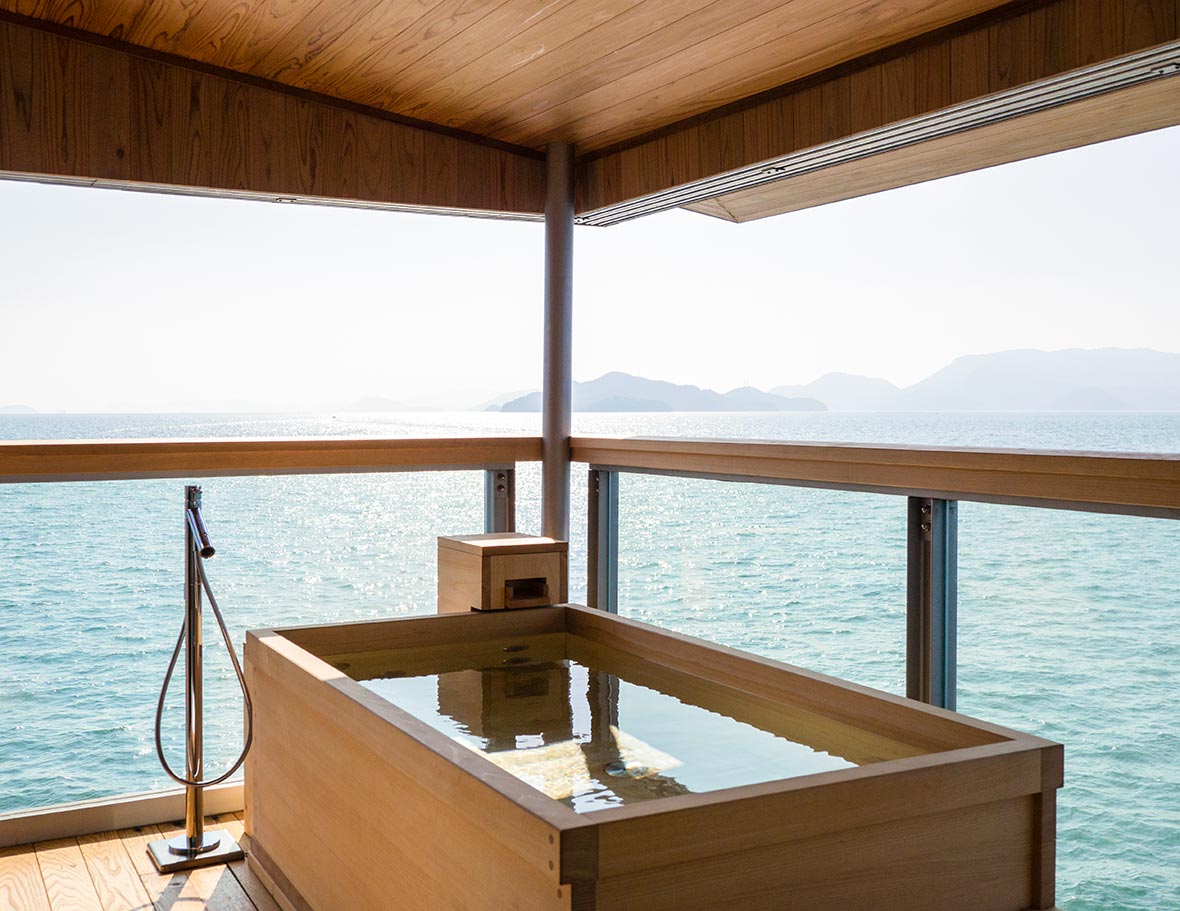 For passengers that want to mingle, guntû has both a western style cafe/bar and a lounge in the stern. A traditional engawa or veranda of the like found in temples and grand homes occupies the starboard side where passengers can take in the slow passing of time and place around them while sipping a contemplative cup of tea or indulging in handmade sweets from the ship's resident pastry chef Joichiro Kita.
As part of every one of the guntû's ten changing routes through Setouchi, day excursions take passengers from floating piers for island experiences via speedboat. Attractions include art exhibits, the country's oldest soy sauce brewery, local festivals, and fireworks displays. There are also locally guided hikes to explore wild areas, ancient areas like the world cultural heritage site Itsukishima shrine along with modern marvels like the 13 kilometer long Great Setouchi Bridge.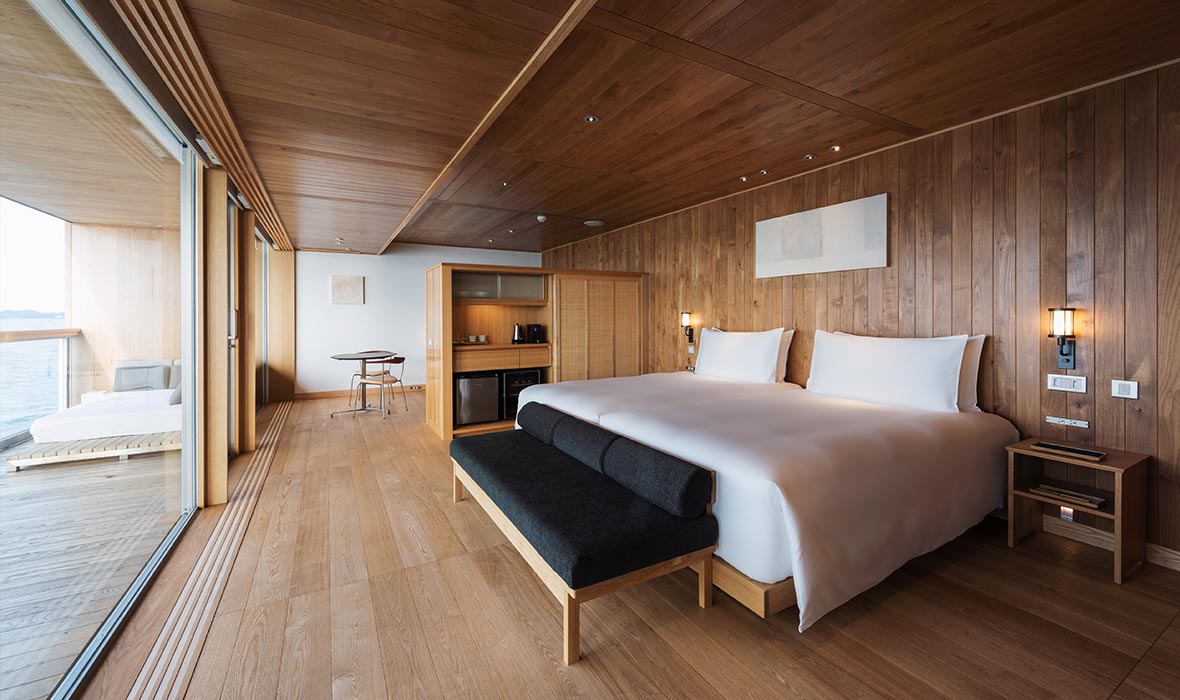 Chef Kenzo Sato from Shigeyoshi, a venerable restaurant in Tokyo, who plans traditional Japanese cuisine using local ingredients to bring the flavors of Setouchi to the plate. Nobuo Sakamoto, who mans the six seat sushi bar, demonstrates how to cut and roll fresh fish from the surrounding waters flavored with hints of citrus and wasabi. The staff's motto is whatever you want, whenever you want it: visitors may indulge in as many dishes as exist on the menu anytime night or day.
The 250-mile stretch of Setouchi has a turbulent past. It's key position has made it the setting of great naval battles and its hidden coves and treacherous tides made it an ideal locale for pirates over the centuries. A luxurious refuge for her passengers to go with the flow, guntû sails through Japan's history and its scenic lands.